3D Bathroom Designs – Are you planning to undertake a bathroom remodel? Do you want a spacious bathroom? Or perhaps, a well-organized bathroom space in your newly constructed home?
Either way, 3D bathroom models will help you translate your vision into a splendid reality. They offer superior accuracy and efficiency. Thus, you no longer have to wait for project completion to behold the final results.
With 3D models, you can change the way they look by adjusting their details. You will find whatever elements you choose to be necessary or unnecessary. Imagine a game like one of the fun things we play on our smartphone. -It's a powerful real-life tool that will help you. Then, it transforms your interior with things like structural enhancements and cosmetic enhancements.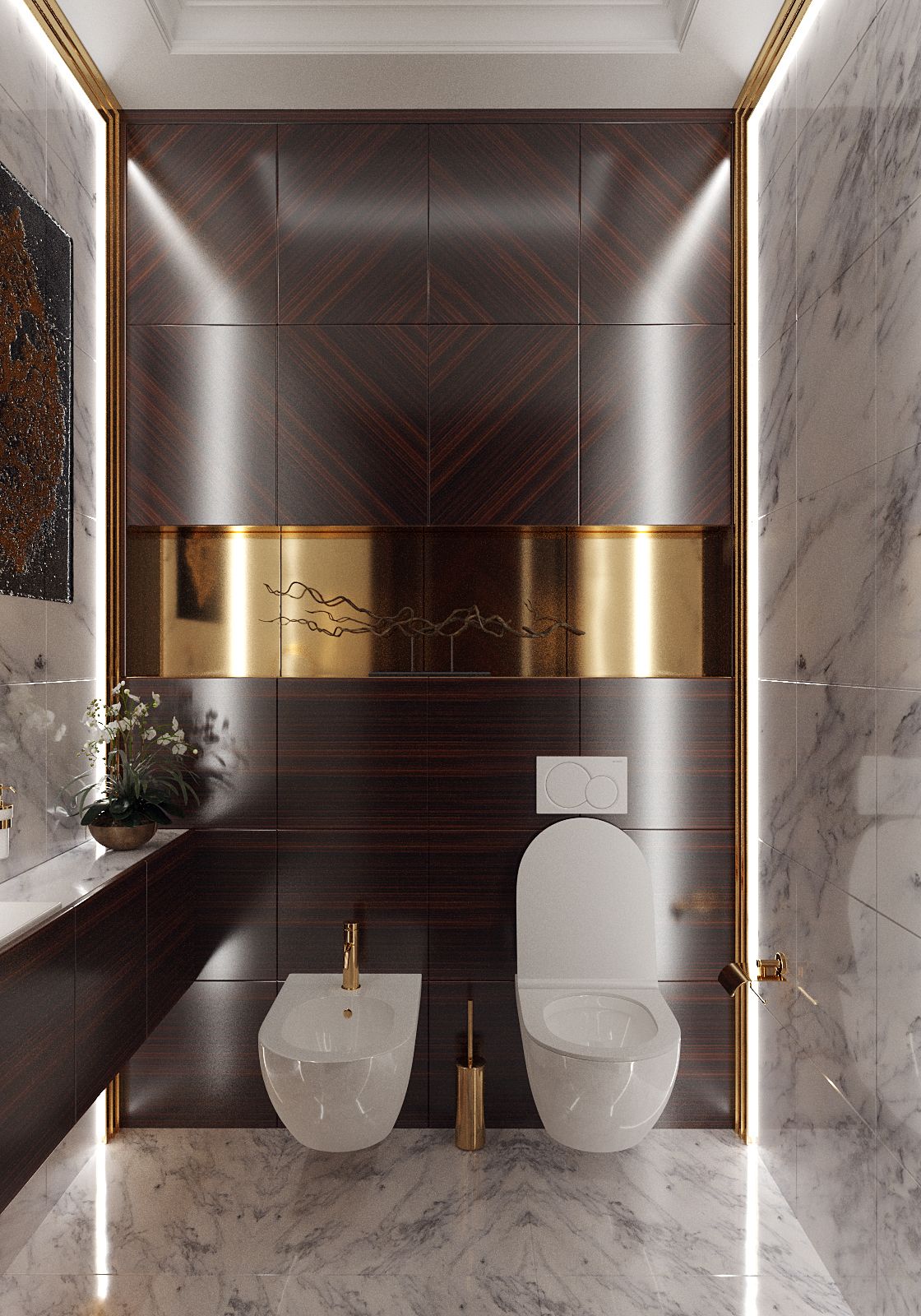 We've put together some bathroom designs in 3D to introduce you to some incredible ideas for carving out functional organization space. So, please keep reading to explore some unique ideas. Hopefully, it can organize your bathroom, making it more space-efficient.
3D Contemporary Minimalism Bathroom Designs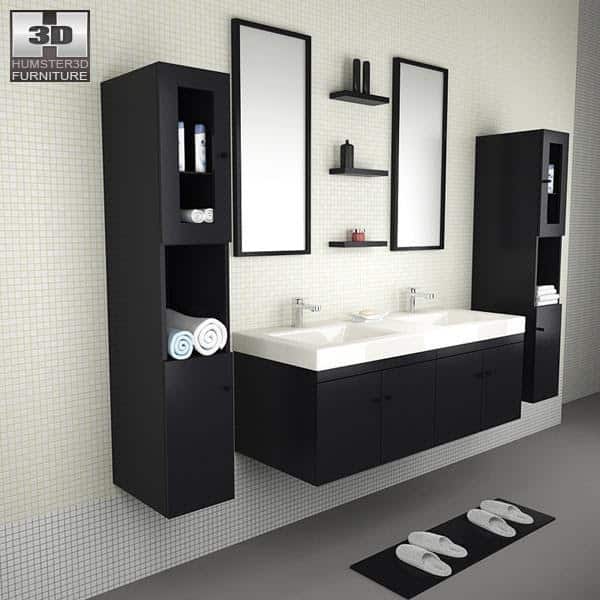 Dominated by a black and white aesthetic palette, this bathroom interior is wonderful. Further, it is characterized by clean lines and symmetrical details.
This feels modern and neat, like it's been made to a specific design. This is a great specimen to inspire homeowners who don't want their bathroom space to be too crowded or messy.
The tiles on the floor are beautiful. The muted color palette makes the space functional and aesthetically pleasing. We like that this 3D model shows us how the bathroom is divided into separate spaces.
They designated areas for two people to use without any clutter or chaos. So, you and your partner can carve out ample space to organize toiletries without taking over each other's space.
Each section has its own mirror and cabinet to offer ample space. Those are for towels, grooming products, and toiletries. The shelves and cabinets are a really impressive feature. It helps make the room well-organized and helps control the clutter.
Then, wall-mounted cabinets and shelves are a good idea because they are always an excellent idea. This will keep the floor space clear and leave enough room for storage in the bathroom. This design will work well in both small and large bathrooms.
The edges of the mirrors and cabinets are sleek, giving them an elegant appearance. The overall minimalist charm of the bathroom is amazing. The large mirrors and bathroom vanity also provide storage space. It is not limiting or violating the structural aesthetic.
3D Geometric Aesthetics Bathroom Designs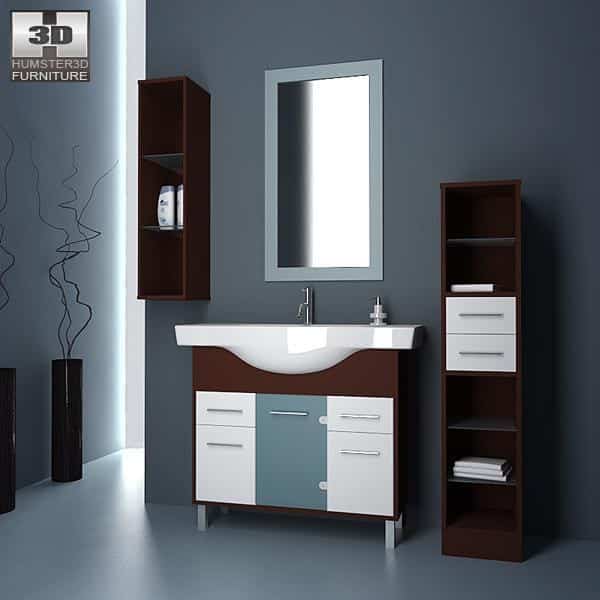 This 3D bathroom model plays up geometric aesthetics with bold and dramatic aplomb. The fixtures are designed to be straight and have neat and tidy symmetry. The model introduces an eclectic contrast. Thus, It made the painting using different shades of brown, white, and grey.
The grey walls and flooring create the perfect. It is one of the best 3D bathroom floor designs. Neutral palette let the energy of brown and white dominate the aesthetics.
This bathroom model design is for single-person use. The space-efficient vanity and wall-mounted cabinets are ideal for small spaces.
If you have a small bathroom, it can be challenging for an organization to put up decorations. And before you know it, the room is a mess and you can't find anything. But this model provides us with the perfect balance between wall-mounted and floor-mounted fixtures.
The cabinets are beautiful and match the rest of the room. They are preparing a lot of space for storing. So, you can store toiletries, towels, and personal care items without cluttering the space. Then, the shiny white porcelain and stainless steel fixtures stand out beautifully against the brown and grey.
Earthly Pleasures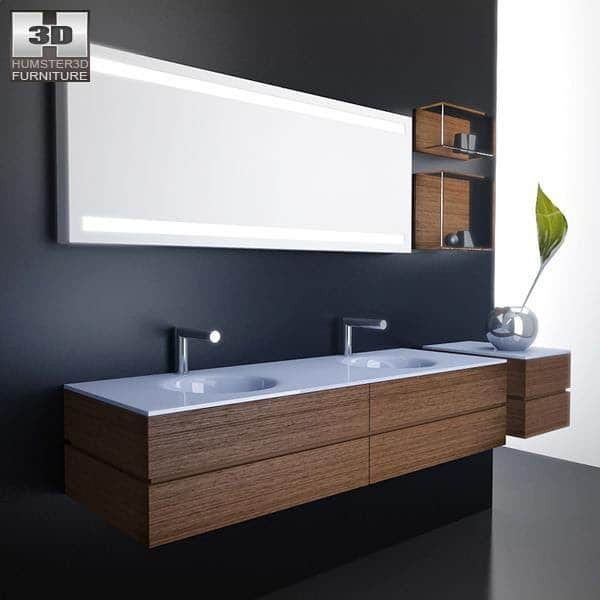 People who like nature-inspired decor will find this bathroom design to be very inspiring and appealing. The brown earth colors dominate the white and grey contrasting colors with beautiful and serene aplomb. The neutral color palette makes the space eclectic and relaxing, and the brown shades create an earthly appeal.
This model shows a bathroom space that is uncluttered and organized. It has a lot of storage space to maintain the neatness. So, it clears out the appeal by hiding all of your toiletries and grooming items. Minimalist lovers don't like to have a lot of stuff in their house. Instead, they look for functional fixtures that hide storage space.
The vanity and cabinets fit inside without spoiling the neat interior design. One of the two sides of the vanity is divided into two equal sections. This 3D model also introduces a delightful display of tech-savvy lighting to play up the vanity mirror and fixtures.
Interestingly, this 3D model is functional for both small and large bathroom spaces. It's hands-down the perfect idea for homeowners who prefer neatness and organization over stacks of toiletries and products. It is perfect for your master bathroom plans.
Final Thoughts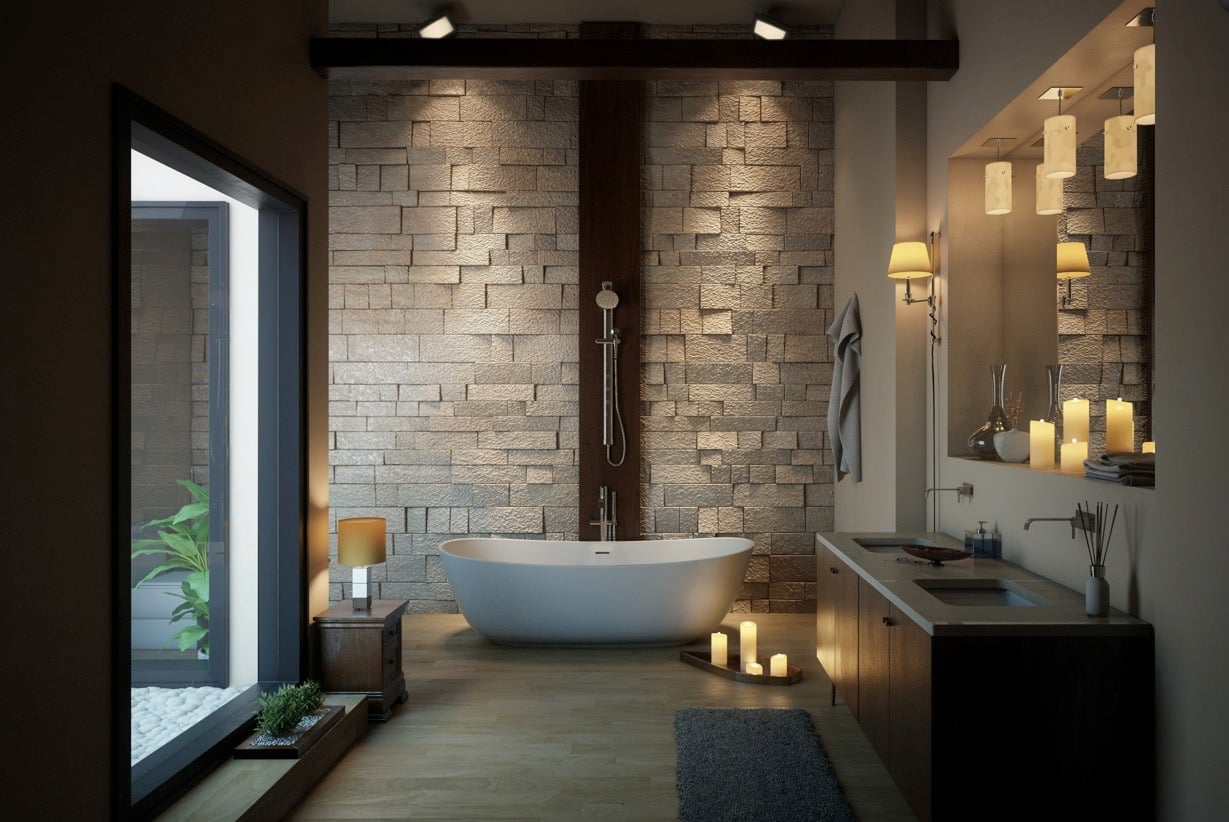 So, which bathroom remodel plans did you find the most appealing? We're always fascinated by how detailed and explicit these models are and incredibly helpful at tweaking design models. 3D models give us an actual visual representation of our vision, helping us prepare for the implementation and construction phases.
Each of these three options is based on a minimalist and modern interior. They don't put too many things in the storage space. The color scheme of the bathroom is usually grey and beige. So, this is a very good example of attention to detail. It narrows down to all fixtures small or large. In addition, it allows you to use the microscope lens to check the final result.
You see, remodeling and designing a well-organized bathroom space is so much easier. Thus, it could be straightforward with detailed 3D models. However, we bid you good luck with your project!