You brought your favorite set of leather couches. Congratulations.
But are you sure you will care the best for this furniture even if your children are all brawling around in the sitting area? And will you be able to protect your darling piece from butter popcorn while binge-watching your favorite shows?
Yes, the point is no matter if you do your best to preserve these pieces, they ought to get stained and grime with time. So why not learn the cleaning techniques beforehand to make your indoor and outdoor furniture forever fresh looking?
Yes, we are here with this article to explain the same.
Go through this article and learn some tricks and tips to clean leather furniture to provide them with the right care and treatment.
Steps for Cleaning The Leather Furniture
Be it outdoor leather furniture or any corporate office furniture, buffing them to hygiene with proper cleanliness will make it ageless. Hence this guide has all the essential cleaning tips that are necessary for material care. Let's discuss each of them thoroughly:
Identifying the Leather-Type
Now this is something that is often ignored given that if the appearance of different furniture is the same the material shall also be identical.
But folks, this is not an ideal case.
There are different types of leather like aniline, faux, semi-aniline, pigmented, nubuck, regenerated, and more. The leather has skin like your own body hence, a patch test is always required before implementing things on a large area. Maybe this technique shall help you in knowing better which products or materials keep your leather supple.
While some may be sufficient to clean with a regular dry fiber cloth, others demand damp attention with special conditioners and cleaning products.
Pro Tip: Make sure you ask your outdoor furniture dealer for proper care and hygiene instructions or borrow a booklet. You won't regret this.
Dusting and Vacuuming the Leather
This is one basic step to remove crumbs and dirt that might have accumulated on the surface. You can use the vacuum cleaner with the brush attachment and avoid any scratches. Make sure you start with slow sweeping movements back and forth. Reach out for the areas where the fingers cannot reach and clean the part thoroughly.
Lastly, ensure that you do not miss on fold folds crevices and restrain from using any hard-brush attachment.
Leather Cleaning Products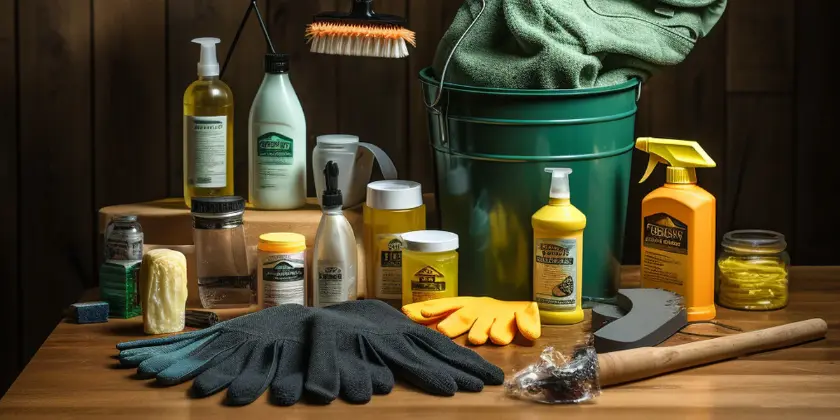 You can use the following products to clean your dear pieces of furniture:
Leather Conditioner
Leather Cleaner
Leather Honey
White Vinegar
Cotton Swabs
Saddle Soap
Coconut Oil
Muslin Cloth
Fresh Towel
Soft Cloth
Alcohol
Water
Now the above provided list may be subject to variations with each type of leather under different circumstances and stains. Stick to the basics of routine leather cleaning rather than using way too many products.
Still, if things are getting out of hand, get in touch with the professionals regarding the cleaning process.
Cleaning the Leather
Here's a quick chart on how different indoor and outdoor leather furniture can be cleaned in no time:
Faux Leather: Use some warm soapy water and a soft cloth. Then, use a dry cloth to wipe the washed area. You can also use faux leather cleaner to remove specific spots.
Aniline Leather: Now this type of leather is very absorbent so don't spray leather cleaner directly onto it. Turn the liquid into foam to make it less soaking. You can also use a brush, soft cloth, or vacuum to clean the leather fiber. Lastly, use Leather Protection Cream in case the leather furniture is brand-new.
Regenerated Leather: This type of leather comes with a smooth texture. To clean it, wipe it down with a damp, clean cloth. Furthermore, unclog the crevices and creases with a vacuum cleaner or dry cloth.
Semi-Aniline Leather: It's quite similar to aniline leather but it is pigmented in the surface coating. Dust your Semi-Aniline leather every week. Use a mild soapy solution and a damp cloth for the same.
Soft Split Leather: Here again, wipe it with a damp cloth from top to bottom. Let it air-dry and buff it with a cloth that is dampened by a leather cleaner. Remember to not expose it to direct sunlight and heat.
Practical Advice: Don't use regular soaps or abrasive cleaners ever for cleaning your leather.
Some Additional Tips for Leather Care
Here are some more valuable tips to consider if you want the longevity and safety of your leather furniture:
Keep your pets off the leather furniture. Now you may be pet-parents or pet-friendly but, try to teach your pets to stay off that leather sofa and prevent them from getting torn or cut.
Do not resort to any random DIY hack or household cleaning product to cleanse your leather. You will only sabotage the quality of your favorite piece in the coming future.
Leather is prone to minimal scratches and even discoloration with age. Hence, it becomes equally important to make it breathable and moisturize it. So, never compromise on the quality and use the best leather cleaning products.
Use proper layout techniques for furniture replacement where you can ensure their best safety from direct sun exposure, fire, glass doors, air-conditioners, etc. This will have an adverse effect on the endurance of your outdoor furniture.
Lastly, always consult experts for professional help rather than any random person or dry cleaner.
Conclusion
The furniture is the heart of the home.
If you don't take care of your indoor and outdoor furniture, the aura shall no longer be lively and fresh. Hence, sticking to the above tips and tricks will ensure the longevity and safety of your precious leather furniture.