Bathroom Cabinet Ideas – Bathroom cabinets are vital in creating the design of a bathroom. More importantly, they provide important storage for bathroom supplies.
Additionally, bathroom cabinets can be both practical and appealing in providing storage in highly trafficked and usually confined spaces.
When it involves cabinet designs, sizes, setups, and materials, options are nearly countless. Discover how you can make best use of storage and take advantage of every inch of space with these awesome Bathroom Cabinet Organization Ideas.
---
Bathroom Storage Cabinet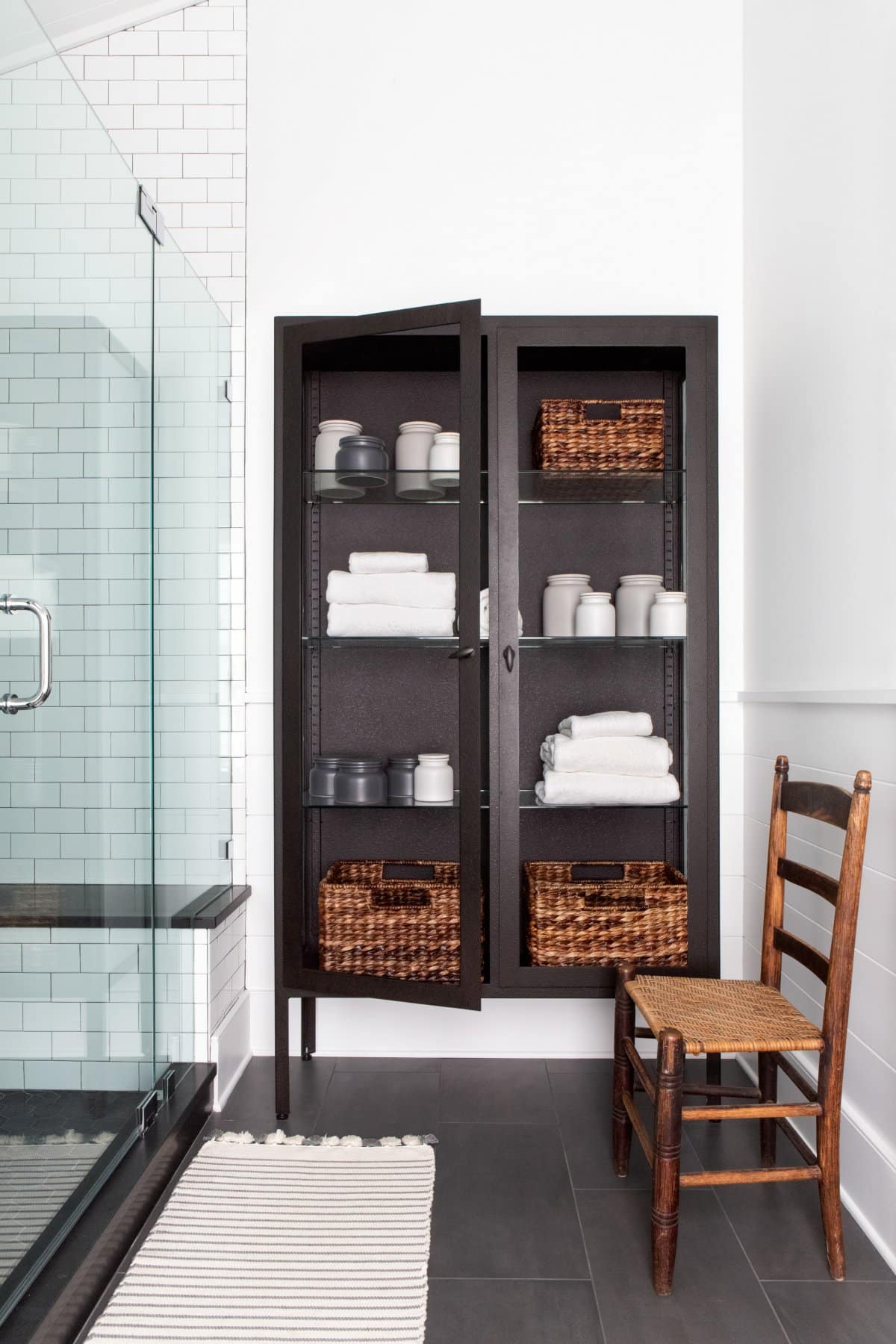 Having a small bathroom might be tricky for us to organize. Among so many small bathroom storage cabinets, this one is perfect to put in the corner. It fits the corner area perfectly and tends to save more space.
Moreover, this mid-sized cabinet has four shelves that can store a lot of bathroom stuff, including baskets, towels, and many others. Also, its transparent glass door allows the owner to check their cabinet's content efficiently.
Bathroom Cabinet Organization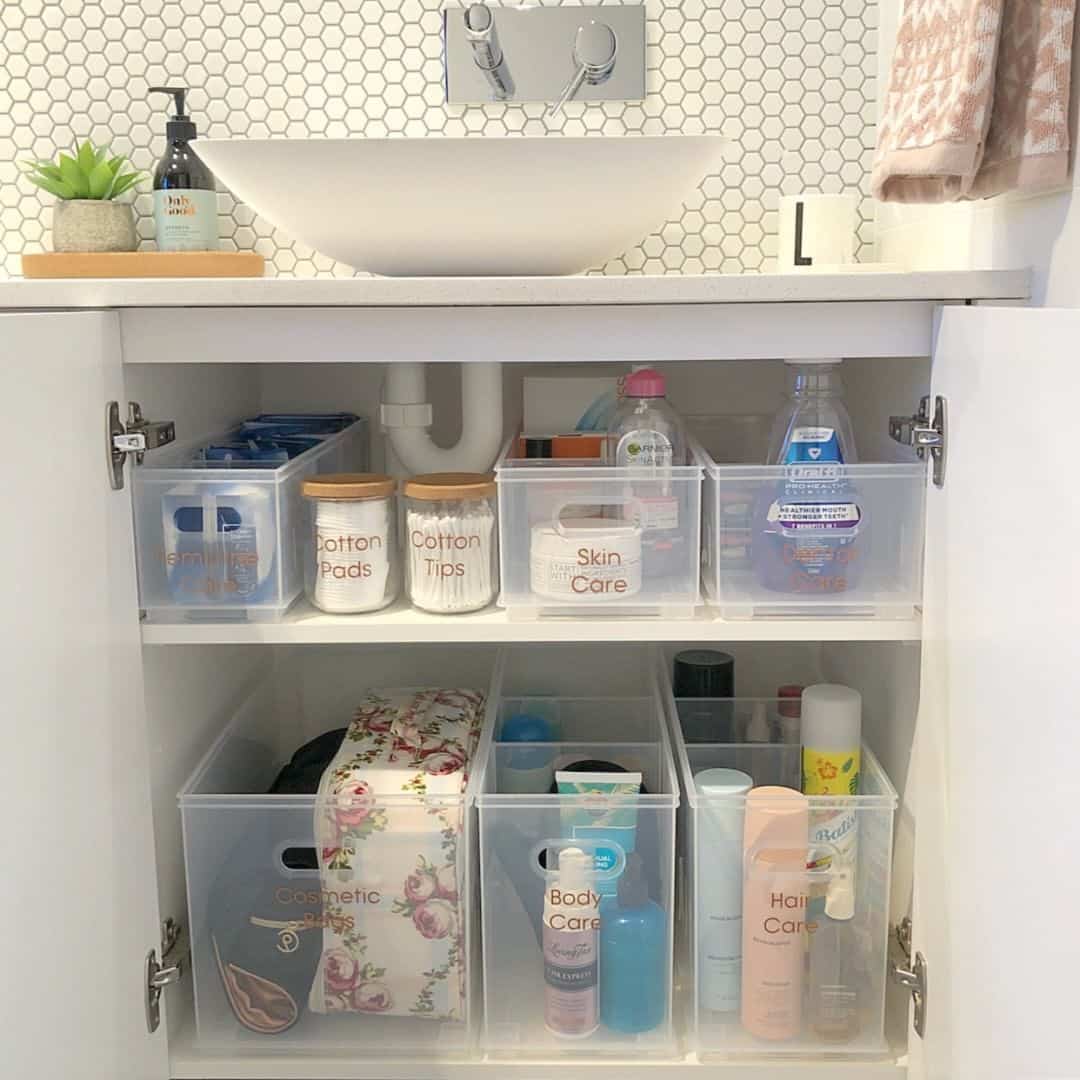 A well-arranged bathroom is what every owner expected to have, and it also applies to a cabinet. To transform it into organized storage, you can provide several containers for storing your tools.
Furthermore, try to arrange them inside and separate your stuff based on their types and functions. As an example, separate skincare and hair care products in different containers. In short, it will be better for you to find them inside the cabinet.
Bathroom Cabinet For Small Bathroom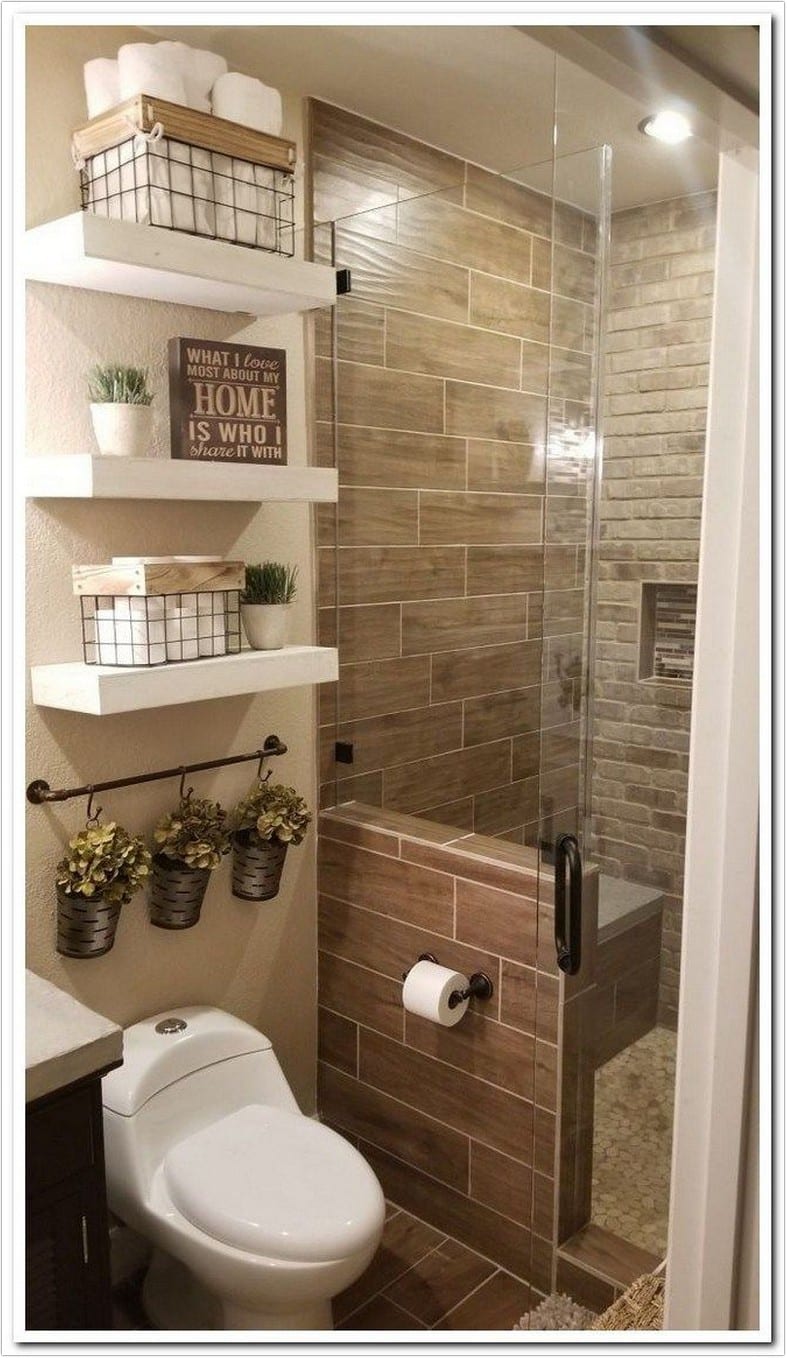 Applying one of many bathroom storage ideas for small spaces in this room is a great idea. As we can see in this small bathroom ideas, the owner utilizes the empty wall behind the toilet for installing open storage.
Also, three open shelves arranged vertically inside this bathroom, and each of them is sturdy enough to store some stuff, such as towels or even decorative plants. Lastly, the addition of baskets is better for storing the towels and avoid them from falling.
Bathroom Cabinet Paint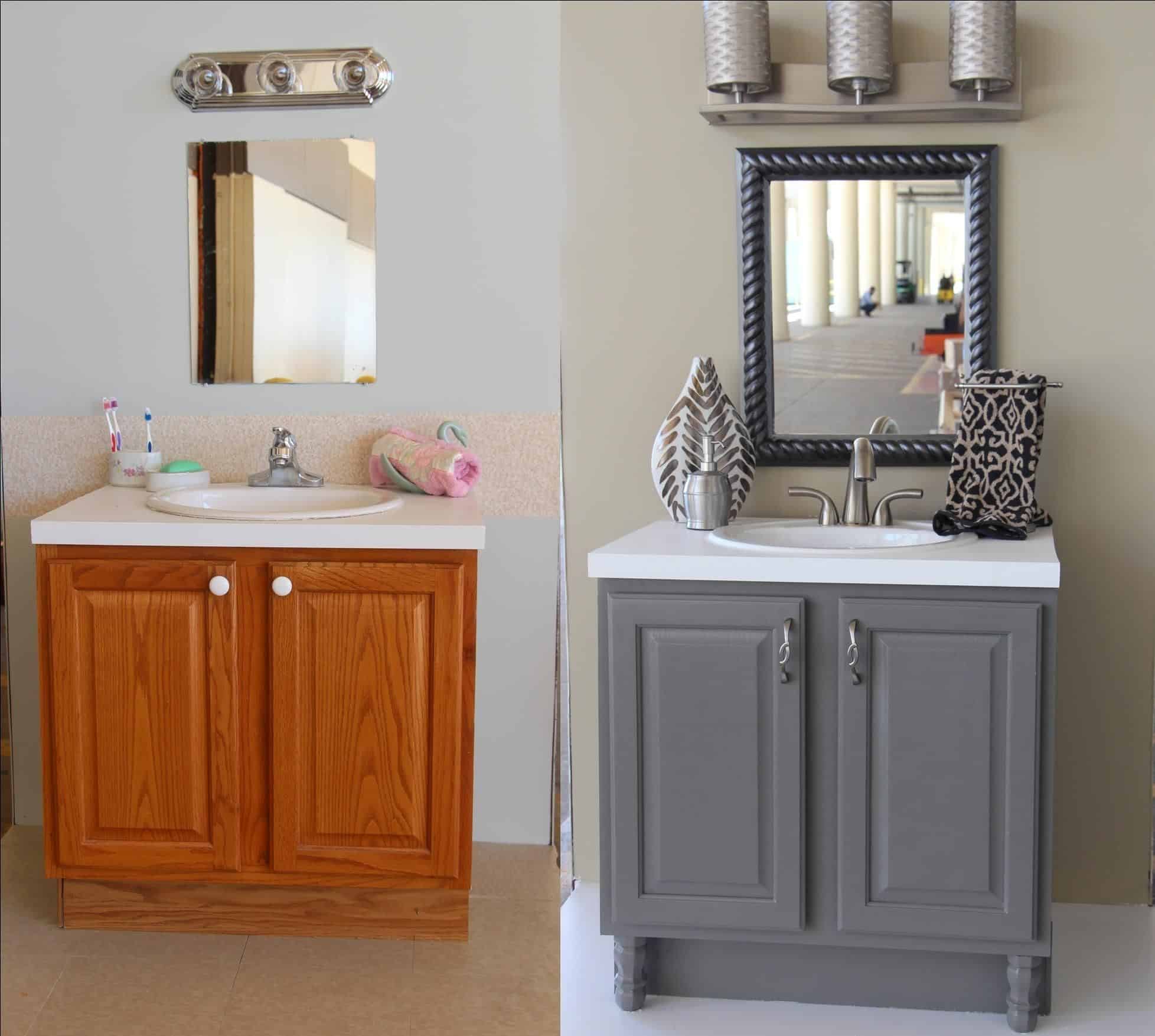 Choosing the right paint for a bathroom cabinet is essential to refresh the room. It also represents the style and atmosphere of the bathroom itself. In this bathroom, there is a grey cabinet that used to have a wood accent. Its design was too simple with no frame mirror, sink, and a ball faucet.
However, after the repaint process, it finally completed with grey color, widespread faucet, framed mirror, and other new accessories. Now, the bathroom vanity units look completely new and also change the bathroom design.
Bathroom Cabinet Color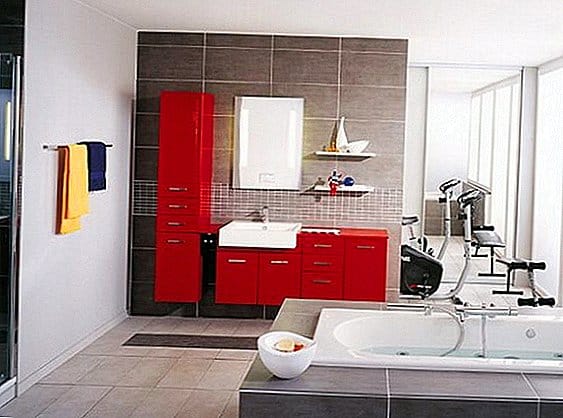 Installing a cabinet with a bold color in a neutral room color can create an artistic look. In this white bathroom, there is a red cabinet with several drawers and doors. It also has room for a sink so that the owner can do a cleaning activity easily. Also, this cabinet attached directly to one side of the wall along with the mirror and few open shelves.
Bathroom Cabinet Hardware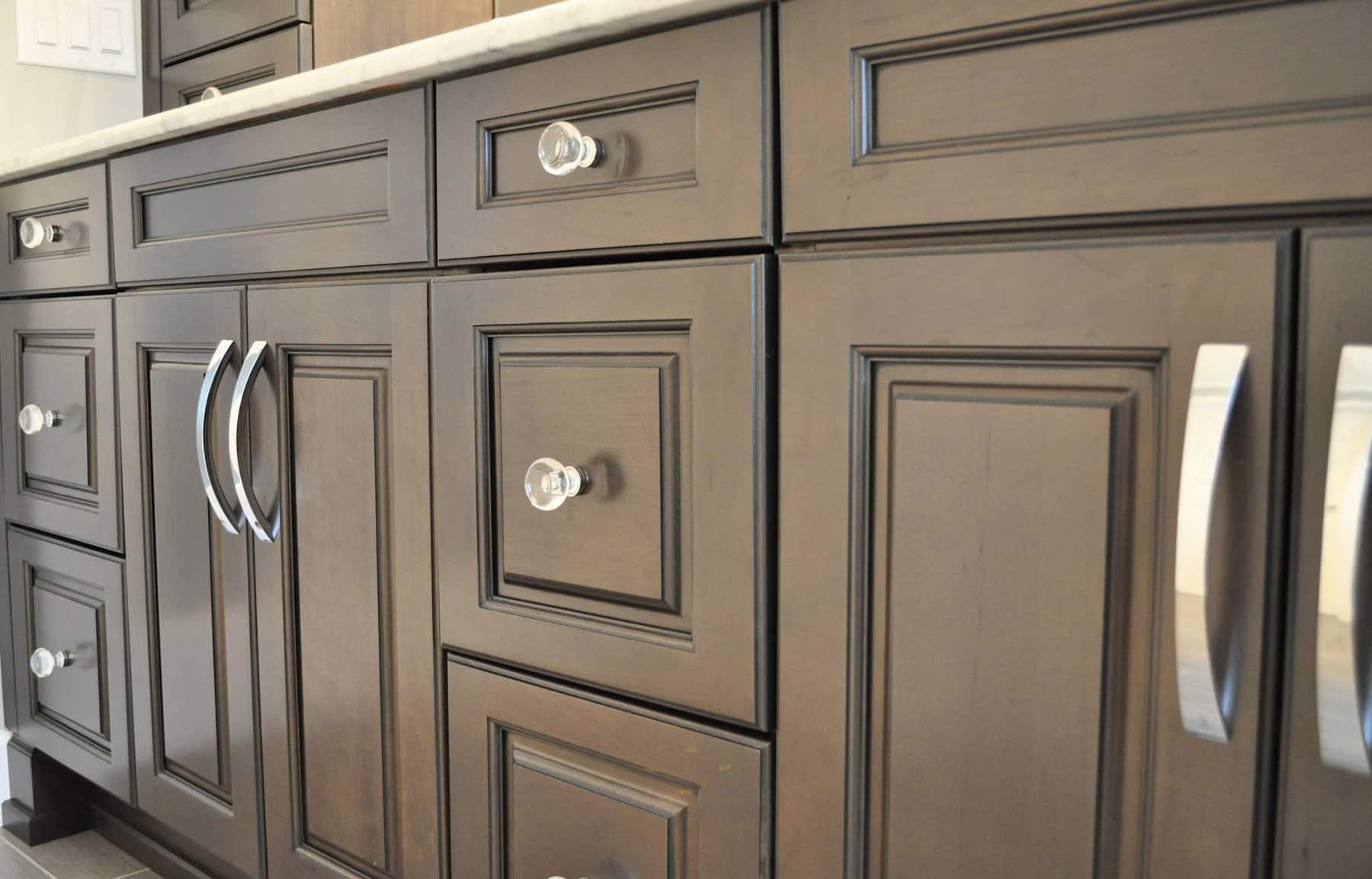 Usually, a bathroom cabinet is similar to the ones that we have in other parts of the house. However, we might find some different hardware, including pulls, knobs, handles, keys, latches, and other accessories.
In this wood cabinet, there are some knobs and handles on its doors and drawers. Each drawer has a crystal cabinet knob, and each door completed with a stainless steel handle. In short, all of these hardware functions well and suitable for the cabinets.
Under Cabinet Bathroom Storage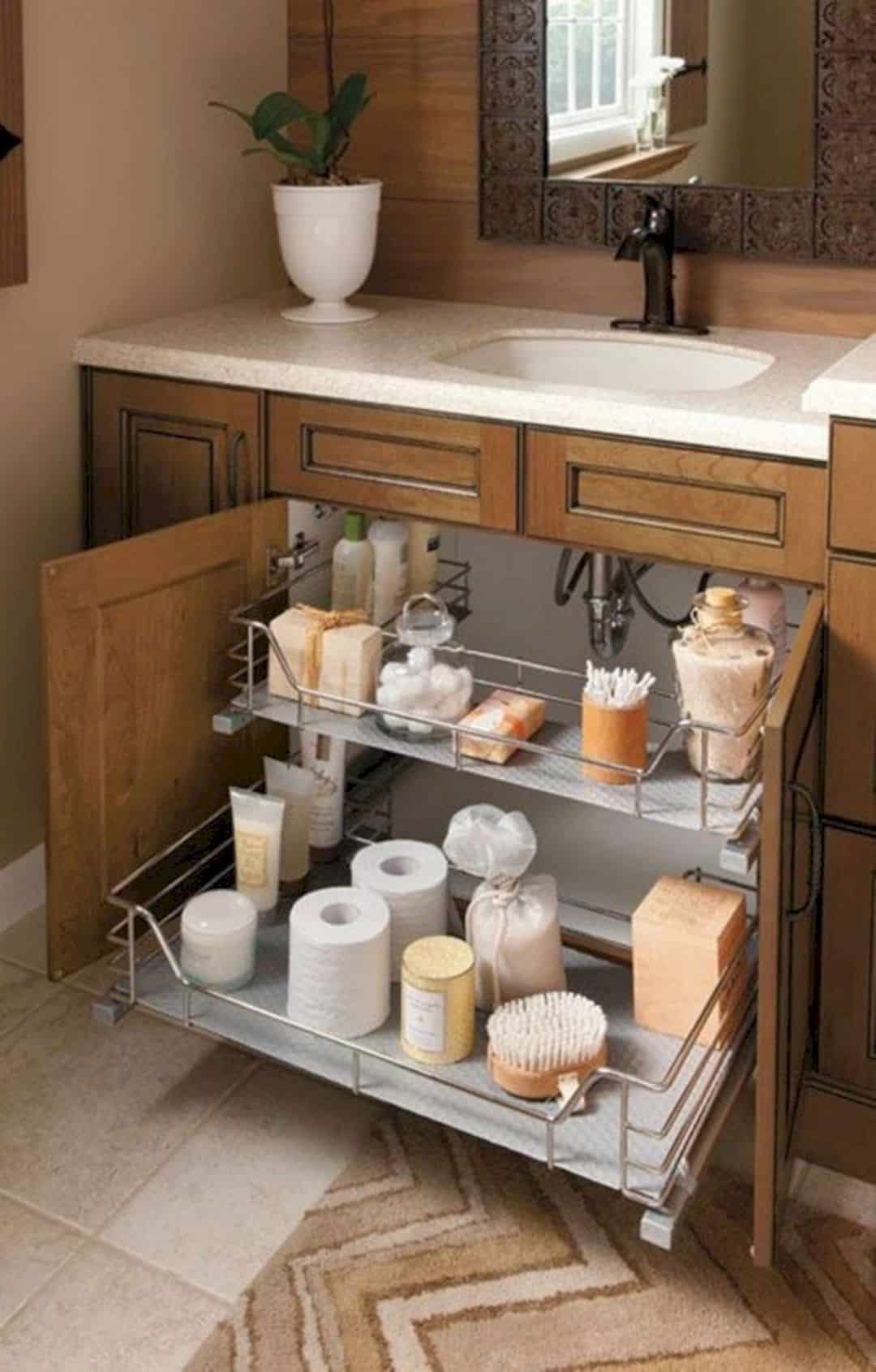 Sometimes while arranging some stuff inside a cabinet, we need to install an additional component. In this bathroom storage cabinet, there is a pull out organizer rack with two-tier design.
It helps the owners to organize their smaller stuff orderly, including toilet paper, brush, and bathing products. Besides, it made of stainless steel material that makes it durable, rust-resistant, and also sturdy.
Bathroom Sink Cabinet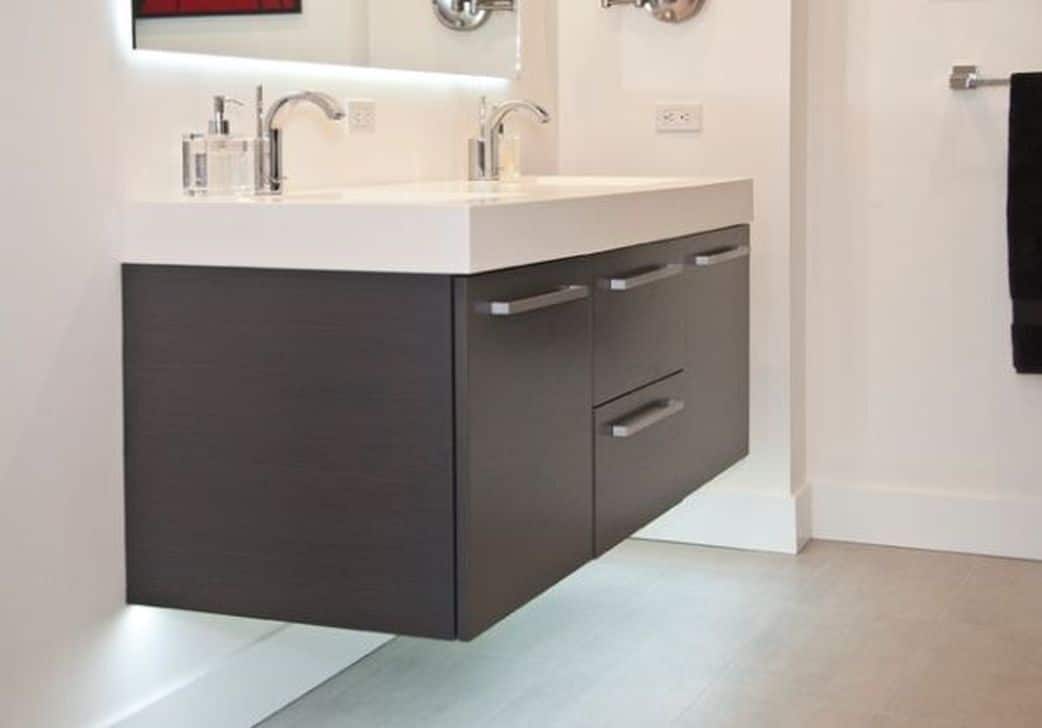 Most of the contemporary bathroom has a sink to complete the function of the room, and it often installed on top of bathroom vanity. Here, this bathroom looks fascinating with a floating cabinet. It provides a generous space for double sinks so that more than one person can use them at the same time.
Black Bathroom Cabinet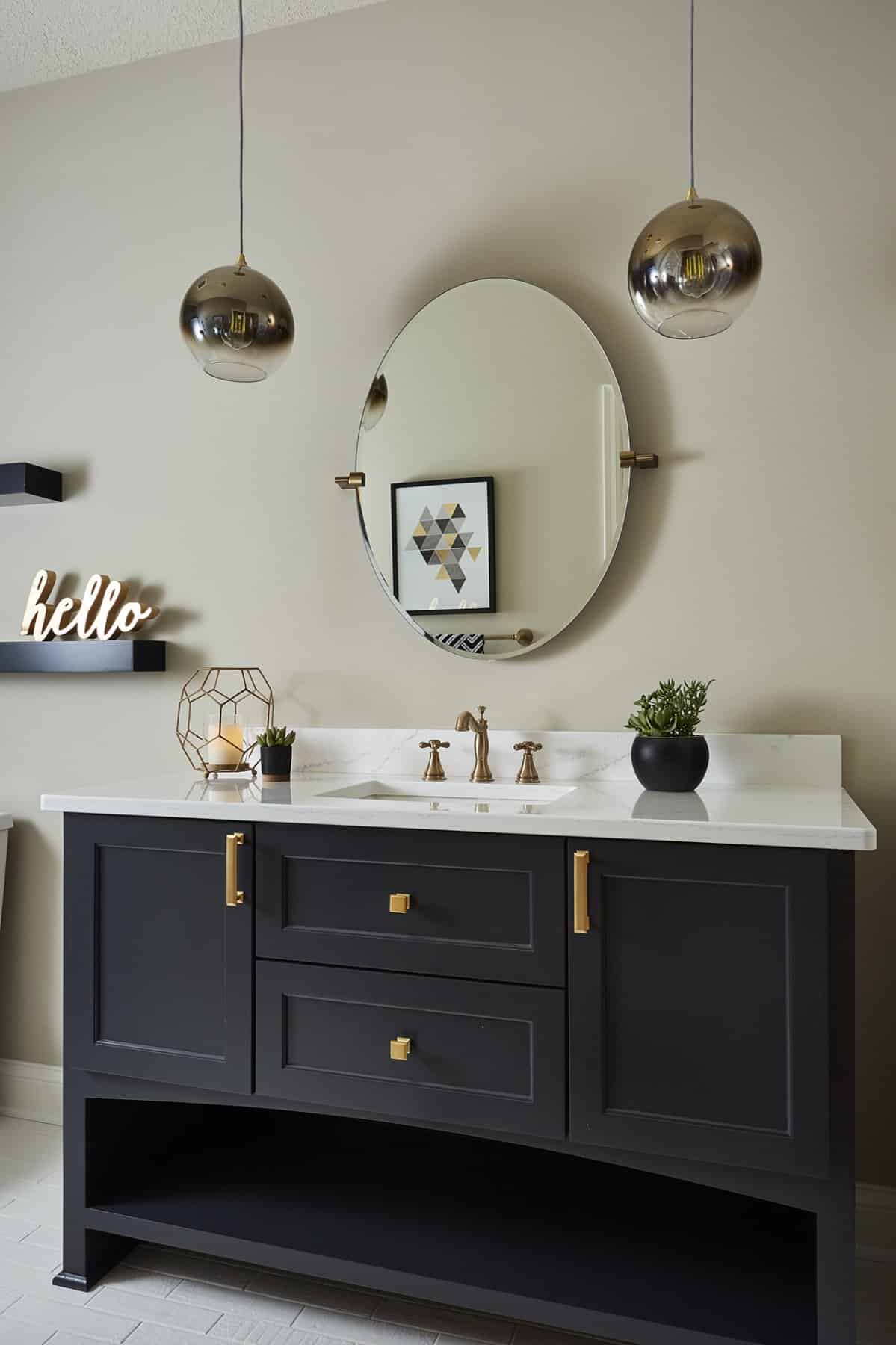 For the dark and neutral color lovers, this storage design might be their favorite. If we take a look at this bathroom cabinet, it looks both simple and elegant in black. It blends well with the room wall color and has a single sink with ceramic countertop.
Additionally, this closet has four closed storage spaces and a large open shelf. In brief, this whole storage design is attractive and up-to-date.
Bathroom Towel Cabinet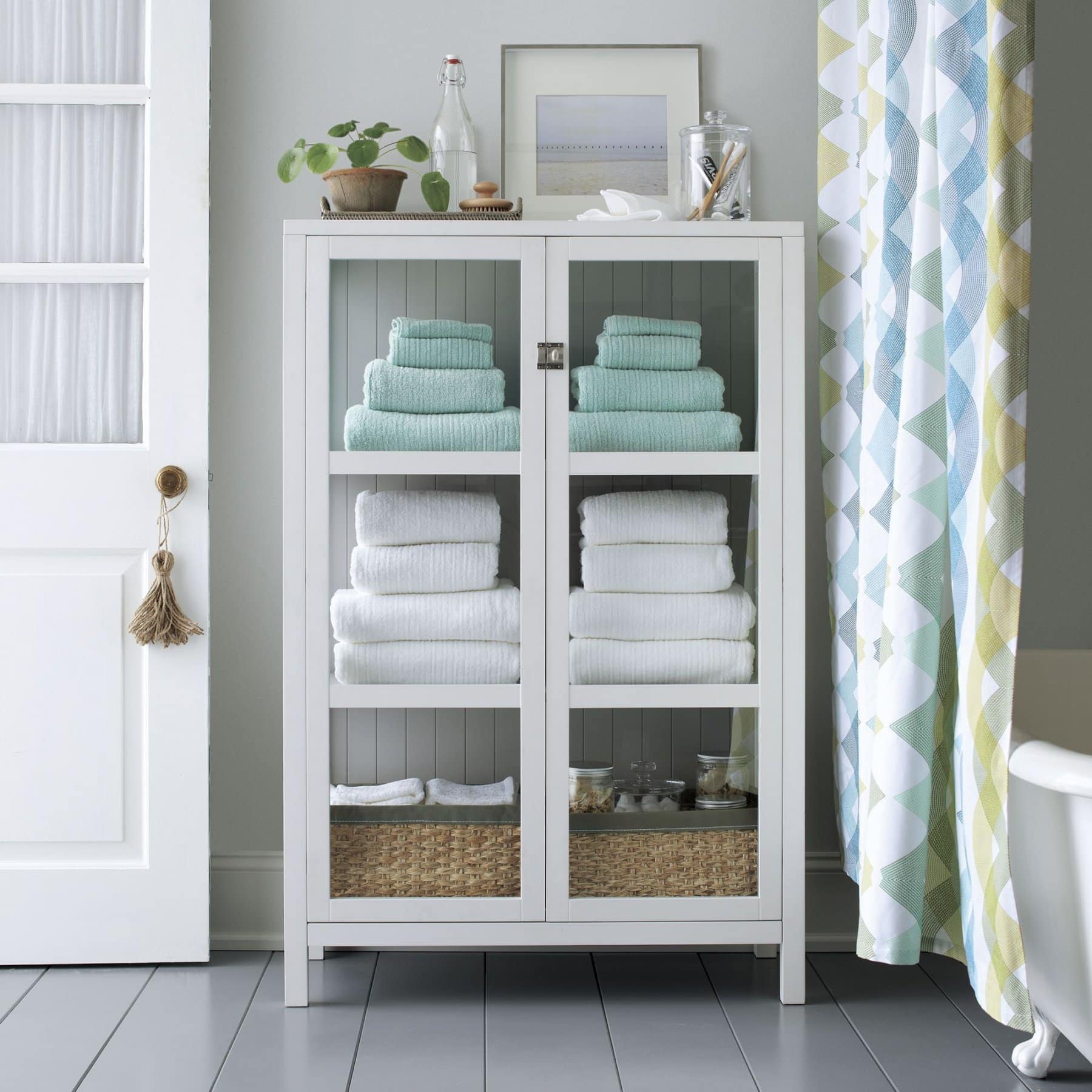 Providing an exclusive space for storing towels in the bathroom is an essential thing to do. Also, putting those towels in a cabinet allows the owner to organize them easily. In this bathroom, there is a white cabinet with transparent glass on its doors.
It has three large shelves that are suitable to store many stuff, not only towels but also other relevant tools or products. Additionally, this towel cabinet is also perfect for storing other non-fabric stuff, such as bathing products and tools.
Master Bathroom Cabinet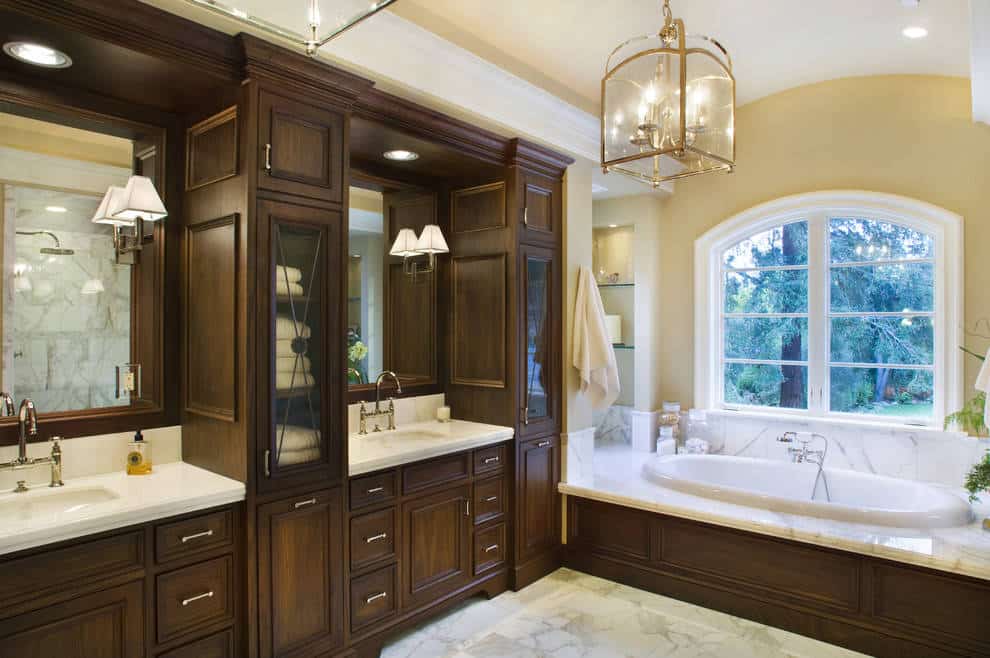 When we called a bathroom as a master bathroom, commonly, it always contains a shower and a bathtub. Similar to this large room, there are some bathroom furniture and accessories, and one of them is a large bathroom wall cabinet. Since this bathroom is spacious enough, this big cabinet fits the room and wall beautifully.
It looks classical with wood material and double sinks with white countertops. Moreover, there are plenty of spaces for storing things inside the cabinet, and the owner will not have their stuff scattered randomly on the floor.
Modern Bathroom Cabinet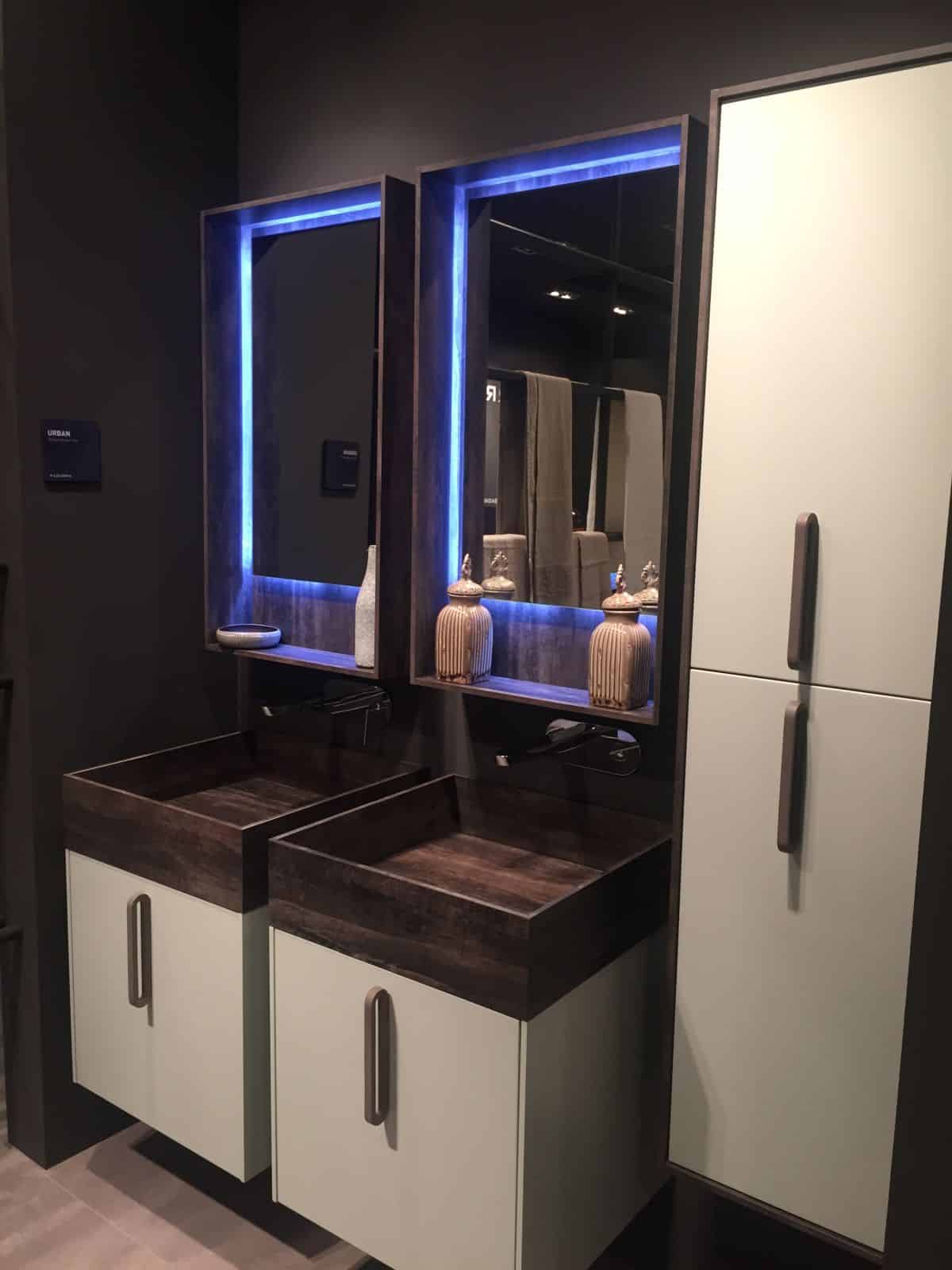 There are many ways to transform a conventional bathroom style into a modern one. By adding some contemporary furniture, the room will look more up-to-date and different. Additionally, installing this cabinet is a perfect choice to provide a modern touch in a bathroom.
In this modern bathroom ideas, there are two similar cabinets with handles and LED lighting behind the mirrors. Then, the cabinets also appear in a neutral tone with white doors and wood accent on the sinks.
Small Bathroom Wall Cabinet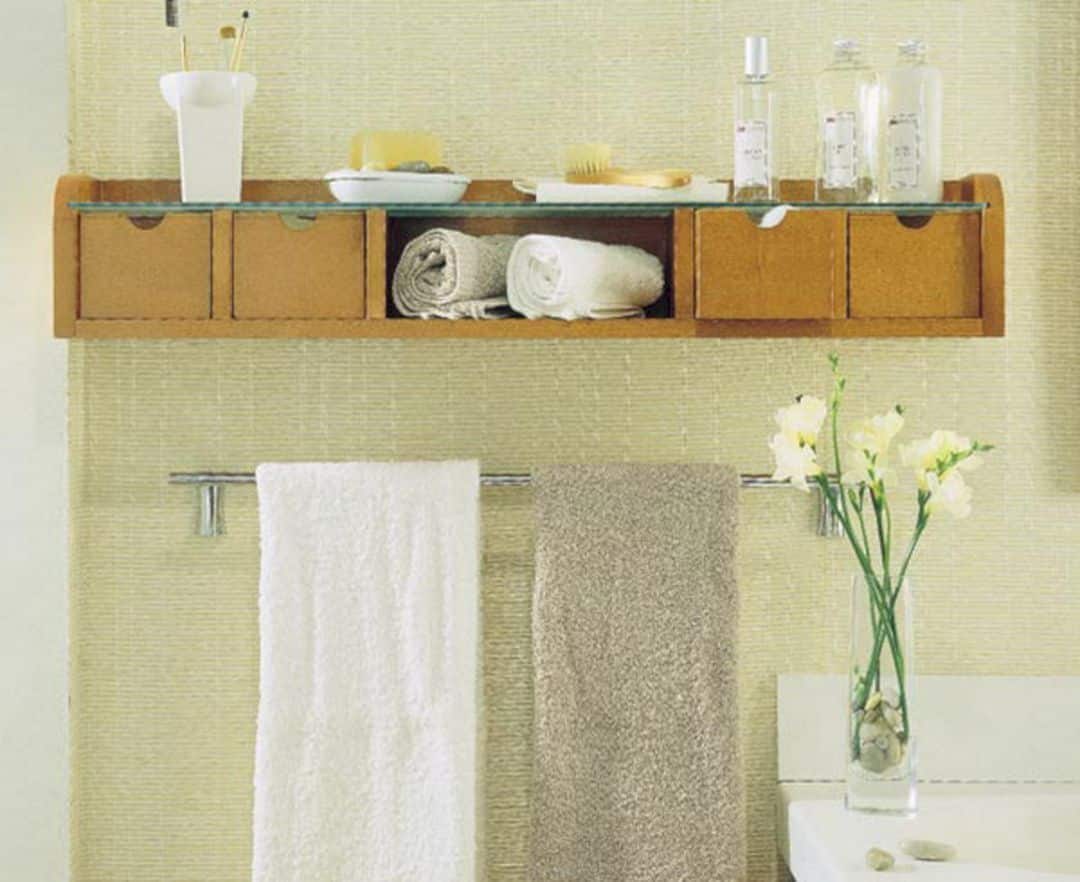 Commonly, a small room requires small furniture too. If you are looking for the right recommendation for bathroom cabinet, this one is perfect as bathroom wall storage ideas. It has four drawers and one open shelf on the top side.
Besides small in size, this cabinet has a vertical design and attached to the wall. In short, this tiny cabinet is excellent for keeping things orderly and saving more space effectively.
Bathroom Cabinet DIY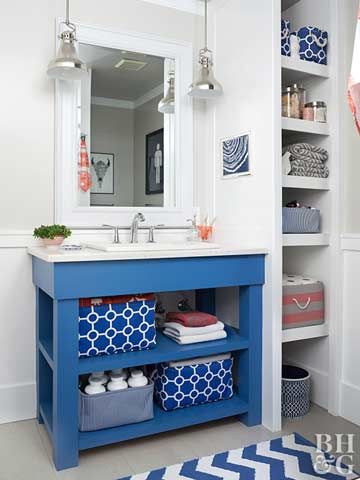 If you feel bored with those cabinets that are available in stores, now it is time to build one for yourself. Since the DIY cabinet shows the owner's creativity and style, you can create it based on your favorite look and design.
As we can see here, this cabinet has a simple design and painted in blue. Moreover, the owner also uses several bathroom storage baskets for organizing all stuff based on their groups.
Bathroom Mirror Cabinet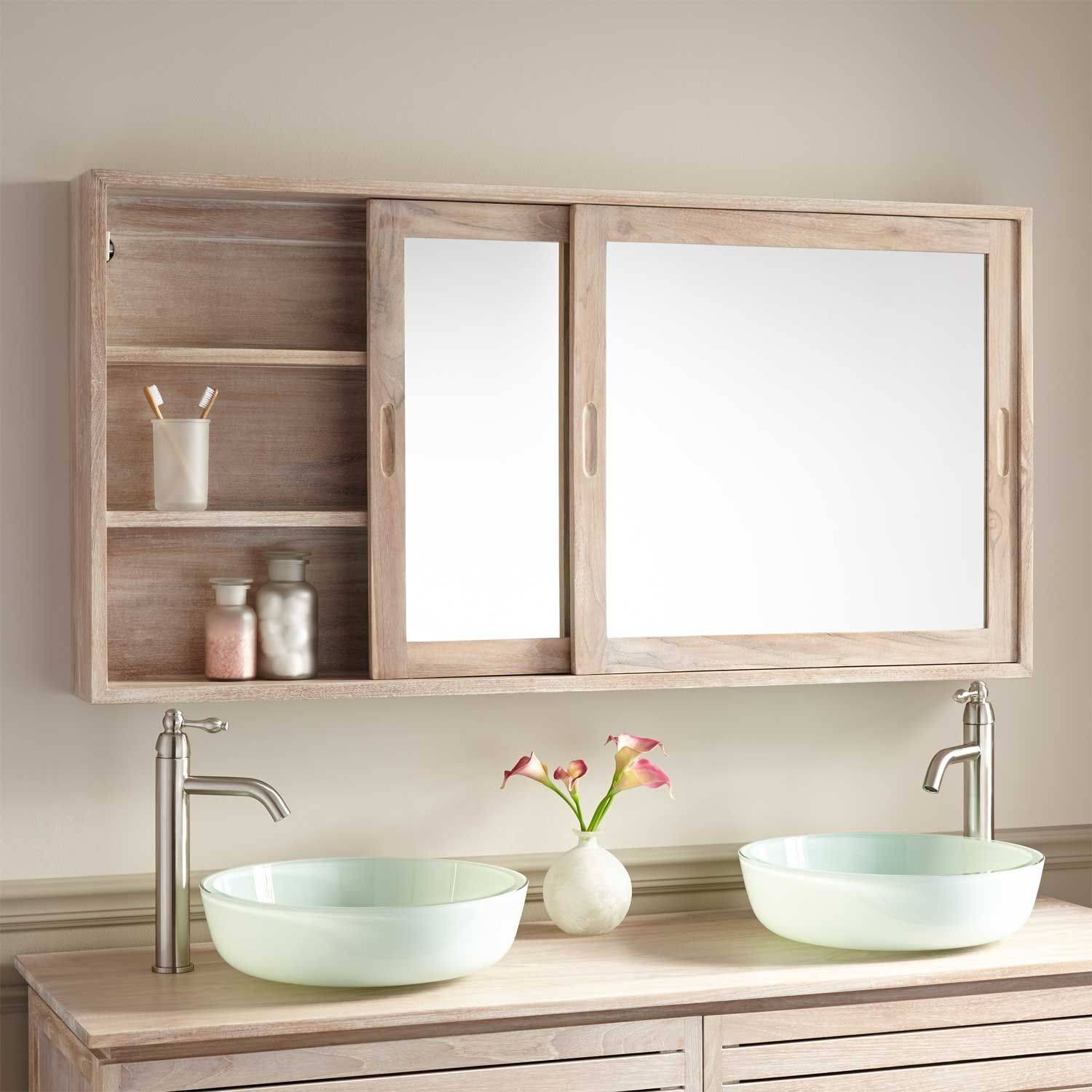 Installing bathroom storage cabinets wall mount can save a lot of space, just like this storage. It made of wood and has an elegant design. While closing or opening its sliding door, we can see mirrors attached to it.
It allows us to see our reflection and help us to prepare ourselves while in the bathroom. Additionally, inside the cabinet, there are several shelves for storing some small stuff. It also perfect for keeping the stuff hidden and organized.
Bathroom Cabinet Over Toilet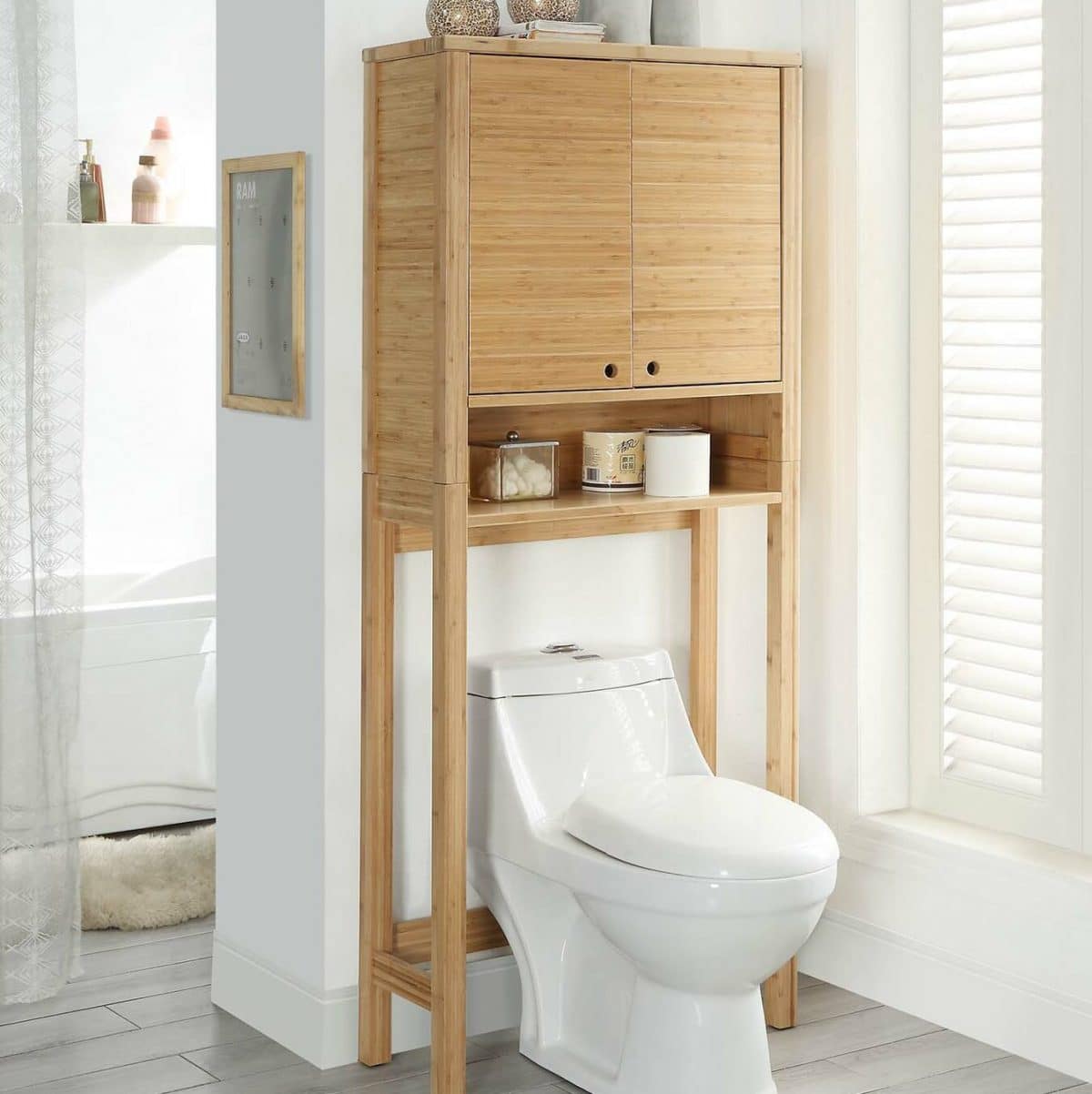 A tiny bathroom offers limited space for installing furniture. Although this room is small in size, the owner modifies a cabinet and install it over a toilet.
However, this tall bathroom cabinet does not attach directly to the wall, but it has legs for keeping it standing. Furthermore, this cabinet is wooden, and its size fits the bathroom excellently. Over the toilet storage ideas.
Bathroom Vanity Cabinet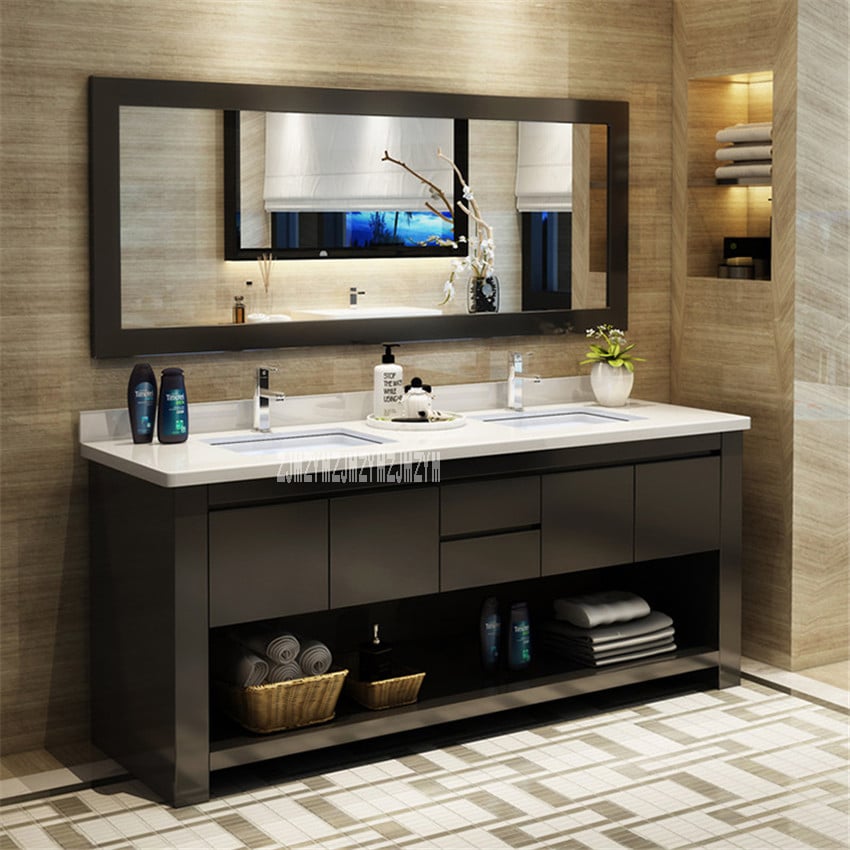 A bathroom vanity helps us to prepare ourselves before doing daily activities or even before going to bed. Besides, we can save most of our bathing products in its cabinet. Additionally, this long vanity includes several drawers and an open shelf.
There are double sink and a mirror with the same length as the vanity. Also, it made of rubber wood material that is waterproof and sturdy.
Rustic Bathroom Cabinet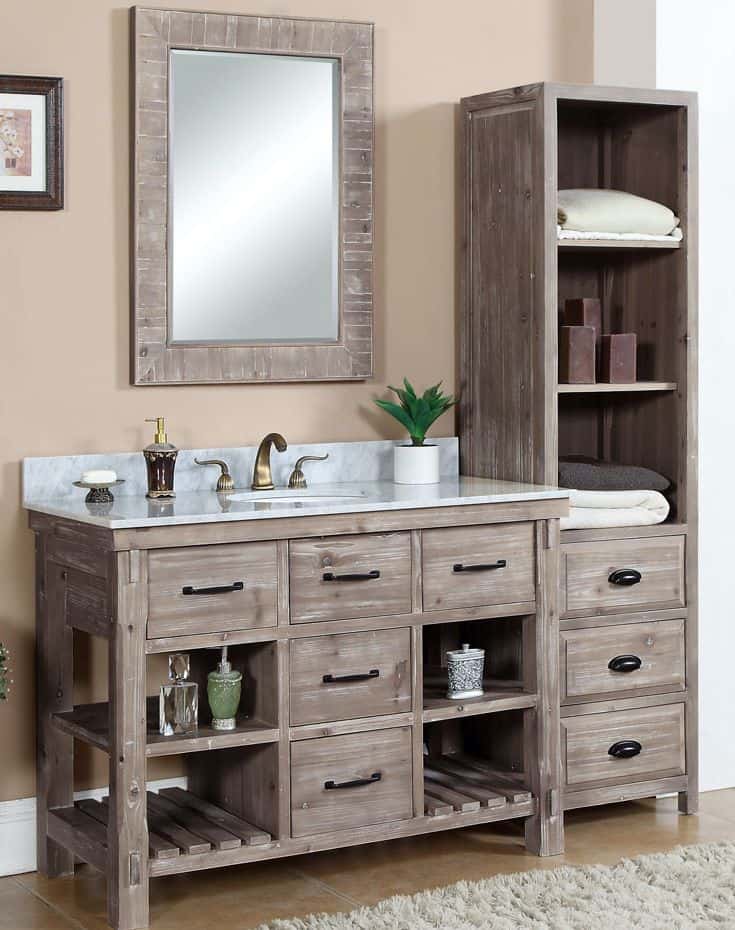 As a great example of rustic bathroom storage ideas, this cabinet appears in a vintage and farmhouse design. We can see a classical look at the use of wood as the first material. It fits the countertop color and faucet exquisitely.
Furthermore, there are several drawers with handles and open shelves in some parts of the cabinet. Besides the vanity cabinet, there is also a tall storage cabinet with a similar model and material on the left side.
Custom Bathroom Cabinet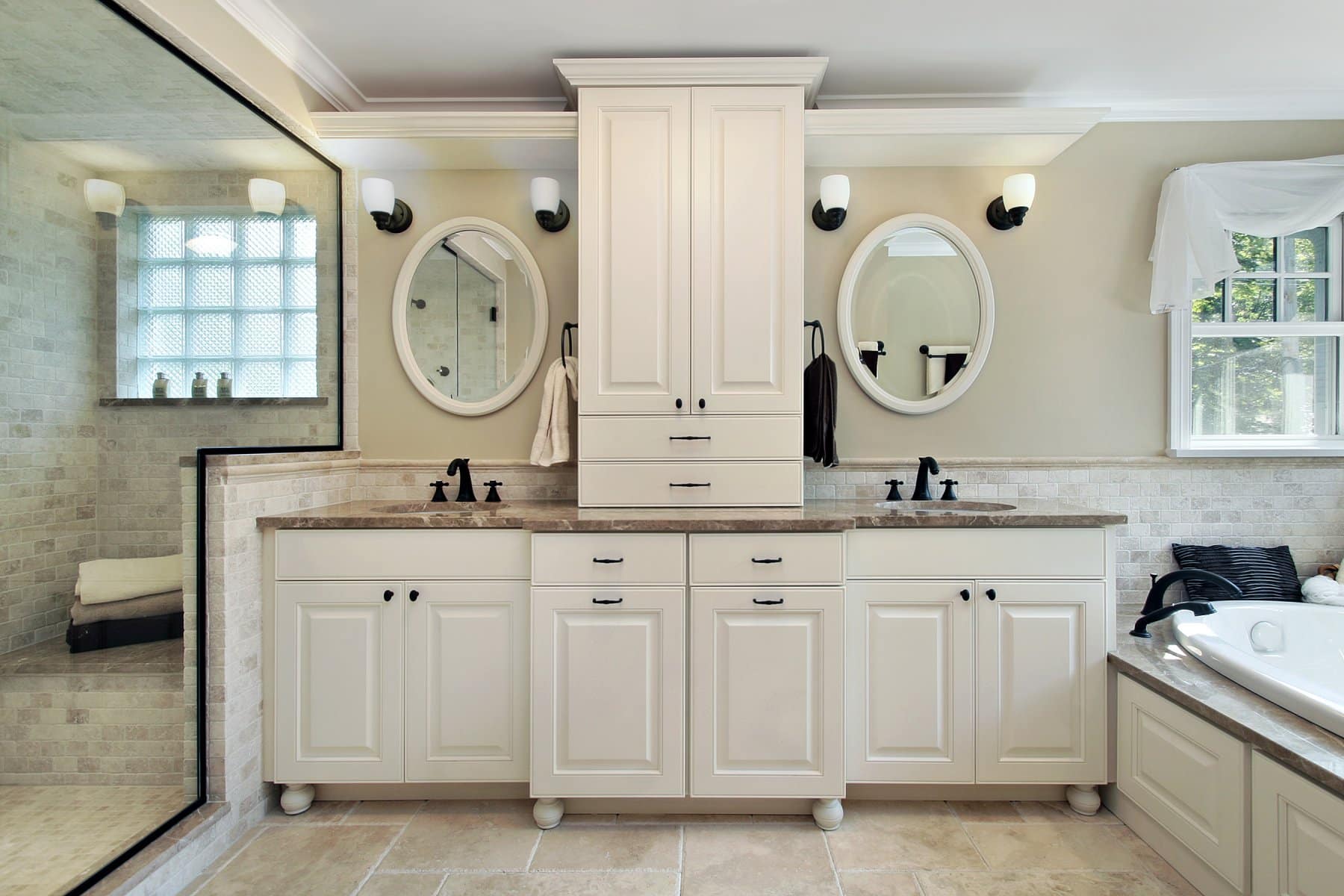 A master bathroom looks complete with this white custom cabinet. It provides double vanity for sinks and mirrors. Moreover, the best thing about this storage is its big size and pretentious design. It fits the room tone and size elegantly.
Then, if we take a look at the storage space, there are several cabinets for storing bigger stuff and drawers for keeping the small ones. In short, the addition of this custom cabinet makes the bathroom looks splendid and fancier.
Built-in Bathroom Cabinet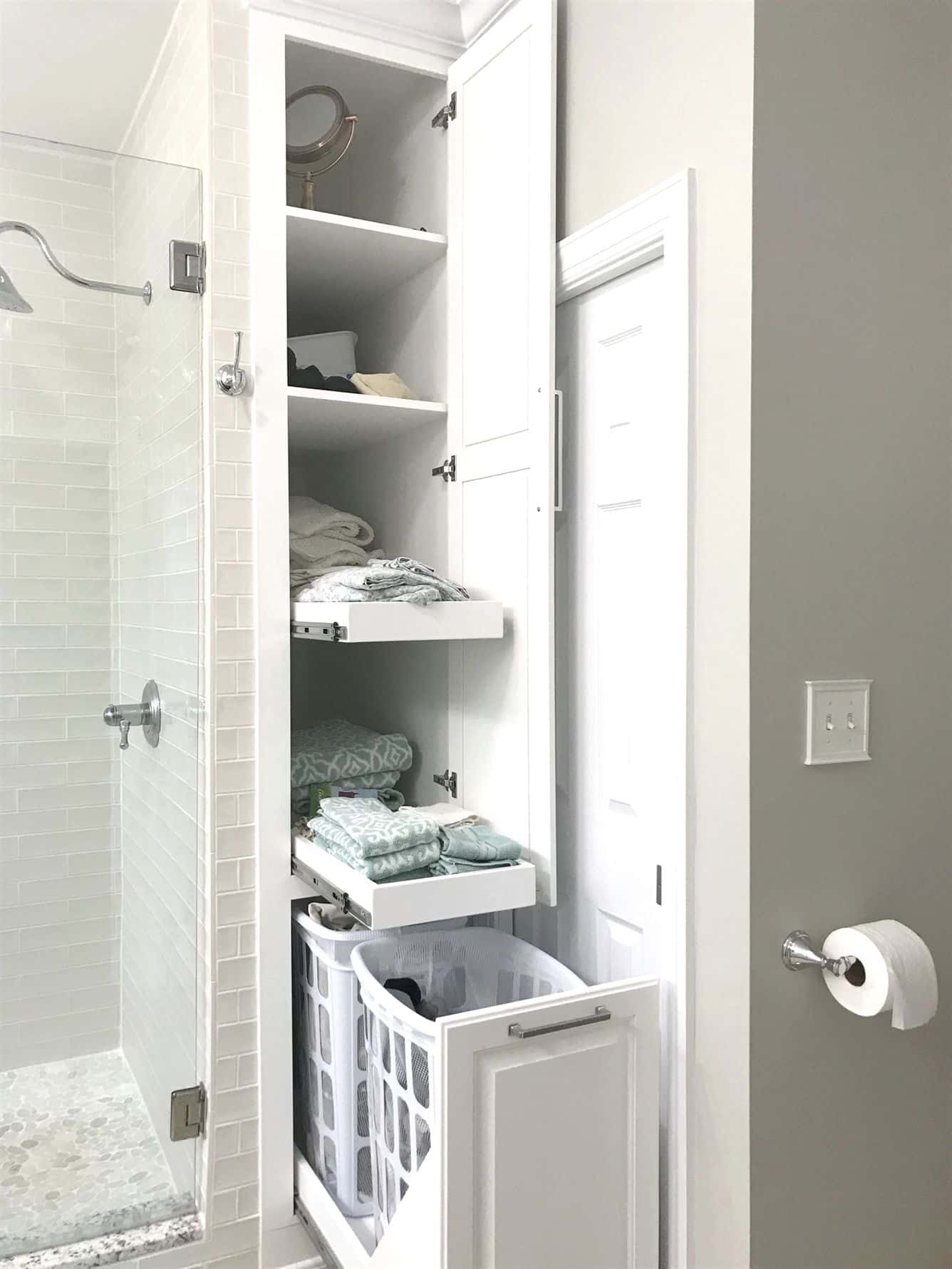 For most homeowners, a spacious bathroom can avoid overload and disorganized situation, including a small bathroom. However, it doesn't look spacious anymore, if the owner decides to add a conventional cabinet. Thus, we can keep the storage hidden by building a built-in cabinet inside a bathroom instead.
In this bathroom, the owner utilizes a space near a shower stall to build a cabinet. It includes several shelves with few of them that can be pulled out, and the rest are permanent. On the lower side, there is a single pull-out shelf that is perfect for storing baskets.
Cool Bathroom Cabinet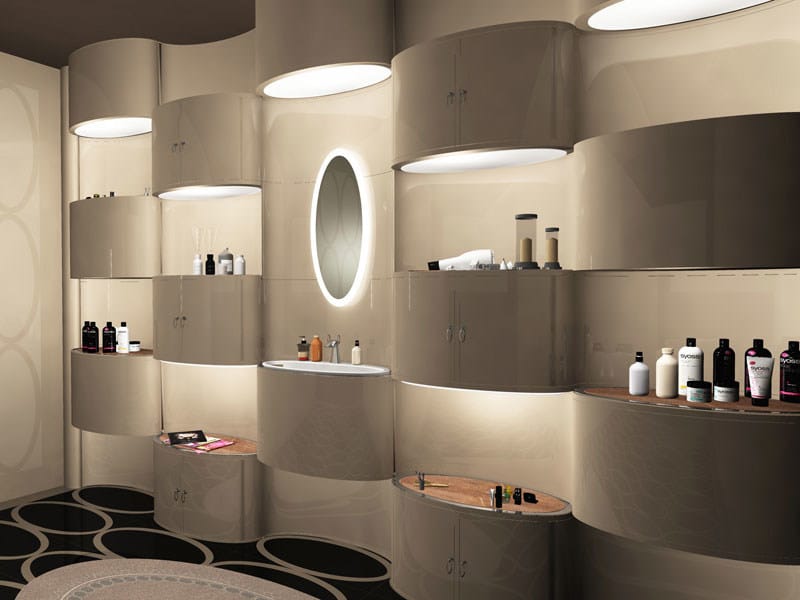 Some people love to have a modern and stylish bathroom, it also applies to storage. Here, this huge bathroom storage has a unique and innovative design. There are several floating cabinets with LED lighting and they appear in natural color tones.
In the middle, we can also see a vanity designs for bathroom with a ceramic sink and LED mirror. Lastly, this whole storage not only shows its different and extraordinary look but also proves that it provides enough space for storing plenty of bathroom stuff.
Vintage Bathroom Cabinet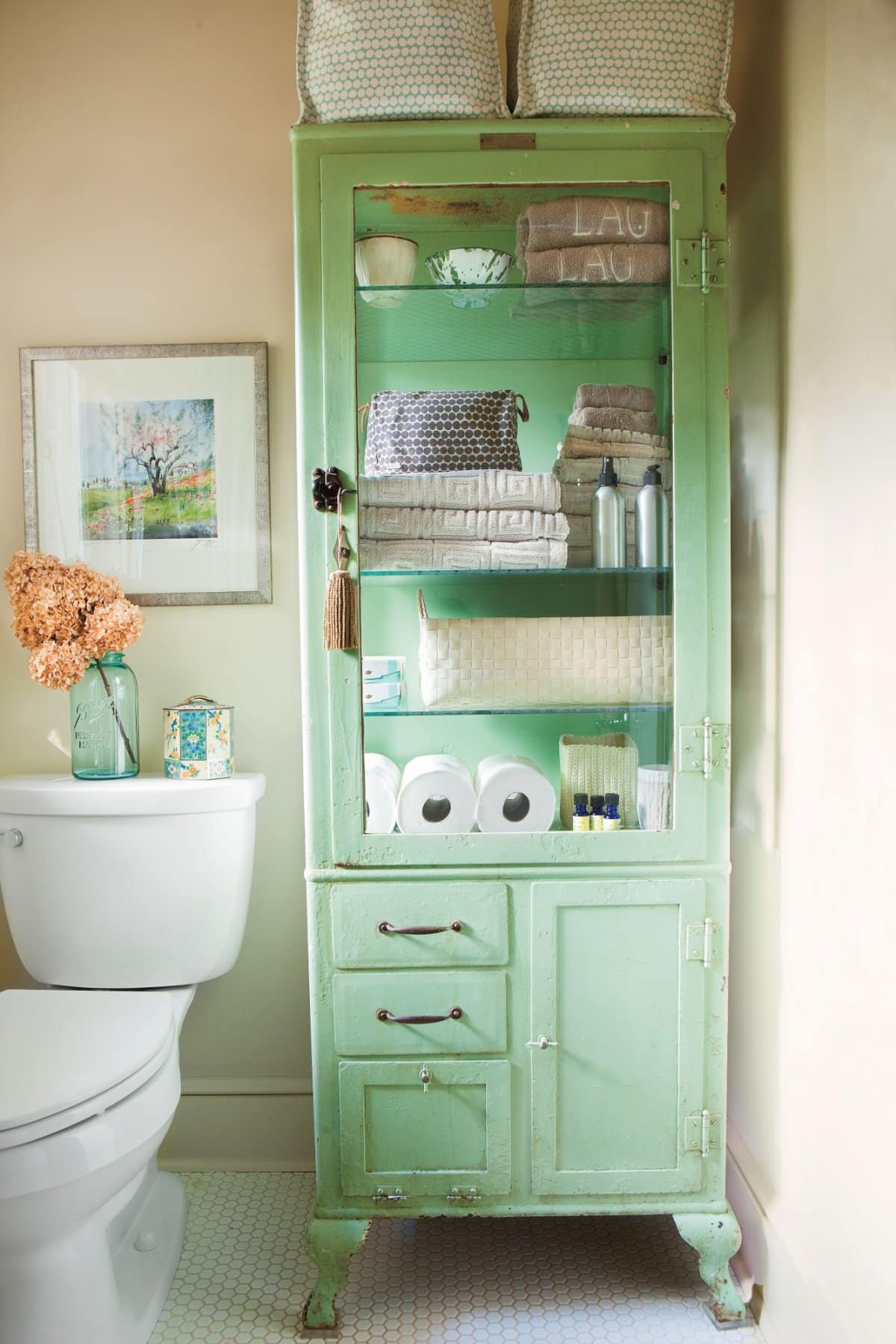 With soft color touch and unique style, this storage shows its beautiful and vintage design. As we can see, this green cabinet looks old, but it still efficient for storing things. It made of metal and completed with a transparent door and glass shelves.
Also, there are several drawers for keeping smaller things. Besides, there is still enough space for adding some baskets above this tall cabinet. Nevertheless, if you are interested in this one, make sure the room is suitable for this storage style.
Bathroom Wall Cabinet Ideas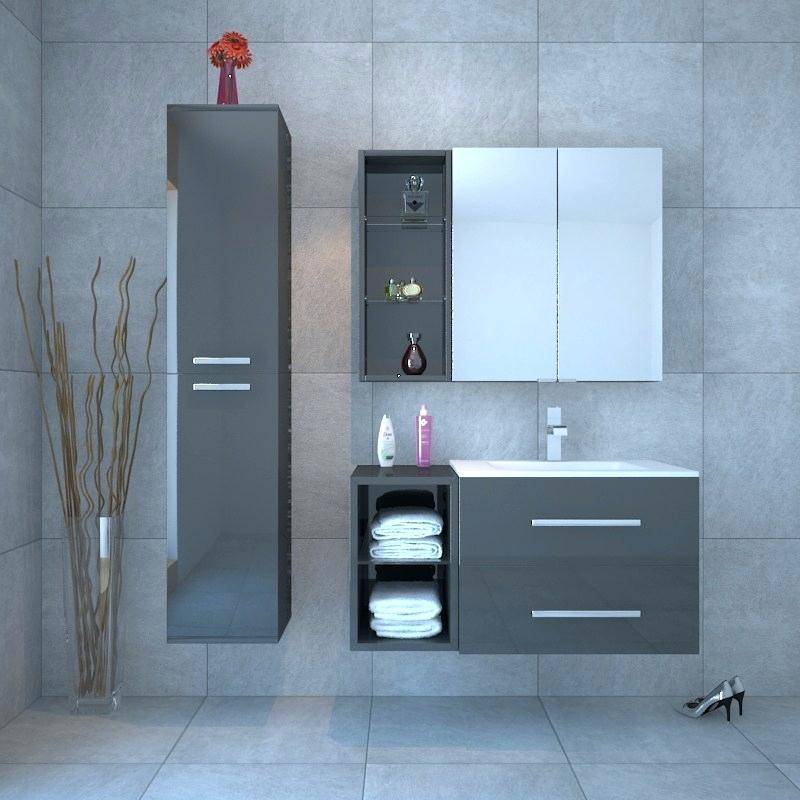 Similar to the previous cabinet, this one also adopting a modern design into its storage. In this bathroom, three floating cabinets appear in grey and all of these cabinets play their part by providing some rooms behind their doors and drawers.
First cabinet appears in tall and vertical design. It is suitable for storing bigger items. While two others come in almost similar size and there are several shelves for storing towels or smaller things. In brief, all of these bathroom cabinets are not only attractive but also functional.
A wall hung cabinet is a great concept in case you have some room for it. It is often moist in the bathroom and things that are continued open shelves can get wet. You can use closed cabinets to overcome this issue.
Moreover, such a cabinet is typically hang over the sinks but you can hang one anywhere in your bathroom.
Classic Touch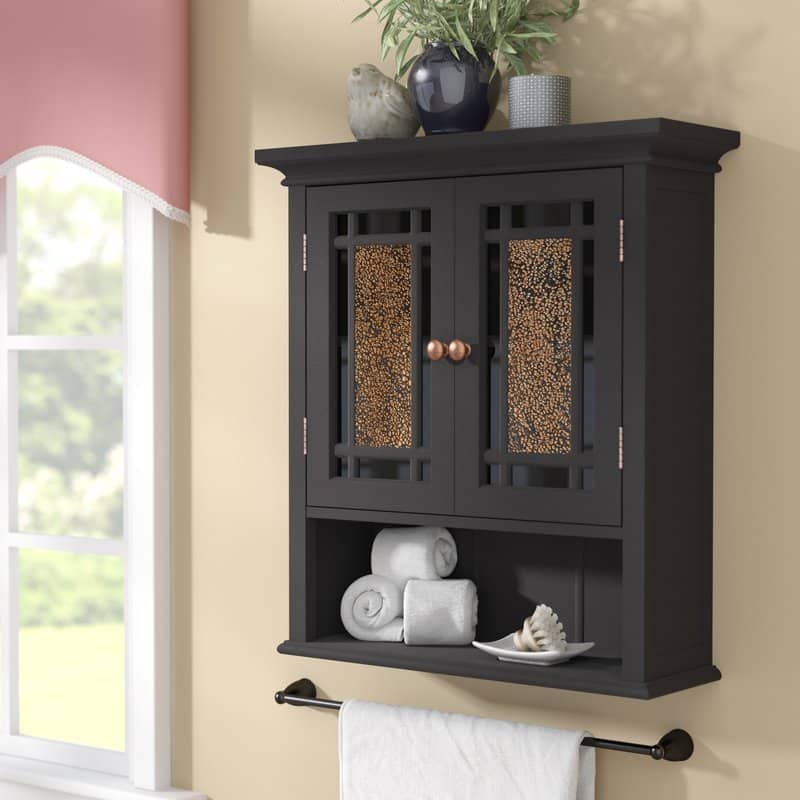 Classic concept complies with efficient functions along with this handsome wall cabinet. This stylish bathroom cabinet storage idea includes one storage cabinet along with a flexible shelf.
Mosaic glass inserts, latticework overlays, and brushed metallic knobs are awesome bathroom cabinet hardware ideas for decorating the doors . In short, sunken woodwork and classy mill work complete the layout and provide an air of timelessness to any sort of artistic.
Tough and Reliable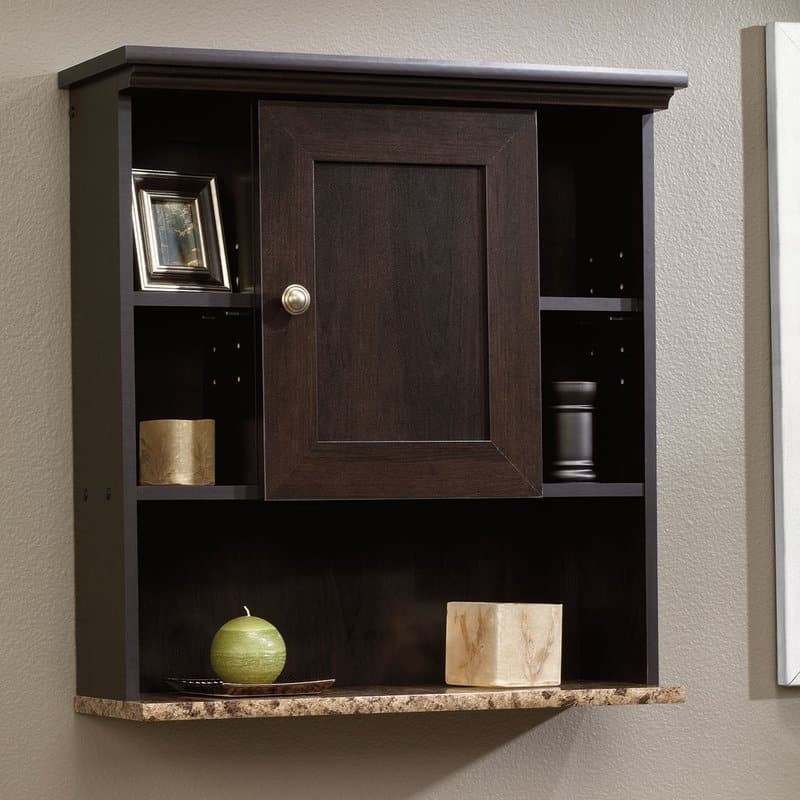 Enrich your bathroom style by this wall-mounted cabinet. It is actually made from engineered hardwood that produces it tough and reliable. The cabinet has a cinnamon cherry surface that blends well with a lot of decoration and setups.
White Bathroom Cabinet Ideas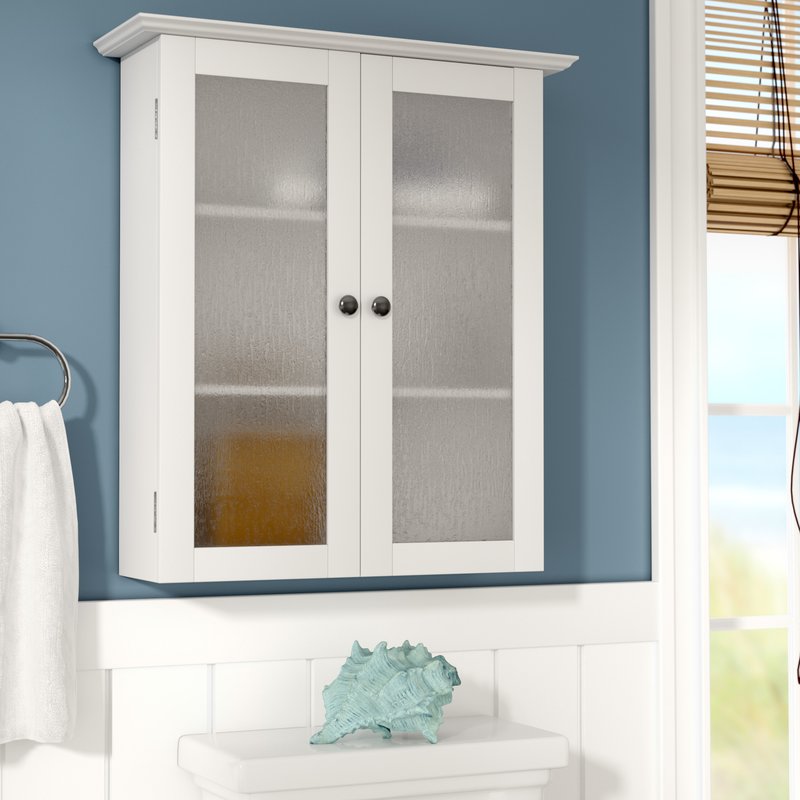 Get rid of the chaos using this minimalist cabinet. In this bathroom cabinet paint ideas, it is crafted from manufactured hardwood that boasts a crisp white coloring for a look that won't encounter your existing color scheme.
Its pair of doors show rounded pulls and feature tempered glass with frozen accents. Inside, it has two racks for keeping folded up hand towels, cleansing supplies, and various other bathroom items.
Shuttered Doors
Include this storage to your bathroom without losing essential property on your floors through this wall-mounted cabinet. Produced from manufactured wood, this cabinet has set of shuttered doors that open to expose an internal rack.
It also provides a towel rack that allows you circulate washcloths or maybe lot hand towels. A neutral layer assists this clean-lined design blend alongside any sort of existing set. Furthermore, its own sleek size ensures it will certainly not take up too much wall surface.
---
Bathroom Medicine Cabinet Ideas
Medicine cabinets must be a need to along with any type of new bathroom remodel. However, in this bathroom storage cabinet ideas, they may even be included in existing bathrooms in need of extra storage space. In addition, medicine cabinets function as a catch-all for all those bathroom needs you want close at hand but still hidden.
Related : Cabinet Refacing Ideas
Beautiful Aluminum Construction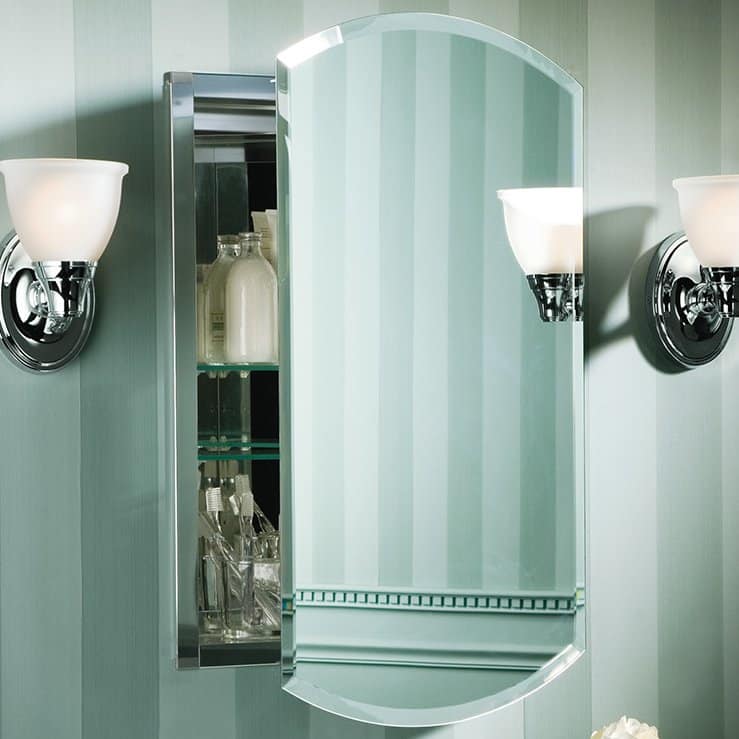 Along with its sleek light weight aluminum and tempered-glass construction, this medicine cabinet offers an elegant enhance to your bathroom. In this bathroom cabinet organizer ideas, two flexible tempered-glass racks keep your toiletries and bathroom items. Resilient aluminum construction makes this cabinet rust resistant.
Double Side Mirrors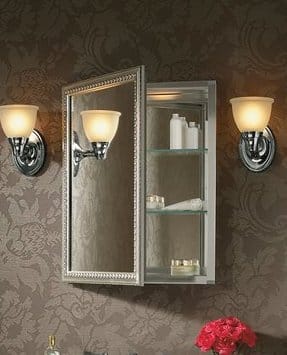 With mirrored surface areas inside and outside, this medicine cabinet gives a stylish display to your bathroom. The looking glass on the frontal door includes a luxuriant silver structure, and internal tempered-glass shelves simply get used to suit your toiletries.
Luminous and Modern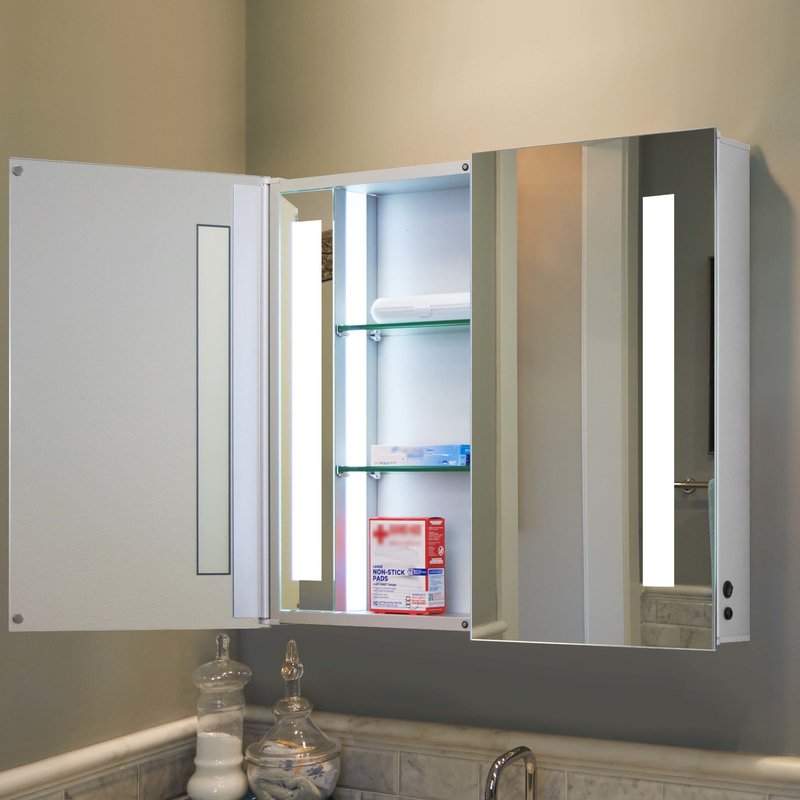 This modern medicine cabinet will carry style to your bathroom set. So, it is perfect ensemble over your sink. You can easily have a terrific view while applying makeup with pair of LED installed.
Both mirrors are in fact set on doors, which can be opened to reveal hidden storing area along with three functional shelves for medicine and a lot more.
Related : Wall Shelving Ideas
---
Corner Bathroom Cabinet Ideas
Corner bathroom cabinet is an excellent option that can provide an efficient storage. You can hang it or even just occupying the smaller angled areas in your bathrooms. Overall, corner bathroom cabinets are offered in numerous types which give an alternative to show a much more personal design.
Related : Corner Storage Ideas
Aesthetic Beauty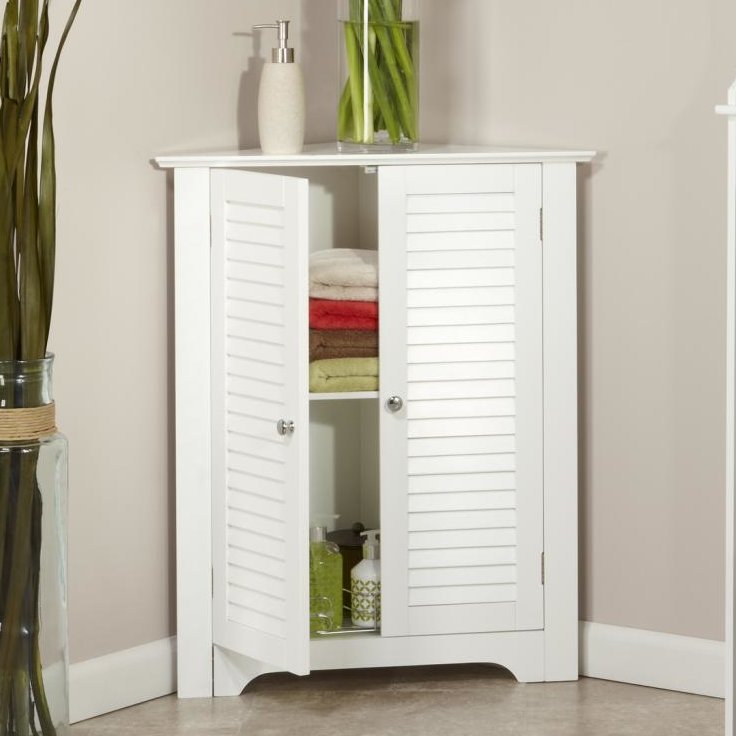 Complete your favorite style with this corner bathroom cabinet. Its doors add aesthetic beauty to your decoration to any kind of room. Indeed, you can manage this cabinet space to store towels and various other bath products. Along with its flexible shelves and solid surface, this stylish cabinet is a highly recommended addition to any type of bathroom.
Futuristic Atmosphere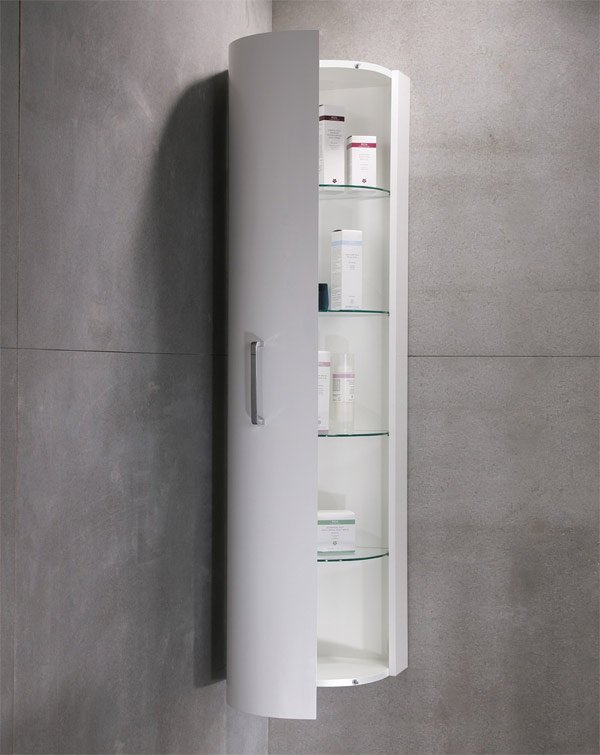 Put this corner bathroom cabinet in your home and see how it can make you design seems more elegant. This corner cabinet is suitable combination with concrete wall designs. In addition, it works best with natural wall color for futuristic and comfortable bathroom atmosphere.
Beach-chic Style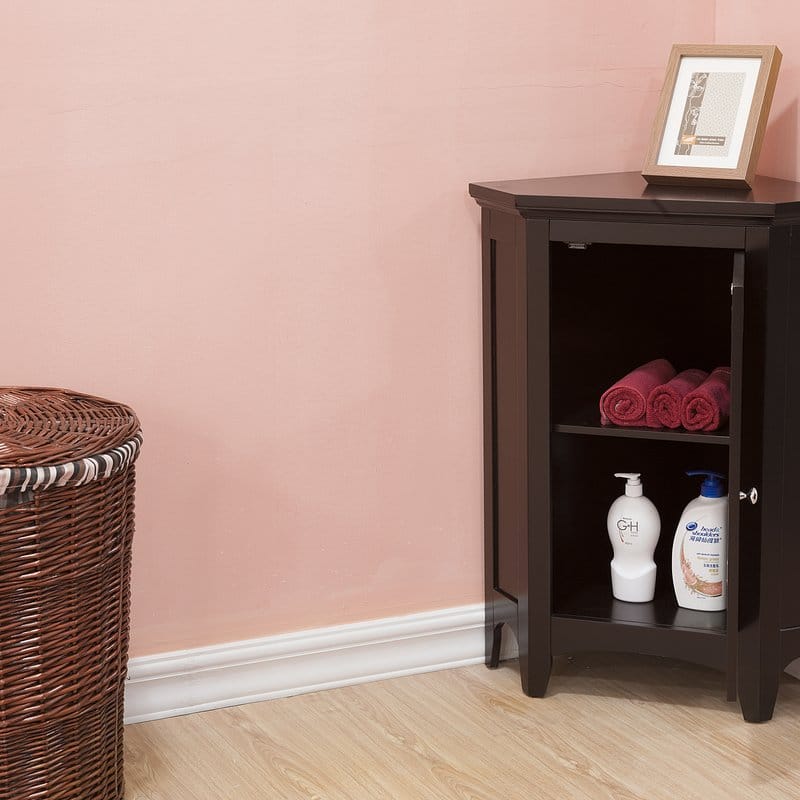 This lovely cabinet is the ideal option for your house. The corner style will definitely maximize your room. Moreover, the flexible internal shelf can easily suit different sized items. Set up this cabinet in the corner of your bathroom, after that use it to hide bath products.
Simple and Elegant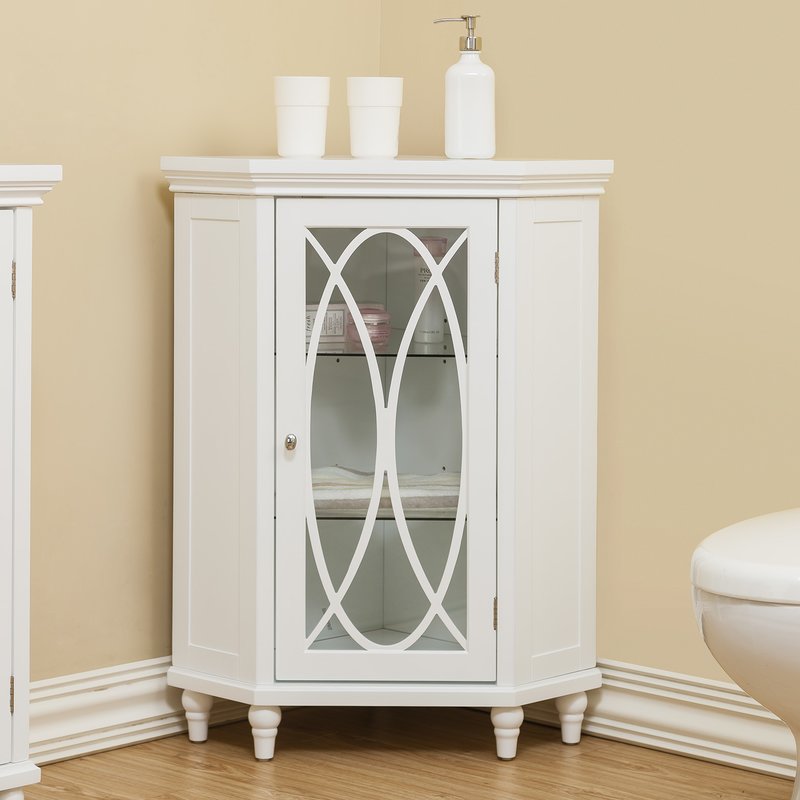 This white corner bathroom cabinet accommodates perfectly in the corner of your space. The glass shelves make the most of storage space for your needs. Furthermore, the door of the wall cabinet has inter-crosses moldings to emphasize this classy and simple corner bathroom cabinet.
---
Bathroom Linen Cabinet Ideas
Anywhere inside your bathroom, you can place a linen cabinet as the practical and decorative storage. If you have issue with room, you may have it suspended right into wall surfaces. Even, you can select a taller linen cabinet in your bathroom.
Related : Shelf Decor Ideas
In the majority of traditional bathrooms, wooden linen cabinets are actually much more popular. Otherwise, contemporary bathrooms might be to include sleek, laminate or metallic cabinets.
Oak Finish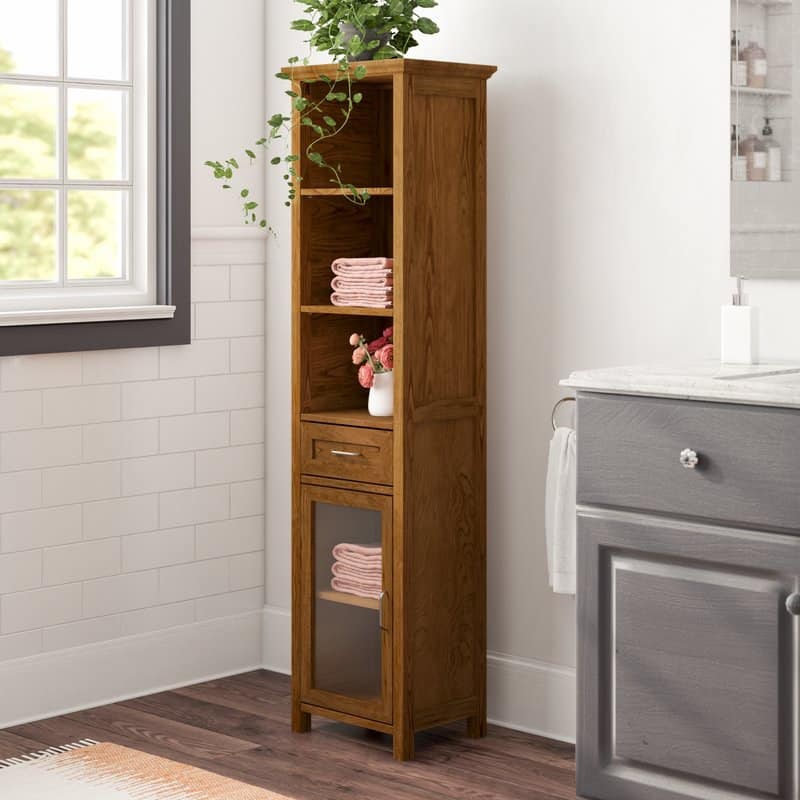 The slim linen bathroom cabinet offers a place to tuck away hand towels and other bath accessories. This towering piece has five shelves and one drawer.
Related : Cabinet Hardware Ideas
In this bathroom cabinet color idea, its oak finish provide it an ingenious appearance that goes with different colors schemes and designs. Additionally, tempered-glass door accomplishes the design for an elegant touch in your bathroom.
Industrial Influence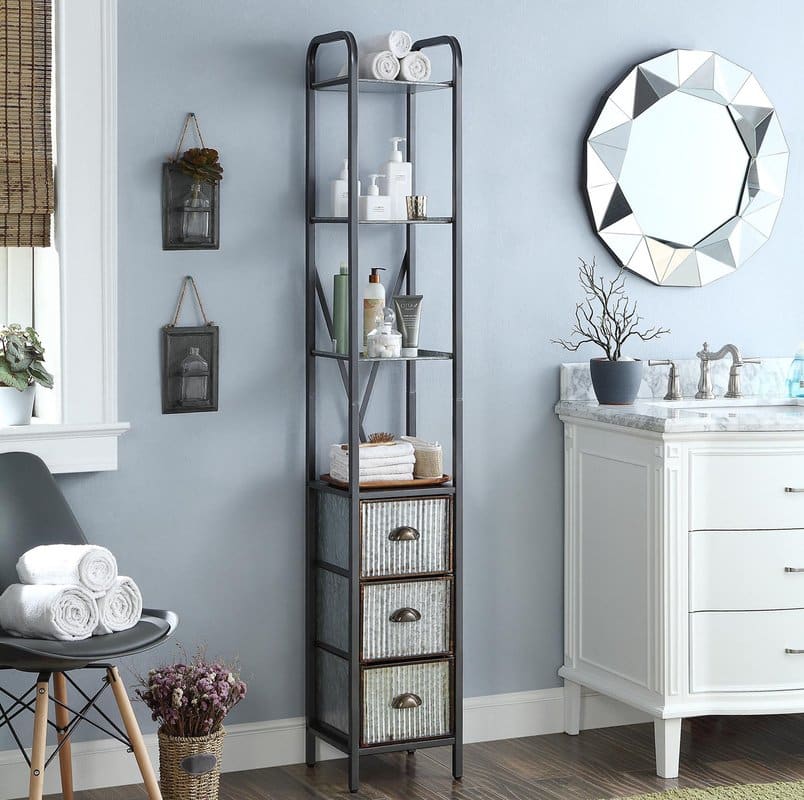 You can take advantage of your space using this compact linen cabinet. This freestanding metal cabinet presents four open shelves that allow you display your bathroom accessories. Additionally, The three lower drawers hide storage you would like to stash. You can buy this cabinet in amazon.com (Tower in Metal Finish)
Versatile Tower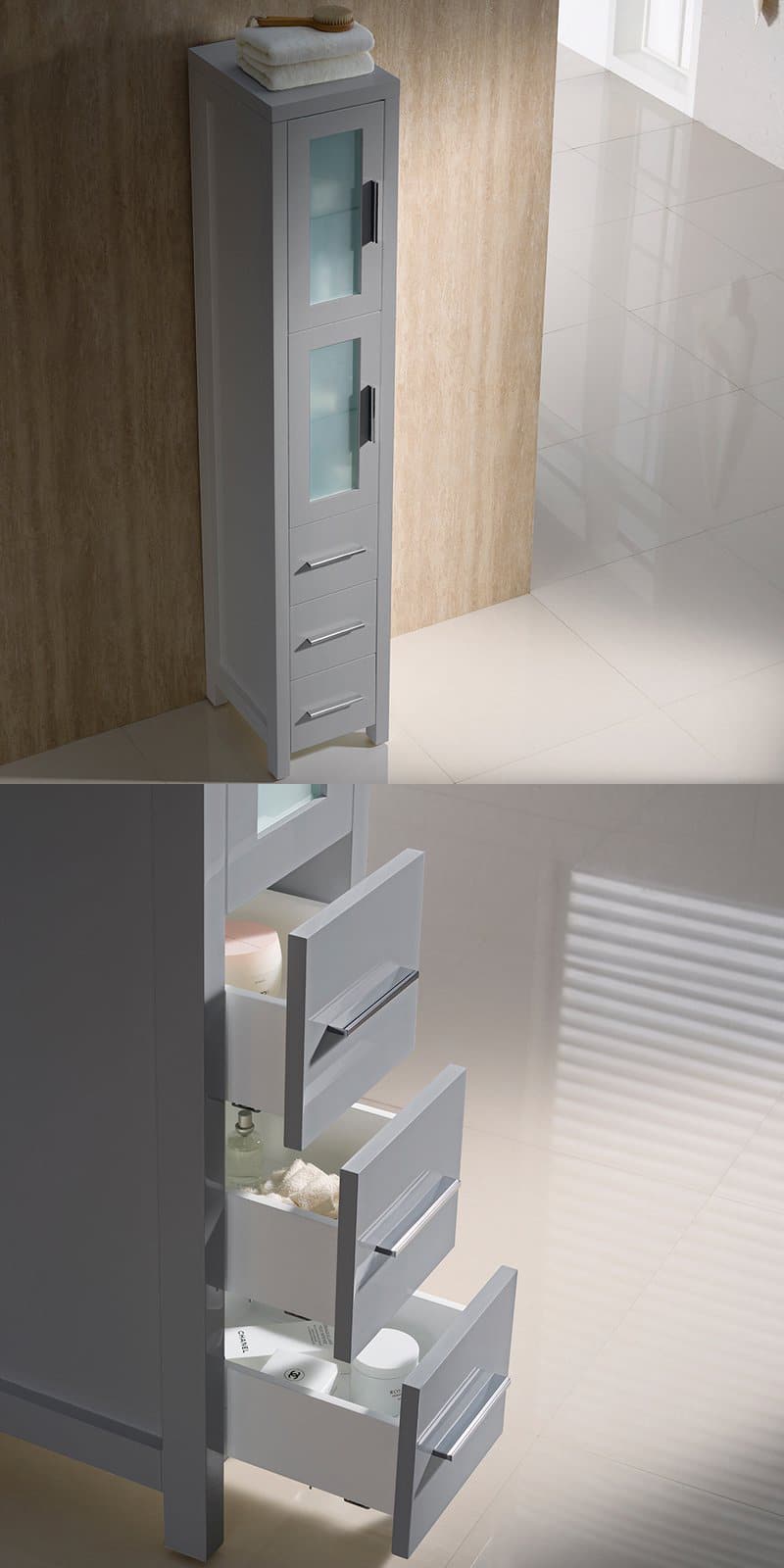 This linen cabinet is certainly not only an ideal add-on to any kind of bathroom vanity set. However, it also works effectively as a stand alone furniture. Moreover, the cabinet is manufactured from a premium veneer along with frosted glass on the doors.
Related : Bathroom Vanity Designs
---
Small Bathroom Cabinet Ideas
In this bathroom cabinet ideas for small bathroom, a small bathroom design may not give more space to add additional storage. When your room is limited, you have to pick the right dimension bathroom cabinet. Therefore, choose the a small bathroom cabinet that offers great style without overtaking too much space.
Stylish and Flexible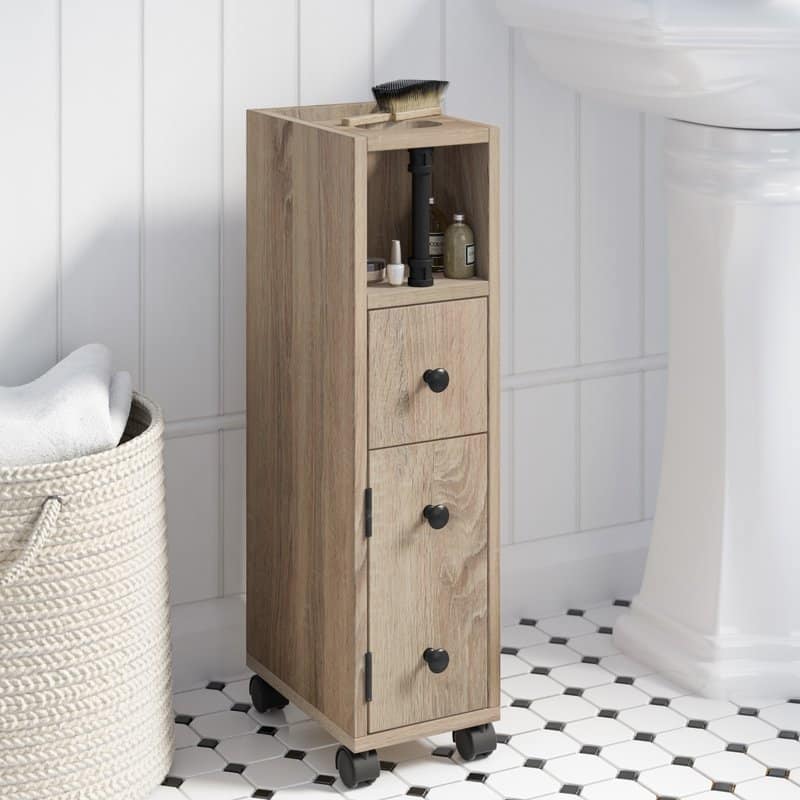 This tiny bathroom cabinet brings essential storage to your bathroom without taking up too much space. Its small dimension makes it right in narrow edges. Above all, there are wheels below that give this cabinet mobility.
Related : Half Bathroom Designs
Unique with Bins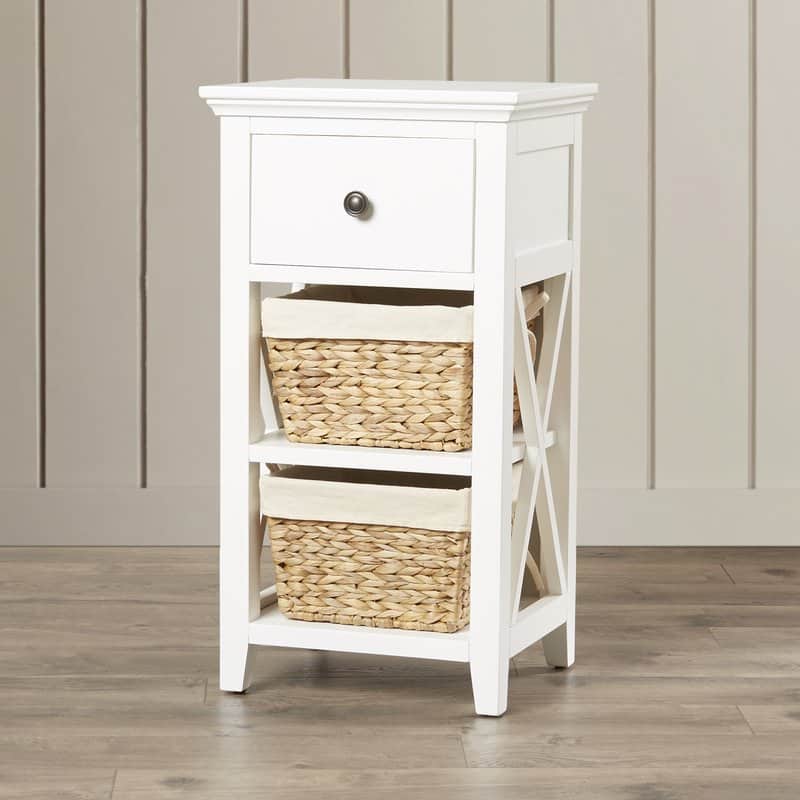 The unique storage cabinet gives you a lot of storage space in a sleek bathroom cabinet ideas design with one top drawer and two woven baskets. In the baskets have lined with sand fabric, always keep stuffs hidden but easily accessible. Moreover, it makes the most of under cabinet bathroom storage ideas .
---
More Bathroom Cabinet Ideas Photos