Board And Batten Siding – When it comes to exterior design, modern architectural parts that people would consider applying is siding. There are various types of sidings which elevate the aesthetics of your exterior to extra protective siding which is everlasting. Those types include the ones made of wood, vinyl, stucco, metal, stone, brick, fiber cement, and insulated. The last one would name board and batten siding.
The main purpose of installing a siding is to protect your home from wind, snow, rain. It protects in all weather situations from mild to extreme weather depending on the quality of the material and installation.
Some well installed sidings protect home from extreme cold weather and provide warmth to your home interior. Some would consider sidings with great touch as it shows the face of their home structure. Board and batten siding is now a popular style as it caters the need of beauty and protection.
About Board And Batten Siding
Board and batten exterior siding is definitely for those loving to look creative and different. This style of siding allows you to transform the exterior look of your house and give protection to the exterior wall. For its popular use on barns, this style is also known as 'barn siding'.
As its name suggests, the siding uses battens or strips of wood combined with wider boards that create a layer look on its surface. Its creative and unique style makes more people opt for this. With proper installation and top materials used, board and batten siding is more durable than any other style and other materials like woods. Thus, this style will remain popular for home exterior.
Pros And Cons Of Board And Batten Siding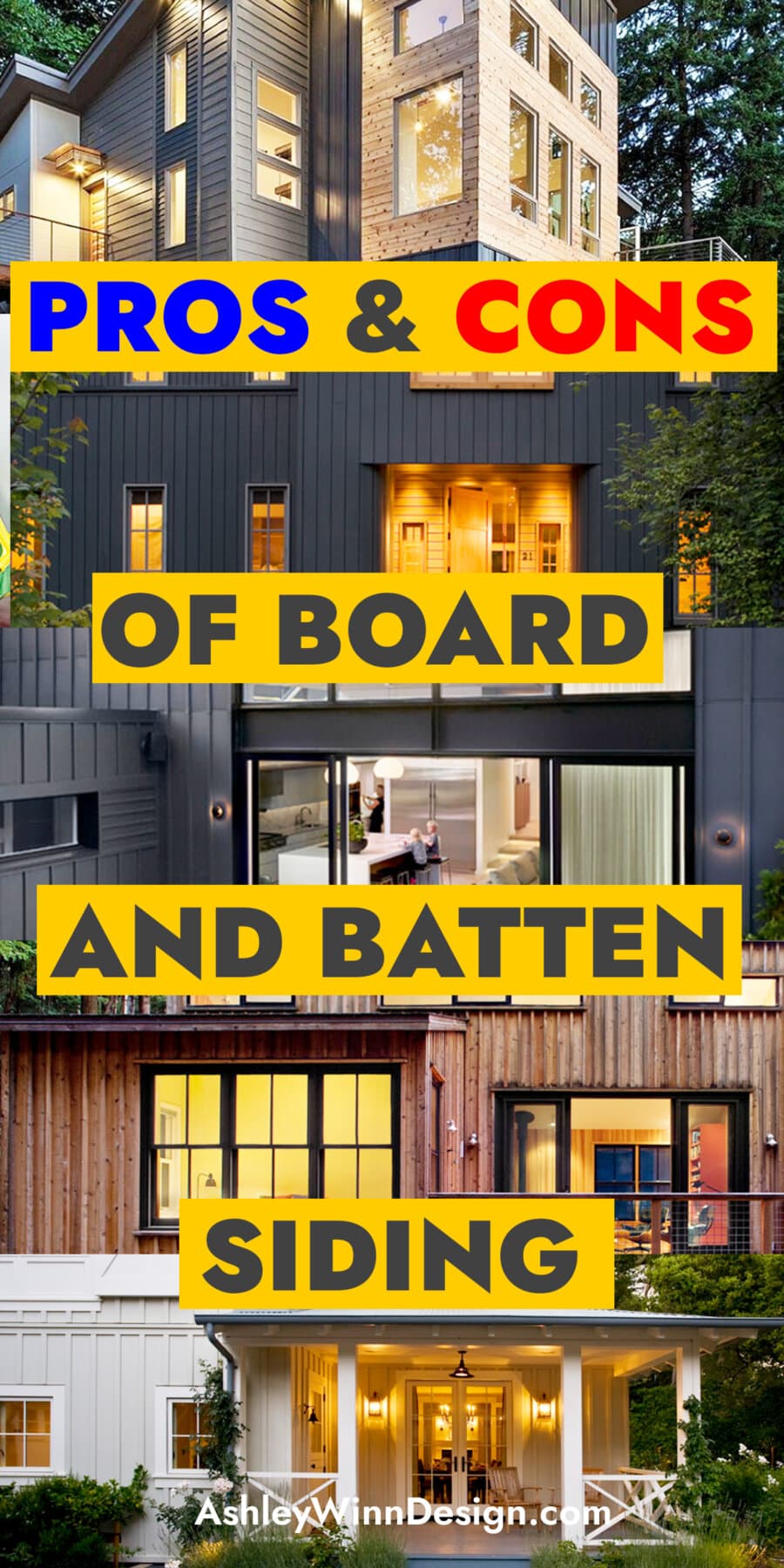 Choosing what style to be used for siding can be a bit tricky. If you have considered choosing board and batten siding installation, you have to weigh its advantages and disadvantages. This particular siding is the most popular siding style and mostly used in barns. Does it look dull as it might be associated with barns? Absolutely not. This style is considered giving a better touch to the home surface. It all depends on the color and quality chosen.
You might now think about the pros and cons of this style. Check some points to consider here:
Pros Of Board And Batten Siding
There are some major plus points of installing a this siding. First, it adds beauty to your surface without leaving its primary function of a siding, which is protection. The second point is that it is so flexible that you can apply the patterns horizontally, vertically or in any way that satisfies your perfect style. Lastly, for some materials used in this style, less maintenance is needed.
Cons Of Board And Batten Siding
If you have chosen this style, you have to make sure that you install the siding properly. It needs careful installation and should be done by experts so that it can be long lasting. Not only does it need pros to install, the installation itself might take longer compared to other siding styles. Due to these installation problems, it surely costs more than others.
Board And Batten Siding Materials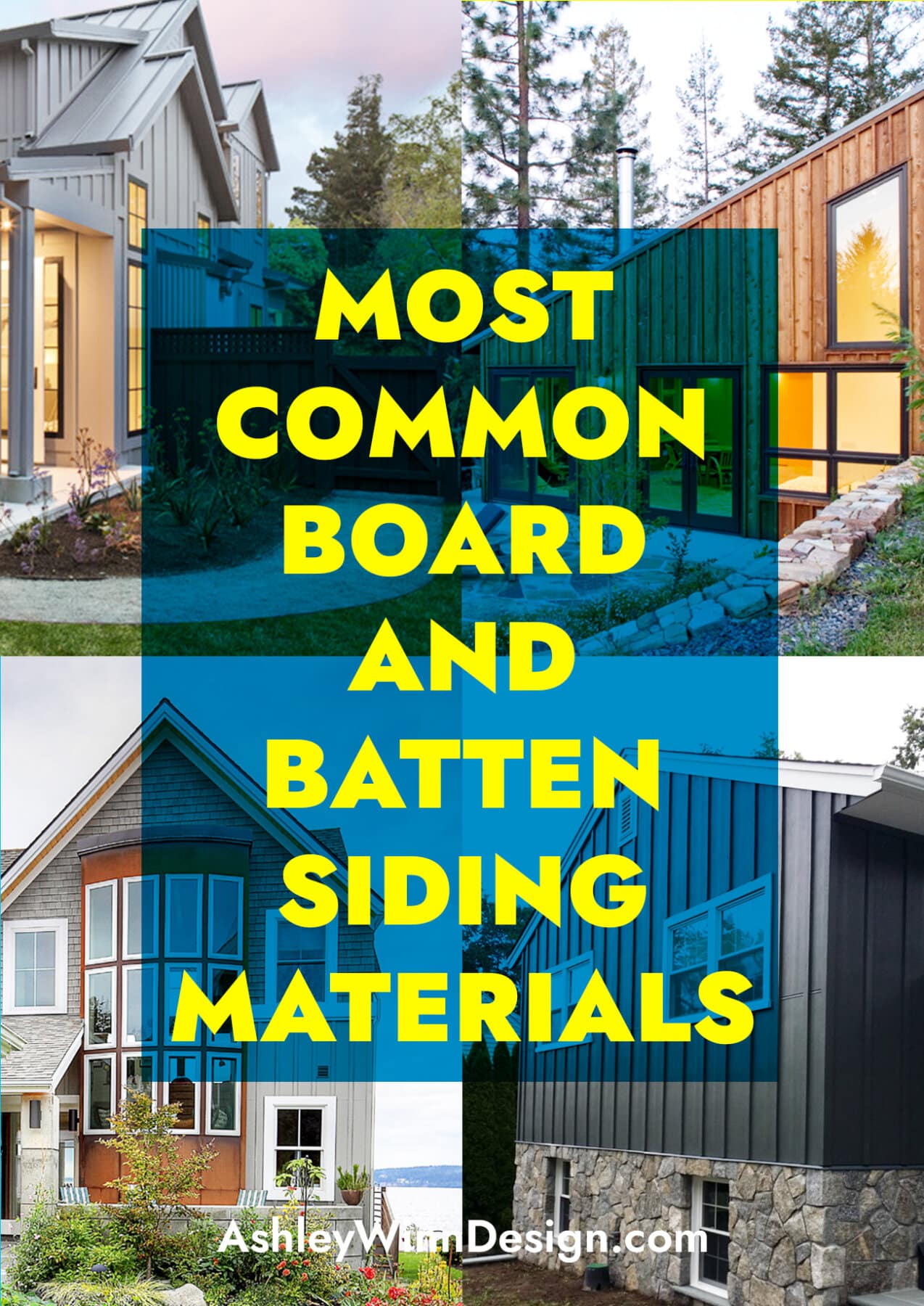 There are four main board and batten siding materials you can use. The materials chosen would affect the cost and quality of the siding installed. Here is more information about each material you need to know before you decide.
Vinyl Board And Batten Siding
Why board and batten siding vinyl? It is as simple as thinking of the cheapest option for your exterior. Yes, it is cheap, and thus quite popular. Not only that, vinyl board and batten siding colors come with various choices. It is insect-proof which makes it more durable than using other materials. For low cost and high creativity, you may want to choose this.
Wood Board And Batten Siding
For a great rustic look, wood siding is what you can opt for. It looks natural and adds rustic beauty to your home. If your home style is farmhouse or rustic, this wood siding is the best option.
However, some cons you should consider is that it might be easier to decay and rots easily. Insects will definitely be the biggest enemies. Prolonged rainy seasons can also be a problem as moisture can find a way in.
Steel Board And Batten Siding
Steel siding is considered the most expensive option. Nonetheless, it is the most durable material most especially in experiencing the extreme weathers. Another good point is that it can be styled in different colors and styles. For a modern look and long lasting quality, choose steel or metal siding.
Fiber-cement Board And Batten Siding
Looking for a fire resistant and waterproof siding? Fiber cement board and batten siding has the quality that can resist extreme cold and heat. You can also design it to look rustic as wood materials. Compared to some other materials, fiber-cement is relatively cheaper yet safe and durable.
Related : Most Common Types of Siding
How Much Does Board And Batten Siding Cost?
Before deciding to install the siding, one popular question to be asked is its cost. It definitely varies depending on the size of the exterior and the quality or material used. We have garnered some information about how much board and batten siding cost. Check it out!
How Much Does Cedar Wood Board And Batten Siding Cost?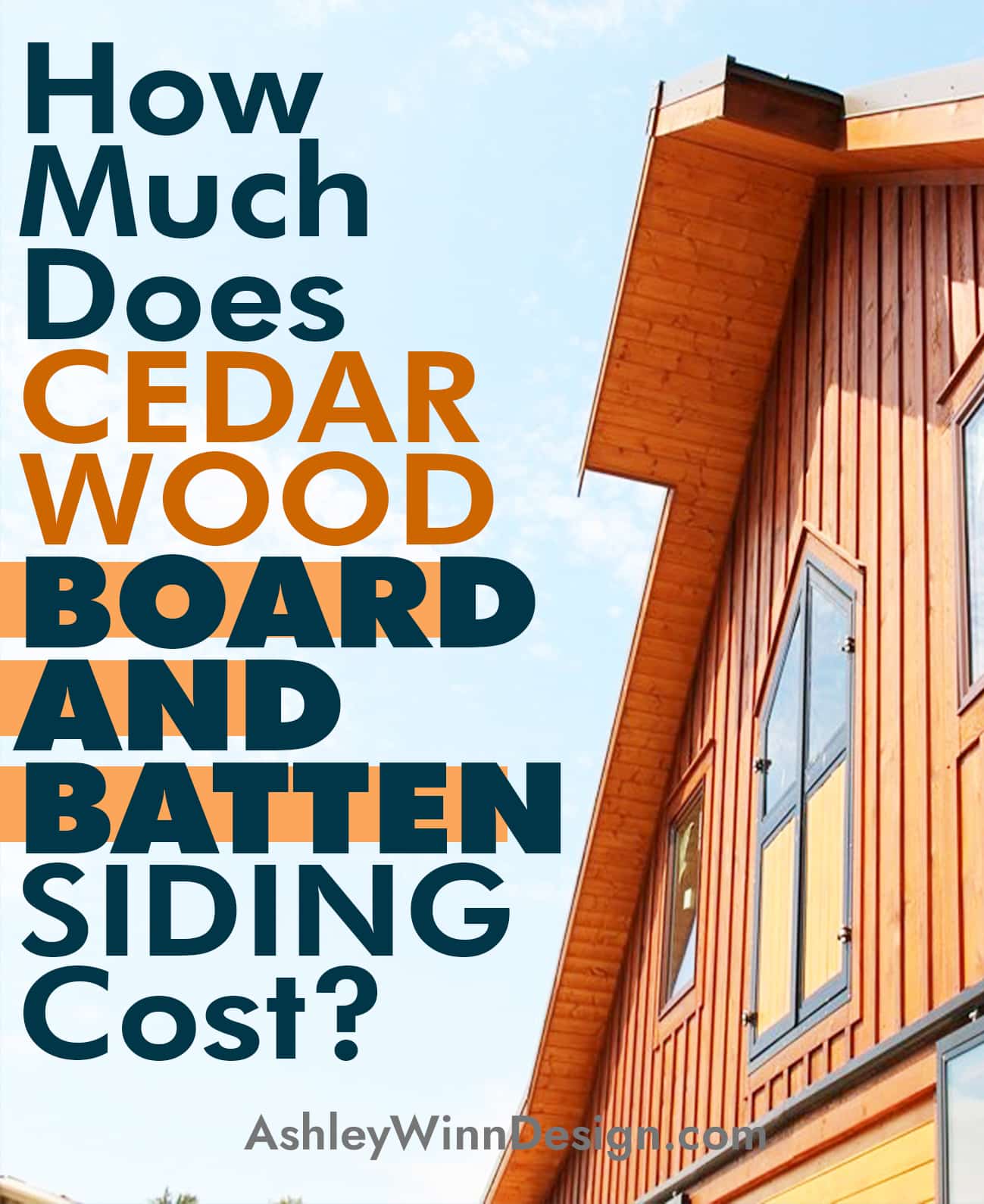 Cedar board and batten siding looks warm and rustic. Compared to other woods, cedar costs cheaper and still looks natural. It is also naturally resistant to insects which make it the popular option of wood siding. It costs around $2.80 – $3 per square foot for its material plus extra cost depending on the labor cost charged.
How Much Does Hardie Board And Batten Siding Cost?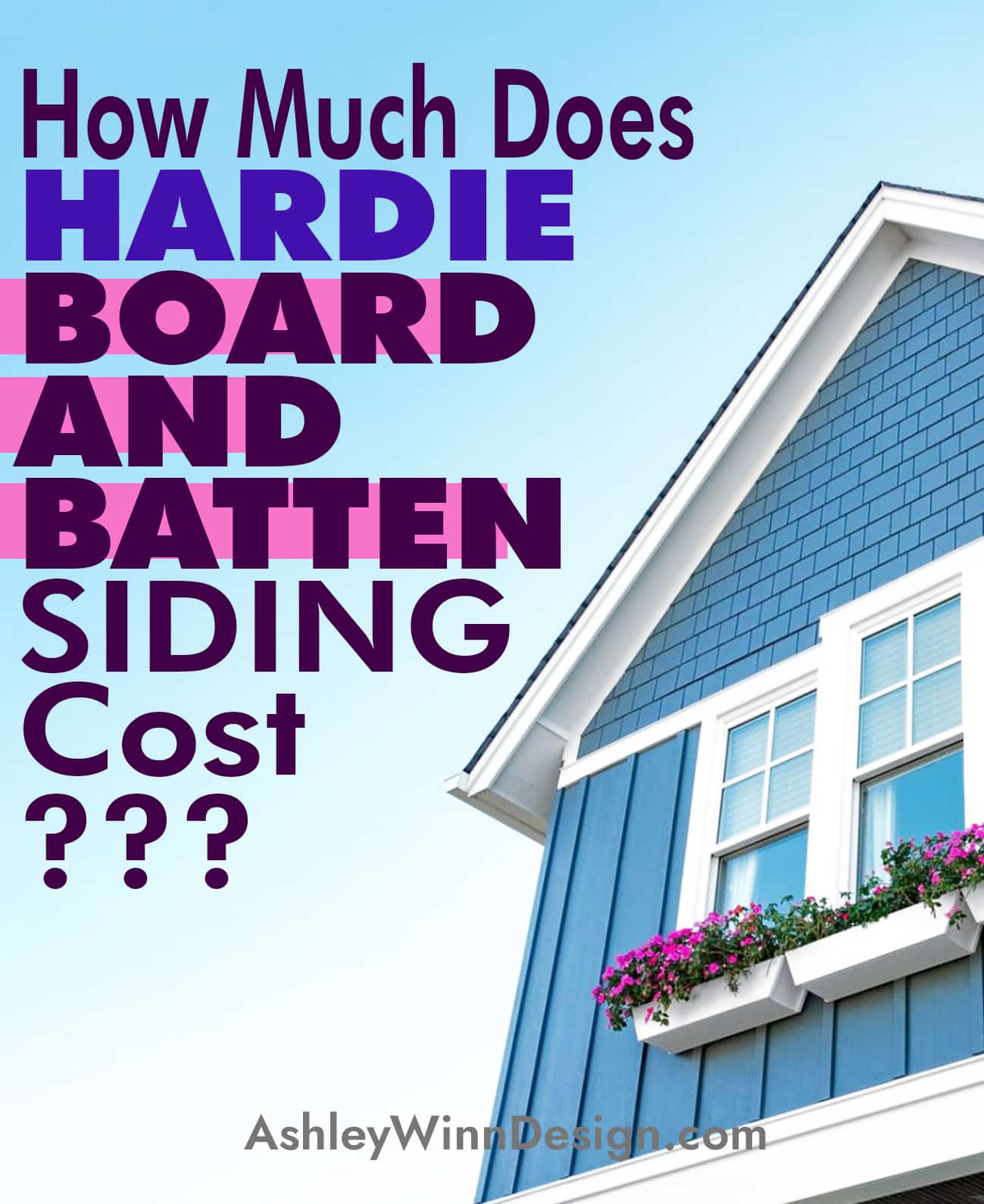 Hardie board is a trade name for fibre-cement and looks like wood siding. This material is heavier than any other materials. In terms of cost, this siding is quite pricey ranging from $0.75 to $5 per square foot for material. It can be a bit tricky to install this siding and not all contractors are set to install this siding. Hardie board and batten is known to have a lot of options and finishes.
How Much Does Vinyl Board And Batten Siding Cost?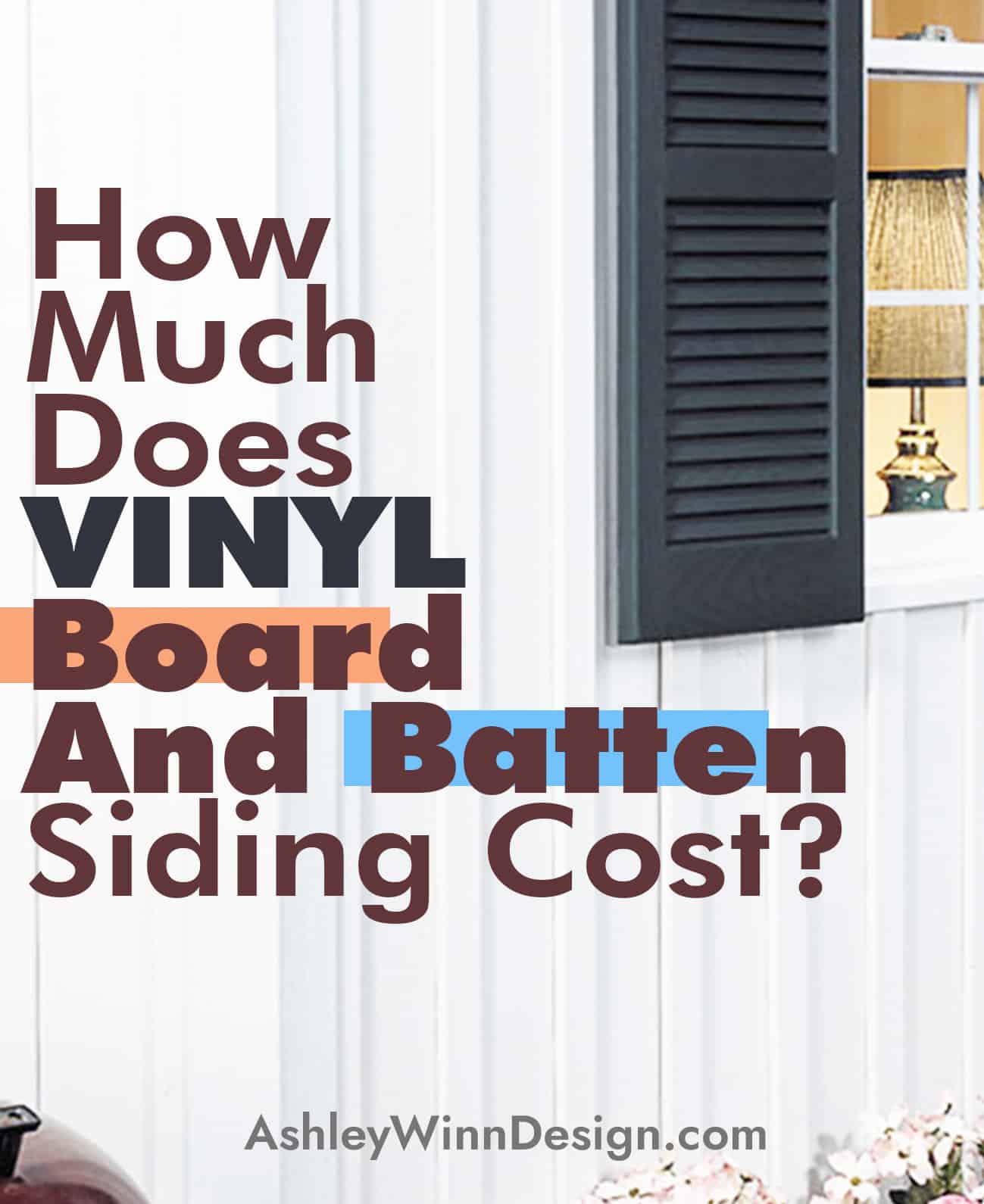 Vinyl board and batten siding is easy to install as it is lightweight. The same as Hardie board, it also comes in a variety of colors and finishes. Vinyl siding cost is $2 to $7 per square foot for the material. You may request your chosen company to mold the siding to resemble wood for its rustic look.
How Much Does Steel Board And Batten Siding Cost?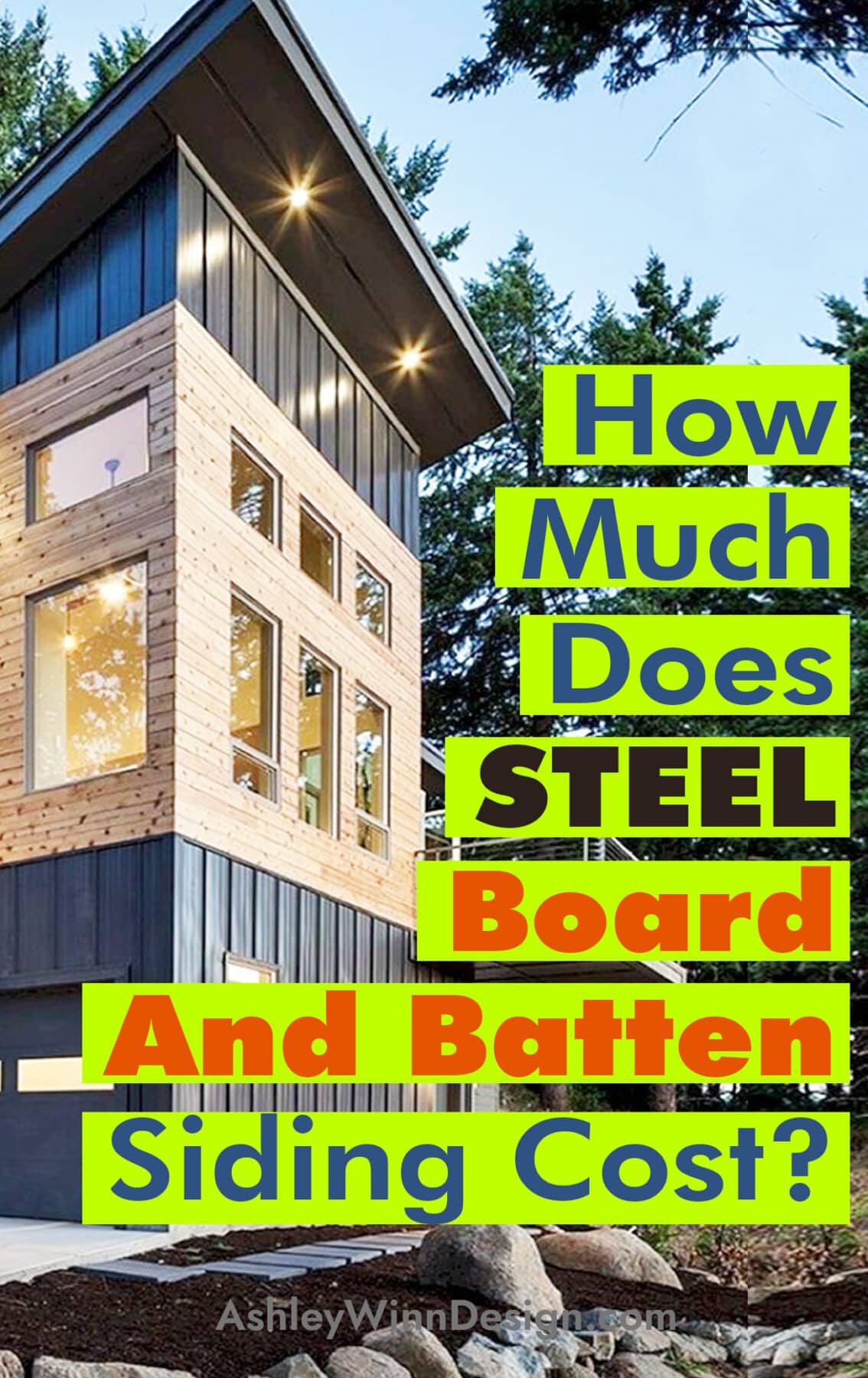 Steel board and batten siding is durable and easy to maintain. It is also a popular choice for you who want to give extra protection to their home exterior. The best way to make your steel siding look more beautiful is to coal the siding with vinyl. It will surely cost you more, but it will add texture and color to your home look. Steel siding can cost between $3 and $8 per square foot.
What Are Board And Batten Installation Cost?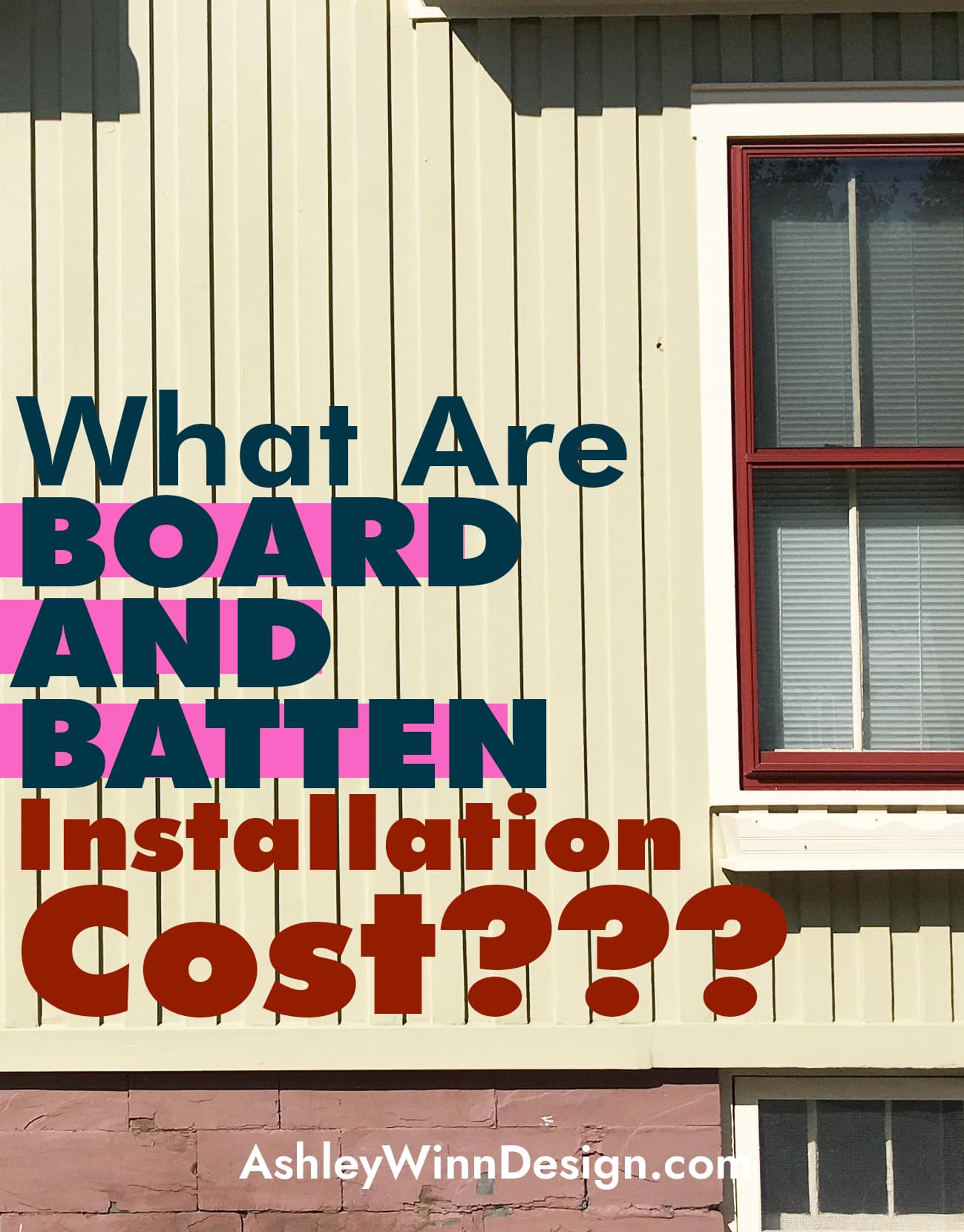 There are some other factors which will cost you more than the material cost. It will include the labor cost that applies if your house is in a remote area. In addition, if you request to hire professional workers with high skills, you may be charged more. In average, the labor costs of board and batten installations are about $1.50 and $2.50 per square foot .
The cost of the labor cost depends on the size of your home surface, type of installation, quality and design. The larger home exterior means more materials needed and more hours for workers to work on your project. The type of installation includes the extra works that you require the workers to do. For example removing the old siding will cost you more. The quality and design refers to the higher skills of the workers. The better and more highly skilled costs you more, but it is surely worth spending.
Tips On Installing Your Own Board And Batten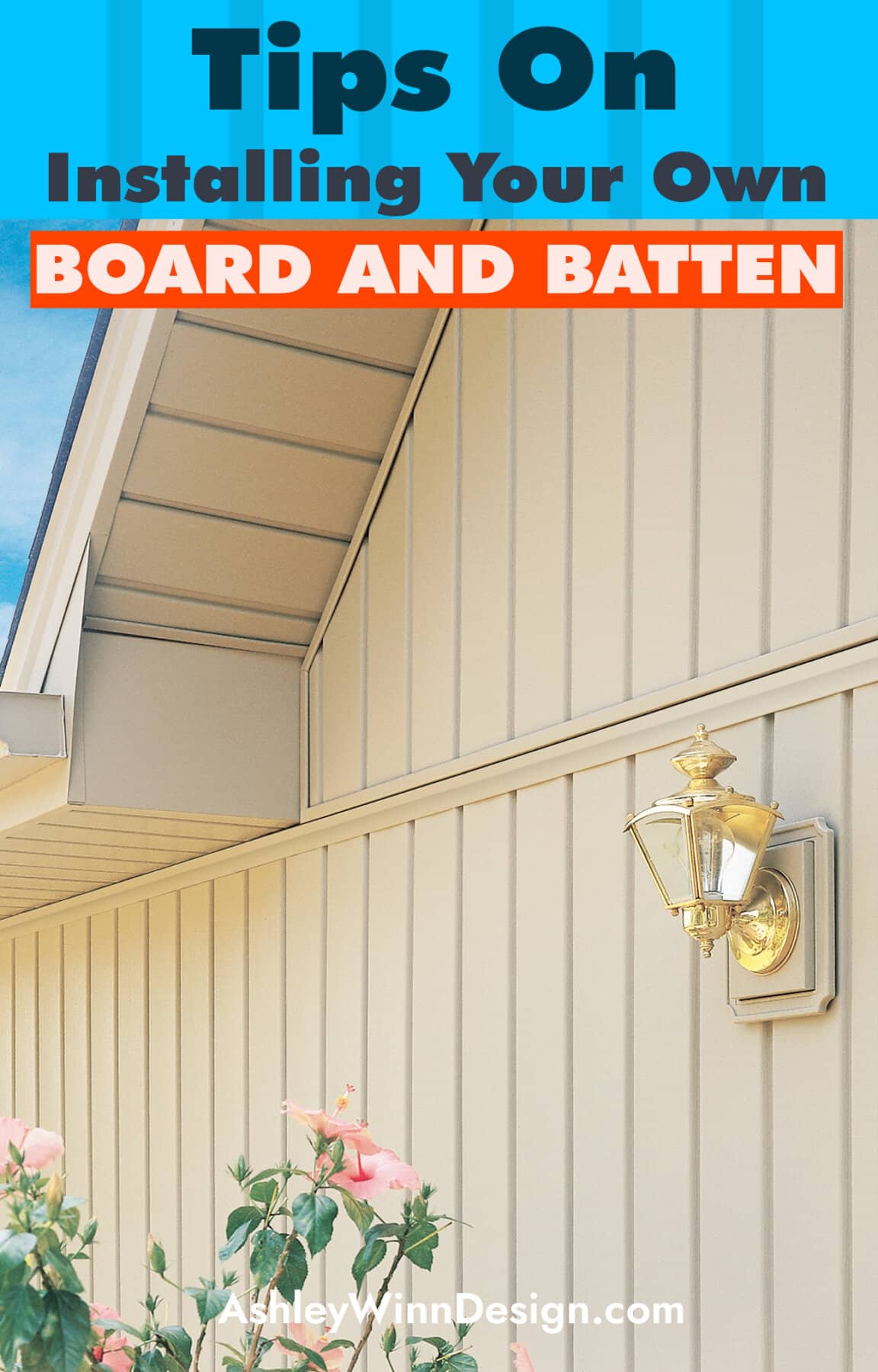 If you are to work on installing board and batten siding on your own, there are some tips you can adopt while doing the project.
First, you need to prepare effective tools. You need to save your time and avoid frustration by providing the tools that help you ease the installation. Basic tools you may need are utility knives, tin snips, and zip lock tools.
Then, start to measure your wall precisely.
The third part is buying the materials that you need. Buy extra 20-25% materials so that you would not bother going back and forth just to get some little more materials. Buying prefinished materials is a good option, too. You will get less stress and save more time.
Board And Batten Siding Ideas
Board and batten siding is a siding style that takes the look of the initially used logs siding in barns. However, this siding style has transformed its look into modern and casual. Here are some ideas of board and batten siding you can check before deciding what's best for your home exterior.
1. Dark Grey Hardie Siding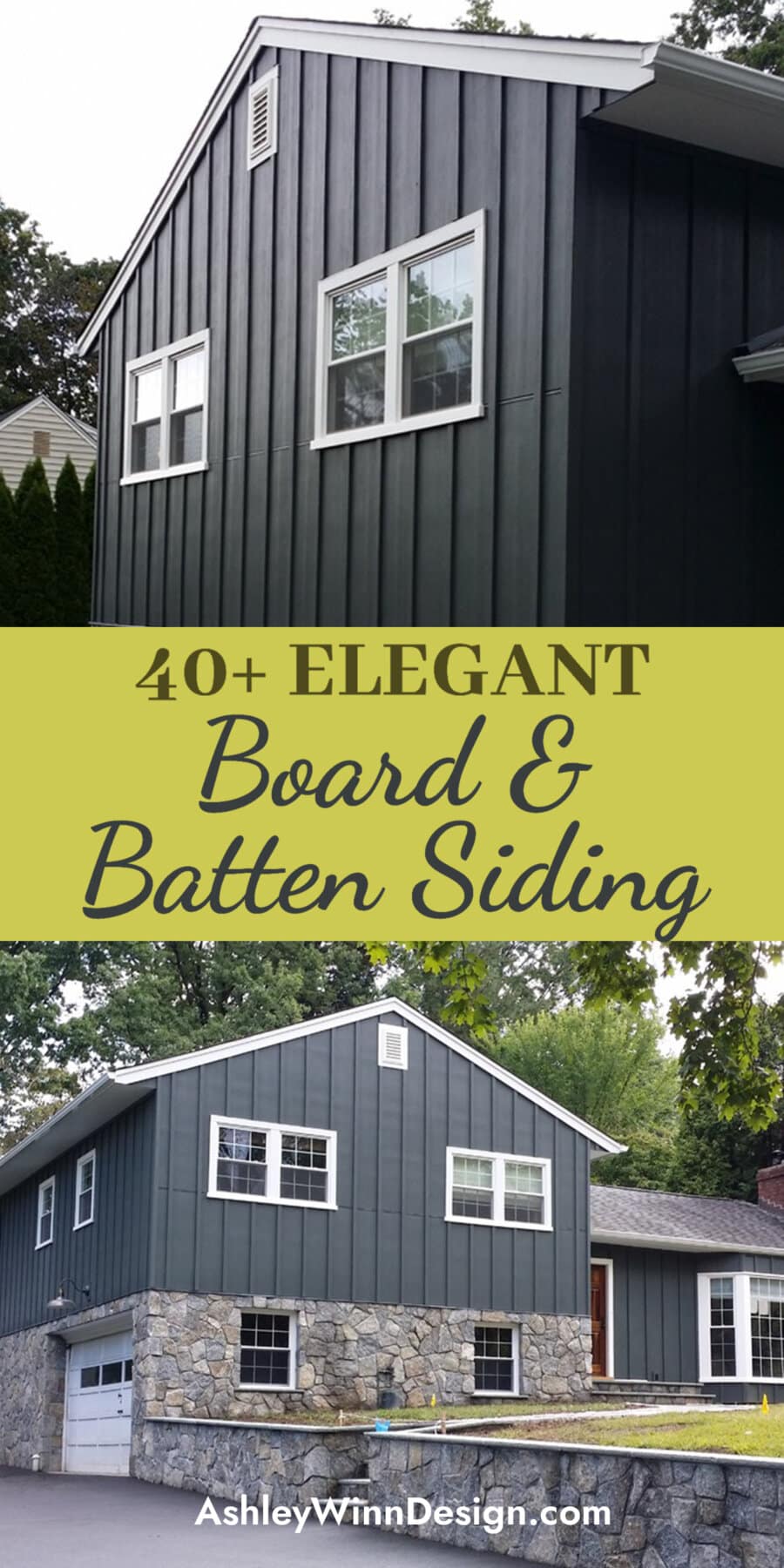 Dark Grey James Hardie siding matches perfectly with the stone work exterior. It elevates the concept of traditional and elegant look of this home.
2. Creamy White Vertical Siding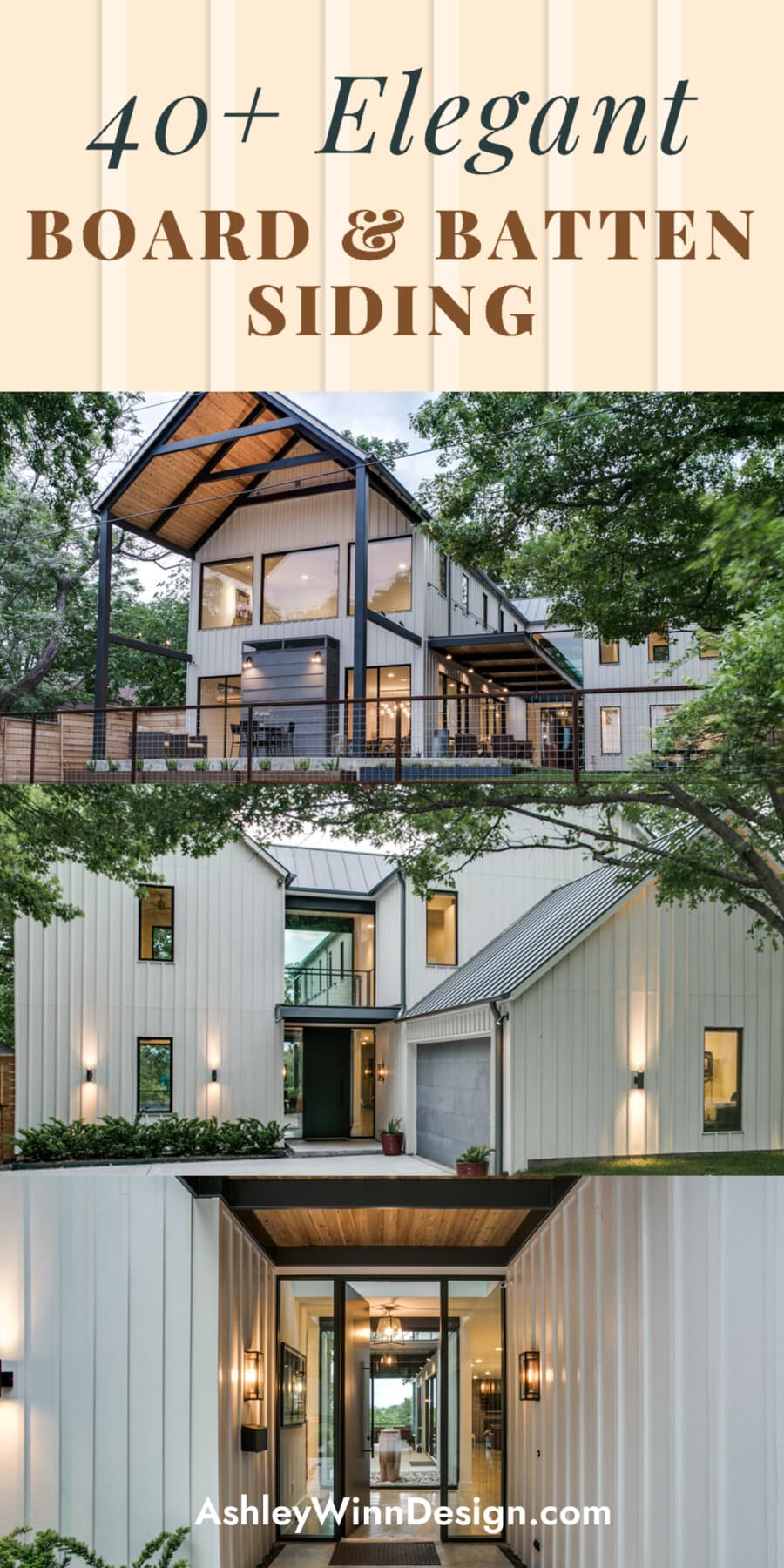 Be inspired with this white board and batten siding applied to this farmhouse cottage. The wide glass windows blend with the siding in a stylish and classic manner. The vertical siding on its exterior creates a great look to this urban style house.
3. Multi-texture Siding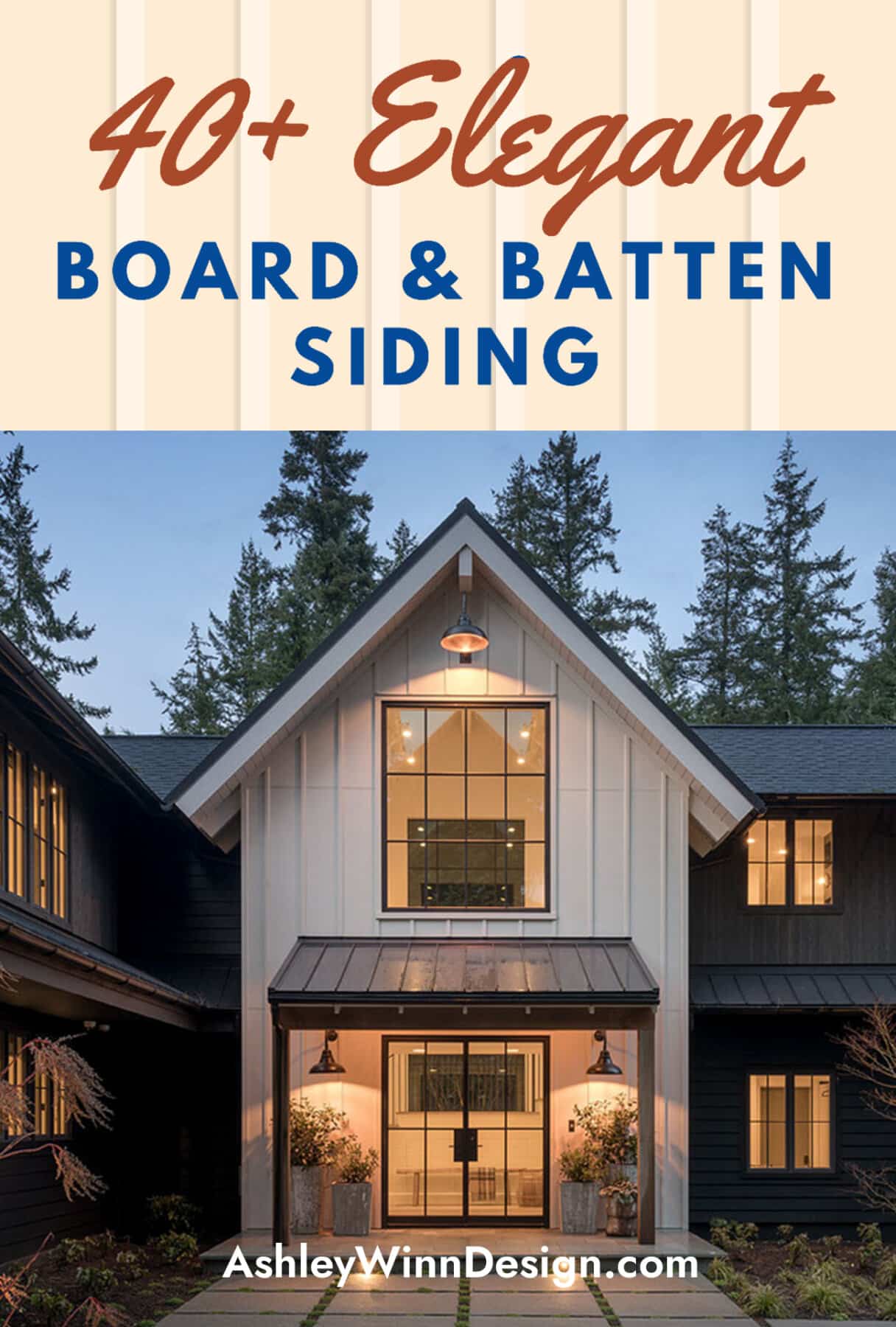 Not only does this siding give more look with its multi textures applied, the different colors applied also create elegance to the home exterior. The creamy white vertical siding stands out the most.
4. White Modern Siding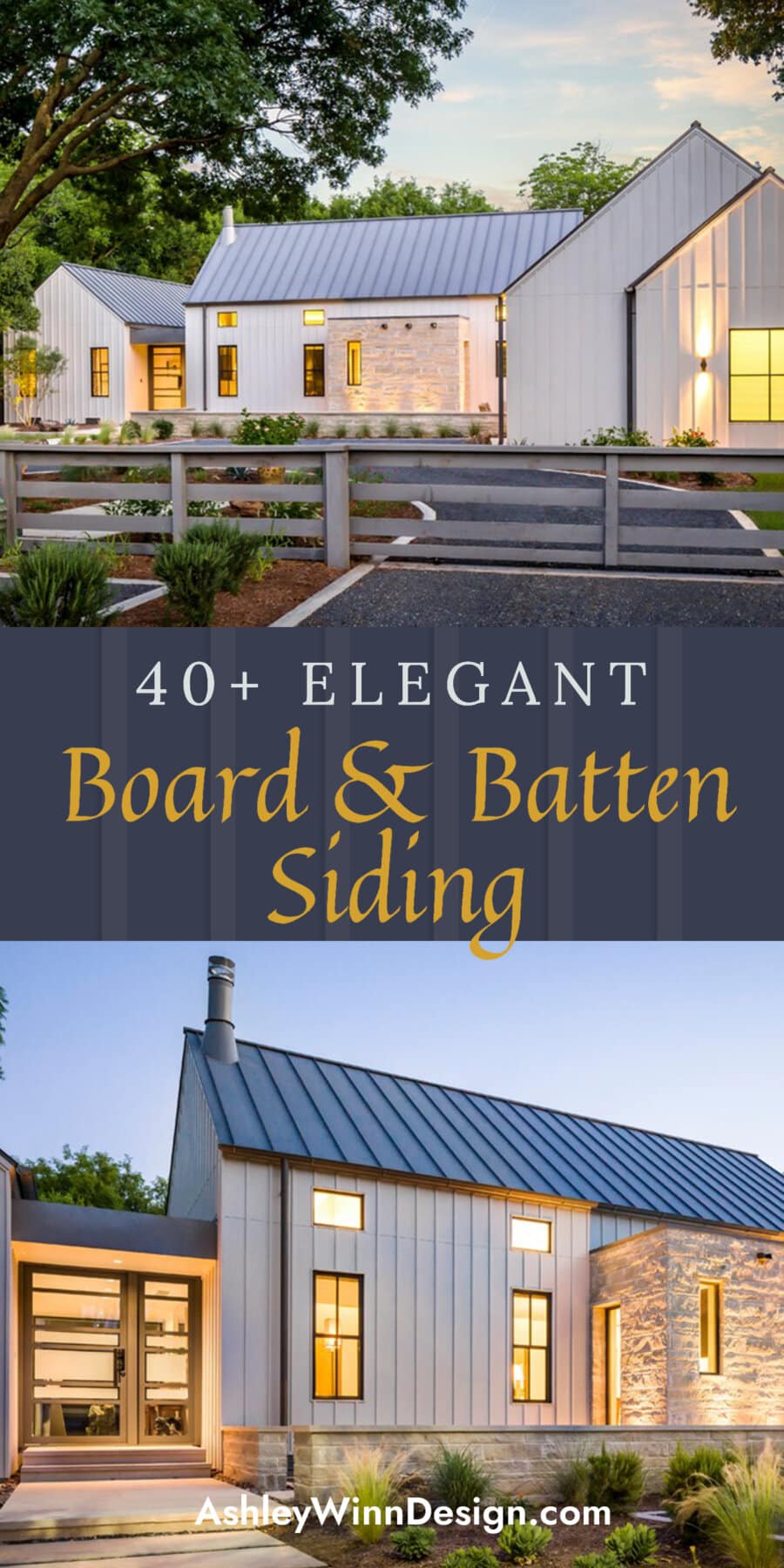 The white board and batten siding wraps the home exterior and creates a warm ambience to this modern farmhouse style.
5. Grey Siding for Transitional Style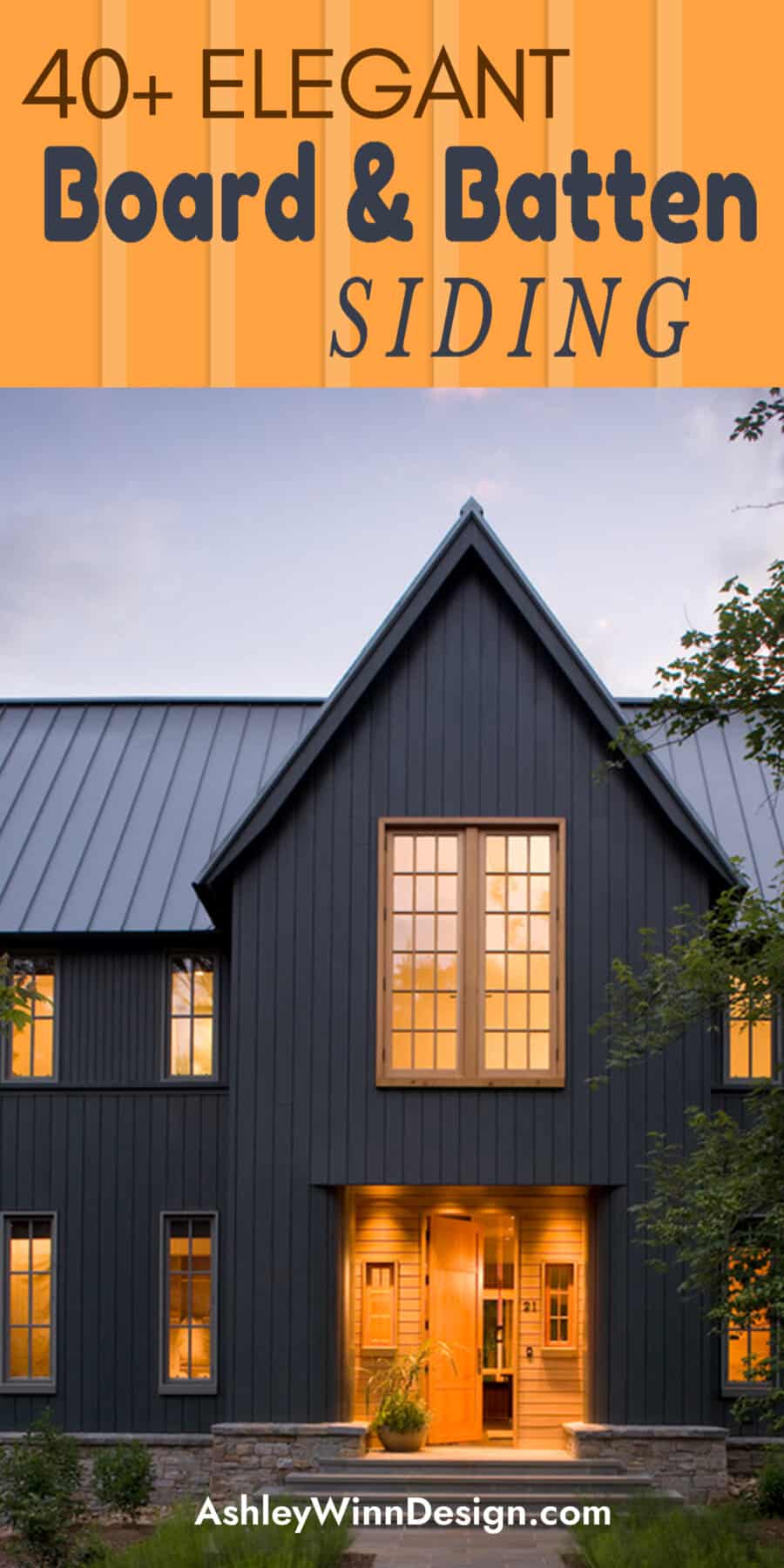 The grey board and batten siding applied in the home surface blends with the same colored roof, creating elegance. The exterior design accentuates the interior look of this transitional home.
6. Elegant Beige Siding
The beige siding combined with the brick siding completes the look of this classic style house exterior. Be inspired with the combination of mixed sidings and roofings with earthy colors.
7. Mixed Sidings in Creamy-grey Mild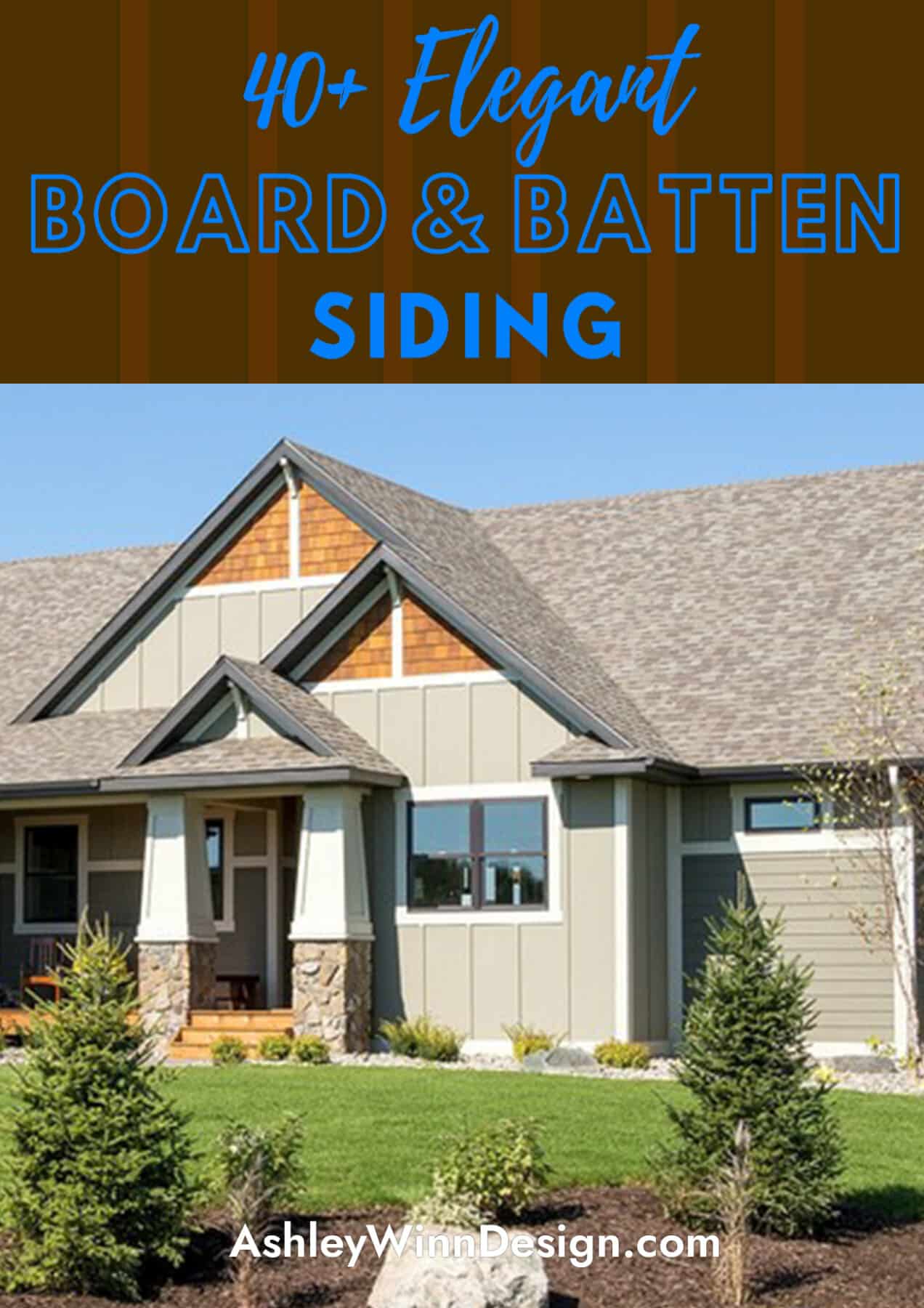 For this countryside look, the choice of creamy grey siding is the best. It comes with vertical and horizontal finishes that create a homey and warm look of the house exterior.
8. Grey Vertical Siding for Modern Farmhouse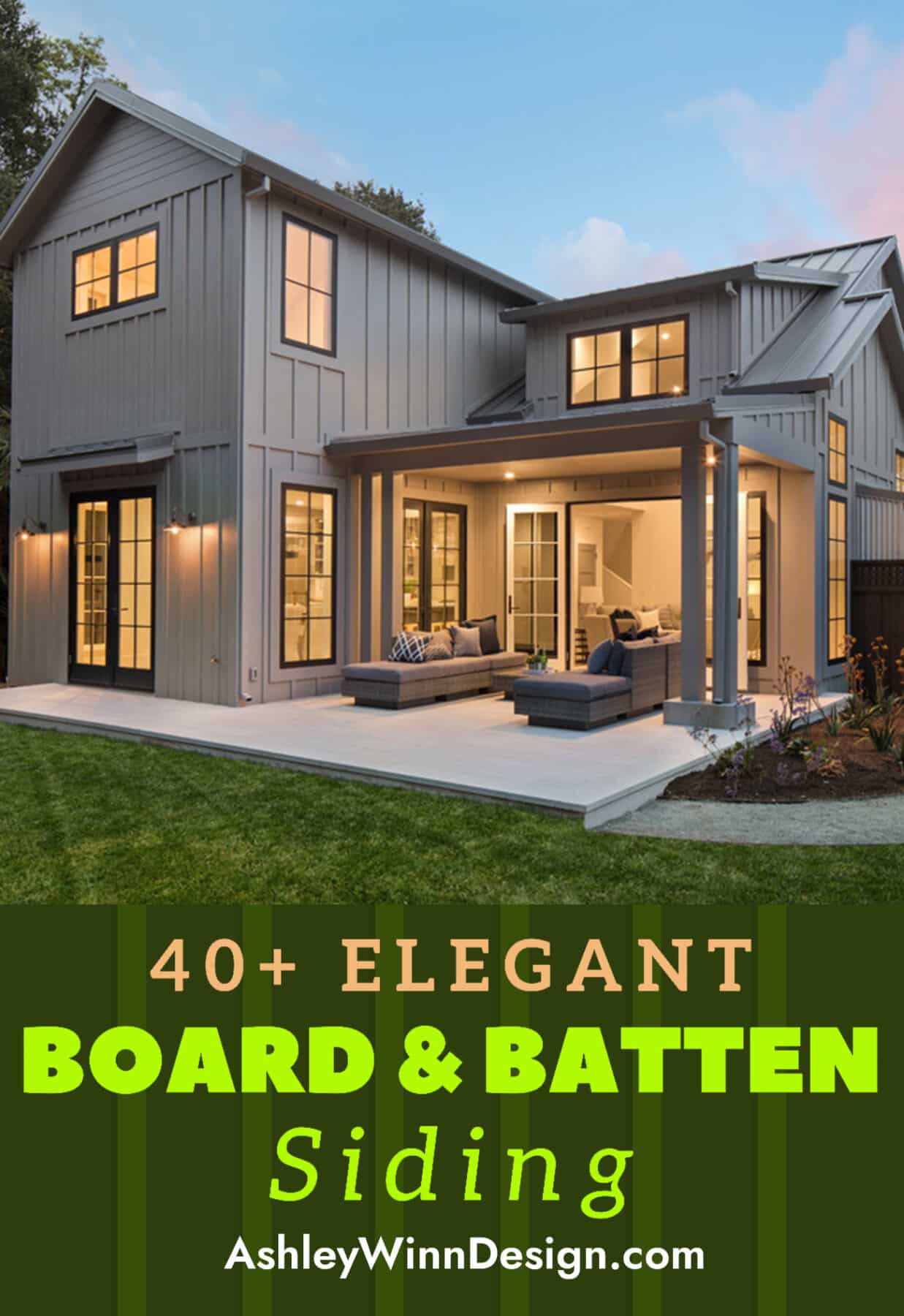 The best way to create a modern look to your home exterior is to minimize the use of colors applied to your siding and roof. Look how this grey vertical siding blends well with the same colored roof.
9. Light Grey Siding for Traditional Style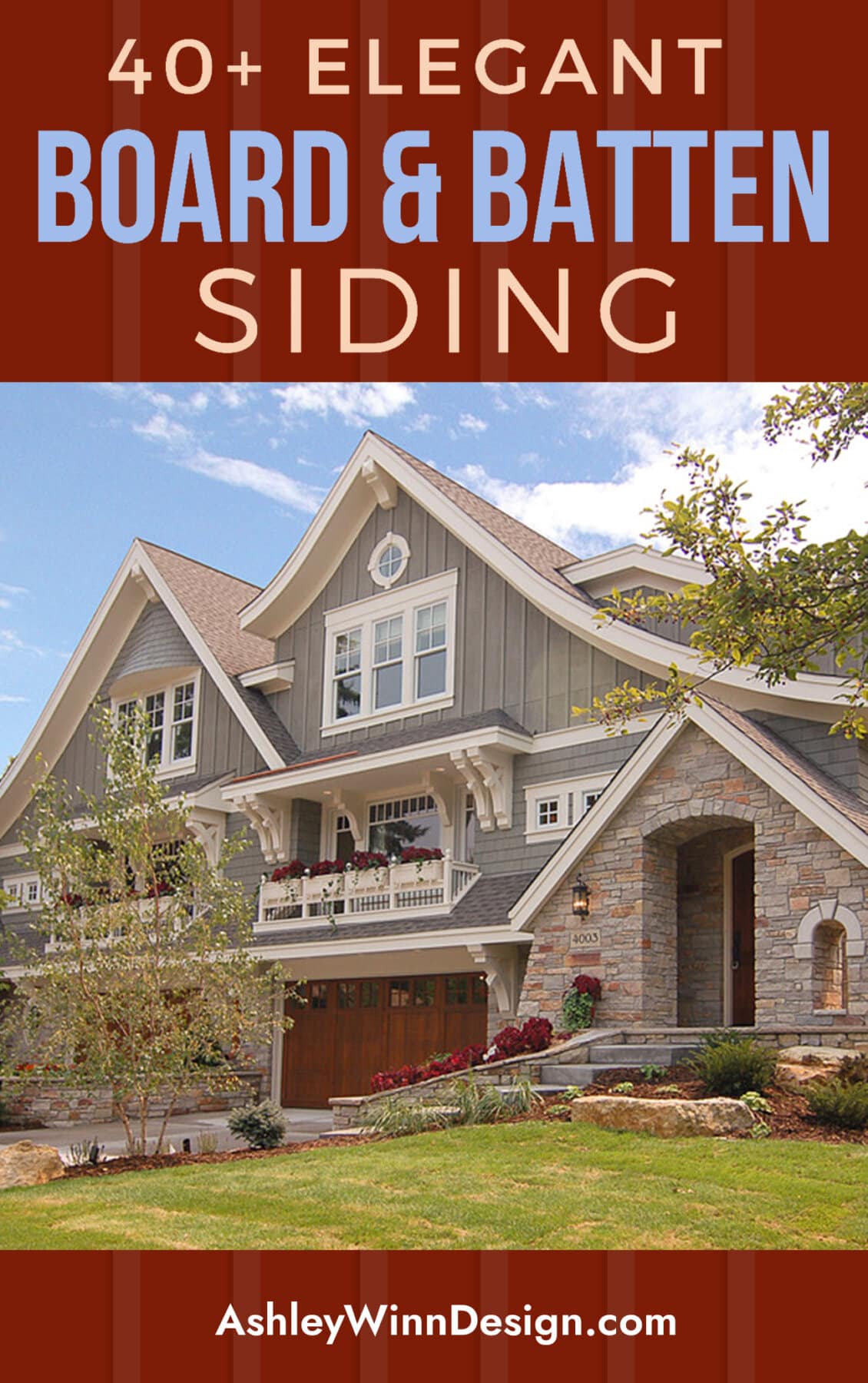 The light grey vertical siding matches perfectly with the stone siding, emphasizing its traditional look of the house exterior – so homey.
10. White Vertical Siding for Contemporary Look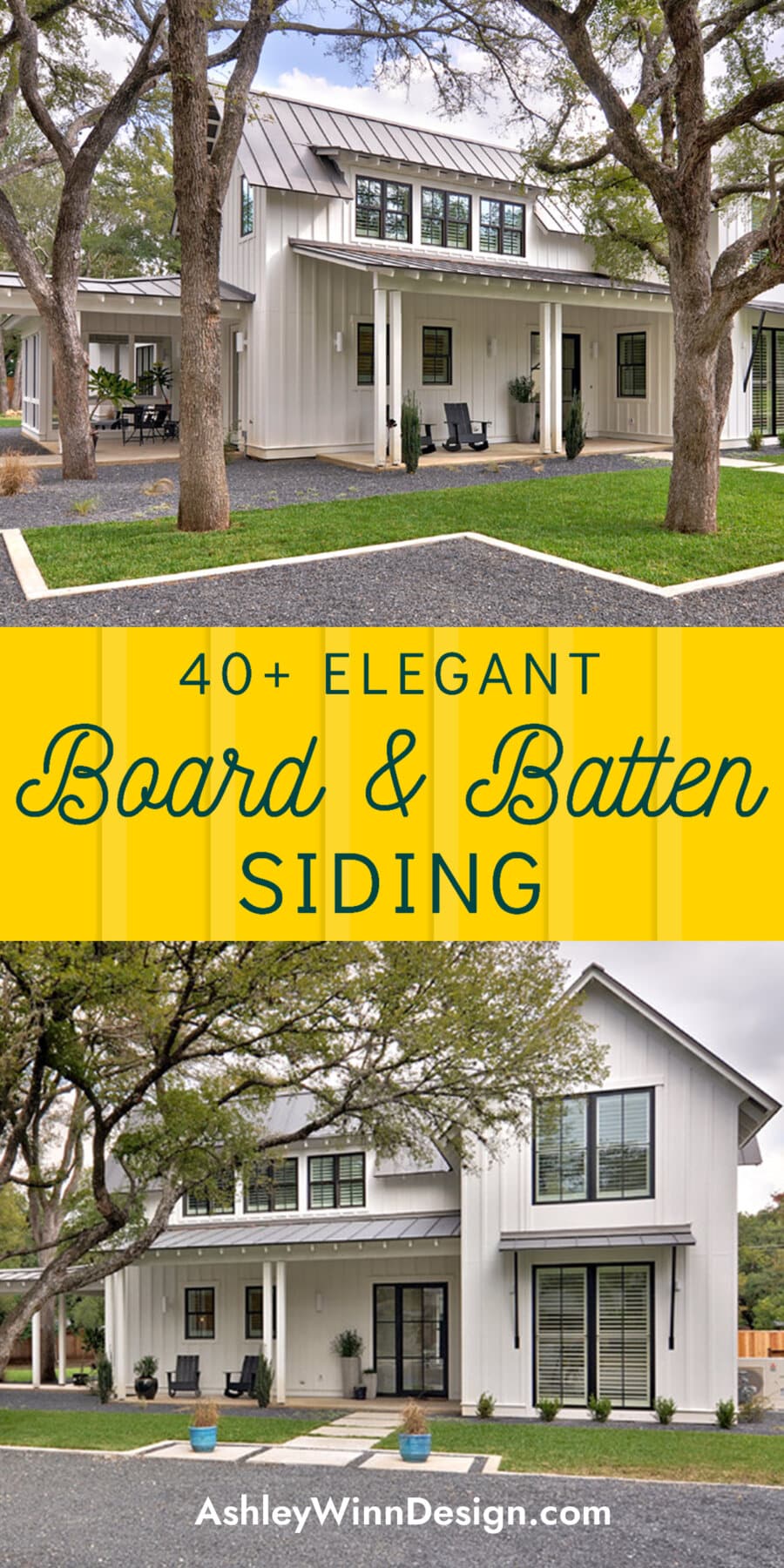 If your house is surrounded by shady trees, try to adopt this perfect exterior style. Start installing the white vertical siding which contrasts with the natural elements that surround it.
11. White Vertical Siding for Modern Farmhouse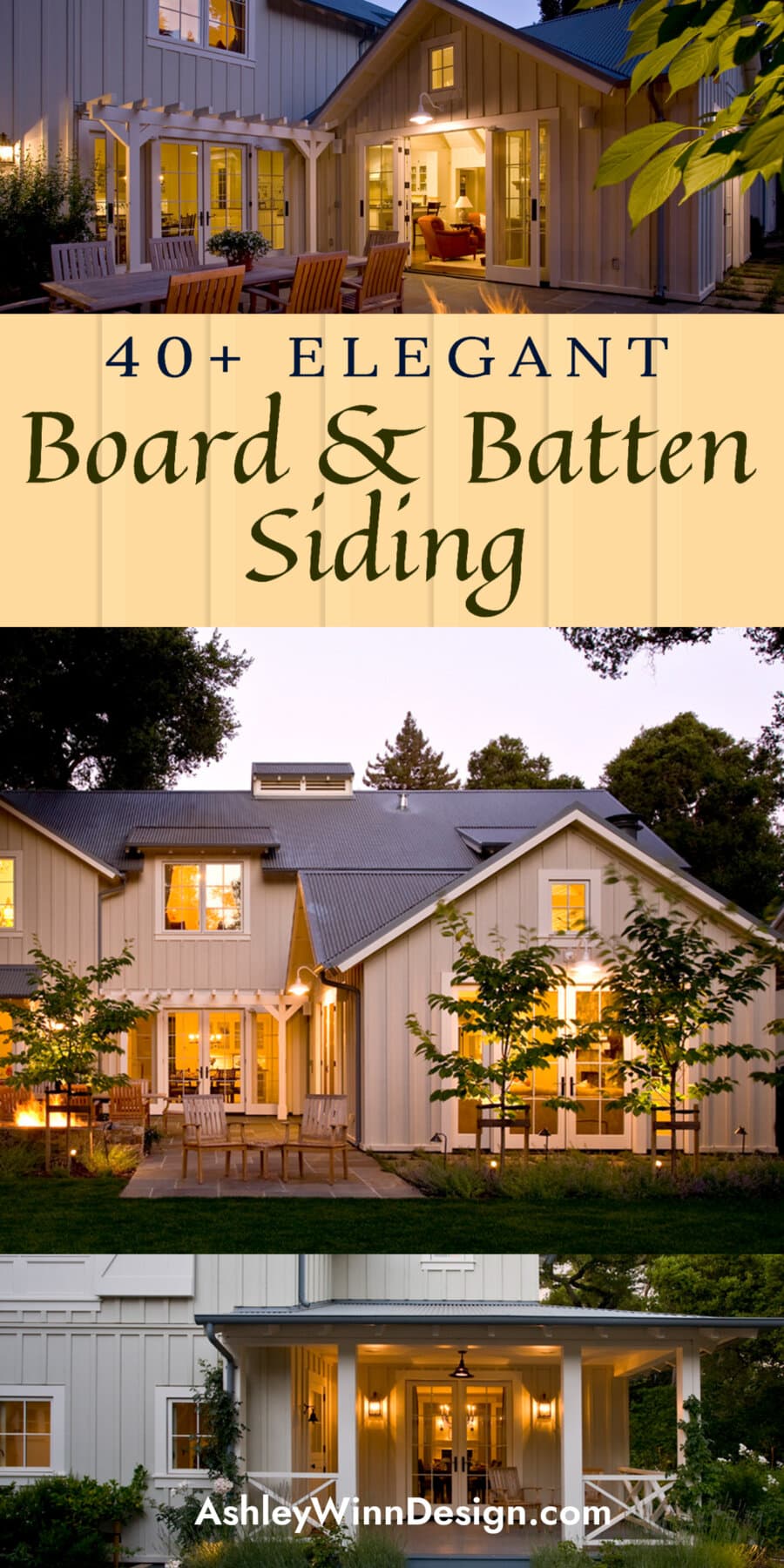 The detailed choice of colors and textures for its exterior is superb. The combination of white siding, white stone siding and contrasting color of the roof elevates the modern look of this farmhouse style. If you're looking for an inspiration that comes with simplicity for your cottage, then installing beige colored siding is a great idea.
12. Dark Grey Board Siding in Classic Style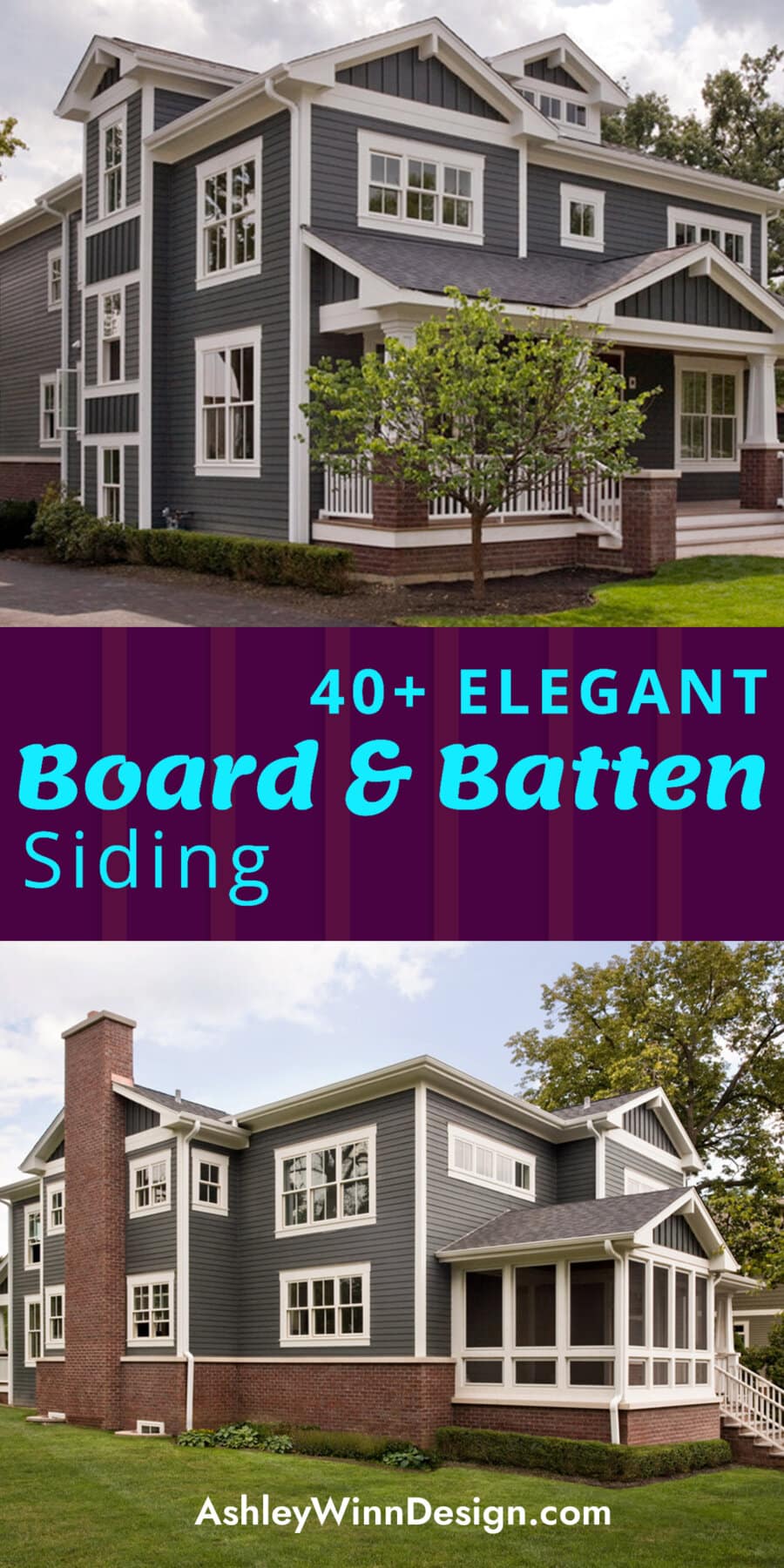 One color applied to the siding of vertical and horizontal style. The white window trims are just perfect to apply in this large classic style house.
13. Rustic Board and Batten Siding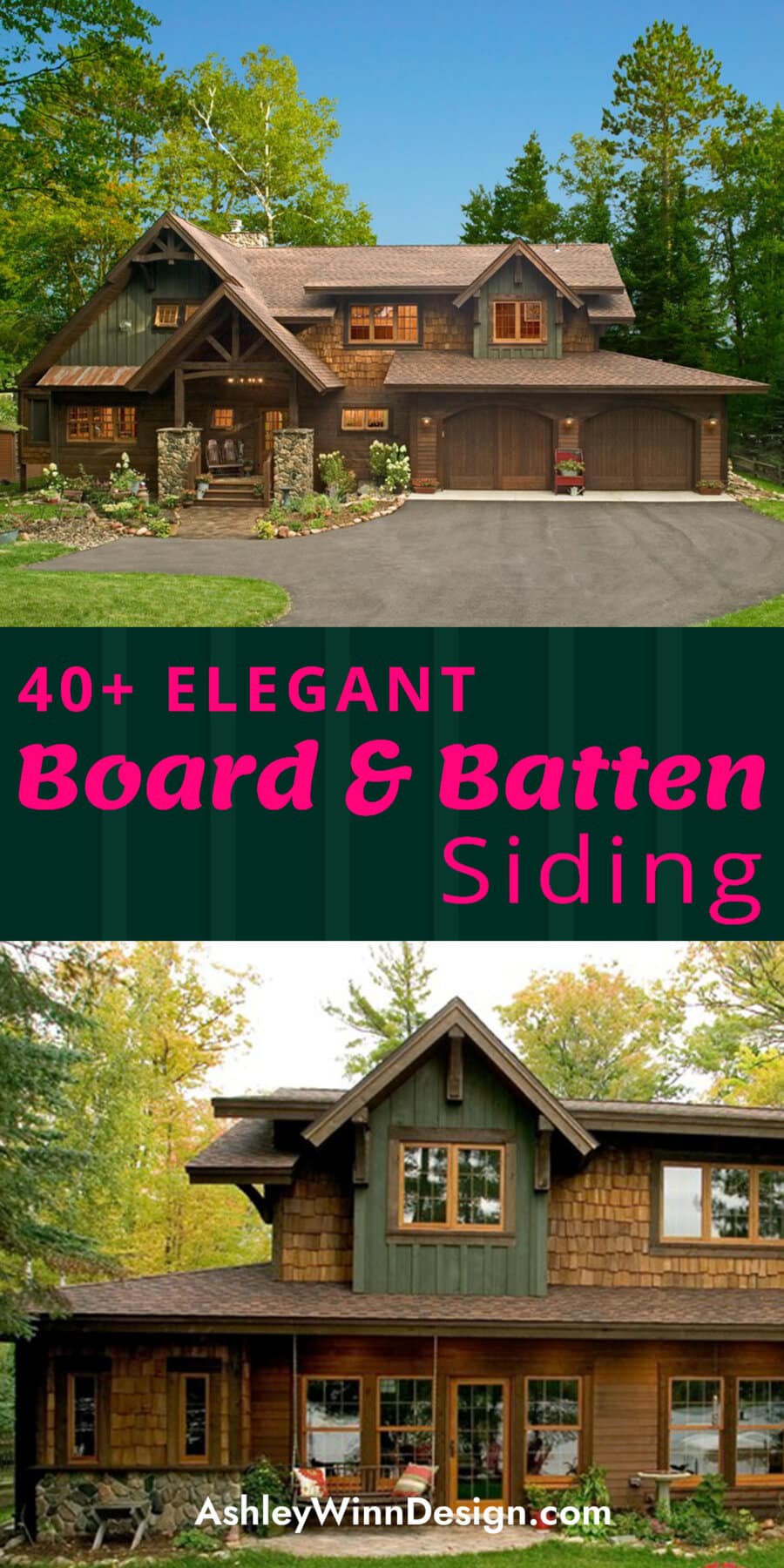 To create a rustic look of your home exterior, you have to go for this wood and rustic green board and batten siding. They are the best to match with the whole exterior of the countryside design.
14. Light Brown Siding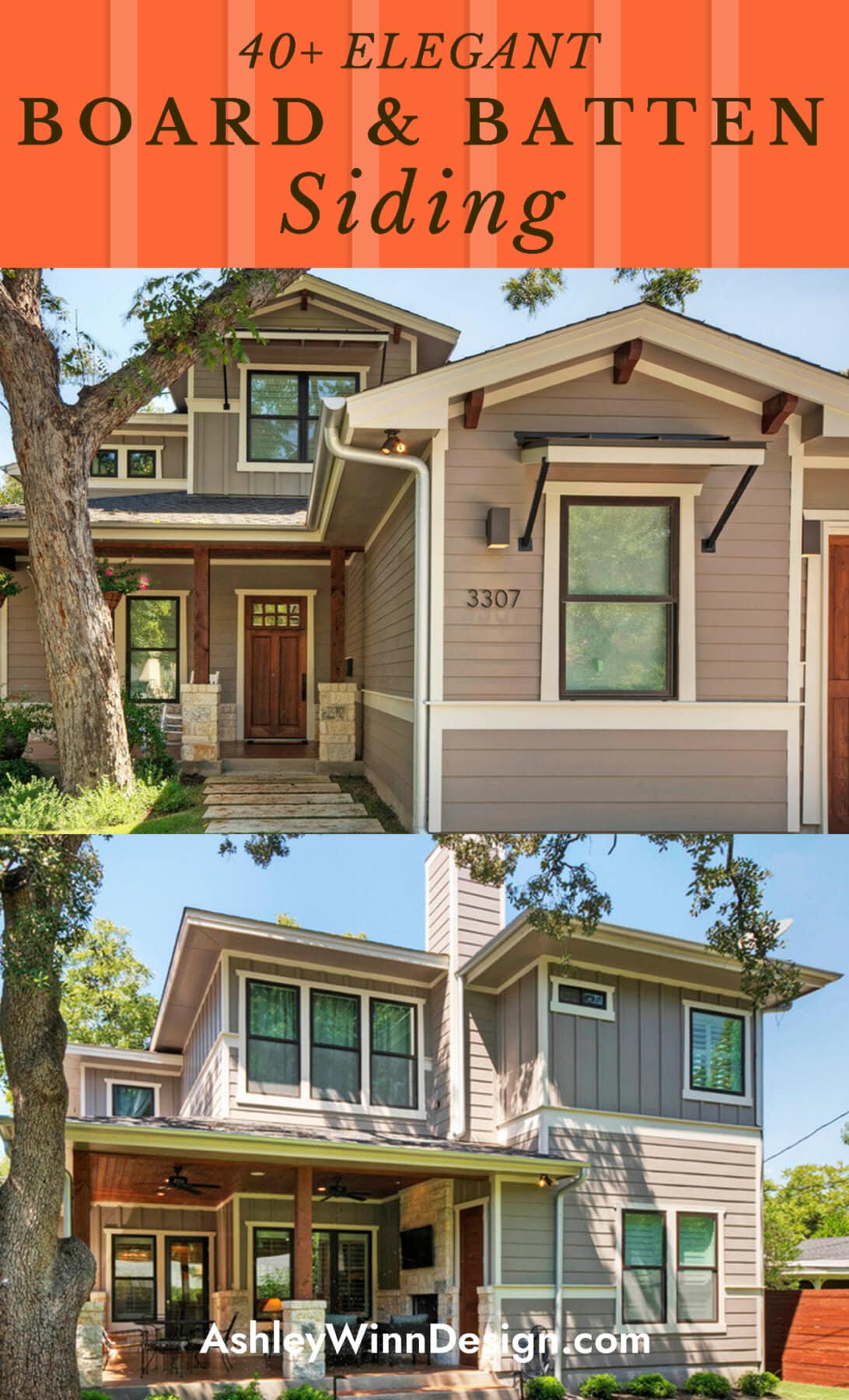 For the love of urban style that looks timeless, opt for this light brown board and batten siding. It looks great with white window and door trims.
15. Dark Teal Siding for A Contemporary Look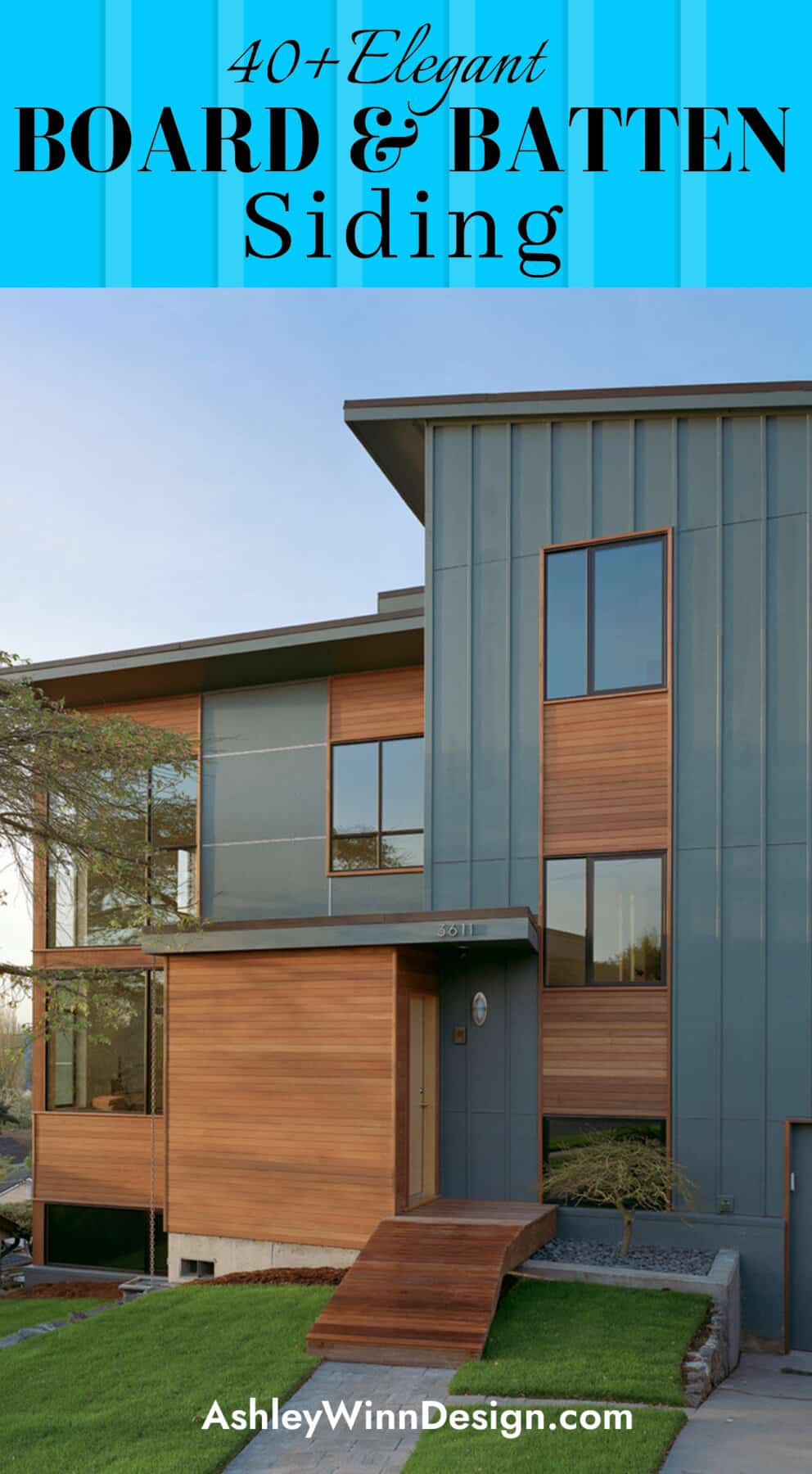 For urban homeowners, they'll love this exterior design. The teal board and batten siding combined with wood siding creates a modern look to this house.
16. Wooden Siding for A Complete Rustic Look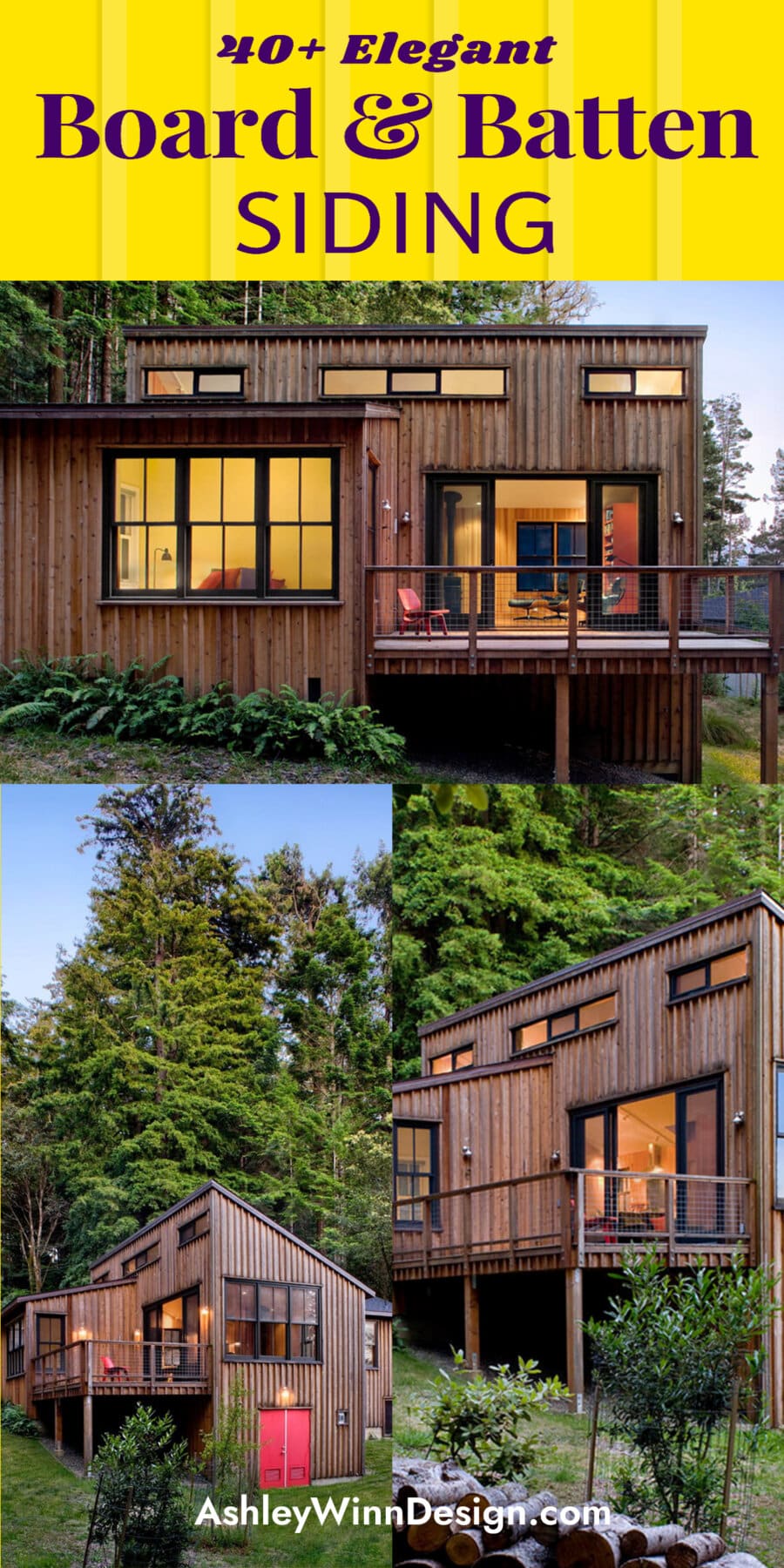 It won't be completely rustic without the wood sidings installed for your home exterior. Look how this wood siding elevates the rustic look of this small barn house.
17. Hardie Cobblestone in Beige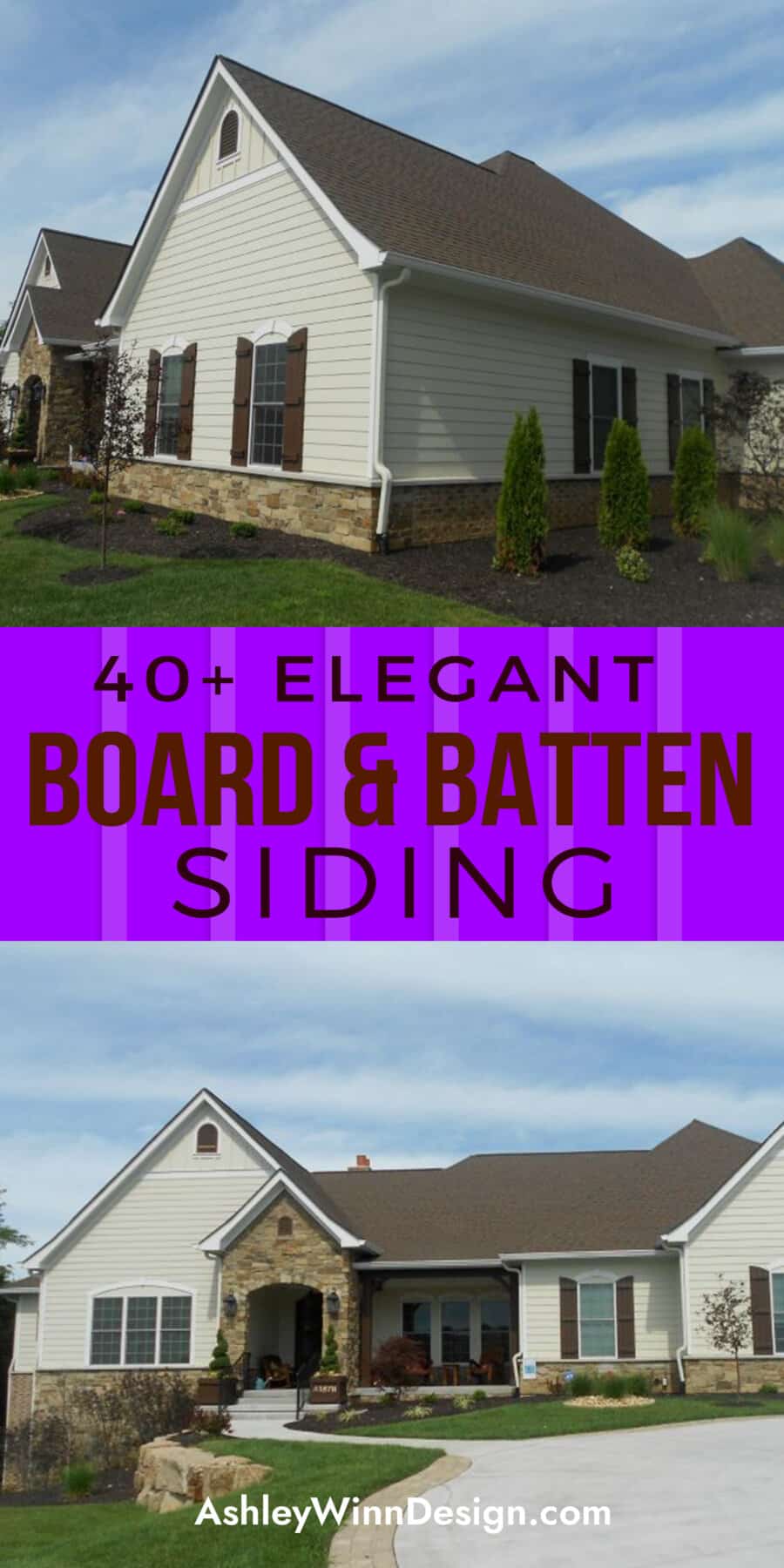 The beige Hardie Siding and stone wall exterior makes this home look warm and homey. The combination of the beige siding and dark brown roof is also superb. For a warm look of your home exterior, get your siding painted mostly in beige. This color goes perfectly with brown and other earthy tones.
18. White and Blue Vinyl Siding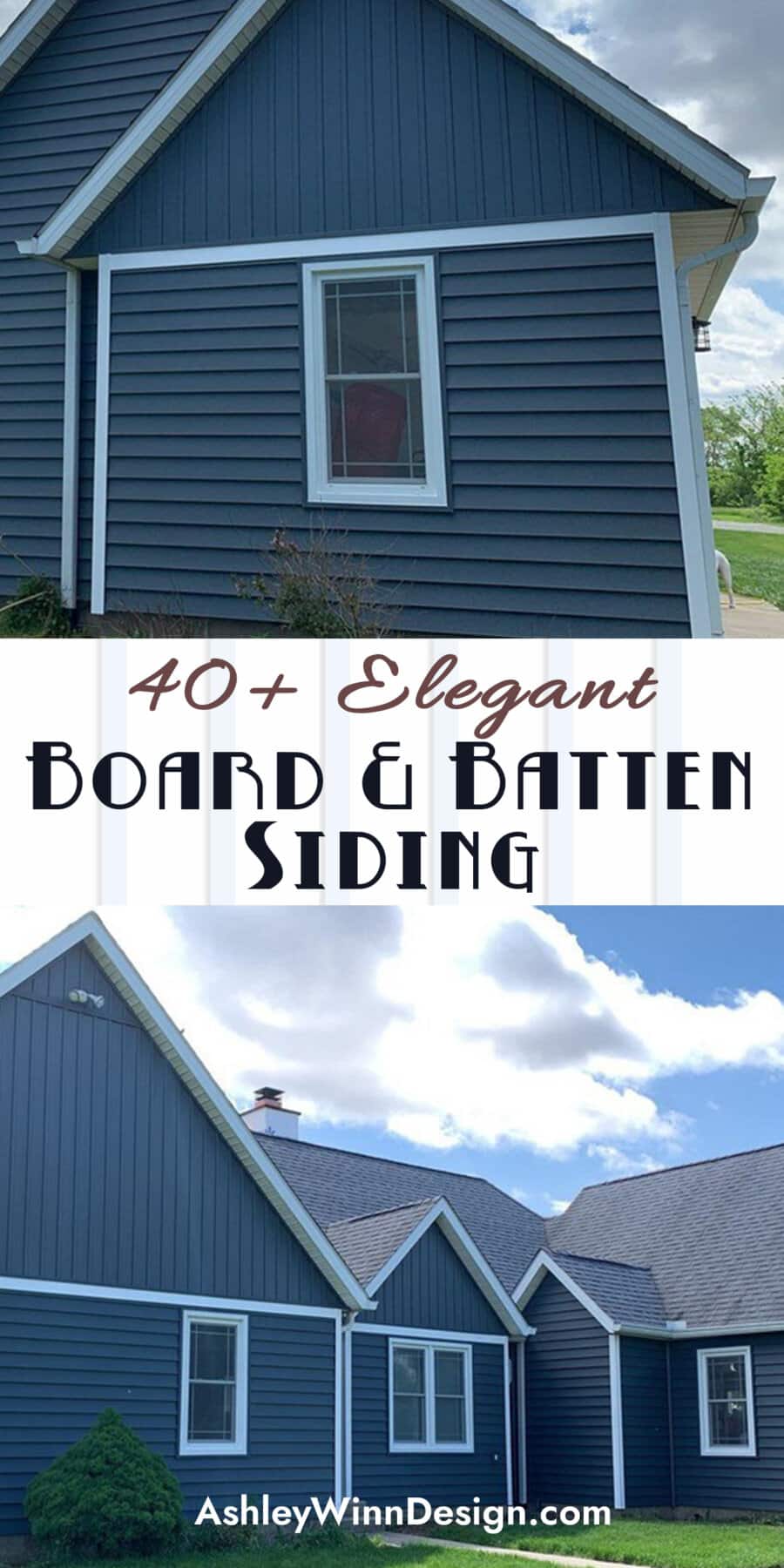 This home exterior looks simple yet classy. With the combination of white trims and predominantly blue siding, this home exterior is just great the way it is.
19. Blue Lap Board and Batten Siding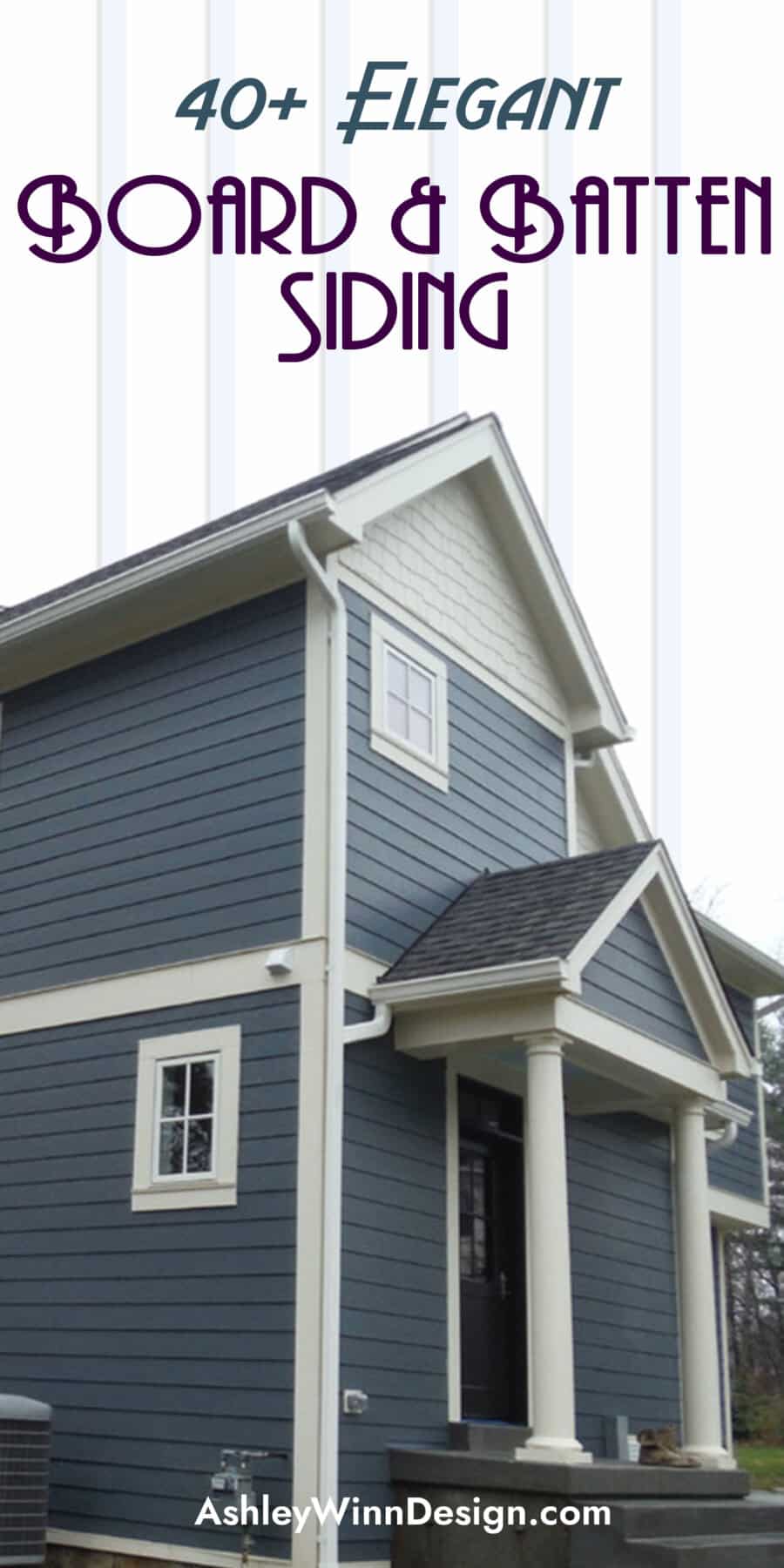 For the look of a transitional home exterior, the most popular color chosen is blue as it goes well with white trims. Be inspired with the lap style of the blue board siding.
20. Cedar Board and Batten Siding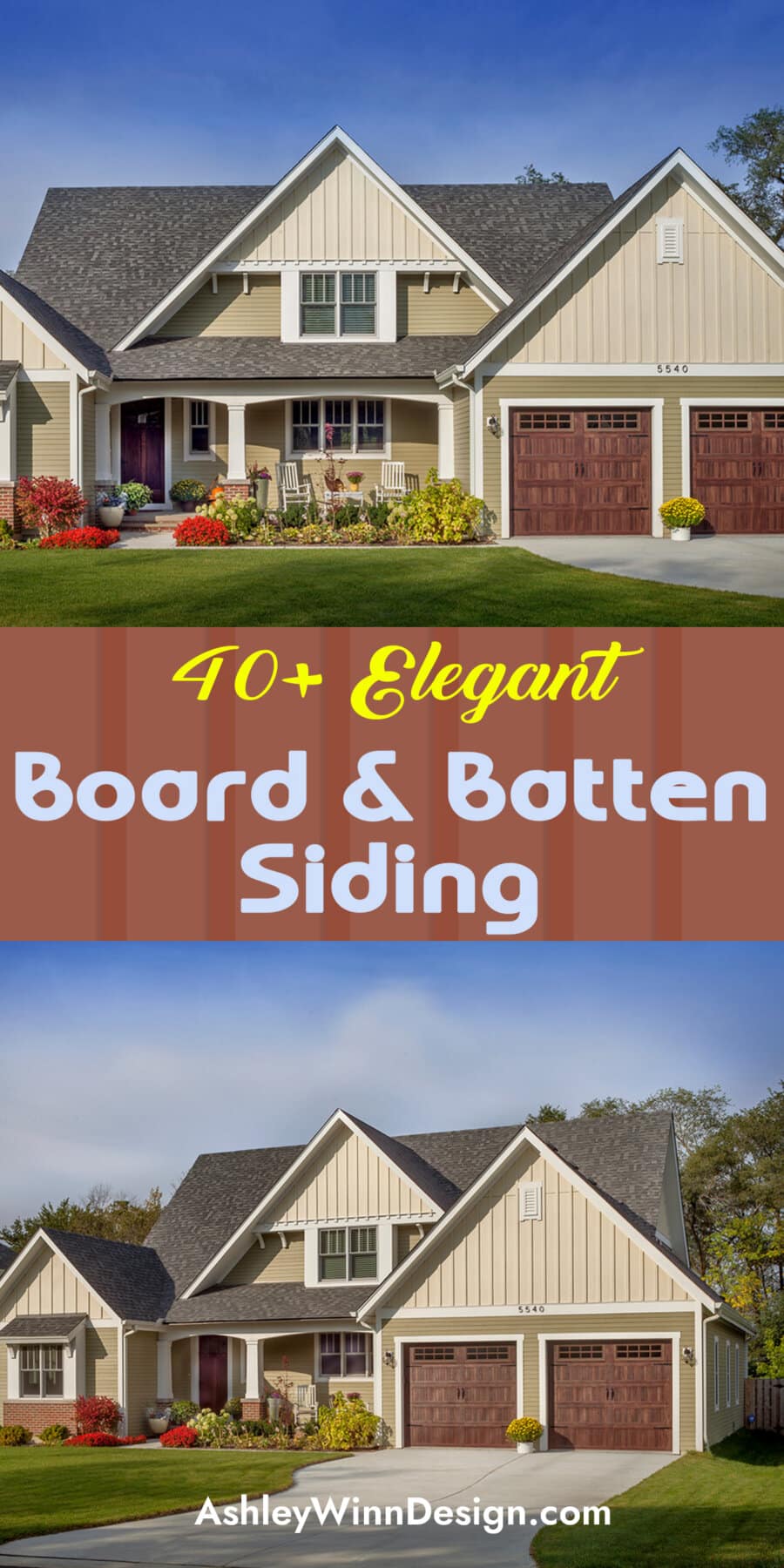 The sidings used for this home exterior are a mix of vertical and horizontal Hardie sidings in different shades. It looks great with a little touch of brick wall and grey roofing.
21. Grey Siding for Gable Roof Revamp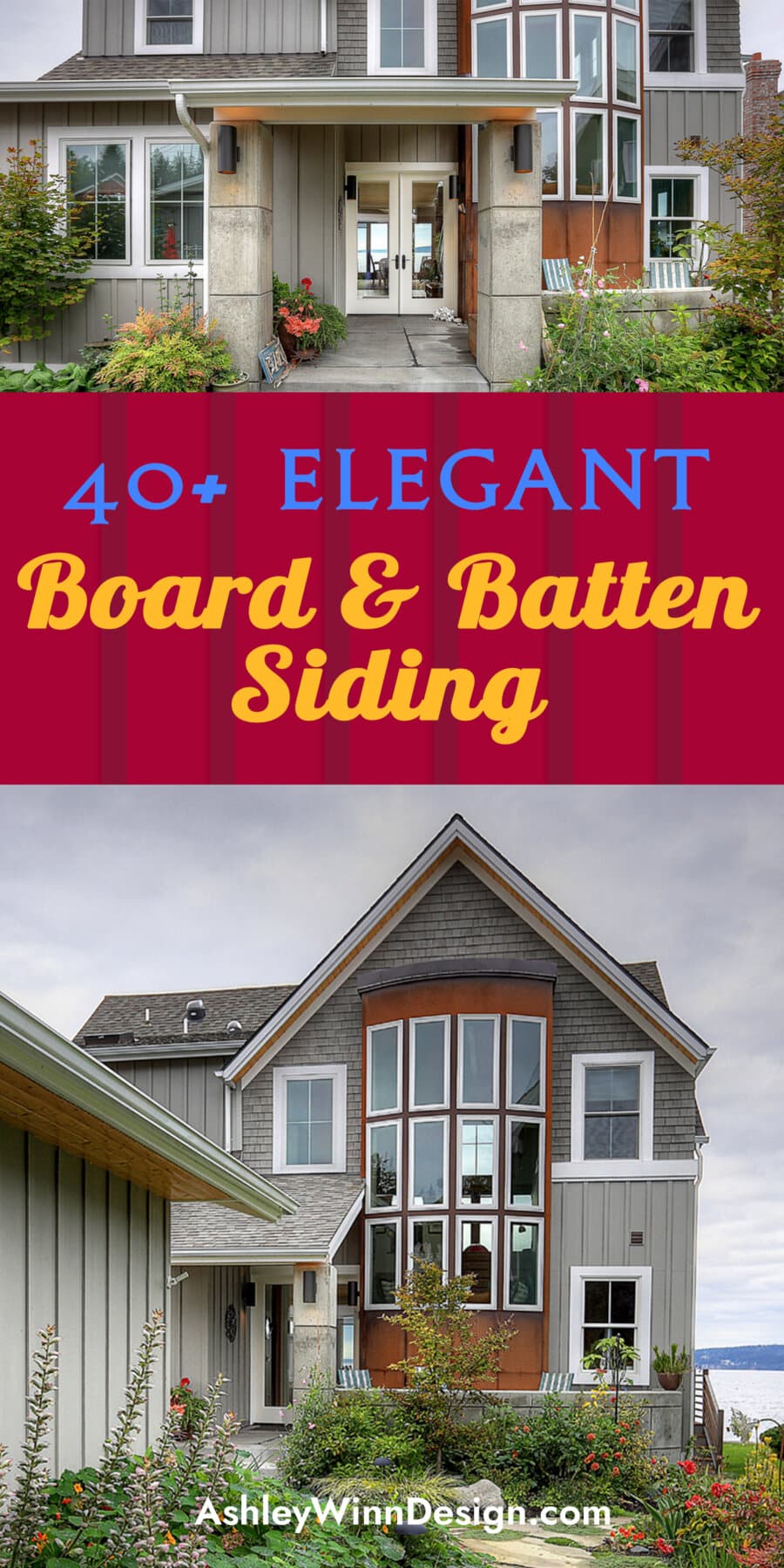 The gable roof of this home exterior is the prominent part of the house. The mixed sidings add an exquisite look to its interior; be inspired with different shades of grey applied on the sidings.
22. Natural-look Brown Siding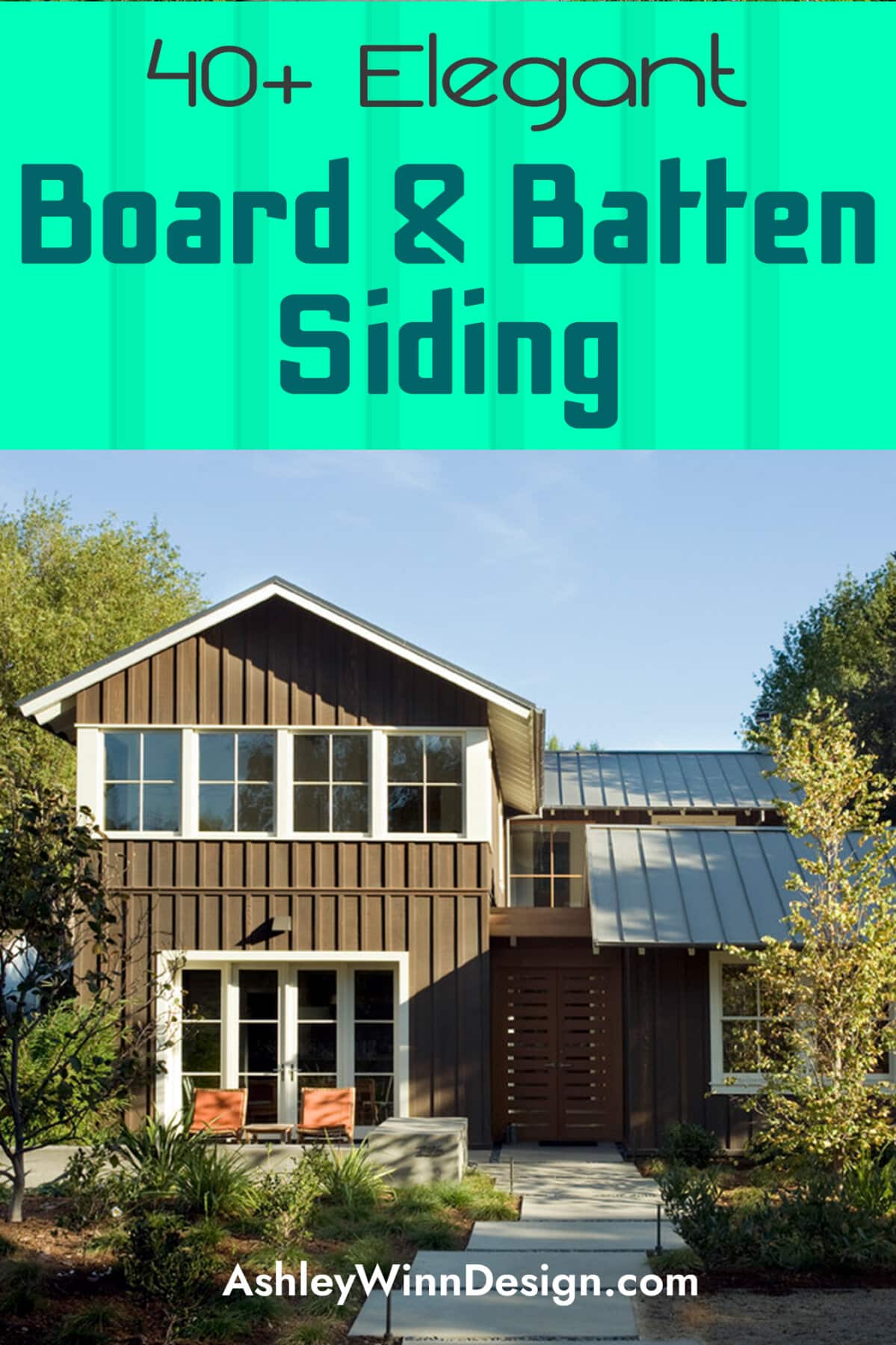 The brown siding of this home exterior gives the natural look to the whole look. It blends so well with the other wood exterior elements.
23. Dark Grey Horizontal Siding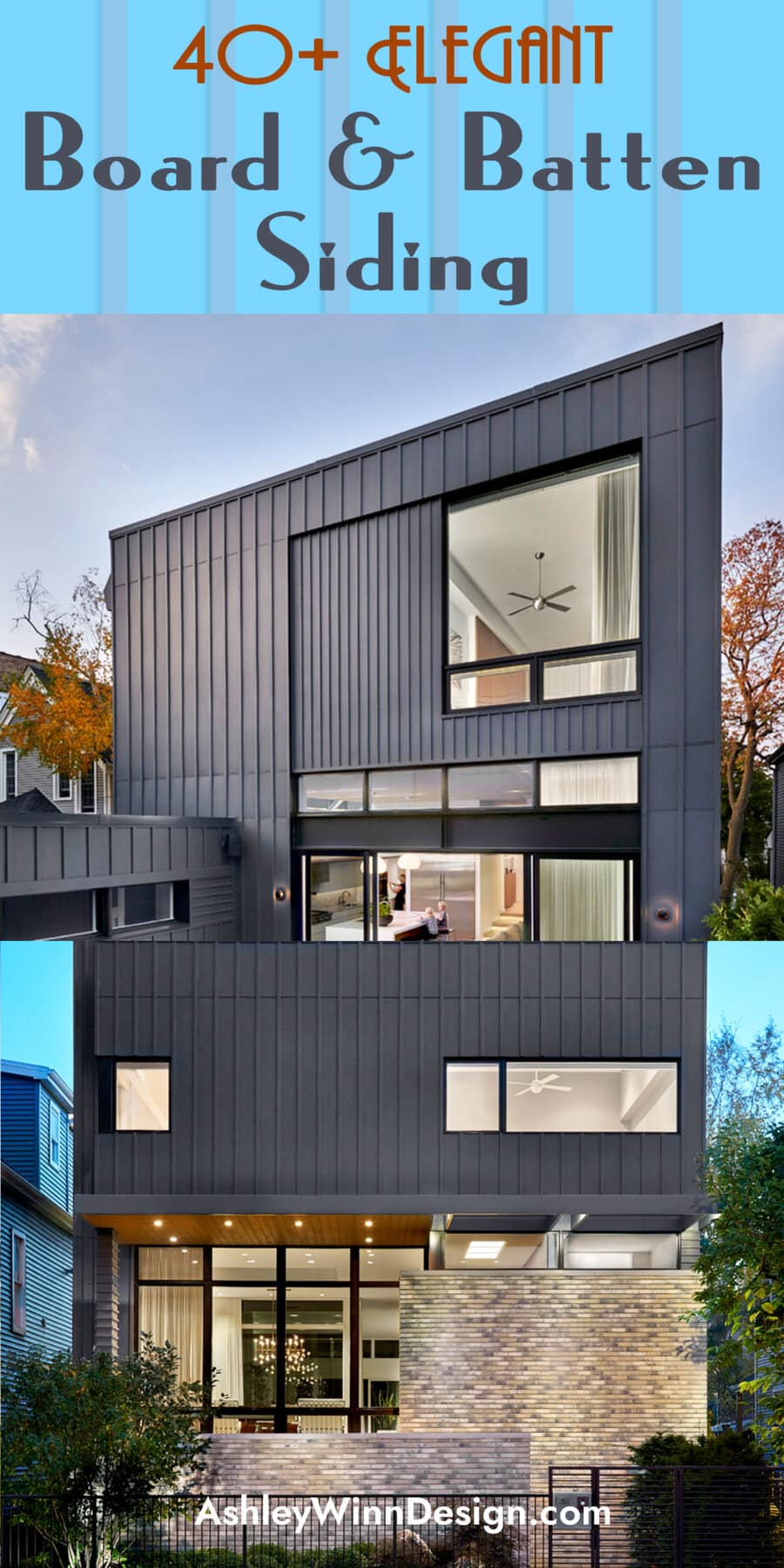 Looking for a modern style for your home exterior? The dark grey horizontal sidings applied along with the big glass window that display its interior can meet your urban style expectation.
24. Wood and Metal Sidings for A Rustic Look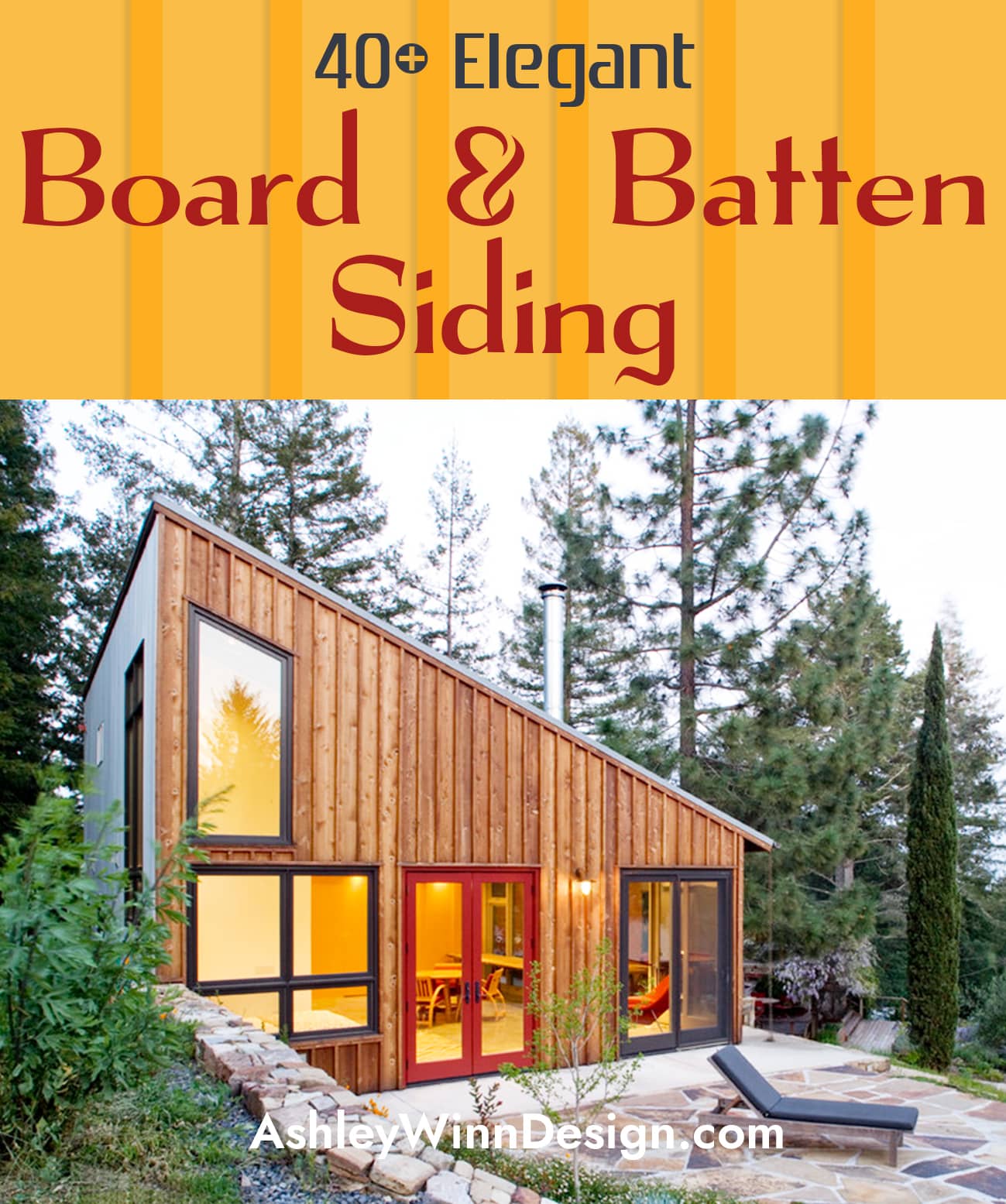 Two earth elements you can apply to your rustic compartment are wood and metal. Consider installing wood and metal sidings for a complete rustic look.
How To Install Board And Batten Siding
A board and batten siding is basically a siding type which uses strips of narrow wood called batten. Here are some basic steps to install board and batten siding.
First, you need to prepare the walls by applying building wrap and some flashings as needed.
Check both the width of the boards and the thickness of the gap between boards.
Place the board first, then every third or fourth board, check for plumb and make adjustments as needed.
The last one would be installing the battens to cover the gaps. Specific measurement will be needed to make sure the sidings cover the whole wall precisely.
Conclusion
Board and batten siding have become a trendy option for those who want to transform the exterior look of their house. This siding style is applicable to any home designs and comes with various materials and colors to adjust with your preferred exterior decor style. Most homeowners would choose cedar siding for its natural look, cost and maintenance, but you can consider applying different board and batten siding textures. For more ideas, we have garnered board and batten siding pictures below for your inspiration. Check them out!