Ceiling Texture Types – Ceilings are usually untouched when you decorate your home as they don't seem way too important. However, transforming your boring ceilings can also be a trick to uplift your house's mood. Moreover, there are thousands of options you can try to your ceilings, and all options mean that you need to texture them!
Texturing the ceiling isn't just stylish but also brings lots of benefits to your house. One major thing texturing can do is to hide blemishes and construction imperfections. Furthermore, texturing is also proven to be extra helpful in reducing noise. Above all, texturing is considered cheaper as it doesn't require much skimming and sanding.
Are you excited to start your project to create fashionable and effective ceiling to your house? Scroll down to find out many designs you can try when you are renewing your ceiling!
What Do You Use To Texture A Ceiling?
The essential to texture a ceiling is probably drywall mud and premixed textured paint. Drywall mud is perfect material to create depth and special effects –anything that basically screams dramatic visual, and premixed textured paint will have great results for subtle texture. Another essential you need is primer as it will help you to apply the materials easier and give lasting results.
For creating textures and patterns, you actually can use anything you'd like! For example, a sponge is a great tool to create stucco texture and a specialty roller will be a nice choice to make subtle patterns. You can also use damp clothes, combs, sprayer, and even water to create the visual you want! Read further to find out styles you can copy and how to create them!
Paint Brush For Regular Texture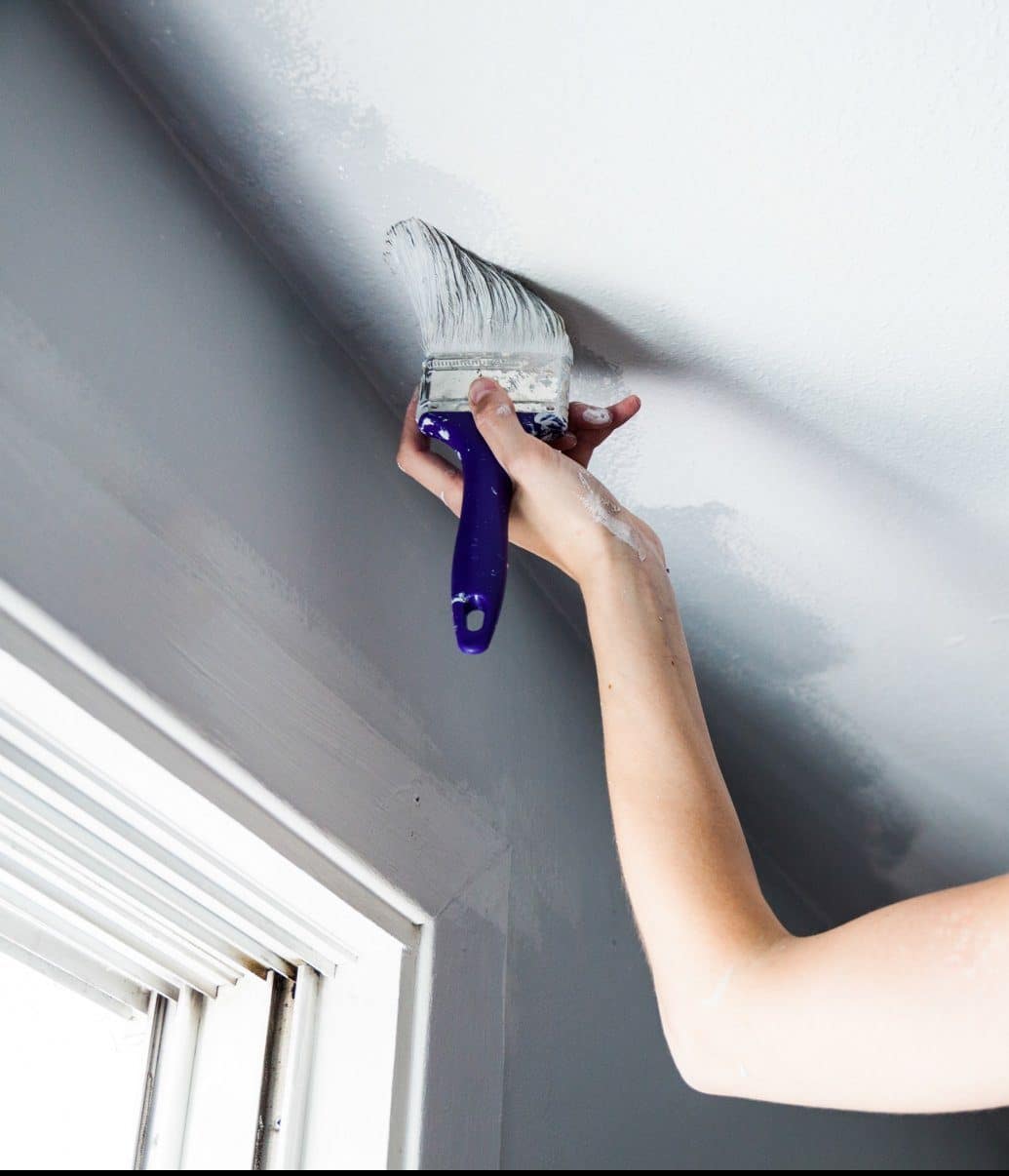 If you want the simplest style in the room, then maybe you should go with a super basic option: regular texture. Simply cover your ceiling using a paint brush to spread the paint evenly. Make your ceiling brighter by using light colors such as white or pastels. Even though you're not going to apply crazy texture, you still need to paint a light coat of primer so your ceiling has a consistent layer and good durability.
Specialty Roller For Subtle Texture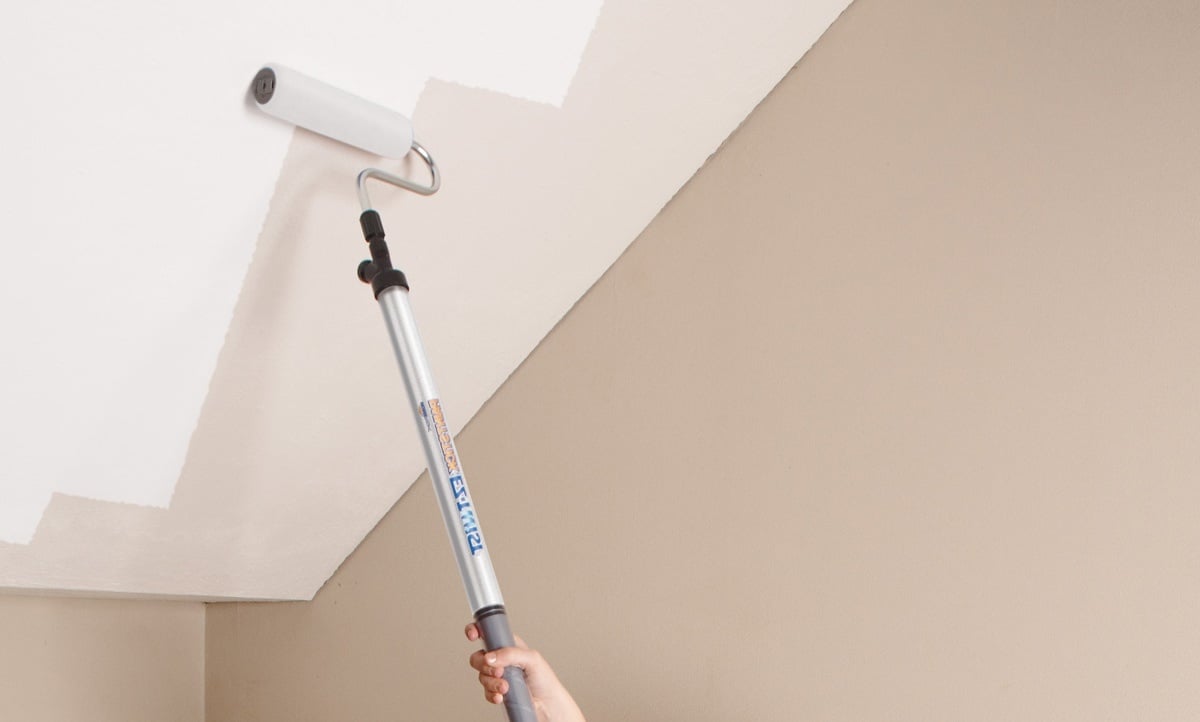 Now, if you want to be a little bit funkier but not standing out too much, you can try applying subtle texture to your ceiling. For the job, a specialty roller will be a great option for you especially if you are a beginner in painting. Purchase a specialty roller that has your favorite texture before dipping it into your pre-mixed textured paint product. Paint your ceiling carefully to create even layers. You can get crazier by mixing more than one pattern but be careful not to get too freaky so your ceiling doesn't ruin your room's atmosphere.
Damp Cloth For Stucco Texture
Stucco texture is a great help to brighten your boring space. Not only that, stucco texture can also add dimension to your room. However, painting your ceiling with this texture can be a little bit tricky as you need to take time and effort to properly get the job done. You can use a thick paint mixture and apply it to the ceiling surface with a compound knife or small trowel. After it's properly applied, dab the surface with damp cloth to give the texture. It does sound easy, but be careful not to mess with your ceiling by making the pattern to uniform!
Sponge For Stucco Texture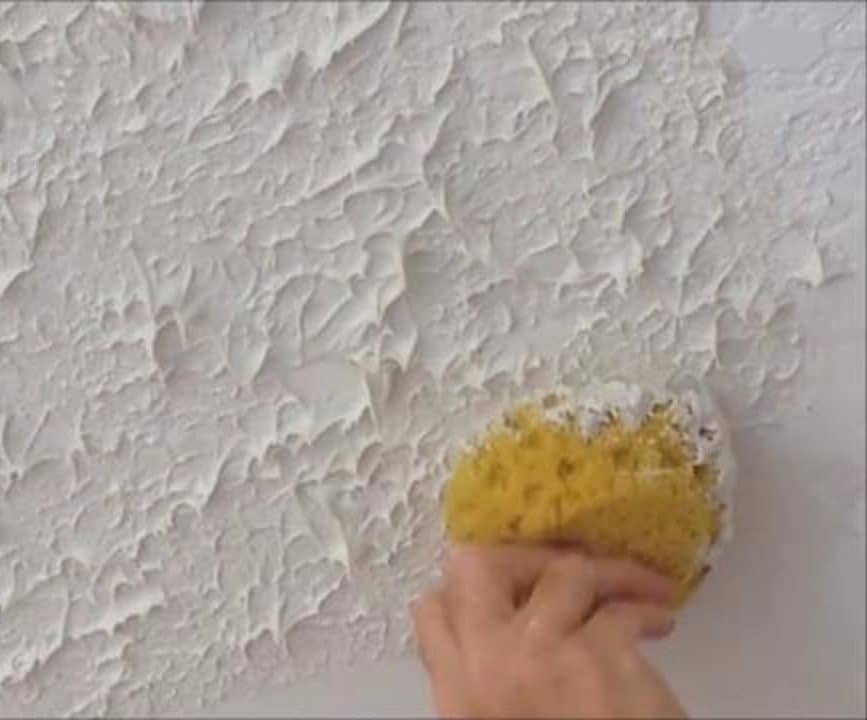 Another tool that you can use in order to create stucco texture to your ceiling is sponge. Once the paint mixture is properly applied to your ceiling, carefully tap the sponge to make the porous texture you look for. Even though you don't need super skill to get the job done, you still need to do some preparation so you can have consistent layers for best result. Priming your ceiling can be super helpful so your ceiling has the good texture you want.
Combs For Artistic Texture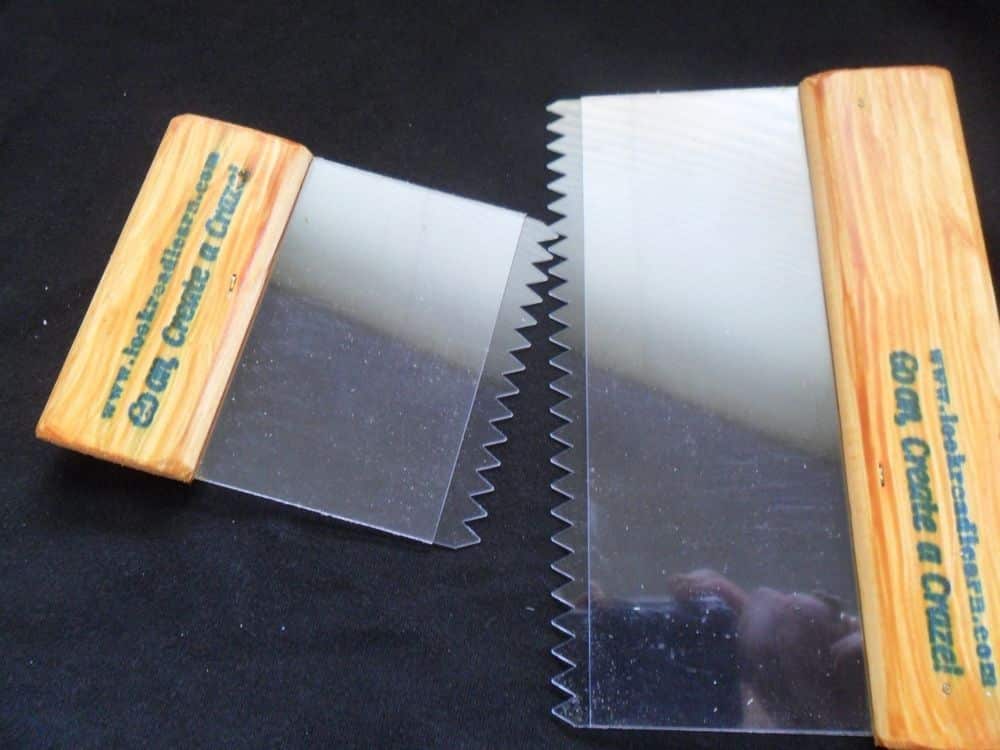 Artistic texture may need an expert DIY touch as it may need special skill and sense of style, but the result will definitely be worth all the effort you're making. Artistic texture will definitely look fabulous with your lighting fixture and give a spotlight to the area. All you need to do is apply a thin layer of drywall mud and make circles around your light fixture using combs. You can try to combine all different sizes of combs to make the design more elegant. Leave the drywall mud to dry before painting it with your favorite color. Do not be surprised if your house ends up looking like a Victorian castle with the texture, though!
Spray Gun For Popcorn Texture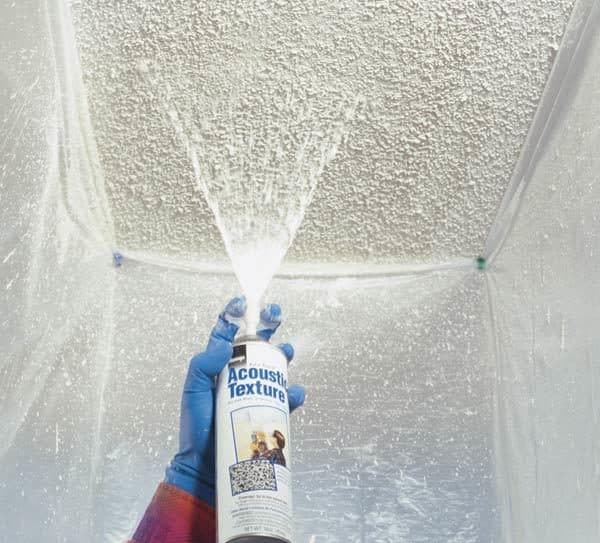 If you consider yourself as an old school soul, then you may want to try this retro look to decorate your ceiling. Popcorn texture can easily be created by using a drywall texture sprayer. The sprayer comes with a varying selection of nozzles for different patterns so you can choose which is best to your liking. However, you may need to do extra protection to your walls and floors because the sprayer may let the particles fly everywhere. You can cover your walls and floors with painters tape and sheeting or simply cover everything with plastic.
Related : Cool Wall Shelves Design
Most Popular Ceiling Texture Types
If you are bored with mediocre styling to your home, then you can step up your game by texturing your ceiling! Textured ceiling has many advantages such as muffling noise and is also considered way cheaper than a smooth ceiling. Moreover, a textured ceiling can give you a dramatic vibe to spice up your space.
Smooth Ceiling Texture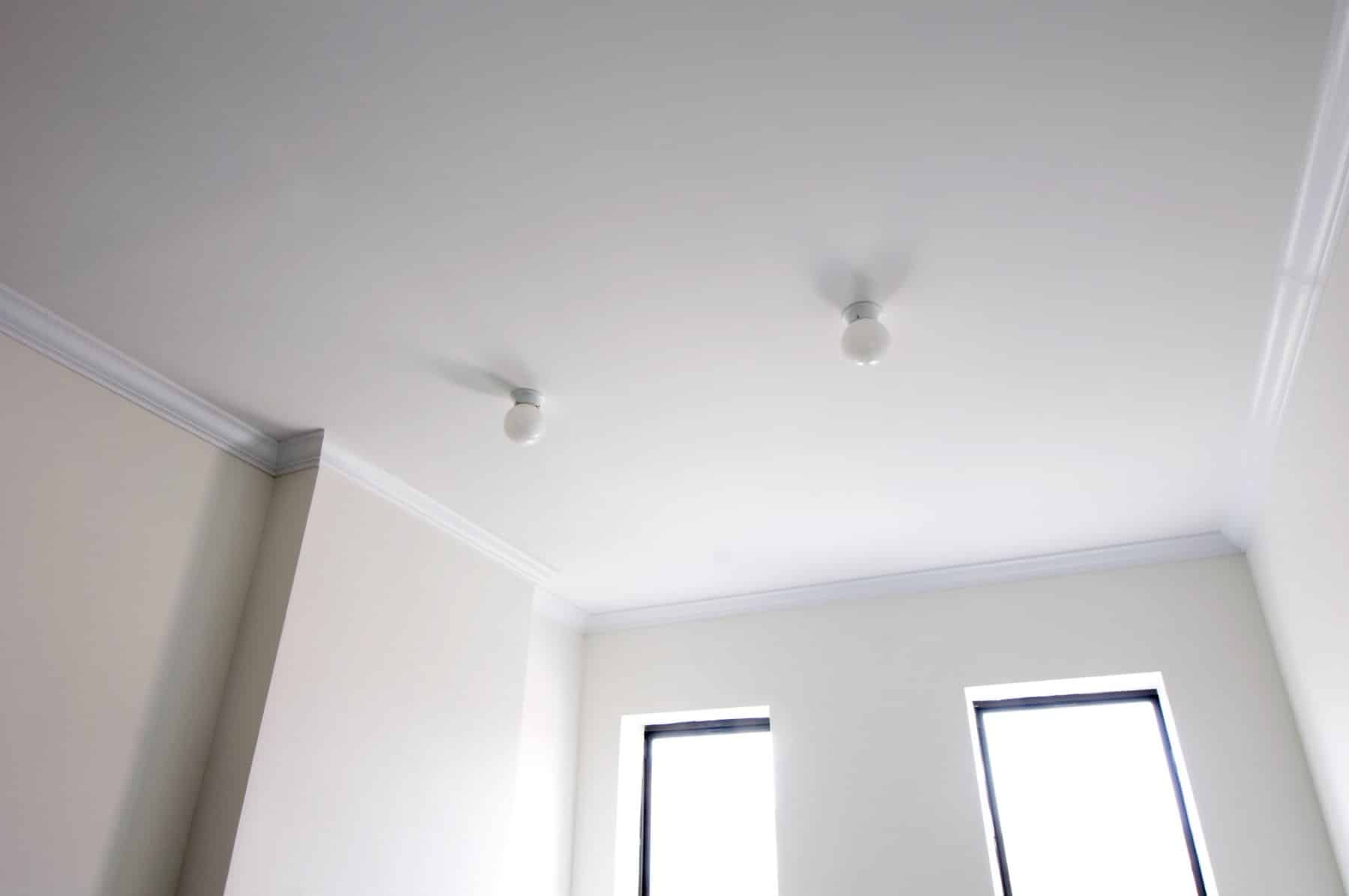 In case you have a room with textured or patterned walls and floors, then textured ceiling may be a bit much. You can go back to basic by applying smooth texture instead, so your ceiling doesn't overcrowd the space. Smooth texture may go well with flat ceiling and white will definitely be a perfect color. However, smooth texture may have a bit of disadvantage as it is not very suitable to hide imperfection of your construction. Do not worry though, as you can add more layers of mud or sanding to resolve the issue.
Skip Trowel Ceiling Texture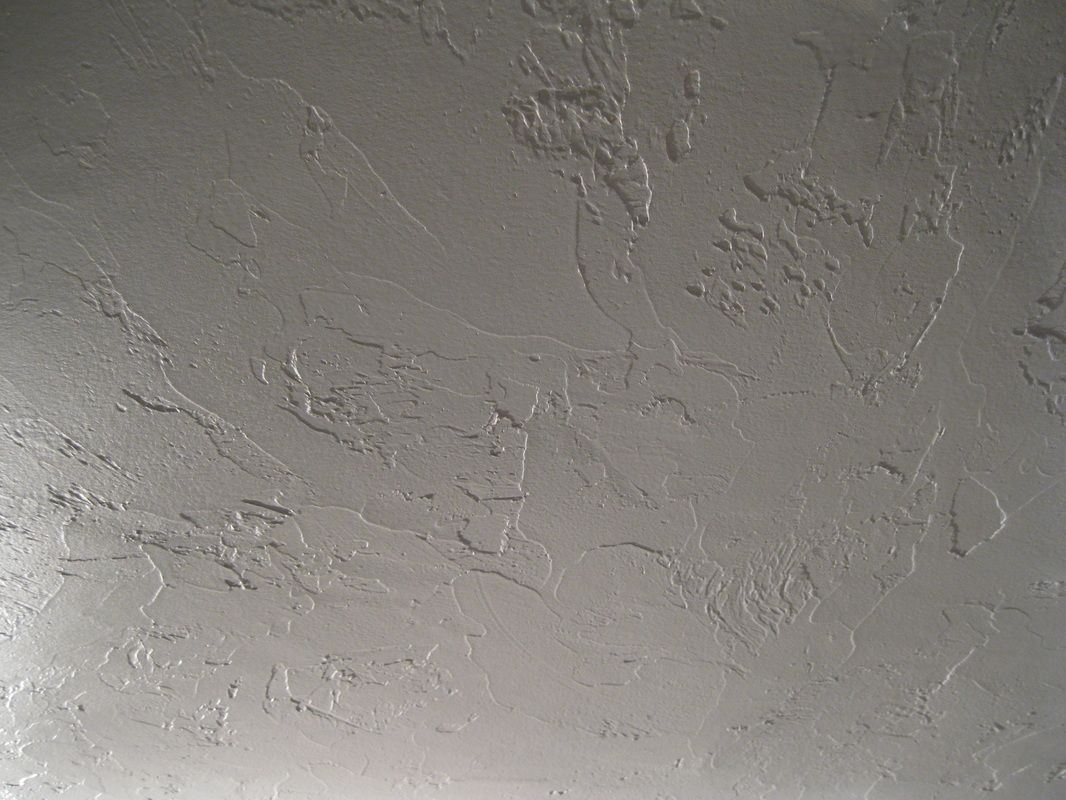 Skip trowel texture is probably the best low-key texture you can apply to your ceiling. The texture doesn't stand out too much but still looks classy. You can use coarse sand and joint compound to create stucco texture. Use a trowel to spread the compound to give your ceiling a great dimension, thus creating Mediterranean visual to complete your room.
Knockdown Ceiling Texture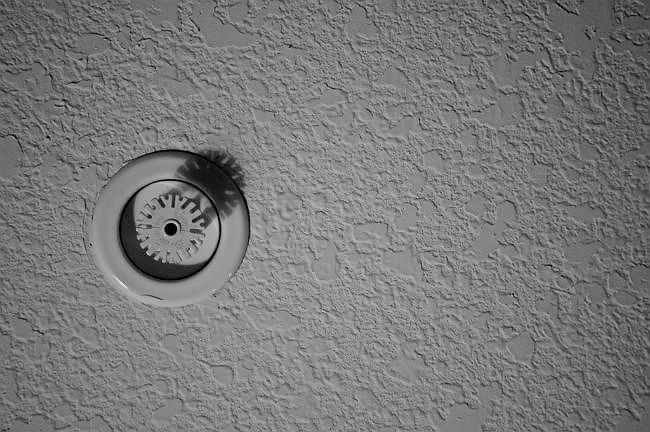 This texture is pretty similar to skip trowel texture as it creates a stucco texture. Knockdown ceiling texture is probably the most popular ceiling texture because the design is perfect for concealing construction imperfections. You can create this ceiling style by spraying the ceiling with watered-down compound and then you can leave it to partially dry. As the compound starts to dry off, the material will drip and create stalactites. Once those stalactites settle down, you need to scrap them away so they'll leave the stucco structure you are aiming for!
Orange Peel Ceiling Texture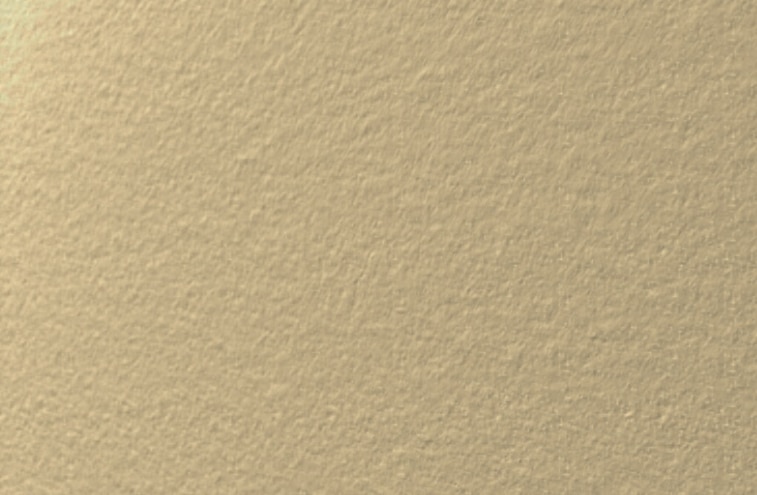 This orange peel texture is perhaps the best choice for your modern house. The texture is more subtle than knockdown texture, thus leaving you with animated yet not too funky to your cozy home. You can get this bumpy but soft looking design by spraying drywall compound into your ceiling. Do not worry about cleanliness as the surface is rather easy to wipe clean despite the bumps. This most popular drywall texture is probably what you are looking for to spice up your space!
Swirled Ceiling Texture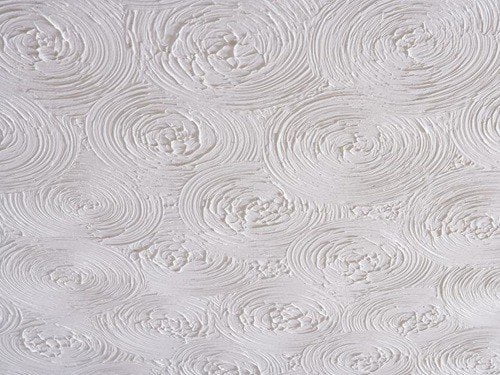 This unique design is probably your favorite ceiling texture type if you are into vintage vibe to decorate your slightly old but comfy home. This beautiful swirled texture can be created by swirling a sponge through the compound before it dries off. You can try to make a full or half circle or combine them all for aesthetic visual. Even though this style is a bit tricky as you may need a sense of art, it is really gorgeous so it is worth all the effort you're making!
Popcorn Ceiling Texture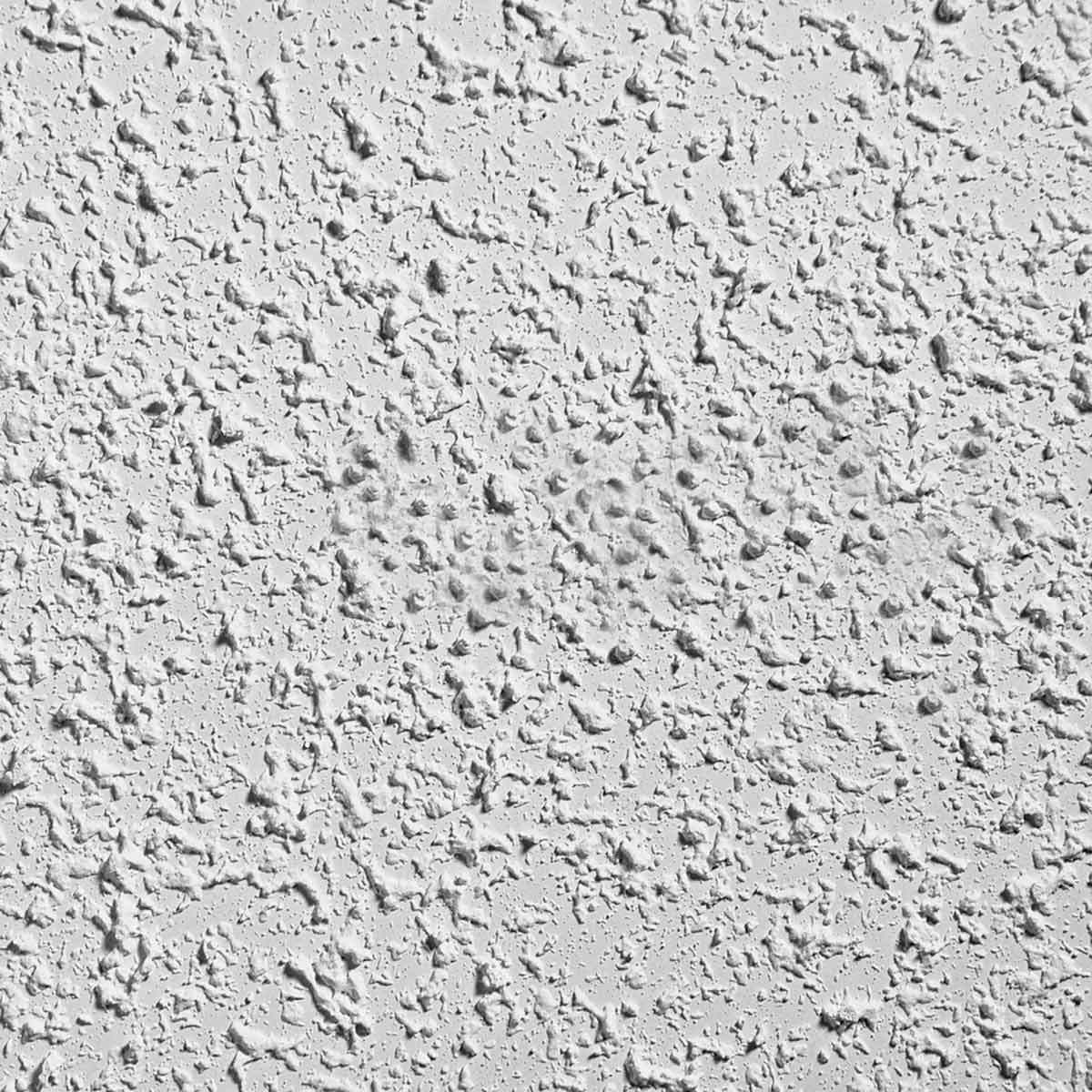 Popcorn texture was widely popular in the 90s but slowly lost its fame recently because the texture is rather difficult to clean. Despite the cleaning difficulty, the rough and bumpy texture that mimics a popcorn –or cottage cheese, is actually really effective in giving uniform look to your ceiling. Not only that, popcorn style is really great for absorbing sound so it is probably still a good idea to apply in a rather crowded space such as family room to muffle loud voices.
Sand Texture Ceiling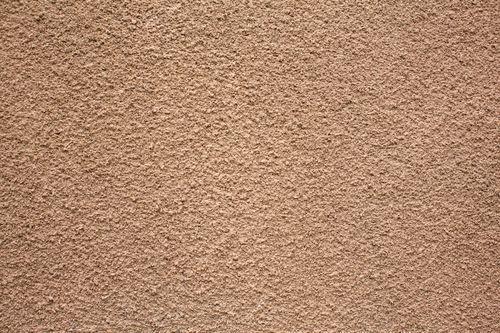 Unlike popcorn ceilings, sand-finished ceiling has gritty finish that actually resembles sand. This visual is fairly similar to the look of stucco. The stipple look can be created by striking a bush right to the damp plaster. This texture is perfect to hide imperfections, but not being too obvious since the texture is rather subtle.
Crows Foot Ceiling Texture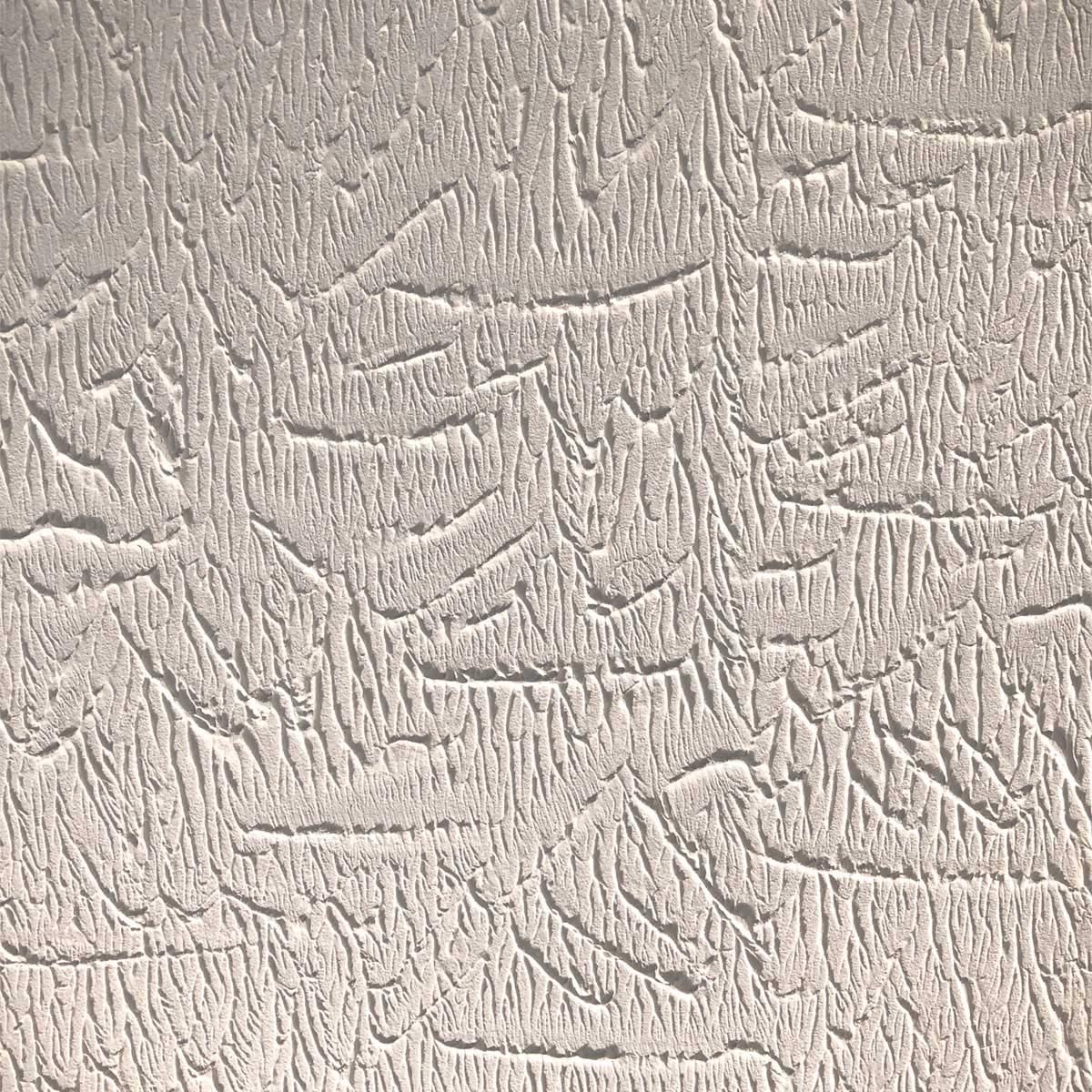 Something that you must know before starting to decorate your ceiling with crows foot texture is that this could be a very messy project. You may need to remove every furniture from the room and cover the walls and floors with plastic. With everything ready, you may need to prepare your ceiling by priming it. Once the primer dries off, you can start dipping your paint roller into the drywall mud and cover your ceiling with the mud. After that, damp your stipple brush with water and press it into the damp mud before pulling it away. Keep stomping the crow foot pattern with the stipple brush until you cover every corner of your ceiling!
Tree Bark Ceiling Texture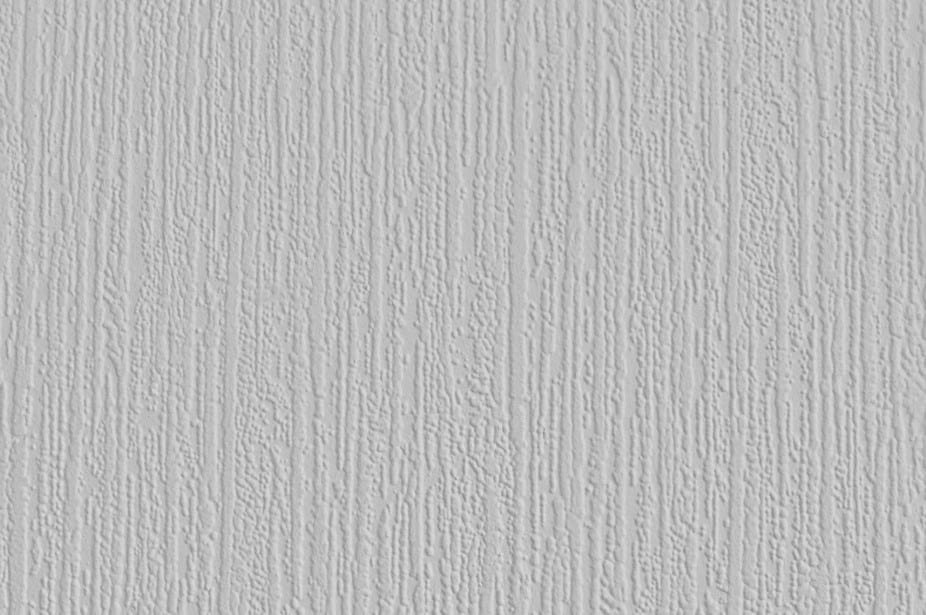 Just like the name says, this texture is exactly looking like tree bark. This style is definitely perfect for your farmhouse style. This mild texture can be easily created by using a foam roller to create uniform pattern across your entire ceiling. Foam roller can be a little difficult to patch as you need to press firmly yet gently to the ceiling surface so the pattern properly stands out so you better be careful with your hands!
Drywall Ceiling Texture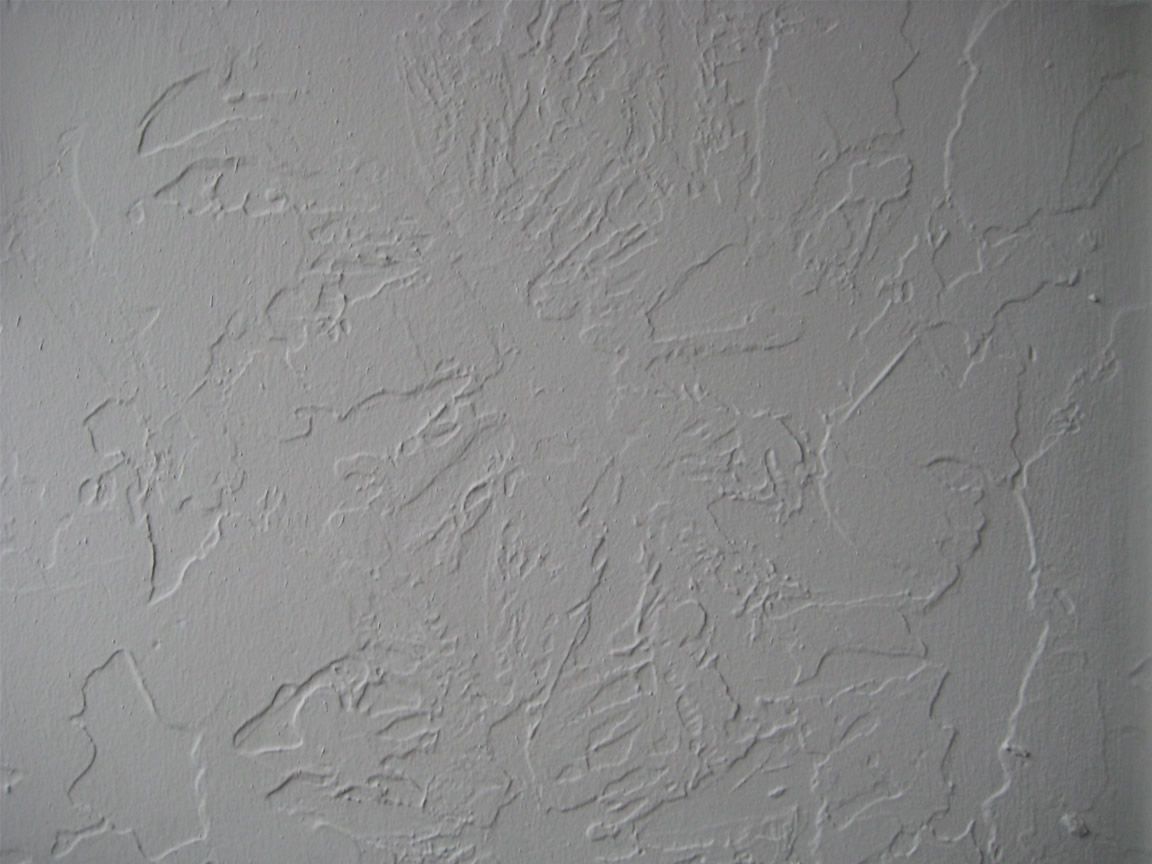 Drywall textures on the ceiling are usually thicker and heavier to make the design stand out. Not only will it pop out in your home and snatch the spotlight, drywall texture doesn't collect much dirt so you won't end up with a dirty ceiling. There are many types of drywall ceiling texture you can try to decorate your home such as stomp knockdown, swirl, hawk and trowel, and double skip trowel.
Fashionable Ceiling Texture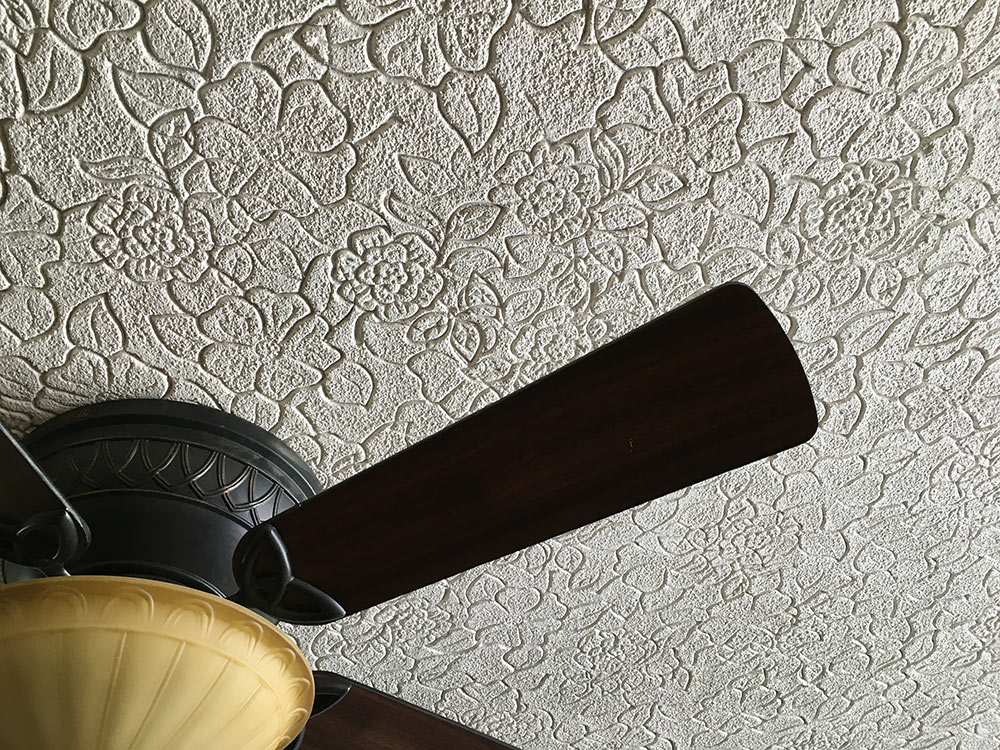 If you are looking for a fashionable design, then you can try to have large pattern to your ceiling. For example, you can try out a big flower pattern inside a pentagon shape. You can make the look using a knockdown blade.
Lace Ceiling Texture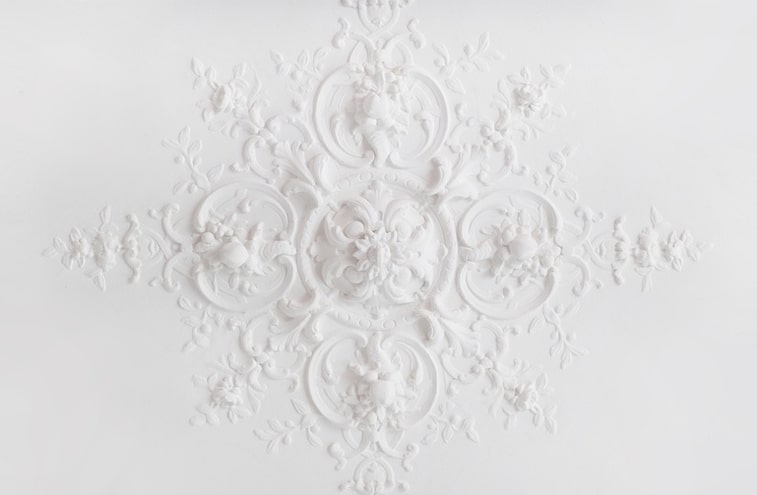 This beautiful texture will look perfect if you are looking for a dramatic and grand visual to your home. However, creating this style is almost too difficult, especially for beginners. You may need a drywall knife, spatter gun, pin nailer gun, and other advanced tools to make the texture. If you don't have crazy hand skills you may want to entrust your local professional to do the job.
Fish Scale Ceiling Texture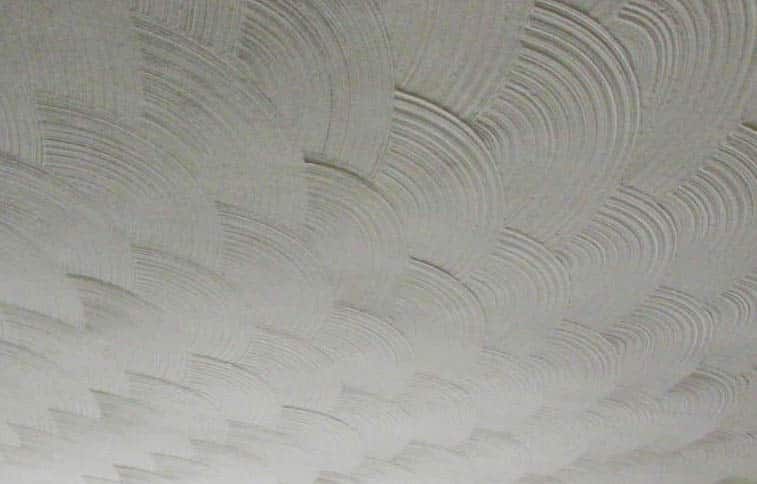 This texture is pretty rare to find in house design, but it will definitely become the most unique thing you can have in your antique room. You can create this stunning look by using roller nap and a texture brush or wallpaper brush. However, this half swirl ceiling texture can be really tricky for amateurs so you may want to hire professionals so you don't mess with your home.
Skim Coat Ceiling Texture
Skim coating is a great way to refresh your ceiling again! A skim coat is a thin coat of diluted joint compound that can be smoothed out by using a drywall knife or trowel. This texture is actually another type of smooth texture. This ceiling design is the perfect choice to renew your ceiling for re-texturing. Skim coats can cover damage caused by wallpaper, old and ugly surfaces, even to retexture your drywall repairs!
Light Popcorn Ceiling Texture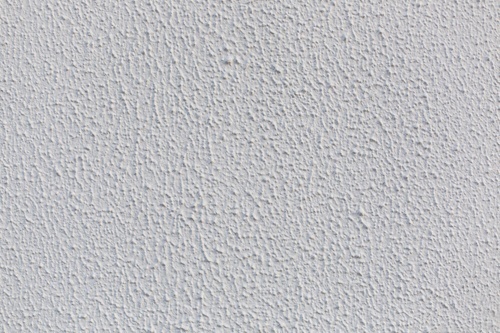 Popcorn texture may look too bold for your home, thus trying out light popcorn style is probably a better option for you. Light popcorn texture is a lot more subtle and light so it creates an elegant look that isn't too striking to your eyes. Light popcorn texture will look extravagant if being matched with light paint such as broken white.
Textured Vinyl Wallpaper (Alternative Ceiling Texture)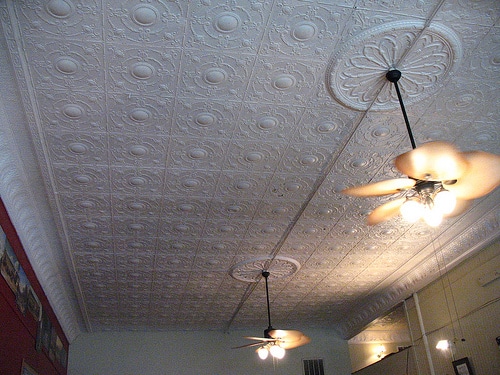 Do you know that you can actually cover your ceiling with wallpaper, too? Even though this style isn't too typical, it sure can create an unusual yet fun design to your lovely home. Once you clean your ceiling from cobwebs and dust, prime your ceiling with ceilings primer which is great help with wallpaper application. Make sure that you measure the dimension right before glueing your wallpaper into your ceiling. Do not forget to smooth out air bubbles with damp sponge so you end up with a sleek surface. Last step is to wipe down the wallpaper with a damp sponge to ensure all the glue has been wiped off completely. If you want to spice it up a bit, then you can paint it with your favorite color!
Related : Cabinet Refacing Ideas
Conclusion
There are a lot of Ceiling Texture Types you can try to style your ceilings. Start from the simple skim coat texture to way beautiful one like lace texture. Either way, texturing can be a fun way to lift up your house atmosphere and bring character to your house visual!