For all you billiards enthusiasts seeking inspiration on how to design your billiard room, this guide is your compass.
We've curated five of the finest billiard table room layouts to offer many options for crafting a remarkable gaming haven. Whether you crave more seating or a touch of luxury, these layouts provide everything you need with easily customizable elements. So, gather your pool cues, set the mood with some music, and let's prepare to break new ground!
5 Exceptional Table Room Layouts
1. Classic Billiard Room
A classic billiard room is timeless and sophisticated. The layout usually features a prominent billiard table at the center, surrounded by comfortable seating and ample space around the table for players to move freely. Classic billiard rooms are designed to look elegant, featuring ornate cues, racks, and lighting fixtures. Darker-colored walls, textured ceilings, and large windows or skylights to allow natural light to stream in are also common features. A classic billiard room's design is perfect for those who appreciate the traditional game room look and feel.
2. Modern Billiard Room
For homeowners looking for a billiard room with a contemporary aesthetic, modern billiard rooms are a great choice. Modern billiard rooms typically include bold, contrasting color schemes and sleek lines. Instead of traditional cues and racks, modern tables are complemented by minimalist design features like spotlights or under-table lighting systems. A modern billiard room is more minimalistic and easy to maintain, making it a great choice for people who want a stylish gaming space that isn't too high-maintenance.
3. Multi-Purpose Billiard Room
If you're short on space but still want a dedicated billiard room, a multi-purpose billiard room layout could be ideal. This layout combines the billiard table with other functions like a home office, gym, or entertainment room. The placement of the table in this paradigm creates a versatile space that can be used for different activities at different times, without interrupting the flow of any activity. To achieve this, you might opt for a fold-up dining table, a desk setup, or a sectional sofa that can double as a bed for sleeping guests.
4. Rustic Billiard Room
A rustic billiard room is a fantastic choice for those who enjoy nature and the outdoors. Rich, earthy tones, natural wood accents, and stone features create a cozy and relaxing billiard space that brings the beauty of nature inside. Rustic billiard rooms are typically larger than other styles, accommodating various features, like a bar, plush armchairs, and soundproof walls. With this layout, you can add a layer of nature-inspired style to your billiard room and make it the perfect getaway after a long day.
5. Sports-Themed Billiard Room
For the sports enthusiast, a sports-themed billiard room could be your dream game room. This layout features memorabilia, wall art, and other sports gear placed strategically around the room. The sports theme shouldn't overpower the room, so you can combine items to represent different types of games or keep it to a single theme. Typical sports-themed billiard rooms feature bright colors, comfortable seating, and plenty of function-centric additions to make the perfect sports fan's retreat.
Top Picks To Decorate Your Billiard Room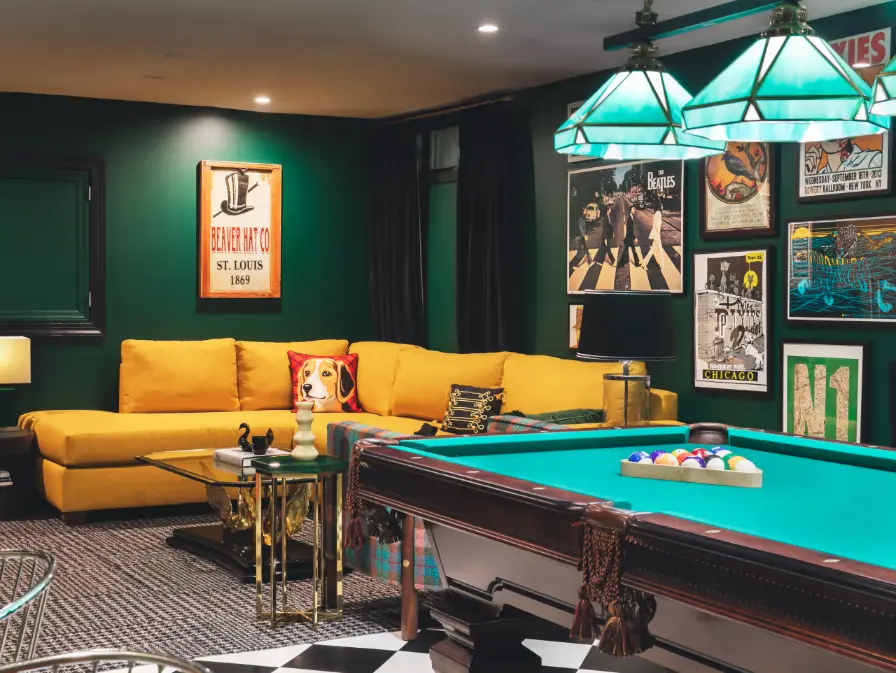 1. Lighting
One of the most important aspects of your billiard room décor is lighting. Good lighting is essential for playing pool, and it can also set the room's mood. Choose a statement light fixture that is both functional and stylish. For a more traditional look, a Tiffany-style lamp can add vintage charm to your space. Alternatively, modern billiard lights with clean lines and a sleek finish can give your room a contemporary look.
2. Artwork
Artwork is a great way to add personality to your billiard room. Vintage posters, neon signs, and framed photographs are all great options. Choose pieces that reflect your interests, whether it's sports, music, or pop culture. You can also create a gallery wall with a mix of different pieces for a visually stunning display.
3. Seating
Comfortable seating is essential for a billiard room. Choose chairs or sofas that are both stylish and practical. Leather or vinyl seating is a great choice for a classic billiard room look, while colorful upholstered seating can add a pop of color to your space. If you have limited space, consider a multi-purpose storage ottoman that can double as a seat.
4. Tables
In addition to your pool table, consider adding other tables to your billiard room. A console table with shelves or drawers can provide storage for game accessories, while a bar cart can be a great addition for entertaining guests. When choosing tables, consider the material and style that best complements your decor.
5. Accessories
Finally, add some finishing touches with accessories. Decorative pillows, throws, and rugs can all add warmth and texture to your room. Display your cue rack or other game accessories, but be sure to keep them organized for a neat and tidy look. Don't forget to add plants, which can help purify the air and add a natural element to your billiard room.
Conclusion
Overall, it is important to choose the billiard room layout that fits your unique style and space. As you can see, there are plenty of options for personalizing a game room. Keep these designs and decor elements in mind when selecting new pieces to create a room that looks special and inviting – one that you won't want to leave! Don't forget to always have fun with it!