Stepping into a home that reflects your personality and style can be incredibly satisfying. It's much more than just a living space—it's a haven, a reflection of your identity, and a place where memories are created. In the quest to make your home more comfortable and appealing, home improvement projects play a vital role. From functional upgrades to aesthetic tweaks, we've curated the top three home improvement ideas that not only add value to your property but also convert your house into a home you'll love.
1. Renovate Your Bathroom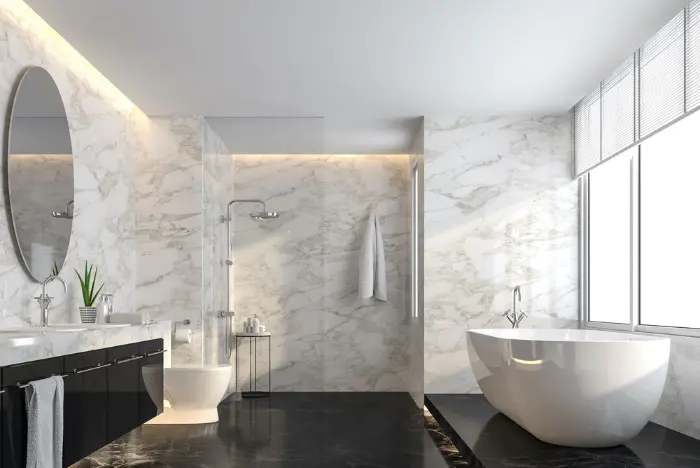 A bathroom renovation can dramatically boost the comfort and value of your home. From dated fixtures to tired tiles, breathing new life into a drab bathroom can be exciting and rewarding. Consider introducing luxurious elements like a freestanding bathtub, a rainfall showerhead, or heated floors for a spa-like experience.
A crucial part of your bathroom renovation is tiles. Over time, tiles can become chipped, stained, or loose, detracting from the overall aesthetic of your bathroom. To give your bathroom a facelift, consider tile repair by replacing or repairing any damaged tiles. You can also update the look of your bathroom by choosing new tile designs, colors, and textures to create a fresh and modern feel.
2. Upgrade Your Kitchen
The kitchen is often called the heart of the home, and for good reason. It's where meals are prepared, where family and friends gather, and where many memories are made. Upgrading your kitchen can not only significantly increase the value of your home, but it can also enhance your daily routine and enjoyment. Think about replacing worn-out appliances with energy-efficient models, installing new countertops, or updating your lighting fixtures for a brighter and more inviting space.
Additionally, consider installing a functional and stylish kitchen island if space allows. It can provide extra counter space, additional seating, and even storage. Small details, like updated cabinet handles or a modern backsplash, can also have a significant impact on the overall look and feel of your kitchen. Whether your style is modern, traditional, or somewhere in between, a kitchen upgrade can perfectly reflect your taste and lifestyle.
3. Create an Outdoor Oasis
Creating an outdoor oasis means transforming your backyard into a relaxing retreat where you can unwind, entertain, and enjoy the beauty of the outdoors. This could involve installing a deck or patio, creating a garden filled with your favorite plants and flowers, or adding a pool or hot tub for that extra touch of luxury. Consider adding outdoor seating, a fire pit, or a barbecue area to make the space more inviting and functional.
Lighting is another crucial aspect that can enhance your outdoor space and make it more usable even after the sun goes down. Solar lights along pathways, string lights in trees, or even a well-placed spotlight can add a magical touch. For those who enjoy gardening, consider creating a vegetable or herb garden. Not only will it provide fresh produce, but it also adds a sense of accomplishment.
Conclusion
As you embark on your home improvement journey, remember that small changes can make a big impact. Whether it's repairing tiles in the bathroom, upgrading your kitchen, or creating an outdoor oasis, these projects can significantly improve the look and feel of your home. With a little creativity and effort, you can transform your house into a space you'll love for years. So go ahead, start planning, and let your home reflect your unique personality and style.