Your kitchen is the heart of your home and deserves a refreshing twist. Get inspired by the seven captivating kitchen remodeling ideas that effortlessly combine functionality and style.
From affordable upgrades to DIY changeovers, we've gathered a list of easy-to-implement ideas to revitalize your cooking haven.
Welcome the magic of color, the magnetism of organization, and the art of innovation as we embark on a journey to renew one of the most cherished spaces in your residence.
Let's consider these creative ideas to breathe new life into your kitchen.
1. Paint Kitchen Cabinets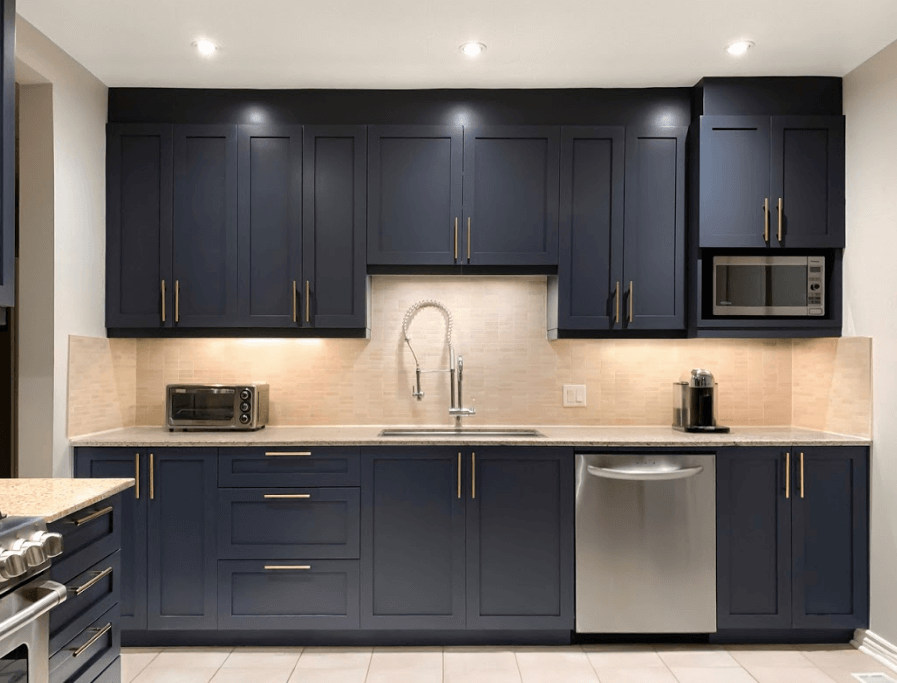 The simplest conversion you can do is to paint kitchen cabinets. It's budget-friendly and can turn outdated-looking cabinets into dazzling objects. Dive into a world of possibilities as you explore various colors and finishes that suit your style. Whether it's a timeless white, chic charcoal, or a bold navy, the hues are your canvas.

If you are tense about the process? Worry not! You can hire house painter that have the expertise. They will first analyze and then offer you suggestions as to what you can do with your kitchen cabinets. 
So, why wait? Embrace this engaging painting project, infuse your personality into your kitchen, and watch it evolve into a space that oozes charm and freshness. Your kitchen deserves nothing less than a spectacular makeover that starts with a coat of paint!
2. Redo Kitchen Walls
Among the exciting kitchen refashioning ideas, this one stands out. Add character and charm to your cooking space with different colors and finishes.
Whether you prefer soothing pastels or vibrant shades, you can make your kitchen unique. Opt for materials that are easy to clean, keeping your kitchen looking great even during busy cooking times.
Don't worry; this process is easy to follow. You can research to finalize which colors will suit you best. You can see a big difference in your kitchen's appearance with just a brush and a little imagination.
3. Install Open Shelves
Open shelves are another simple yet impressive way to revamp your kitchen. They offer easy access to grab storage containers while cooking, reducing messiness.
These shelves are not only recommended for decoration purposes but for comfort as well. Having everything visible reduces the time spent searching for that one spice jar hidden at the back.
With open shelves, everything is within reach, making kitchen time – an enjoyable experience. By installing these shelves, your space will undergo a subtle yet impactful transformation.
Let your kitchen tell a story of functionality and style through open shelves—an idea worth considering for your next kitchen makeover.
4. Add a Window Seating
Add window seating to enjoy sunlight and the view while you relax with a cup of coffee. The main goal behind building a table bordering the kitchen window is to add a cozy touch. However, it looks lovely too.
It can also be a place to have breakfast, read, or chill out. Adding a window seat makes your kitchen warmer and more unique. Before planning to install, you must figure out the space you'll utilize.
5. Hang Artwork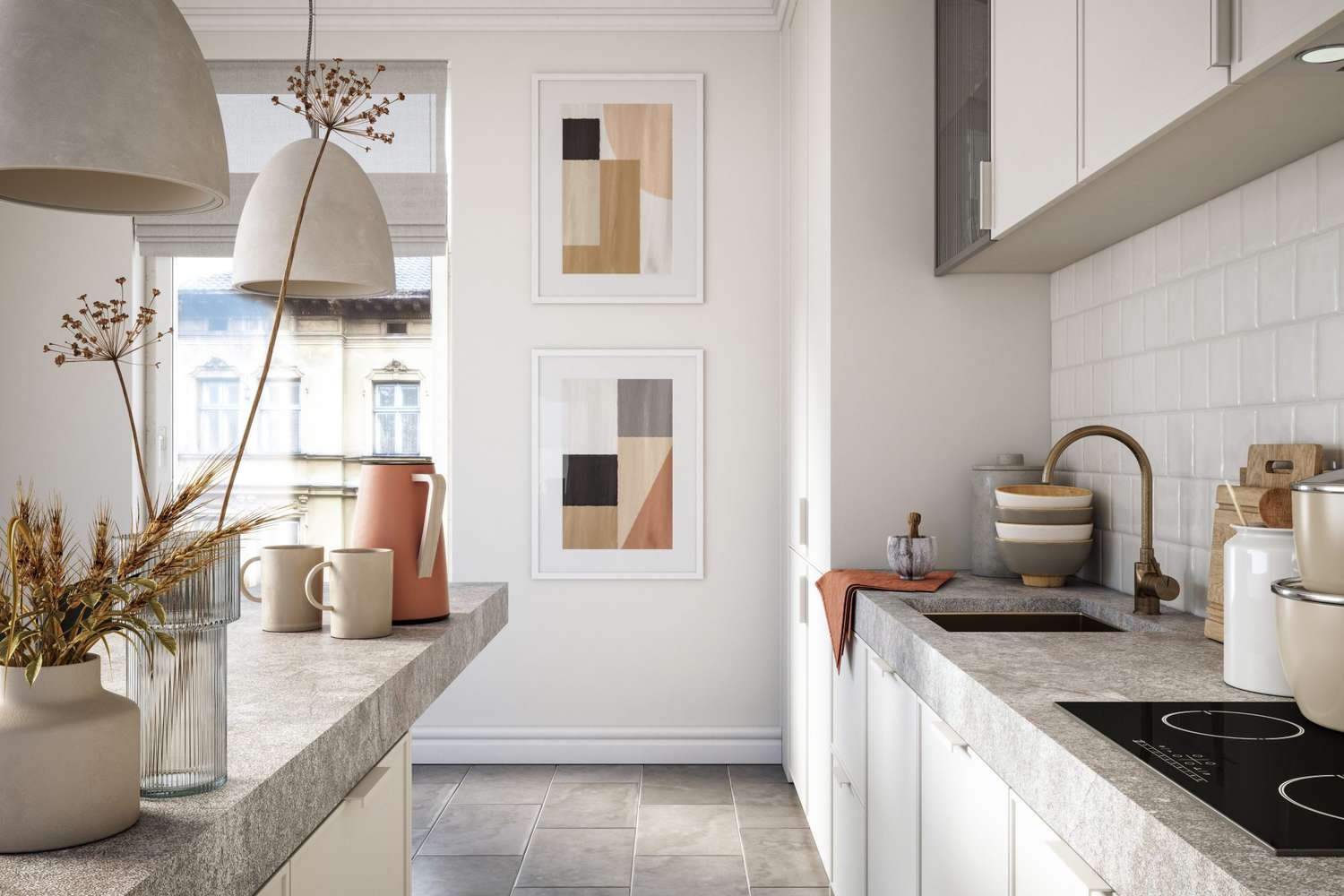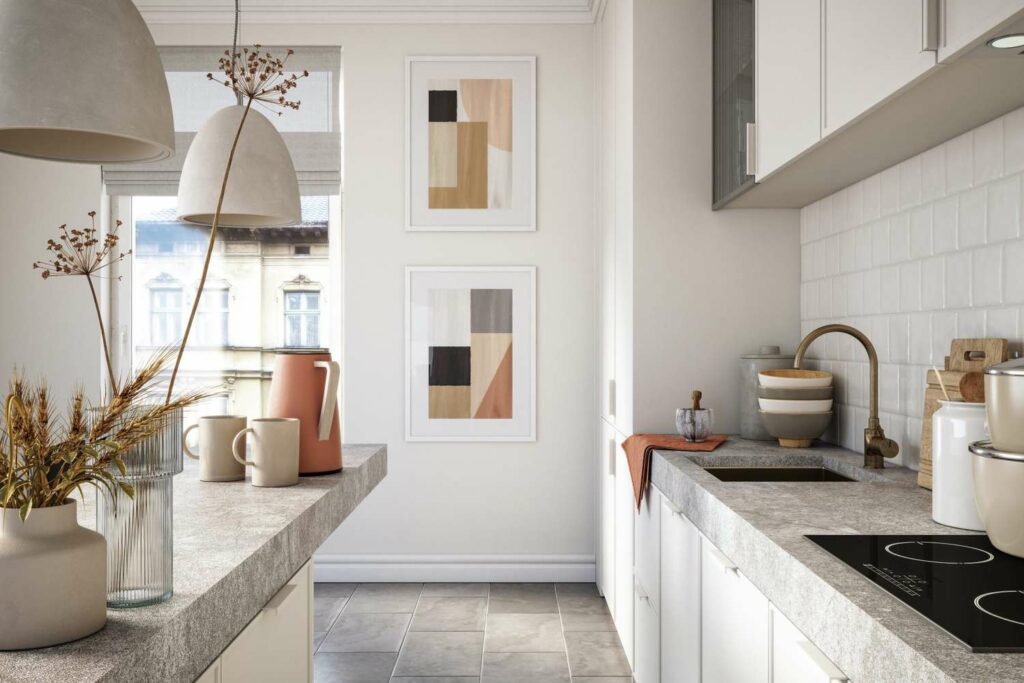 Another neat idea to make your kitchen cooler: Artwork.
Putting up meaningful pictures or drawings on your kitchen walls. It turns your kitchen into your personal mini-art show. You can frame your kid's hand drawings or buy your favorite painter's work- the choice is yours.
This isn't just about making things look pretty– it also adds color and makes your kitchen feel creative. Whether it's a funny poster or a landscape, hanging artwork can make your kitchen more interesting.
It can also start conversations during parties- it's something that makes you feel good and shows off what you like. This integration lets your walls tell a story while you cook or host.
6. Add an Extra Sink
Upgrade your kitchen's functionality with a practical twist by adding an extra sink. This impactful idea brings many benefits that can truly transform your cooking space. An extra sink right at your fingertips – is like having a dedicated workstation for food prep and clean-up.
One of the key advantages it offers is multitasking; with two sinks, you can handle multiple tasks simultaneously, saving you time and effort. Say goodbye to juggling between washing veggies and rinsing dishes in the same space.
The extra sink also helps keep your kitchen organized and clutter-free, as you can allocate specific tasks to each sink. Furthermore, it promotes efficient workflow during busy cooking sessions, making the whole experience smoother and more enjoyable.
Embrace the practicality of an extra sink, and you'll discover how this small addition can improve your kitchen's functionality. With this move, say hello to a kitchen that's more than just a place to cook – it's your ultimate culinary workstation.
7. Redo the flooring
Give your kitchen a new look and feel by considering a flooring makeover. Revising the flooring brings a wave of positive changes to your kitchen. Just think about stepping into your kitchen and being greeted by a stunning new floor – it's like a breath of fresh air for your home.
Not only does new flooring instantly update the overall look, but it also adds a touch of comfort and style. Imagine the joy of walking on a smooth, modern surface that complements your kitchen's design.
A new floor is easier to clean and maintain, giving you more time to focus on what truly matters – creating delicious meals and memorable moments. So why hold back? Go ahead with changing the flooring, and experience how this basic change can renew your kitchen.
Endnote
These seven inspiring kitchen renovation ideas are your passport to a better-looking kitchen. From cabinet facelifts to painting the walls, each idea brings a splash of innovation. You're ready to carve your dream kitchen, armed with different possibilities. Let your imagination and newfound knowledge merge as you begin this hectic yet rewarding journey.
Unleash the charm and practicality your kitchen deserves, and watch it flourish into a space that reflects your style and fuels your culinary adventures. Your kitchen makeover story is waiting to be written – happy rebuilding!