Kitchen Pantry Design – When designing the whole house, the pantry is very often overlooked. In some cases, there is simply not enough money to create something exceptional after investing in all the other rooms. As a result, the offered space is insufficiently used, and it quickly becomes overrun with spices, dry food items, preserves, and small kitchen appliances.
But if you spend enough time designing your pantry, you will discover that even a small one will be god-sent for keeping your kitchen clutter-free. To make the most of the given space, you should create a storage system that fits your needs, designate zones for different use, incorporate the pantry doors in your plans, and provide enough light. Also, keep the food in special containers and label each of them.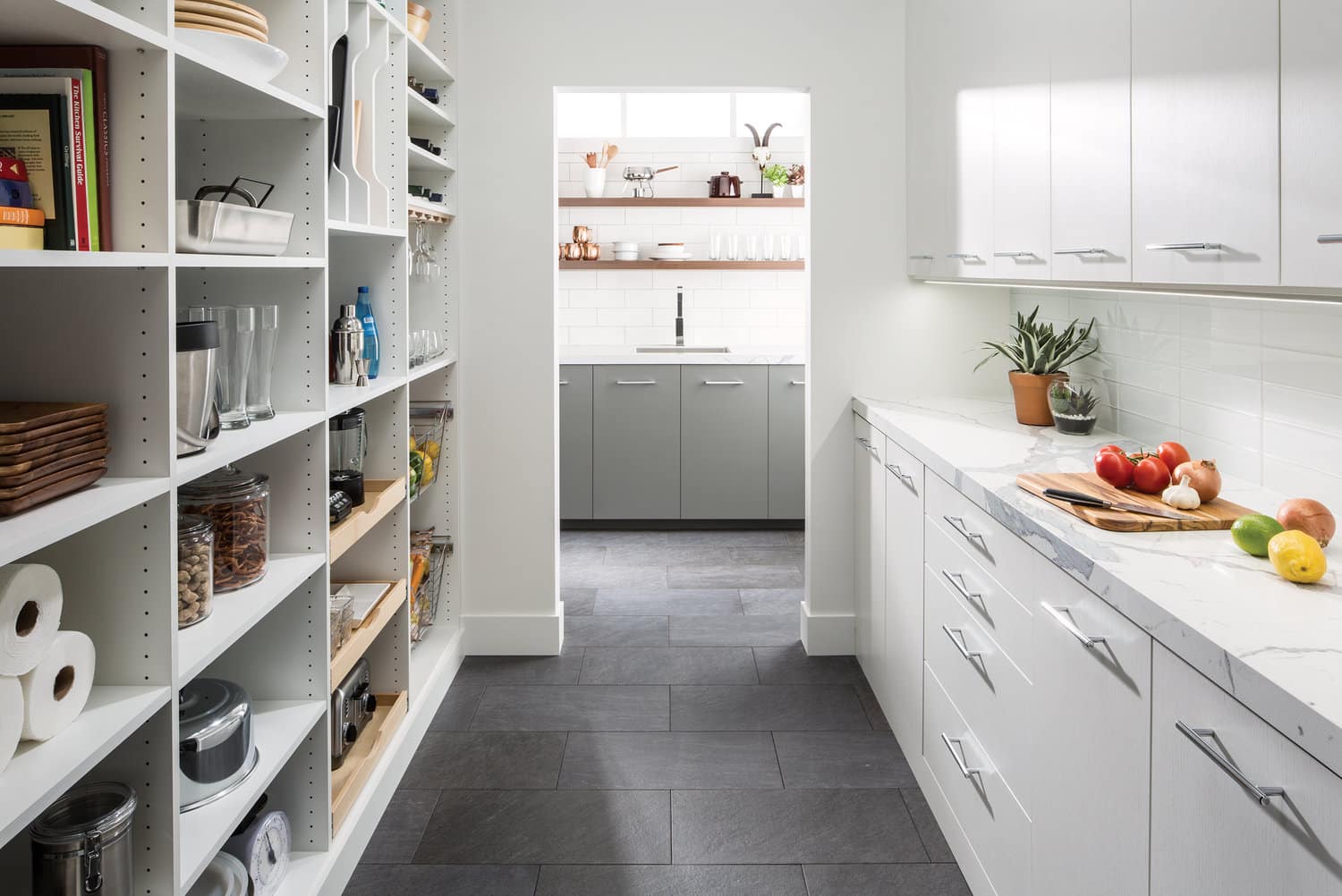 Your aim is to create a well-organized space where you can easily find and grab exactly what you need. Here are some tips and kitchen pantry design plans that will help you to achieve just that. Check them out!
Create Zones for Different Foods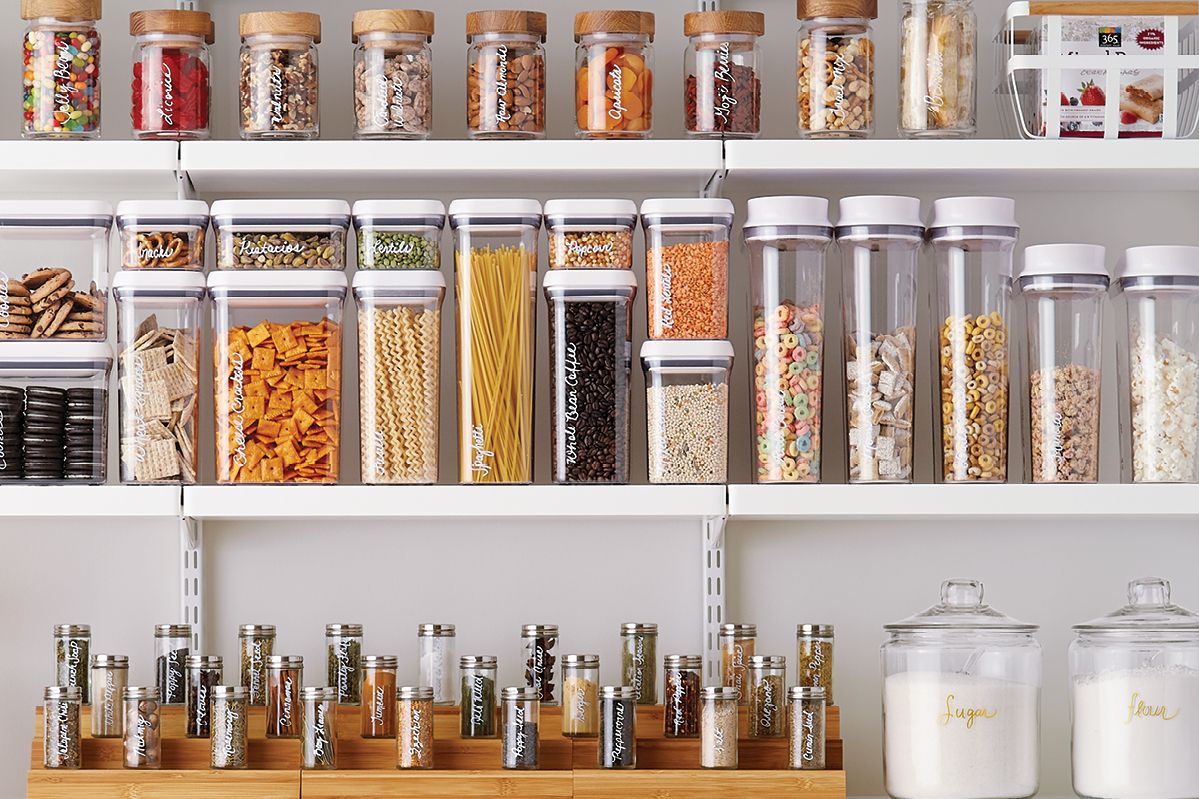 The key to the perfect organization is to create zones for different food groups. Try to keep all food items of the same kind in one place, so you will not have to waste time looking for them.
In a pantry, you can usually find zones for dry goods, dairy products, canned food, small kitchen appliances, and some spices. You could also use a zone for keeping your coffee supplies or tea. This way, you will be able to quickly find any item or product you need, even if it is hidden behind something else.
Keep Everything in Order with Labels and Containers – Kitchen Pantry Design Tips
In order to find the content of a specific container quickly, you should use transparent or colored containers, depending on what type of food it stores. This way, you will be able to grab the needed item at once and cook something nice for your family. Moreover, you will avoid dust and insects while keeping your food fresh and safe from contamination. If you're afraid of spending a fortune on pantry containers, you should check websites like Coupon Ninja for the best deals on home essentials.
You should also use labels and put the name of the product on each of them. But make sure that the label will not be washed off by water or spoiled by grease. So make sure that it's made of special material that will last for longer.
Create a Sturdy Storage System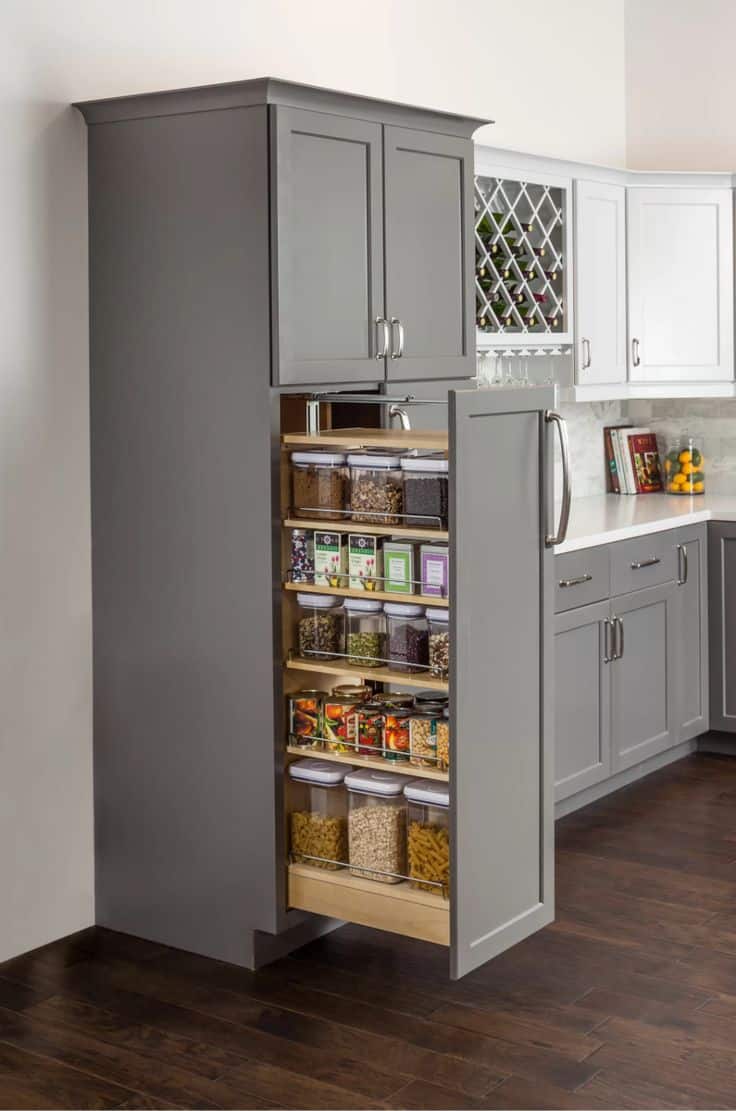 This is the most important thing to consider in designing a pantry. If you are smart about it, you will be able to use every inch of the available space. There are lots of pantry shelf storage solutions offered on the market. Think about the kinds that will suit your needs and create a system from them.
Many people make the same mistake: they choose a storage solution without considering the shelves' size, depth, and the number of levels. For example, if you have very tall jars, you need to ensure that there is enough vertical space between shelves. The shelf's width should be just the right size for its contents. Not too wide or too narrow. The same rule applies to the height of the shelf.
For example, do you need pull-out pantry drawers? In this case, you should consider the amount of space you have for the drawers and what kind of dimensions they should be. This way, you will create a custom storage solution that perfectly fits your kitchen.
Make Use of Vertical Space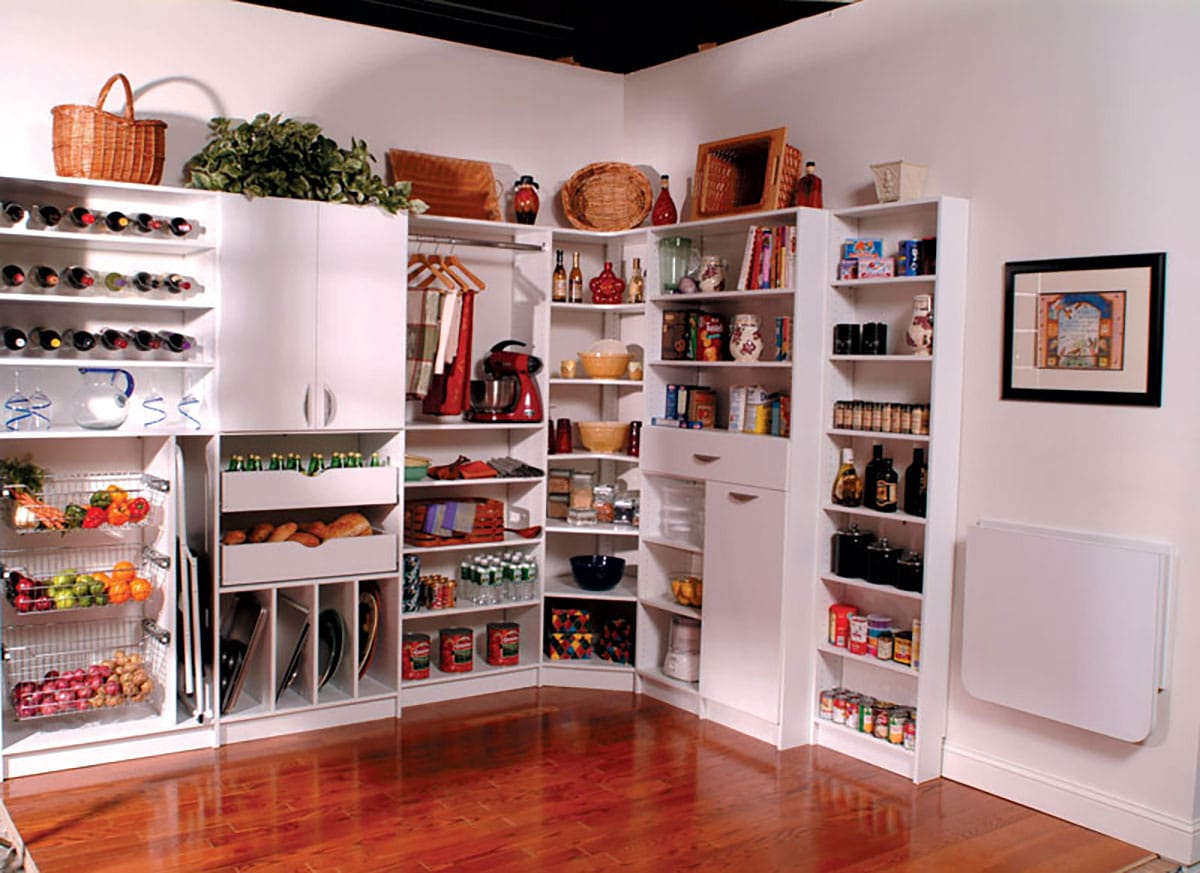 You should design your pantry with the idea of making use of every inch of vertical space. There are lots of small things that you can store on the walls. For example, you can install some small hooks where you can hang pot holders, small trivets, or even measuring cups. Thus, make sure that kitchen pantry shelving ideas help you much.
You could also install a spice rack or small shelves above the countertop. Fortunately, you can find many wall pantry cabinet ideas such as options available on the market to fit your needs.
Consider The Lighting Inside Your Kitchen Pantry Design
When trying to organize a pantry, many people forget to consider lighting. Poor lighting can make it hard to see what's inside the various containers, and this will spoil all your efforts to create an organized space. So, when choosing the lighting for your pantry, find something bright and warm to illuminate the whole room. Also, you should place the light switch in an easily accessible place so you do not struggle in the dark trying to find it.
Make the Most of Your Pantry Door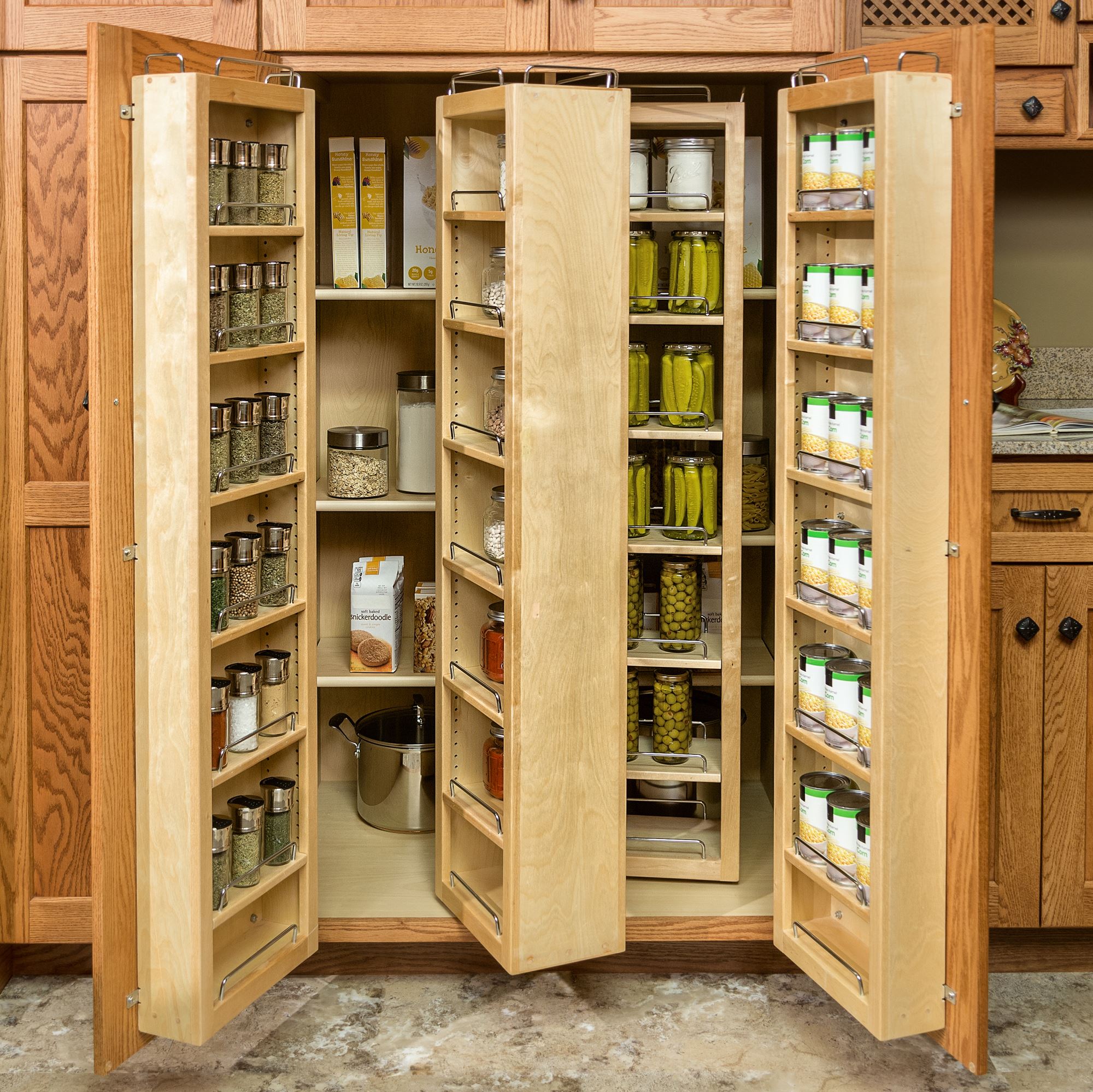 If you are lucky enough to have a pantry door, you should make it into an additional storage space. Install some small shelves on the door and use them to keep your spices or dry food items. You could also use them for chalkboards where family members might make grocery lists or leave sweet messages for each other. So, it will be an excellent visual addition to your kitchen that will increase its appeal.
Conclusion – Kitchen Pantry Design
A well-designed pantry can make your life so much easier, especially if you are a big cook. But it's not always easy to make such a space functional. Because, many people tend to neglect this area altogether when designing the whole house.
You should invest some time in it and try different storage solutions until you find the best way to arrange everything inside. And don't forget to choose suitable containers and labels for all your food stuff. Once you understand what features you need and how to use them, you will be able to create the perfect pantry design ideas that will bring happiness and comfort to your everyday life. Happy organizing!