Rustic Home Design – Have you been looking for ways to transform the look of your home with wooden details and decor?
Wood is a timeless home decor staple, that will never go out of style. Wood is versatile, with the ability to look modern or rustic. It brings natural beauty to any space, adding warmth to make your home feel more inviting and cozy.
There are many ways you can incorporate wood into any room, adding details like wood flooring, wooden mantles, shiplap, or new furniture. The options are endless, considering the different finishes and shades that wood is available in. Find pieces that you like and think about how they can elevate the look of your home, bringing your creative vision to life.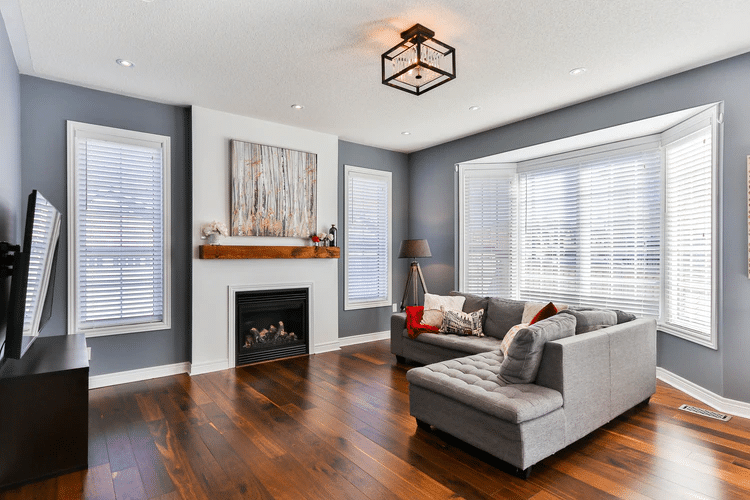 By using wood to spruce up your home, you will create a unique, chic, and welcoming space, perfect for hosting guests or spending time with family.
If you have been looking for ways to bring wooden details or decor into your home, use these ideas for inspiration. Begin the first steps towards your decor transformation. Add your own flare, creating a beautiful, cozy, and warm look throughout your home.
Install Wood Flooring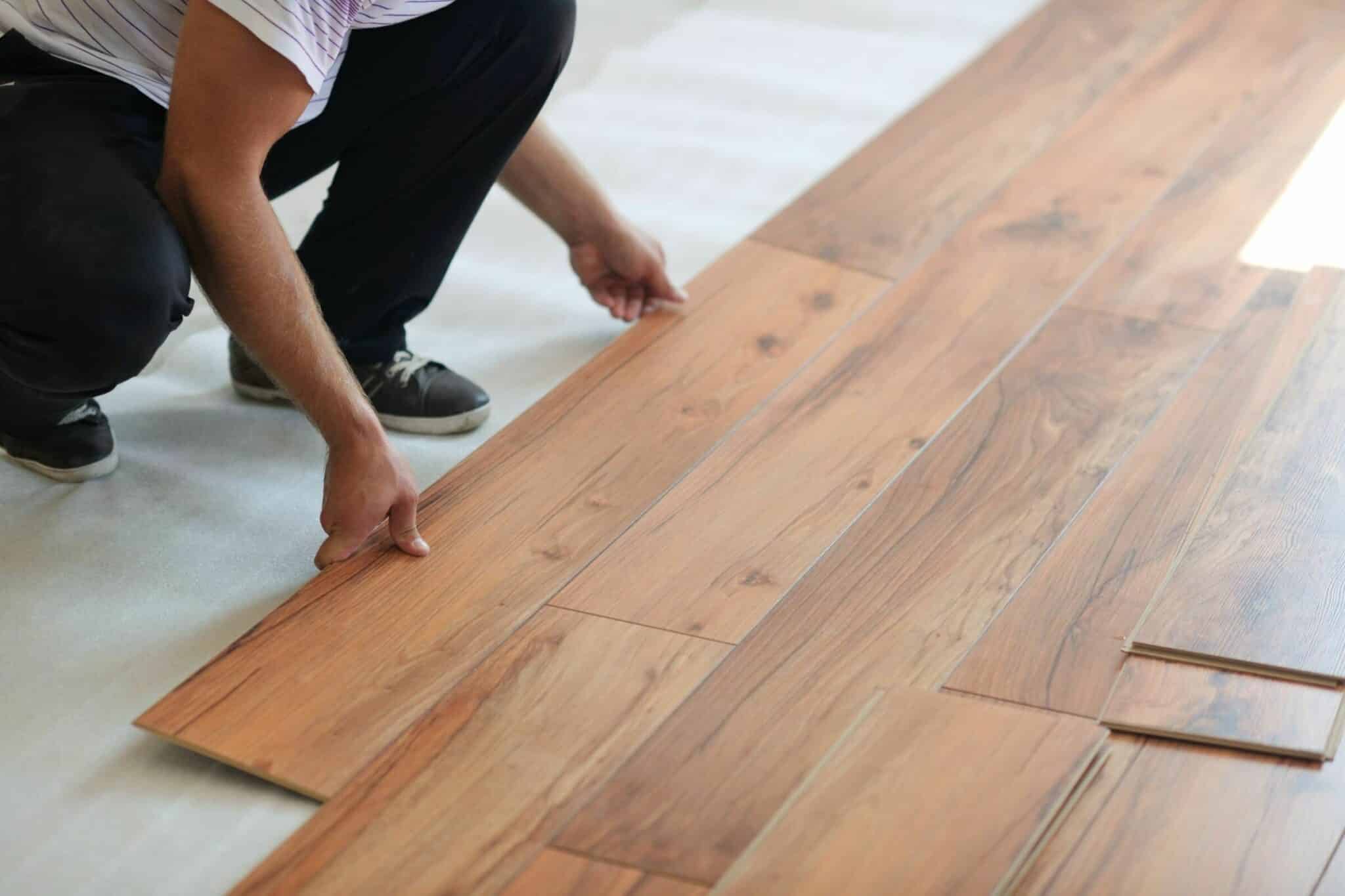 One of the best ways you can include wood in your home is by installing wood flooring. This will warm up any room, keeping the space cozy and welcoming. It can be used to create a modern or rustic home design, depending on the finish or stain you go for.
Wood flooring gives you the versatility to create any style you want in your home, with many benefits that will make the investment worthwhile.
Benefits of Wood Floors:
Low maintenance and easy to clean
Proven to remain durable over time, making this a cost-effective addition to your space
Unlike carpet, wood flooring provides better air quality because it doesn't collect dust, pet dander, or common household allergens
Automatically add resale value to your home
Add a Reclaimed Wood Mantle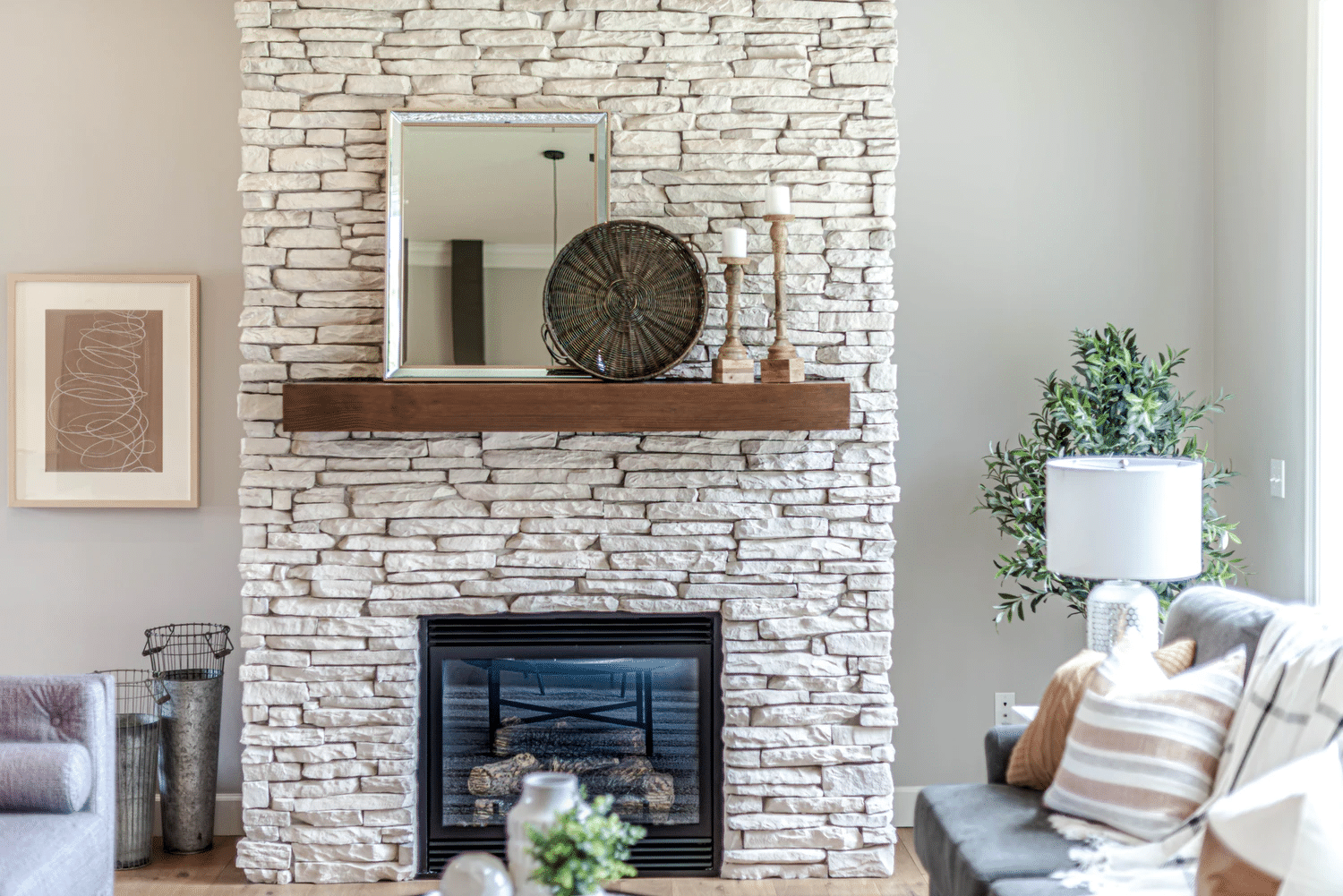 For a touch of chic elegance, add a mantle above your fireplace made out of reclaimed wood. This will bring warmth to the living room space, making it feel more inviting and cozy. This will be the perfect place to display bits of decor. You could add some flowers or greenery. You can also add a couple of stacked books, or hang a mirror above to make this area the focal point of your living space.
A reclaimed wood mantle is classy while giving your space a unique yet cozy look that will tie into the decor throughout the rest of your home.
Build a Shiplap Wall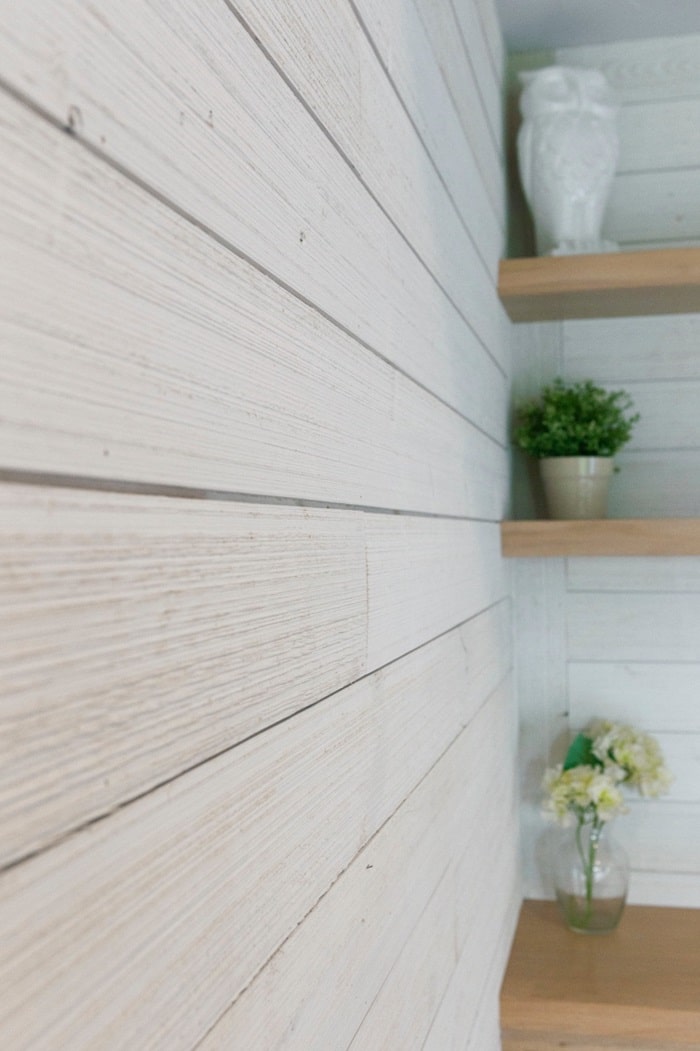 With this eye-catching wooden detail, you can add interest to any room in your home. Shiplap can help you create a modern, rustic, or farmhouse theme, with the natural and distressed look of wood. Shiplap is versatile, working with the interior of your home to bring your design vision to life.
Regardless of the style that you're trying to create, you can begin to transform the entire look of your bedroom, living room, or dining room space by simply adding a shiplap wall.
Add a Wooden Bookcase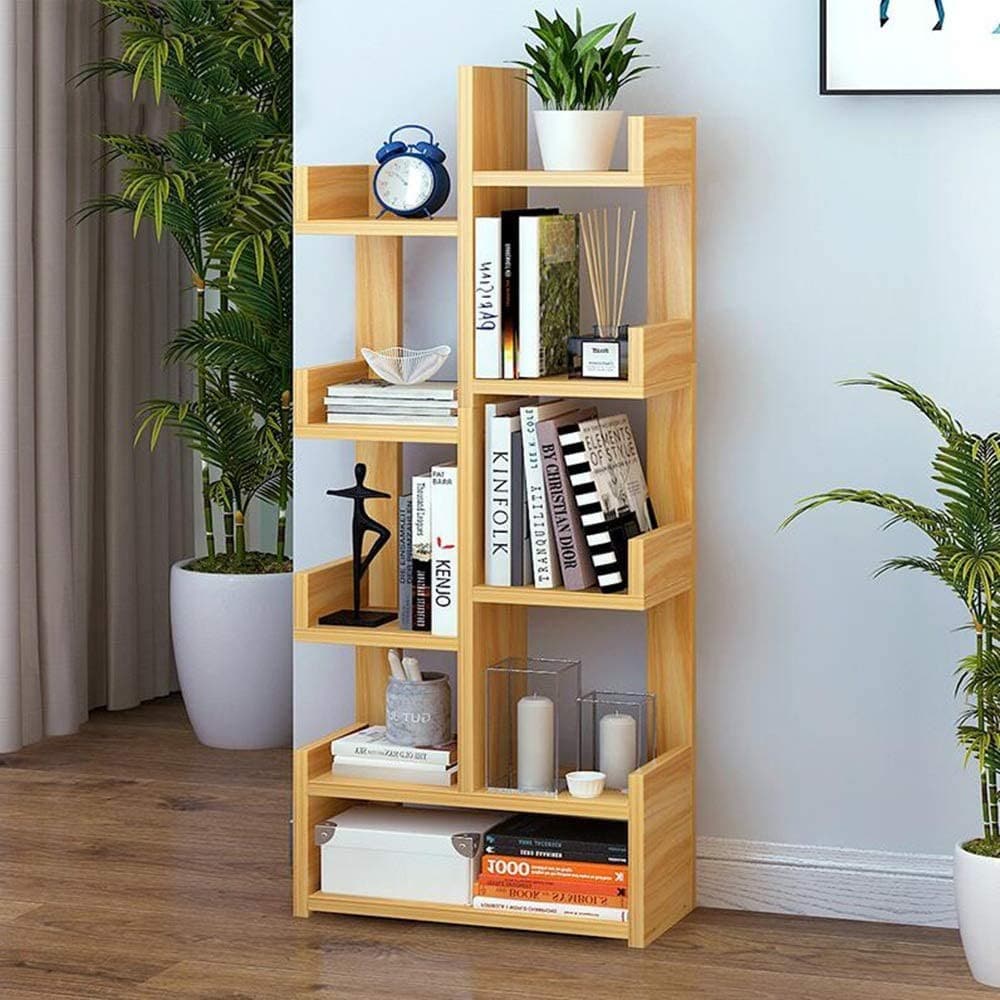 Whether you love the elegant style of tall bookcases or you have a book collection you'd love to put on display. Adding a wooden bookcase to your living room space can fulfill your creative vision for your home. There are many different types of bookcase styles available, with varying shades of wood to choose from, to help you find the perfect option for your home.
Once the bookcase is set up, you can fill it with your favorite classic reads, a stack of records, pieces of unique decor, or personalized picture frames. These details will express your individual style, bringing a unique, chic touch to your home.
Incorporate Wooden Furniture
To continue transforming the look of your home, incorporate modern or rustic pieces of wooden furniture to elevate the style you are developing. With the addition of wooden furniture, you can easily spruce up your living room, bedroom, or dining room space.
Popular Wooden Furniture Pieces:
Coffee table
Matching nightstands
Dining table
Barstools
TV stand
Add a Reclaimed Wood Headboard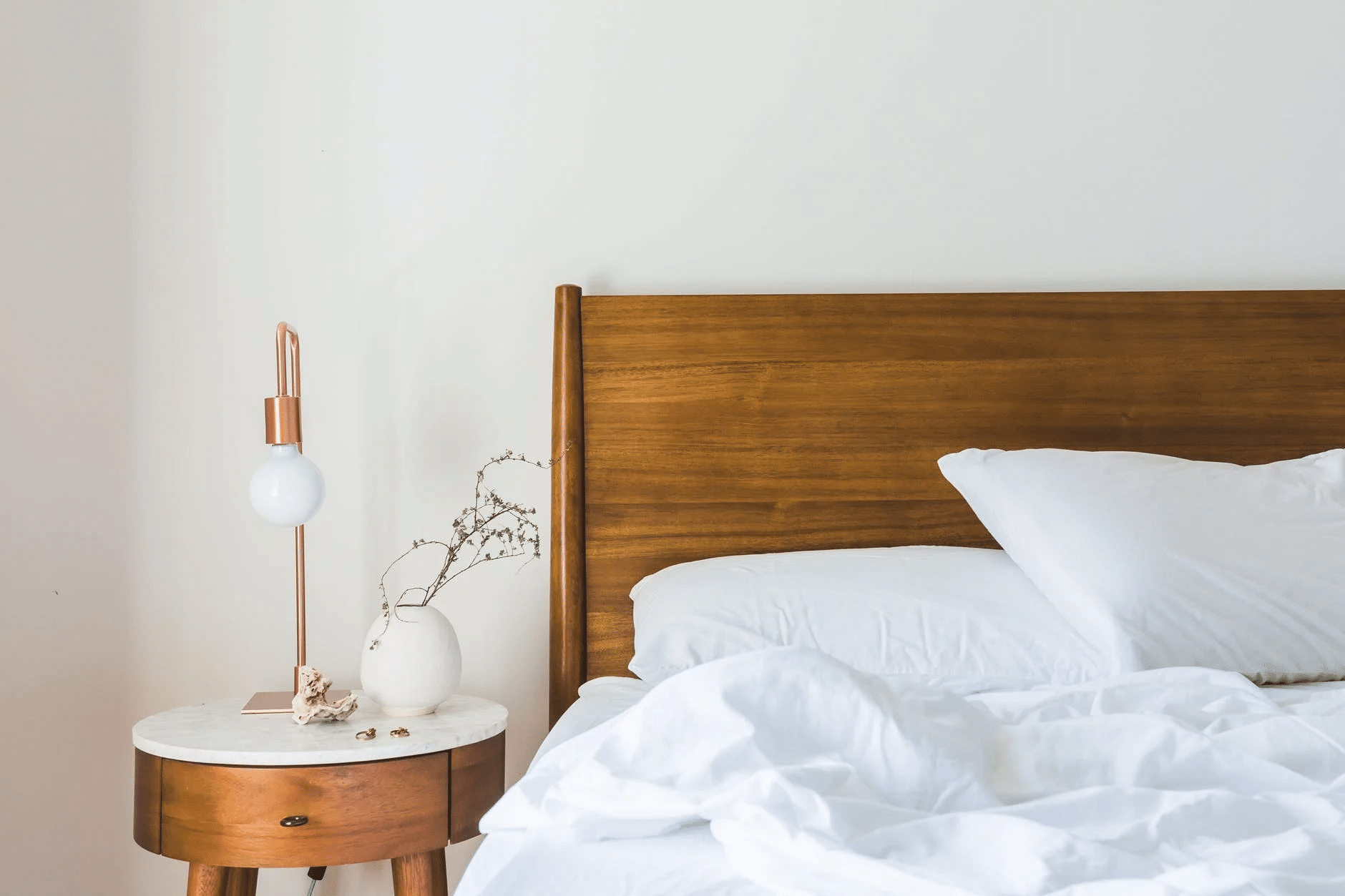 If you want to give your bedroom a rustic look, add a headboard made out of reclaimed, distressed wood. This will be the focal point of your room, bringing a natural warmth and cozy feel to your space.
Add some fluffy white sheets, a fuzzy throw blanket, and simple accent pillows onto your bed to completely transform the style of your bedroom. The combination of the neutral-toned bedding with the natural warmth of a wooden headboard will work together perfectly.
Install a Sliding Barn Door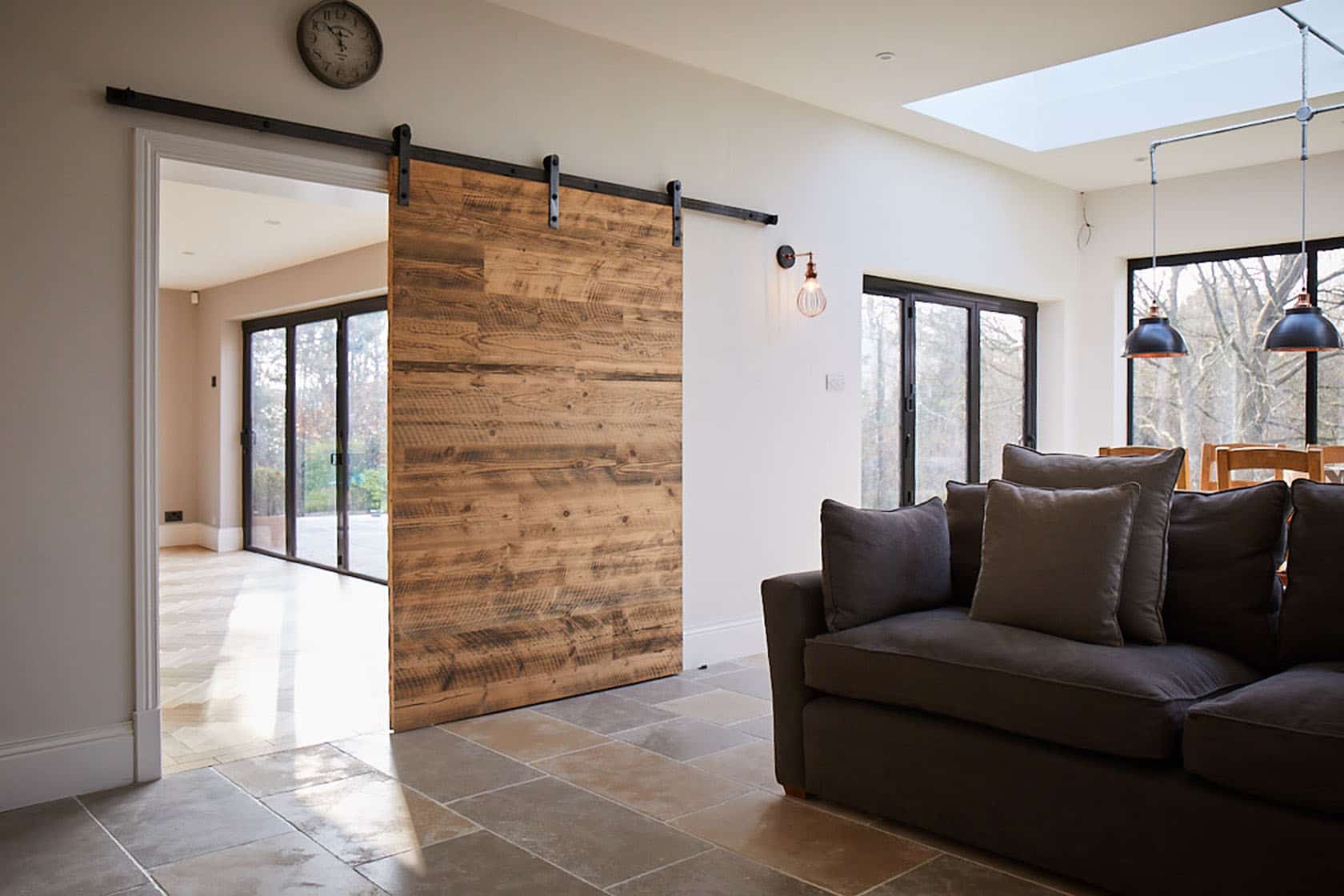 If you want to bring a more rustic or farmhouse design into your home, consider adding sliding barn doors into different rooms. These doors are innovative and unique, adding an interesting detail to your bedroom or living room.
Sliding barn doors are perfect for smaller rooms in your home, helping to save space with their simple design. They don't open up like a traditional door, instead, they slide against the wall to give you the extra space you need in your home.
Add Reclaimed Wood Mounted Shelves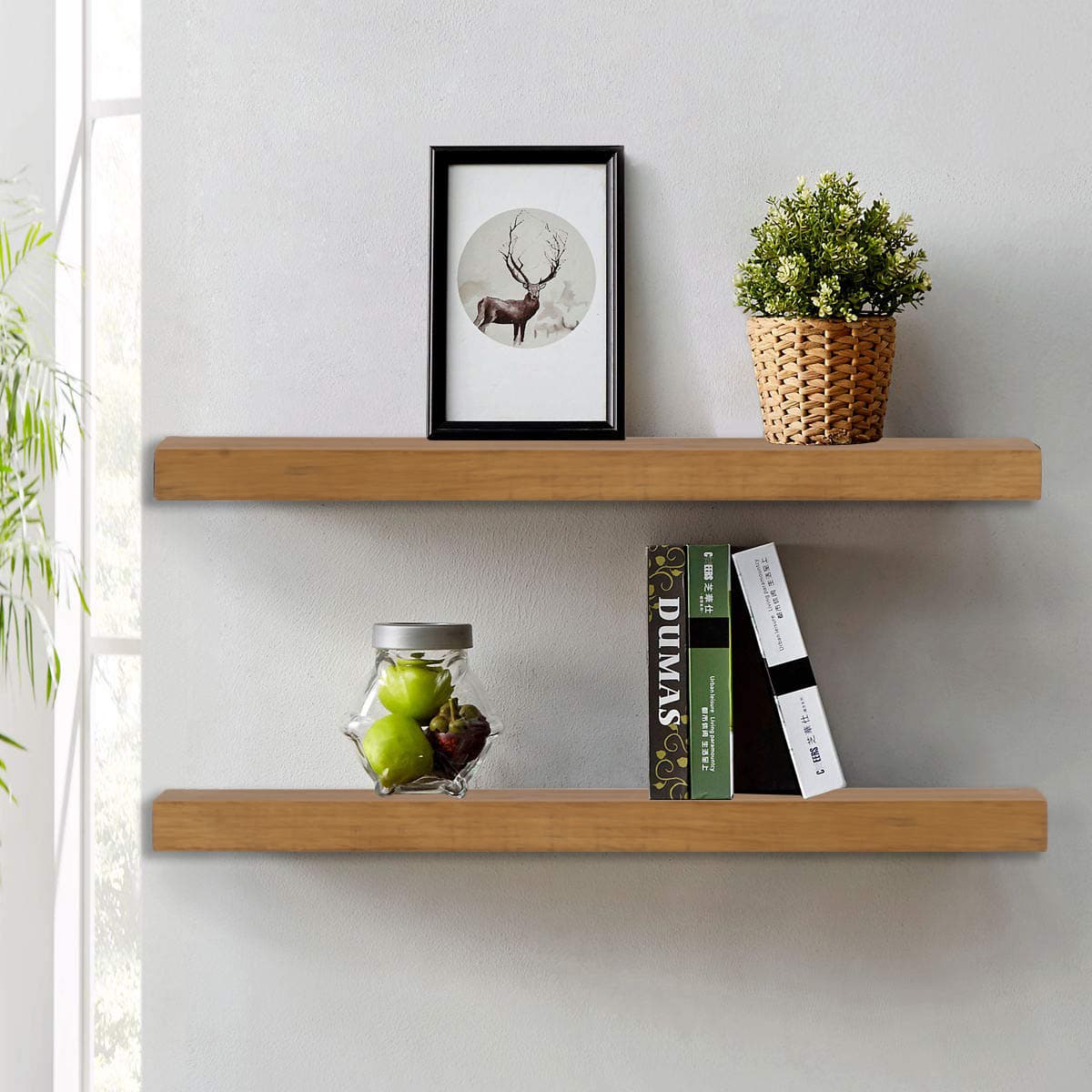 By adding reclaimed wood-mounted shelving to the different rooms in your home. You can create a modern or rustic look, with a space to display decor or art. Not only is this shelving a unique piece to incorporate, but it can serve as a way to keep your home looking stylish and organized. 
Mounting shelves to the walls can help save space giving you a place to display decor in your living room. Organize spices in your kitchen, or showcase artwork in your bedroom. The options are endless.
Related: Best Wall Shelf Ideas
Include Smaller Wooden Details and Decor
To bring your vision for your home to life, you need to include smaller bits of decor to completely transform the interior. These details may not seem significant, but in retrospect, they will make all the difference.
Wooden Wall Decor
By adding wooden wall decor such as signs, clocks, and wood-framed mirrors, you can bring the finishing touch that is needed to spruce up your bedroom or living room space.
Add wooden signs that say family, gather, or an inspirational quote,  to bring a rustic home design, chic theme throughout your home. A large wooden clock can be hung in your kitchen or living room space, to bring a different style to these rooms. Add a wood-framed mirror, in your foyer, above the mantle, or in your bedroom, bringing in extra details to stand out in this space. The choice is yours, depending on the overall style you want to create.
Wooden Foyer Organziation
For added organization in the foyer or entryway of your home, utilize wooden storage to keep shoes, coats, purses, and hats in their place.
Hang a wooden slab with hooks, to hang coats or hats during cooler months. Add a wooden bench or shoe organizer below the hooks, giving your family an easy place to store their shoes. Not only will this prevent mud from being spread through your home on rainy days, but it will help everyone in your family remember where they put their shoes.
Wooden Tray
If you are wanting to add wood details to your home in a subtle way, utilize a wooden serving tray with a unique design to display decor on top of your coffee table. You can put flowers in a vase, a stack of books, or any bits of decor you want to show off in this space.
You could even store drink coasters, TV remotes, and other living room necessities in this space as well, for easy storage.
Wooden Candle Holders
To bring an extra touch of elegance to your dining room, add wooden candle holders in the center of the table. This will bring a modern, chic look to your dining room space while dressing up the table.
Whether you have guests visiting for dinner or you're having a date night at home, these candles will be the perfect addition to your dining room table.
Transforming Your Home with Wood
To transform the look of your home with wood and bring your ideas to life, use this guide to help you create a warm, welcoming, and chic style for your home.
Think about your dream home and how you can begin to develop your ideal living space with the addition of wooden details and decor. Change up the flooring, add new pieces of wooden furniture, switch to a wooden headboard, or add wood wall decor. There are so many versatile options available, to help you create the home you have been envisioning.
Look for unique pieces, that showcase your individual style, that stand out, and help to bring your ideas to life. Decide if you want to create a modern, rustic home design, or farmhouse theme and go from there, piecing together the rooms of your home to ensure they are cohesive in style.
If you have been looking for ways to spruce up the look of your home with the simple addition of wood. Let this guide help you find the right place to start. Take these ideas and use them to bring your dream home to life, building a stylish, warm, and welcoming environment.