Bathroom For Seniors – According to the National Council of Aging (NCA), at least one to four senior citizens in America fall annually. Moreover, the same source has discovered that at least one senior dies due to fall related injuries while a senior adult is taken to the emergency room every 30 minutes due to injuries related to falls.
Out of all these falls, a whopping 80% happens in the bathroom. What does this mean? Therefore, it simply means that a bathroom is a hazardous place, particularly to seniors. What causes the falls? Now, according to NCA, most of these falls are caused by;
Cluttered floors
Low toilet seats
Lack of support bars
Slippery floors/bathtubs
Slippery shower chairs
Thankfully, with so many remodeling ideas at the disposal, you can always do a couple of adjustments to your bathroom to make it a safer place for seniors to help reduce the risk of injuries. Here are six tips you can consider to make your bathroom senior-friendly.
1. De-Clutter Your Bathroom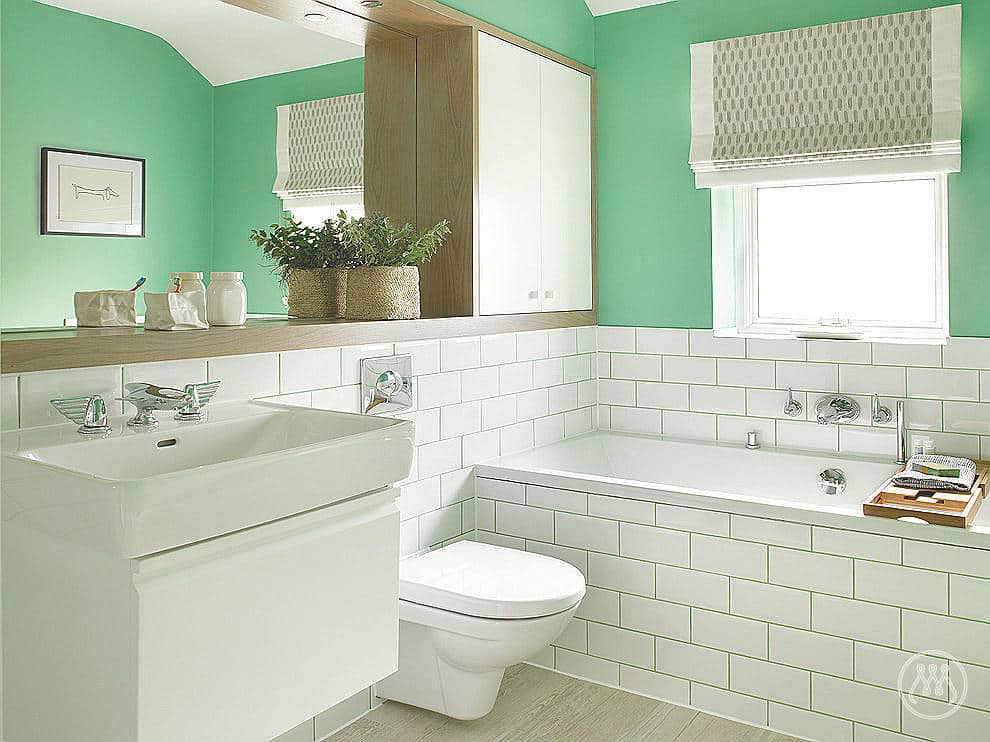 The reason why most fall accidents happen in the bathroom is because this room is usually small yet it is cluttered with so many hampers, cabinets, shelves and accessories that eat much of the space. Since seniors have stiff bodies with mobility loss, bending over to reach for objects can really be a problem.
That's why de-cluttering your bathroom is necessary as it helps you to get rid of products such as lotions, shower gels, drugs and toothpaste from the shelves to somewhere more secure and neat.
Additionally, removing the cabinets, the shelves and the sinks from the vicinity is also important as it makes the room as open and as specious as possible for seniors to maneuver freely.
2. Change the Lighting Fixtures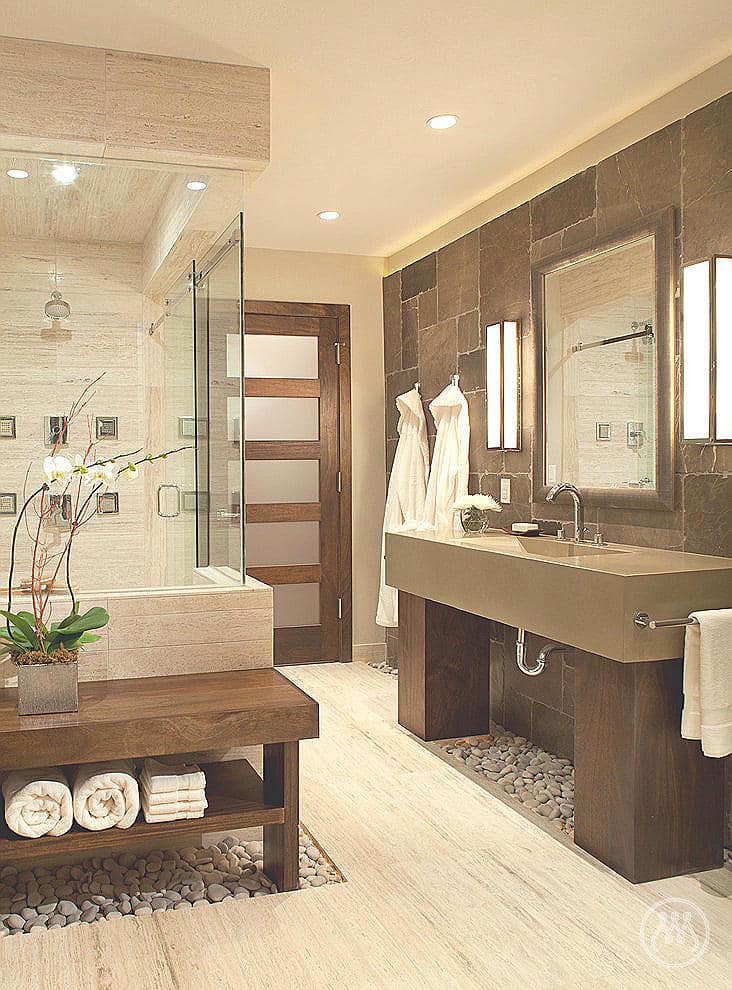 Another major cause of most senior bathroom falls is poor visibility. Now, we all dream of staying in serene places with dim lights and tranquil atmosphere. However, when it comes to seniors, this is quite the opposite.
You see, as you age, your immunity to become weak. Your visibility fades and you lose most of your energy. Therefore, if you live with a senior, your bathroom for seniors will need proper lighting to eliminate any shadows that cause accidents.
Overhead lighting should be avoided at any cost as they create shadows. Therefore, consider replacing this with wall lighting in all angles to ensure that every corner of the room has maximum lighting.
In addition to the lighting, you may also need to change the doors to swing outwards rather than inside. At least this will provide easy accessibility to the bathroom in case an accident occurs.
3. Consider Non-Slip Mats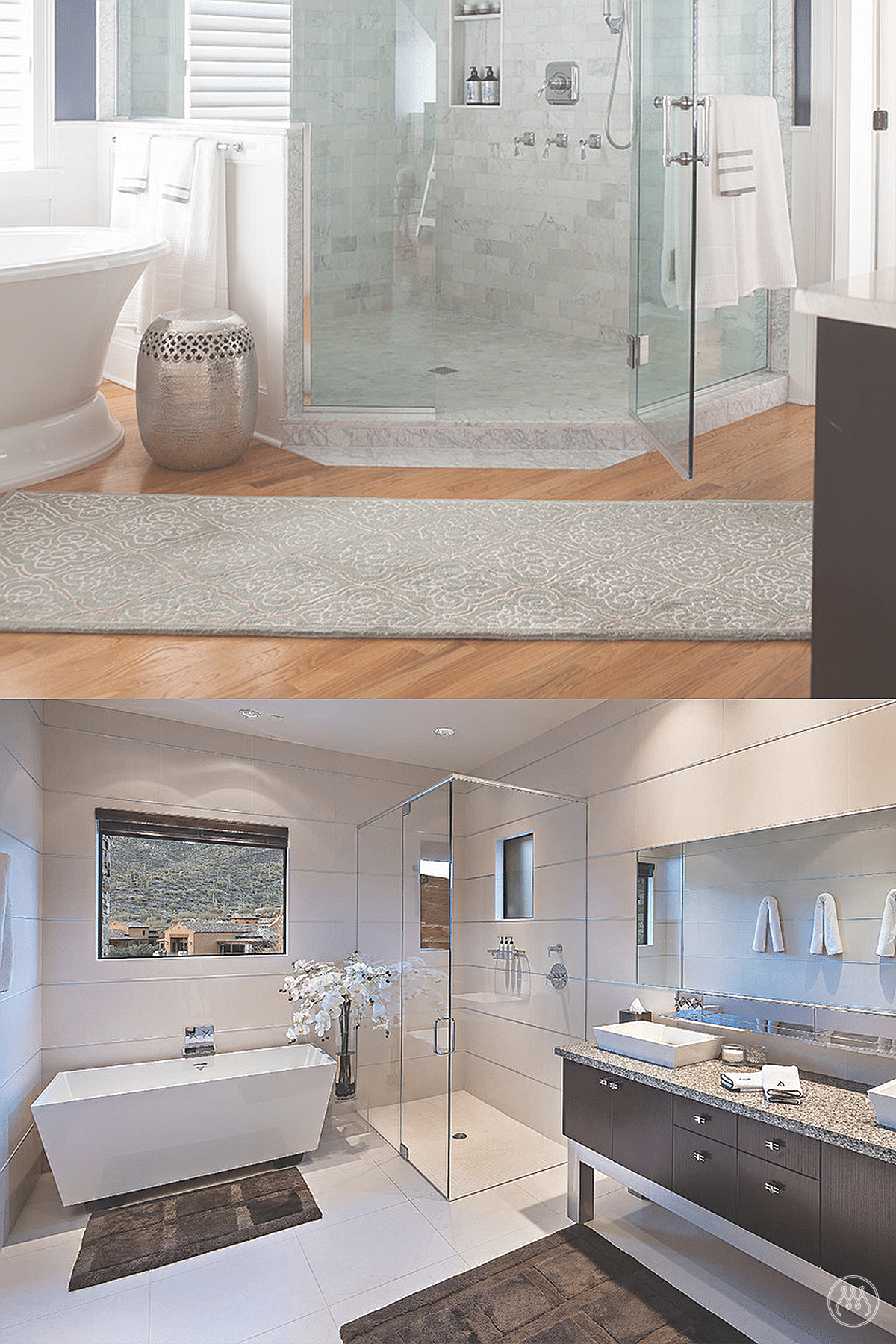 We all know that bathroom floors are prone to water and soapiness that make them slippery. This is quite dangerous to seniors especially when they are getting off the bathtub as they can easily slide and fall causing a fatal accident.
To prevent such misfortunes, non-slip mats are an absolute necessity that comes to save the day. These mats are best when placed next to the bathtub, the toilet basin and next to the exit door.
If you're remodeling your home or maybe if you're constructing a new home from scratch, considering slip-resistant tiles will be the perfect option as they make things a lot easier for you.
4. Consider a Walk-In Tub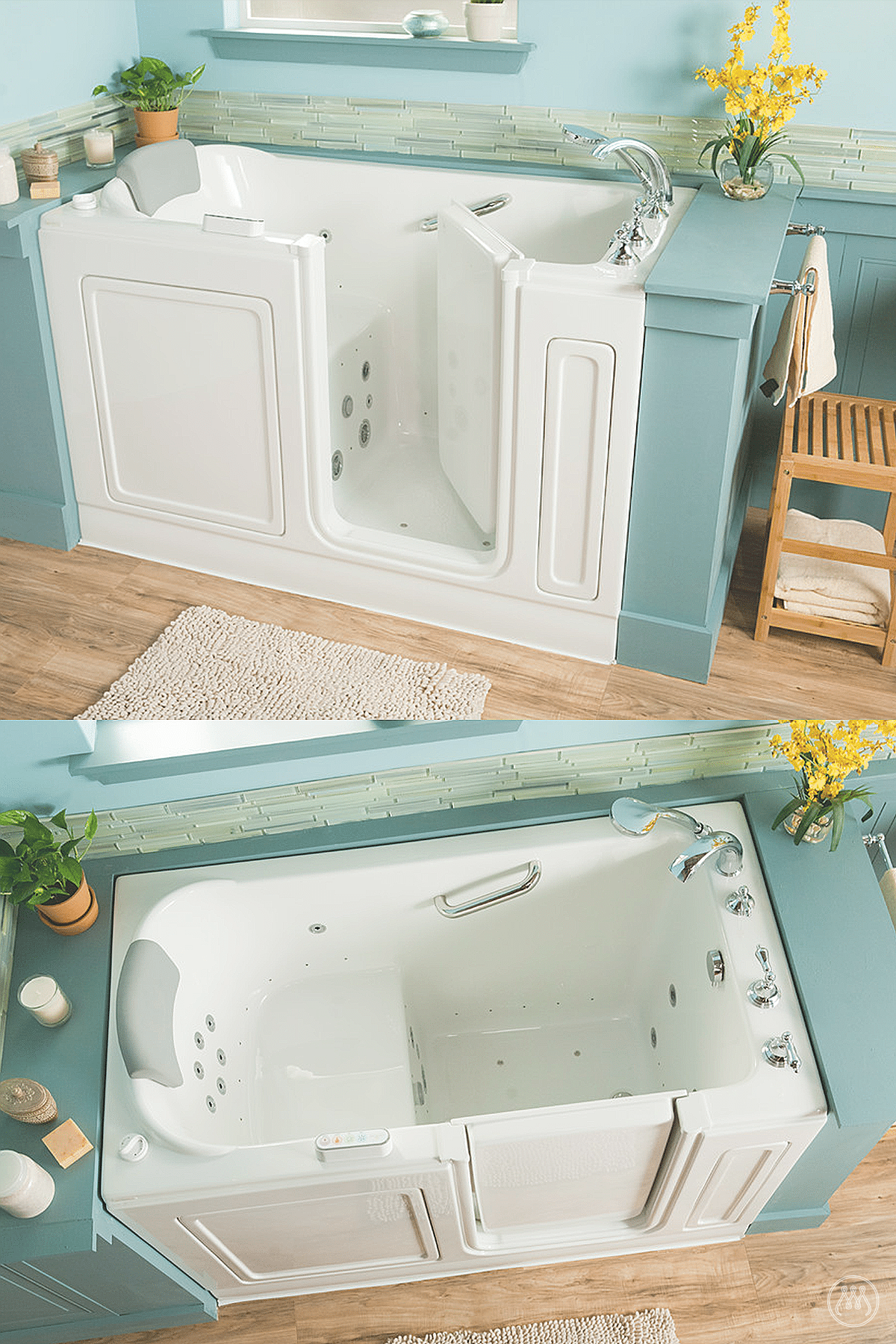 This is the main cause of most falling accidents that occur in most bathrooms. By the way, this is not just for seniors, but also for anyone who gets in or off the bathtub on the wrong foot.
If you're using a traditional tub, climbing on and off the ledge can be quite risky especially if you're a senior. During the process, most seniors lose their balance making it easier to fall. However, with the advancement in technology, innovative and creative ways have come to reduce this risk.
A walk-in tub is one such typical example that lets you walk in the tub by just opening the door instead of climbing over. Since replacing your existing tub is quite costly, there are creative ways you can consider to modify your bathtub to create a safer passage to get in and out. If you're looking for the best walk-in bathtubs in the market, you can find more @ bestvacuumresource.
5. Add Handrails and Grab Bars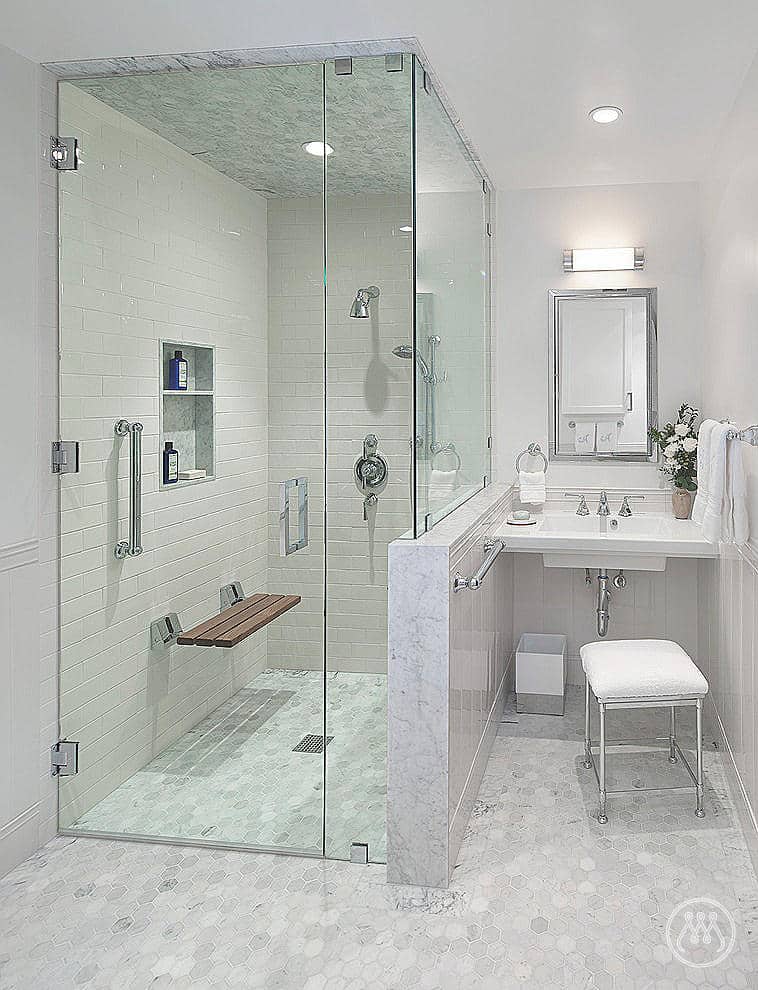 When you are through with the lighting and the non-slip mats, something else that is equally important is adding handrail and grab bars on the walls close enough to the tab, the shower and the toilet basin.
You see, most seniors have good upper body strength meaning they are able to grip the handrails and stand up with less effort. So, with sturdy handrails or grab bars at the disposal, seniors will manage to support their fragile bodies when getting on or off the bathtubs effortlessly.
They will also be able to balance their bodies while walking and even get on or off wheelchairs effortlessly without needing any assistance.
Now, when choosing a handrail/grab bar, you have to be really careful. First, you need to shop for a model that's easily drilled and bolted against the wall to make it firm.
Secondly, you need a model that has slip-resistant handles (such as rubber options) to prevent it from slipping off the hand when standing. Avoid handrail models that use suction cups to offer support as they can easily slide or come loose.
Related : Master Bathroom Remodel Ideas
6. Put Everything Within Your Reach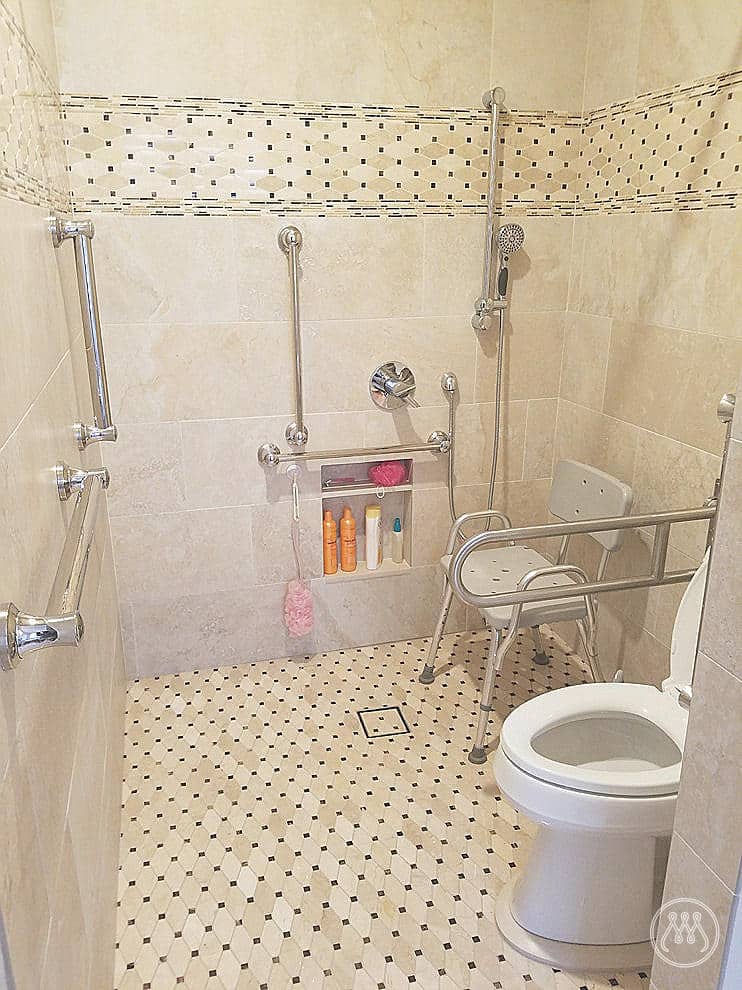 In the beginning, we mentioned about de-cluttering your bathroom to create space and keep things in an orderly manner. This time, those essentials you de-cluttered will need proper replacement within the reach of any senior.
This means that seniors will not need to stretch or bend over far too wide as this can cause spinal injuries or dislocation on movable parts of their bodies. A shower caddy is one creative option that can really help as they rely on suction cups (most models do) that let you mount them on any part of the wall.
Conclusion
That is it for now. Whether it is aging or a particular ailment, bathroom experience will one day become a challenging endeavor for all of us. Although it might take a second to accomplish them today, most tasks such as brushing your teeth, using the washroom, and bathing will become frightening thus bringing in the question of; How senior-friendly is your bathroom for seniors?
Well, you can share your views, thoughts or maybe share an experience in our comments section.