Bike Storage Ideas – We all need somewhere to place the bike, and bike storage comes to save you.
You might get into trouble if you place the bike without storage. Your house might get dirty and messy if it is indoor storage. Or, even worse, you might lose your bike if you store it outdoors.
So, we must secure the bike, make our home tidy and give easy access to the bike through the bike storage ideas. There are a bunch of choices for bike storage. From the floor stand to the ceiling, racks will appear here.
Let's see what we have for bike storage. Please pay attention, we also give you some tips for security and storing kids' bikes.
Type of Bike Storage
When we are not using the bikes, of course, we need a place to store them. In storing, the security and practical aspects must include there. If it is not, you will not feel comfortable at home.
Most people can store the bike in the garage, but how do you store a bike without a garage? Nowadays, don't worry about many options about rack for bike storing, from the floor storage to the vertical wall storage. So, let's see some options here.
1. Vertical Bike Storage Ideas
The vertical bike storing allows you to store most bikes but only takes the least space on the wall. But, you still must have enough room to let all the bikes stick on the wall.
With these options, you might not need a garage for bike storage. Your unused room can be the space. However, this idea might not be the best for indoor storage. You must deal with bumping the bikes over the wall.
Steady Wall Mounted Bike Storage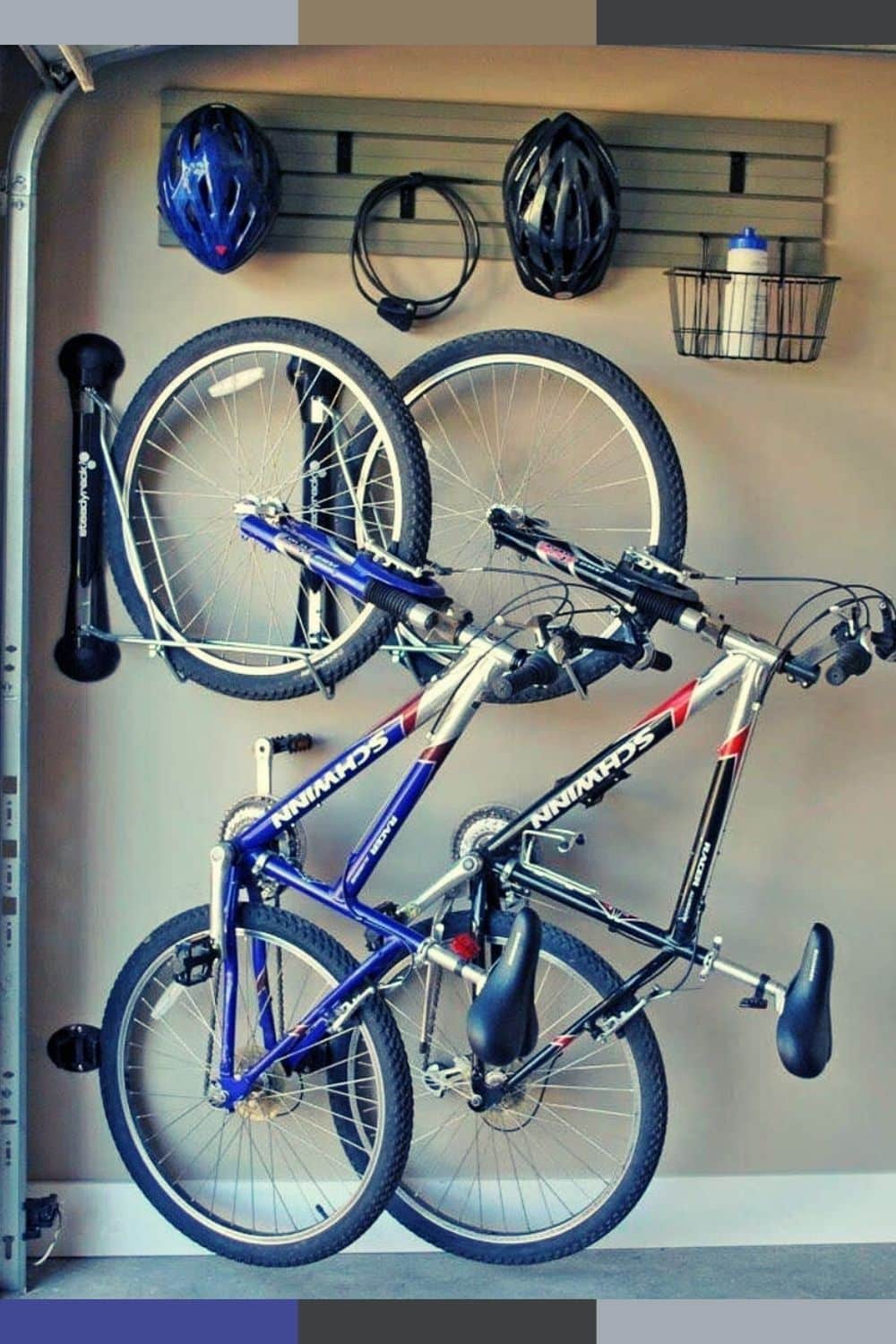 As known that this type of rack can save space. With a swivel system, it allows you to store more bikes, less space, and accessibility. Further, the range of storing will not be in big amounts because you can store it closer.
Then, the steady rack will keep your bike in form. It doesn't have any contact with the bike's rim. For the children, they can be independent loading and unloading the bike by themselves.
Rubbermaid FastTrack Bike Storage
This all-in-one product is very helpful. Not only bikes, but you can also hang tools, hoses, and others. For the bikes, the Rubbermaid is easy to install and keeps your bike safe. Further, the durable material can still store many bikes on the wall.
But, the rubber maid is a bit difficult for the kids to load and unload by themselves. Your help for the kids is still needed here. Furthermore, there are no tire trays, so that it will leave marks on tires.
Adjustable Bike Storage Wall Hanger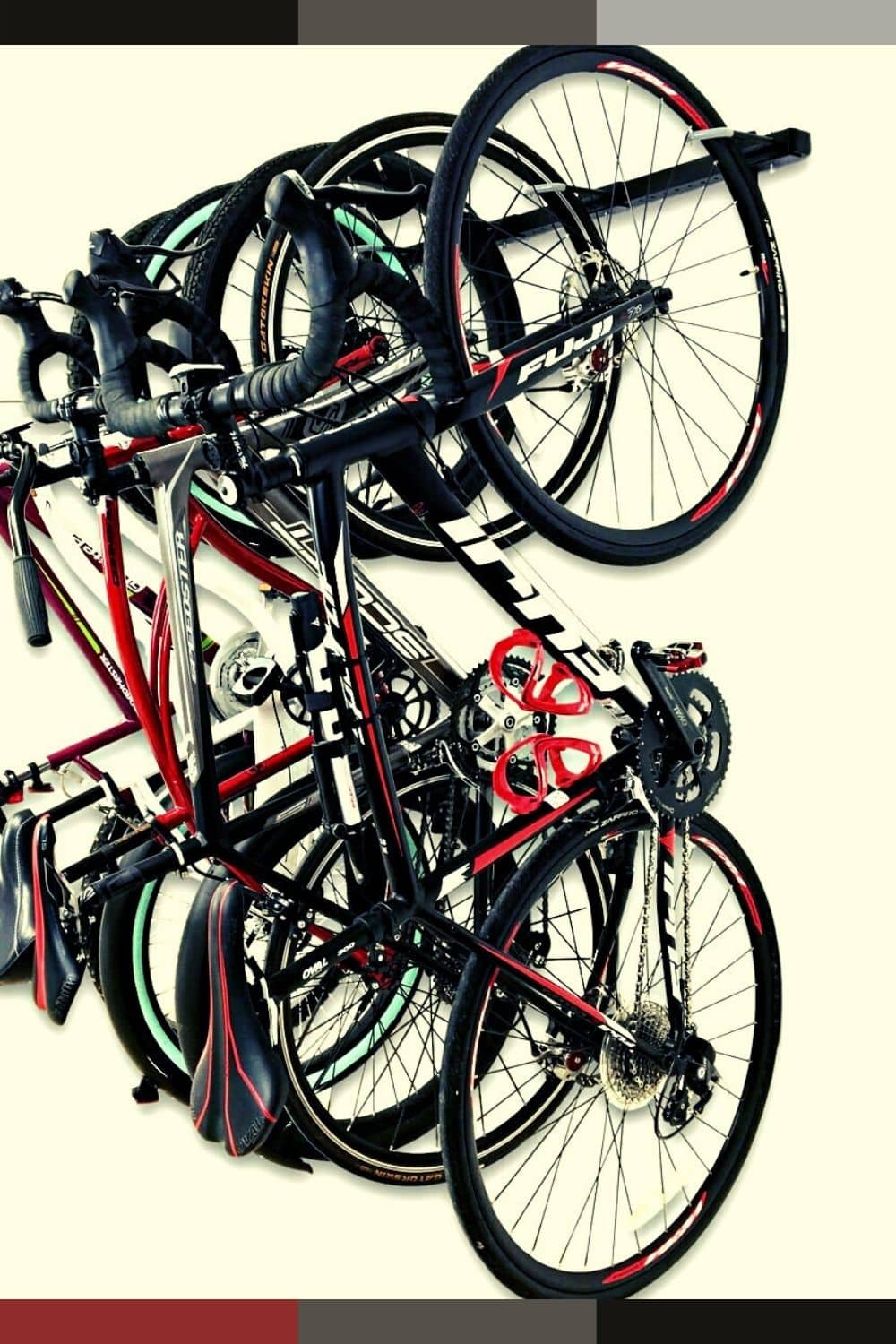 You can easily install this hanger on the garage wall. With an adjustable hanger, you can arrange the spacing between bikes. Furthermore, if you are looking for budget-friendly storage, this idea can help you much. The shape of the hook can let you easily load and unload them.
Simple Hook Bike Storage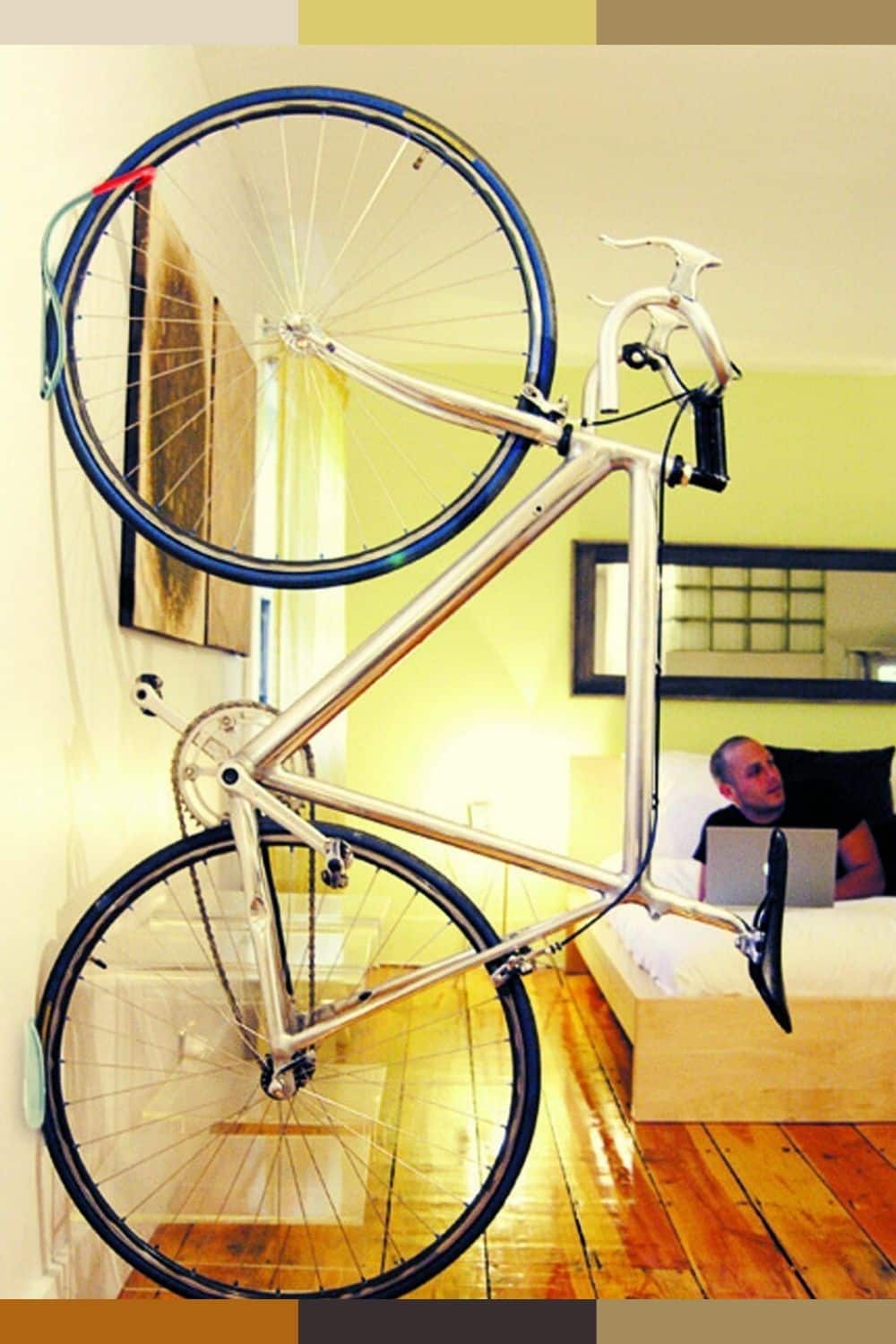 A simple hook can allow you to hang the bike wherever you want. You don't need a big wall, but you need some space if you want to hang a bike. Then, this hook gives protection to the bike's spokes and wheel with the rubber.
Further, you can add the wheel tray to avoid marks on the wall. What a simple and helpful item for storing bikes.
Single Bike Storage with U-lock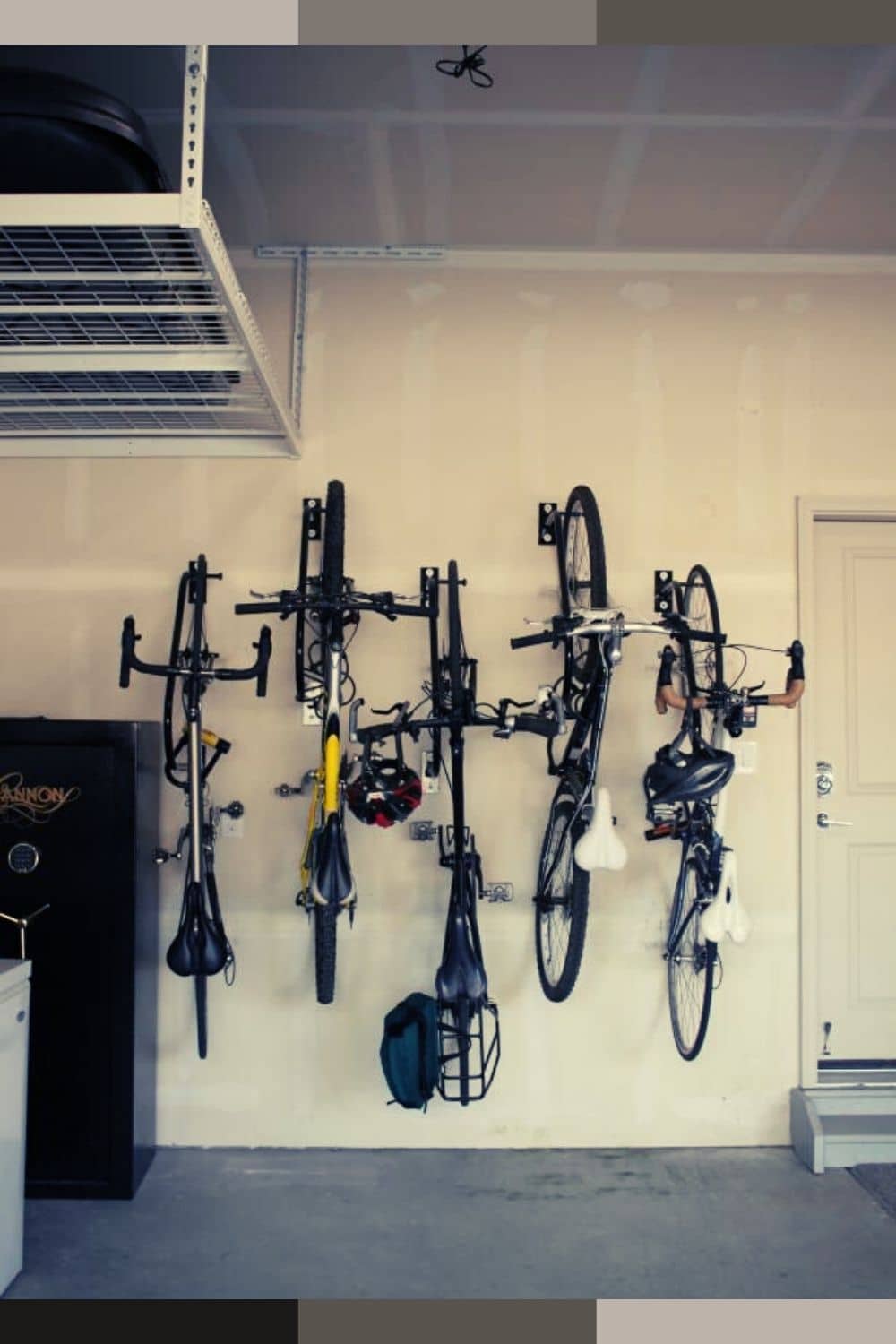 With this type, you can hang the bike a bit farther from the floor. Then, you can lock the bike with U-lock to secure the bike. So, it can stay still.
2. Ceiling Bike Storage Ideas
All over the room can be the space for storing the bike. If there is no space on the wall and floor, make the ceiling your storage. This extra space can store many bikes, from the single to the many bikes.
Further, it might have a pulley system to lift the bike to the ceiling. Or, it can be in the form of tracks that can hang the bike upside down.
Saris Glide Bike Storage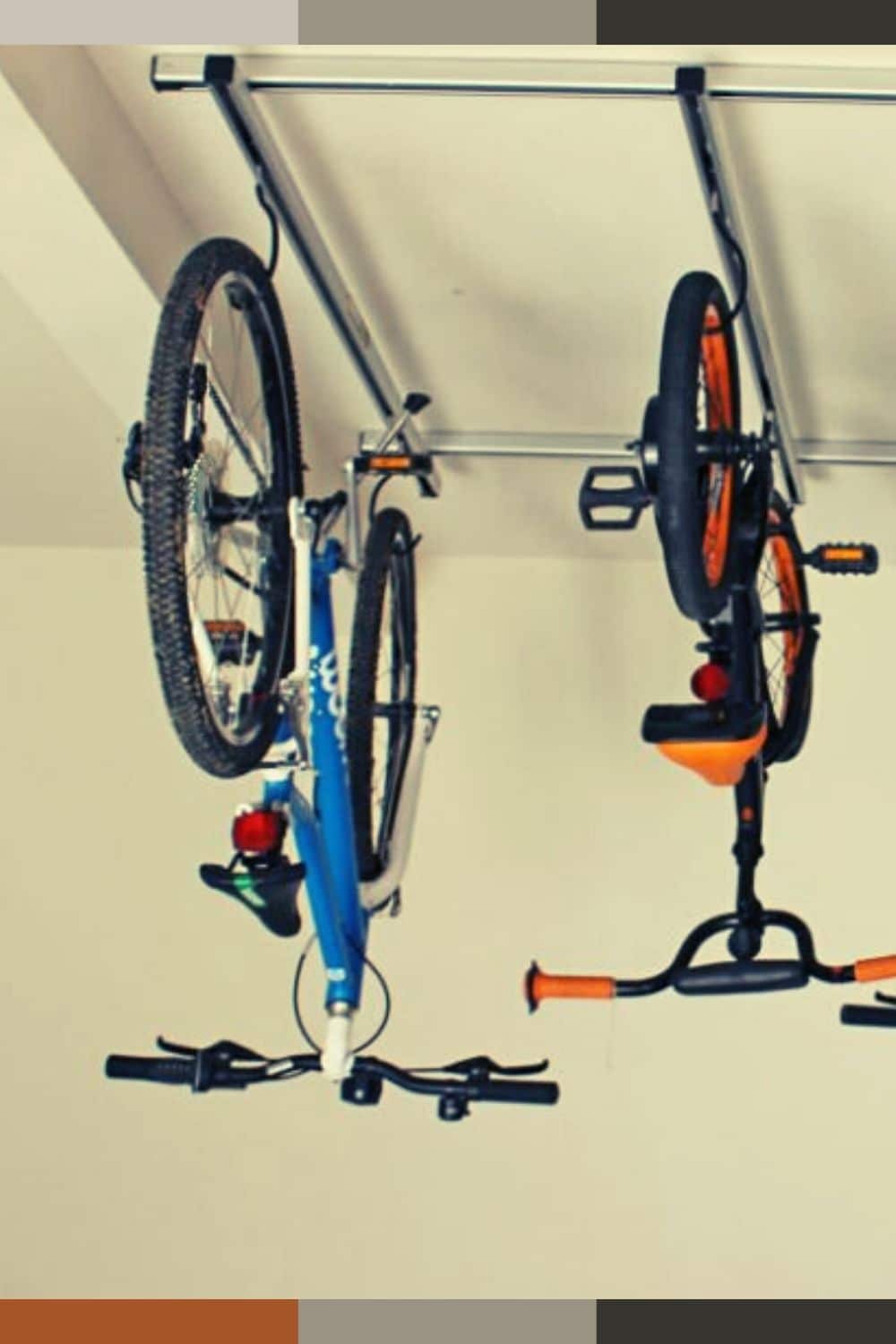 A clever design is on this sliding bike storage. It has a sliding rail and hooks that you can adjust to match the bike size. So, every type of bike can suit this ceiling bike storage.
Further, with the rails, you can easily remove and access the bikes' hanging. Even if you use this in the garage, it will not bother the vehicles below. You can still park your car.
Pulley Lift Bike Storage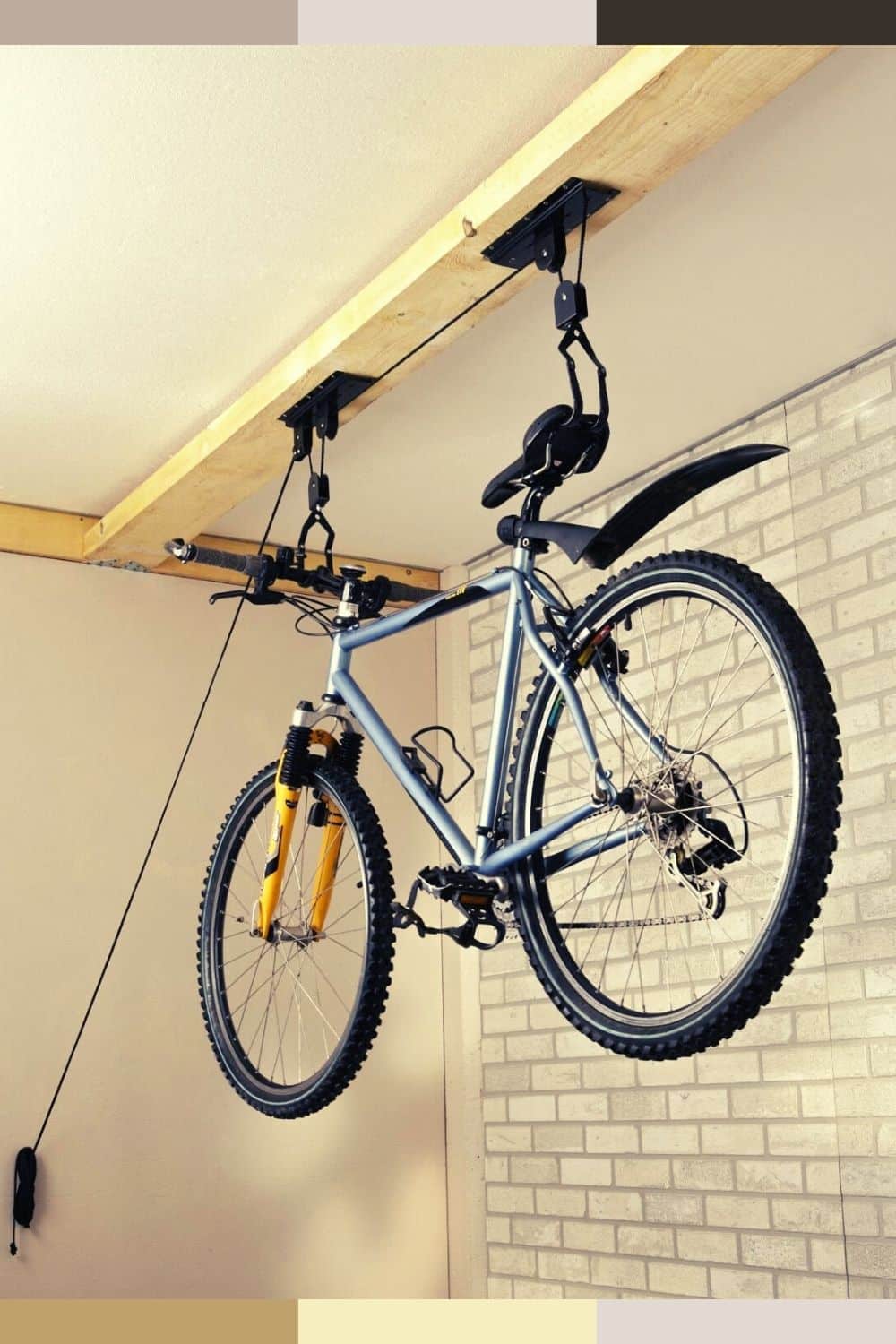 Usually, installing a garage bike storage ceiling can be tricky. But, with this type, you just screw two pulleys on the ceiling, then it's all done. Then, to store the bike, attach the hook to the seat and handlebars, so lift the bike with the cable.
Further, it completes with a safety lock to avoid the accident. This system needs to be readjusting if you want to hang another bike type. But, it does not make any trouble for you.
Horizontal Bike Ceiling Storage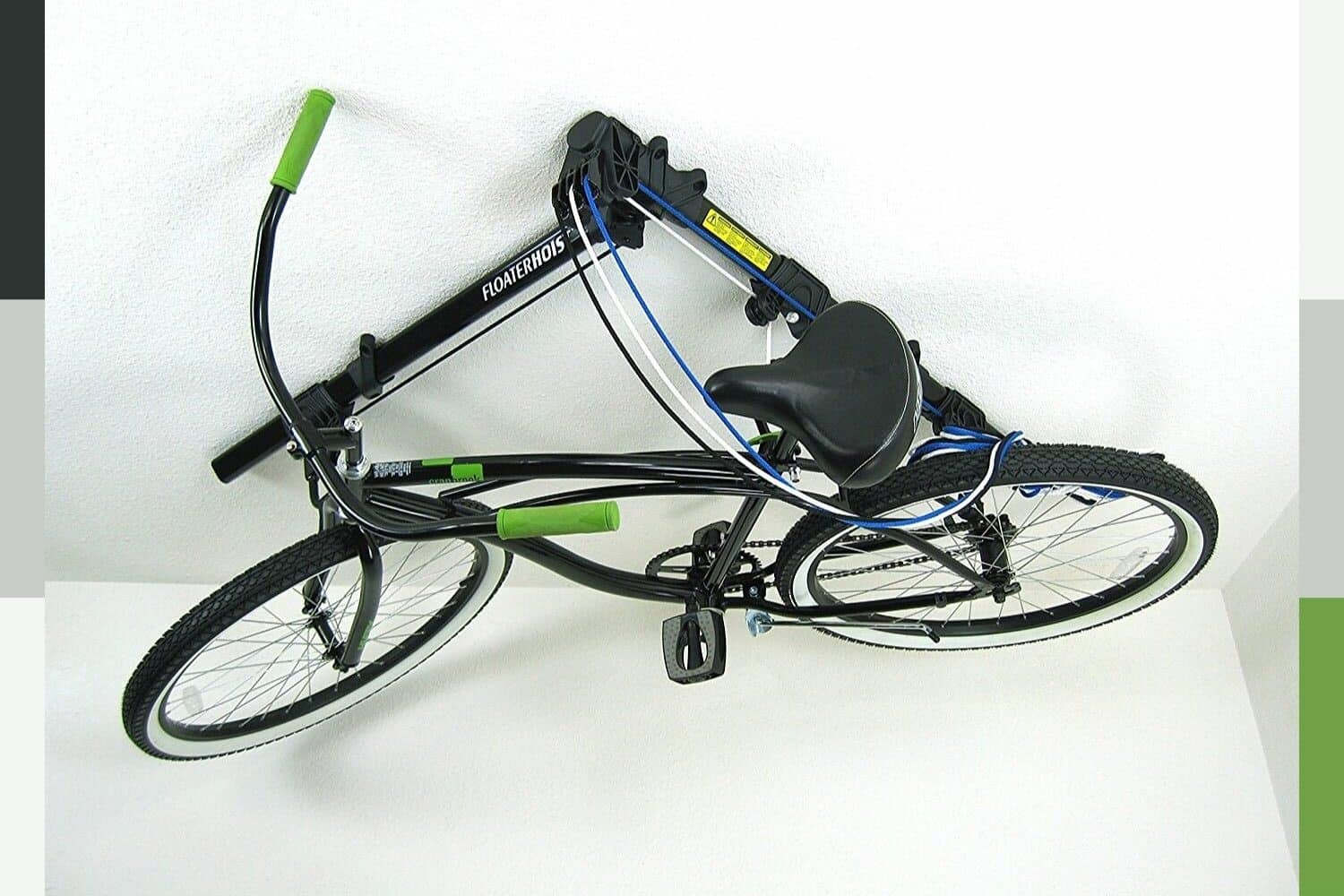 This one has a unique system that can be used for low ceiling height. The bike will hang on the ceiling but in a horizontal way. It has a pulley system and some hooks for the bike.
Further, the pulley is strong enough to hold your bike. It can load maximal to 25 kilograms. The bike storage is worth enough for a lower ceiling height.
Motorized Lifting Bike Ceiling Storage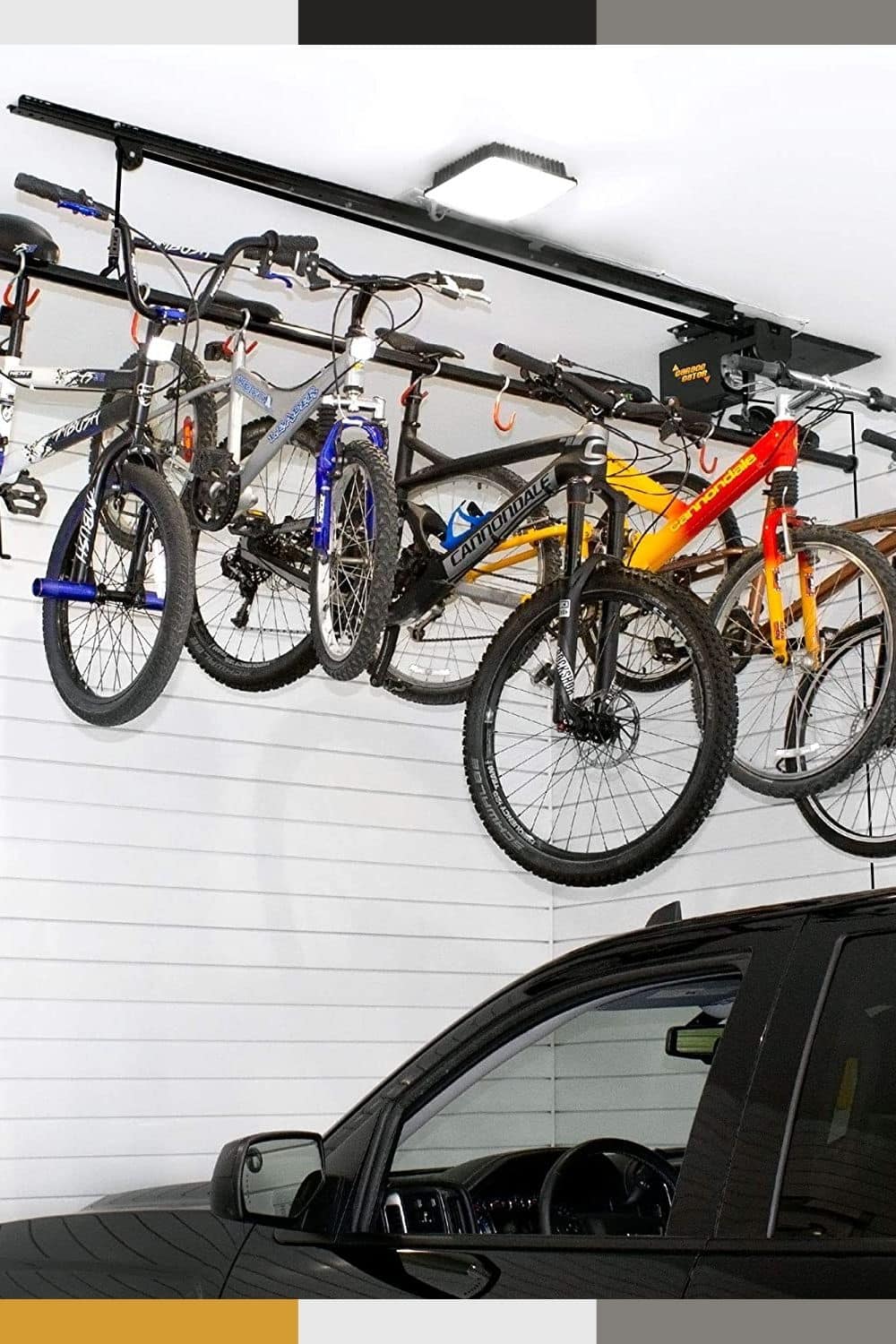 You can maximize the floor and wall space for another thing if the ceiling can be bike storage. This type has a motor system for lifting and hanging the bike. So, you don't need a ladder or climbing up to store bikes.
It can hold up to 220 lb weight of the bikes. It means that you can store up to 4 bikes at a time. Simply click the button for letting it up and down storing.
3. Floor Bike Storage Ideas
Most bike owners commonly use this type. You just need to park the bike on, then leave it behind. It might take up most garage space, but that's fine if it is for daily use and has the easiest access. Further, you kids can easily load and unload their bikes.
Housewares Simple Bike Floor Storage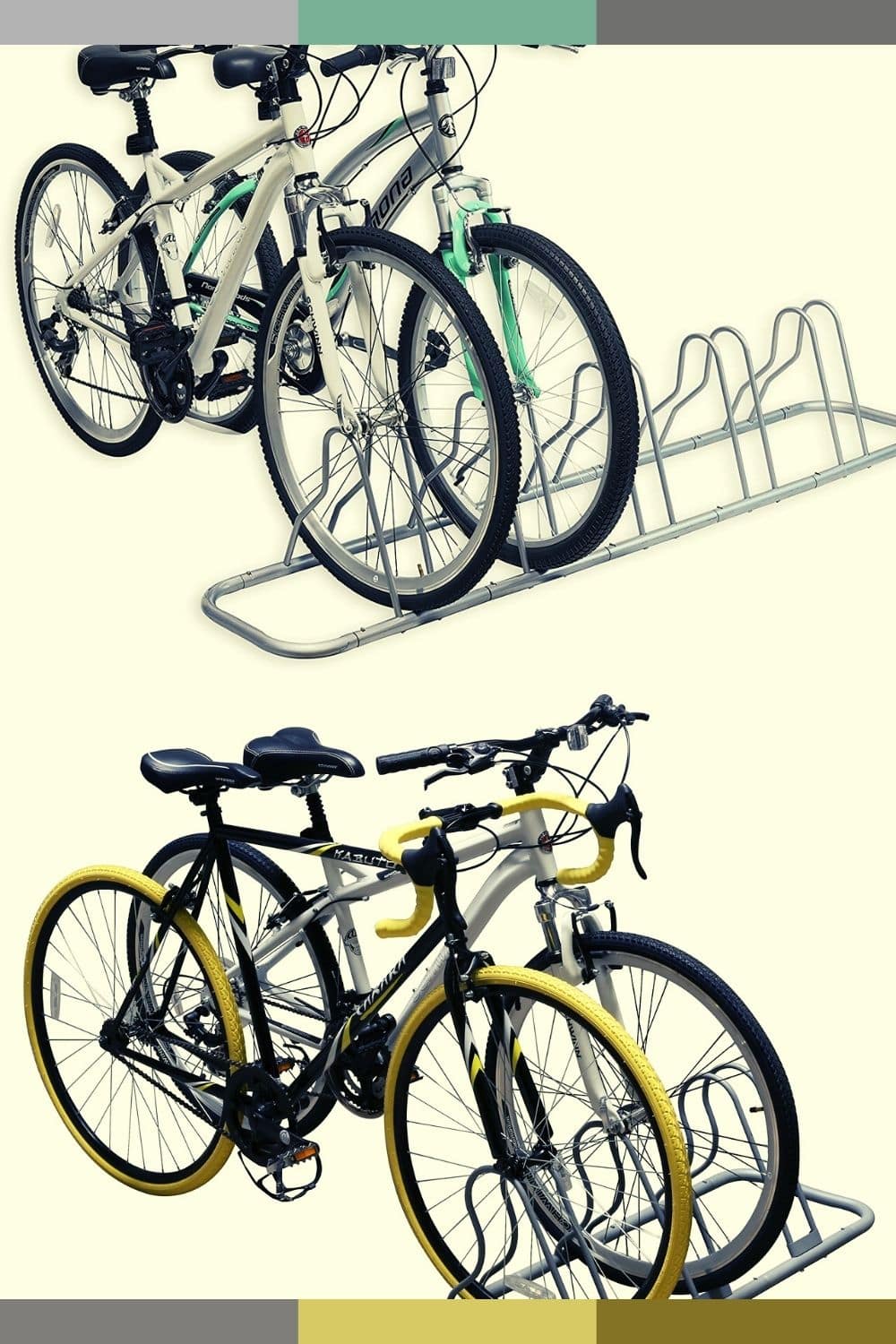 You can call it an old vibe, but still, it is the most used bike rack for years. The simplicity of the rack, low prices are the main reasons for keeping it in the house. Besides, you can set it permanently in the garage to ease your kids in storing bikes.
RAD Stand Bike Flooring Storage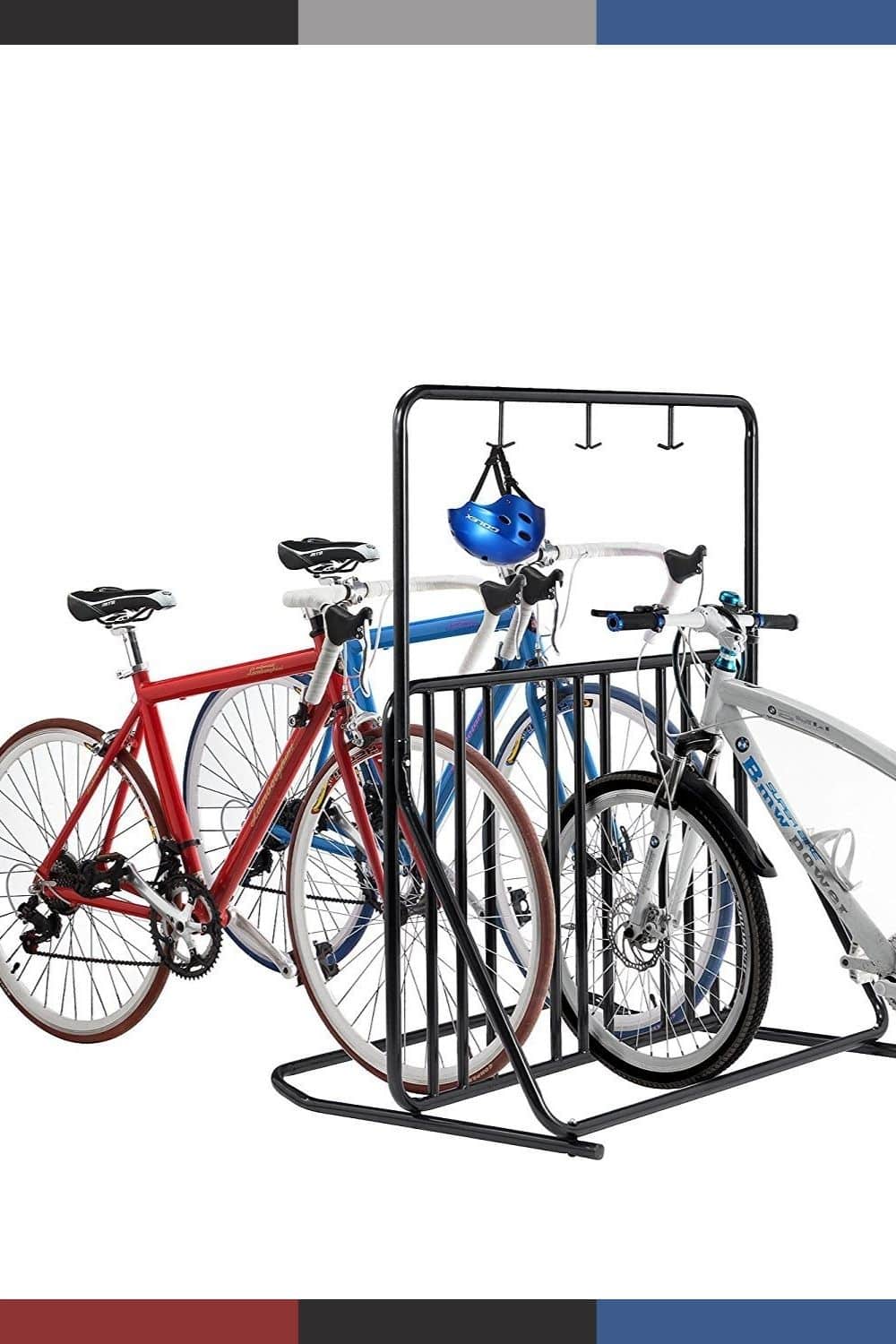 A unique design that you can apply in the garage. It has two sides for storing bikes up to 6 bikes. Each side can be 3 bikes. Then, with enough height design, it makes all the bikes safe.
Further, it has a hook for your helmets. Even you can put the helmets everywhere, but setting them near the bike can ease you if it is in a hurry. Every bike size can fit in this floor storage.
Flooring Bike Stand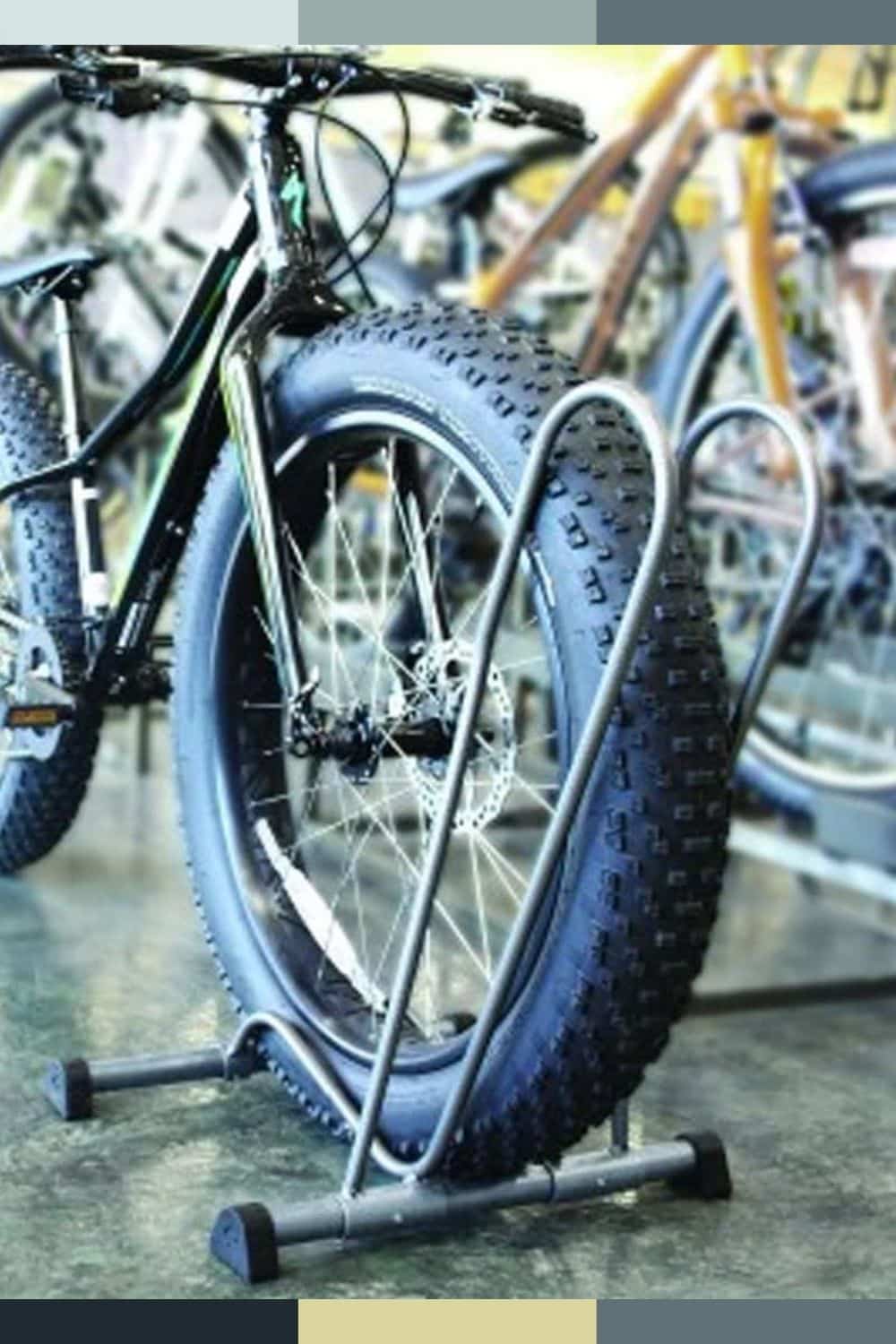 It is made to keep your bike standing in the garage, but worth keeping the bike safe. This bike stand had study and durable material for long-term use. Having a rubber on the feet stand is good for helping you load and unload the bike.
Further, the rack arms are adjustable. You can set it depending on the tire sizes. From a kid's bike to an adult, it can fit anyways.
Topeak Line up Stand Bike Storage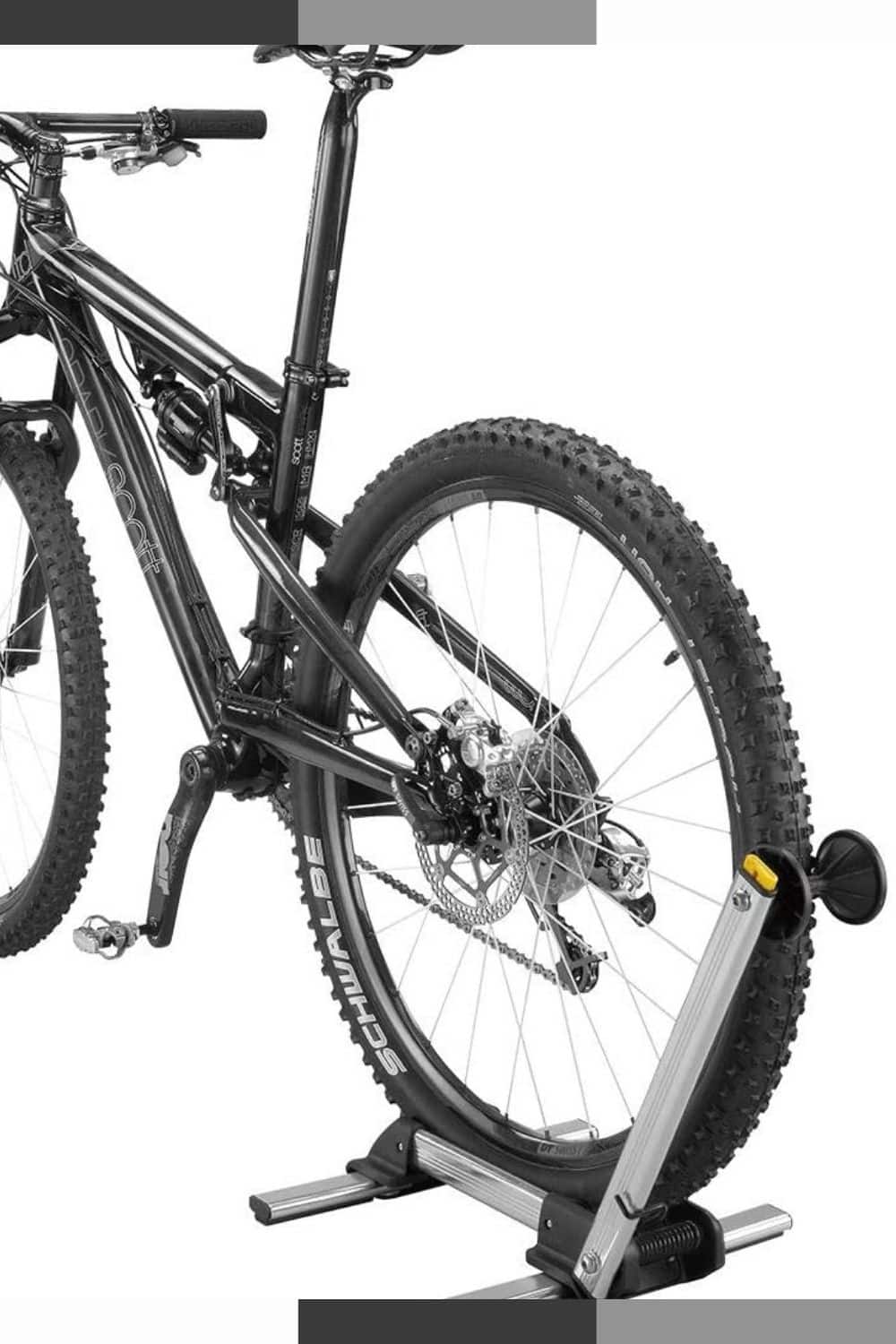 A minimalist space taking is the main feature of this bike stand. You can easily use it in the garage. It can save your wheels because they stand only contacts the tire near the brakes. Further, this type can take the bike tires up to 2,5 inches side.
Bike Rack Stand Adjustable Height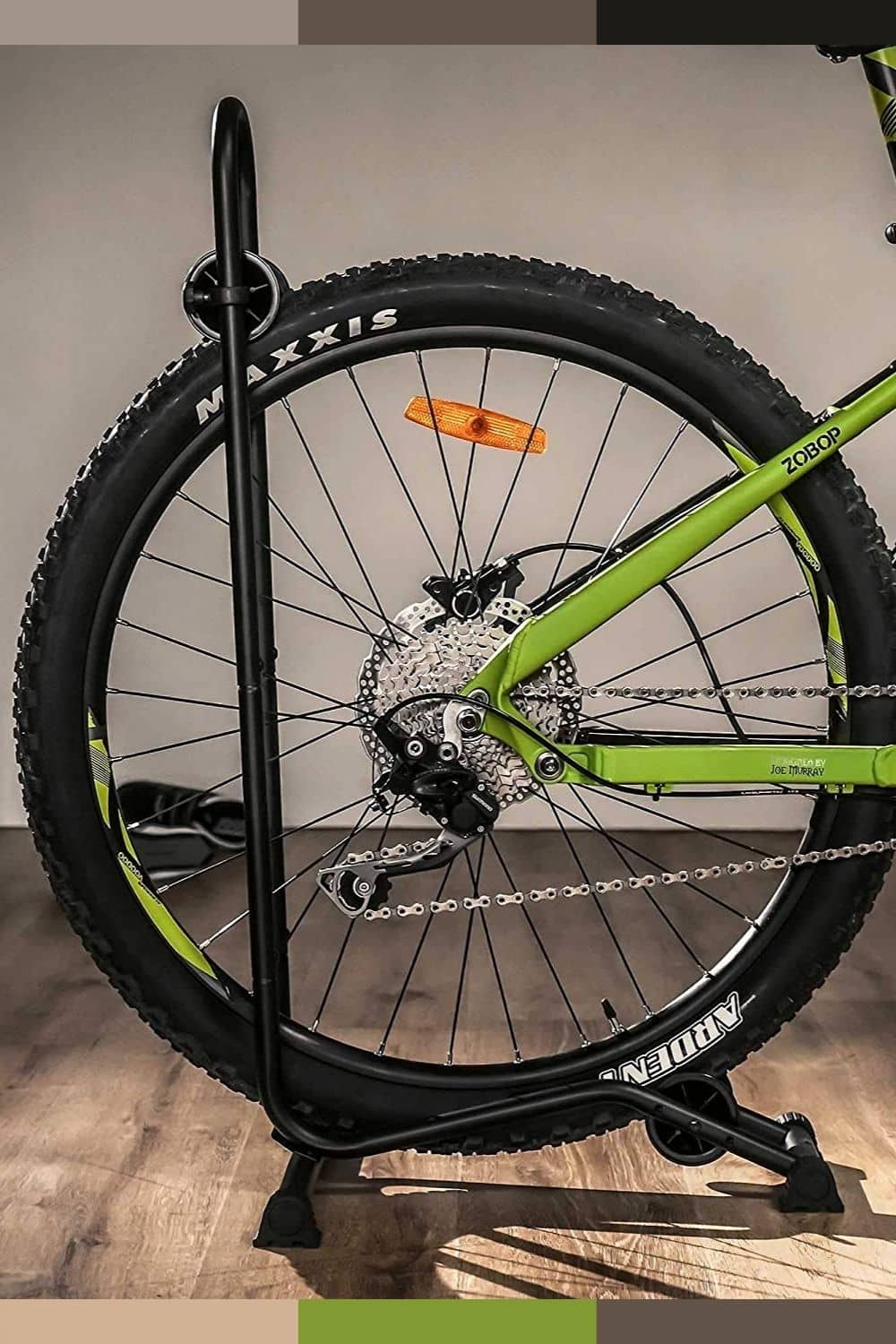 The pulleys are easy to adjust. You can set the grip to hold the bike in place. With this rack, your tire is the only one that has contact with the rack.
So, the frame and disk brake will not get damaged. However, you can't adjust the width of the pulley. Maximally, it can hold 3 inches wide. Further, you also can't link up several racks together.
Related: Best Wall Shelf Ideas
Wooden Freestanding Bike Rack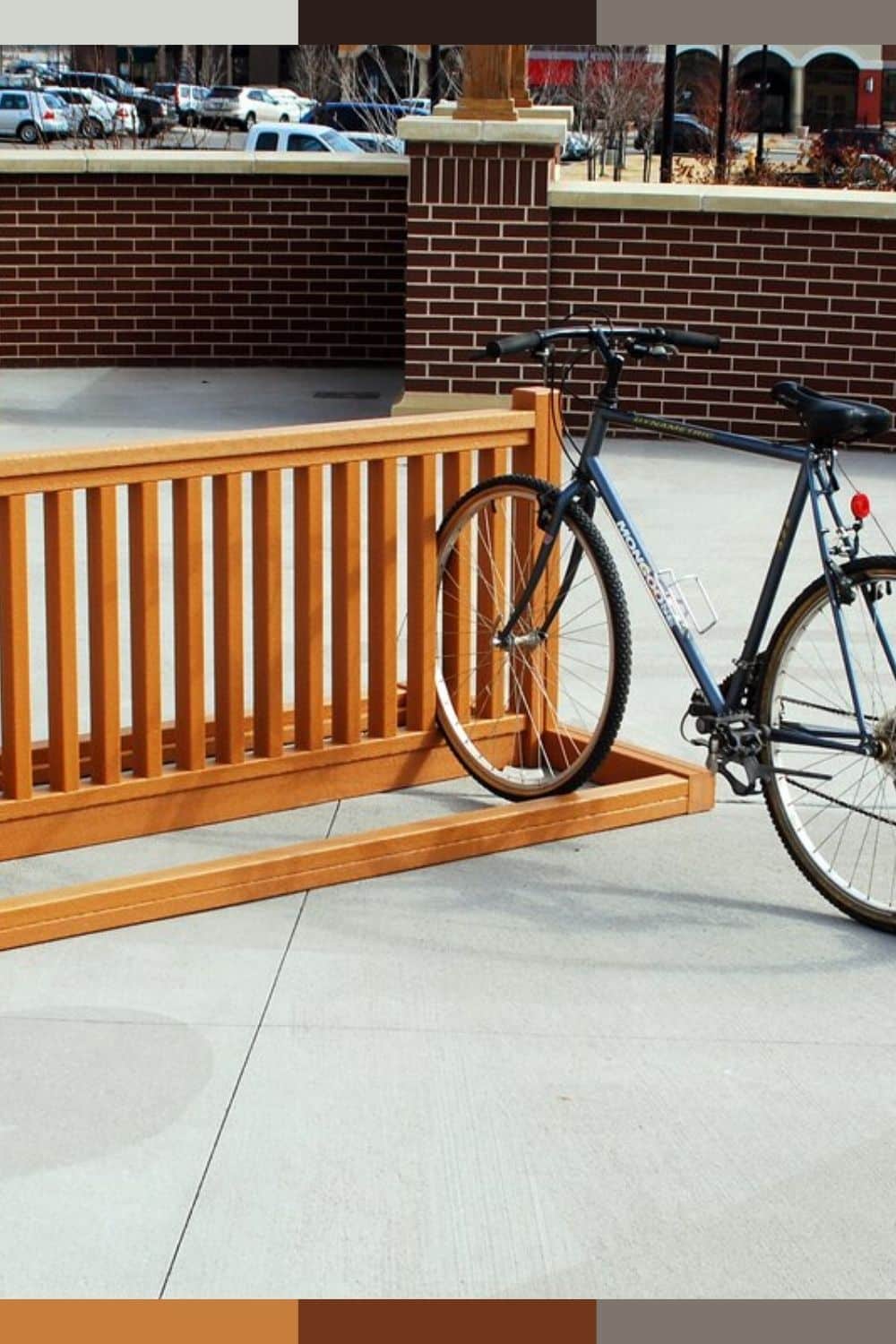 It has sturdy and clean material that has made from resin wood. If you plan to store multiple bikes, this kind of rack will be compatible. It can hold at least 6 bikes at a time. Furthermore, every type of bike, mountain, children, or even road bike can fit in that space.
The heavy construction makes a freestanding bike rack last for years. Then, you might not need maintenance, and it can be hard to get a crack.
4. Horizontal Bike Storage Ideas
The horizontal bike storing will take up wall space for installing. Commonly, you only can store a maximum of 2 bikes in the horizontal mode. However, this style can still fit every room if you want indoor storage.
Delta Freestanding Bike Rack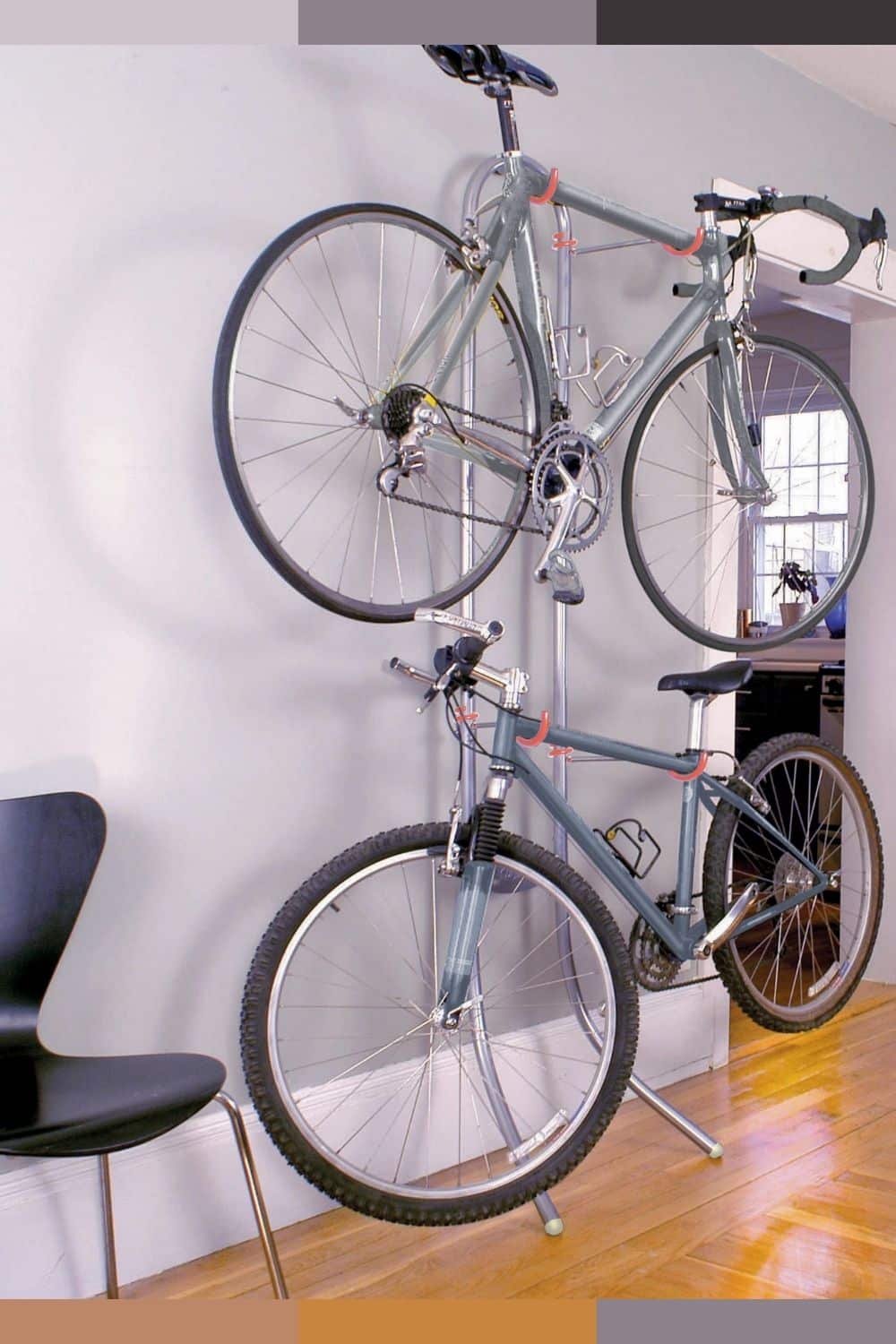 With this rack, you will not get any damage to the wall. You can still safely store the bikes horizontally and move at any time. The rack consists of a frame that you can adjust to any angels for your bikes.
Then, you can store any type of bike. Even your kids' bike is safe here. This rack matches indoor bike storage ideas.
2D Bike Display Rack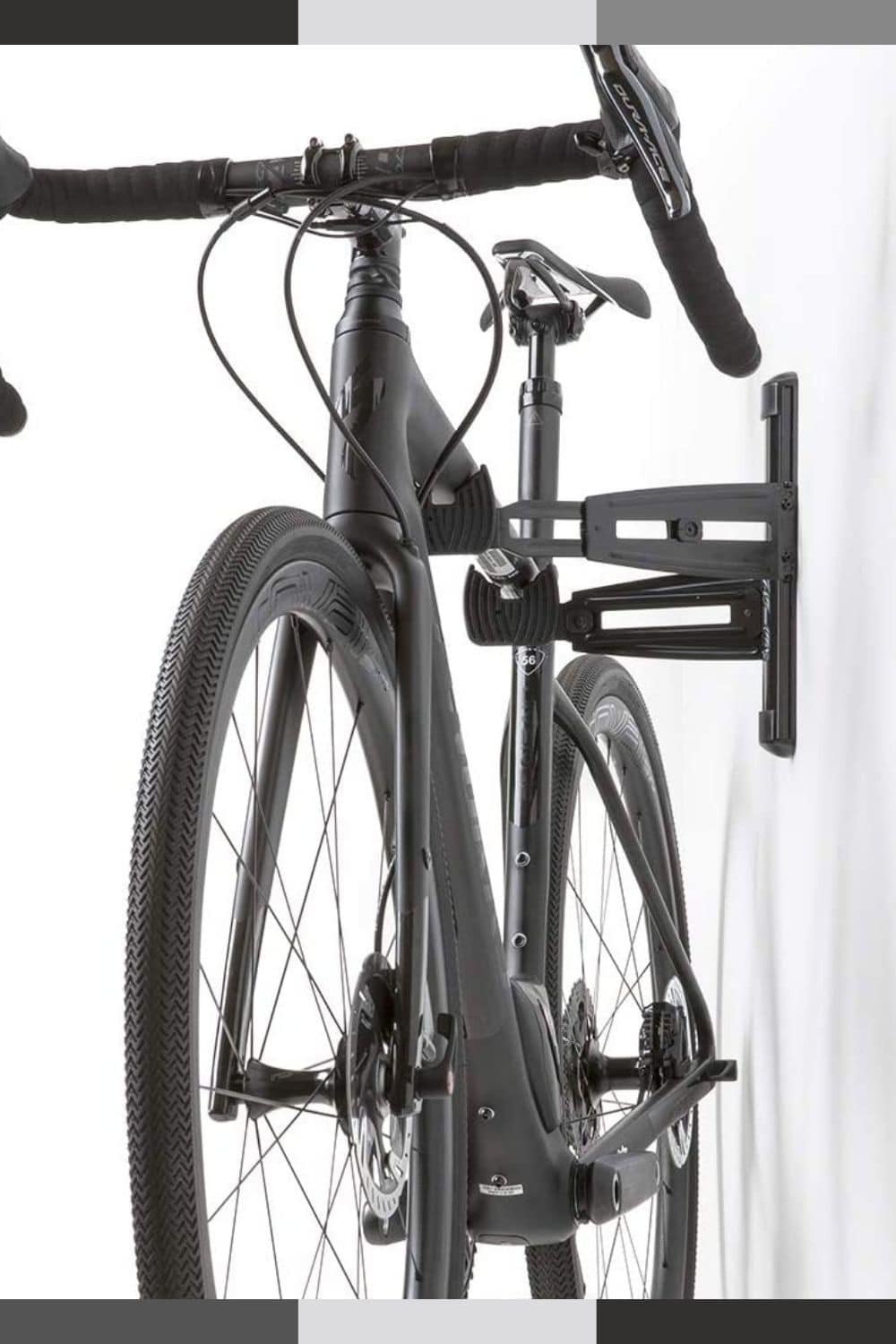 The rack allows you to have customizing moving arms that suit the bike frame. Two arms are customizable and will suit any bike type. However, this might be unnecessary for the flat-top bike.
Pedal Rack for Horizontal Bike Storing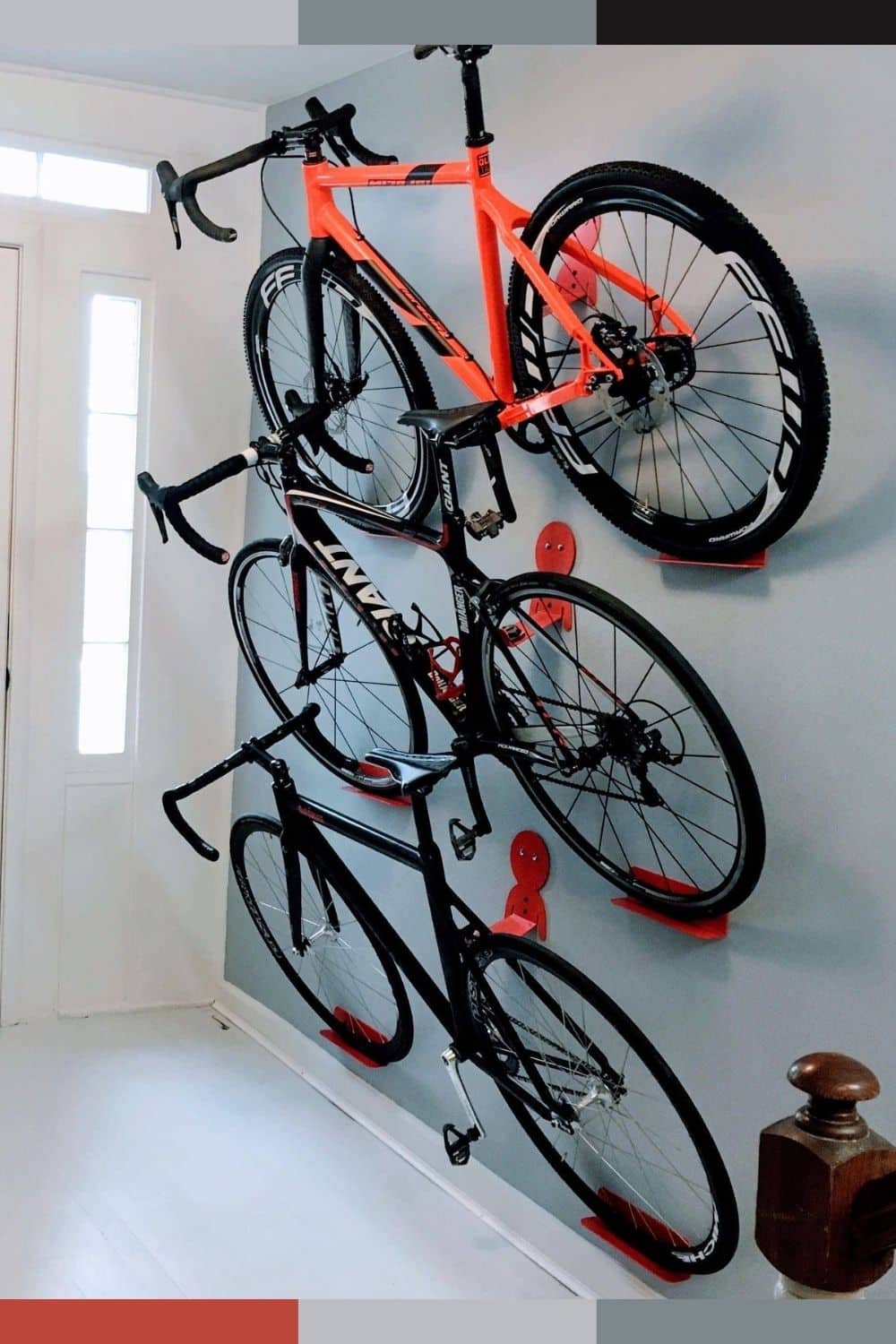 This rack is unique because it hooks the pedals rather than the frame. Your wheels will stay on the shelf support, and the bike will lean on. Further, it might give advantages because it suits any size. After all, the pedals are relatively the same.
The bike will then stay at a 25 degrees angle to the wall that makes you store more bikes on the wall. But, it still has challenges. You might be difficult to take on and off the higher shelf.
5. Indoor Bike Storage Ideas
If you don't want any installation on the wall, you must try a bike storage column or telescoping rack for the bikes. The range between floor and ceiling will be the limitation of the column rack. However, it might take as big as a wall storage area, but the style of the rack will add another tone to your room.
Standing Rack Bike Storage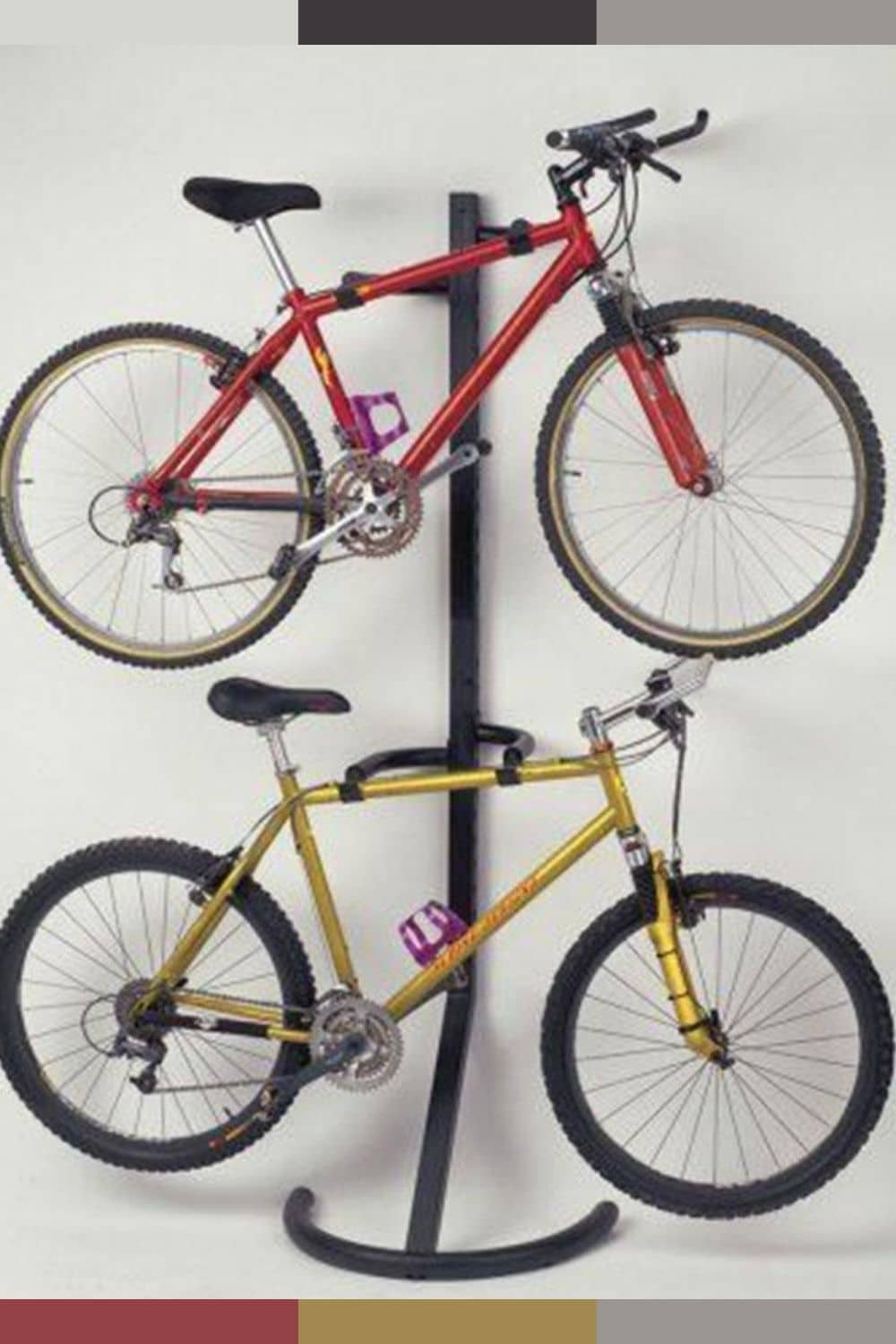 This standing rack can accommodate two bikes. It stands alongside the wall and can hold up to 100 lbs. You can set this in any room so you can save space in the garage.
Further, the rack is easy to assemble and has adjustable arms. So, it can hold many types of bikes. It is complete with rubber that is strong enough to keep all the bikes safe and stable.
Bike Storage Stand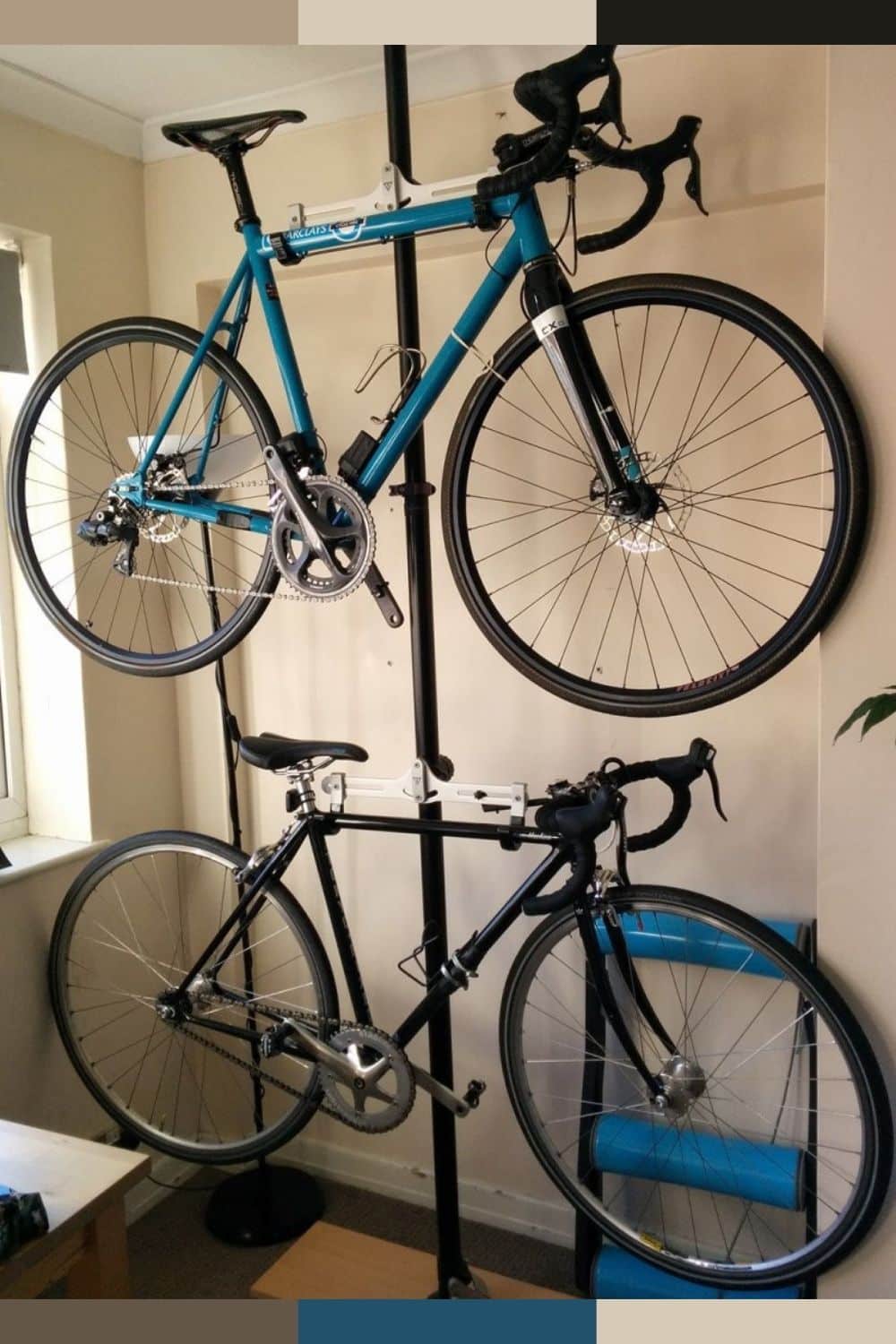 With a sleek and minimalist design, the stand will make your bikes stand out. The stand material is from aluminum which keeps standing from floor to ceiling. Further, your wall will not do any damage, and you don't need to install additional hardware.
Decorative Bike Shelf Storage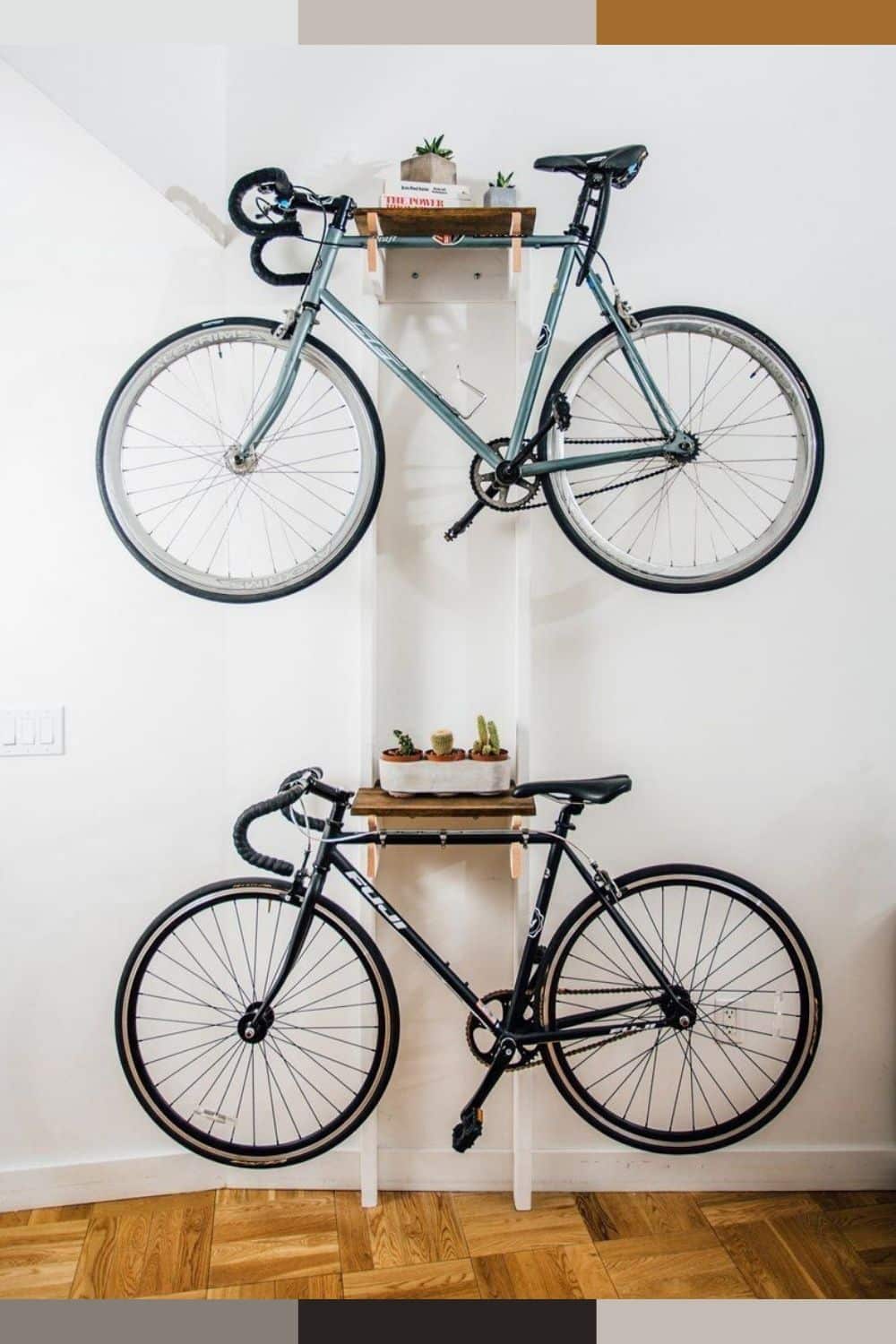 Don't be afraid to put bike storage in your room because you can still make it decorative. With a wooden rack, you make a simple counter. Under it, you can make a holder for the bikes.
Then, adding some plantation or accessories on the counter. Even if it is simple, the bike storage will not be a boring pace anymore.
Single Bike Floor Stand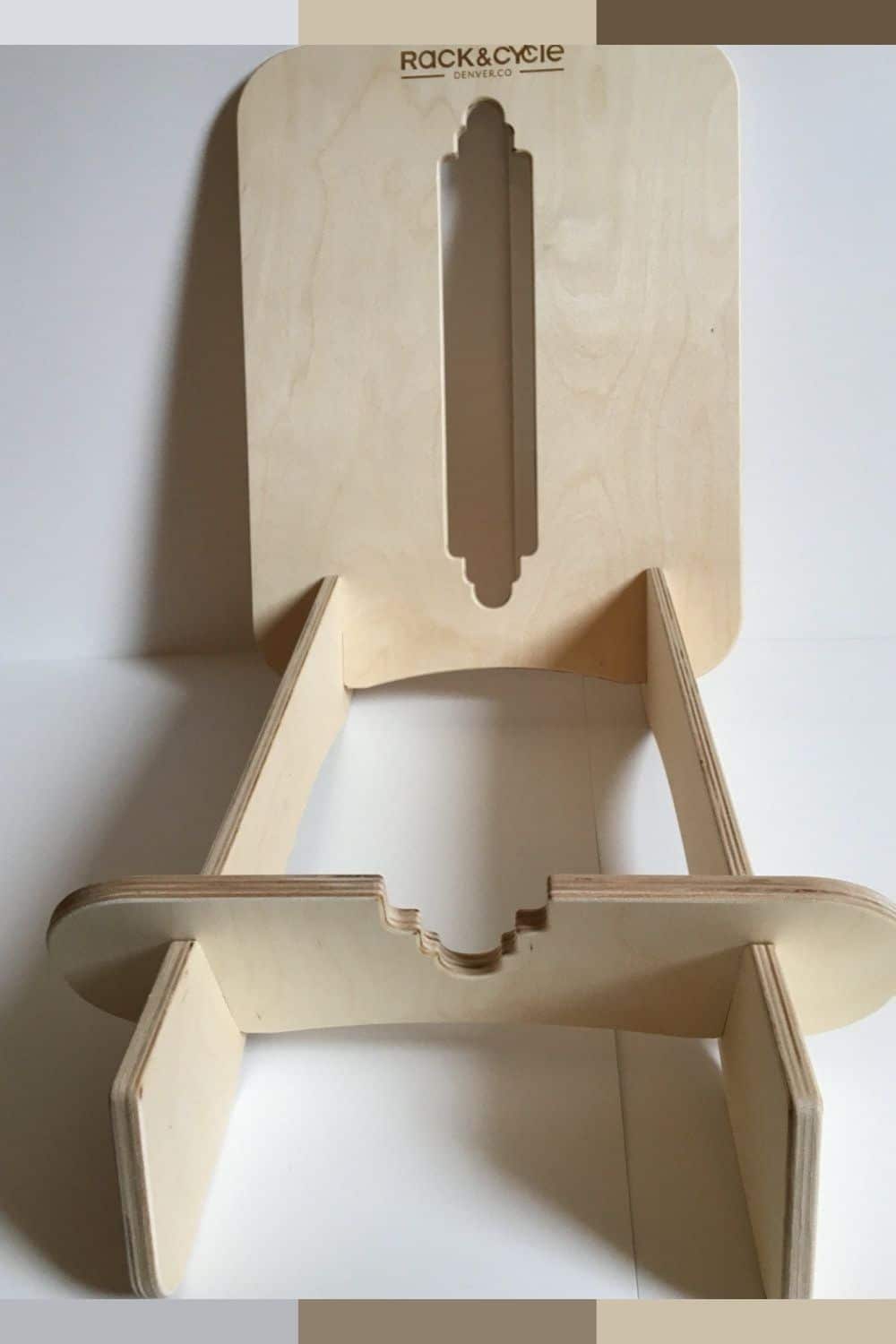 The bike stand just consists of a single wooden item that keeps your bike standing. It can accommodate every type of tire, from the thin wheels to the standard mountain bike wheels.
Modified Plank for Bike Storage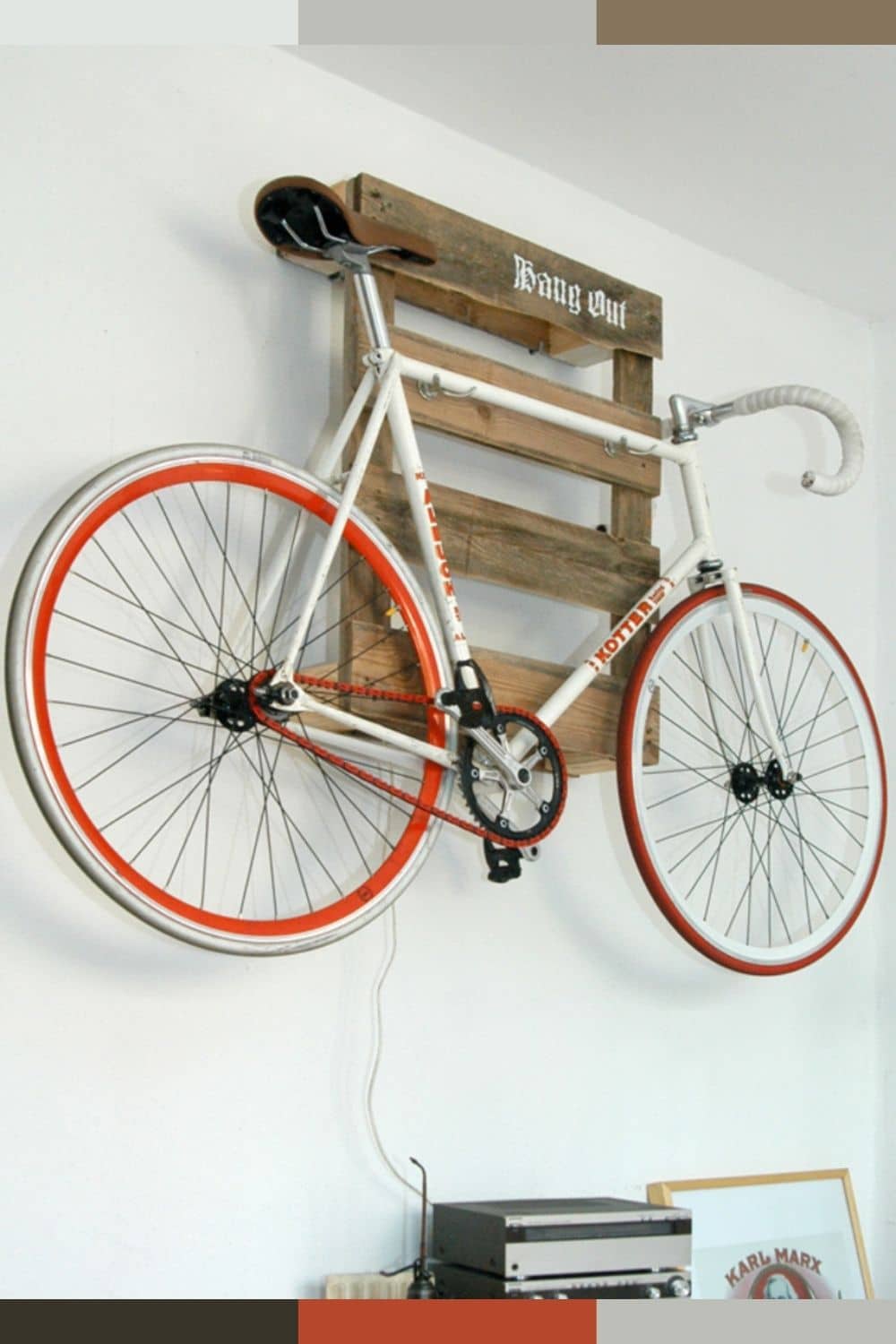 If you have many planks in the garage, just use them as your bike rack. The DIY rack will allow you to have as much storage you want. Further, you also can determine the style of the rack.
6. Outdoor Bike Storage Ideas
If your house doesn't have a garage, you might ask how you store my bike outside? Don't worry because you can use the yard or outdoor space to store the bikes. It is still safe and accessible for you.
Shed Bike Storage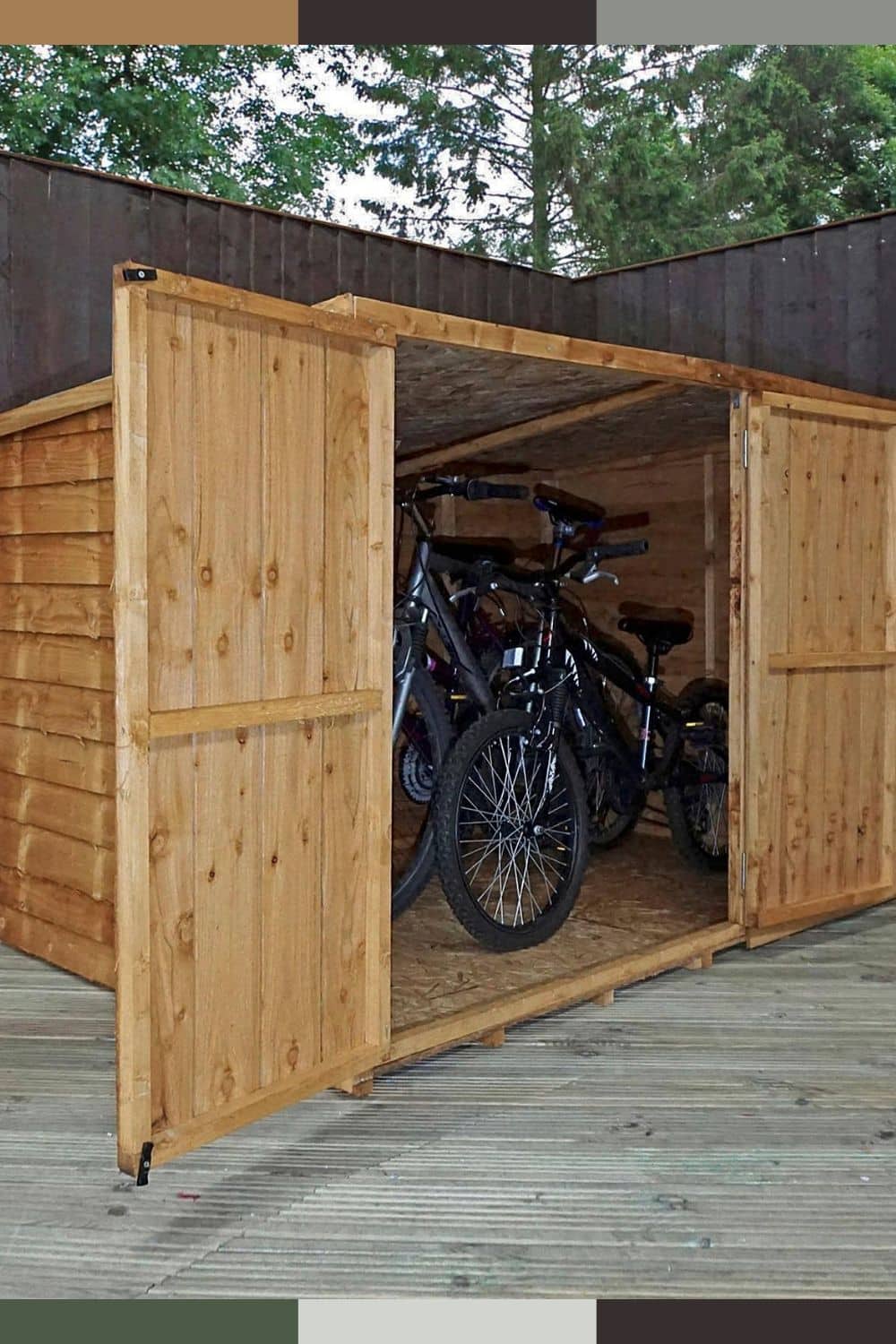 A shed is a common solution for outdoor bike storage. Even if it is from wood, you can add a lock to make it safe. Further, with DIY skills, you can build your bike shed that matches your style. Or, you can still buy the attractive one.
Related: Cowboy Hat Rack Ideas
Tent Bike Storage Ideas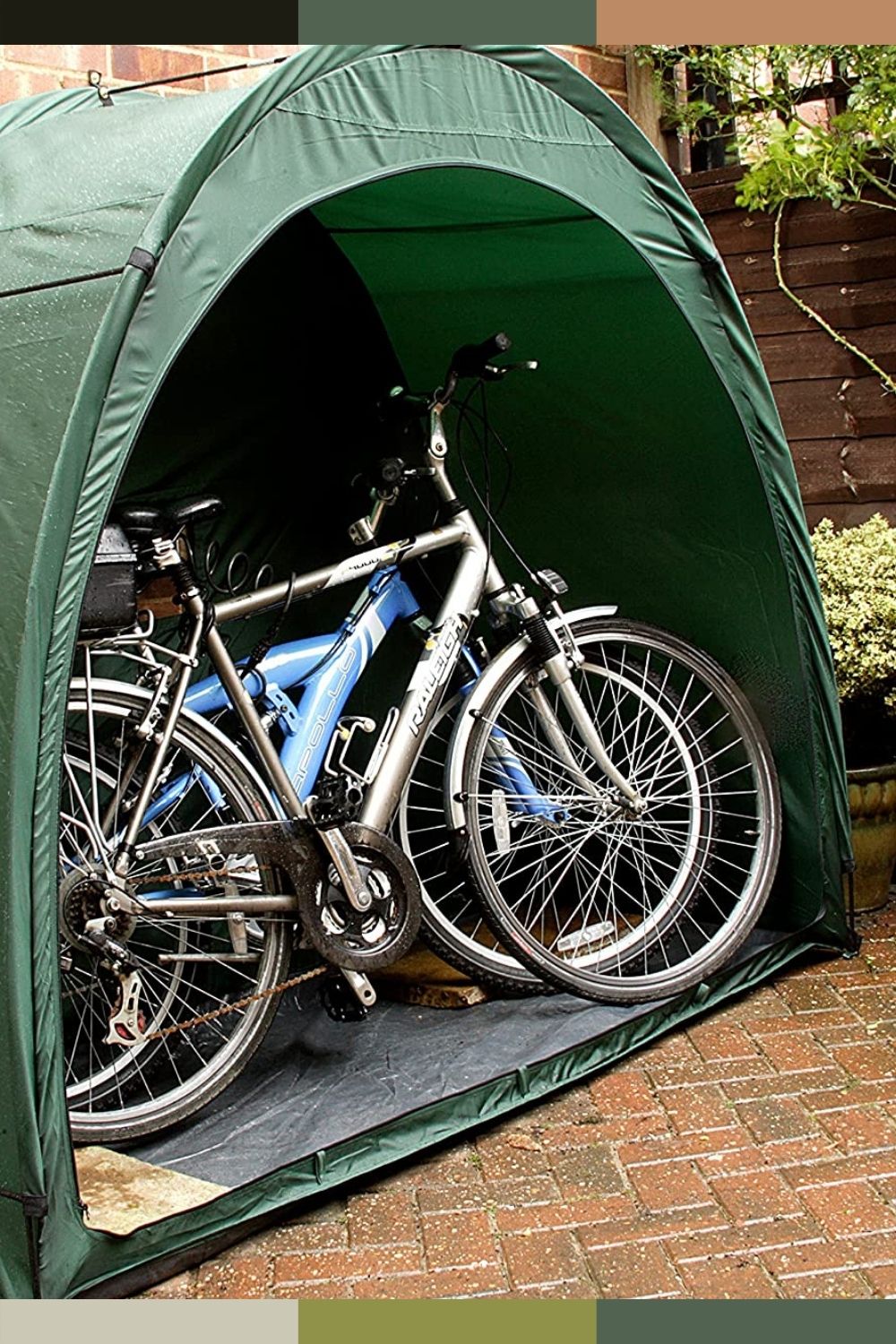 Different from the bike storage shed, the cover is not permanent outside storage. However, it can still manage to give protection to the bikes. For tips, it is better to use a tent that has a lock to the ground rather than only a fabric cover. It is because of the safety reason for more.
Garage Bike Storage Ideas
With plenty of options, it can be confusing to choose the best for the bike storage in the garage. Don't worry; we are here to show some of the best storage for the garage. From the wall rack to the standing storage will help you to make the garage tidy.
The Highland Wall Mounted Bike Rack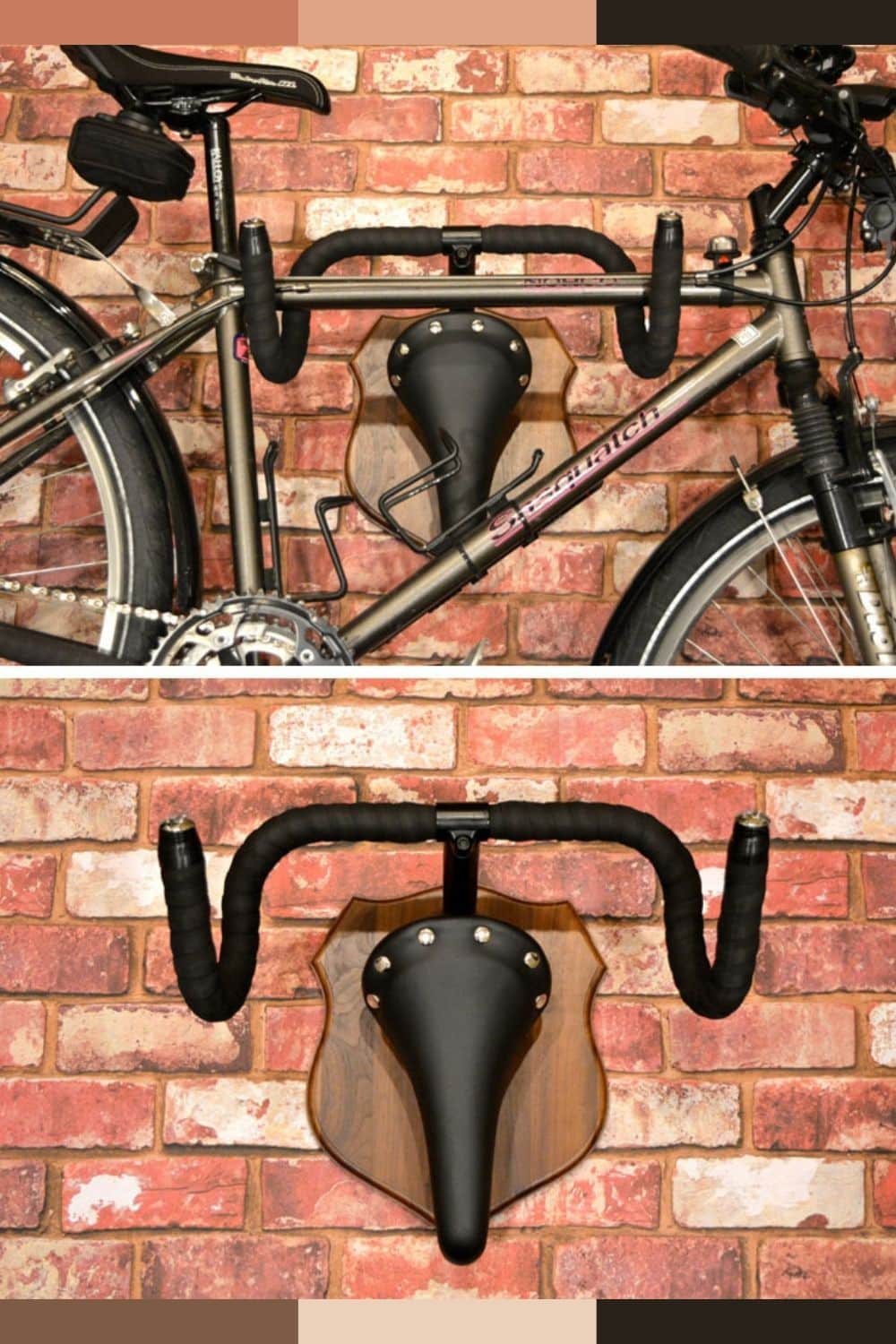 A luxury wall-mounted bike made from hand-crafted. It has the head of long-haired cattle design that can catch the attention first. Actually, it is a bike seat with a handlebar that comes in bullhorn style. Not only stylish, but this rack can hold your bike tight.
Pipe Style Wall-mounted Bike Rack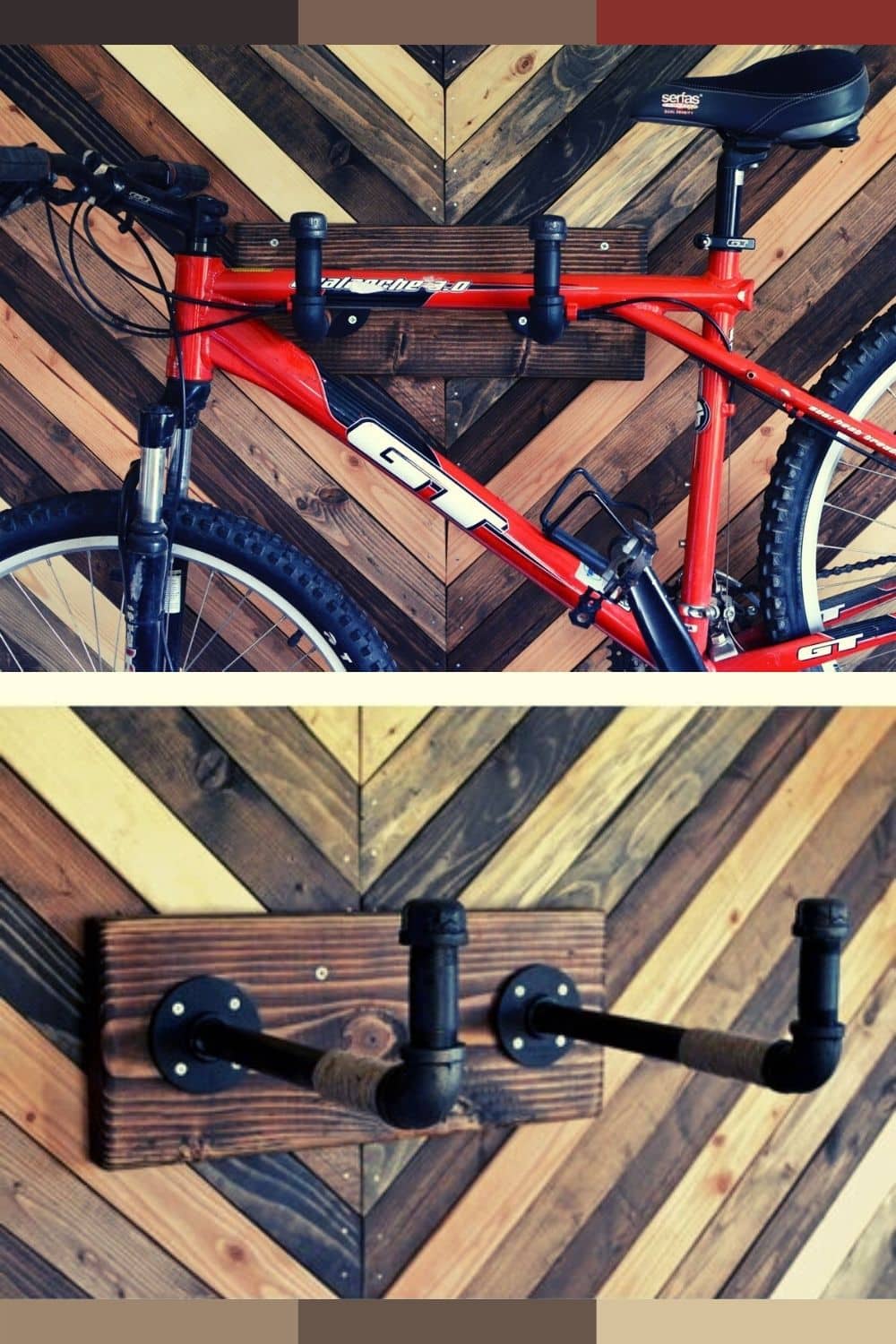 If you are looking for decorative yet functional items, this must be in your garage. A great bike rack that comes from the study iron pipe with real leather on it. Furthermore, the pipe rack suit for every bike type. And, it sets your bike away about 14 inches from the wall.
Upper Wall-mounted Bike Storage Ideas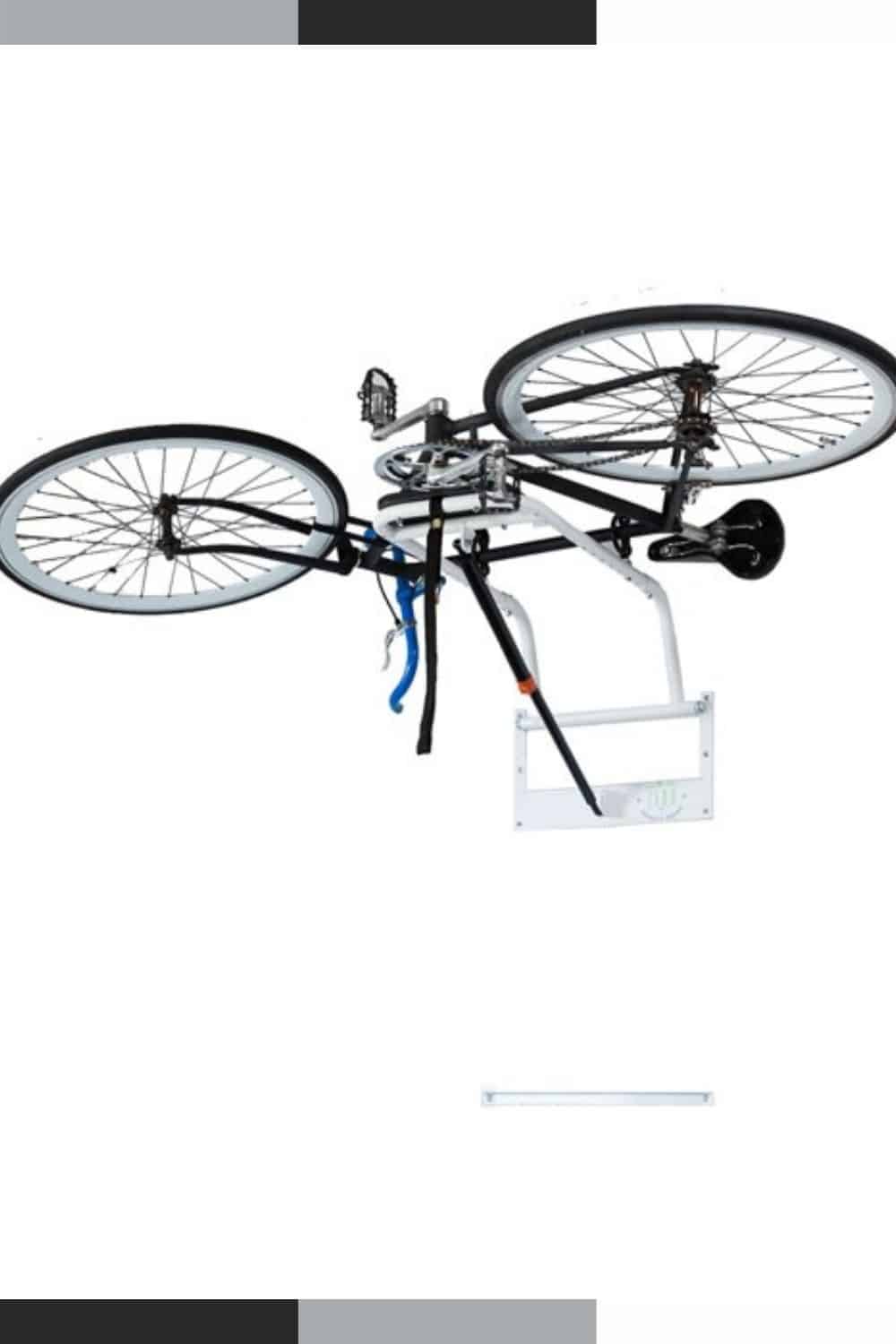 The wall-mounted rack has unique patented gas for helping you to raise and lower the bike. This storage can save your space because it stays horizontally over your head.
Further, the rack can hold up to 50 pounds. This strong storage also helps you to keep the garage clean and safe while loading or unloading the bike.
Swivel Bike Wall Hanger
With vertical wall storage, it can be easy for you to load the bike. Next, this bike hanger also can save garage space because of the small size.
Then, the hanger can take the bike up to 30 kilograms. It is strong enough to hold the bike vertically for a clean and good-looking garage.
Benefits of Garage Bike Storage
Storing the bike in the garage, of course, brings significant benefits to you. You can make sure the bike is safe, and the longevity is on your hand. First, some of the bike's parts will not get damaged if you store them in the garage.
The chain, plastic, and rubber parts will be harmful at a particular temperature. With the garage, you can avoid it. With many rack options, storing bikes in the garage can give a certain tone to the room. Your garage will not look messy, but it becomes neat.
Indoors or Outdoors Bike Storage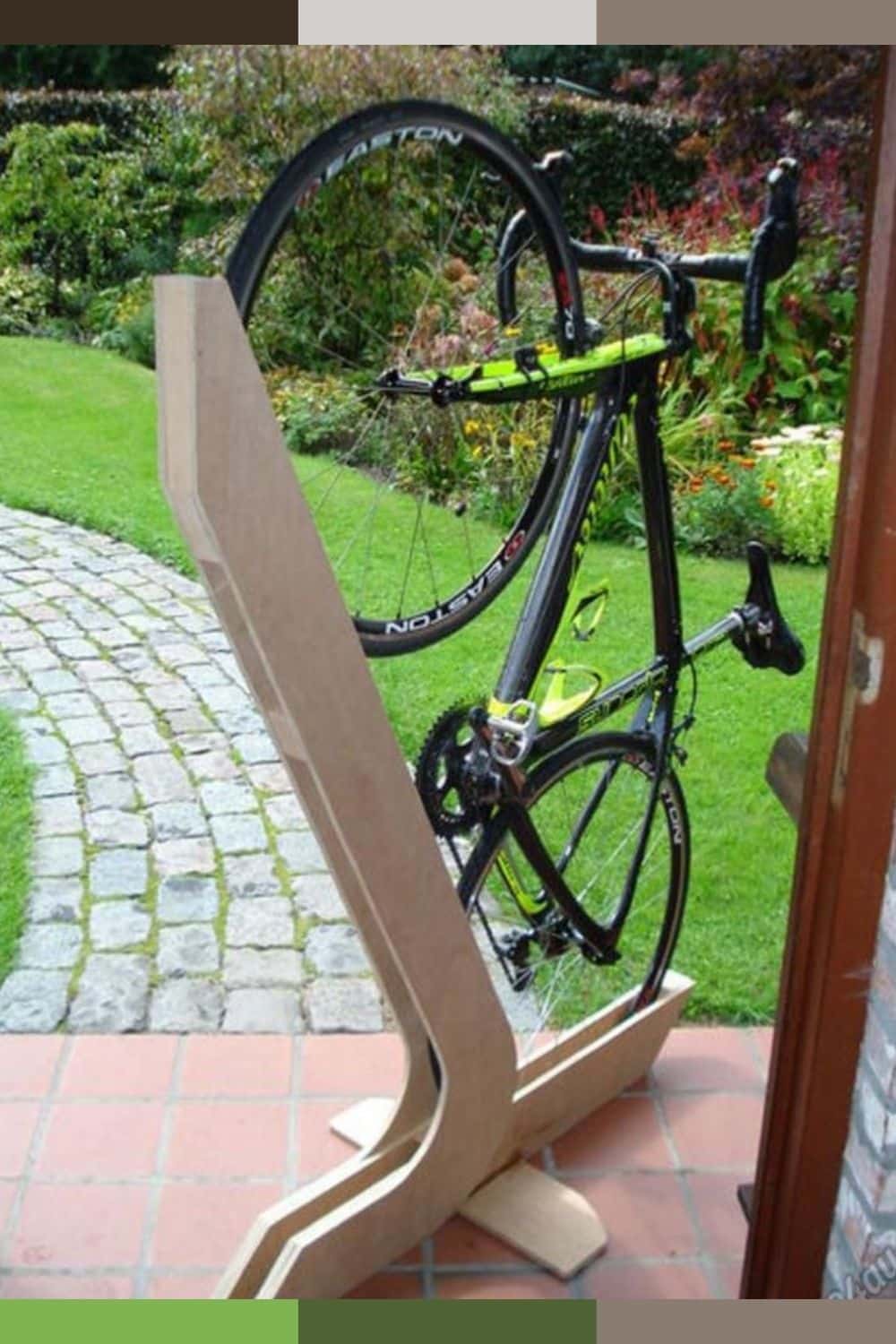 Obviously, you wouldn't want to bring the bike inside your home. The dirt from the bike can mess your room. All the effort to keep the house clean and neat will be useless. Besides, if you want to store bikes outside, you will deal with security issues. What are the best ways to store a bike?
Nowadays, keeping the bike indoor will be fun and give an additional tone style to your house. It is because the storage comes in various ways. For outdoor, you can build the shed or buy a bike tent to keep it safe. Having a tent is one of simple outdoor bike storage. However, all the choice depends on your needs.
How will you secure your bikes in the storage space?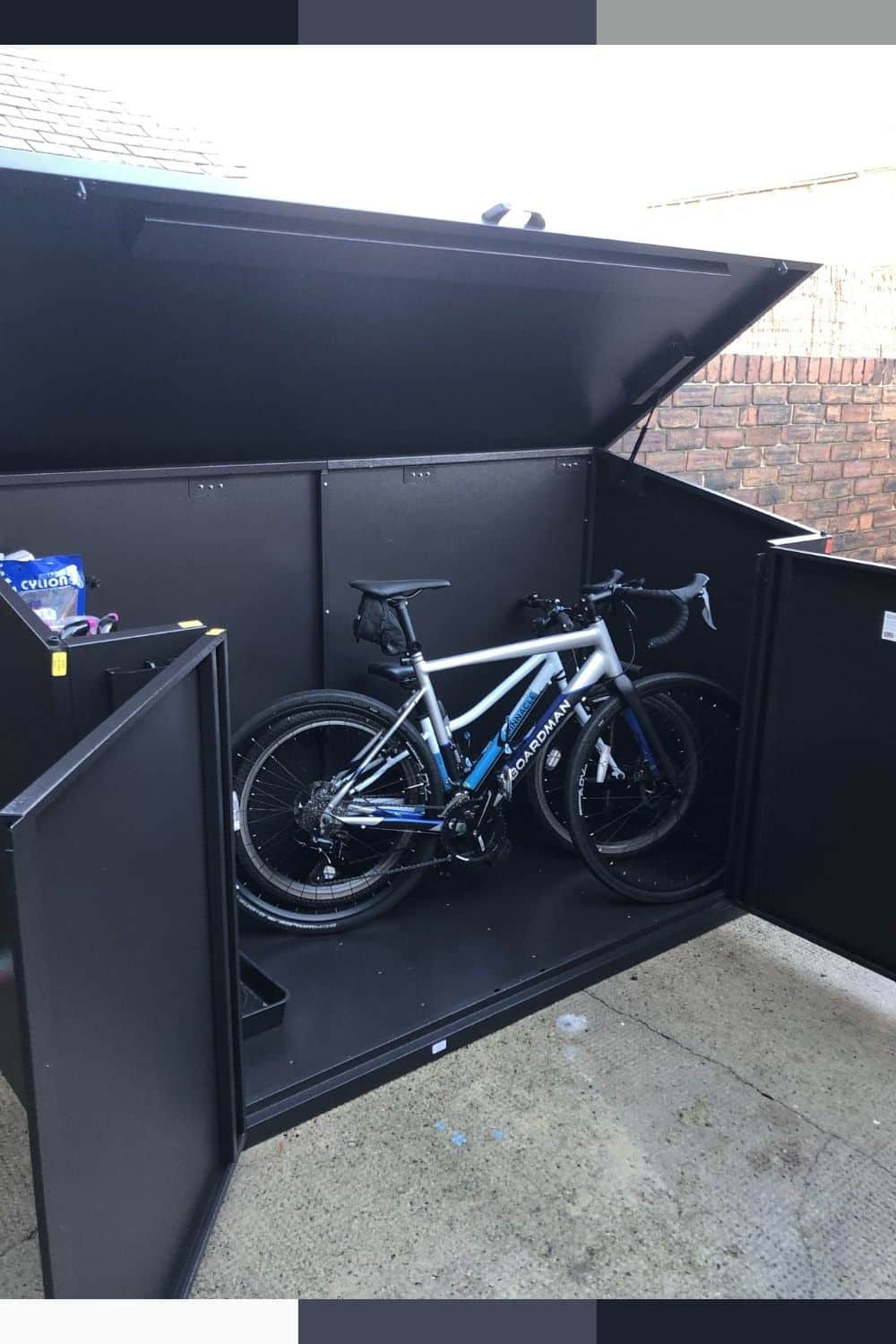 Clearly, your bike can still lose even if you store it inside the home. The outdoor storage has more possibility to be stolen. So, how to make sure it will be safe?
There are plenty of options to store the bike for safety needs. You can keep it inside the house, flat, or garage can give me more safety. With various options of the rack and locking, it will add a level of security.
Then, storing it in the shed, tent or let it outside in the back garden will be risky. A place that is accessible by others is less safe. However, you can add a security system like locked to make it a bit safe.
Tips For Kids Bike Storage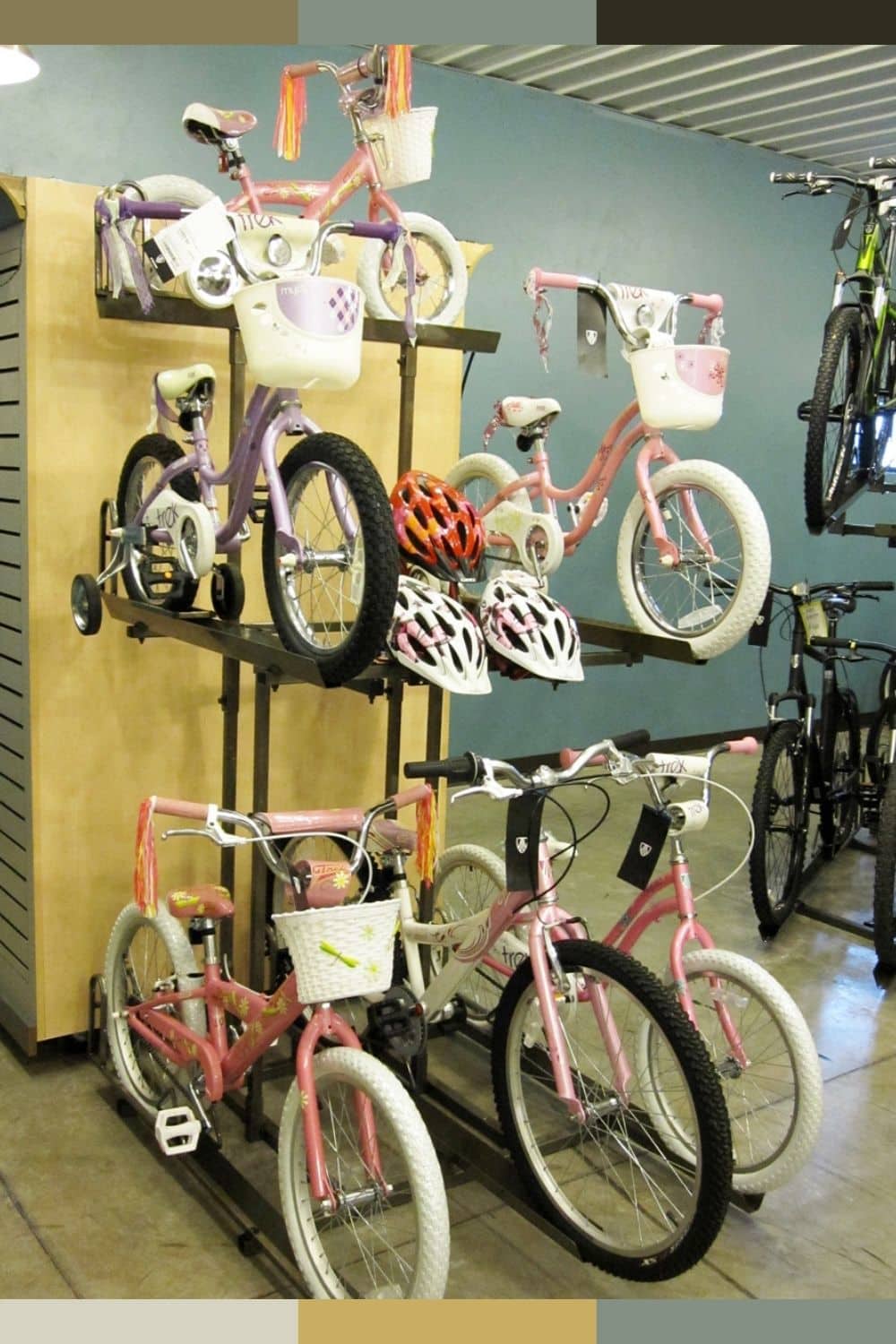 It is a common view to see kids riding the bike. It can train the motoric system of their body. For storing, how do we set it for them?
For kids' bikes, the most important thing is to make them accessible. You can train them to access the bike without parents so that you can choose a bike rack or flooring storage for the kids.
Then, having a stand for balancing the bike will help kids the most. You can use a simple wooden stand for them. Furthermore, this way also keeps the bike out of scratching.
Related: Shoe Sheves Ideas
Conclusion
In choosing bike storage, it is better to consider the balance of safety and practical things. Then, the number of bikes you have will also determine the right type of bike storage. You must accommodate all the bikes in a rack or storage. However, all the bike storage here can be the best option and add decorative things for your house. It is worth having bike storage at home.