Coffee Table Decor Ideas – With perfect decor, a coffee table can be a focal point of your small home. Where a mix of flowers, books, antiques, and trays could be a dateless way to vogue a coffee table, we don't have reasons not to make some experiments with glass table to decor our small home.
Following, we are suggesting 8 amazing coffee table decor ideas to use with some extra flair.
Showcase Accessories with a Glass- Topped-Table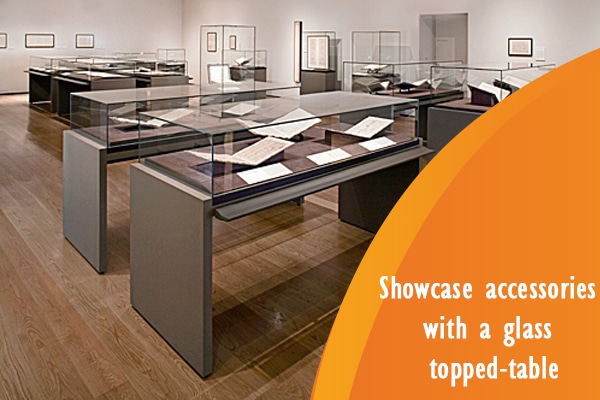 If you are an accessories person and want to showcase your taste in accessories, a coffee table with a glass top can help you with that. Without taking much space, it keeps the focus on your displayed items.
There are different coffee table styles available that may best compliment your accessories collection like a shaker glass table, cottage coffee tables, industrial coffee tables, mid-century coffee table, parson's coffee table, modern coffee table, and contemporary coffee tables.
Try Out one Statement Piece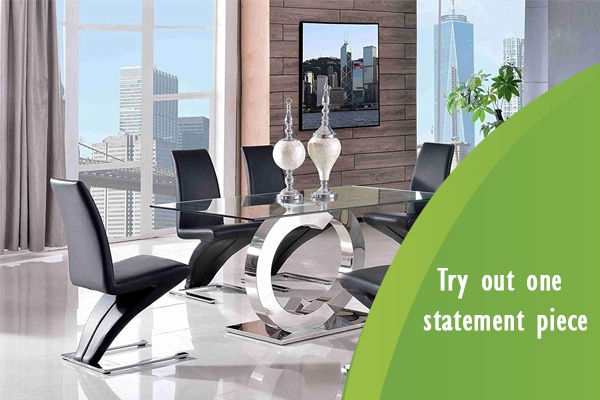 If you do not like the mixture of objects, books, antiques, and trays then you should go for one statement piece that may reflect your decor taste.
It is no wonder that trays are an excellent way to beautifully organize a table top. Moreover, a wicker tray can be used to serve drinks and food whenever needed. A vase with your favorite flowers or an antique piece of sculptural is all you need to create a perfect living room space especially when the room is small in size or heavy furniture is used.
You can also use handmade DIY art piece of your own for instance a handmade nautical vase, cork lamp, tissue box cover, fancy wool coaster, and other hand dyed stuff.
Related: Upcycling Ideas
Add a Sentimental Item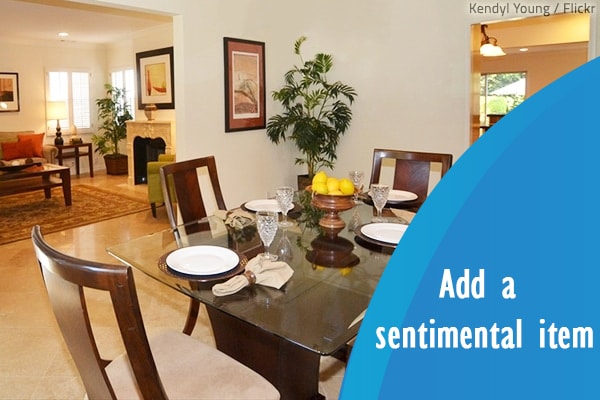 Adding a sentimental element to your coffee table decor in the living room or any other family gathering space creates a special touch. It is considered to be a conversation starter which is necessary for every interior decor. A family photo in a beautiful frame can do the magic for you. Re-purpose your old material like adding your grandparent's favorite art pieces and personal stuff in home decor. Place them in such an area where the family gathers for a while like in lounge or living room.
Add Some Mysterious Touch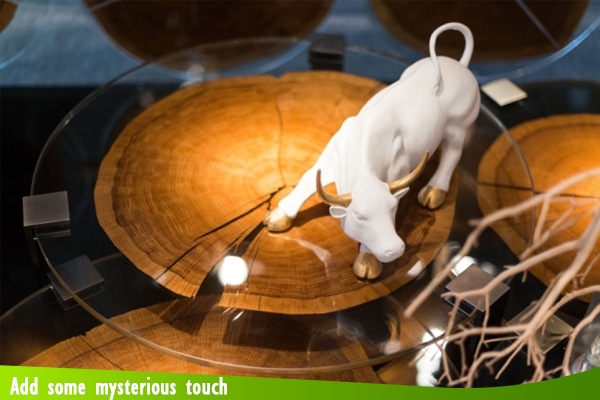 A brass cloche is a single statement piece of coffee table decor for living rooms. It reflects your interesting decor taste and your mysterious personality. If your table is the tiny one, a single plate or artisan bowl is enough to elevate it especially when the rest of the room is over decorated and heavy furniture has been used. Display your collection wisely. Do not overdo because it may give a messy look.
Single Color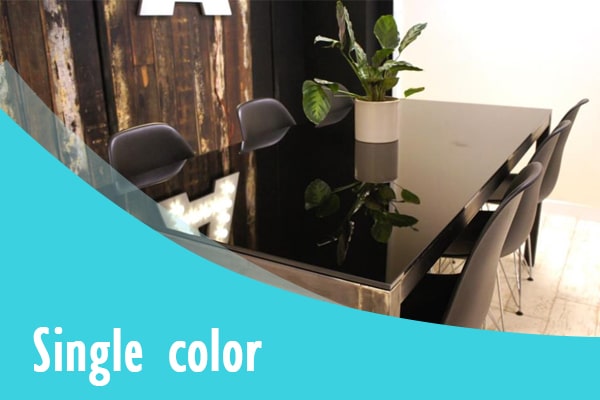 Using multiple colors can create a visual mess. A single color of vase, flowers, book covers, and coffee table adds a touch of decency. White is a color that is never out of fashion when we talk about interior decor. A simple black or white traditional stone table with a simple white bowl with white flowers can give a fancy look to your living area. Choosing a colorful base can allow the table to shine for itself. Woodland shades, refreshing coral, hunter greens, and saturated hues, pale pink, misty blue and optimistic yellow are the interior color trends in 2019.
Light it up & Display your Art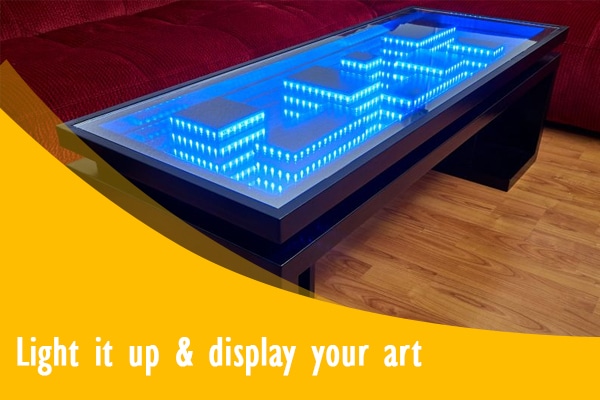 Putting some candles over the glass coffee tables create a glamorous harmony. It gives a feel of comfort and romance with scented candles in your living space. Low hanging lights over the coffee table can also be used instead of table candles. To keep the vibe of family room cozy, use some feathery arrangements by drawing the eye up to the art placed work. Place some art pieces on the coffee table to draw attention. Mini sculpture and decorative seashell can be a good art choice. While staying on theme, bring some nautical decor to your coffee table.
Choose a Statement Table like Tri-Level Coffee Table Style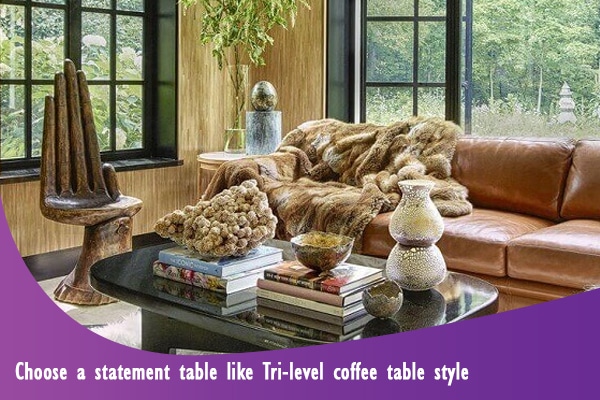 Create a level of interest by using a tri-level coffee table in the living room. This is a new trend in the interior industry and becoming everyone's first choice when it comes to a coffee table. It creates a modern decor vibe while taking less visual space. When you choose a table that makes the statement on its own then whatever you place on it just compliment it beautifully as a bonus. Coffee tables are not just used to place the decorative accessories like antiques and other objects but you can also use its underneath space for throw pillows.
Small Round Coffee Table and an Ottoman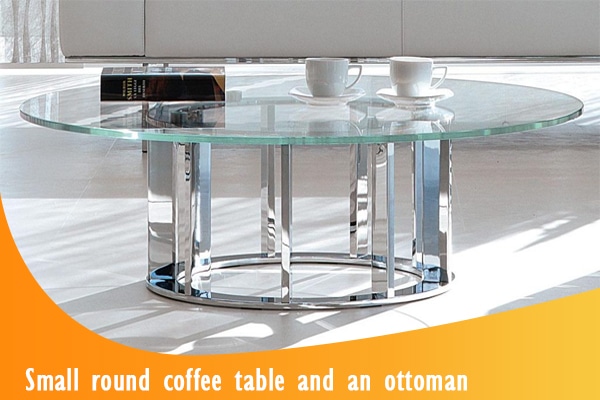 Do not stop at just one or two coffee tables rather stagger three or four tiny coffee tables in your living room by different accent for each one of them. Makeover your ottoman table by placing a tray on the top of it. It will create a perfect space for decorating flowers, candles; child-friendly flowers give an instant styling plus refreshing vibe. Mix some flowers, books and other personal objects to create an eclectic touch. As an alternative to flowers, a table topped with a vase filled with lush greenery can also add charm to the living room.
Slat Slab Coffee Table is a Perfect Height Table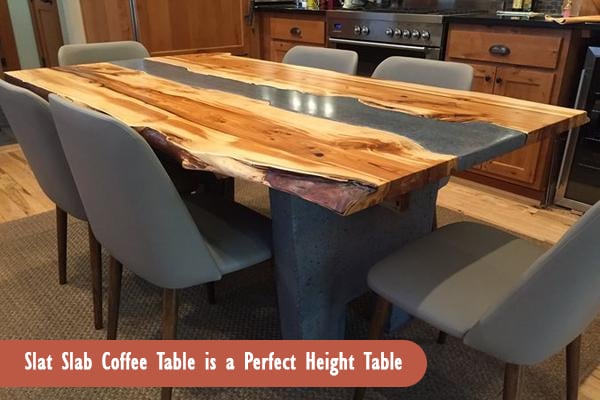 They are perfect for playing board games or for reading a book in a comfortable position for a gaming room. If there are kids in the family then a coffee table selection calls for a bit of attention and assembly. Make sure that the coffee table that you use in your living area is child-friendly especially an oval shaped coffee table is the best choice in such cases.
A coffee table is essential interior purchase which can serve multiple purposes, therefore, a rustic coffee table is the best choice when it comes to the interior decor. Hope that now you will be able to select the best coffee table for your home and must have multiple coffee table decor ideas in your mind to decorate your small home beautifully.