Colorful Foliage Ideas – A beautiful garden is not only focused on the blossoms. Foliage plants can also show its fascinating details. Moreover, If the flower doesn't bloom, we still have a chance to see the beautiful foliage.
Some plants appeared in bold and colorful foliage, including blue, yellow, red, and other color combinations. However, there are also attractive plants with dark foliage, such as burgundy, purple, or maroon. Its aesthetic value makes many gardeners interested to adopt it to their garden.
Besides the color combinations, ones have to pay attention to its details and how it should grow. Therefore, it is essential to get more information to add some beautiful and best quality foliage plants to your house and garden.
Multi-Colored Foliage Plants List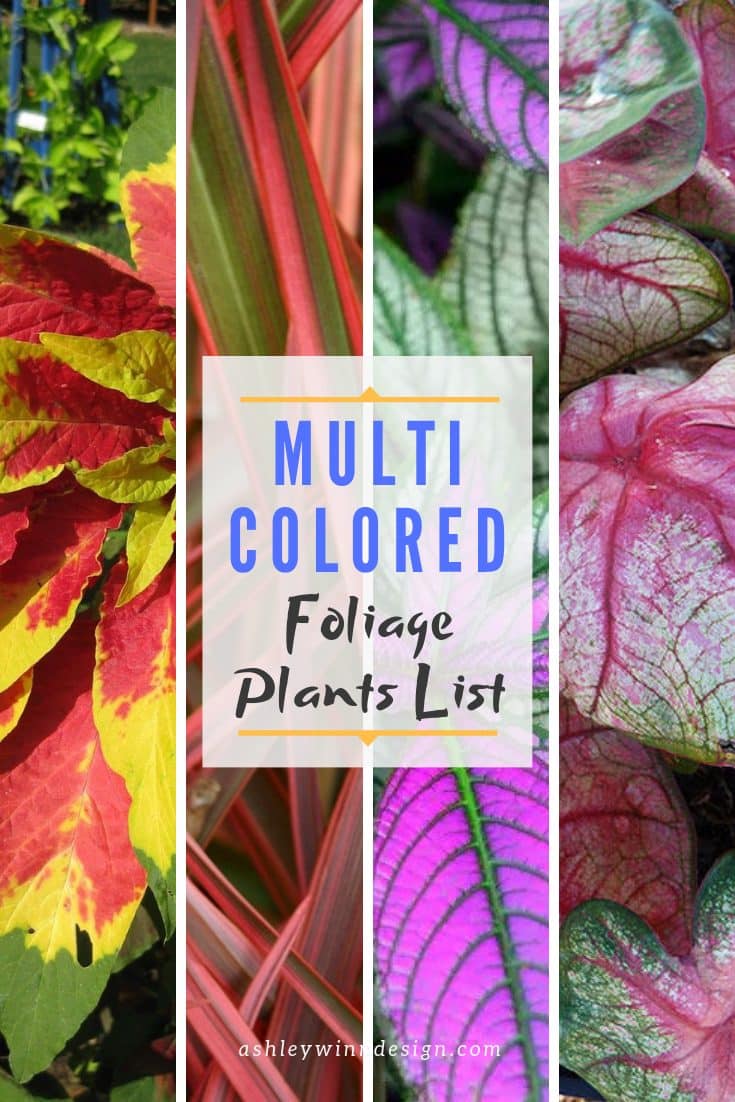 Nature gives us so many valuable things, including its aesthetic. Still, natural beauty will not exhaust the view and the atmosphere. We can find it around easily by looking at the plants whether in a big garden or small containers.
Foliage plants have its beauty. Usually, it appeared in bold, dark, or combination colors and often grew to decorate a garden or a house. Therefore, these are the list of multi colored leaf plants to inspire your choice in choosing the artistic foliage plants.
Tropical Caladium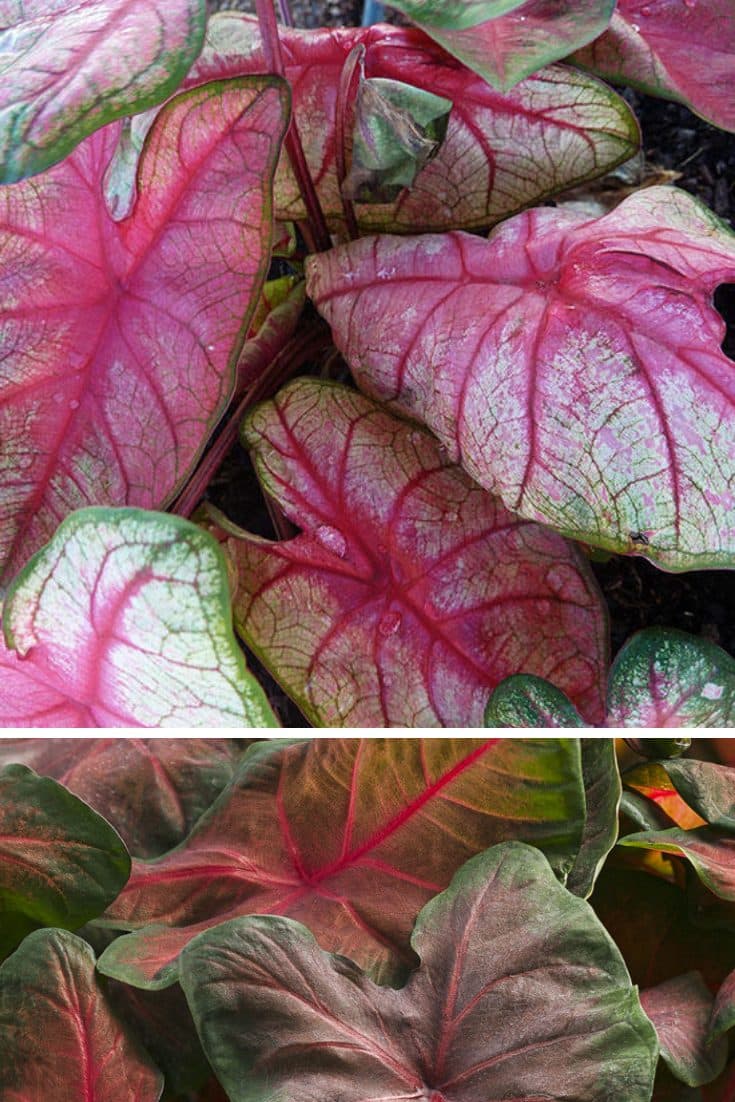 Started from early summer to winter caladium shows a fantastic tropical foliage look. Also known as elephant ears, this flowering plant growth varies from 18-24 inches tall for standard size and 8-12 inches tall for dwarf size.
Moreover, with multiple shape and colors, caladium becomes a favorite choice for shady garden containers.
Canna Lily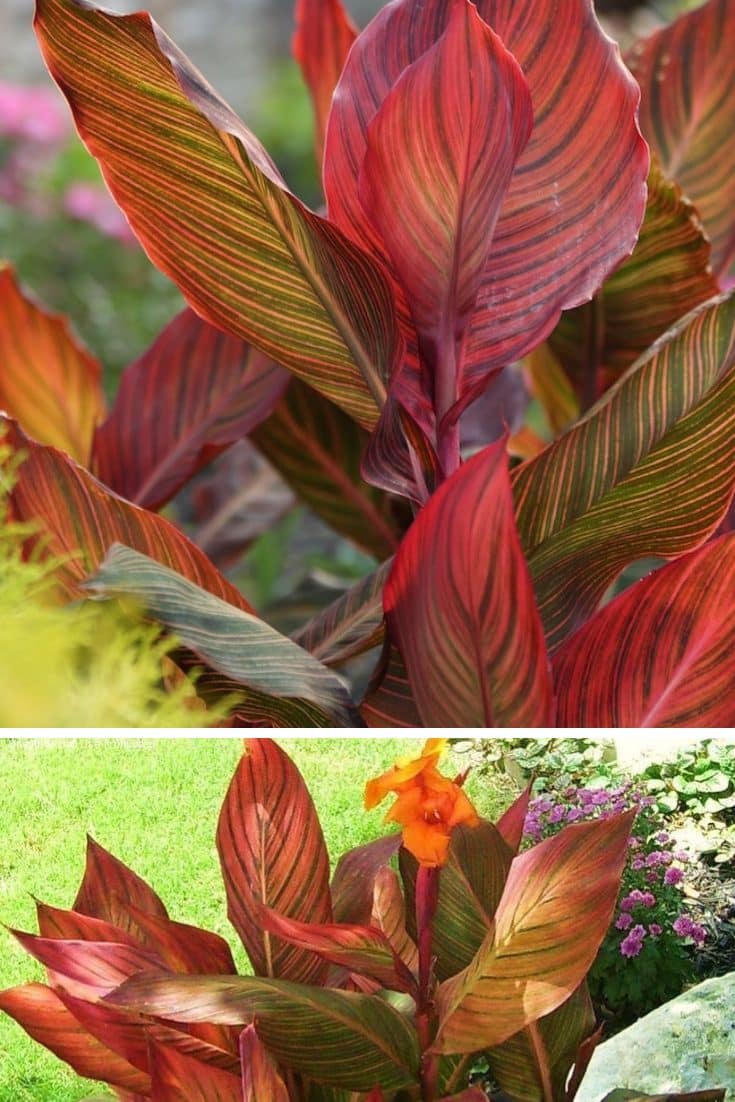 Canna known as canna lily is a large-flower garden plant. Its large leaves and colors are perfect for your garden. Also, this tropical plant grows in multiple colors such as bronze, green, black, striped foliage, and diversified.
Additionally, there are some other colors which still in development such as pink, red, orange, and yellow. Unlike caladium, canna preferred to grow in the hot and sunny side of the garden.
Coralbells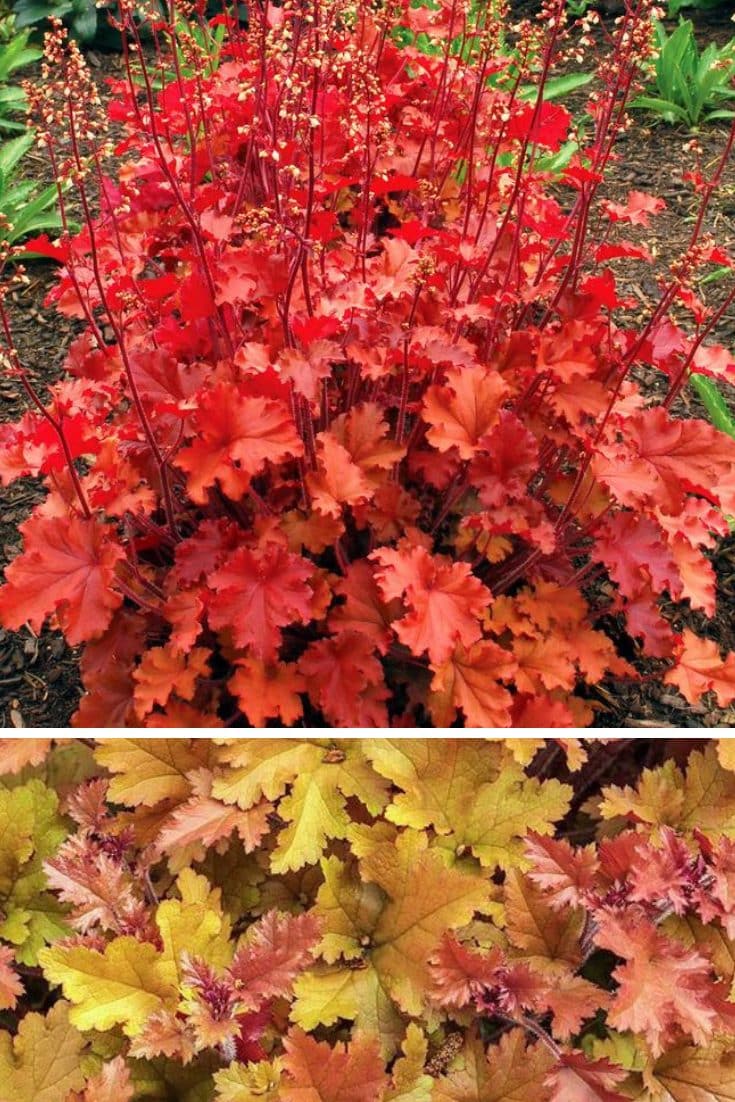 Scientifically known as heuchera, coralbells grows in zones 4-9. Generally, it can develop in any amount of sun with a suitable amount of water. There are many variations of its leaves including red, green, purple, silver, bronze, chartreuse, speckled, splotched, and veined.
Besides, its small flowers come in a few different colors such as white, pink, and red. Hence, this plant is an excellent addition to gardening.
Alexander's Loosestrife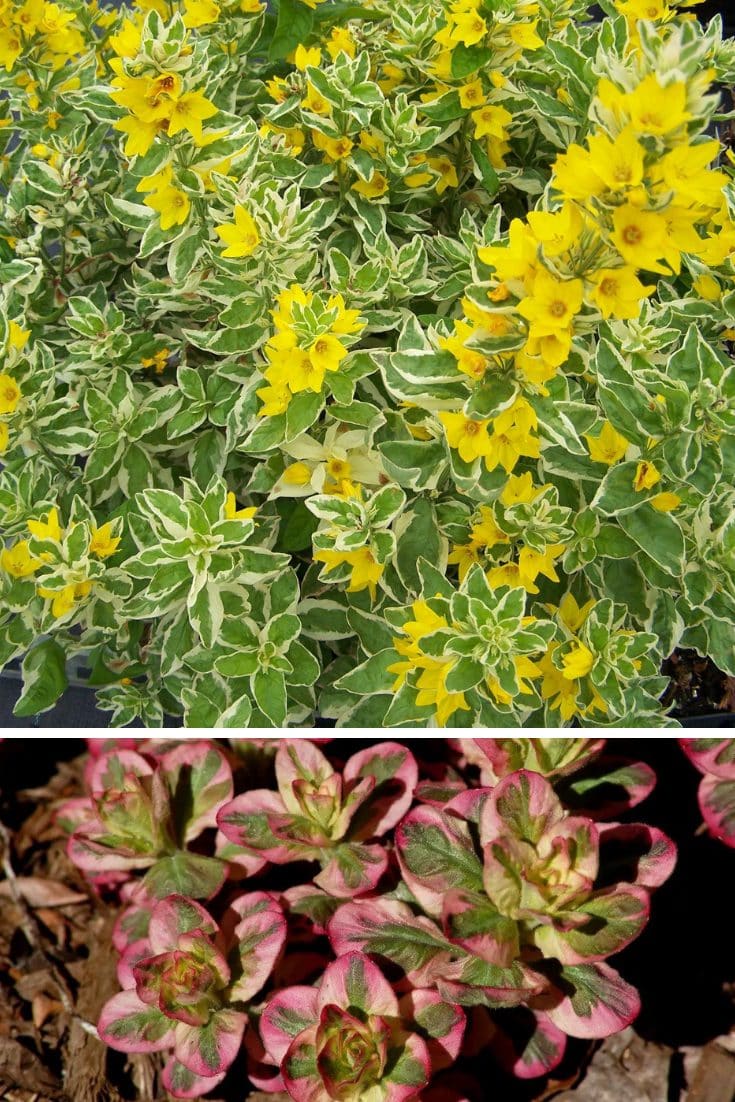 Commonly known as Alexander's loosestrife, this plant also called Yellow loosestrife or Lysimachia punctata. This perennial plant has tremendous ornamental value and golden yellow flowers. During the first bloom, Its yellow flower foliage turned to white and pink in late spring or early summer. While in spring, its leaves turned to pink and green when it first emerges.
Variegated Dalmatian Iris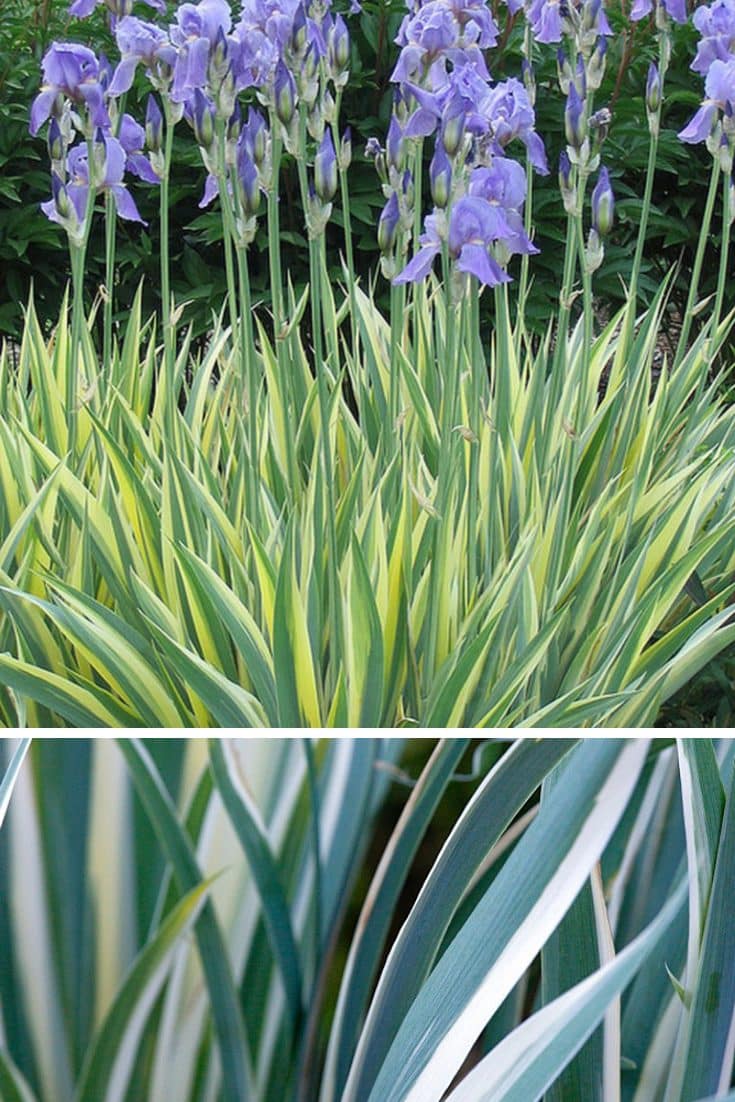 Grow in a unique shape; its sword-like leaves have silvery-white and grey-green striped. Moreover, this two-tone dalmatian Iris consists of scented purple flowers, and it stays through fall and winter. Its excellent color contrast is also perfect for a cottage garden, city garden, coastal garden, and borders.

Variegated Columbine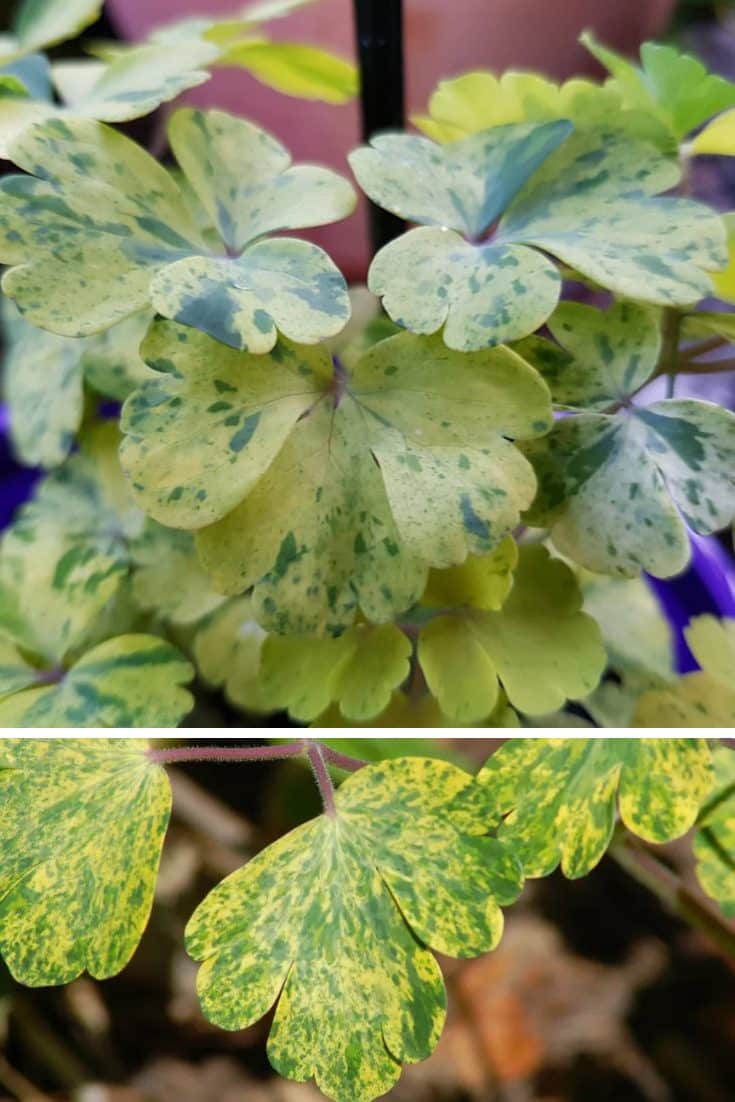 In discussing Colorful Foliage Ideas, Columbine is one of the most popular perennials. It has beautiful foliage which grows in a clover-like shape and lovely flowers. Besides, the flowers come in many colors variations such as red, yellow, blue, white, purple, or pink blossoms. Usually, this plant can grow until 2 feet height and taller while in full bloom. Furthermore, Columbine blooms in late spring to early summer.

Tricolor Sage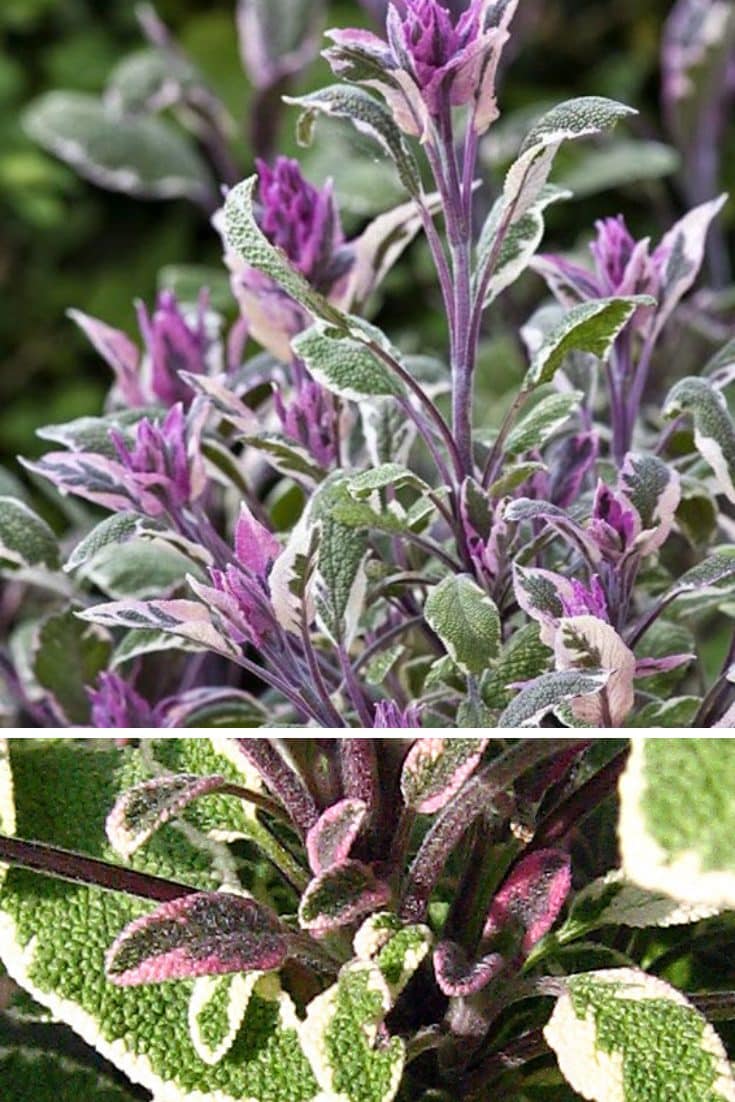 Based on its name, Tricolor sage or Salvia officinalis tricolor displays in three colors including green, white, and purple. It has the lavender-blue flower spikes which appear in the summer. Thus, this plant is ideal for herb garden, borders, and containers.
Roseo-Marginata European Beech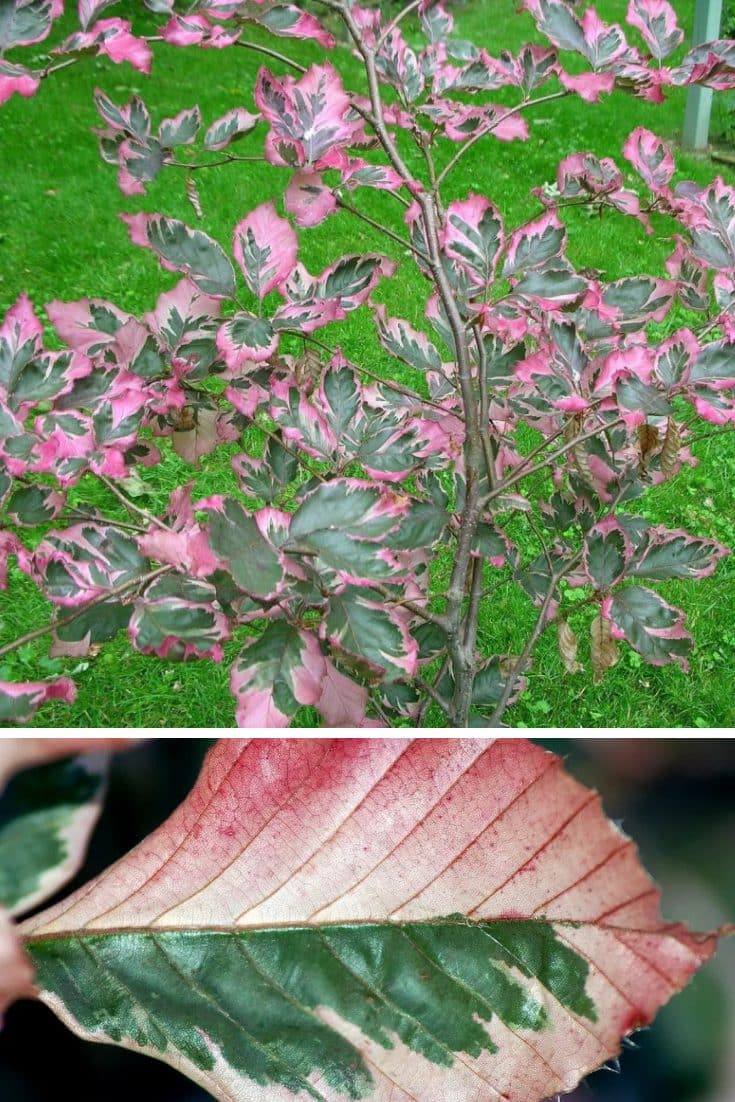 Also known as Tricolor beech, this plant has variegated leaves that come in many shades of pink, white, and green. In the fall, it turns to bronze. Additionally, the leaves have a wavy and oval shape. Also, this plant can grow slowly and reach its mature size around 40 feet tall and 30 feet wide.
Related : Rose Garden Design
Foamy Bells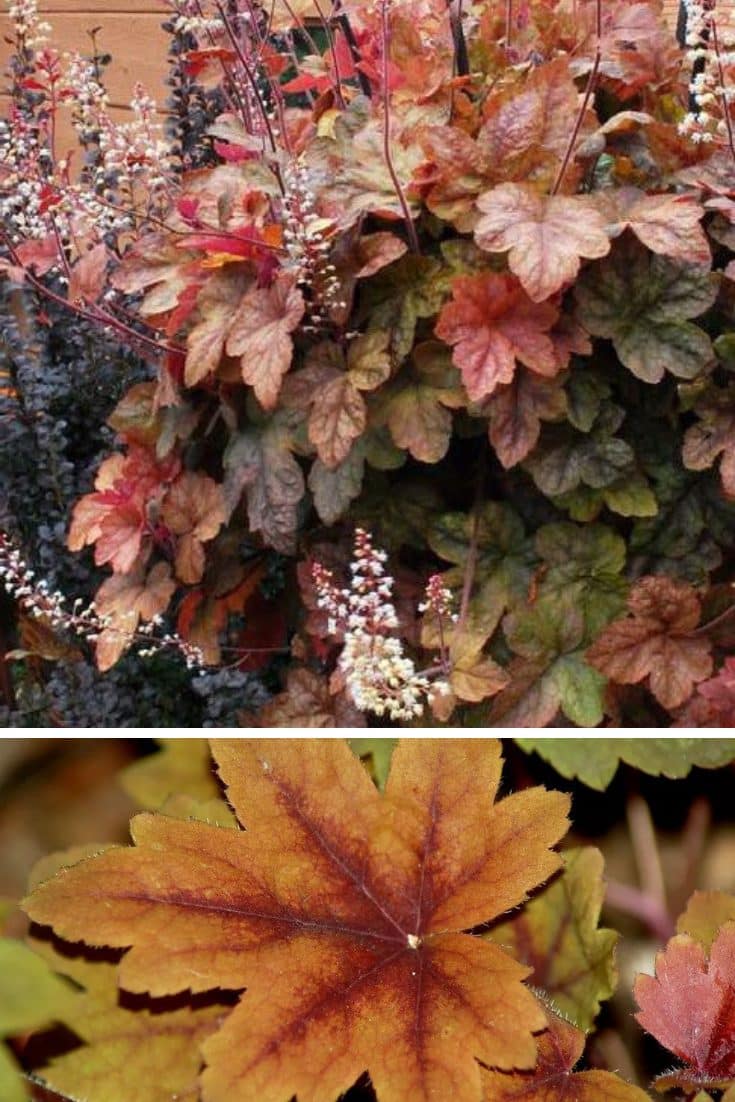 Foamy bells or Heucherella sweet tea will give a classic look for your garden and containers. Besides the flowers, Its best feature is the leaves which comes in golden or warm-tea color tones. Moreover, this perennial foliage has a dark center and a lighter color on the perimeter. It darkened in the summer and lightened again in the fall.
Ornamental Ribbon Grass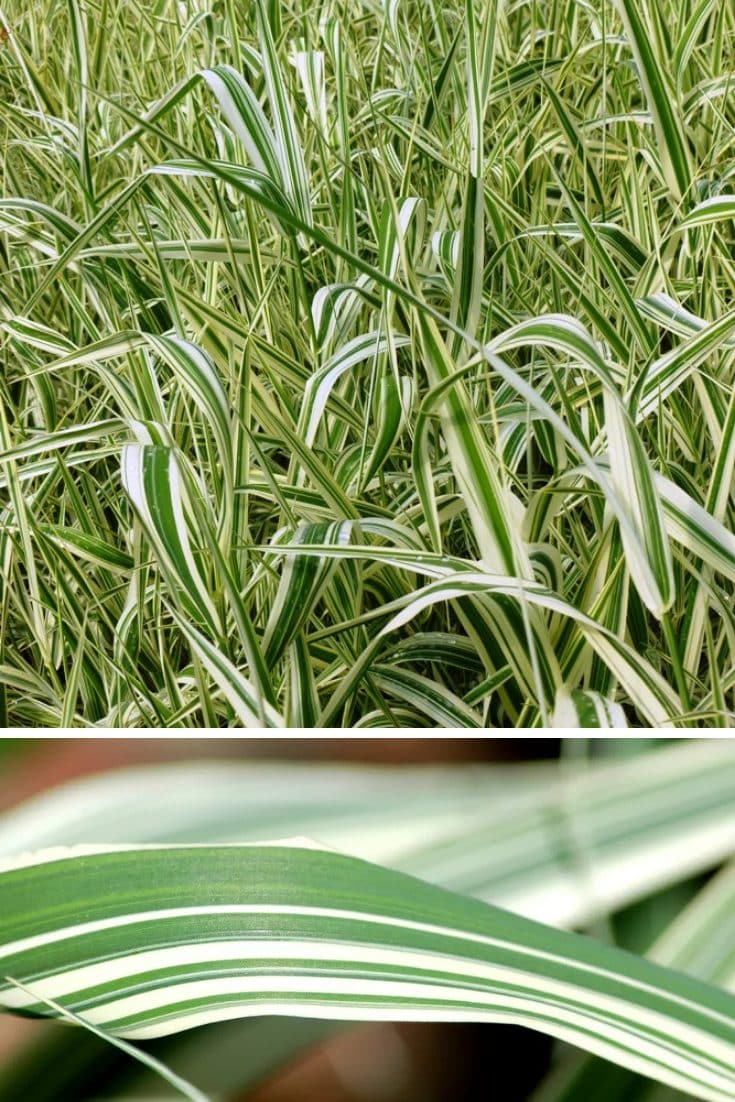 Talking about Colorful Foliage Ideas, this striped ornamental grass becomes popular in gardening. Ribbon grass can be an attractive option if it grown in a container or to stabilize the slope. But, it is not advised to plant it in a cultivated garden or open spaces because it can harm native wildflowers. Thus, this plant is easy to manage, and it provides impressive foliage.
Ornamental Kiwi Vine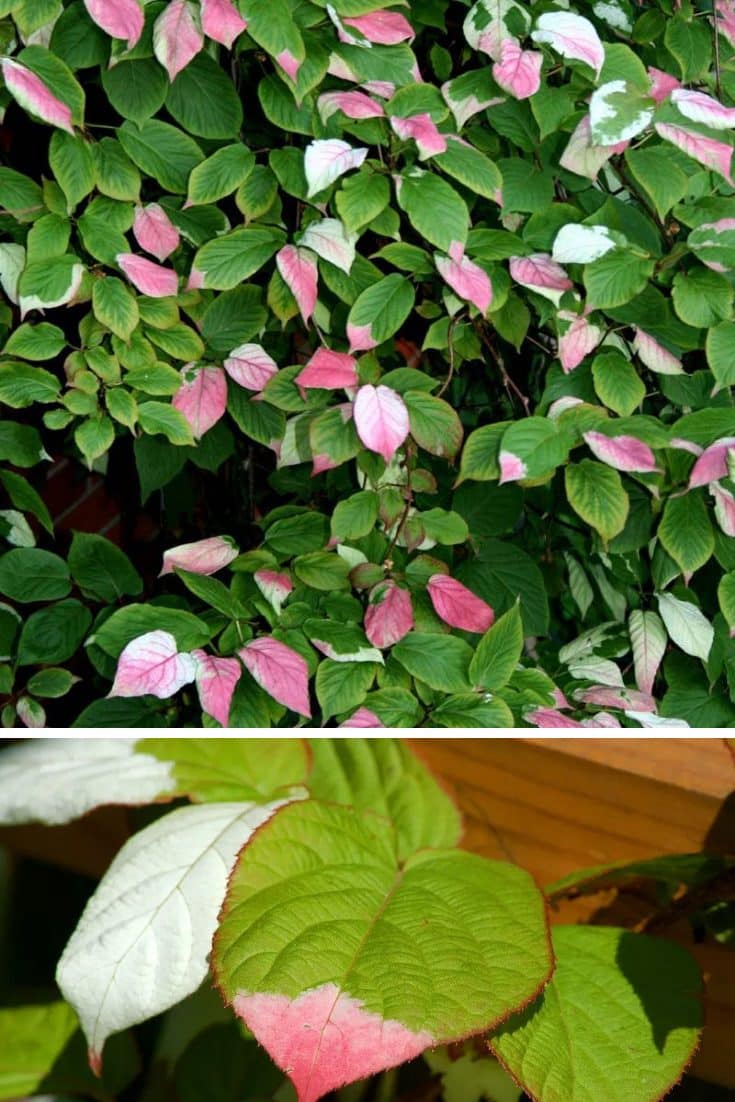 If you find the leaves which look like somebody painted them, probably you see it on a Kiwi vine plant. Male kiwi grows small white flowers; it pollinated the female and bore berry-sized fruits. In spring, the leaves turned green with white splotches. Some also have a pink tip. While in summer, the colorations fade.
Harriet Waldman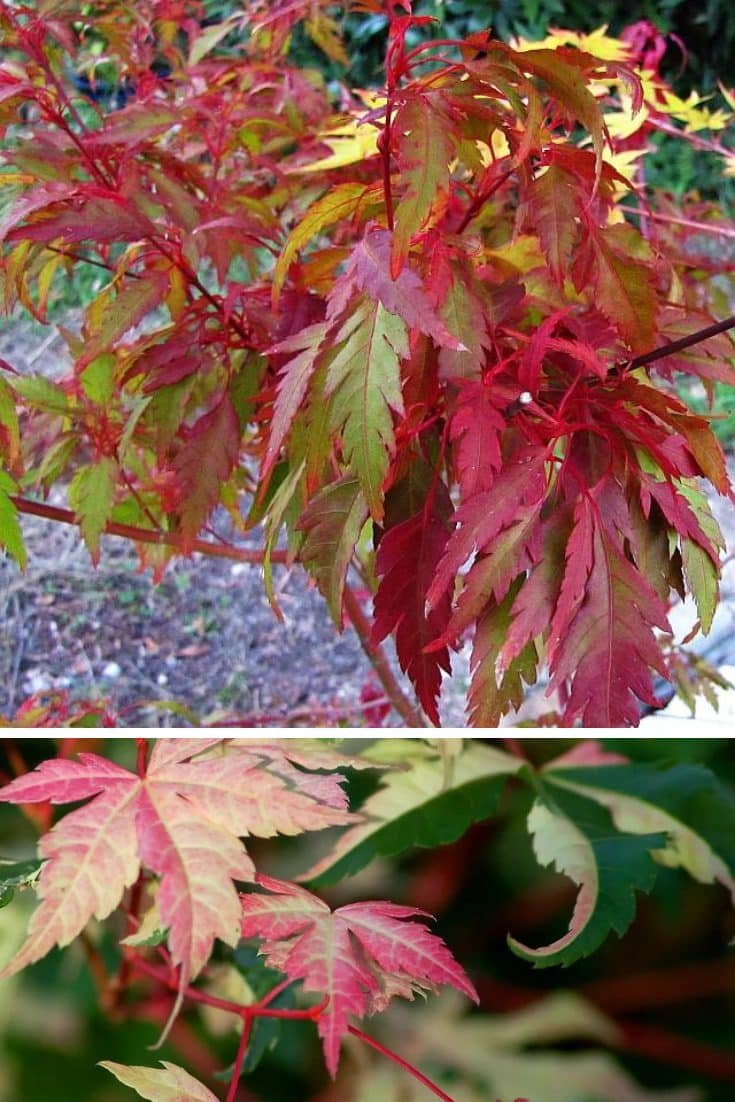 Acer palmatum 'Harriet Waldman' is a beautiful plant with three colors leaves display including white, green, and pink. Usually, the newest leaves come in pink, and the fall foliage turns to yellow, red, or orange. Also, This one types of the Japanese Maple can reach 15 feet tall height.
Alternanthera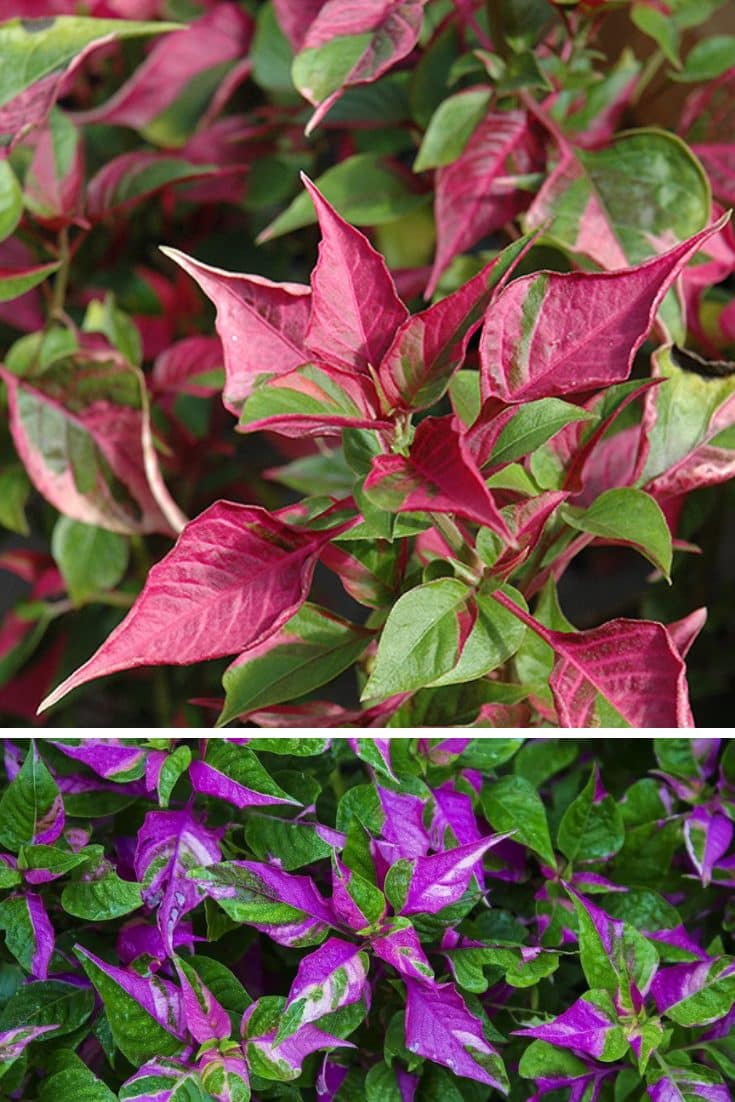 It is famously known as Joseph's coat, this plant also known as Alternanthera ficoidea. It is a tropical plant which has an intense second color on its leaves. Accompanies the green, the leaves can also have other colors such as purple, orange, or red for intense color cultivars. While in different varieties, the color can be bronze or brown. Moreover, its beautiful foliage makes it becomes an eye-catching addition to your garden beds or containers.
Plantain Lily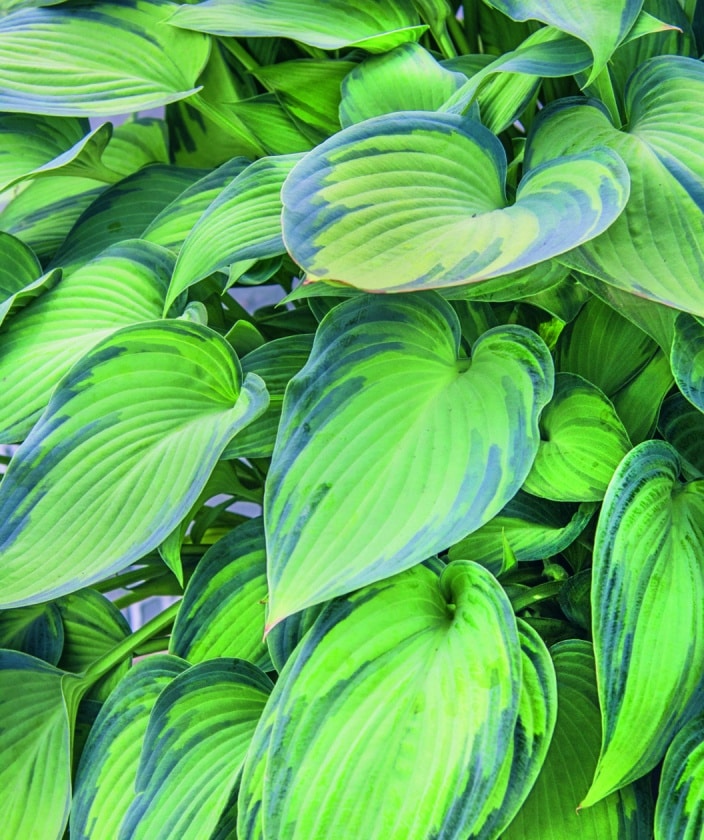 Outside Britain, Plantain lily called by different names. It is commonly known as Hosta or Giboshi in Japanese. This plant comes in shades of gold, green, blue, and variegated leaves. Also, it prefers to live in partial shade. Besides, there are other varieties of this plant which can grow in full sun. Moreover, the plant focuses on increasing its leaves than its flower.
Persian Shield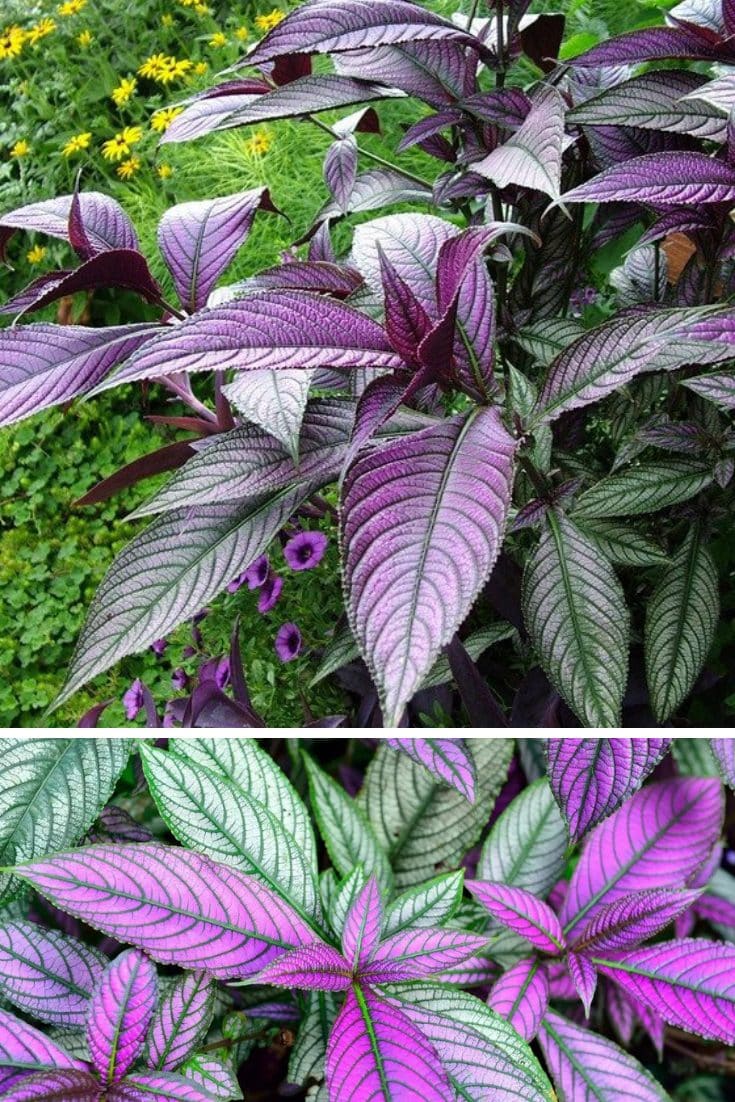 Most people know this plant as Persian shield rather than Bermuda conehead. Its leaves would be iridescent purple if it grew in partial shade. On the other hand, if it developed in hot climates, it instead stays evergreen. In the thrives regions, this plant has cone-shaped flowers which bloom in fall or winter. Thus, this plant looks rich with its purple shimmers foliage and green veins. Its attractive appearance makes it becomes one of the best foliage plants for gardeners who often grown it as annual, perennial, and also houseplant.
Phormium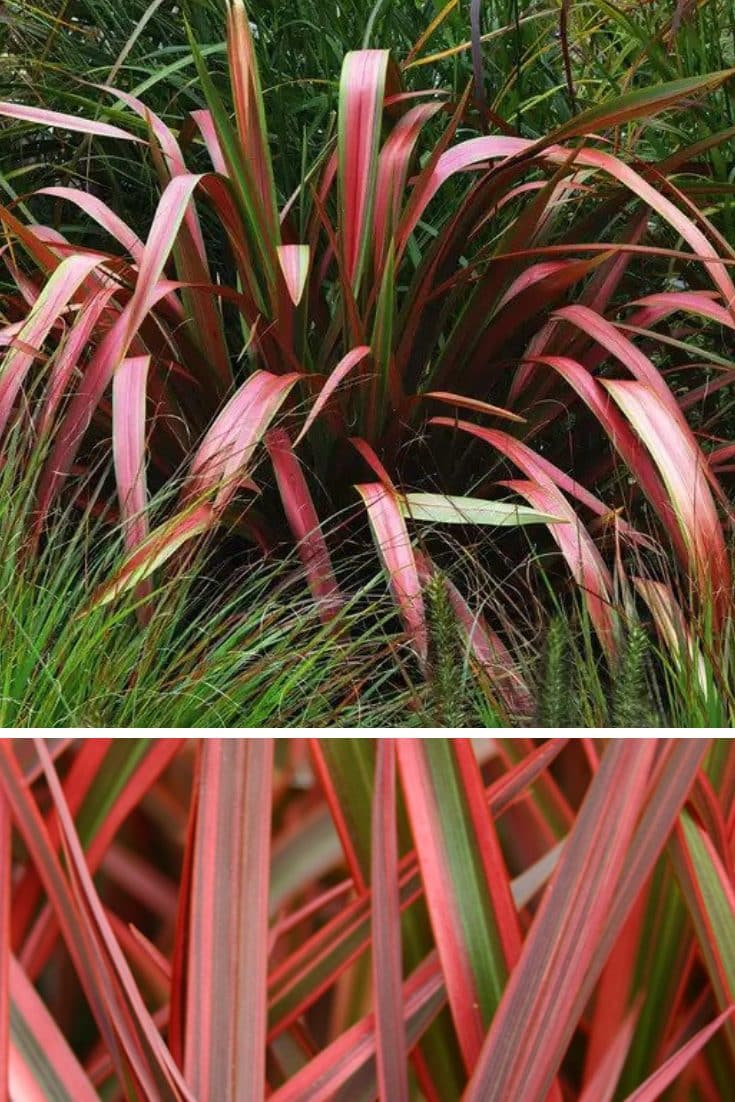 Phormium or New Zealand flax is a substantial garden plant. It can grow to 7 feet tall, and other smaller varieties can grow suitable to the containers. This New Zealand native plant has many selections of colors including red, yellow, green, white, and pink shades. Additionally, phormium mostly grown with its blade-shaped leaves. It also has a beautiful flower which is bloom in red or yellow.
Japanese Painted Fern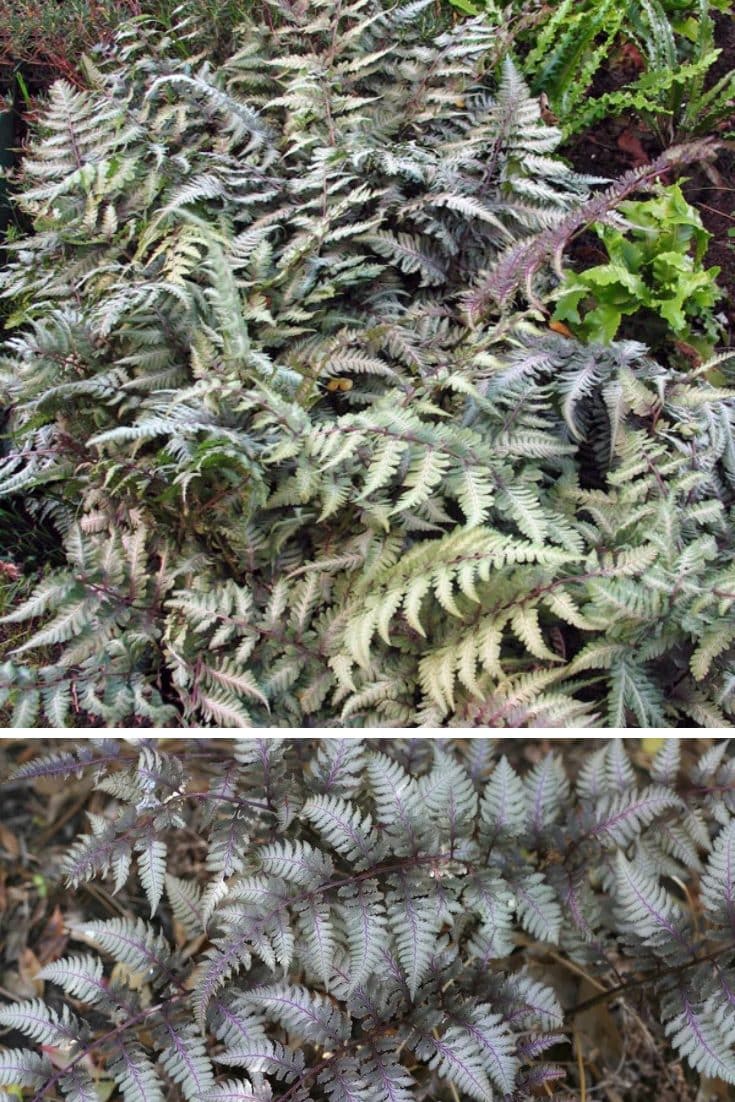 Eye-catching and silvery foliage grow in this fern. Japanese fern grows about 12 inches tall; it also displays unique patterns of color combinations. Besides its silvery frond, there is a touch of white, grey, and burgundy which covered the plant beautifully. However, this plant cannot tolerate full sun, especially in the afternoon which can burn the leaves and ruin its charm. Fortunately, this Japanese fern performs well in the morning sun, where there are less burning and heat.
Amaranthus Tricolor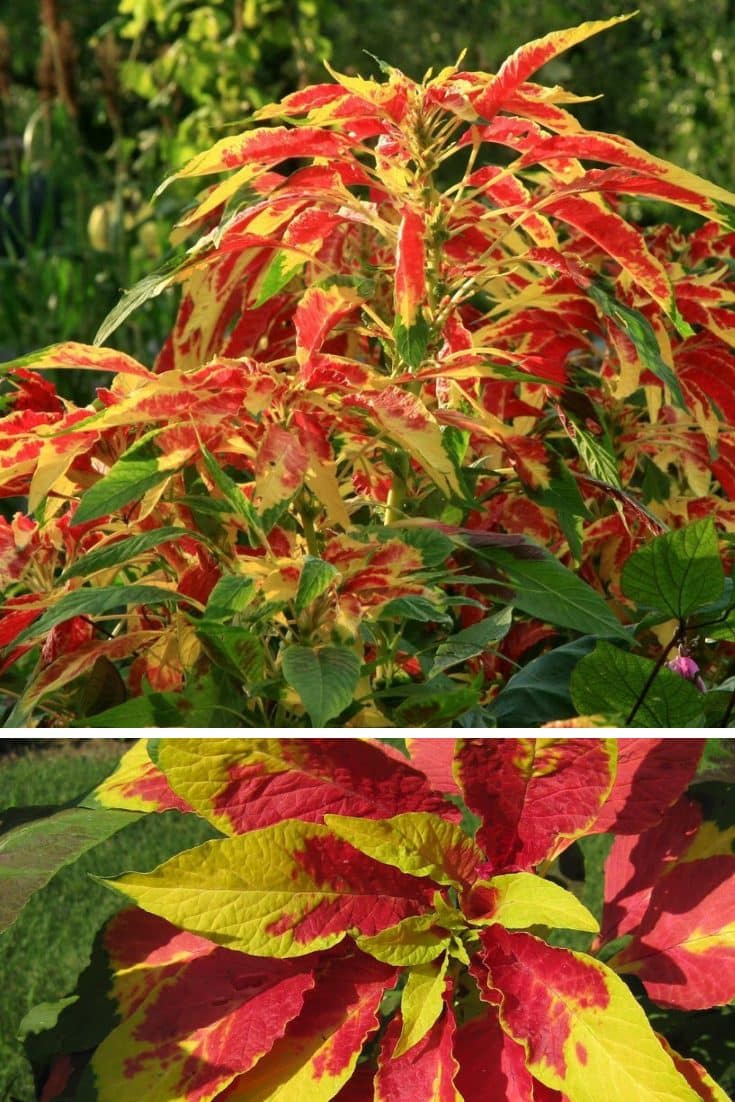 In some countries, this ornamental plant called by a few different names. Although it is native to South America, we can also find it in other countries with many varieties. Moreover, the combination of green, yellow, and orange display its tricolor foliage. Therefore, a combination of bright colors on the leaves and deep purple flowers make this annual plant brights up your garden.
Colorful Foliage Garden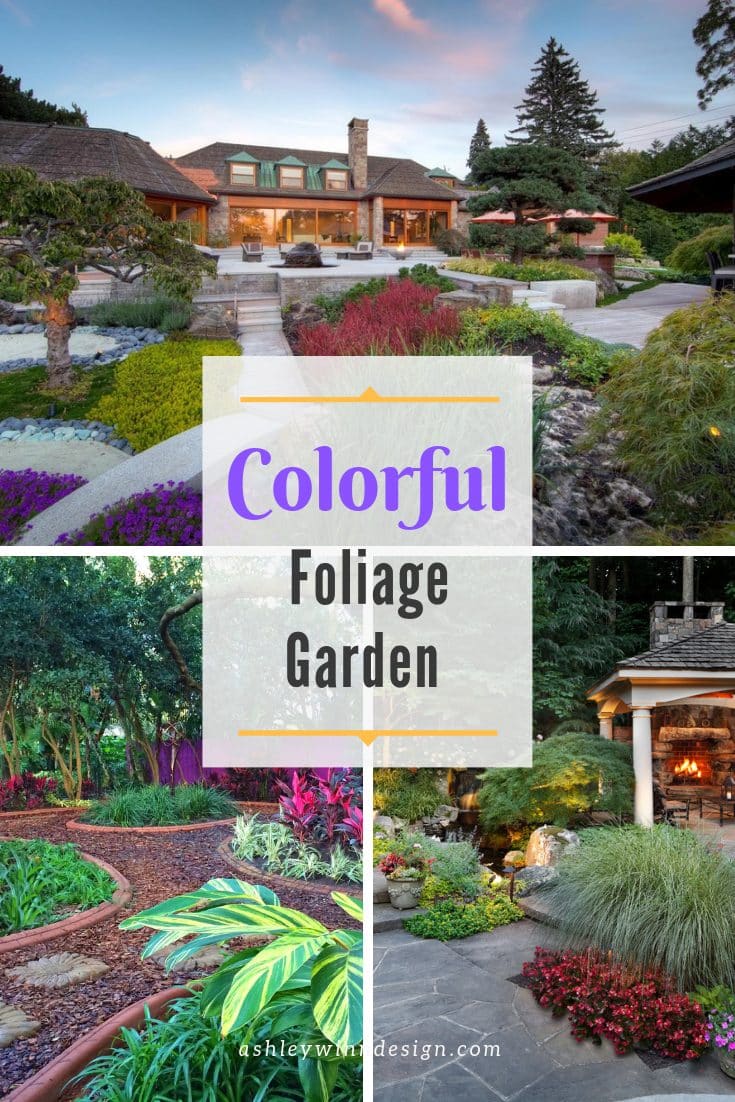 Decorating a garden with colorful plants might be a unique idea. Also, any types of the garden are suitable with colorful foliage whether it's a shade, container, bed, or cottage garden. However, suiting the plants' combination of colors and checking at the plant's types are also essential. Therefore, after checking out some multi-color foliage plants, now take a look at these examples of colorful foliage garden in Colorful Foliage Ideas.
Shade Garden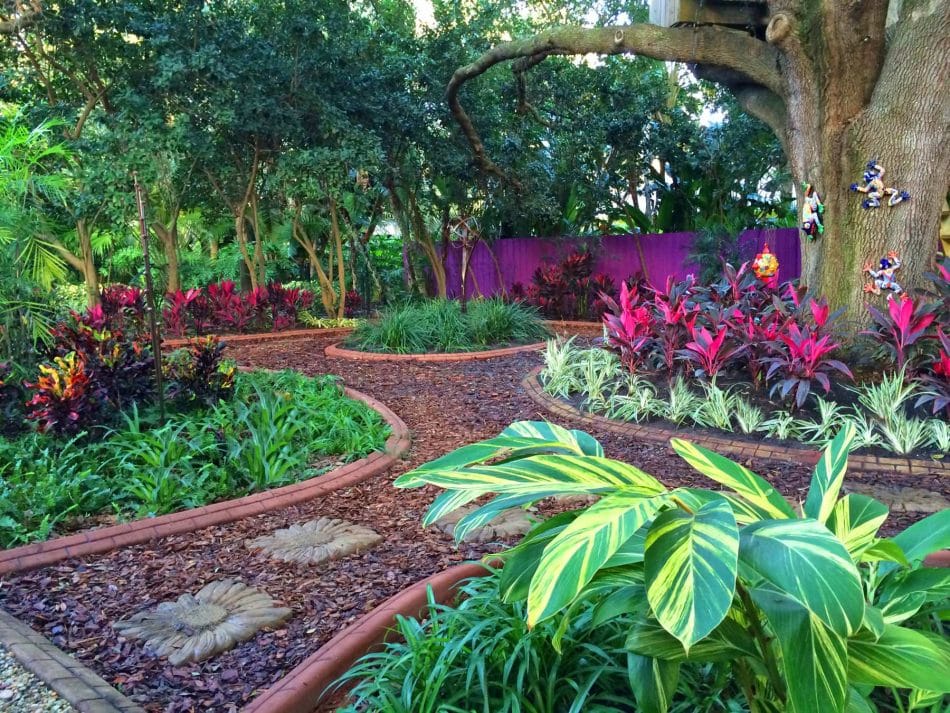 Although this Mediterranean garden has no grass, and almost without flower, a lot of colors combinations shows its beauty. Moreover, these unique textured and colored foliages planted near the ground cover garnished its existence. All of the big trees planted on the ground make the grass hard to grow in this area. In conclusion, this is an excellent example of a shade garden with outdoor foliage plants.
Full Sun Backyard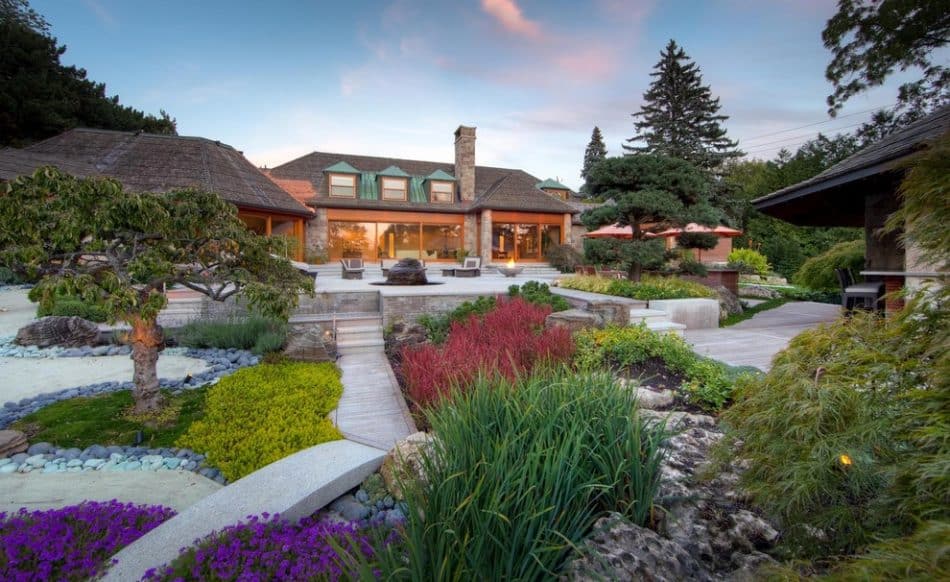 Without any roofs or big trees, we can see an enormous size of the area for this transitional garden. By receiving full sunlight, all of the low trees and lovely grasses are perfect for the fall. Moreover, the plants are blended and arranged in an excellent order based on the colors and also the addition of garden decorations. Thus, this Colorful Foliage Ideas can be a delicate inspiration for your backyard.
Stylish Small Garden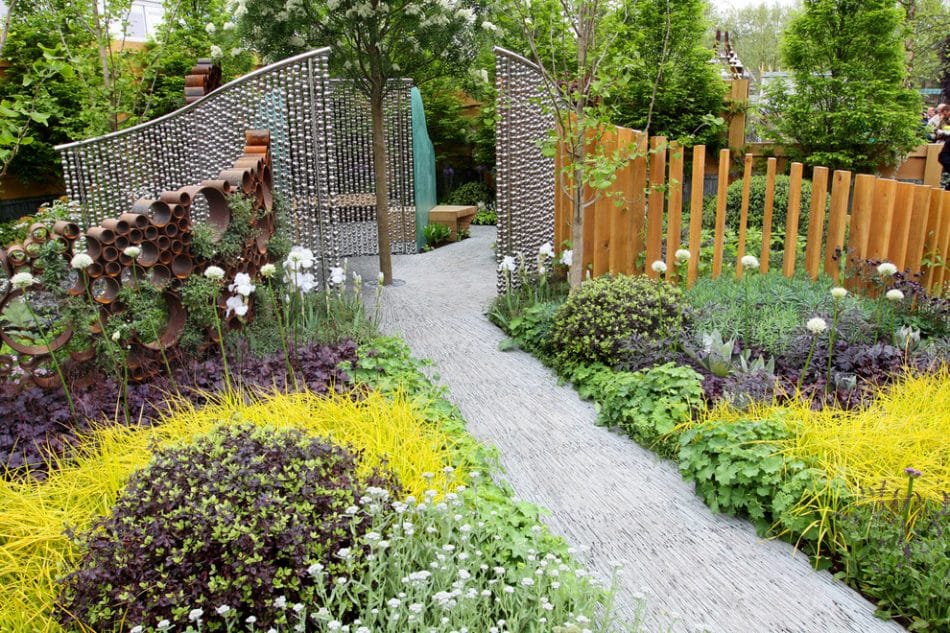 Built with silver boundary wall and surrounded by colorful plants, make this garden shows delightful landscaping – especially the display of intense foliage colors, including purple, yellow, green, and white flowers. There is a zingy-acid foliage green grass planted in here, which also helps to brighten it. Additionally, the landscape architecture applied here is suitable for a small and stylish garden.
Hillside Landscaping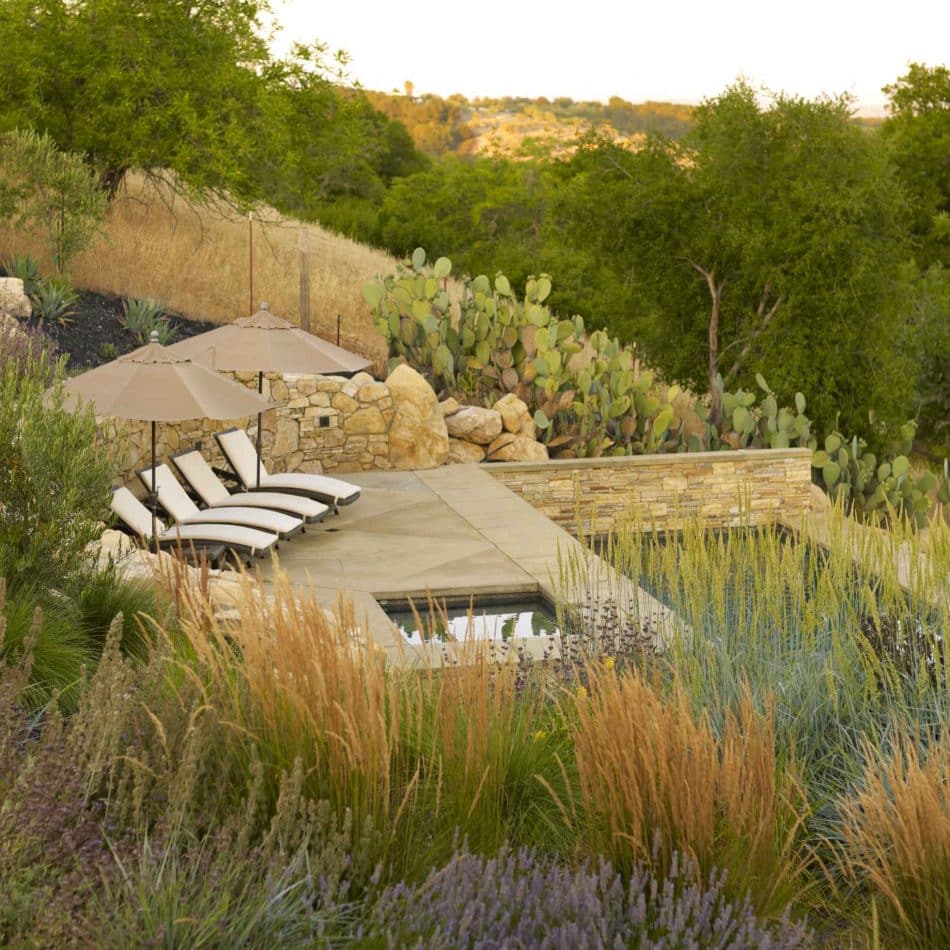 By taking a Mediterranean landscape, this backyard built on the hillside. Surrounded by the plants, Its functional stone wall and water fountain give a simple look. On the foreground, we can see a Leymus Condensatus 'Canyon Prince,' lavender, Calamogrostis Karl foster, and salvia. Moreover, Those beautiful plants blended naturally with the country architecture of this backyard.
Contemporary Garden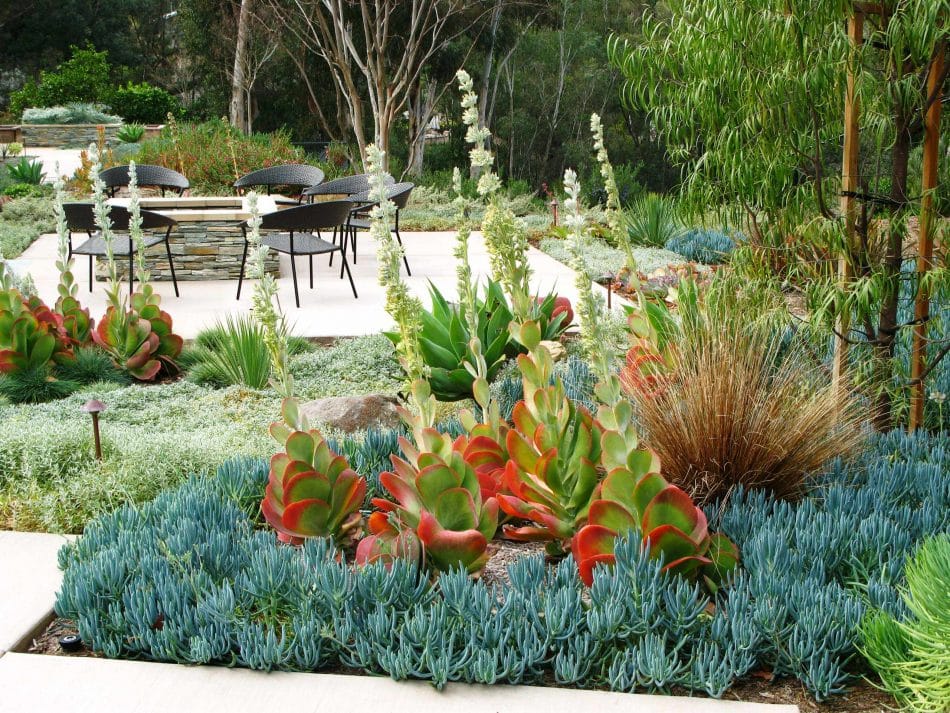 With blue succulents covering the ground like a carpet, it looks like the garden adopted an ocean theme. Additionally, the paddle plants in the middle give a fascinating look with its flower blooms on top of it. Surrounded by colorful plants, there is a seating area for those who want to spend their time and enjoy the view.
Elegant Landscaping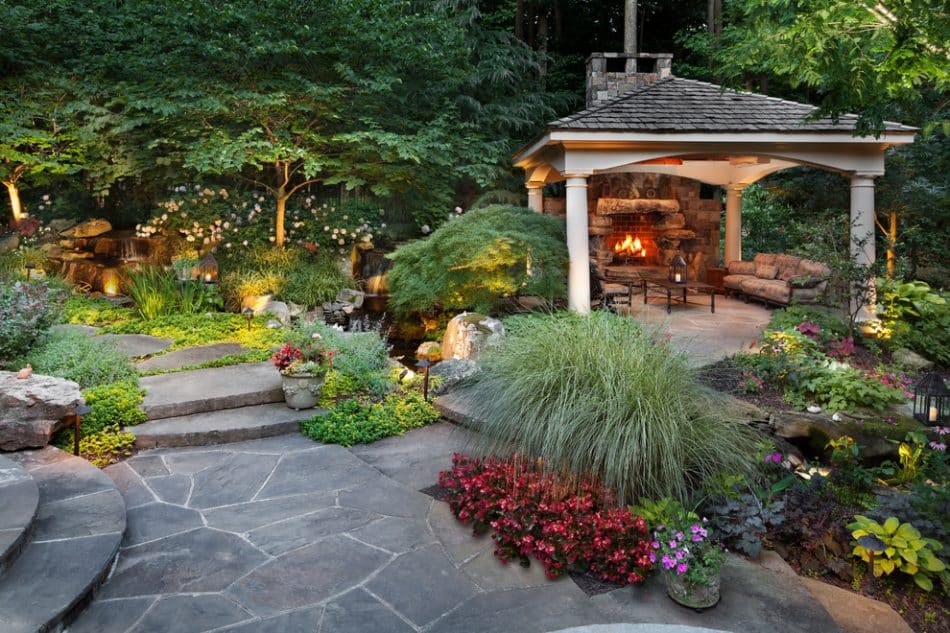 Here, a combination of green, yellow, and red plants for the garden can be seen elegantly. Also, Its natural look shows the rustic model of the garden, especially with the addition of a little veranda and a fireplace. Finally, this rustic backyard shows its warm atmosphere.
Courtyard Garden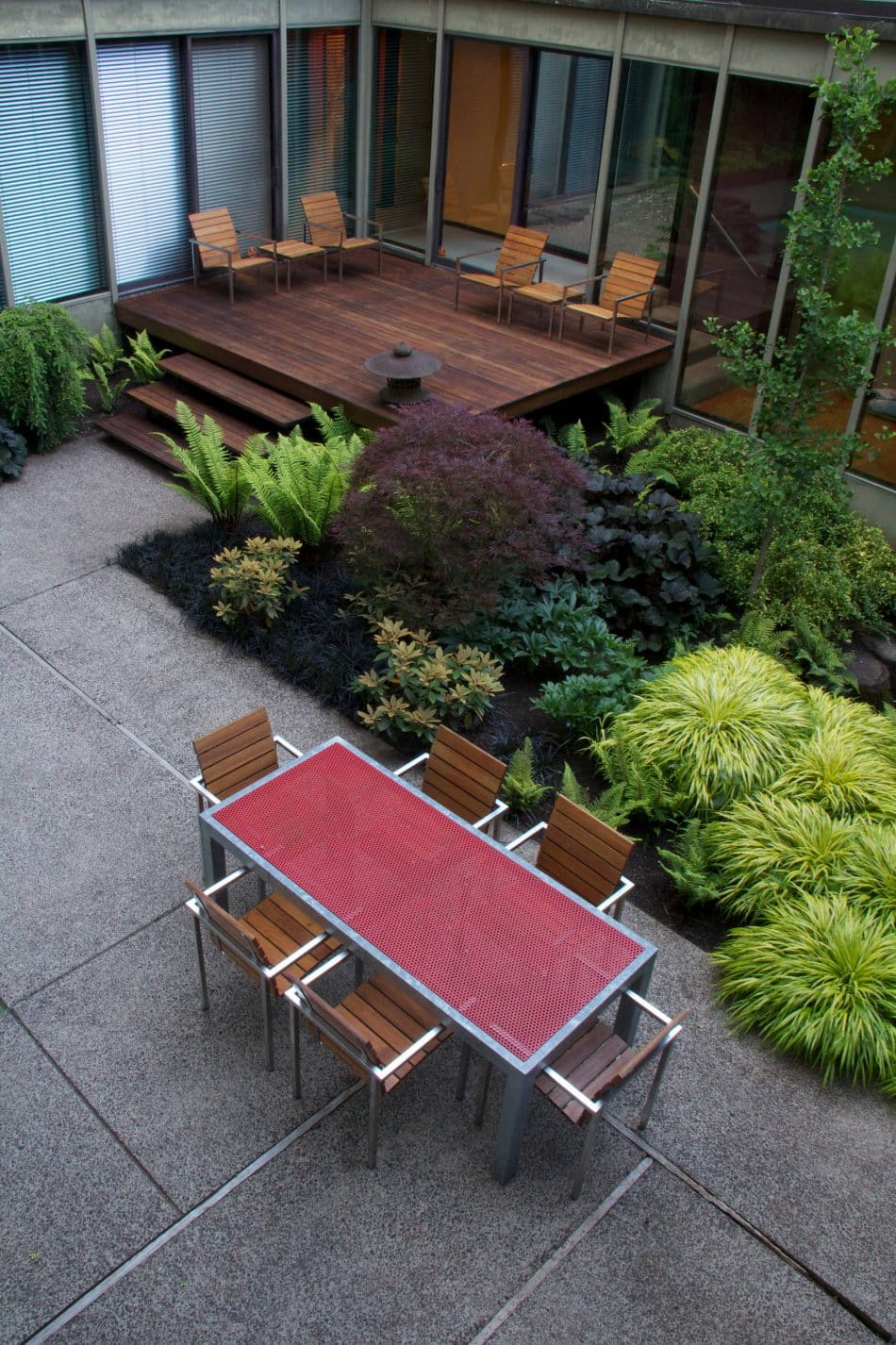 In this contemporary courtyard, there is a small garden with bold colors and texture. Mostly, part of the garden filled with dark foliage, including dark purple, and dark green, and burgundy leaf plants. Besides, there are also chartreuse leaves which shows the difference between light and dark.
Conclusion
In conclusion, this Colorful Foliage Ideas give plenty of colorful foliage that we can grow in the garden. Instead of having one plant species, try to grow various colored plants. It is not only to add more beauty to the garden but also bring a relaxing feeling. Also, consider choosing the right types of plants to grow in your area.
More Colorful Foliage Ideas