Glass Table Decor – Home is always an individual's first choice. Everyone desires to make his home renovated and decorated according to his taste and desire. In any room after bed if any item is prominent and worth decorating then it is for sure table.
In a room, a many type of surface tops is there in the form of side tables, coffee tables, dining glass tables, and dressing table.
Tables come in almost every shape, design and color. But choosing one for you can be an intimidating task.
From wood to plastic and acrylics to metals all type of material are present in the market to manufacture tables but glass has its unique popularity and appeal in front of customers. People tend to choose glass tables due to their high functionality and modern designs.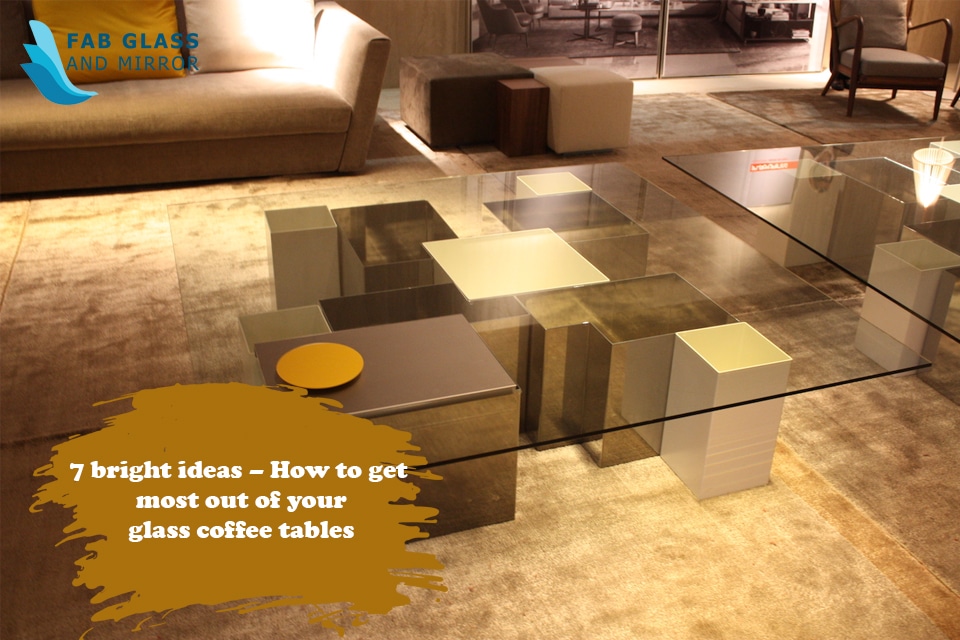 The last piece of any room's setting puzzle is a table, where to place, what design to choose and what sort of decoration will suit on it? These questions prevail like black clouds on your mind while setting a home.
You have to choose the right shape for your sofa settings and the right color for your home decor.
Below you will wonder to know, what other factors are which need to be considered.
Factors to Reflect for Your Glass Table Decor Top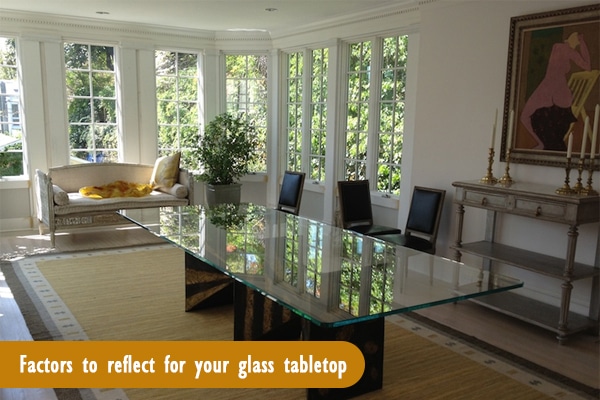 Space: room space is the most important concern when choosing glass table shape. If your room is small and cozy then round-shaped tables will fit best in it. If space is large then the rectangular table can be placed.
The shape of your sofas: your sofa is the largest shape determinant of glass table. For large round settings, oval-shaped glass tables will suit. For small setting, round or square tables will be preferably placed.
Room texture: if your room interior decor is sharp and punitive then soft-edged and matte colored glass table will soften the sharp decorating effects. If the room interior is designed softly and delicately then sharp-edged glass tabletops will fit best.
Related :  Glass Coffee Table Ideas 
Bright Ideas- for Your Glass Table Decor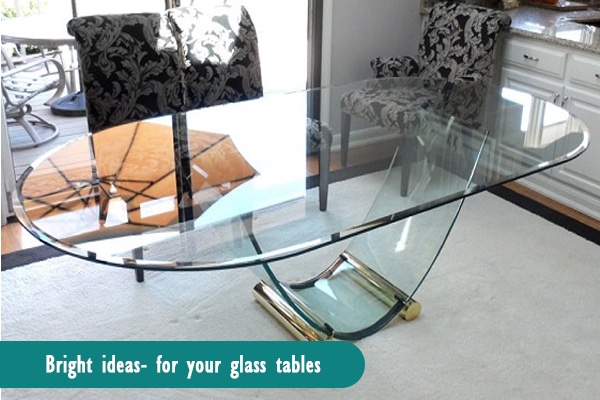 After having placed the table you must not be leaving it as it is. Some stylish vase, readable books, some candles, and the latest magazine cover must be a part to cover your table.
If you are a DIYer then keeping your glass dining tables and other most functional areas upgraded will be your passion. So below are some bright glass table decor ideas for making your glass coffee table more presentable and functional.
Think Out of the Box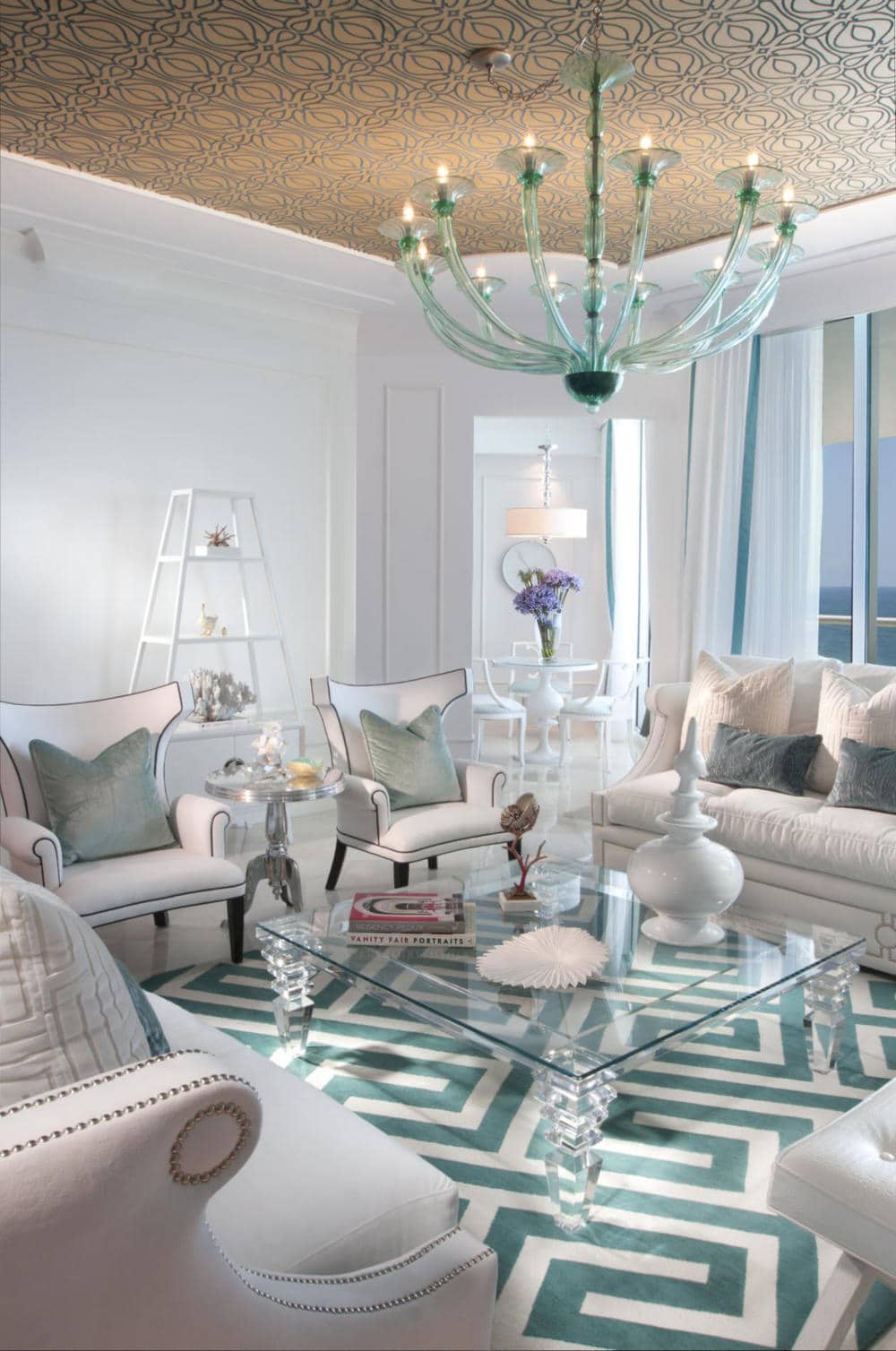 You can make a collage of some random antique things and articles to place on your table. Vintage key rings, old metallic vase, and hand-woven mini carpet all these things can enhance your table beauty.
For example grandmother's crosstie rugs and DIY color balls when will be placed on a coffee table they will appeal the visitors. Without covering this much place these little things will add more to your table.
Get a Tray as an Assistant
The table is incomplete without a tray. Put some fancy, stylish and glowing metallic large plate or tray to keep your table accessories combined and assembled. Also, tray enhances the place coverage and assists when to place some edibles on your tabletop. Also when to clean the table then summarizing the things will become easy because tray will assist you here too.
Keep it Organized and Balanced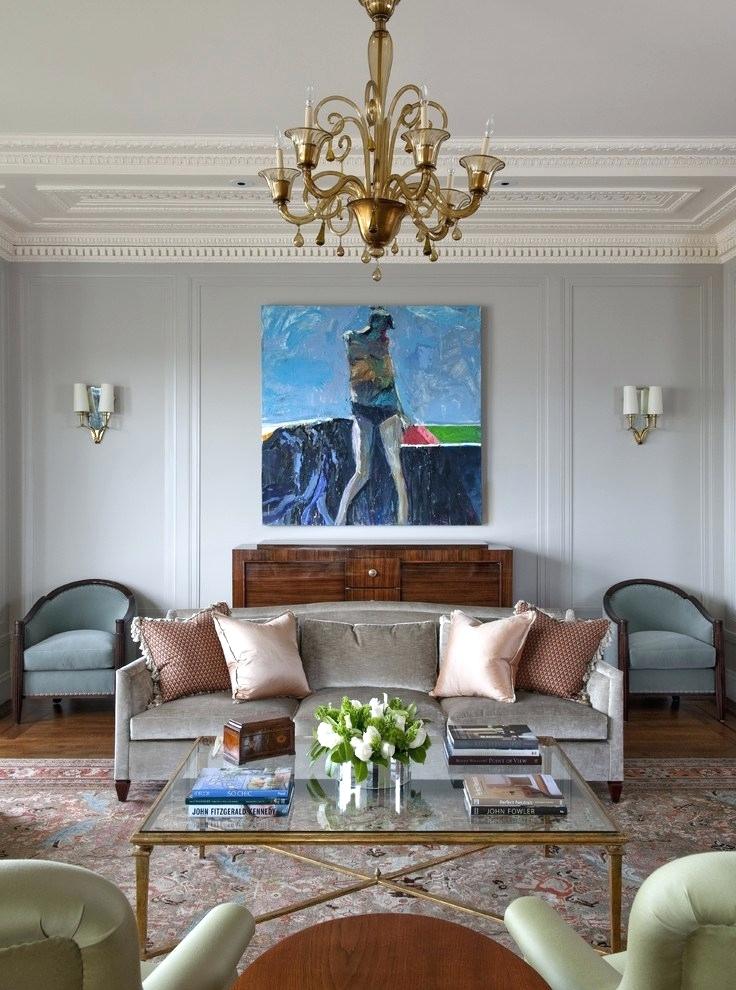 Putting things on the table is easy but organizing them is tough. Keep everything balanced do not overstuff your table because this glass table decor will reduce the allure and decency in no time. In the center put some heavy stuff like a tray of articles and crafts or some indoor plant stand and on both of the sides put magazines and books and ornaments. Both the left side and the right one must be enough balanced that they present harmony.
The Composition is a Key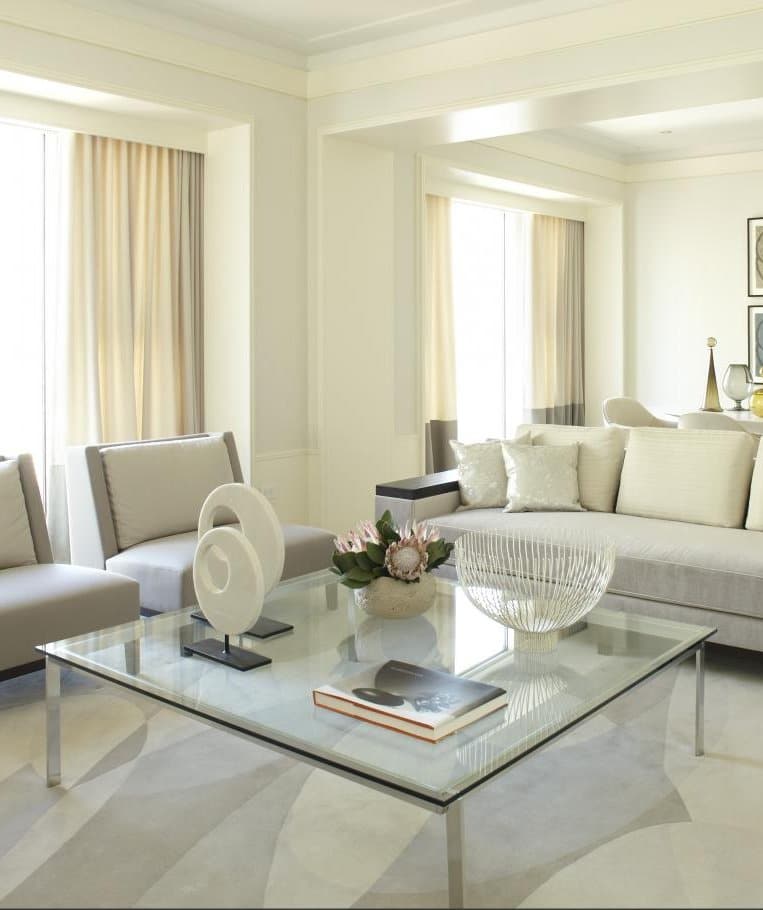 The composition is key to every function. Tabletops are best places for making your room graceful and funky both at a time. You will place your taste on your table and it will present the best of you to your visitors. Place composed, warm and welcoming material over the top of the table so that it catches the eyes of home visitors and guests. But do not cover large surface area by placing random stuff because you may end up replacing them afterward.
Size-Yes It Matters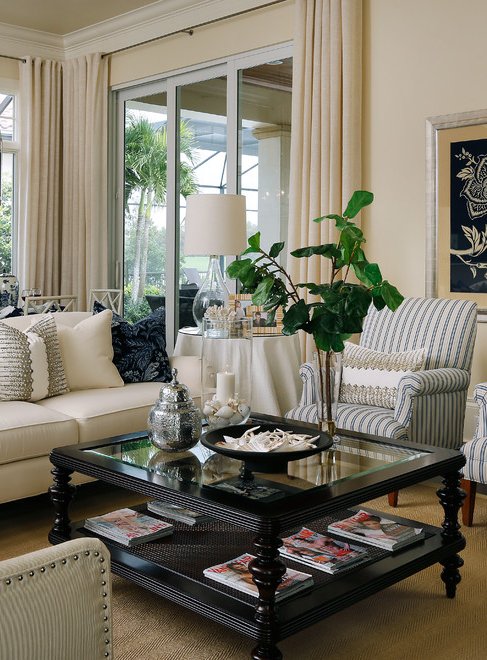 Keep the size of the table and the size of the room in proportion. Small rooms cannot accommodate large tables and large rooms will look odd having small tables. A proper good mix of size will prove your home mastering abilities nicely.
Rectangular tables will be placed in dining halls and round tables near the fireplace. While square tables will be used for family get together parties and they also can be put in the porches. Small tables are to be placed in balcony or as side tables.
Mighty but Small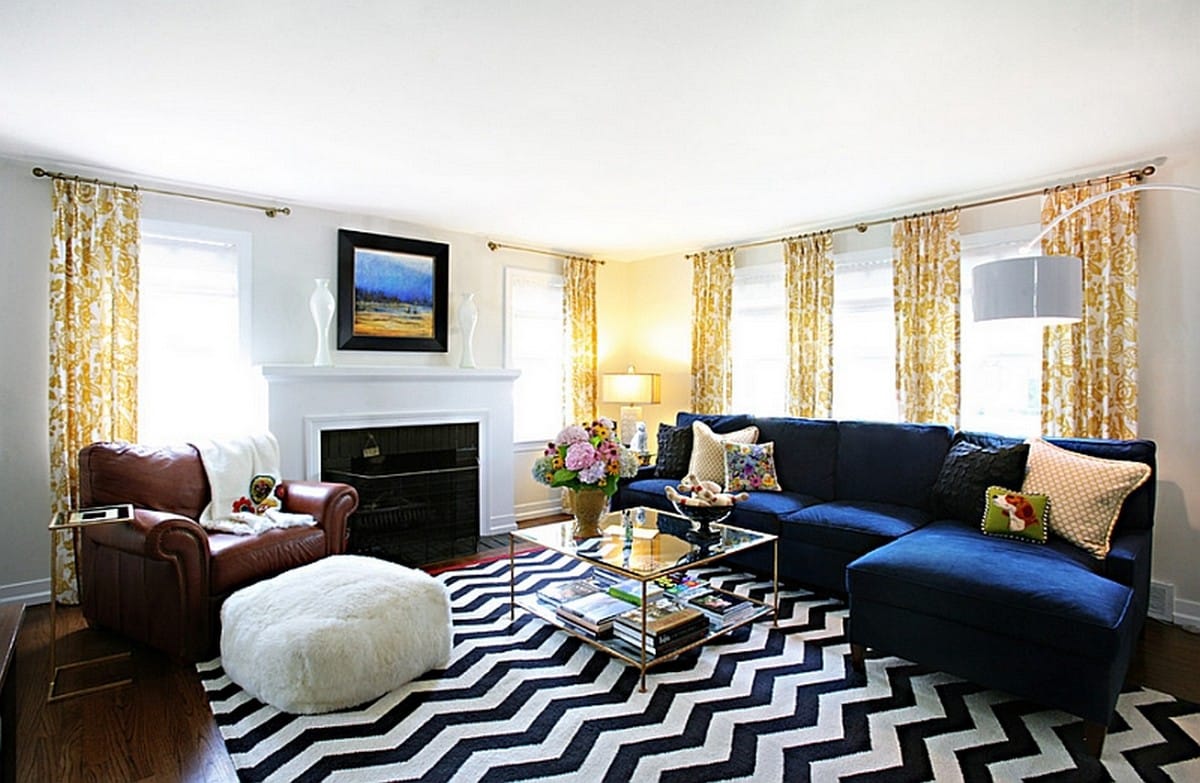 Another very good idea of glass coffee tables is having a small but sturdy table. Small table with multiple upper and lower tops will give you more room for customization. You can place more things on it and these types of tables usually cover less space than others. Small size tables enhance the enchantment of the place and they look more stylish than larger ones.
Best Place for Indoor Plants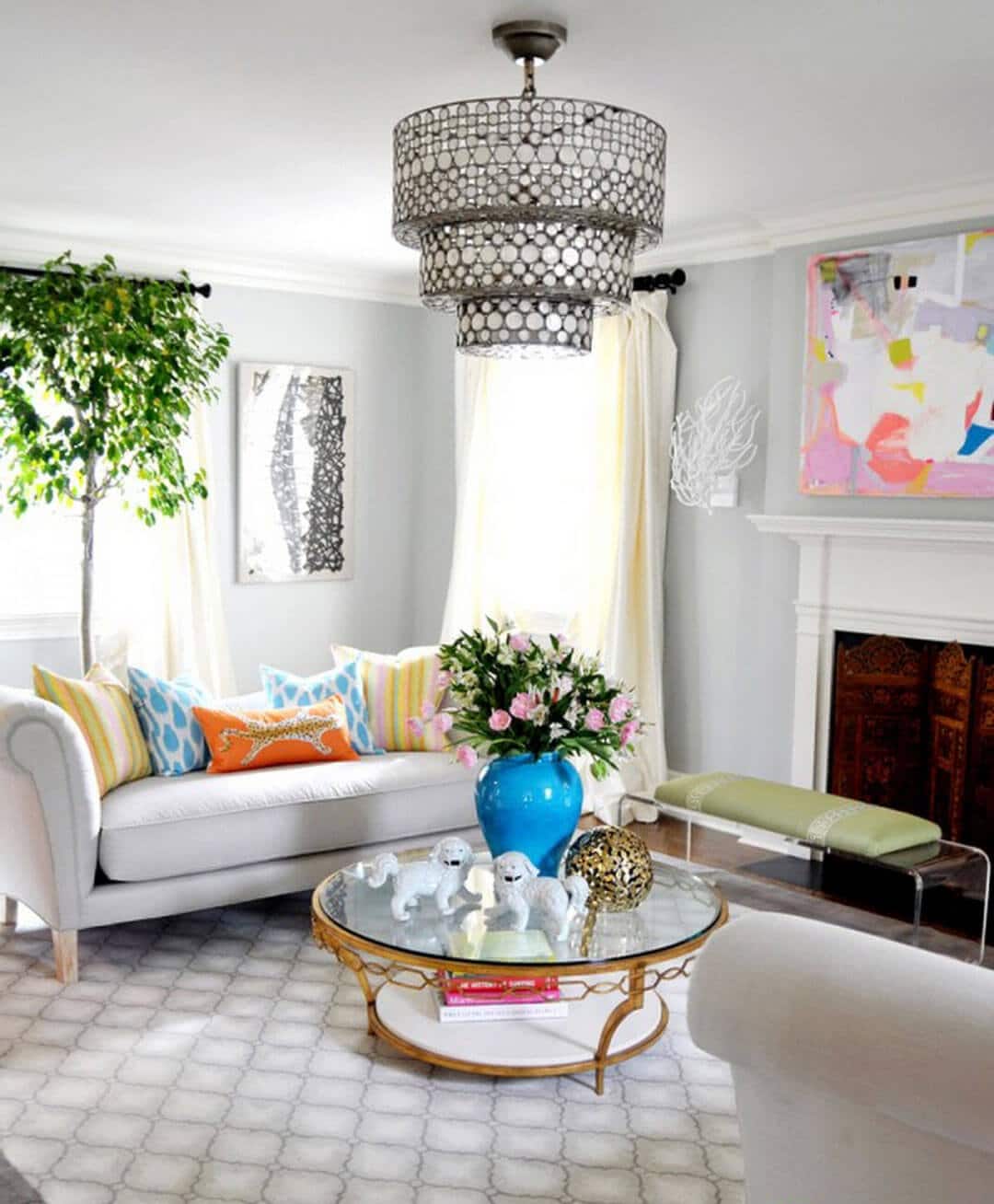 Indoor plants are a good source of natural oxygen and are a source of refreshment. Instead of placing large plants that cover most of your space put small ornamental gardening articles on your table. They will help you achieve composition and great color splashes to your room as well.
Trunk Base-Raw Sleekness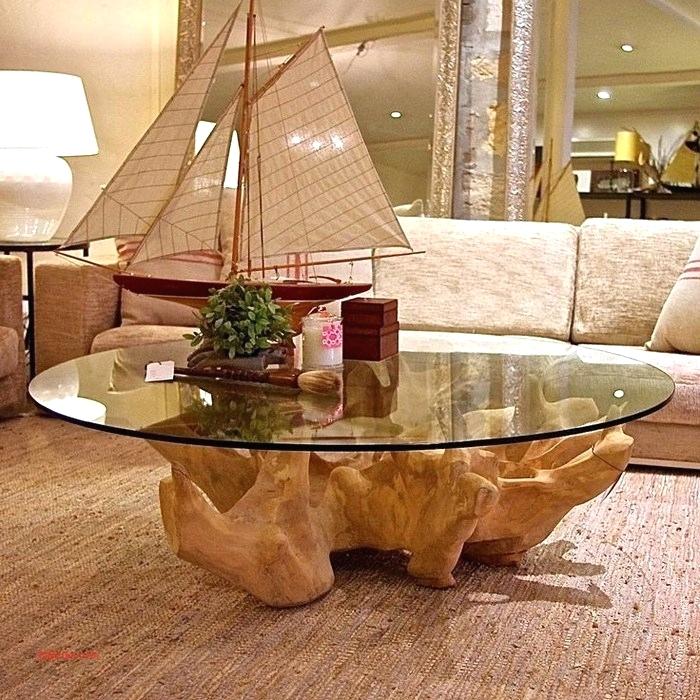 DIY lovers will pursue every possible opportunity to get their passion injected in their house. If you get an old tree trunk then make it polished and oiled. After cleaning and polishing process get some help from nearby glass cutting store and install glass table cover over that trunk, attach the levels on base. And here you go with your DIY super amazing and unique table. No matter your home interior is classic or contemporary, this glass table decor will fit everywhere.