Modern Bathroom Fixtures – Many things can increase the value of your house, and this includes remodeling your bathroom. It can be a very daunting process, trying to decide on the design, trends, colors, personality, and budget. However, the first step you should take is understanding the things that need to change and then break the rest of the process into realistic paces.
A bathroom is mainly made of plumbing fixtures such as a sink, toilet, bathtub, or shower. These are your first considerations in a bathroom makeover before going to other interiors. That said, you need to plan a trip to different bathroom showrooms and get started. However, before that, go through this ultimate guide on choosing the best modern fixtures for bathroom remodeling. With this information, you will have an insight into what you might need and ask relevant questions.
Selecting Your Fixtures
1. Toilets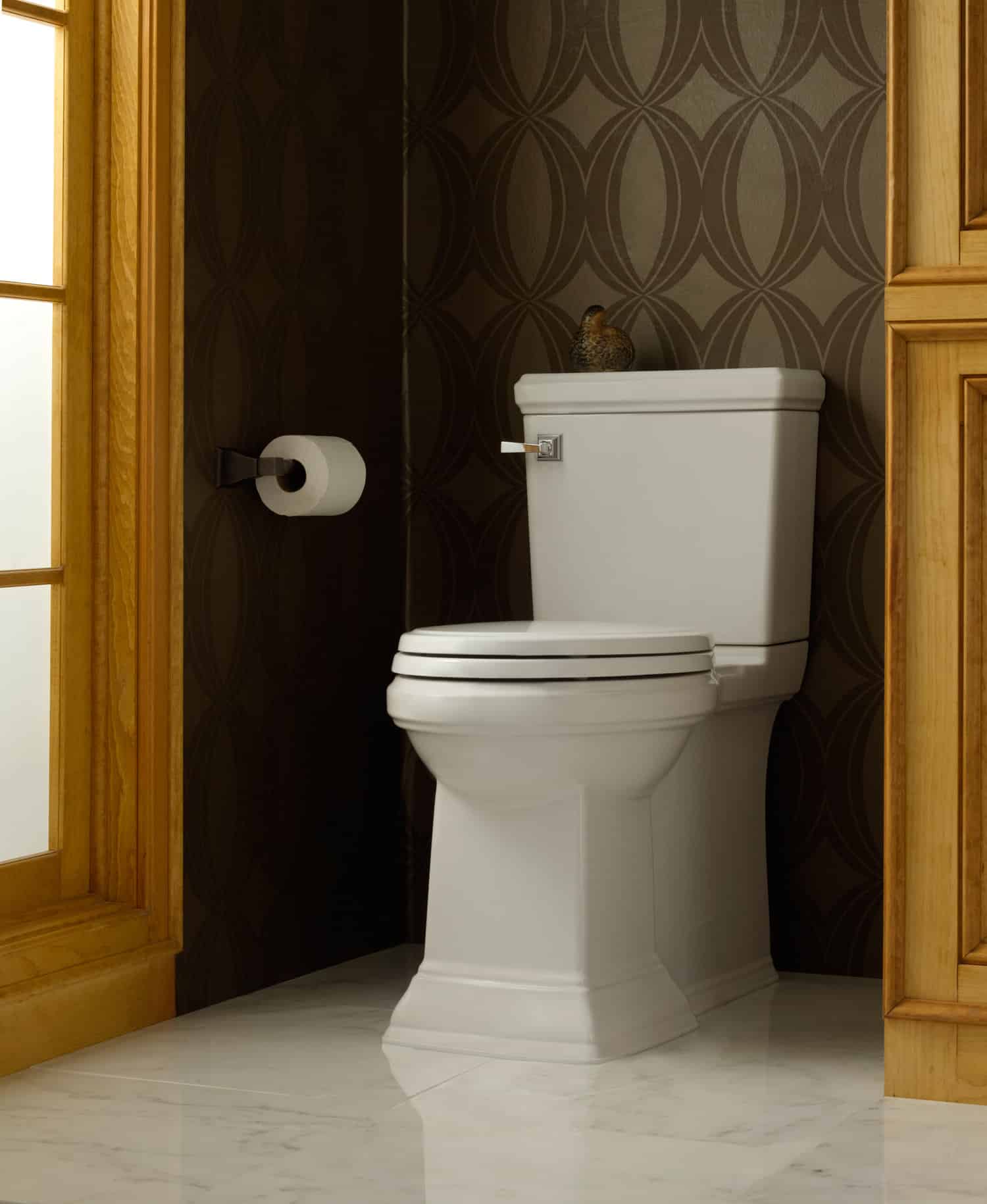 You cannot change your toilet every year unless you are careless or have a lot of money to waste! That said, be cautious when choosing your new toilet as part of bathroom remodeling. If you are not sure, visit sites that assist in construction budget making and provide recommendations based on your needs and preferences. Do you want the newest innovations on toilets, or are you seeking to reduce your water usage? Today we have ultra-high-efficiency and self-cleaning toilets, and if I were you, I would go for one. Well, since I am not you, here are two types of toilets you can consider.
i. Round-front toilets: These are usually high-compact and would be convenient for small modern bathrooms.
ii. Elongated toilets: This one comes with an extra sitting area and is perfect for those people looking for comfort in the bathroom. However, they can only be convenient in a bathroom with extra space.
Getting the right toilet means bearing in mind your bathroom space, preferred design, comfort, and cleaning ease. Other considerations such as water usage can apply, depending on the manufacturer after all other aspects are considered.
Related: Bathroom Remodel Ideas
2. Showerheads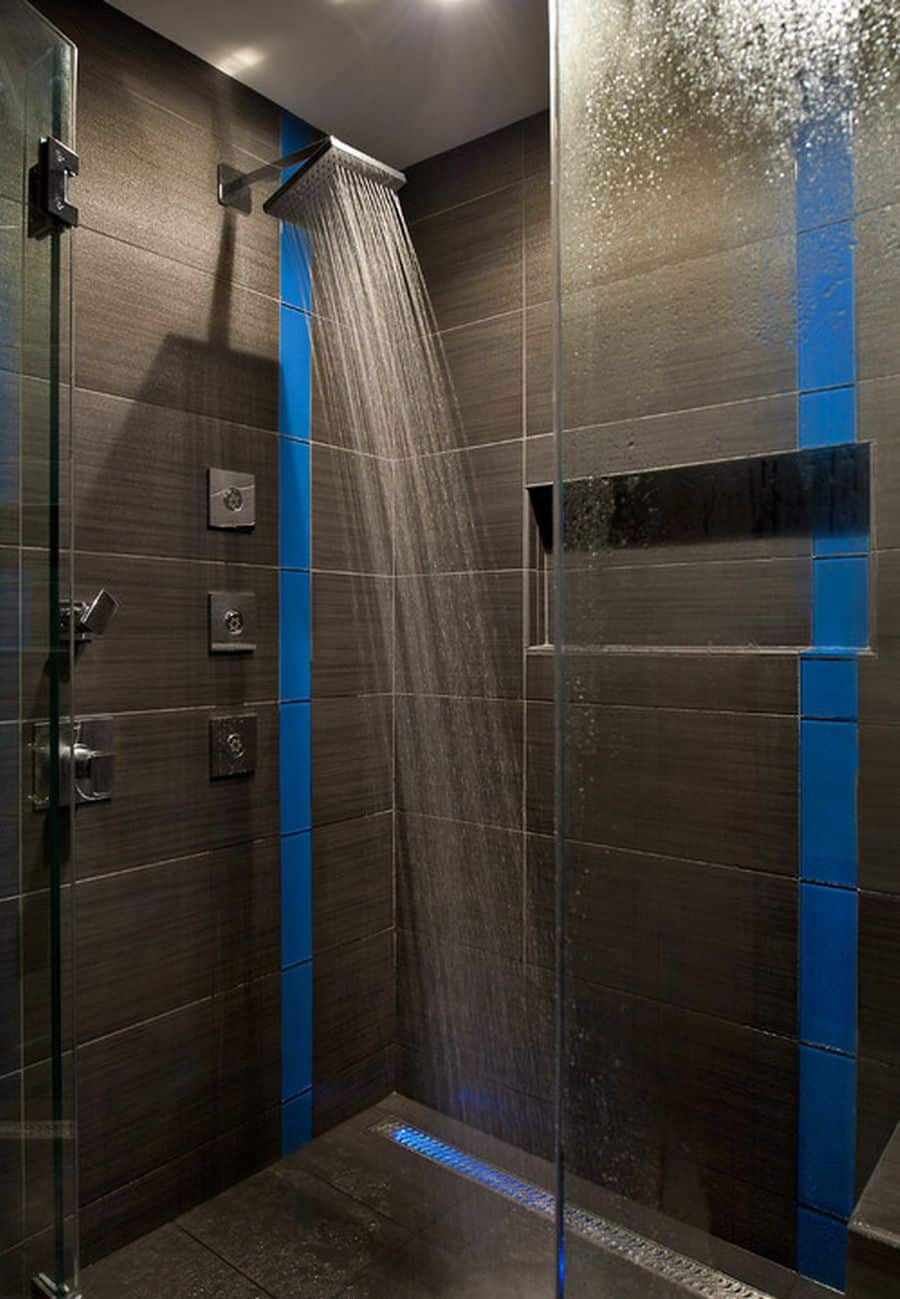 Almost everyone starts their day by taking a shower, and if you cannot enjoy it as you wish, it might be time for you to level up. For instance, the water pressure may not be enough for you, or you just don't like its design and color. Your shower could also be using too much water, which increases your bills. In this case, here are a few types of showerheads to consider:
i. Rain showerhead: If you are looking for more water but less pressure, this could be your best choice. They are large and can be mounted on the wall or hang on the ceiling.
ii. Single spray showerhead: Despite that, they can be expensive, they are very convenient, coming with an adjustable nozzle and different water spray patterns.
iii. Sliding bar showerhead: As your family grows, you might need this specific showerhead to accommodate everyone regardless of their height. It is easy to slide it up and down depending on the height of the person showering.
iv. Handheld showerheads: This is a showerhead for people who want flexibility, especially when rinsing the hard-to-reach body parts. It is usually mounted on the wall like most showers, but you can always detach it when needed.
3. Sinks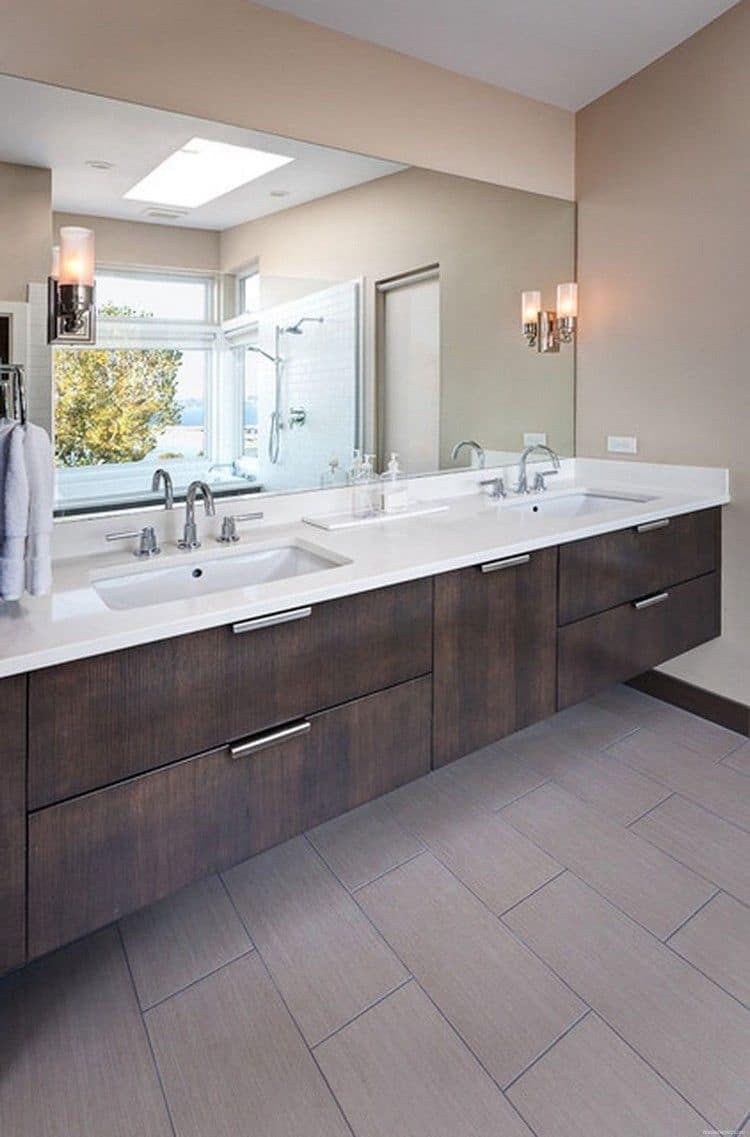 The bathroom you are remodeling will dictate the sink type you should add during the makeover. Is it a powder, master, or family bathroom? We can all agree that a family or master bathroom might have unique or expensive requirements compared to powder bathrooms. That said, here are different types of modern bathroom sinks you can go for:
i. Under-mount sink: These are very effective to clean and efficient in space since they sit as part of the countertops. They are suitable for family bathrooms and provide a better transition to the users.
ii. Top-mount sink: Unlike the under-mount sinks, this one sits on the countertops, but you can see the entire rim of the sink.
iii. Vessel sinks: These sinks sit entirely over the countertops. So, they usually seem like bowls placed on top of the countertop.
iv. Wall-mounted sinks: You do not necessarily need a countertop with these sinks since they get mounted on the wall. They work perfectly with smaller spaces or for people looking for that sleek look.
However, before choosing any of these, consider how the sink works rather than how it looks. This way, you will get maximum satisfaction.
4. Modern Bathroom Faucets Fixtures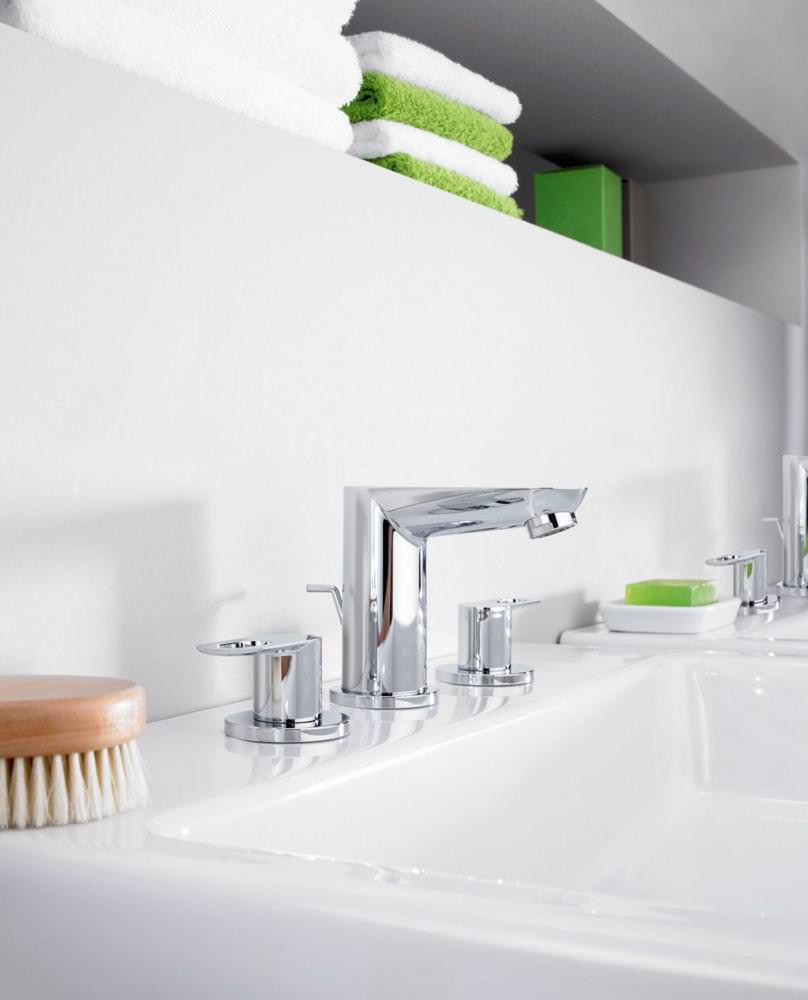 After deciding on the sink you need, the faucet or tap is the next thing to look for in bathroom remodeling. Changing the tap together with the sink makes it a lot easier than it would be, trying to do the same with the current bathroom sink. So, based on the number of holes and where they are located on the sink, here are a few you can consider:
i. Single-handle faucets: This modern faucet bathroom comes with one handle, just like the name suggests. The handle helps control water pressure by moving it up and down and temperature as you move it sideways. Therefore, most of these need one or two holes in the sink for installation.
ii. Vessel faucets: These are made for vessel sinks, and the holes for installation are drilled on the countertop.
iii. Wall-mounted faucets: These are mounted on the wall and not the sink. They come in different sizes, designs, finishes, and colors.
iv. Widespread faucets: These faucets come with separate handles from the water sprout and are all fixed about 10 inches from each other. Further, the accessories for this type of faucet can come in different shapes, sizes, and colors.
5. Modern Bathtubs for Bathroom Remodel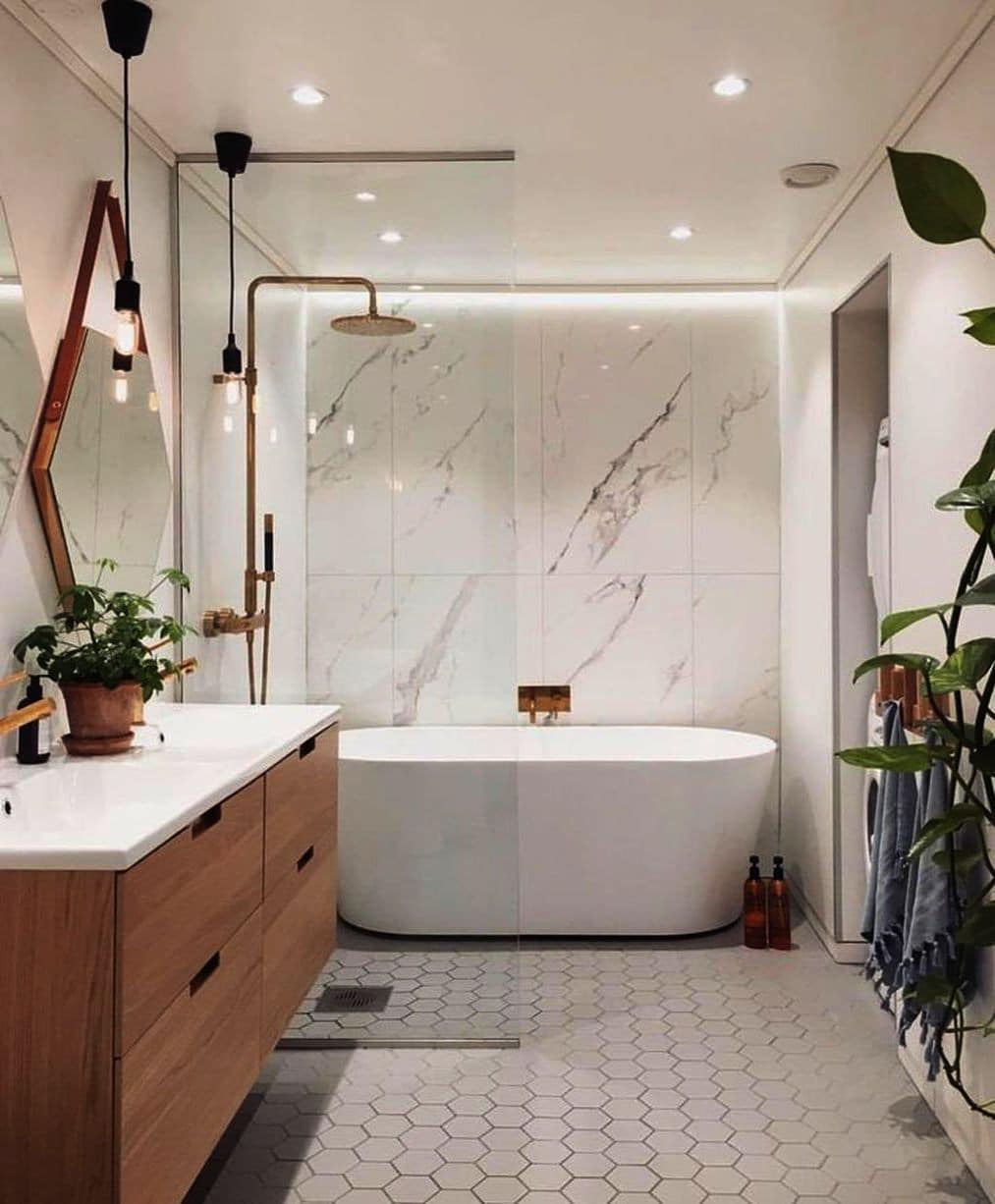 Getting the right bathtub for your bathroom will depend on your bathroom space, lifestyle, design, size, and material used on it. In addition, some of the types of bathtubs include:
i. Free-standing bathtubs
ii. Alcove bathtubs
iii. Drop-in bathtubs
iv. Corner bathtub
Additionally, the hot tubs courtenay experts suggest that if you have a big bathroom, you can also install spa tubs. They are designed to provide relaxation and a spa-like experience at home. They come in various shapes and sizes. 
6. Bathroom Decors and Backsplashes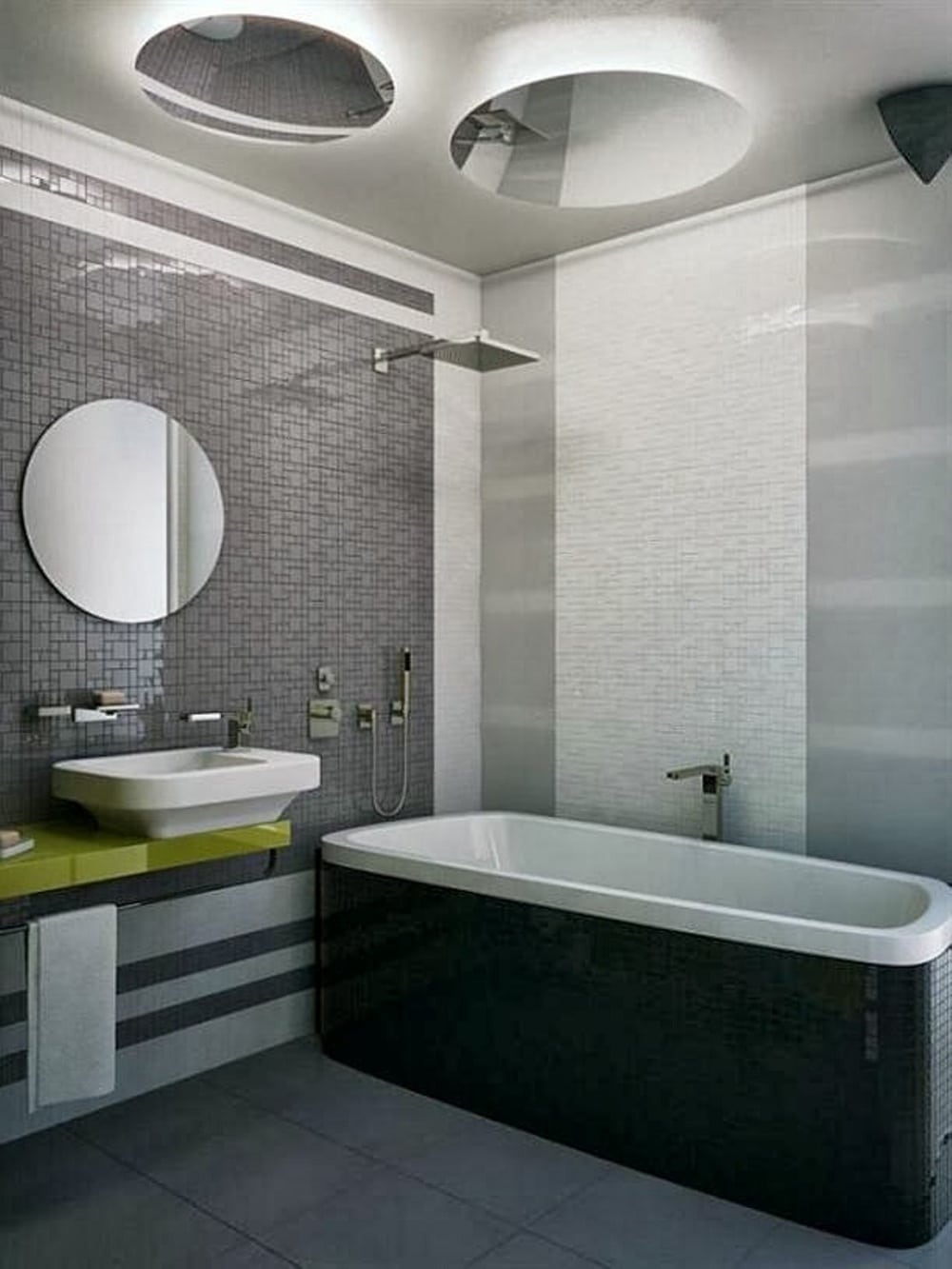 Bathroom backslashes help you to showcase your personality while transforming the entire bathroom space. It is mainly expressed in tile art you choose for the walls, floors, and even the ceiling. Other aspects include a unique woven mirror, wallpaper, animal print ottoman, potted orchid, bathtub shelf with flower vases, and a storage cabinet for towels or other items. Further, think of anything that would clearly describe your personality through the bathroom makeover. So, the best modern bathroom decor appears as your personality.
7. Modern Bathroom Lighting Fixtures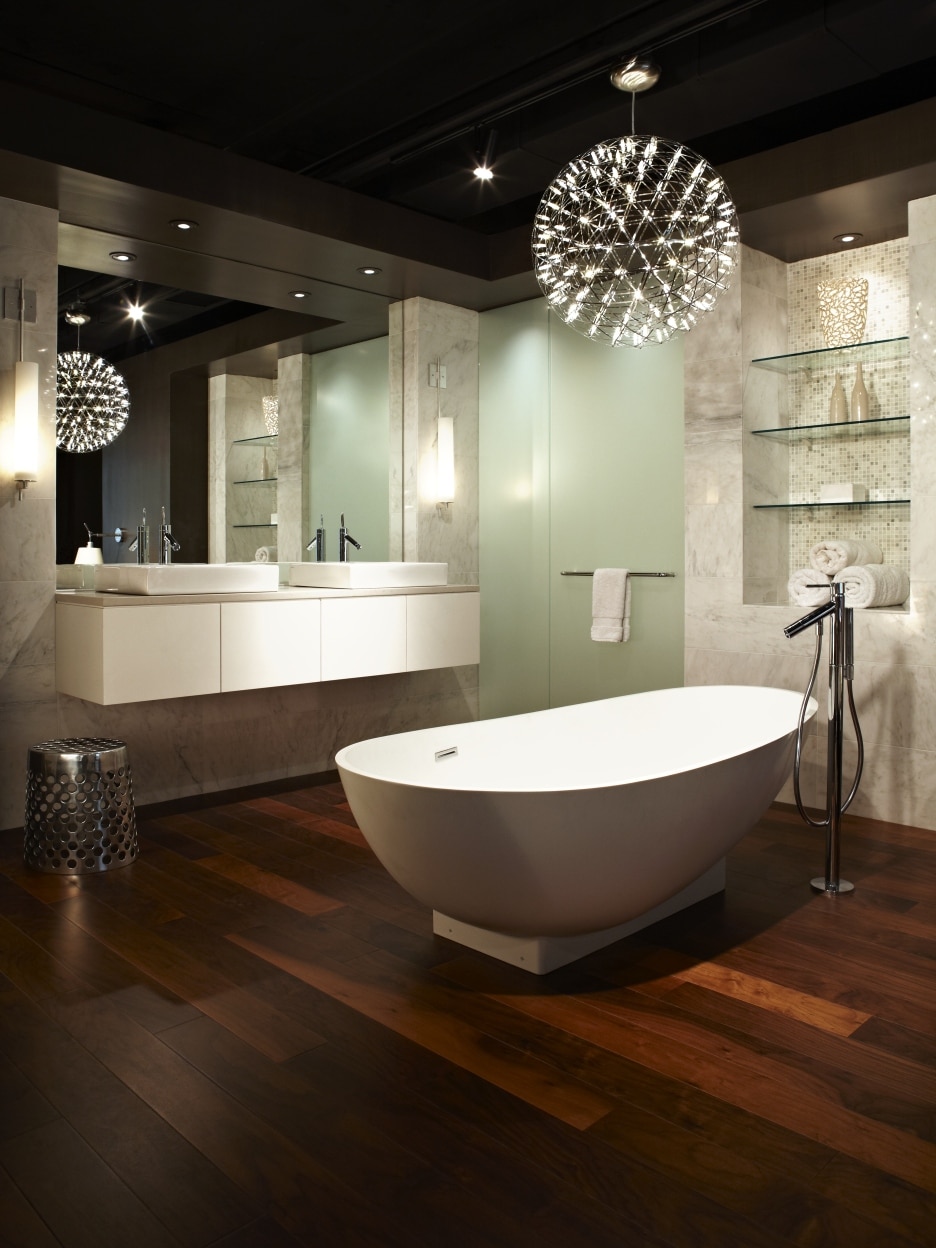 The lighting in your bathroom can bring a new sensation and impact to its overall appearance. If you have ample space in your bathroom, you can make it feel like a spa retreat every time you step in, all thanks to your light artwork. To create modern lighting bathroom fixtures, think of aspects such as:
1. First, Lighting up the mirror, the bathtub, and footpath space differently to reflect the mood and feeling you expect.
2. Second, you can go for different lighting trends and styles to produce a satisfactory ambiance.
3. Then, considering the type of light bulbs for the look you want and energy efficiency.
The Bottom Line
Your bathroom is one of the spaces in your house that gives you privacy and personal time to relax. Deciding to remodel this space will only make you more comfortable and, at the same time, improve your home value. If you were worried about the entire makeover process, this guideline would get you started with confidence.