Bathroom renovations are an excellent and rewarding investment for homeowners looking for Modern Bathroom Ideas. Not only can they increase the value of your Oklahoma property, but they also provide a space to relax and unwind in style. With so many ideas available today, finding something that suits your tastes and budget is manageable.
Whether you're looking to update an existing bathroom or create a completely new one from scratch, here are some modern bathroom ideas to help you recreate the perfect oasis in your home.
1. Go All White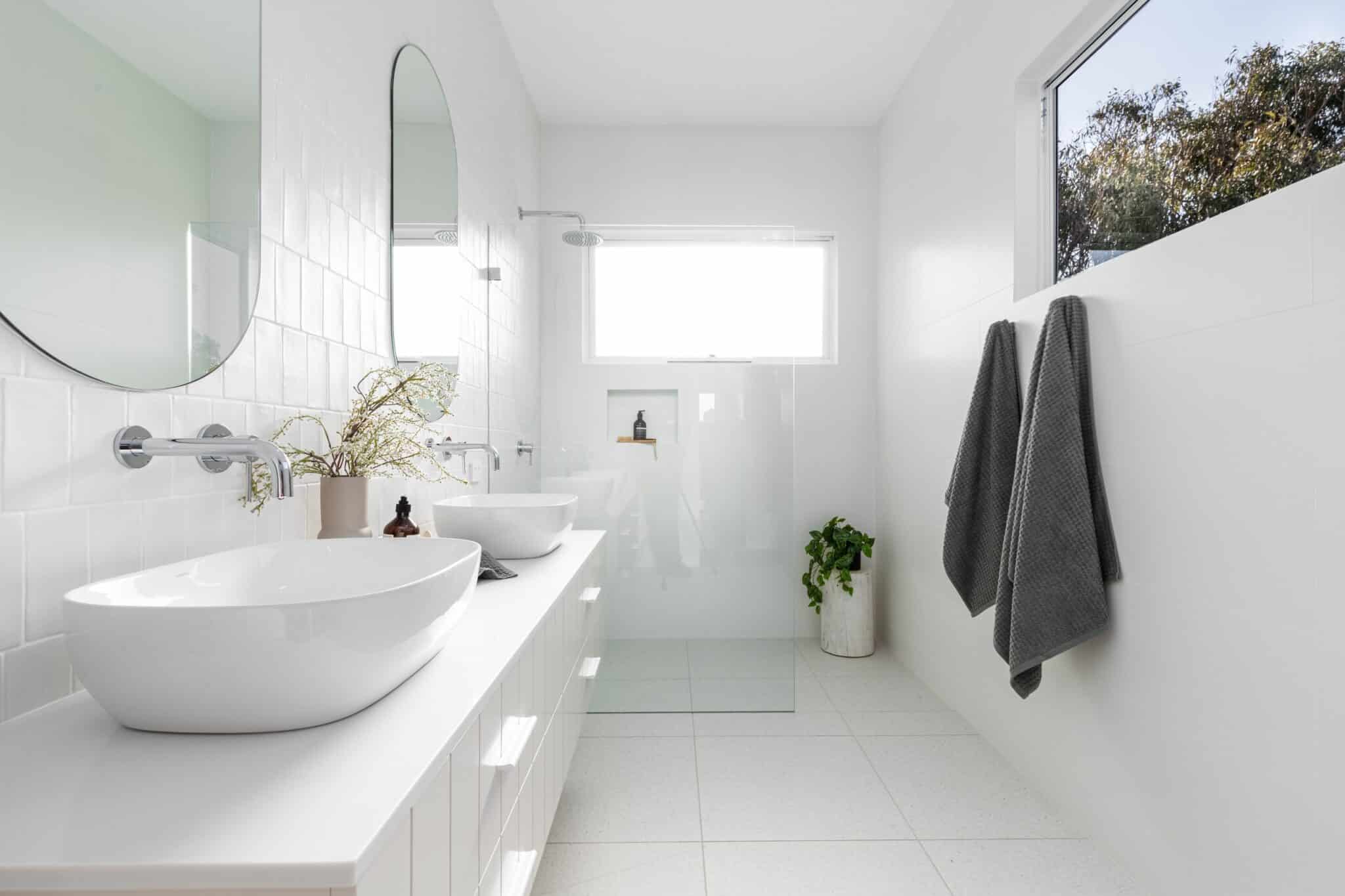 One of the most popular looks for a bathroom incorporating modern elements is a white and bright color palette. Going all white enables you to accessorize your bathroom with various modern fixtures that stand out, like artwork or accent pieces. This includes white walls, white cabinetry, and a neutral glossy ceramic tile floor for an airy and encouraging atmosphere. Additionally, you should look for bathroom countertop ideas to fit in your theme; on completion, it will make you feel like you've stepped into a luxury spa.
2. Incorporate Glass
Probably the most known hack, glass is a great way to give you an up-to-date and sleek-looking space. From glass walls to frameless fixtures, glass offers countless possibilities for a modern bathroom. Their transparent characteristic allows more light to enter, providing a more extensive and brighter feel to the bathroom. You can opt for frosted glass if you want a more private feature. For an easy glass solution, a local contractor is just one contact away.
3. One With Nature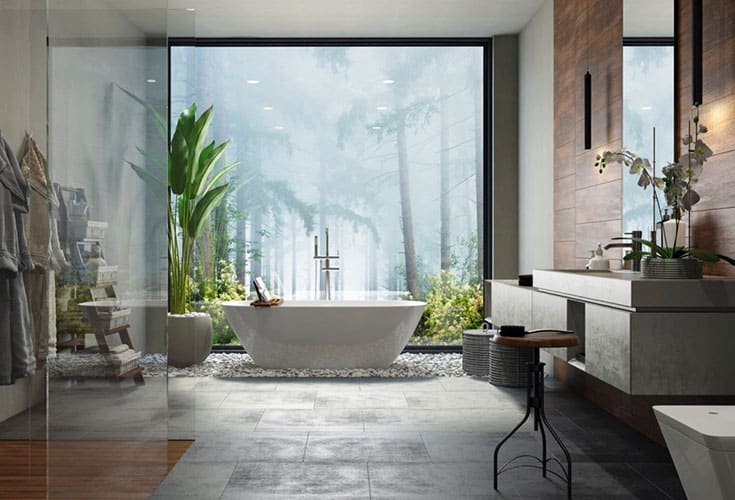 It's no secret that bringing natural elements into your home is a great way to infuse life and energy. This is exceptionally true when talking about bathroom décor. Getting plants, pebbles, or wood into your bathroom design can give off a more organic vibe, making it feel like an escape from everyday life. Plants also act as air purifiers, making your bathroom a healthy and welcoming space. Some ideas include using large tropical potted plants as a statement piece or incorporating natural stones into the walls and floors for an earthy vibe.
4. Install Mirrors
Ranging from small to large sizes, mirrors are practical and can make your space look bigger. If you're looking for a modern look, you can opt for frameless or backlit mirrors that not only add an elegant touch to your bathroom but also serve their purpose. You can also put up a floating vanity mirror that appears suspended in midair and give off a sense of lightness. Place them opposite a window to amplify the natural light, or use multiple mirrors to create an interesting focal point in your bathroom.
5. Create Ambient Lighting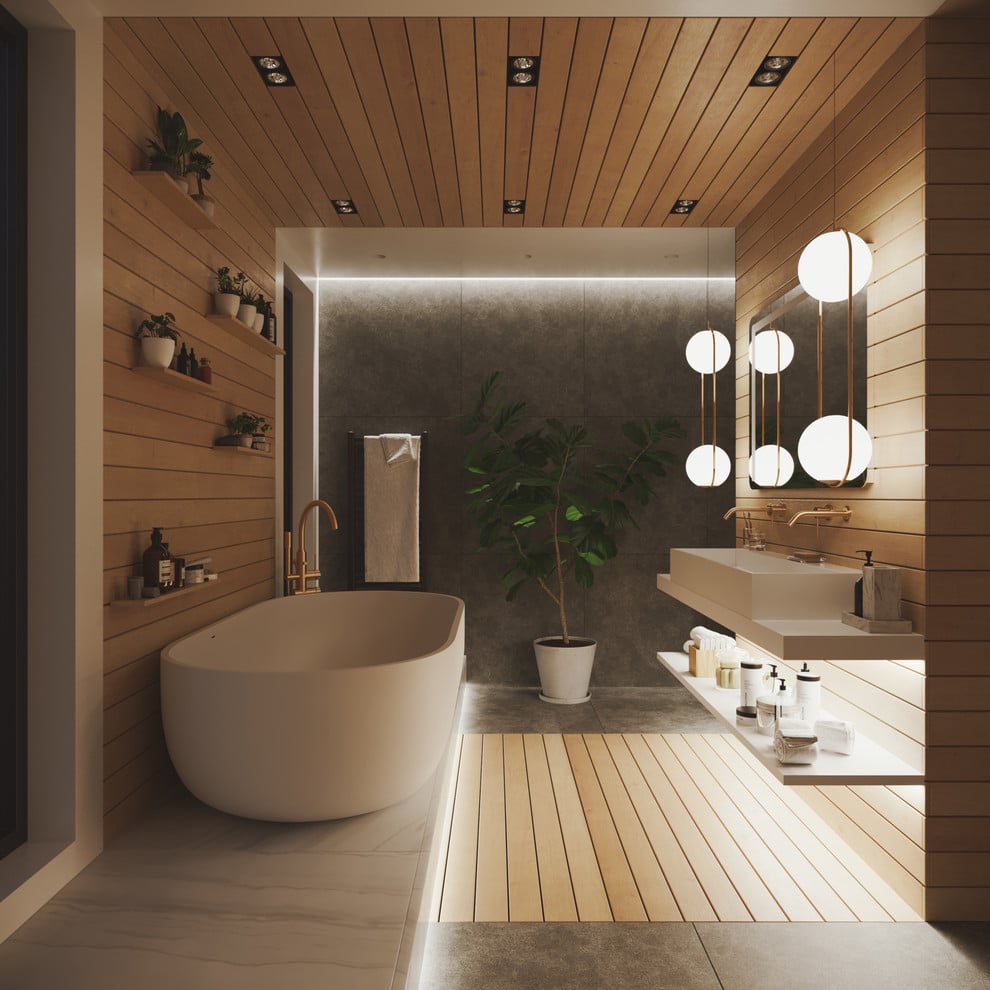 There is no doubt that proper lighting can make or break the design of any room. When it comes to modern bathroom ideas, ambient lighting should definitely not be overlooked. The secret is to find a balance between natural light and artificial light sources. Incorporate recessed lights into your ceilings and walls and sconces near mirrors for an inviting atmosphere that isn't too harsh. You can also install dimmers to control the mood and atmosphere you're trying to create.
6. Choose Soft Textiles
Delicate fabrics are another great way to add color and texture to your comfort space. Choose light colors that will bring in warmth, or opt for bold prints to add an eye-catching touch. Look for plush towels, rugs, and shower curtains in subtle colors like beige and gray.
7. Make Storage Practical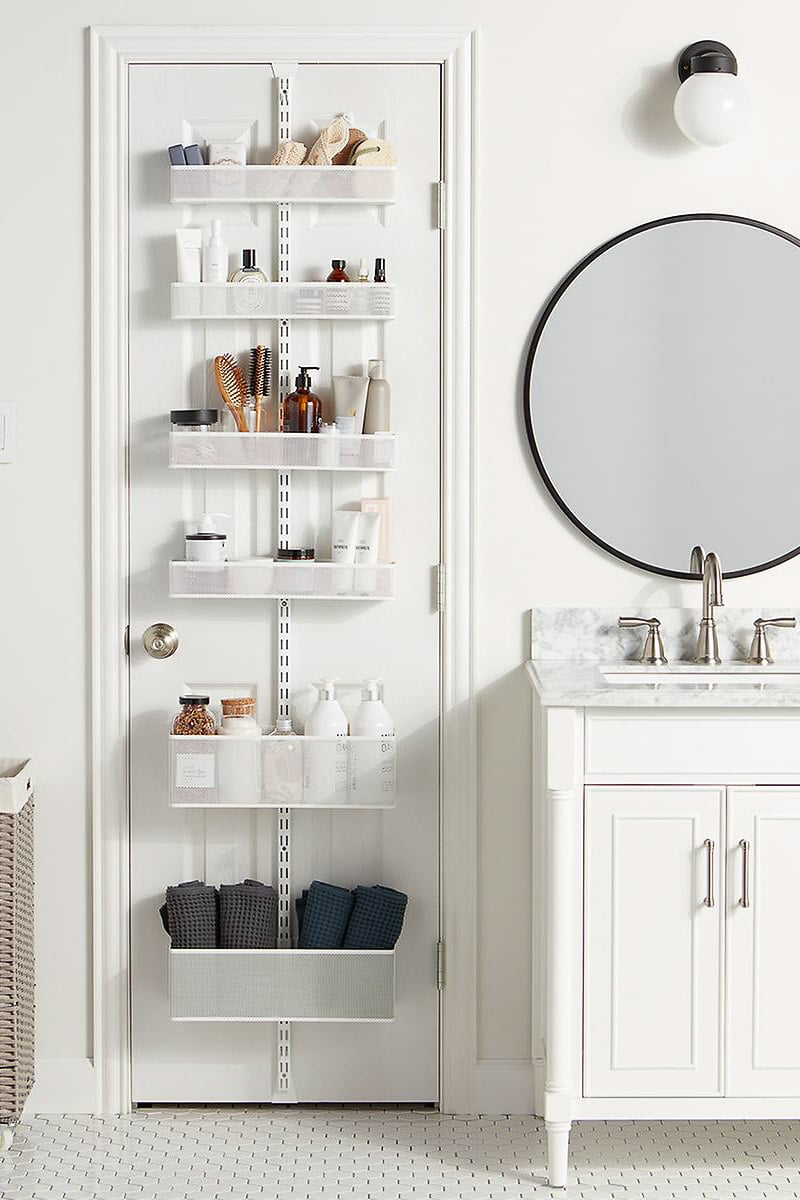 A minimalist approach to decorating your bathroom is one trendy choice. However, ensuring you have the proper storage for everything that needs to go in your bathroom is also essential. This includes towels, hygiene products, and other items that must be stored away. Invest in modern storage solutions such as open shelves, hanging baskets, and wall-mounted cabinets to keep your essentials so you don't have to clutter up your countertop. Not only do these available storage options save space, but they also look super modern and sleek.
8. Add Luxury
Adding features to your bathroom is a great way to give it an elevated look. Invest in modern fixtures such as a rain shower head or a stylish sink to add an extra degree of sophistication. You can also upgrade the material of your flooring, such as installing marble tiles instead of using traditional ceramic ones. These minor adjustments will make all the difference in creating a luxurious bathroom, making it an oasis of relaxation and comfort. Consider incorporating innovative sanitation toilet system solutions like the Sanicubic 1 for added convenience and functionality.
Conclusion
With these bathroom ideas, you can create your spa-like retreat at home. Consider how you'd like to design your space and start planning out what elements you'll need for your perfect modern bathroom! From sleek white designs to luxurious features, there are plenty of choices available to suit any budget and taste.