Basement Laundry Room Ideas – Whether a big or a small house, there must be an extra room for some homeowners. Moreover, a basement often becomes a room to store good stuff or even left empty. To make it more useful, why not using it as a laundry room in the basement instead.
A basement laundry room doesn't have to be tedious and uninteresting. It could contain a beautiful part, just like the other rooms in a house. Although it's not the place that we often used, this room still deserves attention.
There are a lot of basement laundry room designs with various styles, concepts, and color options. However, the essential part of remodeling or building it is how beneficial and convenience the room is. Therefore, before starting to build or remodel a basement laundry room, we need to consider its order, practicality, and also the amount of light.
Basement Laundry Room Design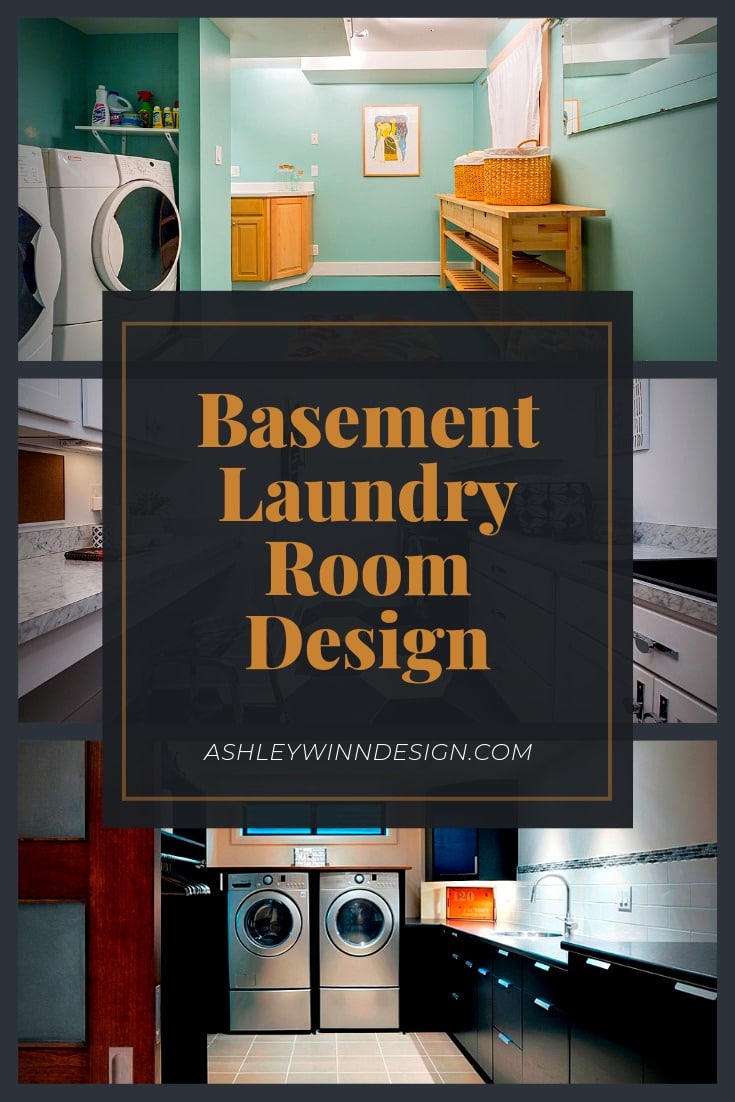 Having a laundry room in a basement is a great idea. Besides giving us an enjoyable downward journey, we also have more space for storage, folding, sorting, ironing, and other laundry activities. Moreover, designing an organized and functional laundry room is essential too.
There are a lot of basement room remodeling ideas to chose. However, if you don't have one but you planned to get one, do not forget about what's best for the basement area, including its shape and size.
Sleek Laundry Room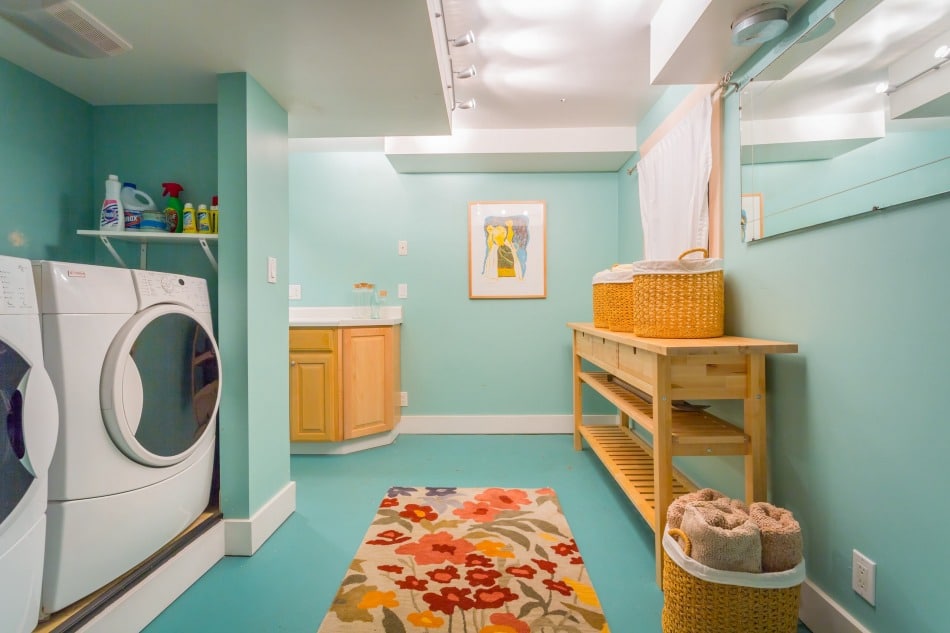 In a coastal style, the laundry room gives a 'back to nature' vibe. Although it's in the basement, the dominant light blue color and lighting freshens the whole room and brings a bright light.
As we can see, on the left side, there are washer and dryer machines. Also, the furnishings are soft, and the carpets are clean, especially the flowery one.
Luxury Basement Laundry Room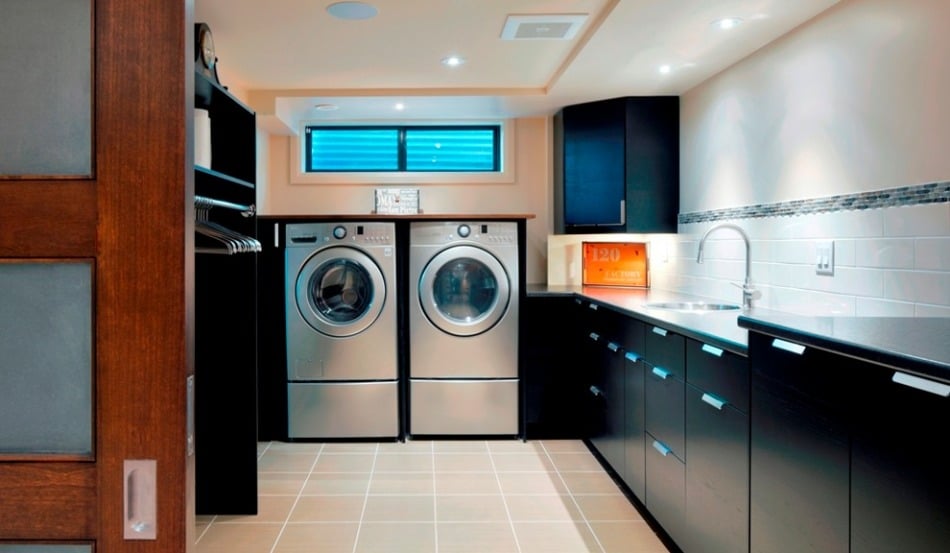 A large basement can also turn into a contemporary laundry room. With black cabinets, small ventilation for air and light, single upper cabinet installed next to washing machines, those fixtures arranged well and fitted the room luxuriously.
Moreover, the whole design shows a contemporary laundry room in a basement.
Modern Laundry Room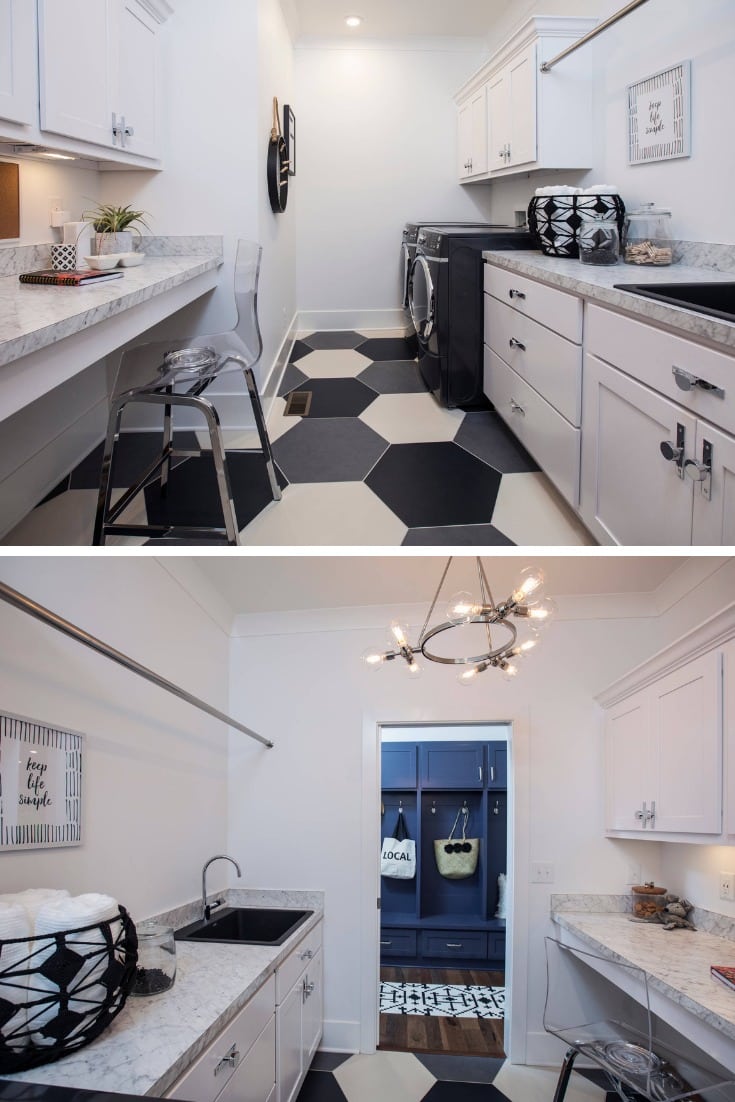 Modern design is also an excellent choice for a laundry room. With its contemporary model, this room example provided with black and white colors. On the floor, there is a large hexagon floor tile installed in multicolored. Additionally, there are washing/drying machine placed side by side, white shaker cabinets, white countertops, and drop-in sink arranged right up to the next white walls. Lastly, the design looks clean and bright with its modern appearance.
Natural Laundry Room Ideas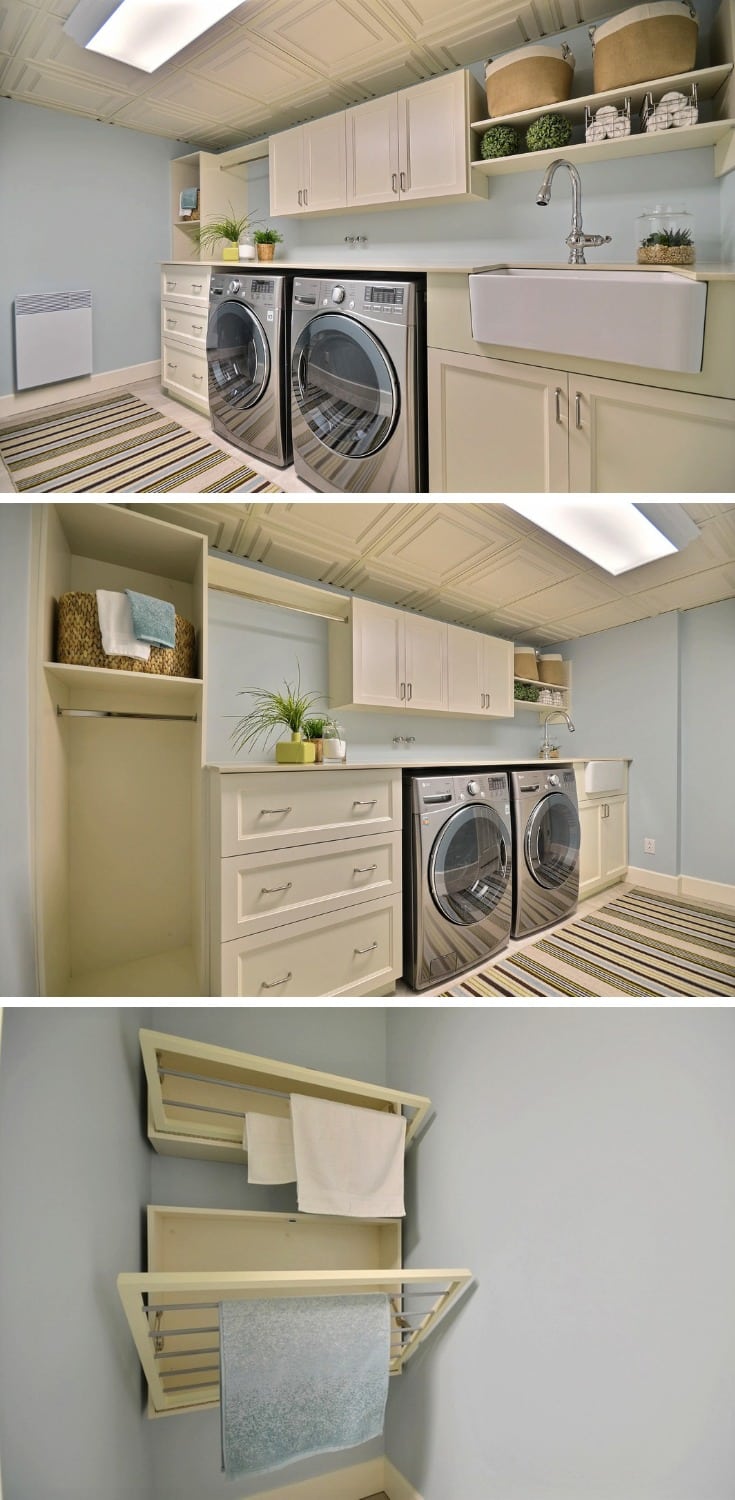 A transitional laundry room is an excellent choice for those who love original design. Moreover, this basement room looks well-organized and straightforward with ivory cabinets, quartz countertops and side by side washing machines. As we can see, there are some hanging and open shelves to store the laundry stuff. The cabinets installed beside and above the main laundry room appliances.
Vintage Basement Laundry Room Ideas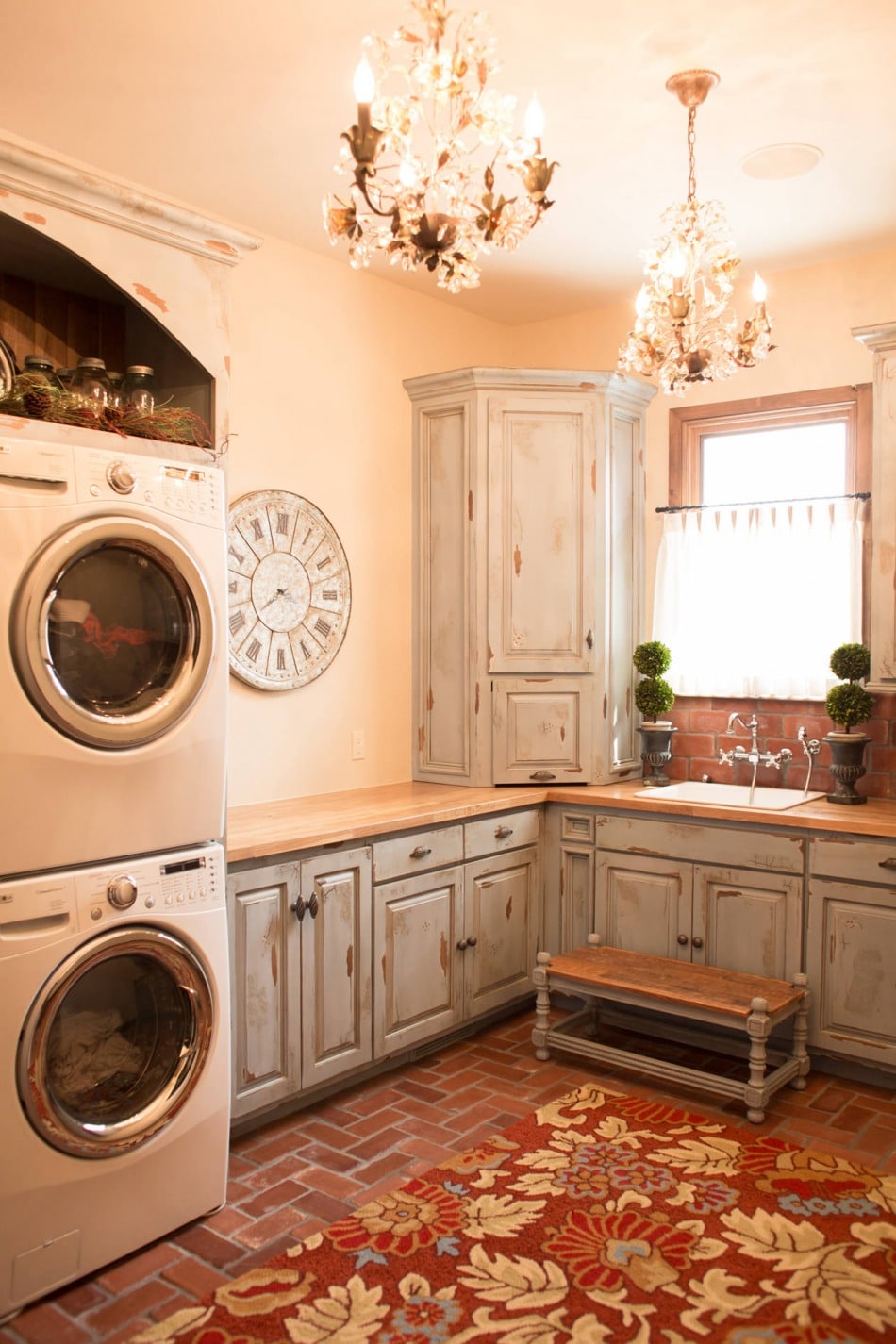 Built in a mid-sized room doesn't make this room lose its completeness. It applies a farmhouse design with a red brick floor, drop-in sink, distress cabinets, and wood countertops. Additionally, there are traditional hanging lamps and stacked washing machines. Moreover, the furniture looks old and classical, which brings a vintage style into the room.
Farmhouse Laundry Room Ideas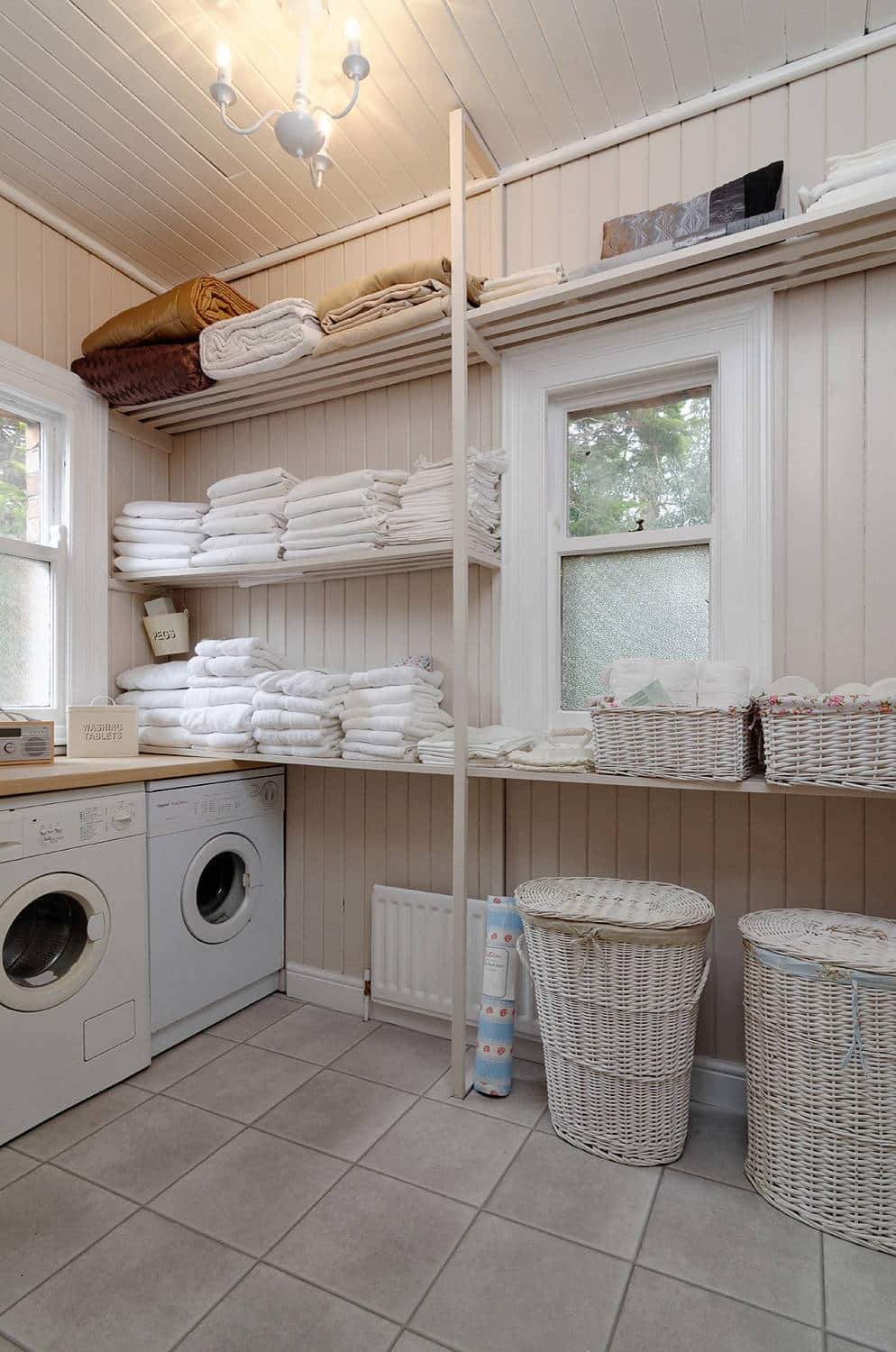 By applying a traditional but timeless style, the laundry room has a grey floor and beige walls surrounding it. Also, there are hanging open cabinets for folded clothes and washing or drying machine which placed side by side. Lastly, the room colors and lights blend well and significantly.
Old Laundry Room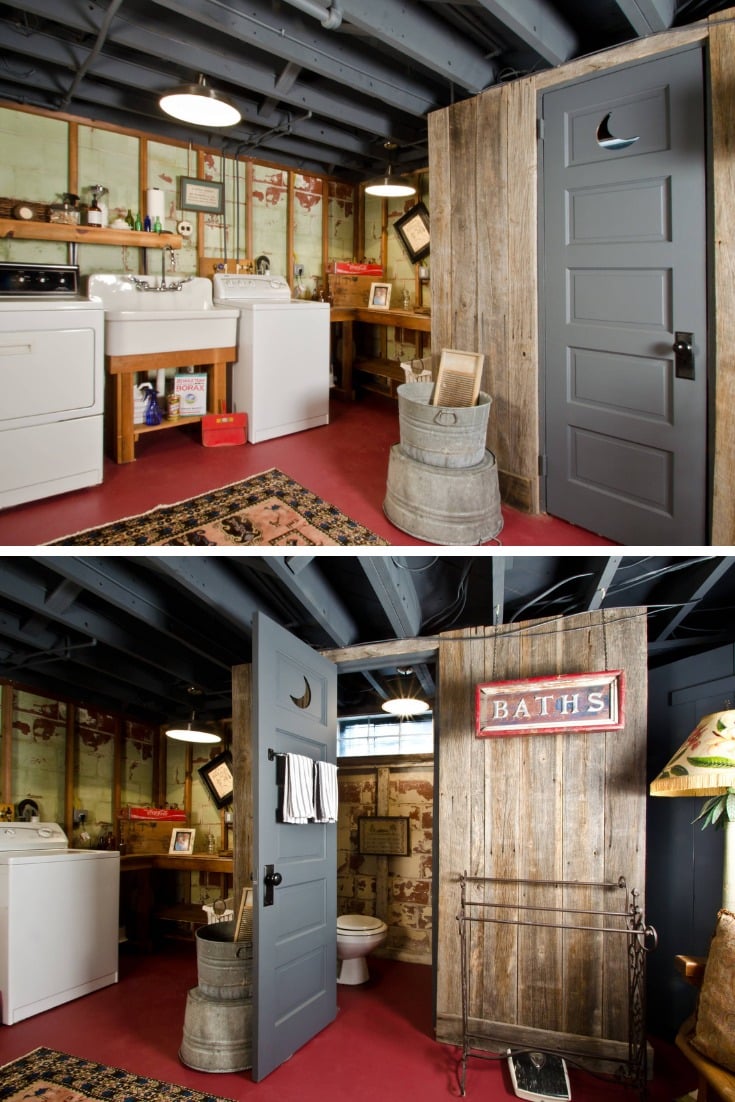 A combination of grey on the door, wood accent on the wall, and also red on the concrete floor gives an eclectic design. Although this mid-sized room left unfinished, with creativity, good paint, and decor, now the room looks unique and special. Thus, the laundry room looks clean and bright with enough amount of lighting and well-organized furnishings.
Basement Laundry Room Organization
Organizing the room is one of the essential parts during the basement laundry room makeovers. If the room is well-organized, the cleaner it looks the more time we will spend inside it. Besides, with the right arrangement, we will enjoy our laundry time even more.
Misplacing some stuff can also be a problem, whether the area, storage, or even combination with other rooms. Also, it is crucial to organize your laundry room so that it will not bore you and bring a headache.
Basement Laundry Area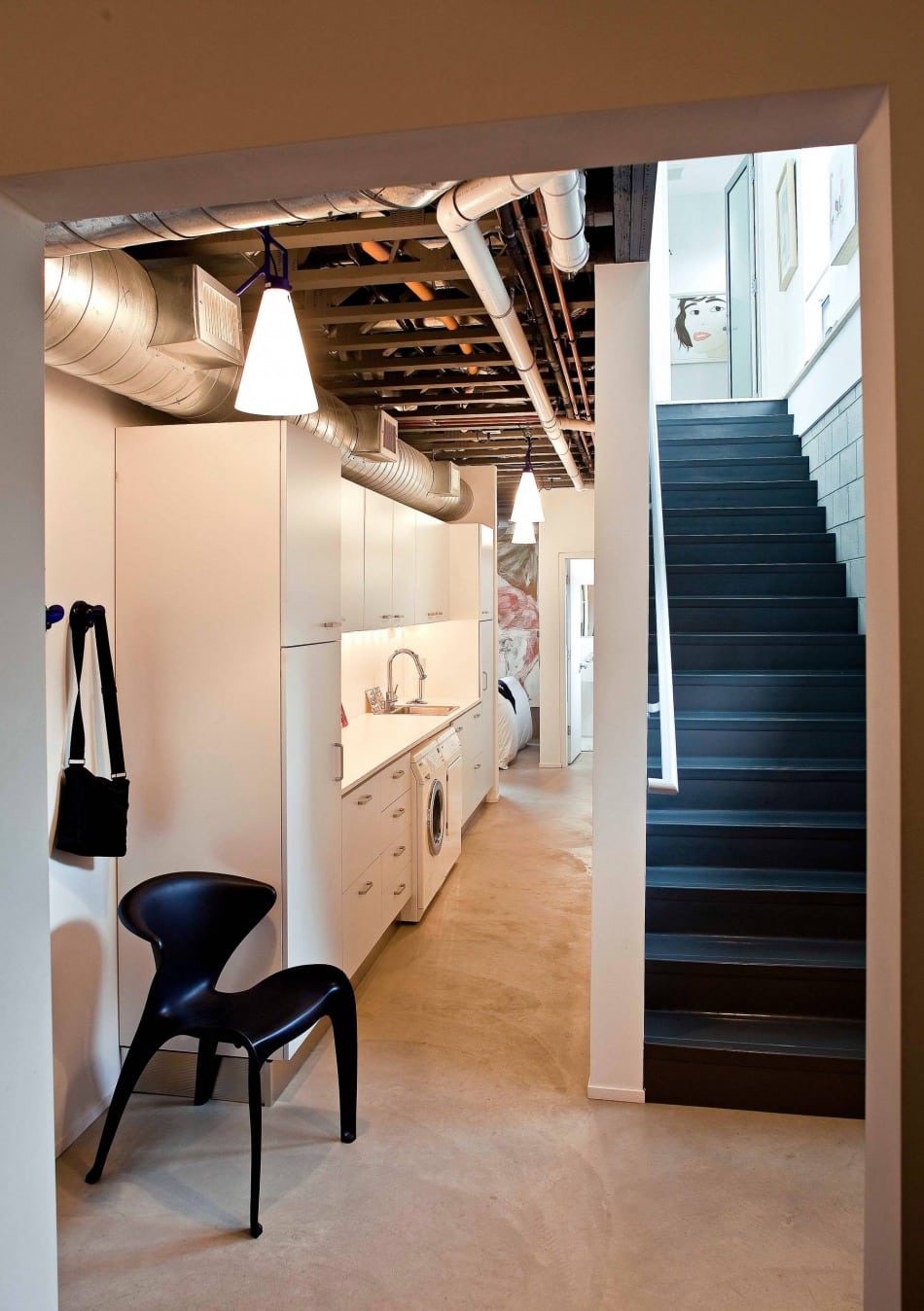 Build in the basement. This laundry room has a small space area. Although it placed downstairs, the lighting is good with enough amount of lights — additionally, the long black stairs placed near the wall to connect the basement and upstairs room. Also, the washing machine is installed in the middle of white cabinets and below white countertops. Thus, we can see a contemporary look from the whole room organization.
Basement Laundry Room Storage Ideas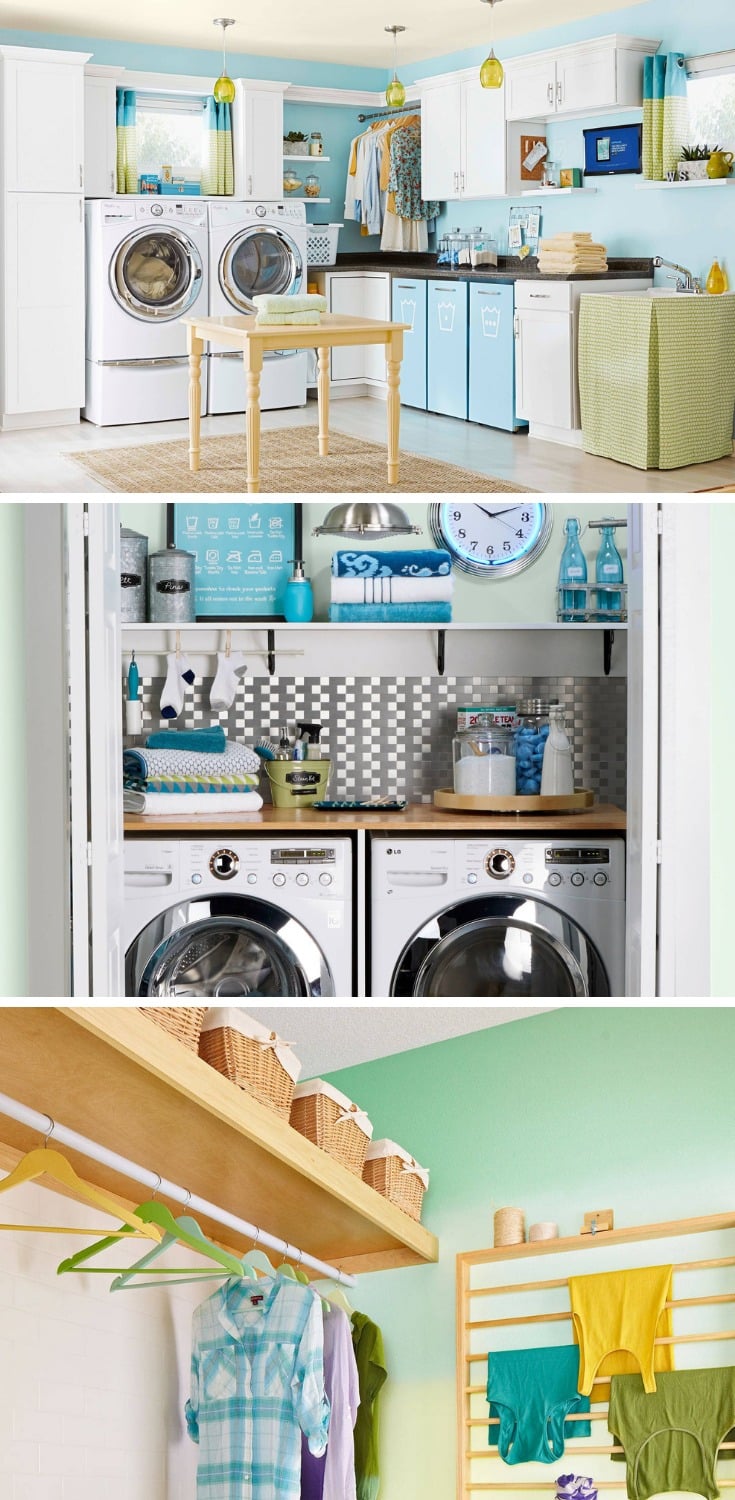 A laundry room with the right amount of storage is essential for a complete working process. As we can see, there are many storage spaces installed in this room, including white and blue cabinets, white shaker cabinets, sorting cart, and hangers rack which placed side by side. With fresh blue paint, this room shows a transitional design with excellent storage arrangement.
Related : Shelf Decor Design Ideas
Basement Laundry Room With Storage Cabinets And Shelving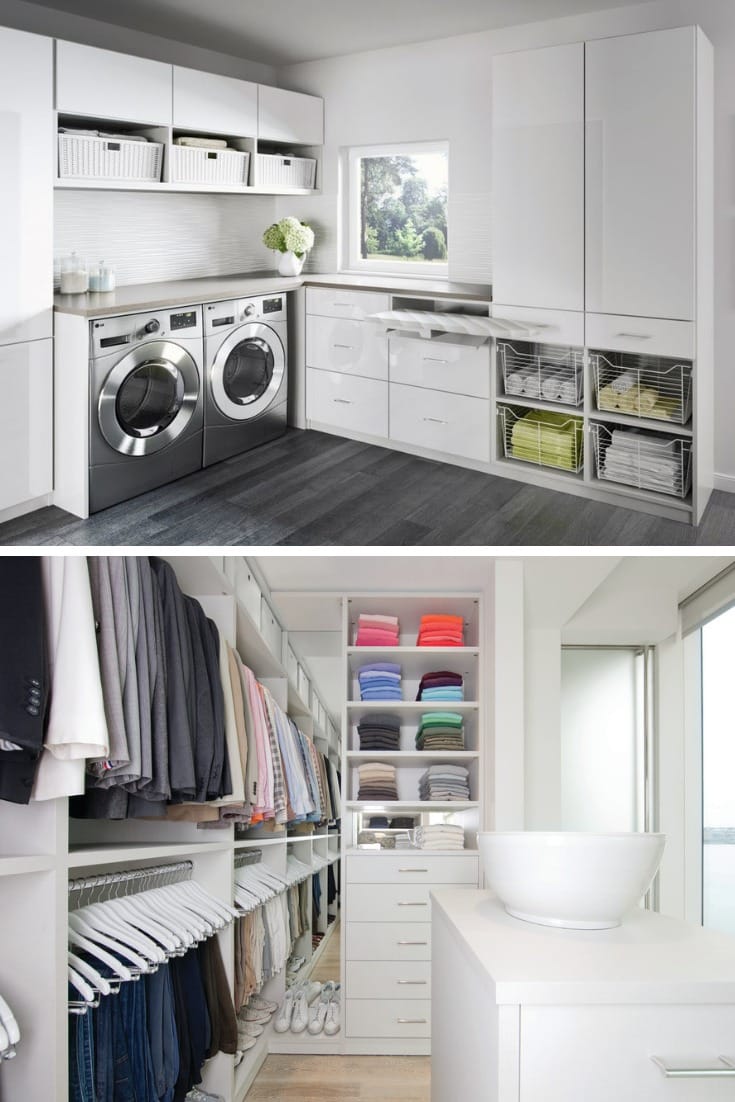 Besides the size of the room area, the installation of cabinet and shelving are essential too. Just like this minimalist laundry room, it covered in white on the wall and fixtures. There are flat-panel cabinets and shelving to store the laundry stuff which placed side by side with the washing/drying machines. Also, the owner added baskets storage on the open shelves to make it more organized and reachable.
Laundry Room and Playroom Combined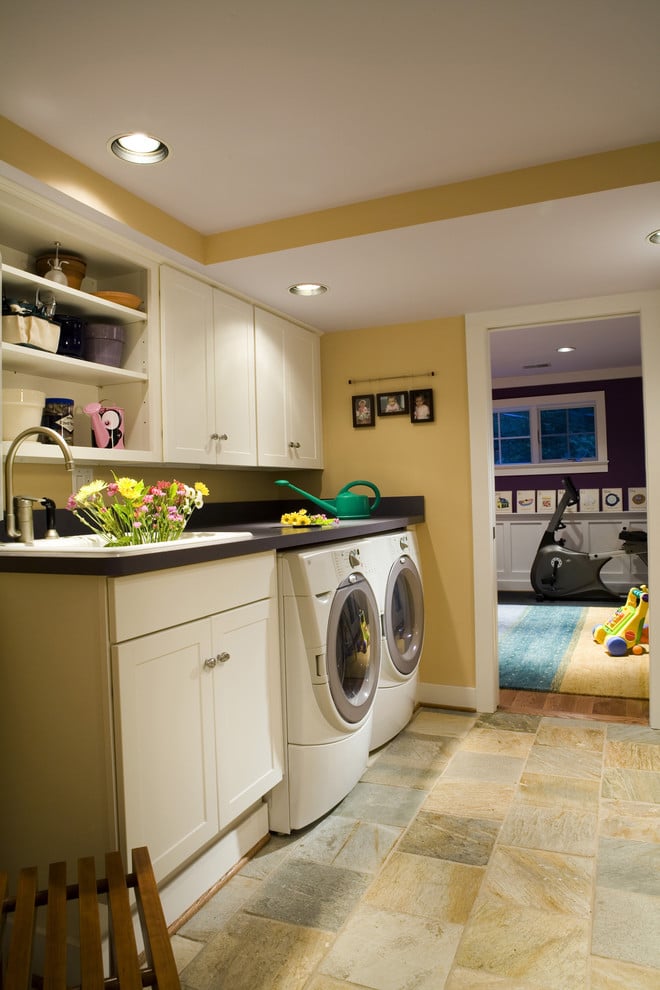 Taking care of the children and doing a laundry activity at the same is possible to do. By designing the laundry room next to a playroom, it can be a unique solution. Arrange the laundry stuffs next to the playing hall so that it will be easier for you to control your children while they are playing. Besides, it will be safer and give us an enjoyable laundry time.
Related : Laundry Room Ideas
Large Basement Laundry Room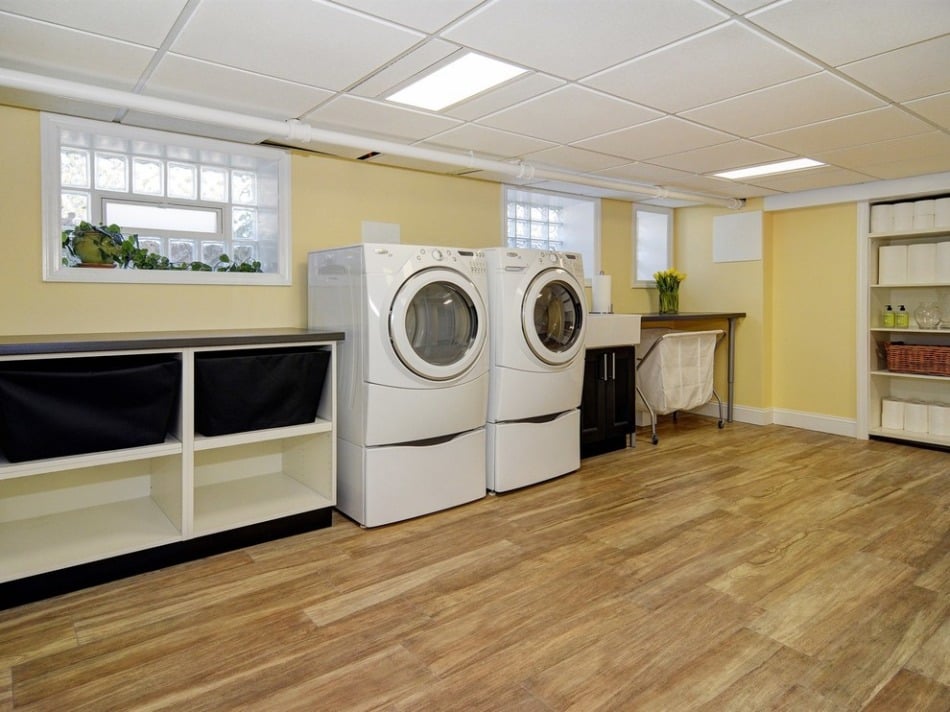 A large basement can also turn into a laundry room. This large room model provided with yellow walls, good lighting, and brown porcelain floor, which is smooth and safe for working and walking. Also, there is some laundry stuff placed on the corner, including a side by side washer/dryer, open cabinets, and farmhouse sink. Besides, having a laundry room in a large basement give us more space to work, and it will be easier to move.
Small Basement Laundry Room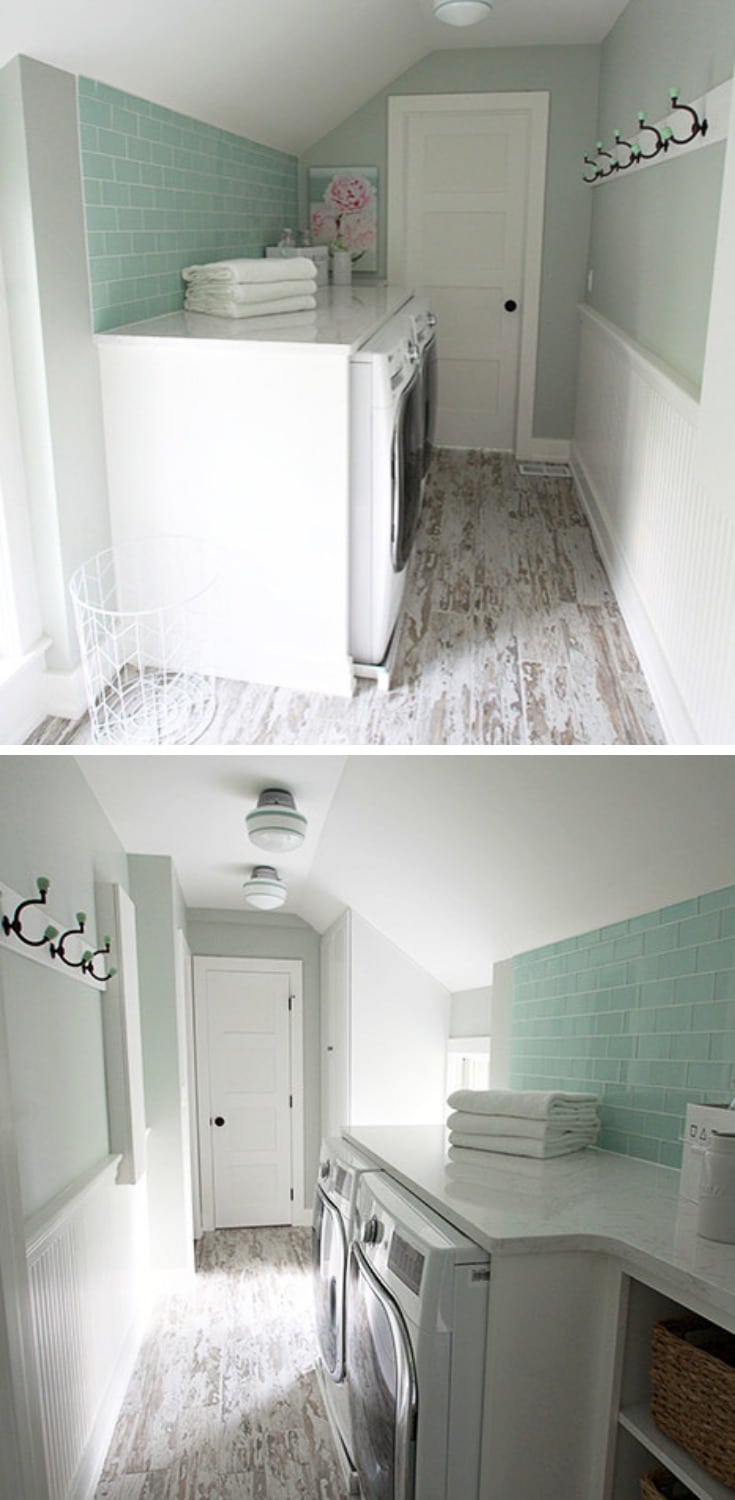 Besides a large room, a tiny one can also transform into a beautiful laundry room. With soft blue and grey on the tile backsplash and wall, this room contained washer/dryer which placed side by side and white cabinets next to it. Moreover, the fixtures are on one side, so that the other can be a walking area. Although this farmhouse style laundry room is small, it doesn't look tight and uncomfortable to use.
Related : Best Mudroom Ideas
Basement Laundry Room Remodel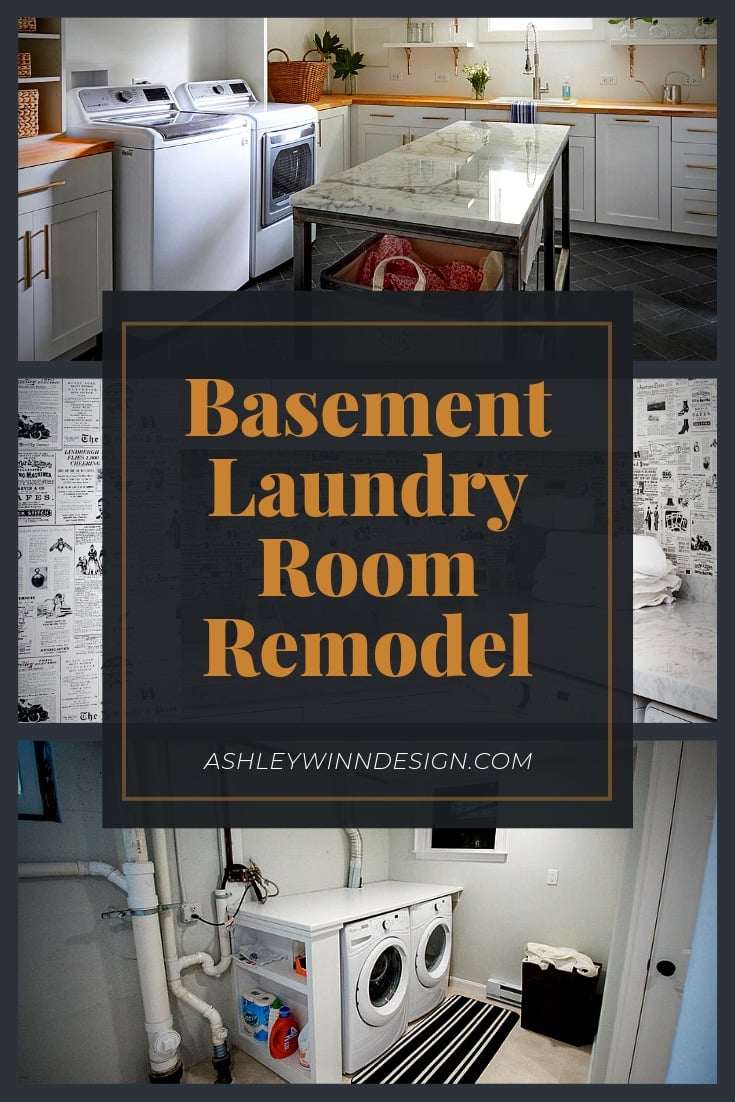 Remodeling a laundry room needs a unique inspiration so that it will turn into a useful and functioning room for laundry activity, primarily if it is built in the basement. There are a lot of parts that we need to consider before remodeling the laundry room, including the flooring, fixtures, and how the room should transform.
Basement Laundry Room Plumbing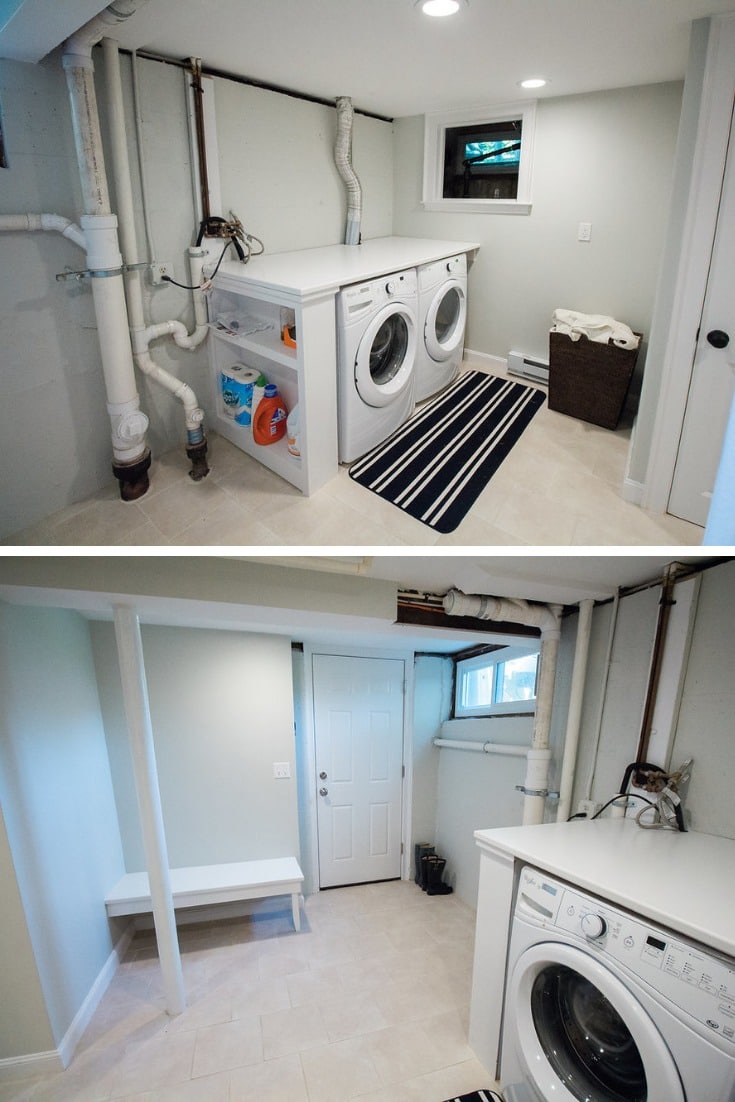 Not only located underneath the house, but this room is also in the middle of the garage and living space. We can see the plumbing installed inside. Also, the laundry room has a simple look which is supported by dominant white in the whole room. Moreover, this mid-sized basement has a traditional concept with ceramic floor, solid surface countertops, side by side washer/dryer, and beige wall.
Basement Laundry Room Flooring Ideas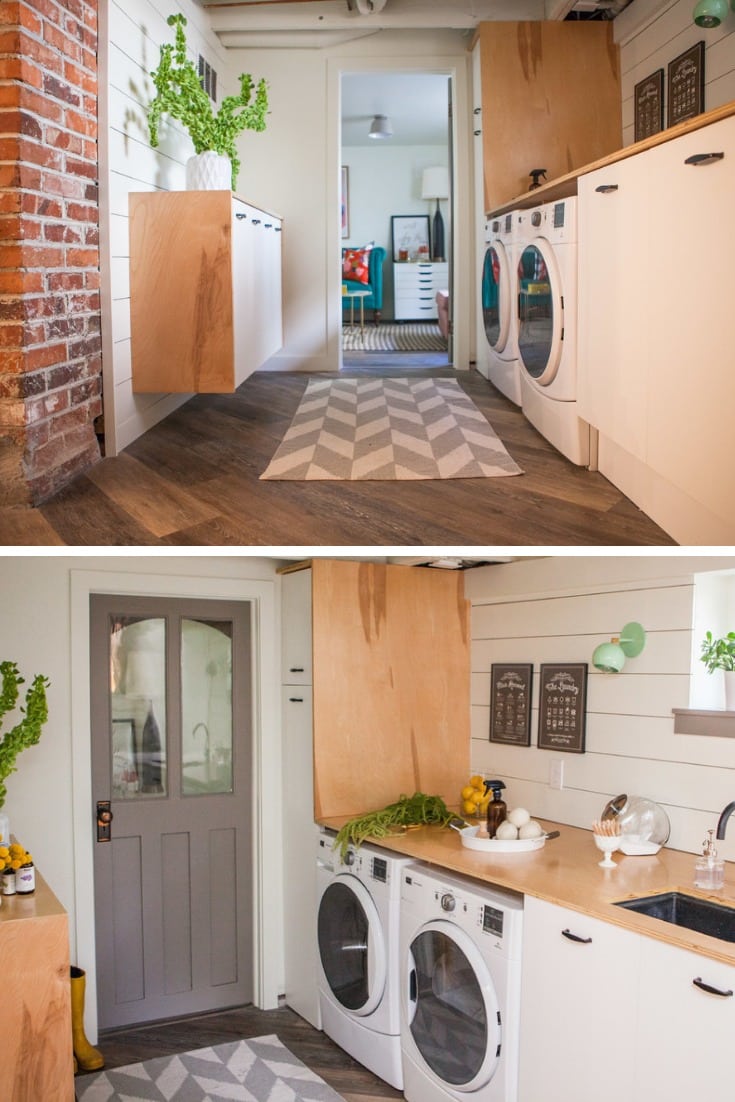 Flooring is also essential to focus on while remodeling a laundry room. In this farmhouse room, there is a dark wood floor installed, which is smooth and easy to step. Moreover, this flooring is very functional for laundry activity. Additionally, to complete the basement laundry room, there are some fixtures added, including white cabinets, wood countertops, and side by side washer/dryer.
Basement Laundry Sink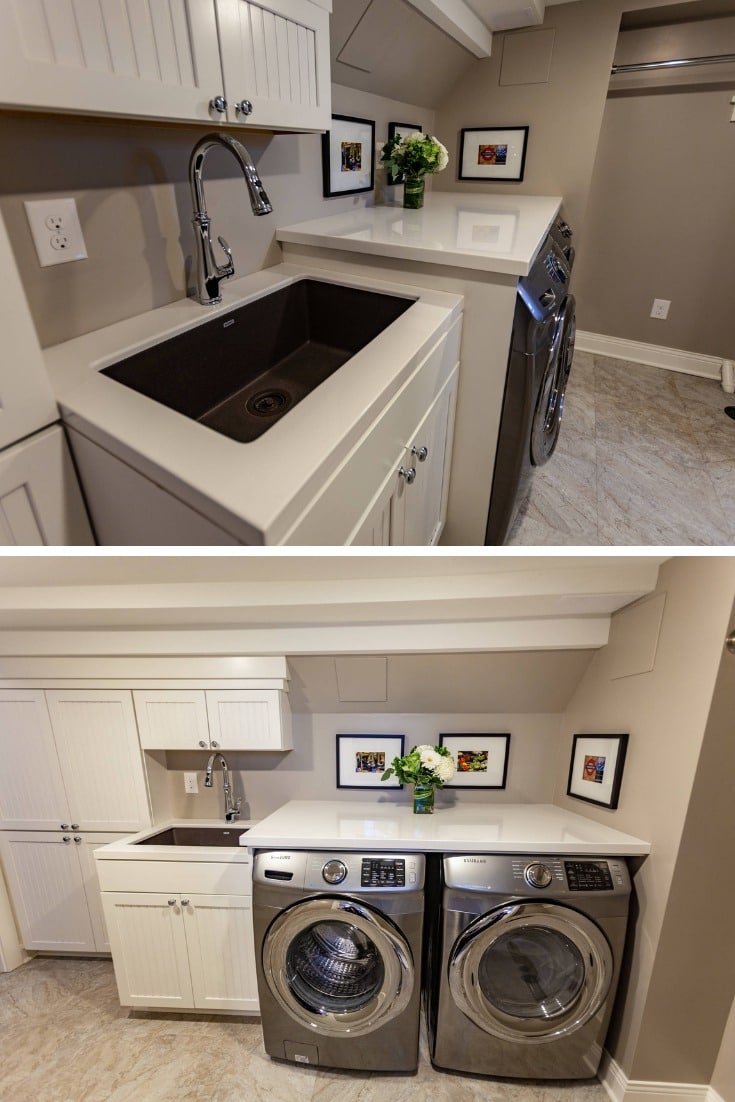 There are a lot of essential parts in a laundry room, and a sink is one of them. In this traditional laundry room, there is an under-mount sink installed near side by side washer/dryer machines. Below and above the sink, there are white cabinets to store stuff. To conclude, this beige colored room is designed in a clean, organized, and family-friendly model.
Small Laundry Room Ideas With Sink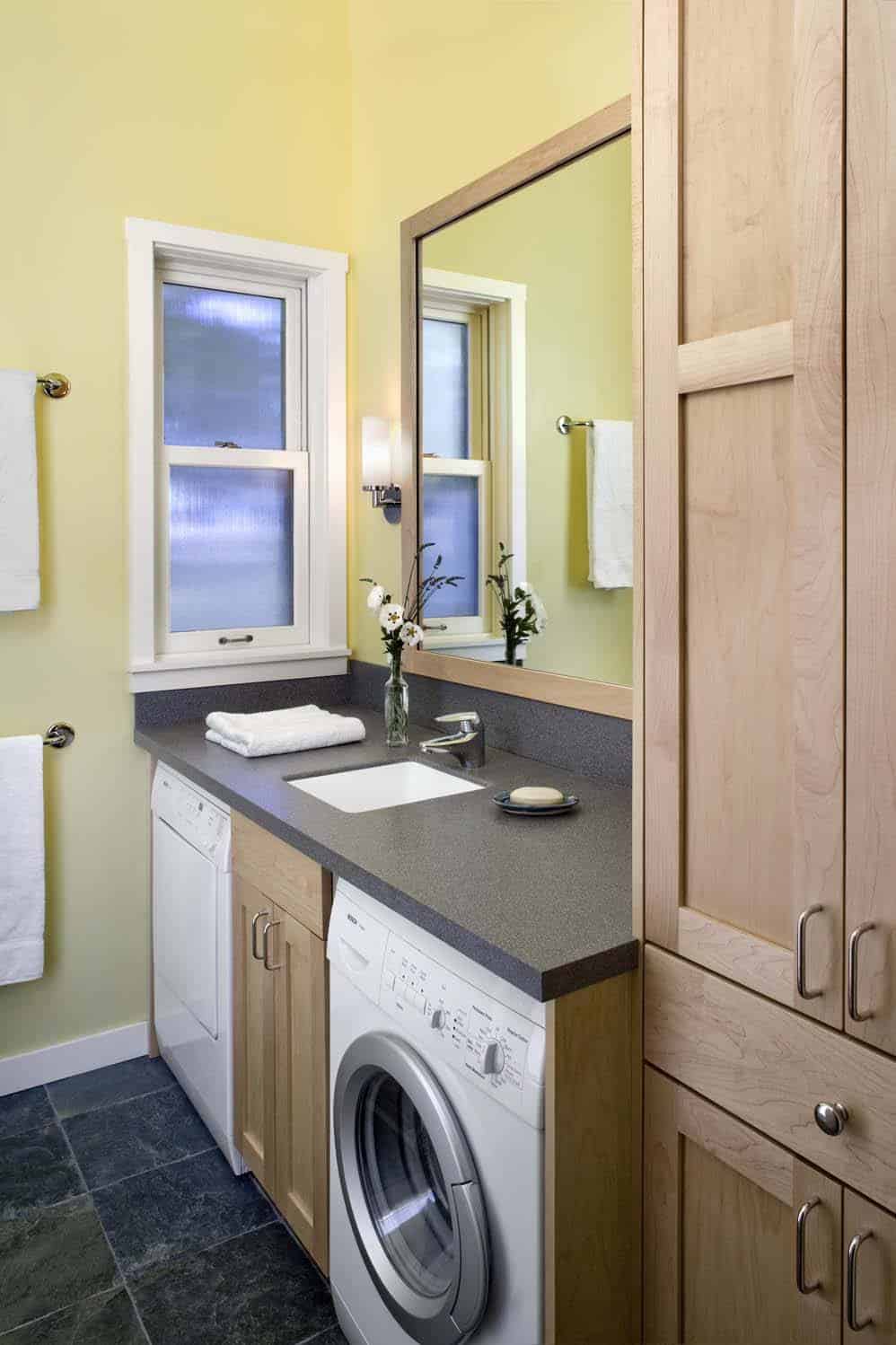 Besides the previous large room, let's take a look at this little laundry room with a sink. It could be an excellent inspiration for the basement and bathroom laundry room designs. Additionally, this laundry room has Avonite countertops with integral sink, which is quite small, just like the room capacity. There are also some fixtures to complete the room including the maple cabinets, towel rail pinned on the yellow wall, and washer.dryer machines below the counters.
Related : Bathroom Remodel Ideas
Basement Laundry Room With Island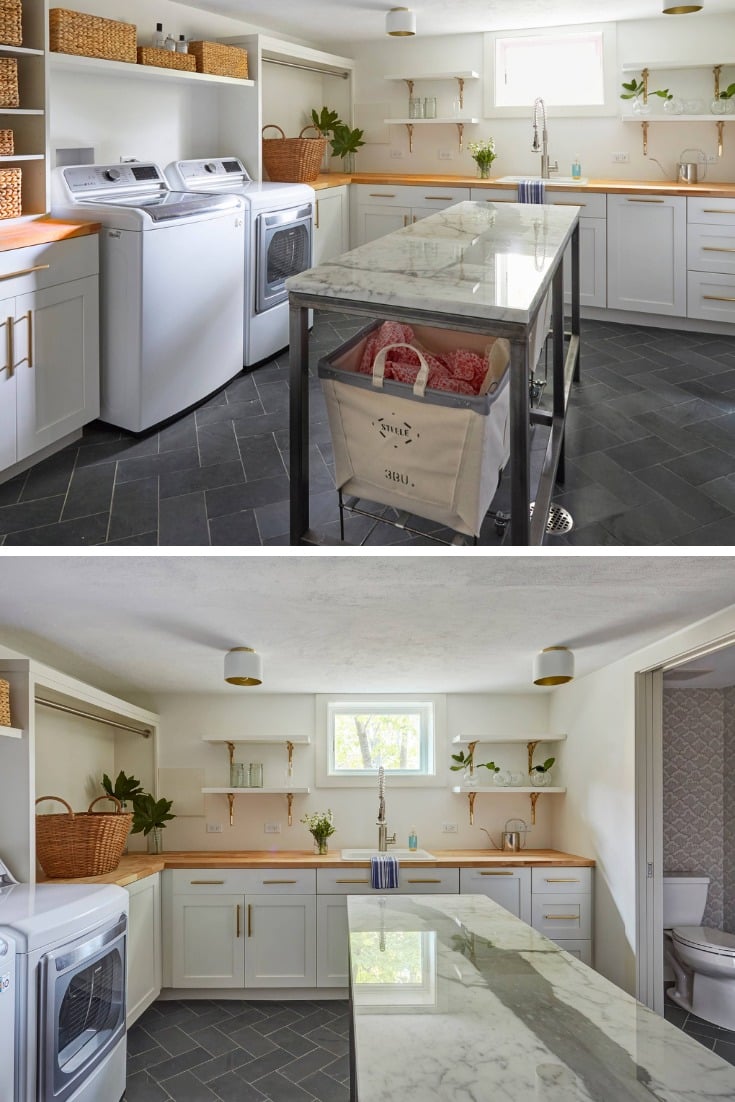 Remodeling a large laundry room give us more space and also creativity. Therefore, consider adding an island to help you with laundry activities. Here we have an island and cabinets from the old kitchen. With a little renovation, the island turns into a high functioning laundry folding table.
Basement Bathroom Laundry Room Ideas
Besides remodeled as a laundry room, this basement also has a bathroom inside it. Those two room combinations are designed with a traditional style. Moreover, the place is divided into two spaces, they are laundry and bathroom spaces. In the laundry space, there are new walls, plumbing, ceiling, vinyl tile flooring, shaker cabinets, white countertops, and sink with faucet. While in the bathroom space, it includes custom shower floor, sink with faucet, frameless glass shower enclosure, and subway tile walls.
Laundry Room Wallpaper Ideas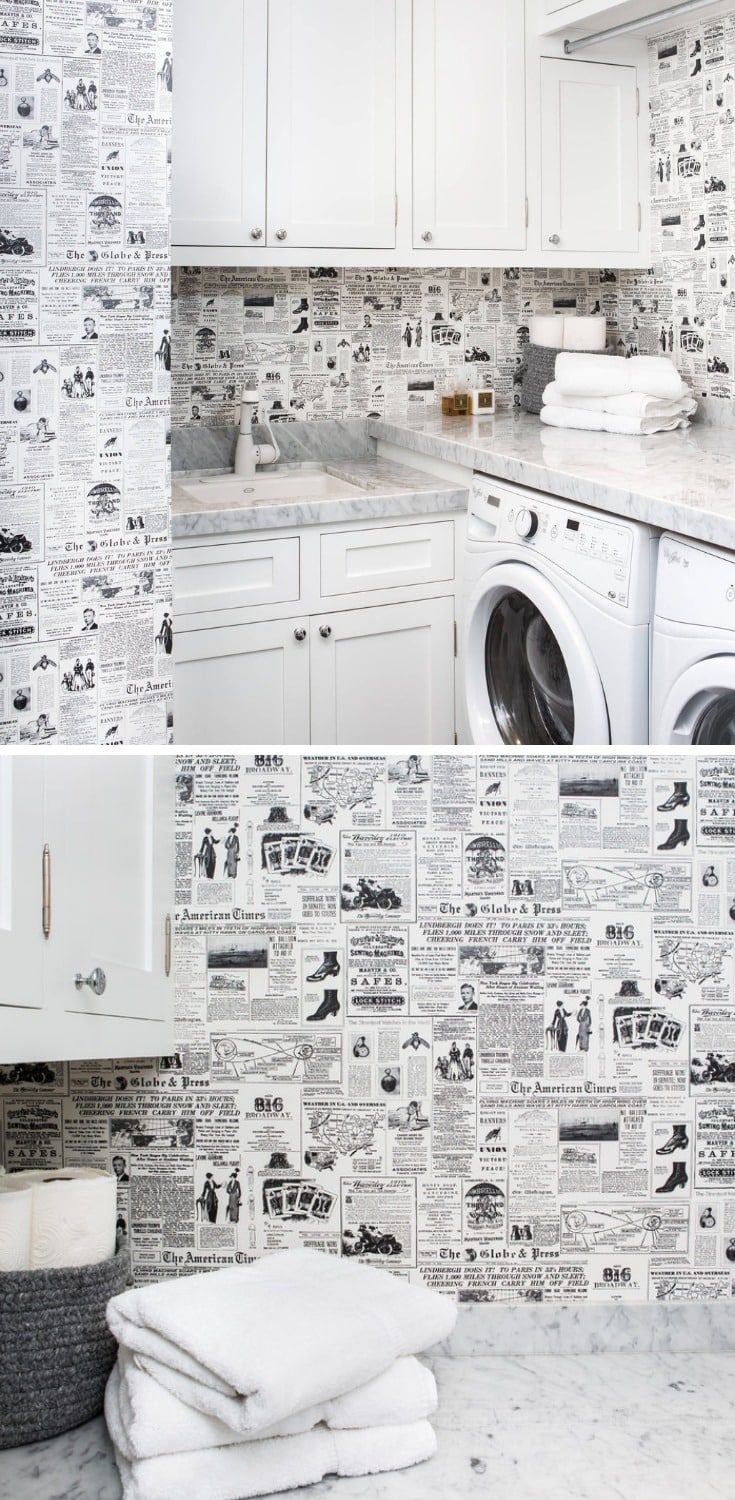 Usually, the laundry room has a simple design because the owner doesn't spend much time in there. Although it's not a priority room, it still deserves to have a beautiful part and an excellent design. This laundry room has unique interiors, especially the wall covered with complete wallpaper. Besides, there are some laundry fixtures included such as a side by side washer/dryer, white cabinets with undermount sink and grey countertops.
Laundry Room Decorating Ideas Cupboard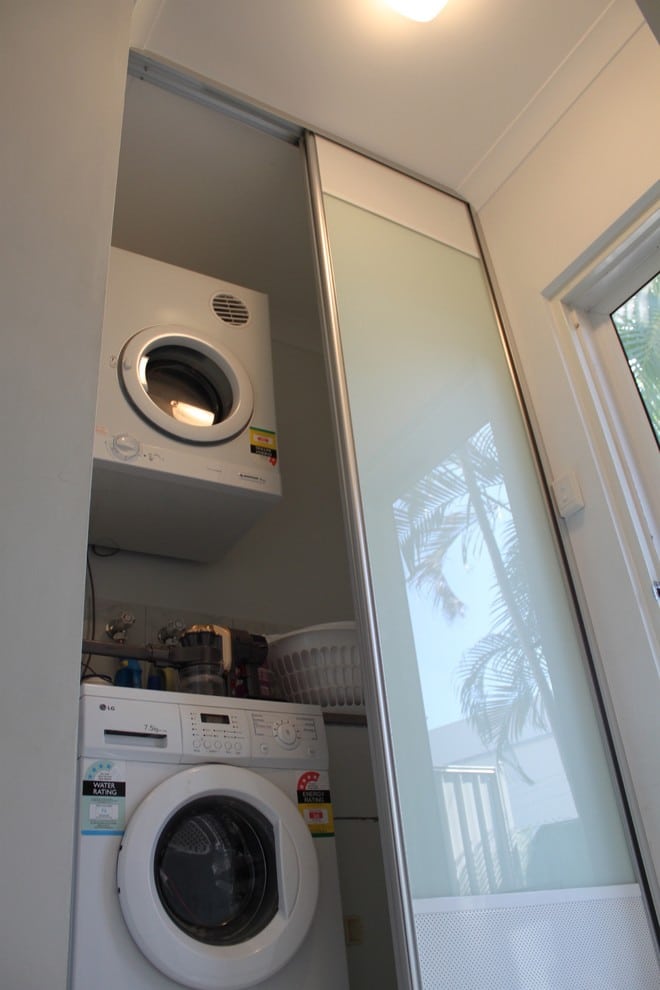 A laundry room in a cupboard design place is such a unique idea. This tiny room has a sliding door and includes washer/dryer and some cabinets to store the clothing. Besides saving more space in the house, this room gives a particular hiding place for your laundry stuff.
Basement Laundry Room Before and After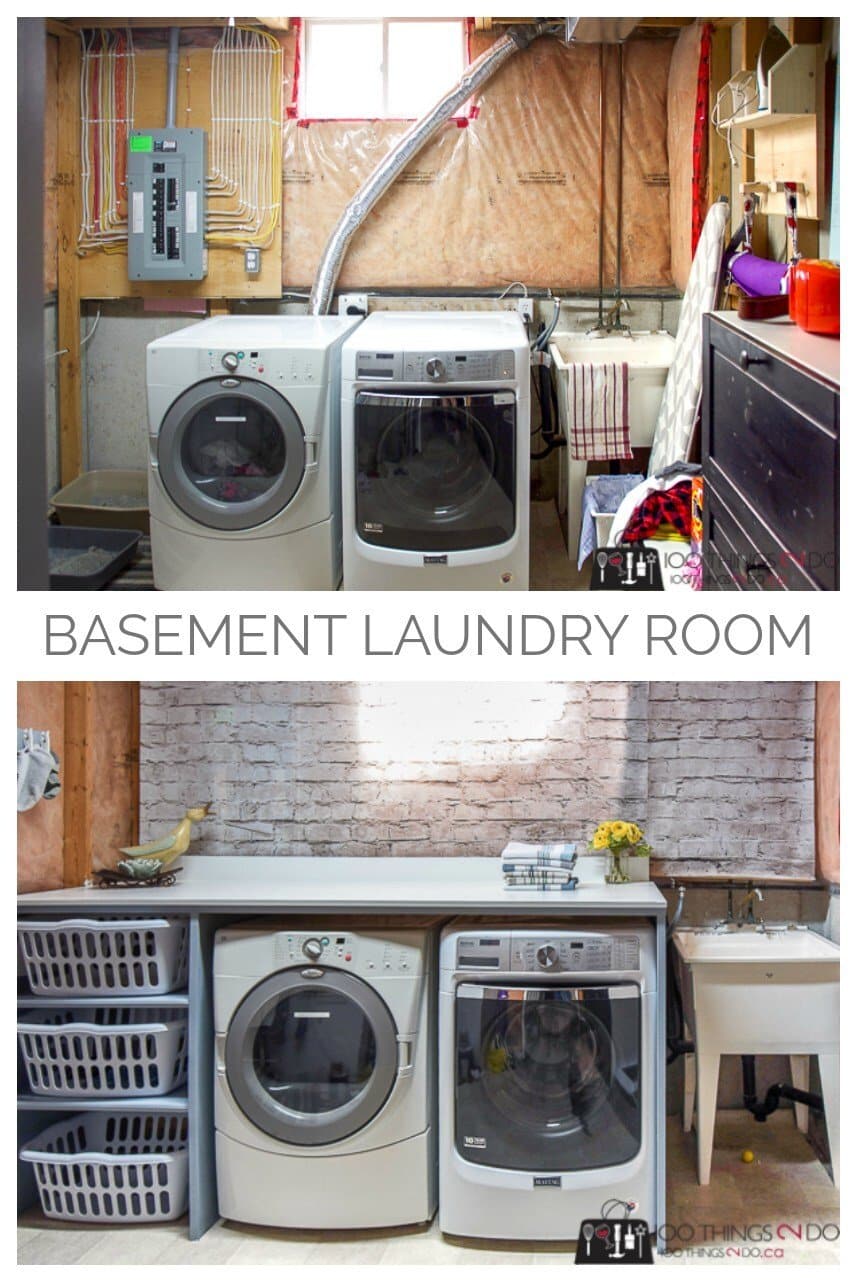 Let's take a look at this example of basement laundry room ideas before and after. Previously, this room is messy and has no artistic part. Its organization is boring started from the wall, plumbing, wires on the wall, and all of the fixtures included. Indeed, the owner will not enjoy his laundry time in this basement.
But then, it transformed significantly into a well-organized room, and there is a little change in the decoration. Although the washer/dryer stay in the same place, the owner decided to add a desk to cover it. Also, the addition of baskets on the shelves give more space for the laundry stuff and avoid to put it randomly. Lastly, with a little change in the arrangement and decoration, this laundry room can change into a simple but efficient room model.
Conclusion
In conclusion, having a basement laundry room gives us so many benefits, including good workout activity by walking downstairs to upstairs. Also, it won't disturb the main floor and if the plumbing leak, the owner won't be worry anymore because it is on the lowest side of the house. Besides, the laundry room in the basement will complete our home. Therefore, if you are remodeling laundry room in the basement or want to get one, find a great and suitable design which will suit your house and your characteristics.