Easter Door Decorations – Its almost April, everyone! What does April remind you of? Of course it reminds you of Easter! As Easter is approaching, it is probably a good idea to tell your neighbors that your family is taking the holiday very seriously by attaching some Easter door decorations at your front door.
Welcome your guests with flowers, fluffy bunnies, and small eggs to give them the spirit of festive Easter day! Read on to find some Easter wreath DIY to cheer up your holiday.
1. Scattered Eggs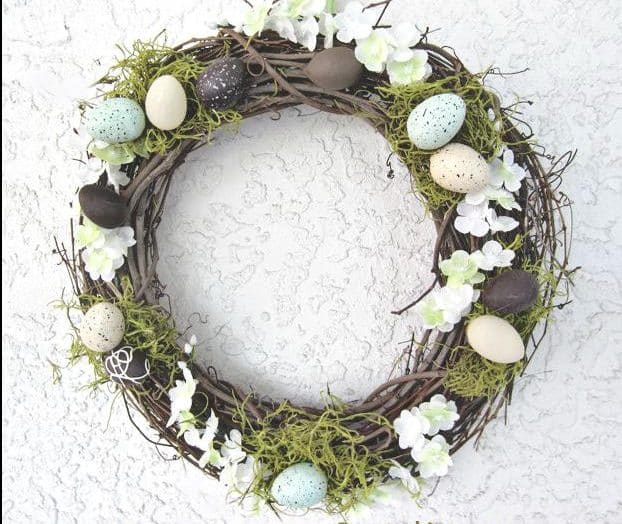 Grab a grapevine wreath and stick them with artificial moss and small flowers. You don't have to completely cover them as the grapevine already looks pretty against your door. After that, you can attach some faux eggs with pastel colors all over the wreath. This spring wreath will definitely look cute for you to hang all season long!

2. Bunny From Wonderland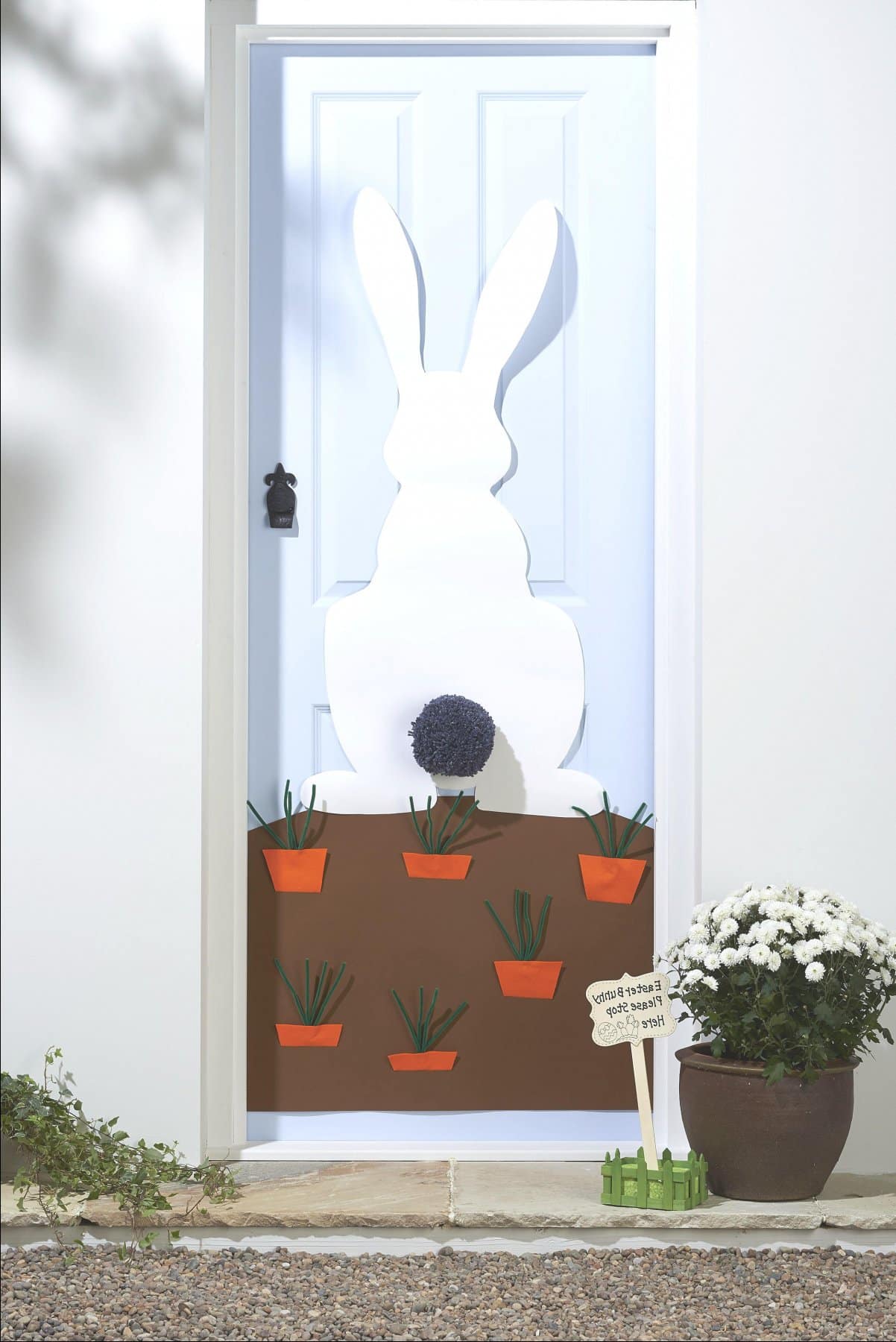 If you are talking about Easter, then it's definitely about bunnies! Unleash your creativity by making this fantasy-theme door decoration by cutting up white paperboard into a big bunny shape. Remember to properly measure your door to give proper scale to your Easter door decorations.
After that, cover the bottom part of your door with brown paperboard to mimic the soil where your bunny is standing. Cut some more paperboard to make carrots (bunny's favorite!), and glue them to your soil paperboard. Finally, add a small and cute flower wreath to mimic bunny's tail to make your door look cute even from far away!

3. Dotted Egg Easter Door Decor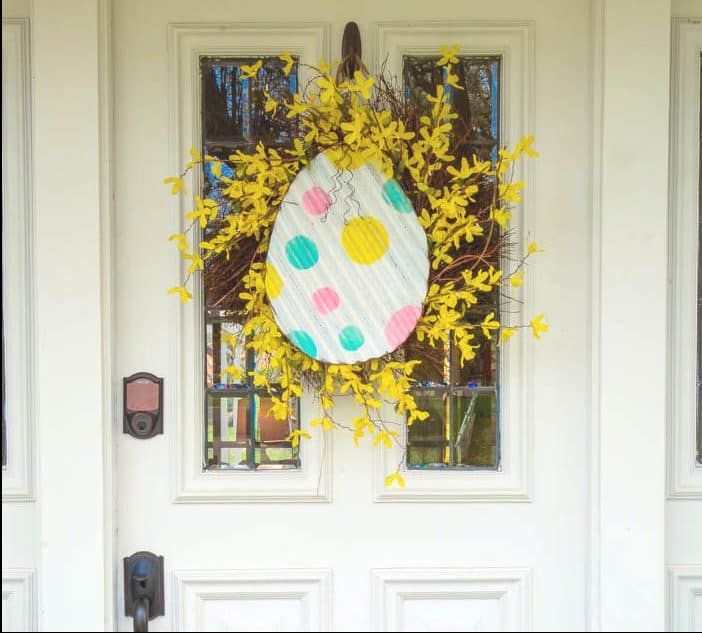 What is Easter if it's without eggs? Celebrate this spring season with large egg decoration that screams Easter vibe by hanging this simple yet pretty door decoration. Cut up a paperboard into a big egg shape and put dots of pastel color to make it colorful. After that, properly glue the egg onto twigs of flowers. Trim your twigs accordingly and strap your Easter door decor on your front door for festive Easter this season!

4. Easter Truck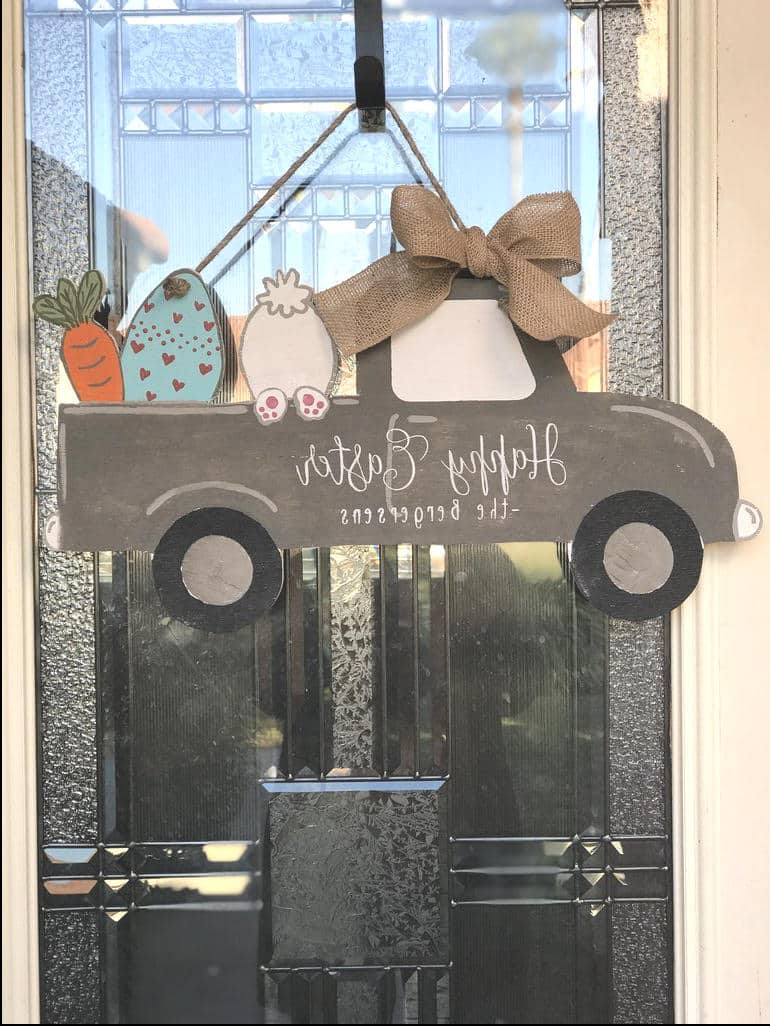 If you are looking for an activity you can do to bond with your kids over weekend, then making this door décor is perhaps a good option for you to try. You can start with purchasing a thick paperboard and transform it into a truck shape. Spend your day with coloring the car with your kids and make other complementary items such as bunny, eggs, and carrot to be attached at the back of your truck. Write celebration signs all over the car then hang it with a rope and a ribbon.

5. Bunny Bouquet Easter Door Decorations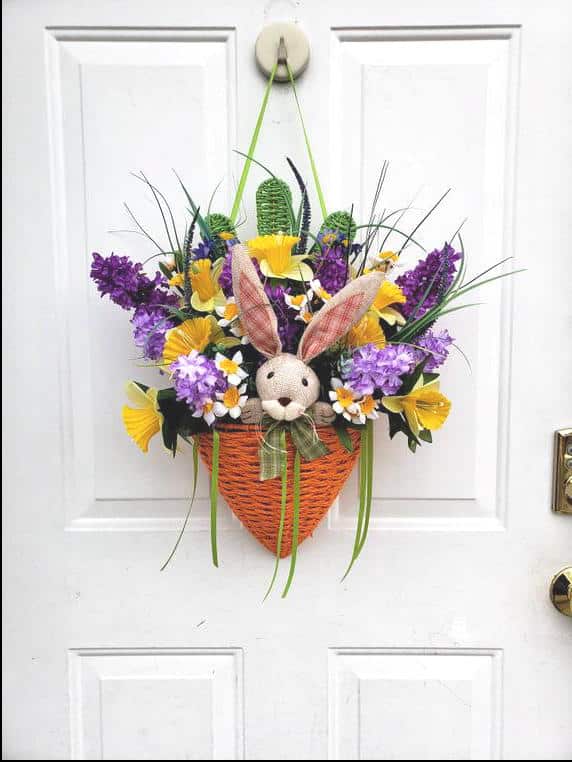 This simple yet cute door decoration is probably best for you who don't have much time to get too creative. You can simply purchase a basket of artificial flowers and attach it to a ribbon so you can hang it in front of your door in home or classroom. If you are thinking that it's too plain, you can add a small rabbit doll and stuff it at the front of the basket to give your Easter door decor a lovely surprise.

6. Cross Wreath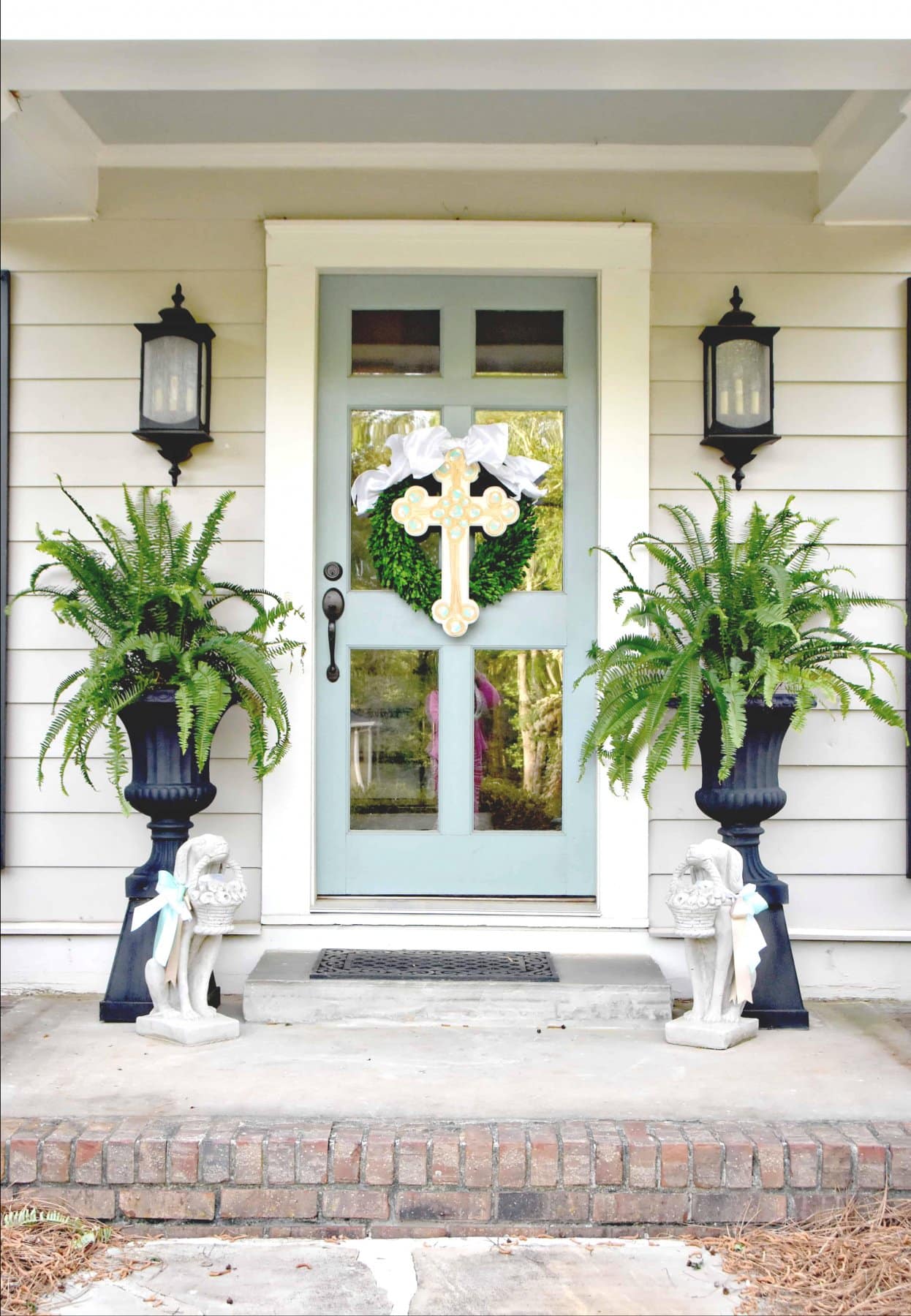 It doesn't have to be super extra to put your house into a spotlight in this Easter season for Christian. Choosing the right items to put into your porch is the ultimate key. You can simply hang a wreath made by faux leaves and glue a big cross at the front. You can also put a big bow tie at the top to make it fabulous. Compliment the visual with two pots of tropical foliage at each side of your door to show off the luxurious style!

7. Handmade Easter Door Decorations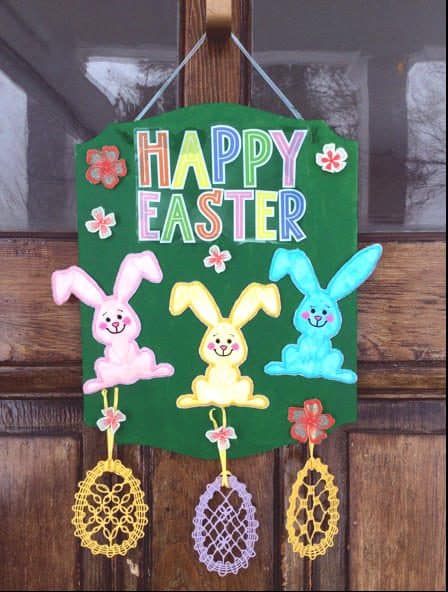 You can make this humble handmade door decor with your kids easily. All you need to do is cut up bunny characters from a magazine (or even better, print them from your computer!) and glue them tightly to a colored paper. You can strap flowers ornaments too. Put a big Easter sign at the top before hanging this adorable Easter decoration to your front porches or your college dorm door.

8. Patterned Sign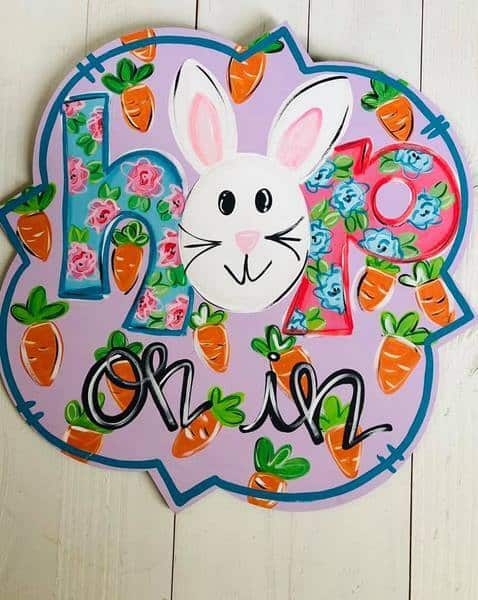 Start off with cutting up a paperboard in shape you'd like and then write the funny words on it. After that, you can start drawing some mini carrots all over the paperboard and patch a floral cloth inside the big words you just wrote. Insert a cute picture of a bunny in the middle and hang it on your door to have a fun patterned sign to welcome your guests on Easter day!

9. Classic Bouquet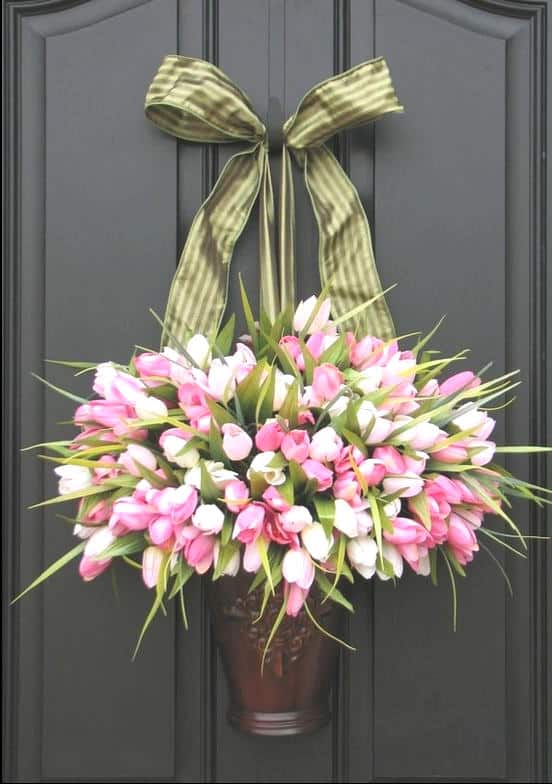 It is definitely not impossible to have elegant home decor just by using flowers. In fact, flowers will give you the luxurious feeling you are looking for. Simply attach a pot of pink tulips and hang it with a stripe bow tie to your door. There you have it, a glamorous door decoration you can ever imagine!
10. Bunny Wreath Easter Door Decor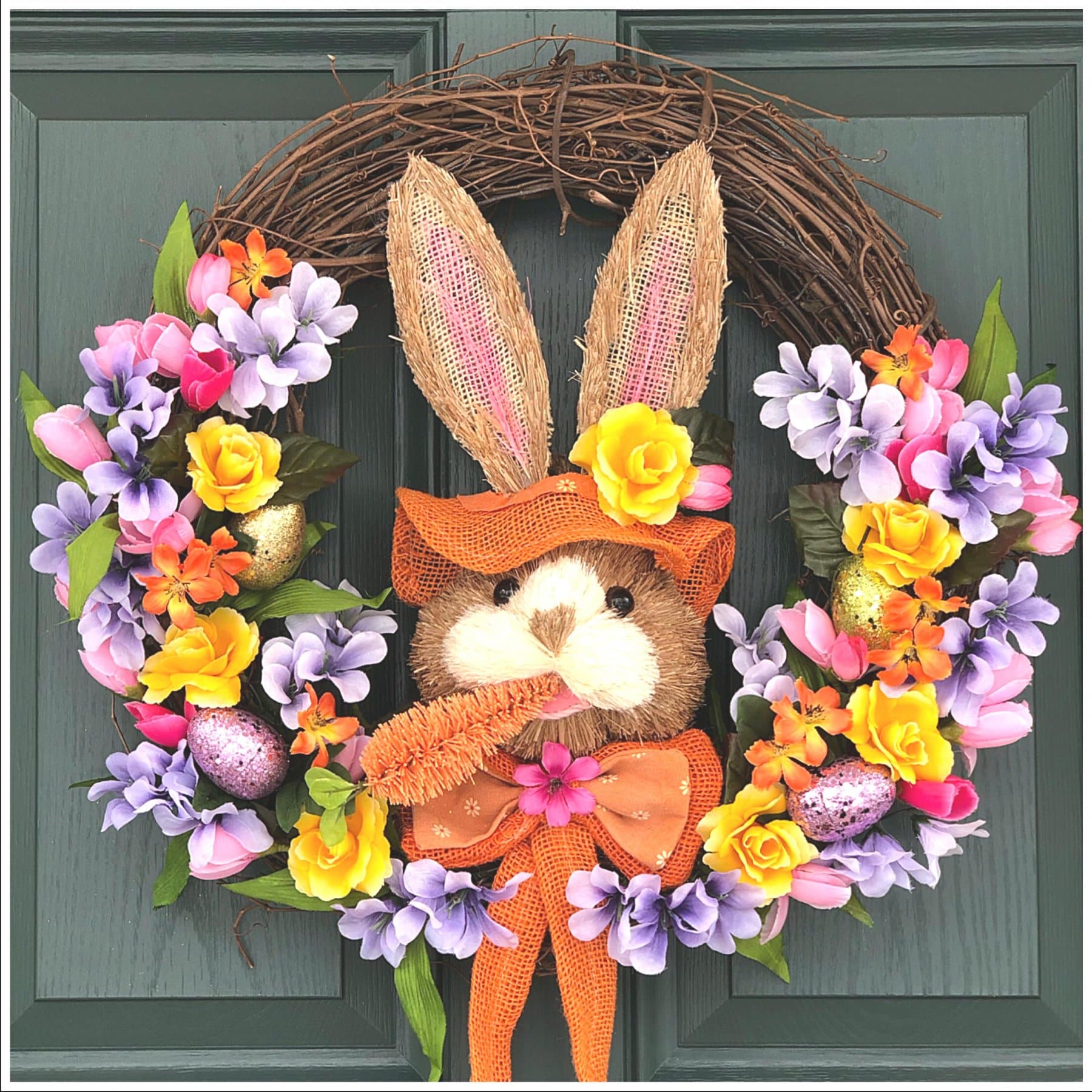 Bunny and eggs scream Easter so it is probably the best for you to match the two and transform them into a wreath you can hang to your porch! You can purchase a twig wreath from a local crafty store and cover the surface with lots of faux flowers of any colors such as yellow, violet, and pink. Next up, attach a bunny doll in the middle of your wreath. Do not forget to slide a flower on top of its head, too! Glue up some small metallic plastic eggs in between flowers to have a festive welcome on your Easter day!

11. Patterned Eggs Wreath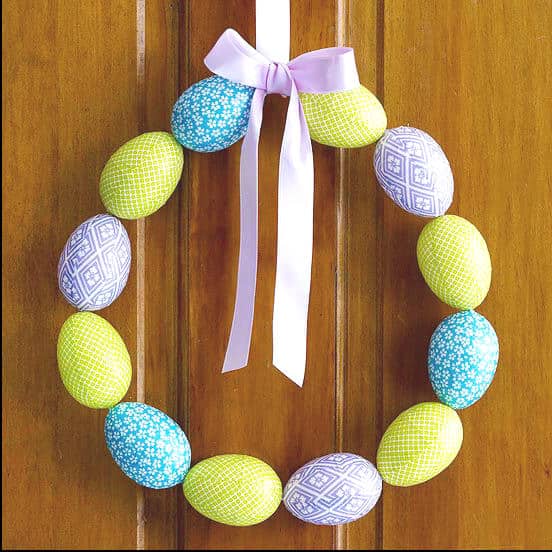 This egg wreath is simple yet super powerful to bring cuteness to your house. First of all, you need to decorate your Easter eggs by applying decoupage medium to the back of patterned papers of your choice. Secondly, wrap the papers on the surface of your eggs and smooth the glue and air bubbles to have smooth appearance. Leave them dry before poking small holes at each end of the eggs to insert a small string of wire. Lastly, connect each end of wire so it will form a wreath and then cover the wire ends with pastel ribbon as another cute addition to your art piece. Hang your wreath prettily on your bedroom door to add more playful colors to your Easter celebration!
12. Upcycled Watering Can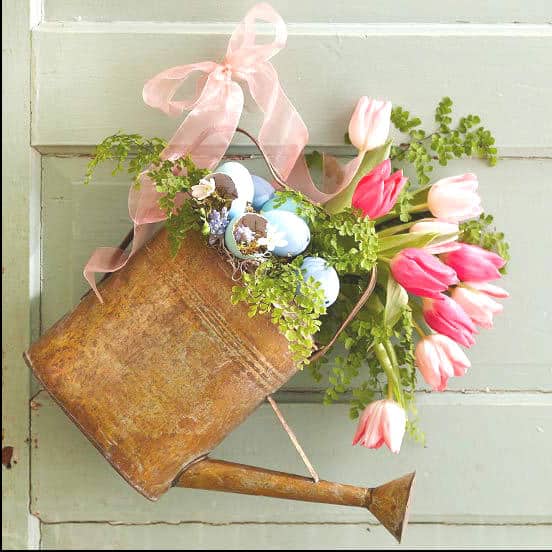 If you are thinking of throwing out your old junk, then think twice. Why should you throw them away if you can transform them into something else? Grab your old watering can and fill it with floral foam to secure your flowers stems. Choose pretty and bold pink tulips to fill in your vintage home décor and match them with a contrasted color of egg miniature to bring up the Easter vibe. Top off the visual with pastel ribbon, then it will be perfect hanging against your front door!
13. Eggs with Ribbon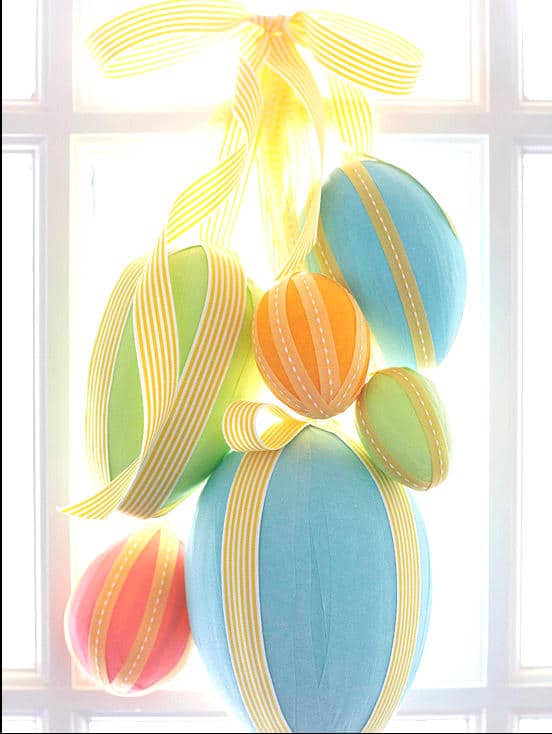 To be honest, it doesn't take much effort to create a festive Easter door decoration. The simplest you can do is to hang plastic foam with egg shapes to your door. You can wrap your eggs with crepe papers and glue them on until it's completely covered. It will look stunning to match all different shades of pastel colors to give whimsical feel to commemorate Easter day.
14. Abstract Eggs Easter Door Decorations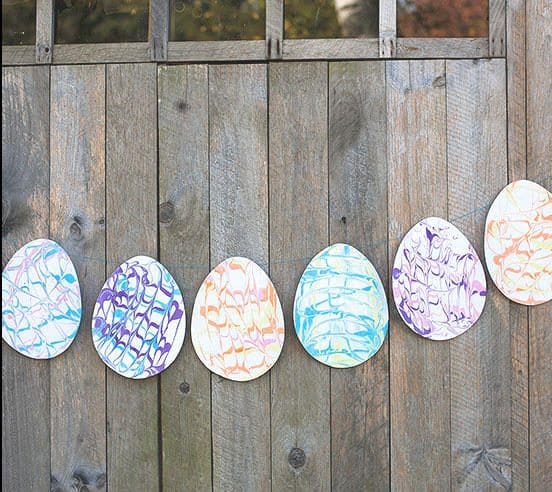 If you are into artistic piece, then you probably would like to try this idea. Cut thick white cardstock and shape it into egg forms. After that, you can paint each egg with colorful dye you can imagine to find. Let the paint flow to create an artsy dripping look and leave them to dry. Hang each egg next to each other using a string to show off your cool arts!
15. Orange Spring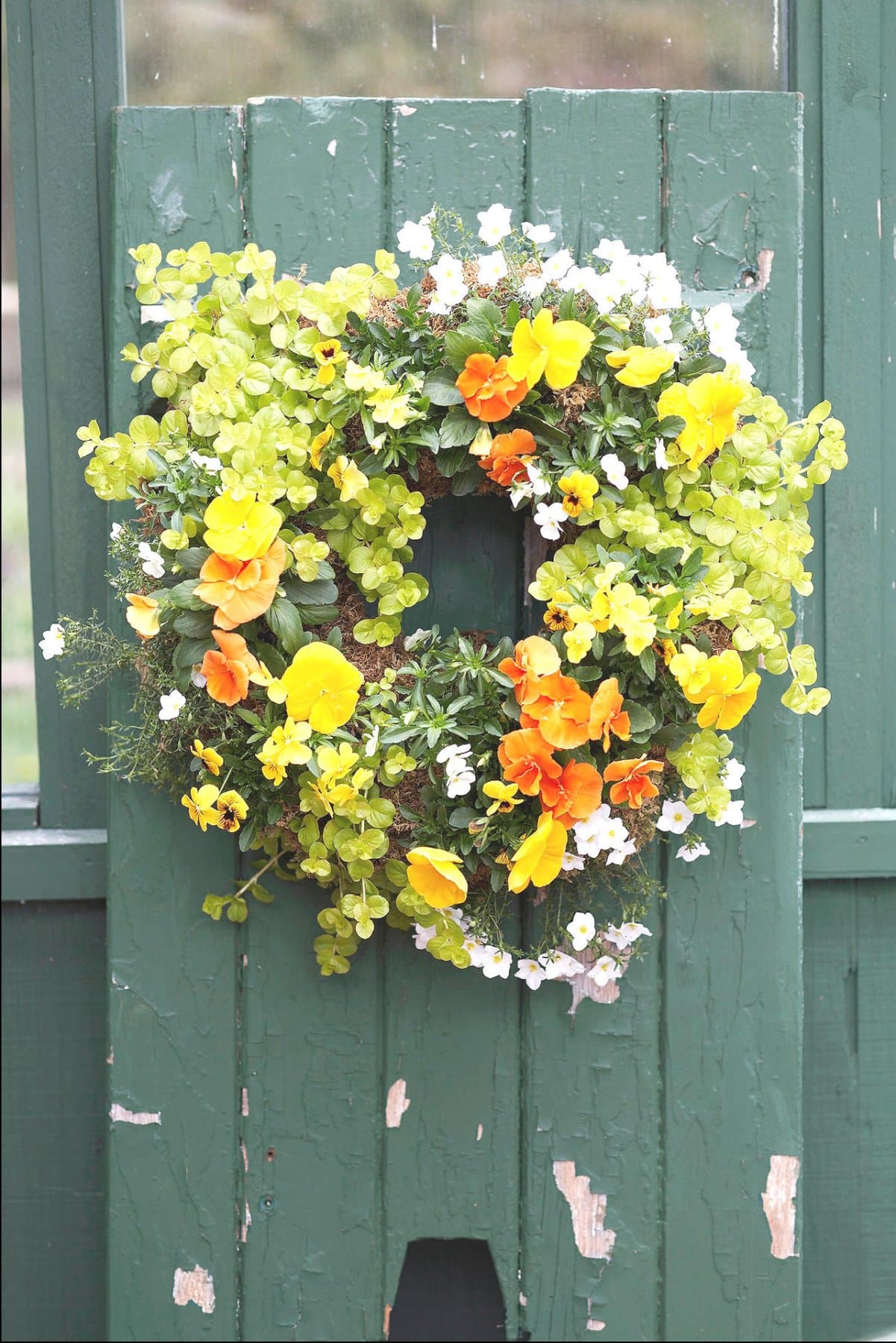 Flowers never get boring. Simply create a living wreath by stuffing it with potting soil and moss, then plant lots of flowers on top of them. Choose the colors of orange and yellow to create a warm spring visual. Make your wreath vibrant with some foliage and small white flowers to lift the overall look. Classic décor can still look pretty, right?
16. Green Bucket Easter Door Decor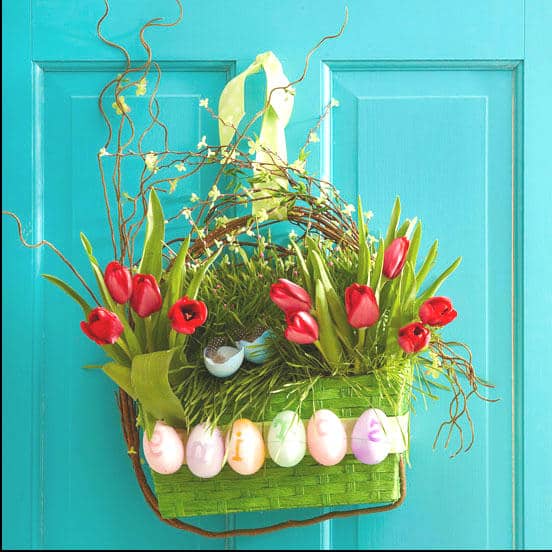 Even though this decoration is extremely simple, you can still make it extra with proper color choice. Choose a bold color for your basket so it pops out of your front door. For example, you can choose a bright green basket that compliments red tulips that you put inside. Add plastic eggs that screams Easter atmosphere and strap them on the front of your basket. Do not forget to arrange some twigs that hold your basket at the top so you can hang it to your door using a ribbon.
17. Garden inside Umbrella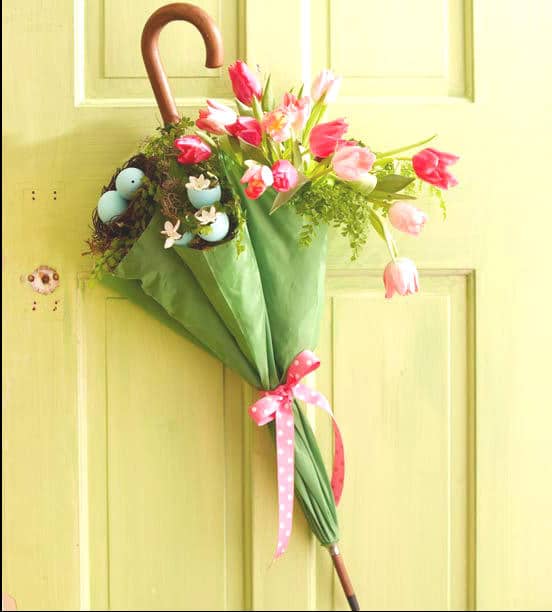 Another upcycling idea you can do is to utilize your old umbrella and transform it into an unusual Easter door decor to add character to your small apartment. Tie a cute ribbon in the middle of your umbrella then stuff the bottom with a bunch of artificial tulips with contrasted colors. You can also add egg miniatures beside your flowers to scream out Easter feel. Hang your umbrella upside down and there you have the most bizarre yet cool door decoration ever!
18. Vibrant Flowers Easter Door Decorations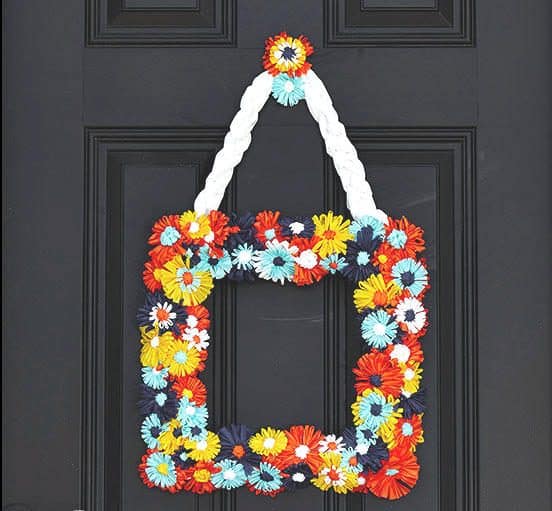 If you have crafty hands, then why not try to make this stunning paper door hanger? The only material you need is an old picture frame that will later be used to glue the paper flowers on. After that, you can unleash all your creativity to handmade the flowers using colorful raffia papers. If you are done covering the frame with paper flowers, you can attach a braided cloth to the frame and hang this cute decoration to your door!
19. Funky Yarn Wreath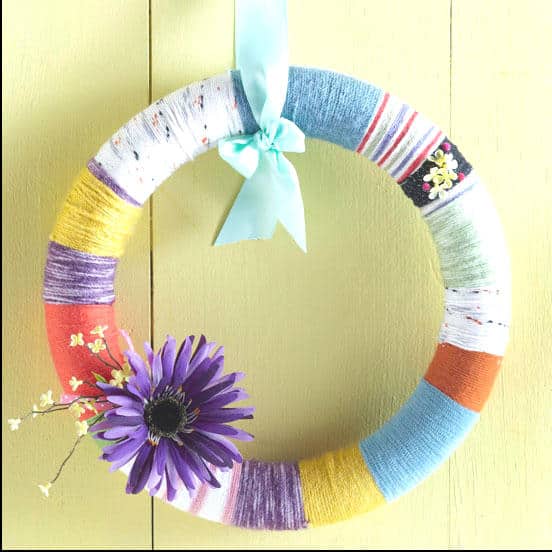 This is another piece that calls for your artistic hands! This beautiful yet simple spring wreath can be made easily by purchasing a plain wreath made of foam and lots of colorful yarns! Secure your wreath with rolls of different colors of worsted-weight yarn and hot glue them without leaving any gaps. Once you are done, add beautiful artificial flowers at the bottom right of your wreath and make it even prettier with a bow tie made of ribbon at the top.
20. Yellow Twigs Easter Door Decorations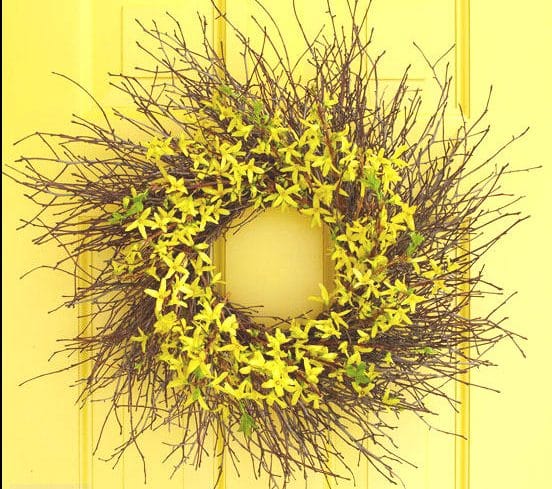 For all nature lovers out there, it is perhaps the most brilliant style for you to have on your door! Twig wreath is simple yet very humble to embrace the organic vibe you are aiming for. Simply purchase a twig wreath and decorate it a little bit with some artificial flowers you can find in the store. Choose small and bright flowers and glue them tightly all over the twigs for natural visual.
21. Luxurious Violet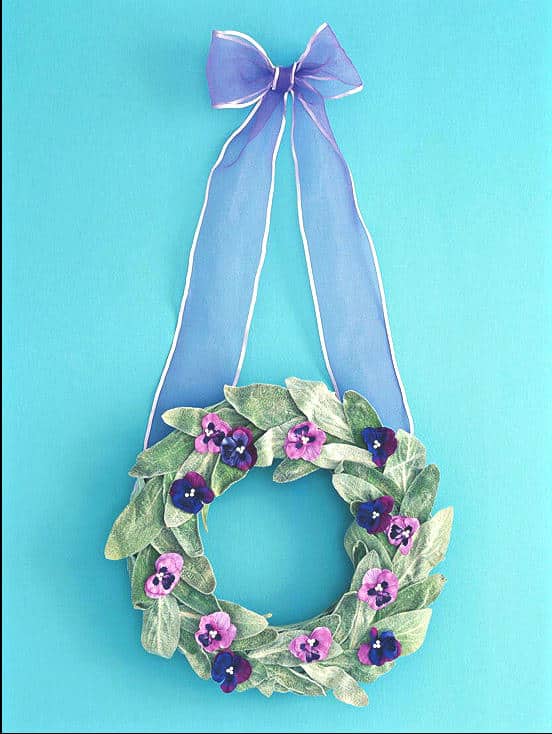 This homemade spring wreath will surely look cute on your bedroom door or your room's wall. Find velvety lamb's ear leaves and glue them to a plastic foam wreath to get luxurious yet homey vibe. Make sure to cover all sides of your wreath to hide the entire ring of the foam. For finishing, you can add some artificial flowers made of silk to lift up elegance. Hang it on your door with a thin ribbon to please your eyes whenever you are looking at it!
22. Bird Nest Easter Door Decorations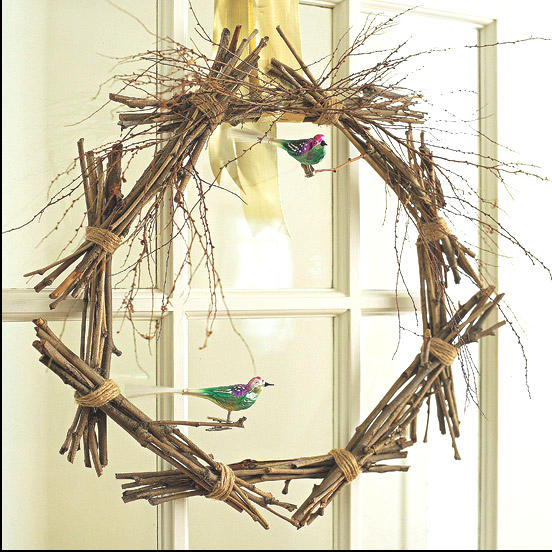 Bird ornaments will always be powerful to leave a deep impression to welcome your guests! You can easily make this unique wreath by connecting bundles of twigs from your local craft supplies store. Simply put five to six twigs in a bundle and secure each end with a twine. Connect each bundle using hot glue before adding two cute little miniature birds standing on thin twigs at the top and bottom of your wreath. Finally, hang your lovely wreath with a big pastel ribbon to finish off the visual.
23. Kaleidoscopic Eggs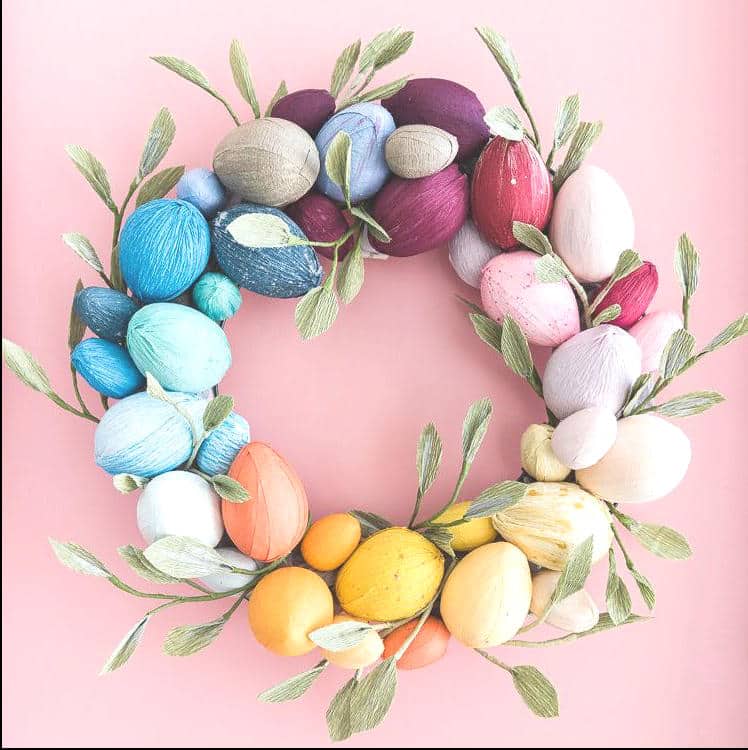 If you are not confident enough with your painting skill, then you may want to try this Easter wreath idea. You can make this pretty rainbow egg wreath by wrapping plastic eggs with crepe papers in a rainbow palette. Cut the papers accordingly then hot-glue them to secure them. You can try to splatter the paper with brush to give interesting texture to your eggs. After you are done with the eggs, start strapping them to a plain wreath you buy from a store. Do not forget to make the leaves too using green crepe papers to liven up the visual.
24. Snow Bunny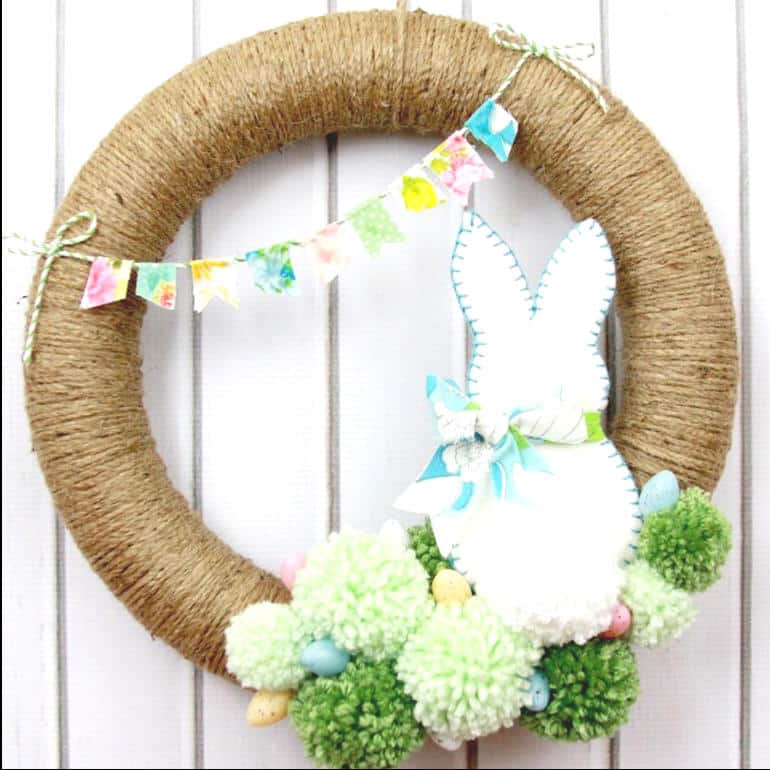 Create this soft bunny wreath using white felt and cut it to its form. After cutting the right shape, stitch the bunny with a baby blue thread to affirm the design. Next up, you need to wrap a foam wreath with jute. Be careful not to leave any gaps in between and secure them with hot glue. After that, you can attach your bunny at the left corner of your wreath. You can also add pom poms using yarns and place them under your bunny to mimic flower shapes.
25. Spring Basket Easter Door Decorations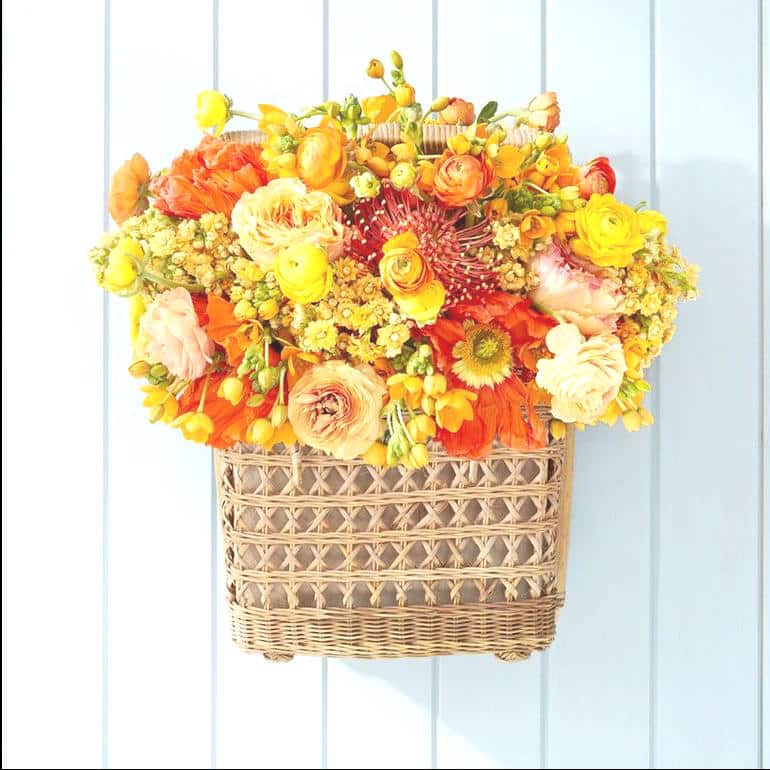 Purchase a basket made of tree root and fill it with colorful flowers. Choose the color of the same shades, for example yellow and bright orange. Stuff them densely inside the basket for a blooming visual to brighten your house. However, it is extremely advised to use faux flowers instead of fresh ones so you don't have to pay much attention just to make it live!
26. Colorful Pastel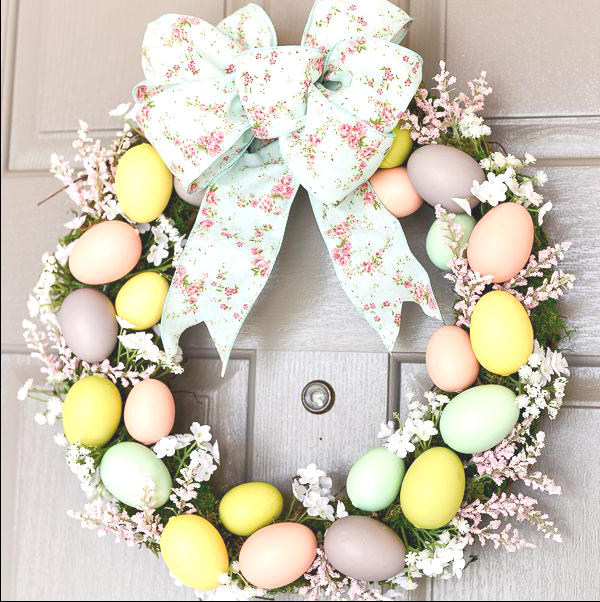 This cute wreath is really hard to resist! You can make it your own by purchasing a grapevine wreath from a local crafty store and then put a layer of moss and small flowers all over the surface. After that, you can attach plastic eggs that you have already dipped into pastel paint. Put a big bow tie made of floral ribbon at the top before hanging it in your front door!
27. Antique Frame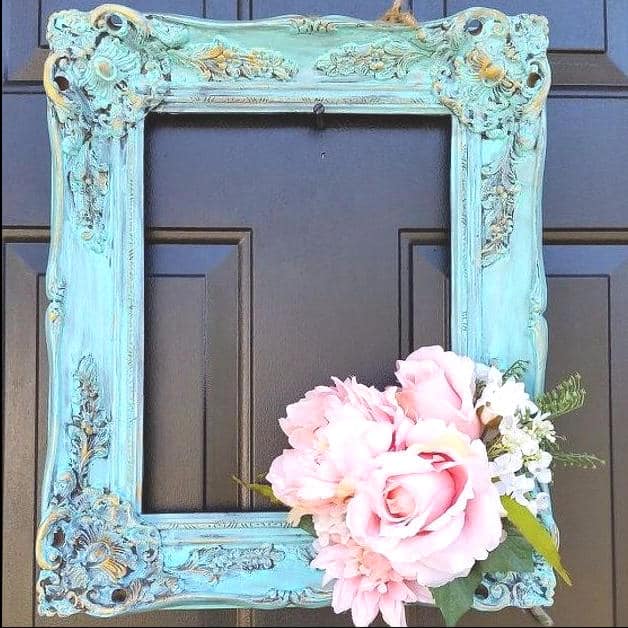 Bring yourself up back to the past by decorating your house with this vintage home Easter door decoration! This upcycling idea is really easy to make. All you need to do is get your hands into an old frame you can find from your garage and then paint it into baby blue color. Do not completely dye it, you might want to leave the old paint to show up a little bit to give an antique vibe. Lastly, put big artificial flowers at the bottom corner to make your masterpiece stand out from the rest.
28. Stripes with Flowers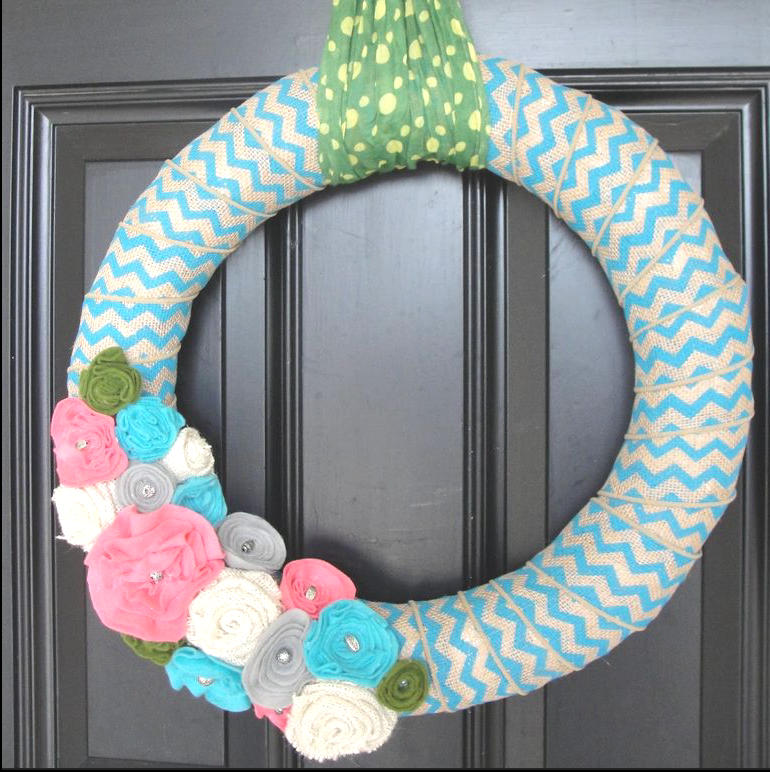 The key point of this wreath is the lovely stripe ribbon that you can easily purchase from crafty joints in your town. Cover your foam wreath completely with the ribbon and secure them with hot glue. Add some more colors by attaching flowers made by felt. To make the flowers, the only thing you need to do is draw a spiral circle on your felt before cutting them. After that, you can start rolling the felt from the center until the spiral turns into beautiful flowers. Strap them into the bottom corner of your wreath to have a stunning ric rac wreath perfect for your home!
29. Wired Bunny Easter Door Decorations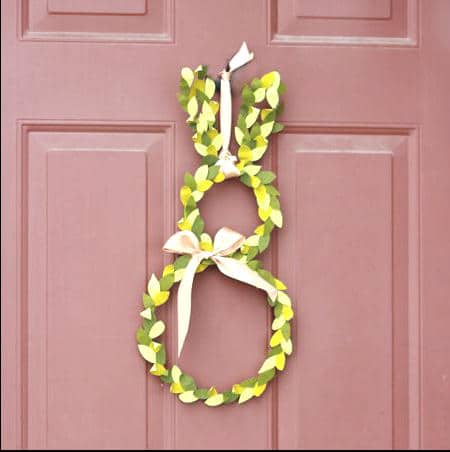 This unique door décor is extremely cute to make as your Easter celebration. Get your crafty hands to shape a form of a bunny using two circle wires and two smaller hoops as the ears at the top of the head. The next step is to cut colored papers into small leaves before glueing them to the wire. Layer each leave on top of each other to make the wire completely covered. After you are done, attach the lovely bunny with a ribbon to your porch door!
30. Multicolor Ribbon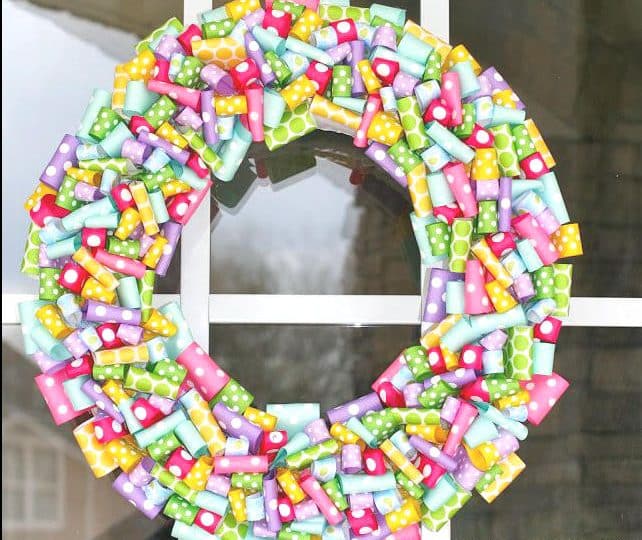 This colorful wreath will definitely look adorable against your white door. You can make this effortless piece by sticking all different colors of ribbon into a foam wreath you buy from a dollar store. Make sure to roll each of your ribbon before attaching them into the wreath. Don't be afraid to get as many colors as you want because it will even pop out more if you put rainbow colors into your lovely door décor!
31. Patterned Eggs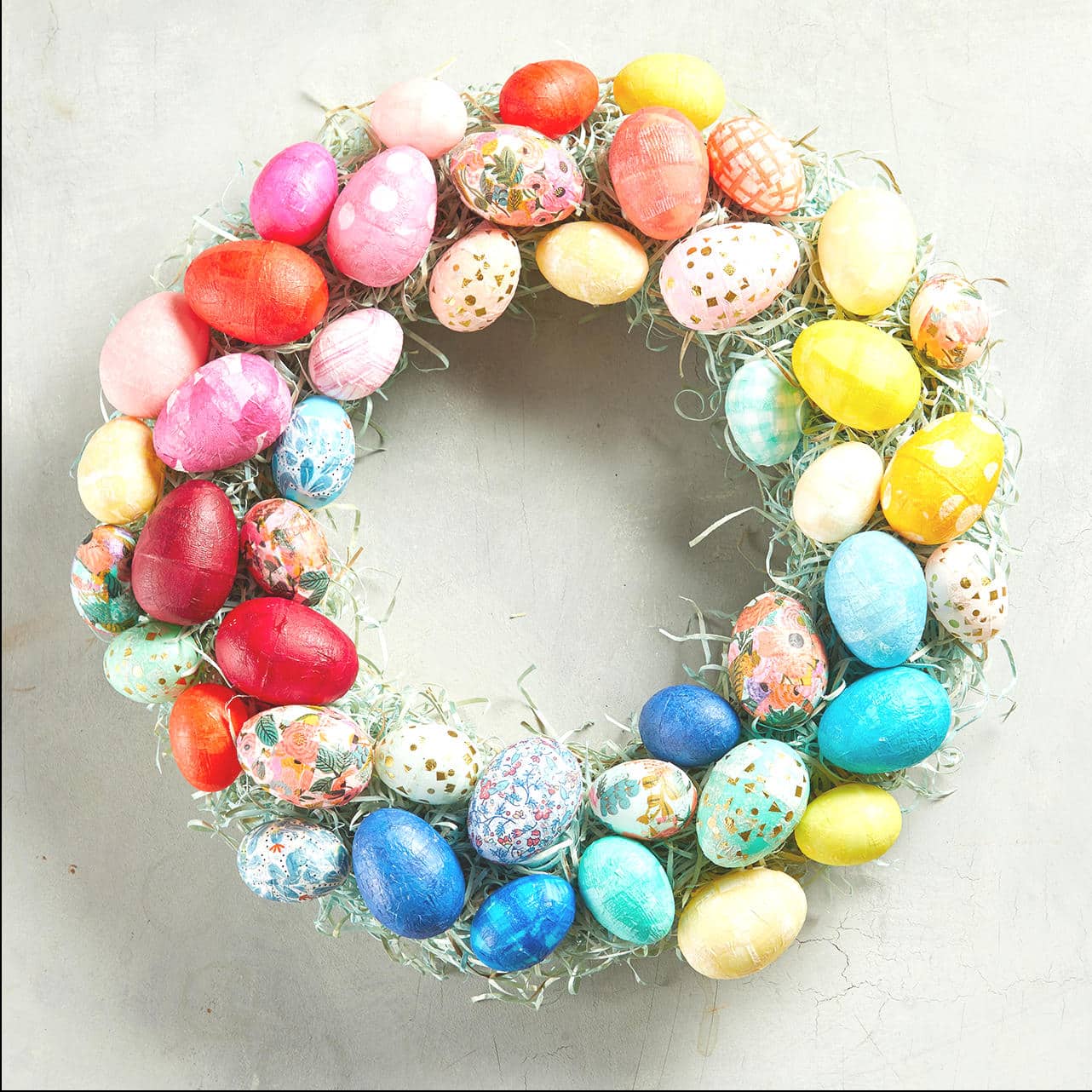 It is extremely easy to create this fun piece to decorate your front door. All you have to do is to take a quick stop to the nearest store to purchase these tiny Easter eggs and decorate them with paints and even printed paper. You can sprinkle some small pieces of sparkly origami papers into the mix, too! Line them up to completely cover your wreath, and voila! Your house is ready to celebrate Easter!
32. Elegant Spring Wreath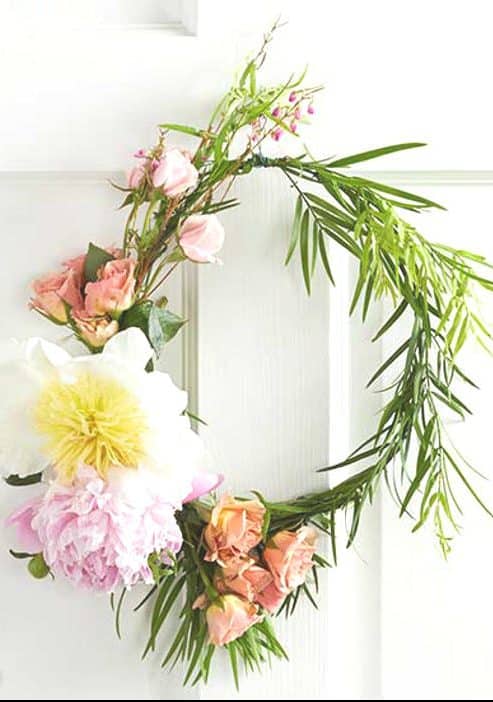 April is in spring, and what does spring remain you of? Of course, it's beautifully blooming flowers! Simply create a simple yet elegant wreath made of bunch of greenery and tape them beautifully to a wire. Next up, attach some fresh flowers in shades of white, pink, peach, and yellow. Carefully place the biggest flowers at the right corner and continue placing the smaller ones around them. Leave the wreath in your front door to bring more spring vibe to your house!
33. Tiny Tulips Easter Door Decor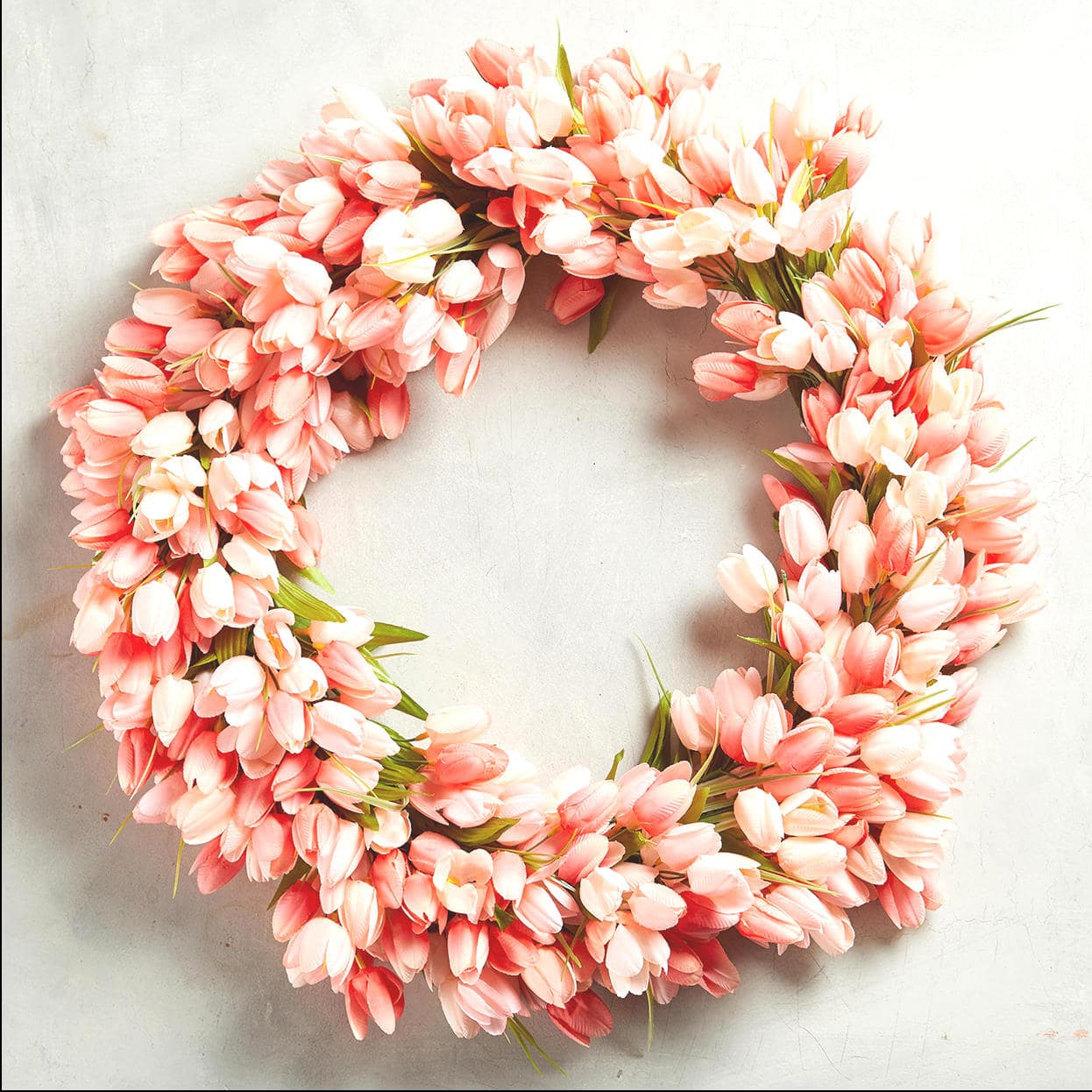 Tulip is a great choice to make your own spring wreath in honor of Easter Day. Plus, you don't need any extra skills to create a pretty one like this. The only thing that you need to do is shopping for some artificial tulips and greenery, glue, and a plain wreath made of wire. Put the flowers on top of the greenery and glue them tightly to the wreath. Make sure to buy a bunch of flowers so your wreath looks rich and luxurious!
34. Sugary Fruit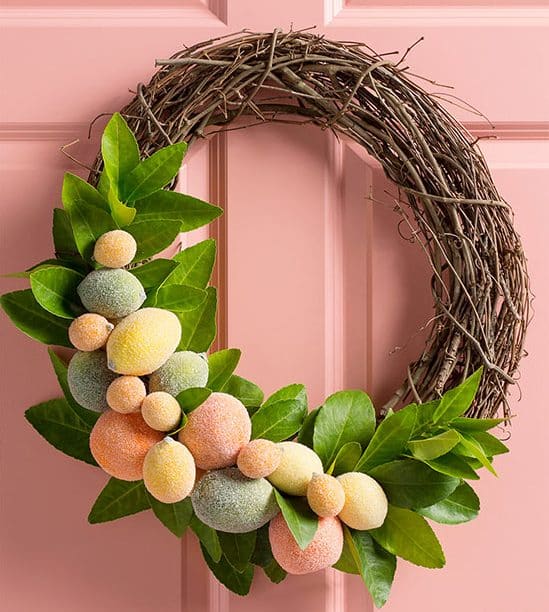 How do you create a sugary, delicious fruit to your front door decor, you ask? You can simply transform plastic fruit or even better, Easter eggs, to easily make them! Firstly, dip your eggs into dye of your favorite color, then apply translucent glitter to the surface using an adhesive spray. Lastly, leave them to dry before gluing them to your wreath on top of your artificial greenery! You can also glue some twigs together all over your wreath to create an earthy look that is in trend today!
35. Eggs on Vines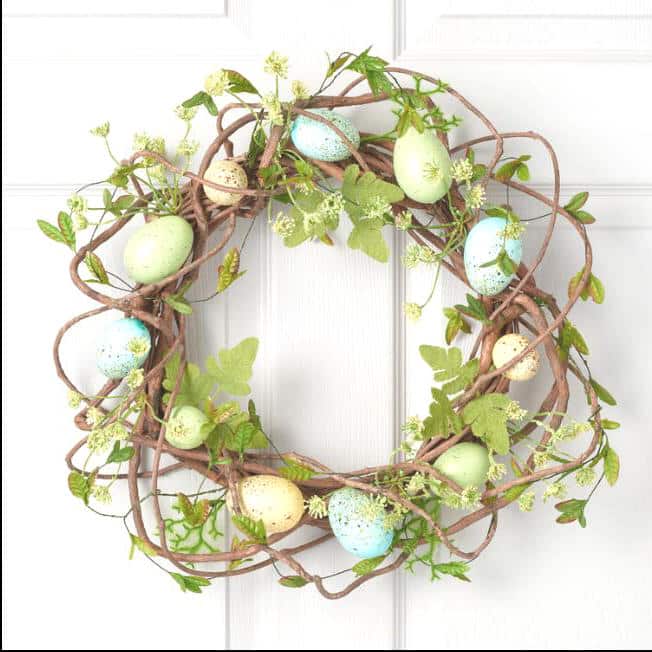 Natural looking decor definitely never bores anyone! You can create the look by making your wreath using decorative vines and put them together using wires. Let the vines go wild a little bit to mimic organic look with some leaves as greenery all over. To give it an Easter visual, glue on some colorful small plastic eggs on top of your vines before hanging the beautiful wreath on your porch!
Related :  Kitchen Counter Decor
36. Winter Flowers Easter Door Decorations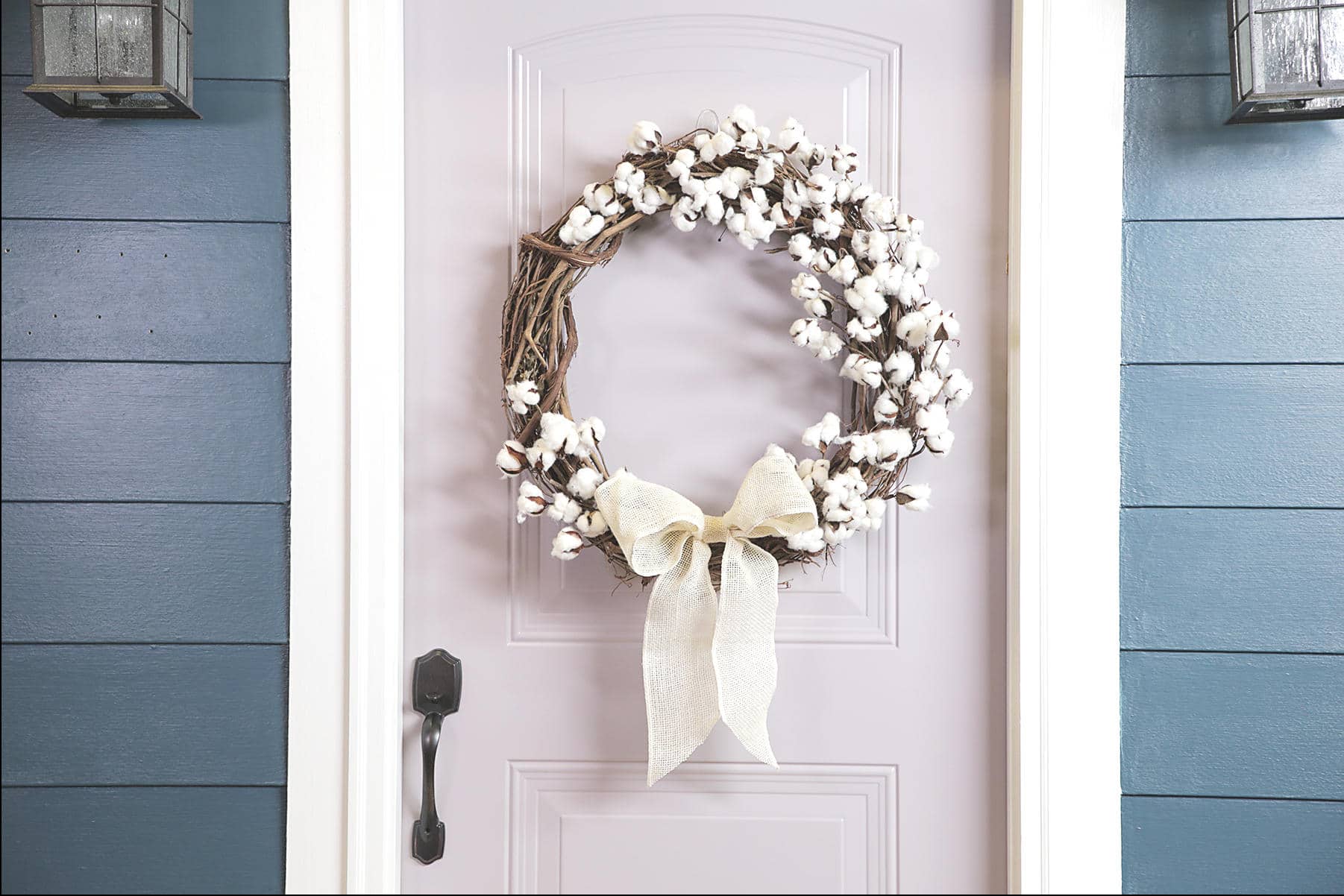 Even though Easter is in spring, there is no harm in putting winter visuals at your door, right? This winter visual will definitely give you a unique look no one can copy. Transform your boring grapevine wreath by adding some faux flowers made of cotton and top off the visual with one big ribbon at the bottom of your wreath. This beautiful door decoration will be a warm welcome from your home.
37. Paper Petals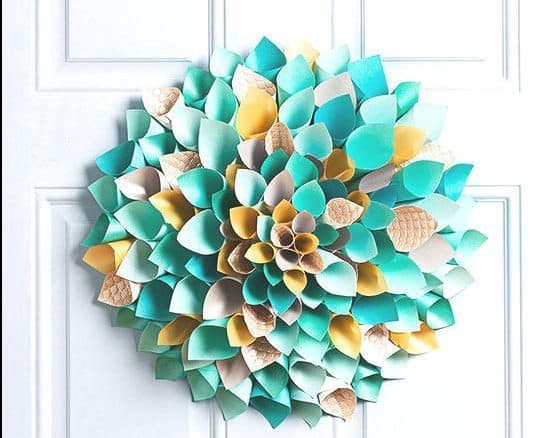 This piece definitely calls for all the creative souls with magical hands out there! This easy paper Easter wreath is not only pretty, but also big enough to make your house stand out from the rest of your neighbor's. You can start making this wreath by cutting up patterned scrapbooking papers into squares. After that, roll each paper with one corner sticking out from the top to mimic flower's petal. The rest is extremely easy as all you need to do is glue each roll from the outer edge and continue to the inner part of the wreath. By the time your paper rolls reach the middle, your beautiful paper wreath is already done beautifully!
38. Pinkish Wreath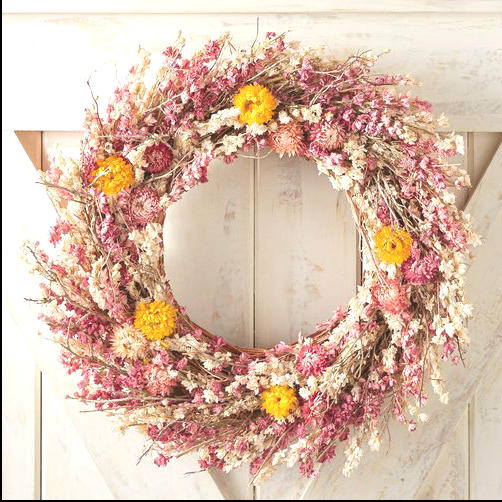 If fresh flowers require lots of work for you, then dried flowers will look equally stunning to beautify your porch. Simply purchase preserved flowers and glue them into a plain wreath you can get from a dollar store. The secret to make the simple decoration stand out more is to match up the colors well. For reference, you can use pale pink flowers alongside white ones. You can also add yellow buds for a visually pleasant surprise!
39. Mini Garden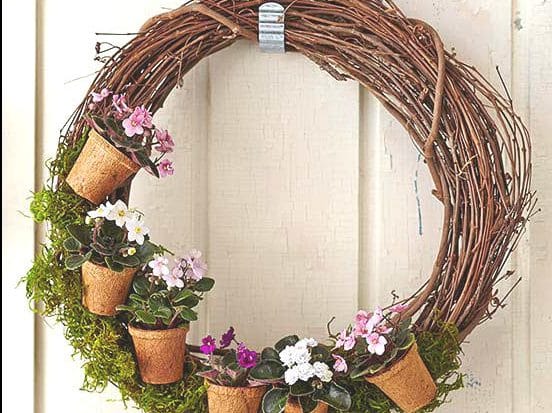 Faux flowers may appear boring, so why don't you bring living flowers into your spring front porch decor? Get the smallest and lightest pots from the store and fill them in with flowers of all colors. Furthermore, you can add moss to the surface of your wreath before gluing each of your pots on top of them. Do not forget to water each of your flowers so they don't dry up and live long!
40. Basket of White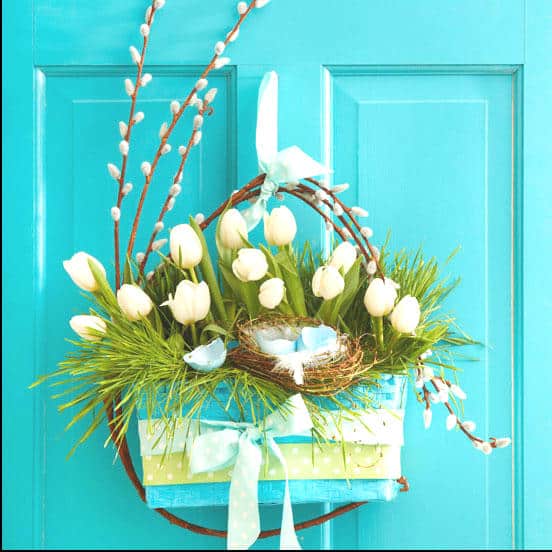 Let's say that you are a very big fan of flowers, then you can totally put them on your door for this season Easter décor! Prepare a small basket with a flat bottom and fill it with white tulips that will match with any colors of your door. Make sure to put some greenery as well, so your flowers look like in their natural habitat. After you are done filling your basket with pretty flowers, you add some Easter decoration such as small cracked eggshells in the front. Finally, you can finish off your homemade décor with a bow tie at the front of your basket to make it even cuter hanging against your door!
41. Box of Eggs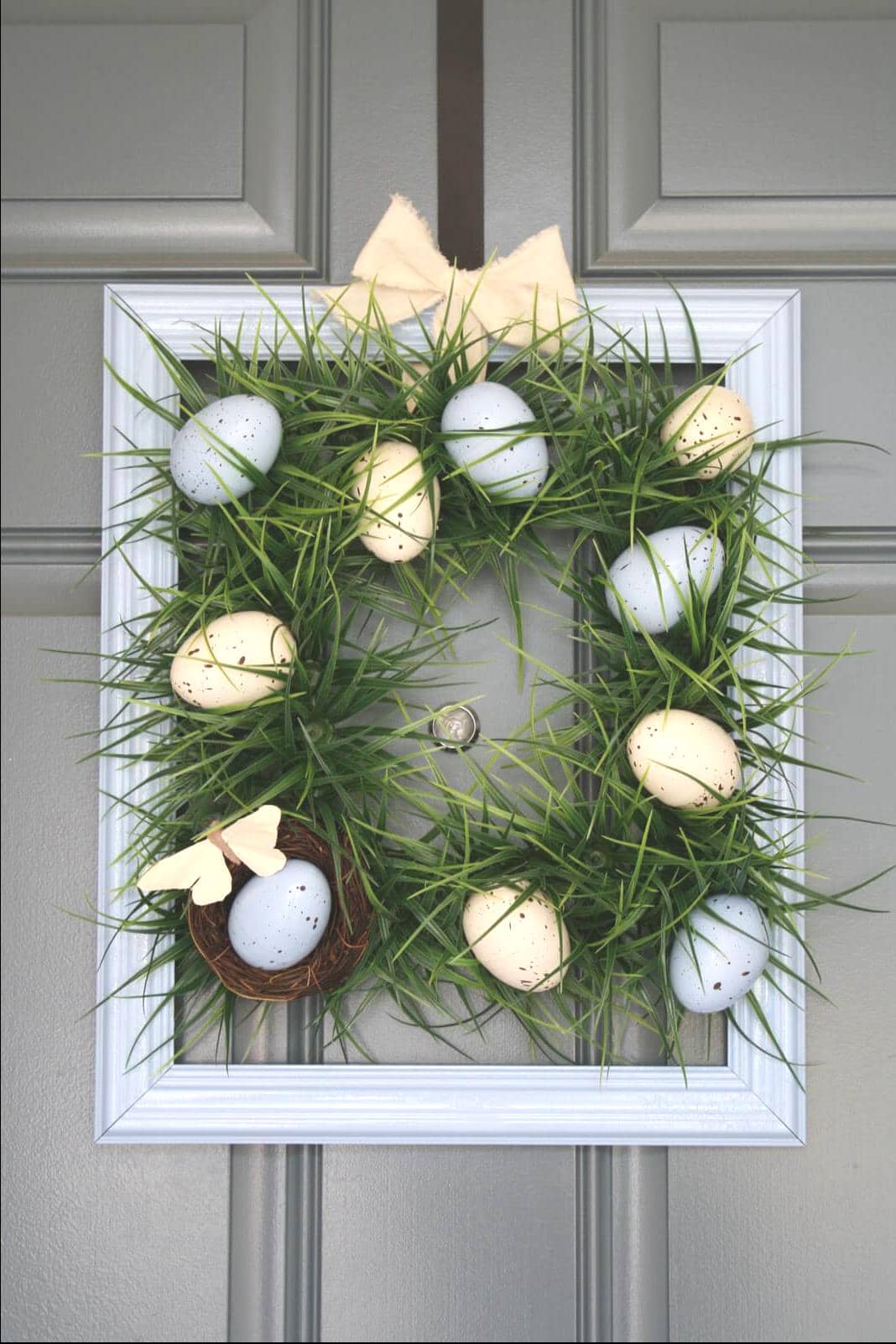 Have a broken frame you don't know how to fix? Do not worry as you can easily transform it into something else, for example a spring door decor! You can remove the back of your frame and leave the glass intact. Glue artificial grass on top of the grass and scatter some plastic eggs on the leaves. Make sure to hot-glue them until they are totally attached on the glass. Do not forget to put a small bow tie at the top before hanging it on your front door!
Related: Trim ideas to use for exterior windows
Conclusion
If this long list doesn't motivate you to start your Easter wreath project, I don't know what else will do! Now, let's make a quick trip to your local crafty store to get anything you may need: plain wreath, lots of cute ribbons, flowers, even faux eggs. You may want to stop at a bookstore for colorful papers and glitters too!

Source :
bhg.com
goodhousekeeping.com
pinterest.com
More Easter Door Decorations Ideas