Makeup storage ideas – Small stuff like makeup items can get cluttered quickly. Therefore, they need storage where they can be more organized. With every item organized, you will feel more relaxed when you need to do makeup.
Organizing makeup items is not an easy job for some people. Sometimes it's confusing whether to organize them based on brand, size, or type. But, you don't need to worry anymore. In this article, we're going to give some makeup organization tips. Furthermore, we will also provide some makeup storage ideas that you can choose.
Makeup storage and organization tips
Storing and organizing makeup items are not difficult when you know the basics. There are some things that you need to know to make the organization efficient. Here are some tips that we know:
Take everything out
Taking every makeup items out to organize them may seem crazy. But, it allows you to estimate how much space you need. It also lets you know all the makeup stuff that you were looking for. So, take every item out from your purse, bags, cabinets, and any other places.
Use acrylic storage that store items vertically
After you found all the makeup items that you own, find storage. Ideal storage will let you see and find your stuff easily. Therefore, choosing acrylic ones often be the right step to take.
Another thing to remember, find storage that has several levels of cabinets. It allows you to store the makeup items vertically. Not only storing them, but it also allows you to save the available space.
Organize by the category
To make the organization neater, sort the items by category. So, group them as foundations, lipsticks, foundations, and more. You can also make a subgroup from them. We know that it seems tiresome, but the result will satisfy you and ease your makeup routine.
Compare the colors
Swatch colored products and compare them. Many lipsticks or foundations have similar colors. By comparing the shades, you can throw the ones that gives similar colors. It will save the storage space and will make the organization more efficient.
Keep the new and favorite items upfront
Make sure to always prioritize the ones that you love, including makeup items. Putting them upfront will let you reach them easily when you need them. Also, you can also do this for the new items that you bought. It will remind you to try and use them.
Take out the ones that you don't need
After doing the steps above, you should have paid attention to your makeup items. You should also know which ones you don't like anymore. Therefore, to optimize the storage, you need to take them out. You can choose to either give them to your friend or simply dump them.
Makeup brush storage ideas
Most women have more than one type of brush. Two or three brushes may not be a problem, but sometimes there are too many. When there are many, they can be cluttered too. Fortunately, we have some brush storage ideas for solving that.
Cylindrical brush holder set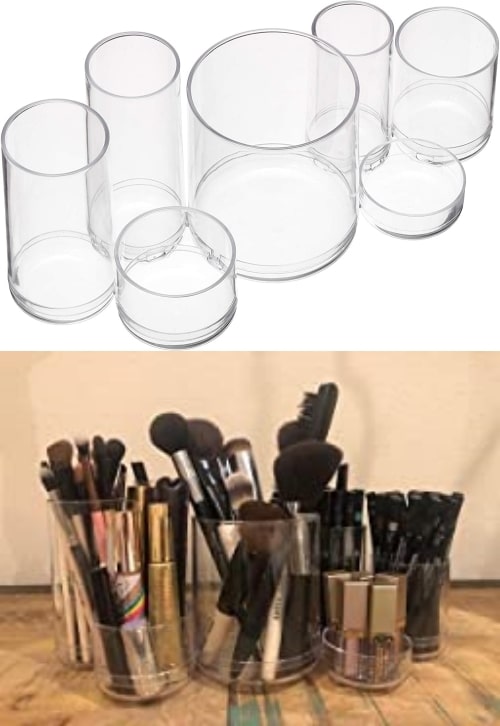 Keep your various brushes in this acrylic organizer set. Since it offers a variety of diameters, it can help you to categorize the brushes. Moreover, its simple design makes it easy to be emptied and cleaned.
Clear makeup brush holder – Makeup Storage Ideas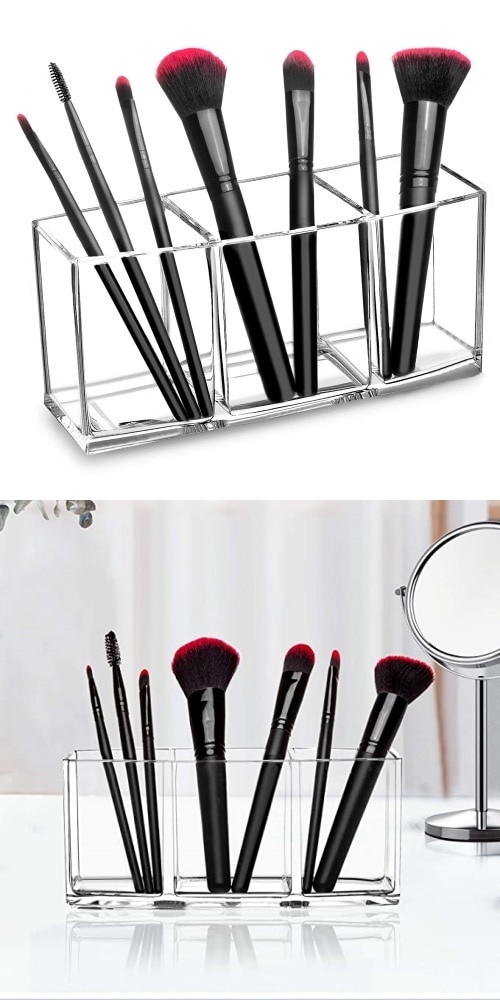 This clear brush storage from HBlife is made of strong acrylic material. Not only it offers sleek design, but it also offers durability. Moreover, it offers three slots that you can use to categorize your brushes.
Dust-proof makeup brush storage ideas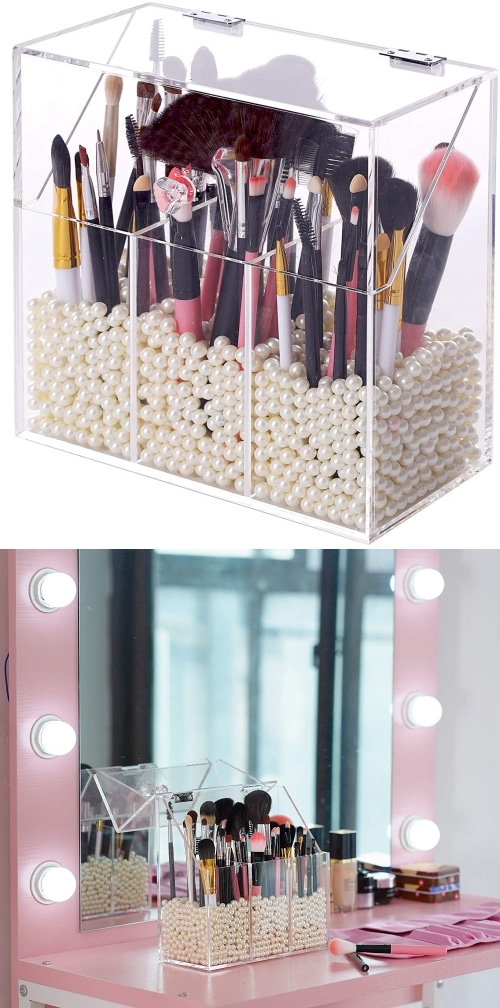 If the previous brush storage doesn't satisfy you, take a look at this one. It's an upgraded version of it. This clear brush storage features a lid to keep the brushes dust free. Moreover, it also provides white pearl beans to keep the content standing straight.
Shock-proof clear brush holder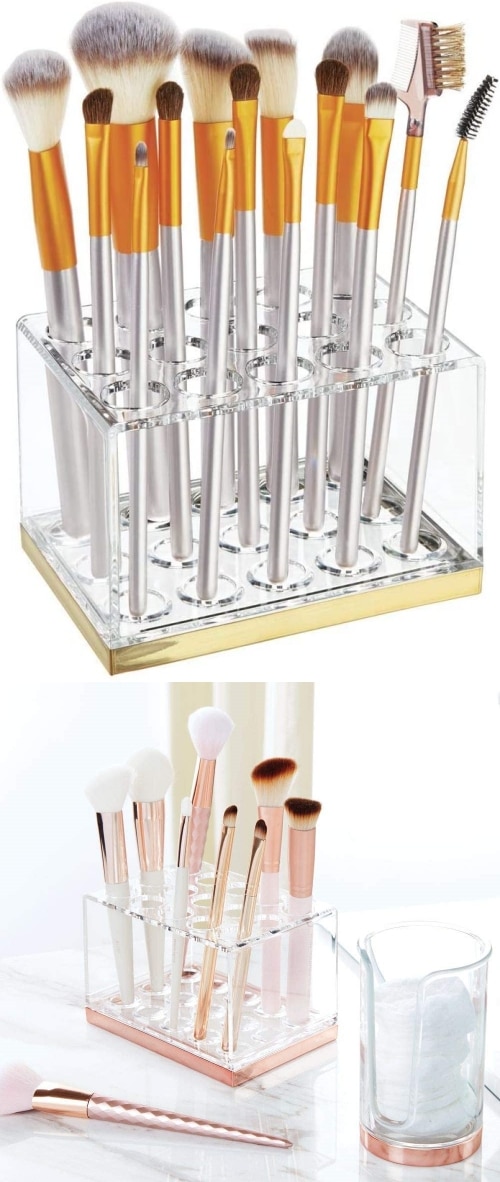 Although it has quite similar size to the previous ones, this brush storage offers 15 slots. How can it benefit you? Well, with smaller slot size, the brushes will be more shock-proof. The brushes will not easily fall when they are in this storage.
Silicone makeup brush holder ideas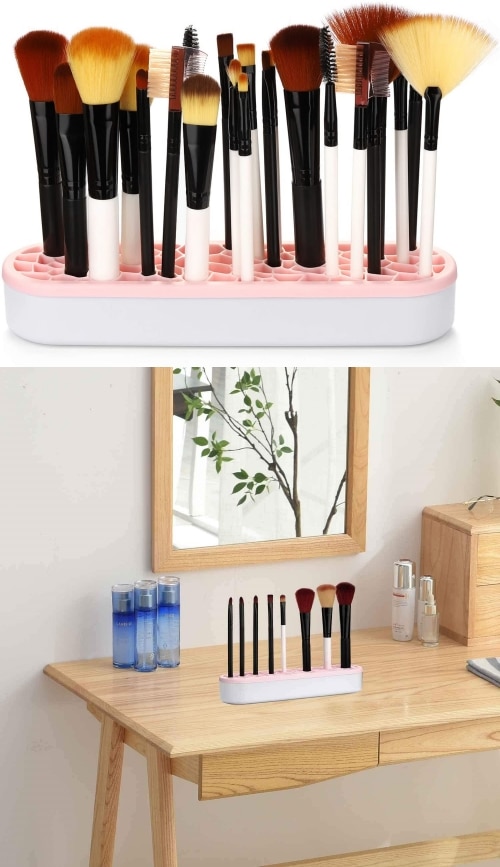 Do you want your dressing table to look a bit more trendy? This brush holder uses colorful silicone materials to hold the brushes. Furthermore, its elastic material makes it slip and scratch resistant. It also comes in four different colors, pink, green, violet, and yellow.
Crystal makeup brush storage ideas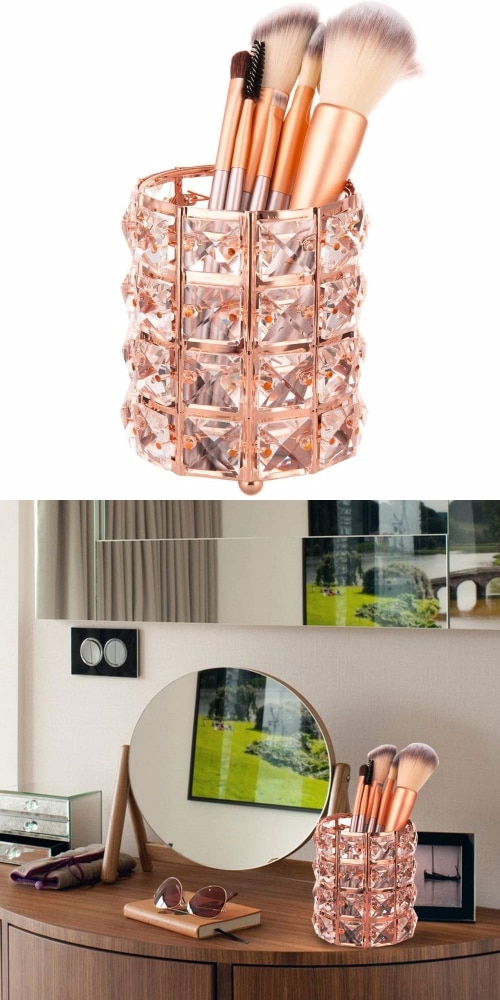 This gorgeous brush holder can add a glamorous vibe to the dressing table. Other than its sparkly design, this brush storage also offers sturdiness. It comes in gold, rose gold, and silver color variants. Without a doubt, it can also be an excellent gift for friends and family.
Professional silicone brush holder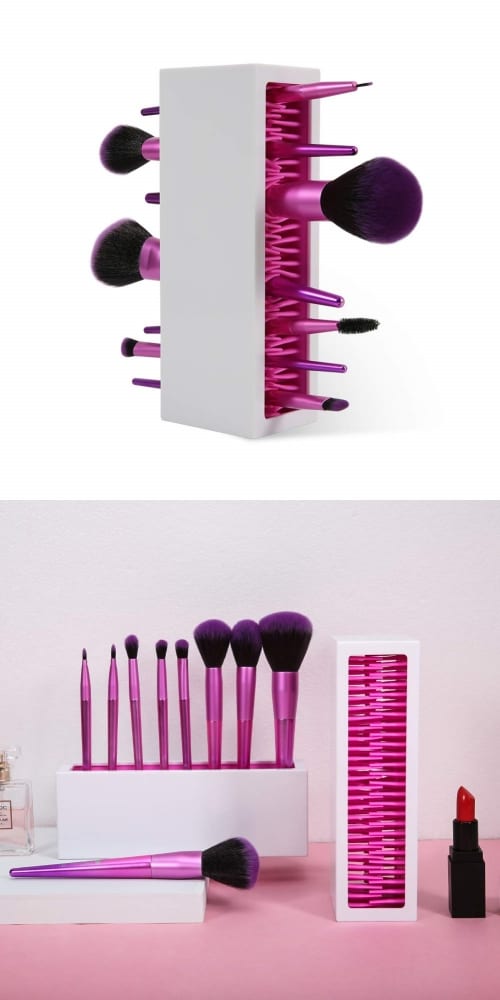 The design of this brush holder gives it more display flexibility. It can be displayed both vertically and horizontally. Moreover, its simple design also makes it excellent minimalist makeup storage.
Acrylic vertical brush organizer – Makeup Storage Ideas
Although it looks very simple and fragile, this brush holder offers valuable features. Each hole has a silicon plug that tightens brush handles of any size. Furthermore, it comes in two color options and features 12 holes to store the brushes.
Related: Hat Storage Designs
Makeup palette storage ideas
Makeup palette varies in different sizes. If not organized properly, they can easily make any dresser look cluttered. Therefore, we also collected some of our favorite makeup palette storage ideas.
Plastic palette storage divider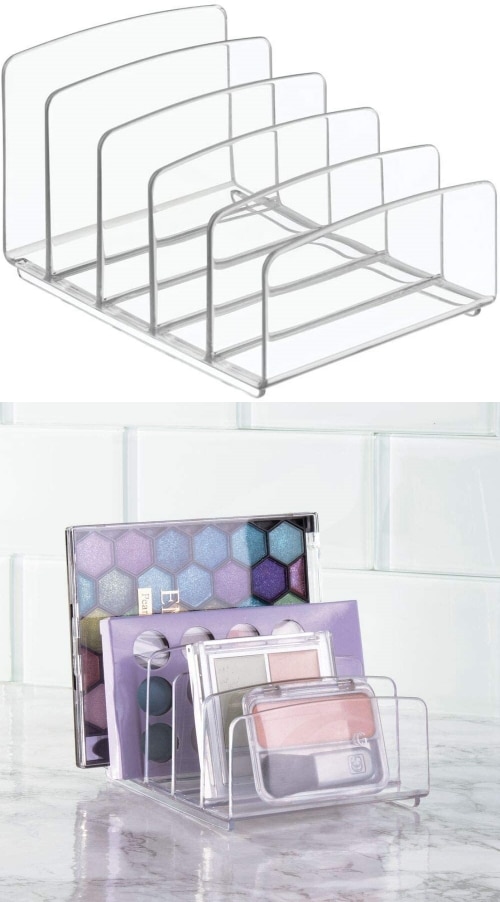 This makeup palette storage allows you to store up to 5 cosmetics in it. Its neutral design will fit any dresser and room design. Moreover, it offers nine color variants to choose.
Acrylic makeup palette organizer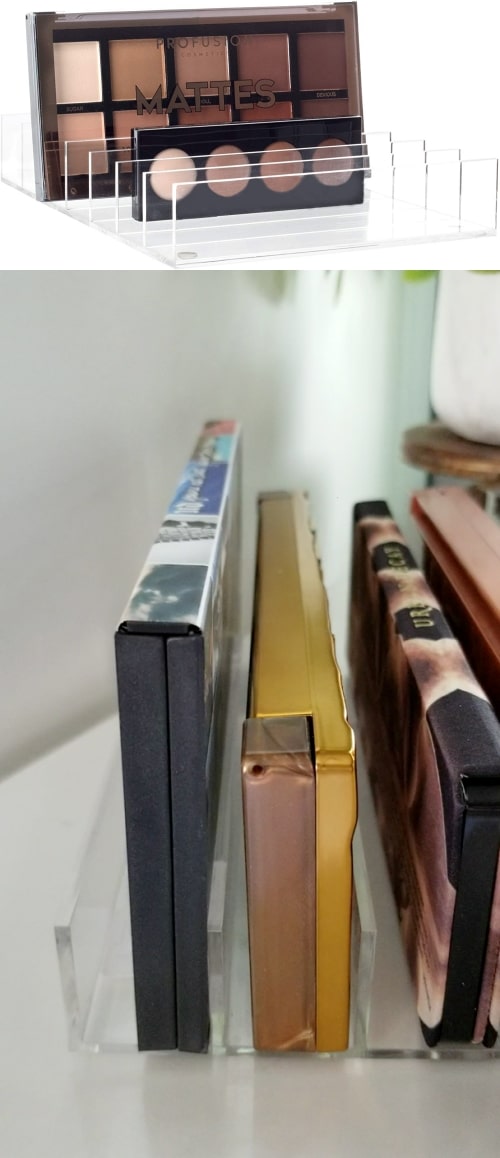 This can be a stronger alternative to the previous one. This makeup palette organizer is made of acrylic. Not only that it's sturdier, but it also offers more space to use. It can fit up to seven cosmetic items.
Makeup palette shelves organizer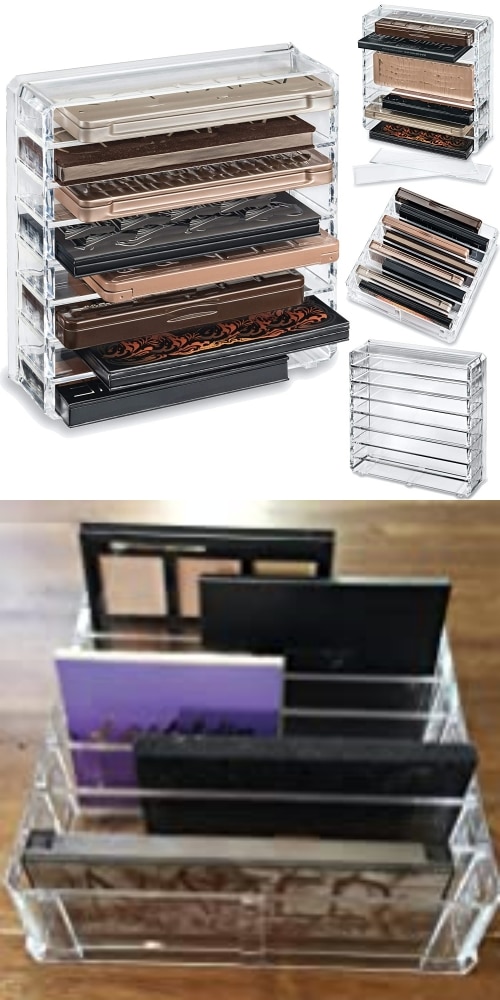 Different than the previous ones, this palette makeup organizer compiles items vertically. You can store up to 8 individual palettes. Not only it features removable dividers, but it also comes in three different colors.
Elevated makeup palette storage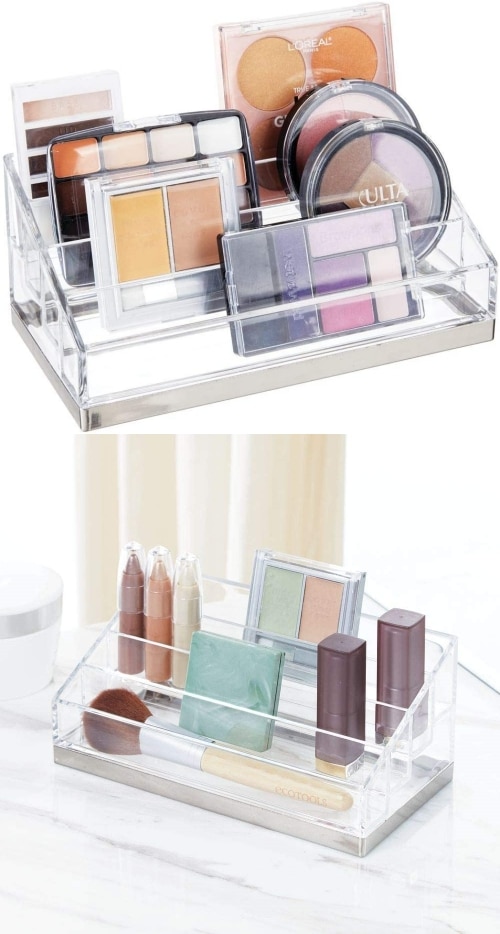 Although it only offers four compartments, this organizer offers something more. The elevated design of the compartments makes it look better and provides easier access. Also, its slim design will easily fit onto small and crowded vanities.
Compact makeup palette organizer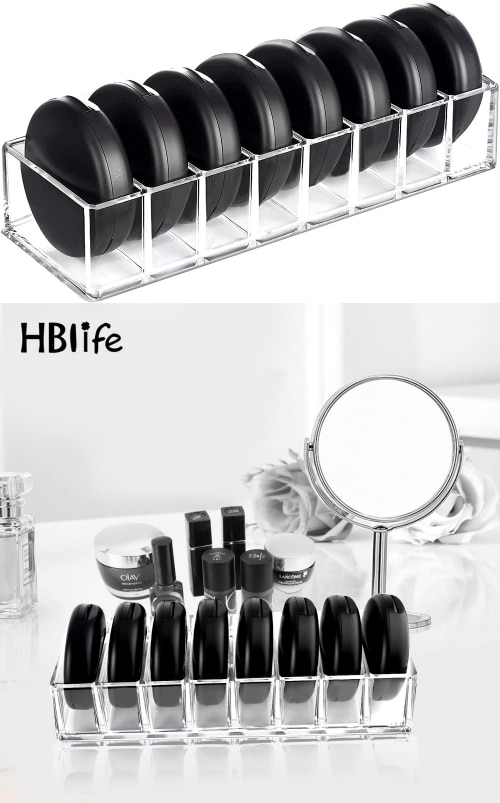 This acrylic compact palette organizer offers both large size and durability. Its large size can fit up to 8 thick palette case. Furthermore, Its strong acrylic material is both weather-resistant and stronger than glass. Its compact design allows you to move it between tables easier.
Wide makeup palette organizer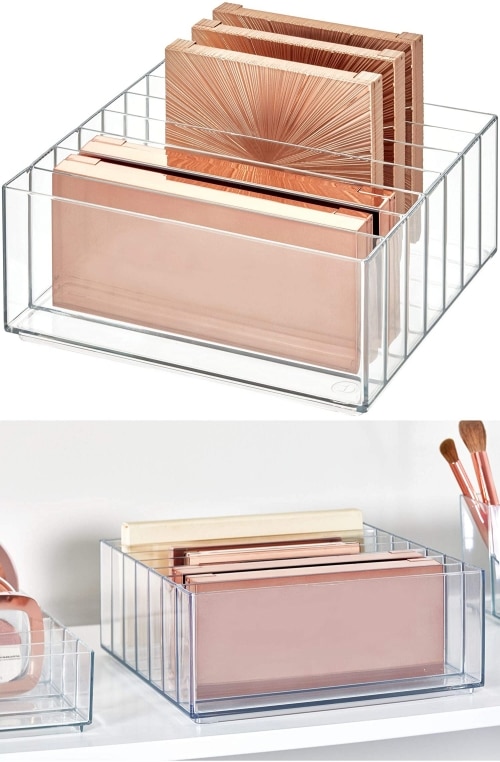 If you have several makeup palette cases that are wider than usual, you may need this. Even though it seems similar than some of the previous suggestions, it is a bit different. It offers wider and deeper compartments to fit certain makeup items. Also, its simple open top and raised sides to ensure the contents stay upright and accessible.
Makeup vanity storage ideas
Sometimes women need all-in-one solution to store their items. Well, there are makeup vanity storage to satisfy that need. Here are our favorite ones.
Detachable makeup organizer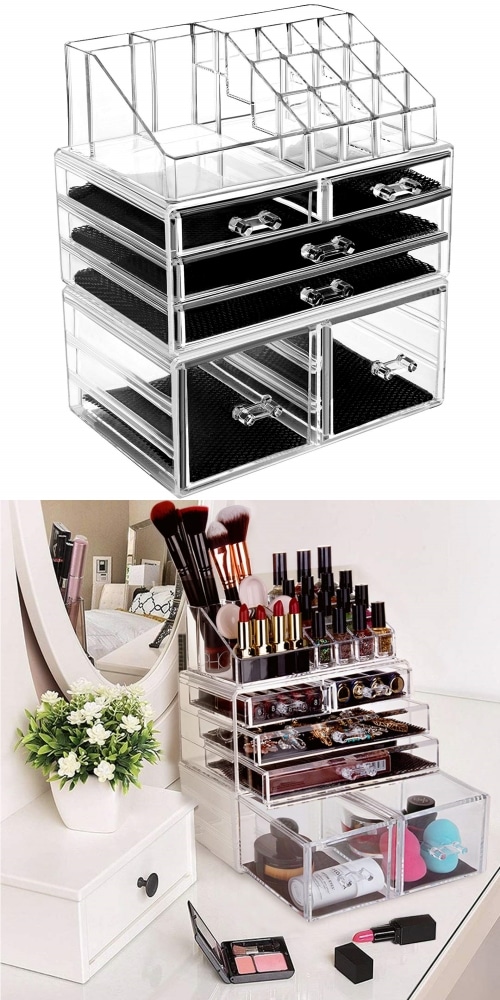 This organizer keeps all kinds of cosmetics neat and tidy, It comes with two large drawers, two middle drawers, two small drawers, and sixteen top compartments. Not only it's practical and washable, but it also features interlocking and detachable features.
Movable makeup dresser
Although this is not specifically makeup storage, this can be a great pair to your vanity. It offers five drawers to use as a dresser or makeup storage cabinet. Also, it has removable casters for stationary or mobility.
Rotating makeup vanity storage ideas

This makeup storage organizer offers both accessibility and sufficient space. It allows easy access to all the makeup products. Moreover, it features adjustable and washable trays for convenience.
Acrylic cosmetic drawer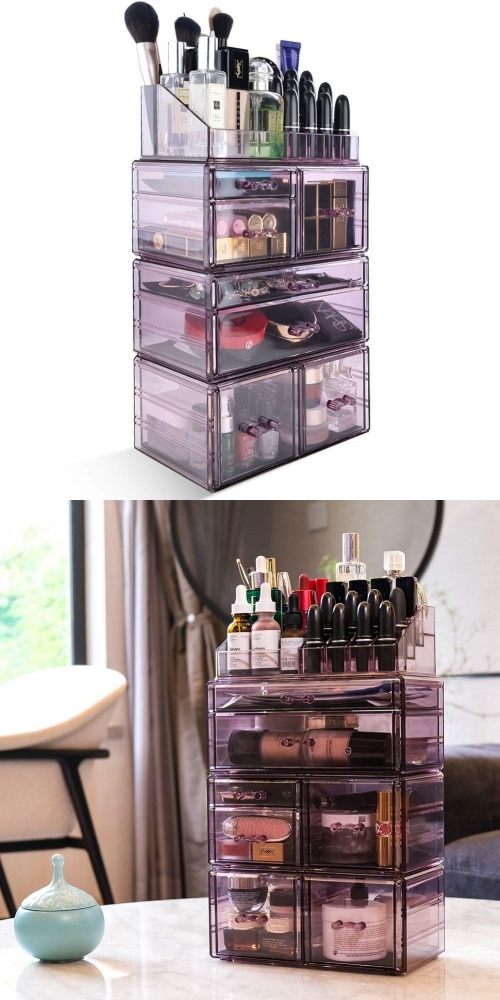 It may look similar to the first suggestion in this section, but it has more to offer. It offers a larger space and three color options. Also, it's made of premium shatter-resistance acrylic for extra durability.
Modern makeup vanity storage ideas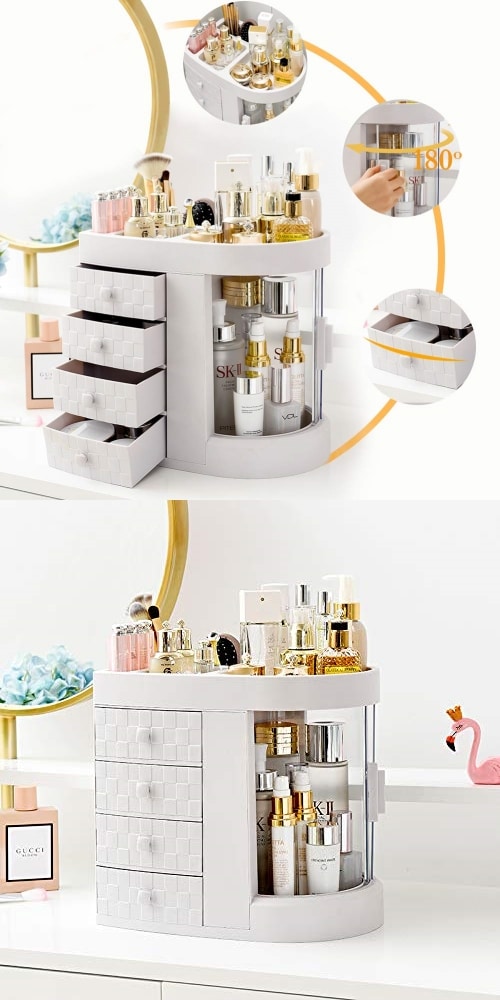 Its white color and unique design make this storage stand out from the others. It has three different parts, drawers, top compartments, and a glass-covered part. Also, it's made of high-quality ABS material that is safe and non-toxic.
Contemporary makeup drawers
If you need plenty of small size drawers for your makeup, this one may be for you. It offers two oversized drawers, two large drawers, eight small drawers, and 16 top compartments. Also, it has a chic and elegant design to match any decor.
Space-saving acrylic makeup case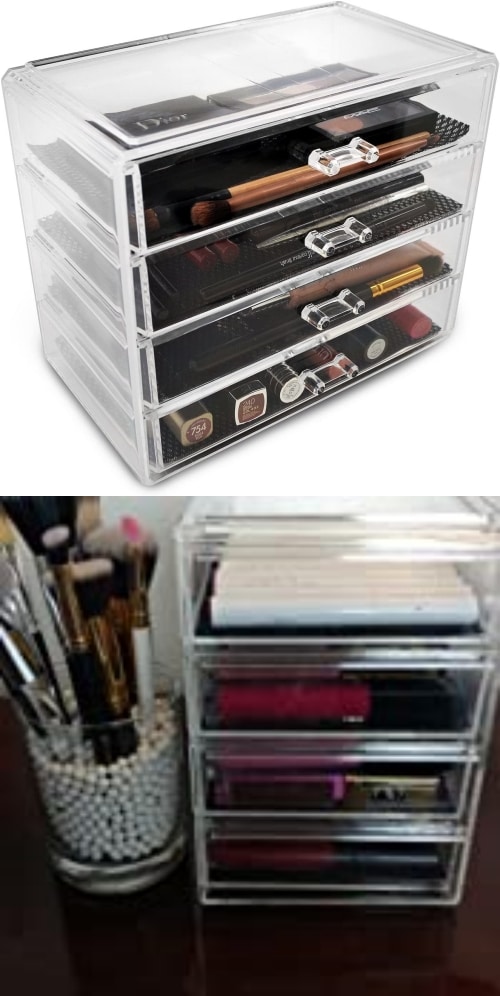 This is another acrylic makeup storage. It can help you to beautifully organize and display your cosmetic items. Its simple yet stylish design will fit most dressers. Moreover, it features removable mesh padding for extra protection.
Glamorous rotating vanity storage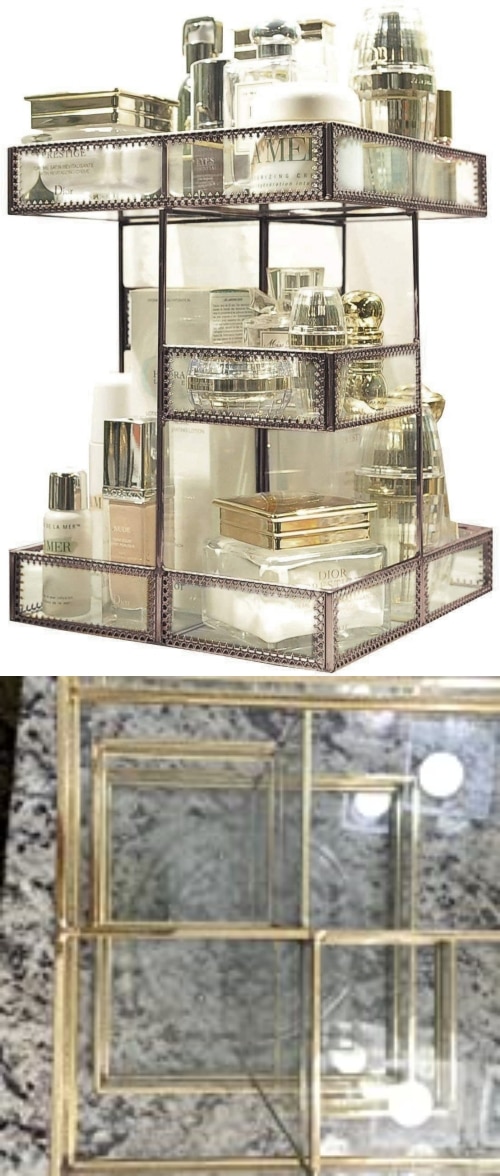 Do you want to add an elegant touch to your vanity? This may be the answer. Other than its large capacity, this makeup vanity storage has a gorgeous design. Also, it offers easier access with its rotating feature.
Portable makeup storage ideas
Some women love to travel and bring their makeup items with them. Undoubtedly, they also need storage that can keep their makeup items organized wherever they go. Fortunately, we've also collected the best portable make up storage that we found.
Portable brush organizer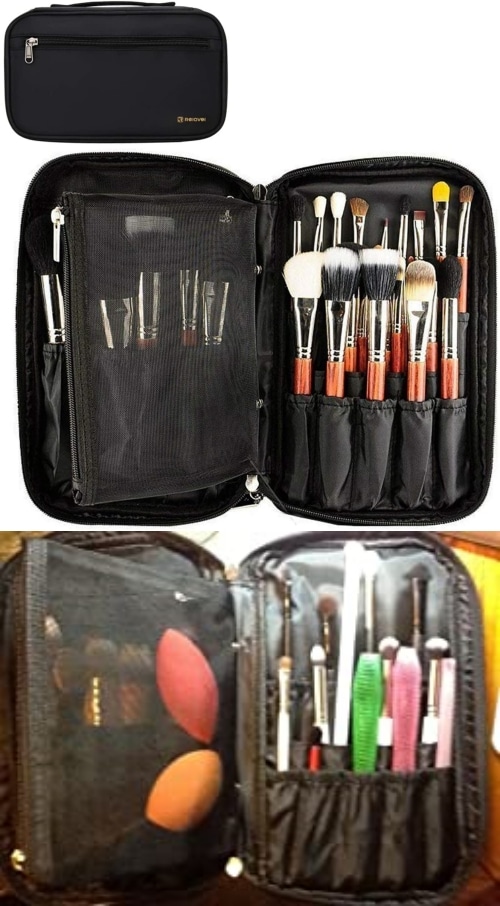 Are you looking for portable brush storage? This brush case may be worth a look. Its compact size will help you to carry your brushes anywhere you go. Also, it can fit 30 kinds of makeup brushes and small makeup essentials.
Compact makeup travel bag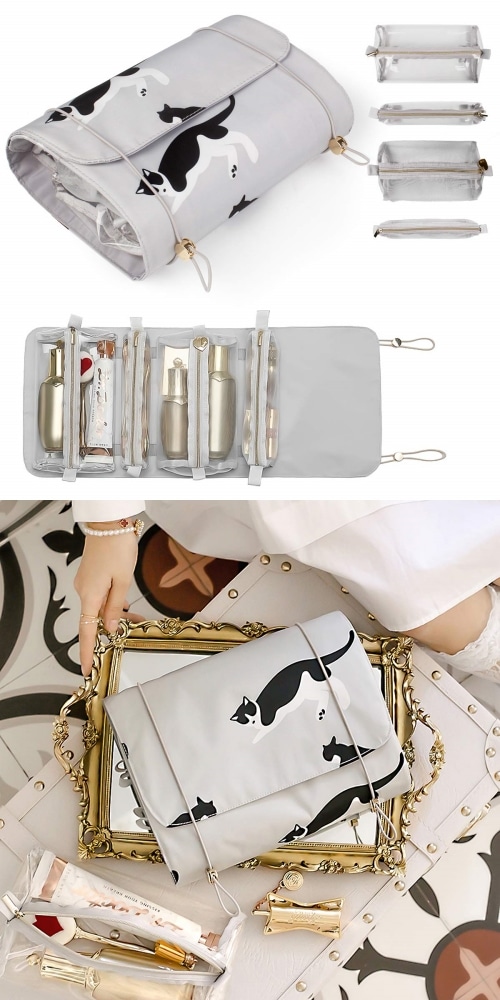 Although it looks simple, it offers a bunch of useful features. It has four separable toiletry cases and high-quality material. Not only that the material is washable, but it's also waterproof. Undeniably, it's a great travel companion.
Cosmetic travel handbag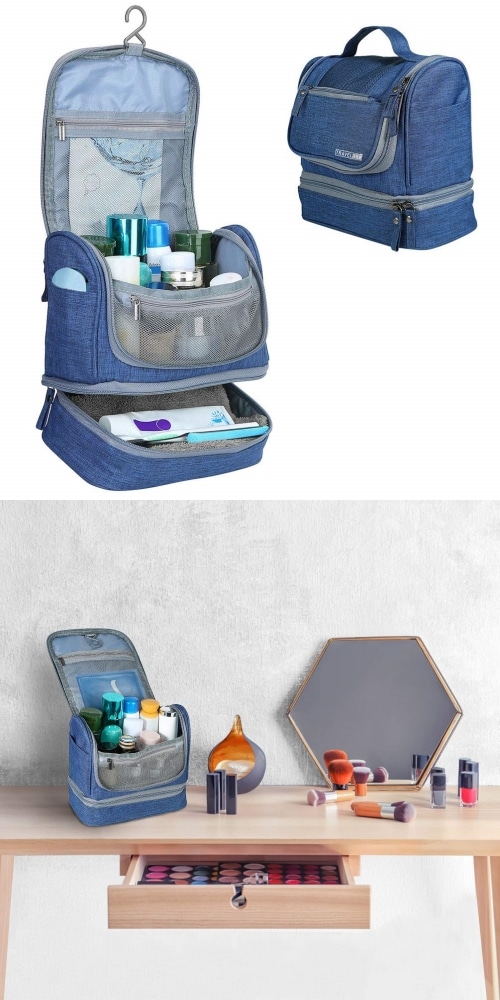 This makeup handbag offers larger capacity to store your items. Overall, it has ten pockets that can be used. Moreover, it's made of waterproof and extra durable material, which is very convenient.
Related: Shoe Storage Ideas
Clear makeup travel bag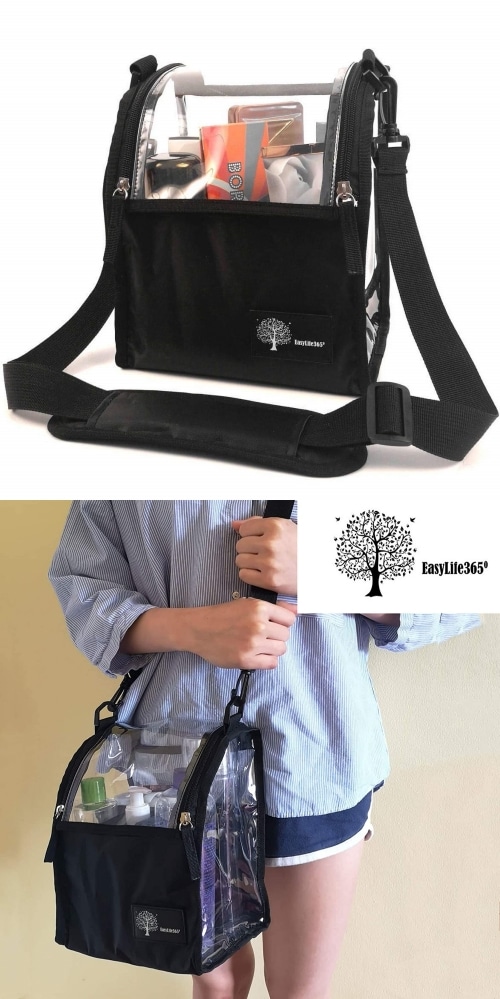 Apart from a larger capacity, this makeup bag also offers a shoulder strap and clear case. Its clear case will easily remind you if you forgot to bring something. And last but not least, it also comes with lifetime warranty.
Spacious makeup travel case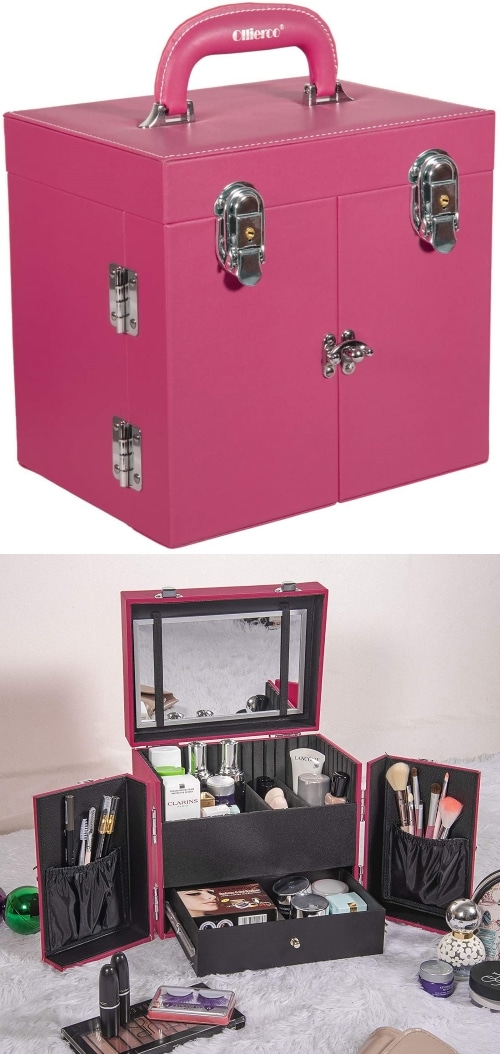 Its unique and professional look makes this travel case stand out. It's an excellent pick for people who often travel for a long time. Not only it's very sturdy, but it also includes locks for security.
Clear makeup storage box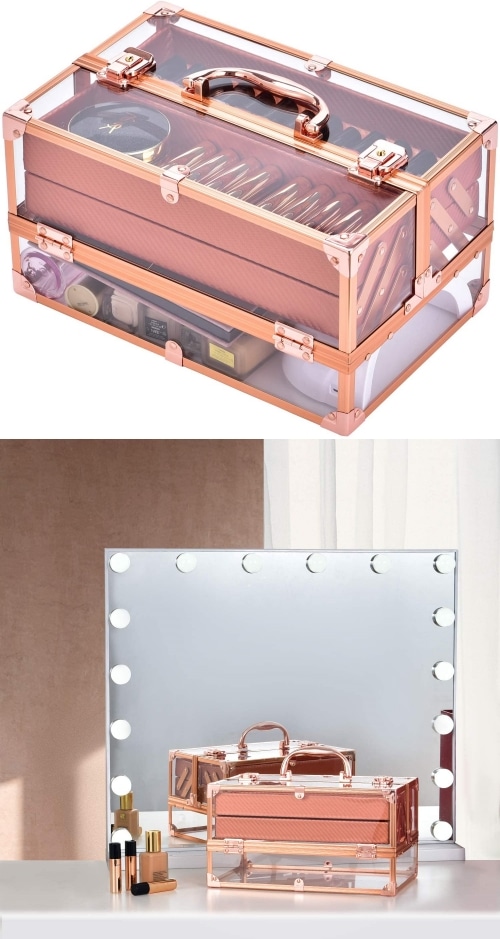 This makeup storage box can give a modern and stylish impression. It is not only sturdy, but it is also portable and lockable. Furthermore, its transparency helps people to see the contents inside.
Seamless makeup travel case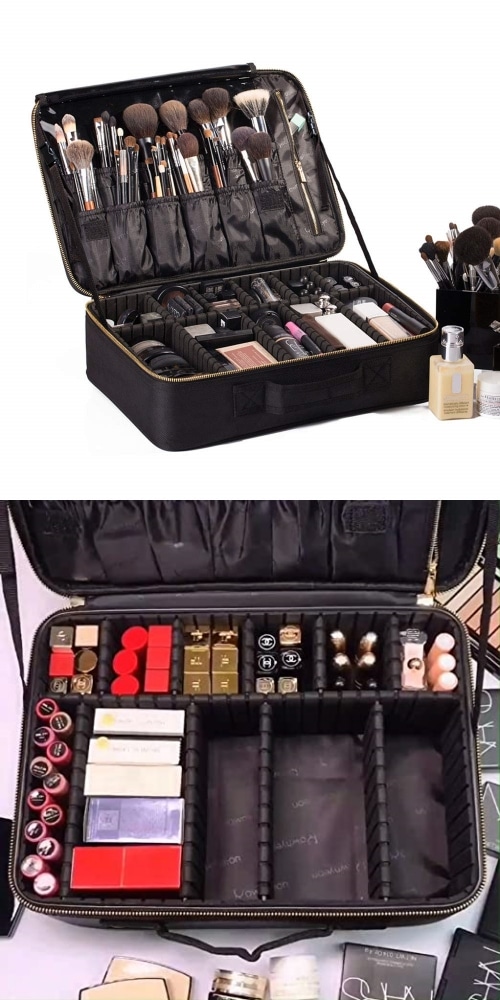 When not opened, this makeup case will look the same as an ordinary travel case. Therefore, it's perfect for people who don't want to look obvious in bringing their makeup. It comes in four different sizes and three different colors. Also, it provides ten adjustable dividers, which make it suitable for both home and travel.
Professional lockable makeup case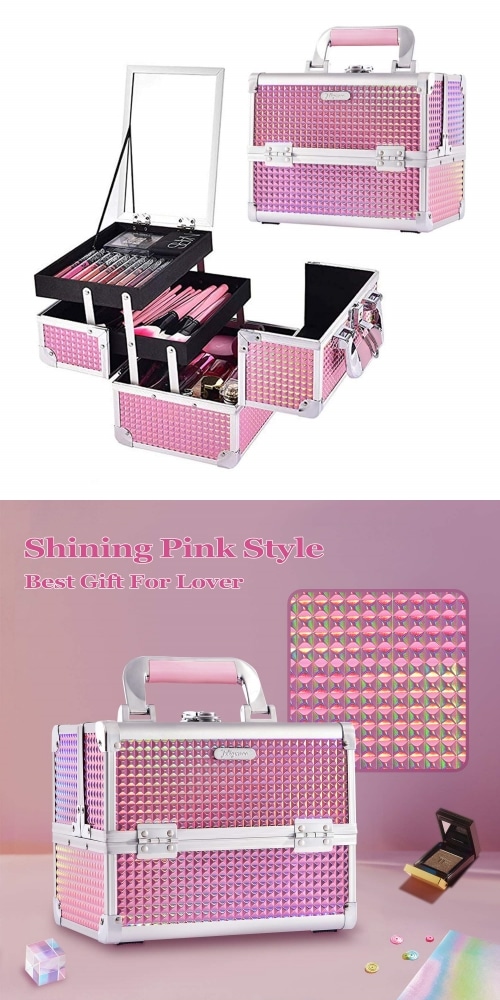 From its look, you can already tell that it's very durable. If you think makeup plays a vital role in your life and career, this should be perfect for you. Not only it offers portability and security, but it also offers expandable storage space. It will be able to fit plenty of makeup items.
Related: Spice Storage Ideas
Conclusion
To conclude, there are various solutions to fix cluttered makeup items. From simple to advanced, there are a lot of makeup storage ideas available. Even though we have provided a bunch of them, feel free to look for more. After all, the storage that you choose should adjust to your preferences.