Kitchen Remodel Before And After – Kitchen remodeling is a way to refresh the room. Mostly, it happens because the homeowner wants to get something new or to follow the trends.
We don't want to stuck in an old, disorganized, or even uninteresting room. Therefore, a remodeling process becomes an alternative way to get a new dream kitchen design.
Many owners want to change their kitchen because of its old functions or to get a new style. Before starting to remodel a kitchen, don't forget to get more ideas and information.
Moreover, you can get more inspiration by checking out the examples of kitchen makeovers before and after transformation.
Kitchen Remodel Before And After Design Ideas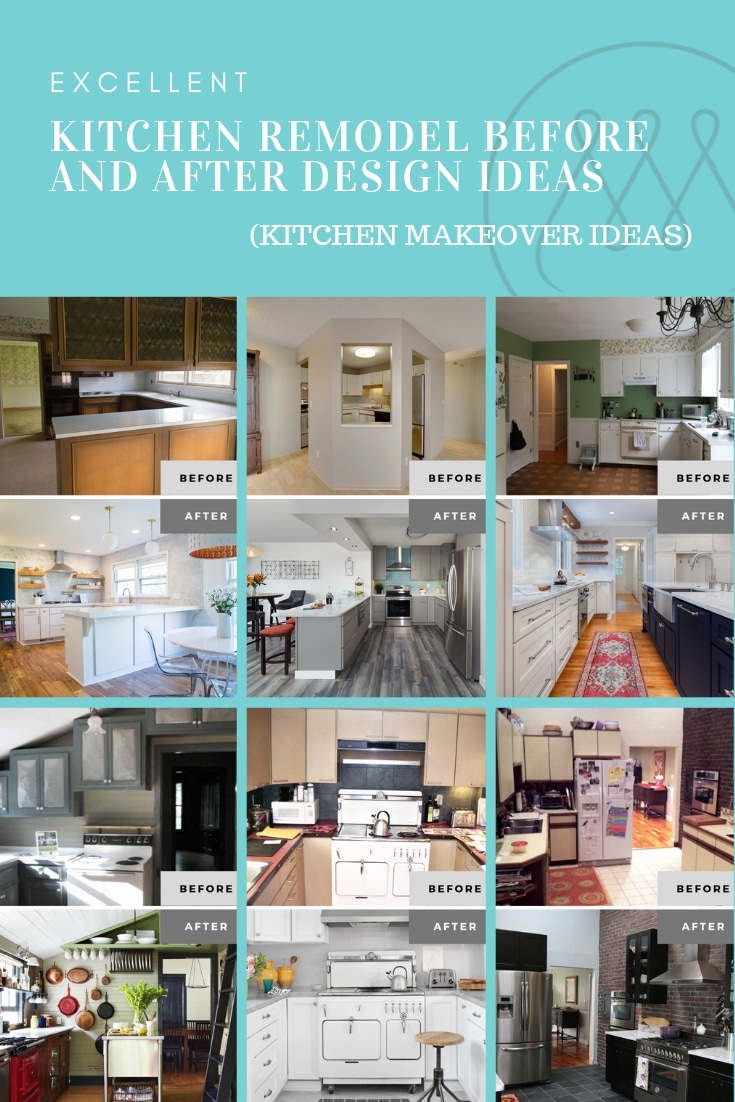 A successful kitchen transformation is a dream of every homeowner. If it doesn't fit the owner's expectations, it would be very disappointed. Therefore, a lot of work and researches need to accomplish.
Fortunately, there are so many kitchen remodel before and after ideas and information to inspire us. If you plan to remodel a kitchen, try to get ideas by looking at kitchen remodeling transformations and compare the before and after look.
Now, take your time to check these fascinating kitchen transformations.
Monotonous To Shiny Kitchen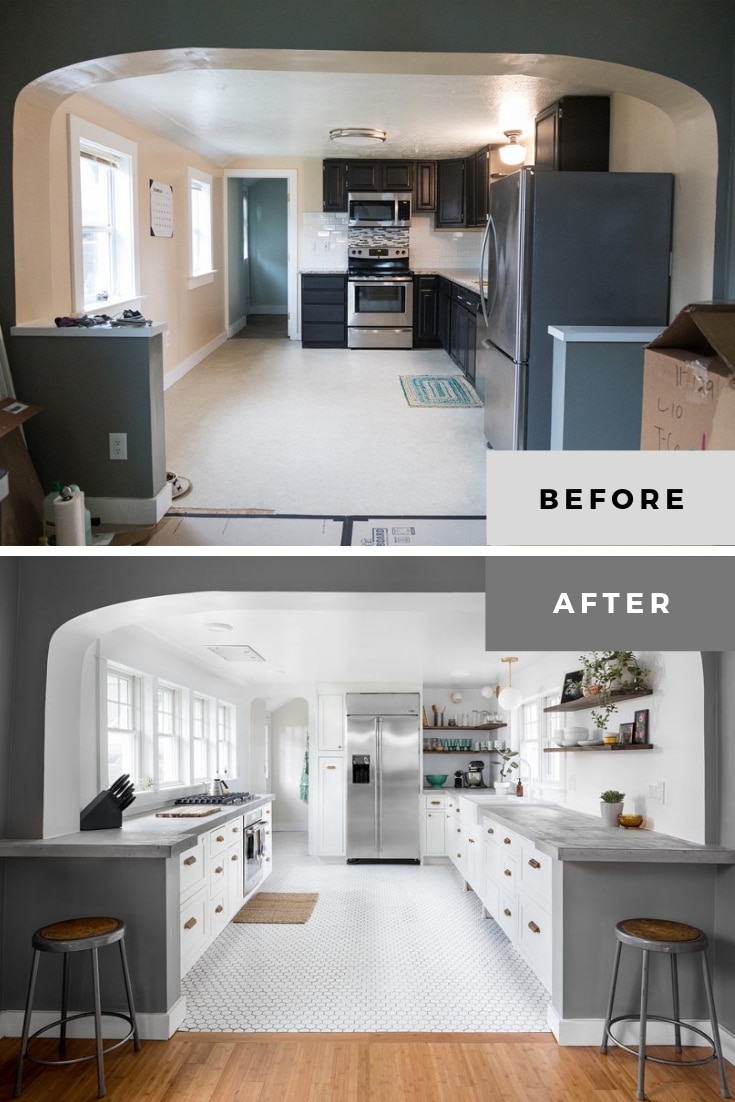 Monotonous. A combination of cream and grey on the wall made this room looks quite dark and uninteresting. Additionally, the way the owner arranged the appliances showed that it was monotonous and needed to rearrange. Moreover, this kitchen needed a vast transformation.
Shiny. We may not see significant changes in this room model. But still, with some improvements on the wall color, the addition of more windows, and appliances make it looks luxurious.
Especially, lots of light comes into the room from the windows and lighting make this kitchen looks clean and bright.
Classic To Modern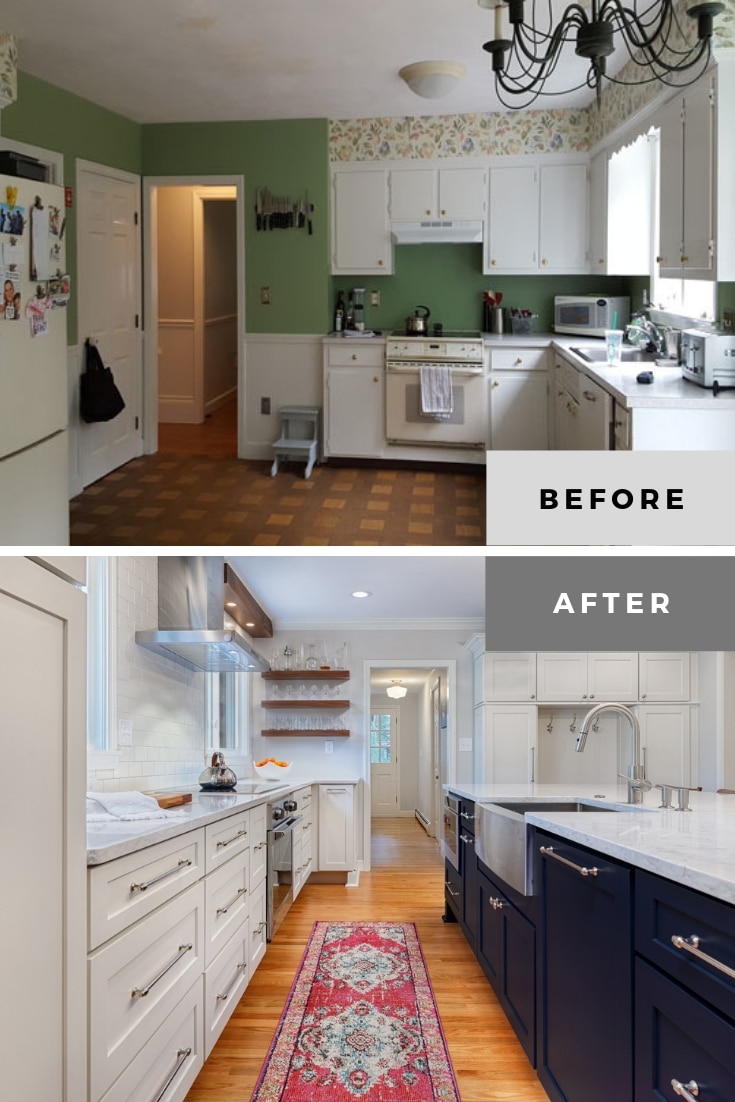 Classic. Since the 1970s, the homeowners had not to change this whole home design including the kitchen. We can see a classical style in this kitchen from the wall color, floor, and some fixtures.
Moreover, the combination of green, white, and flower pattern showed a vintage look. But there were some flaws like the kitchen's space and sink were quite small. Therefore, after a few years, they decided to update it to a modern one.
Modern. A previous kitchen model successfully transformed into a modern one. Now, It has an open concept design with lots of lights. Also, this kitchen is brighter because there are two open windows which let the natural lights come.
Besides, the designer took out the walls and added an island so that the room becomes larger and functional. In the end, the kitchen renovations came out elegantly with two-tone colors fill the room. 
Dreary to Dreamy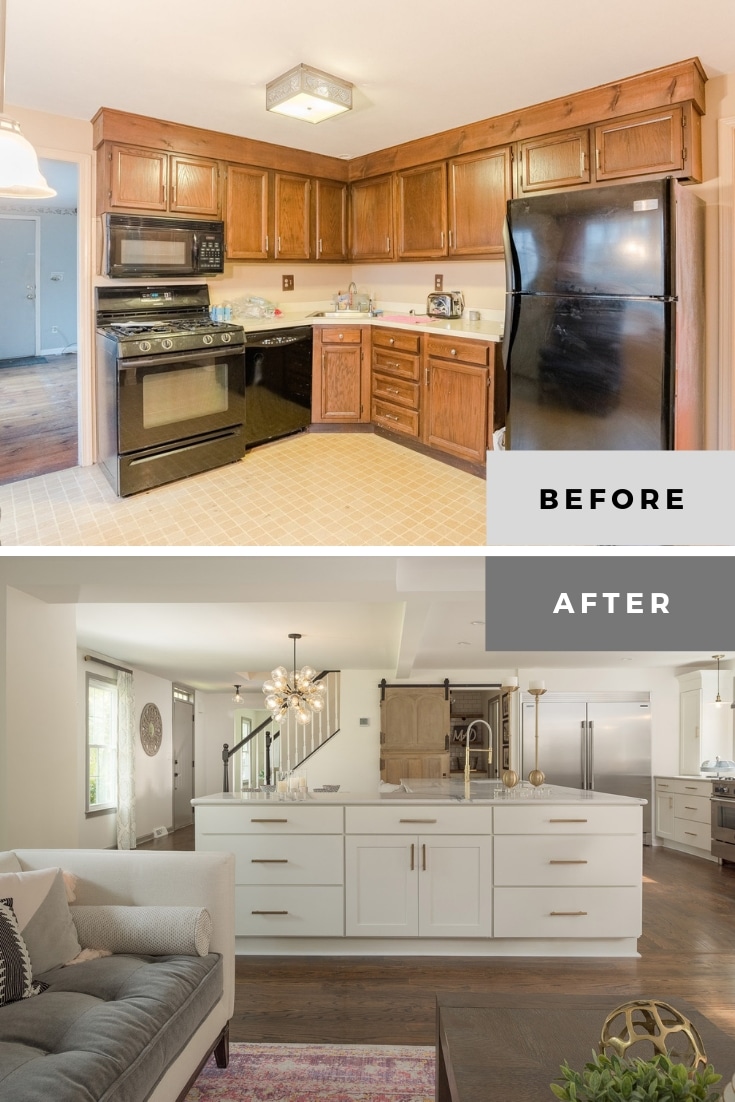 Dreary. Dim lights and dreary described this kitchen look. Most of the fixtures were outdated and needed an upgrade, especially the small island, hanging lamps, and cabinets. Thus, a lot of improvements applied to a new one.
Dreamy. Another open concept kitchen showed in this new kitchen style. During the process, the owner decided to remove the wall so that the room looks larger and brighter. Then, the addition of sinks, dishwashers, fridges, and a large island bring a homey atmosphere.
Moreover, the hidden fridge in the cabinets is remarkable. In conclusion, this kitchen remodel before and after idea is perfect for any activities including cooking or even hosting friends.
Outdated to Up-to-date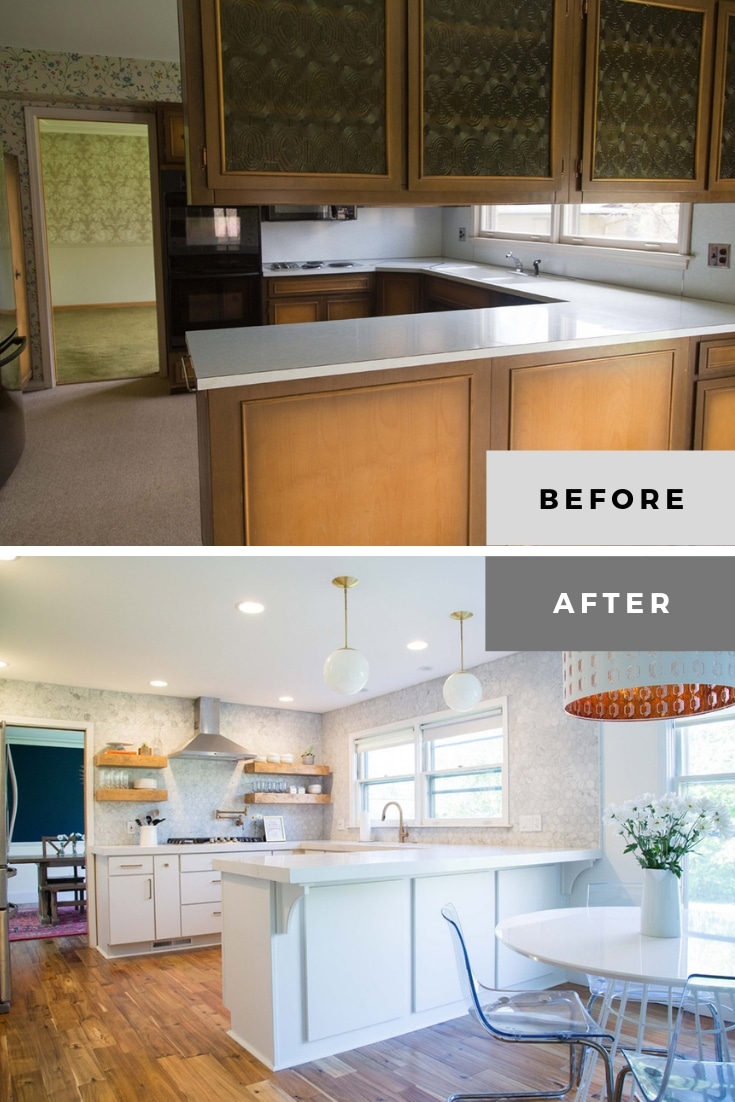 Outdated. We can see a vintage look from the cabinets, painting, carpets, and flower pattern wallpaper. Although most of the layouts were functional, the design was outdated. Since the 1960s, this kitchen had no significant changes. As a result, the new owner who just bought it decided to do a makeover.
Up-to-date. Lots of lights and unique elements make this kitchen transformed into a bright and modern one. Now, it has a larger space which makes the owner can see dining or living room while standing in the kitchen.
A combination of white and wood accent fills the room perfectly. We can't also take our eyes away from the elegant fixtures and appliances such as round hanging lamps, a microwave shelf, and DIY floating shelves.
Thus, this is an excellent example of a total transformation from outdated to an up-to-date one.
Unstylish to Trendy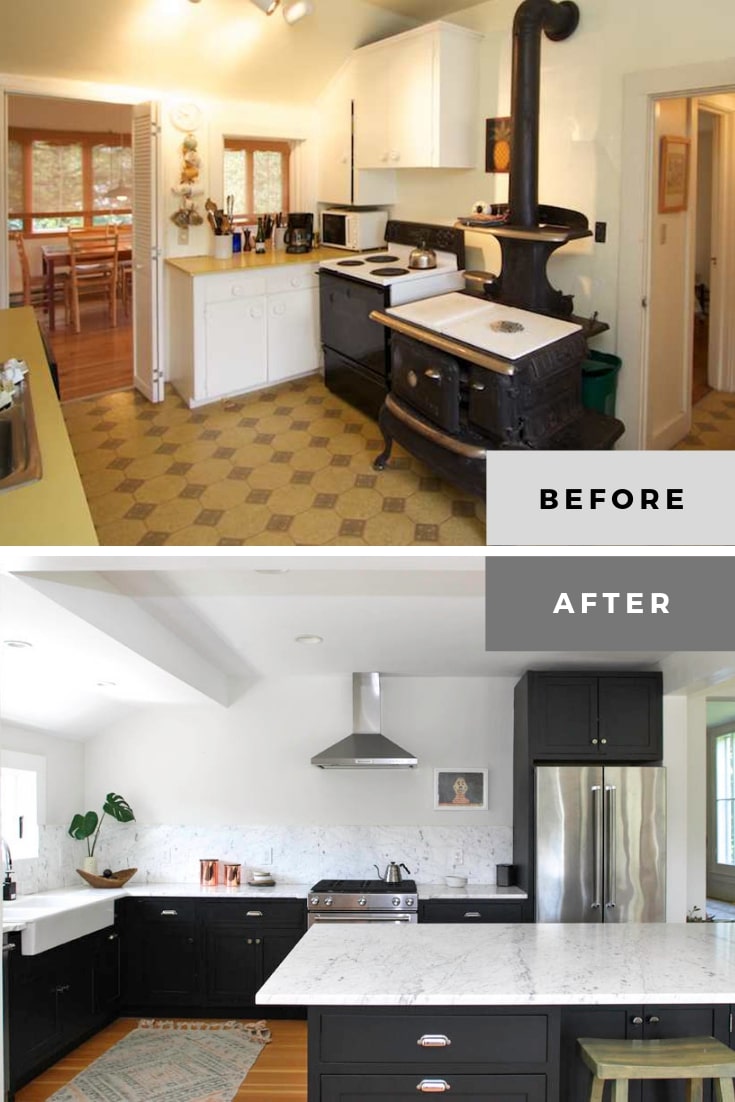 Unstylish. This old kitchen was unique and suitable for its time. But if we follow today's trend, it was outdated. Additionally, there were some flaws such as space was small, lack of lights and the appliances were quite old.
Trendy. A combination of black and white seems clean and stylish. It makes the room looks tidy and well-organized. Also, the application of white wall, countertops, and backsplash brings more light into the room.
Although this kitchen doesn't have upper cabinets, there are other additional cabinets below such as multi-storage drawer and drawer pulls-out. Moreover, the unique part of the room is the use of black cabinets.
In conclusion, all of the combinations of colors and appliances shows the balance between light and dark.
Related : Kitchen Counter Decor
Tasteless to Entirely New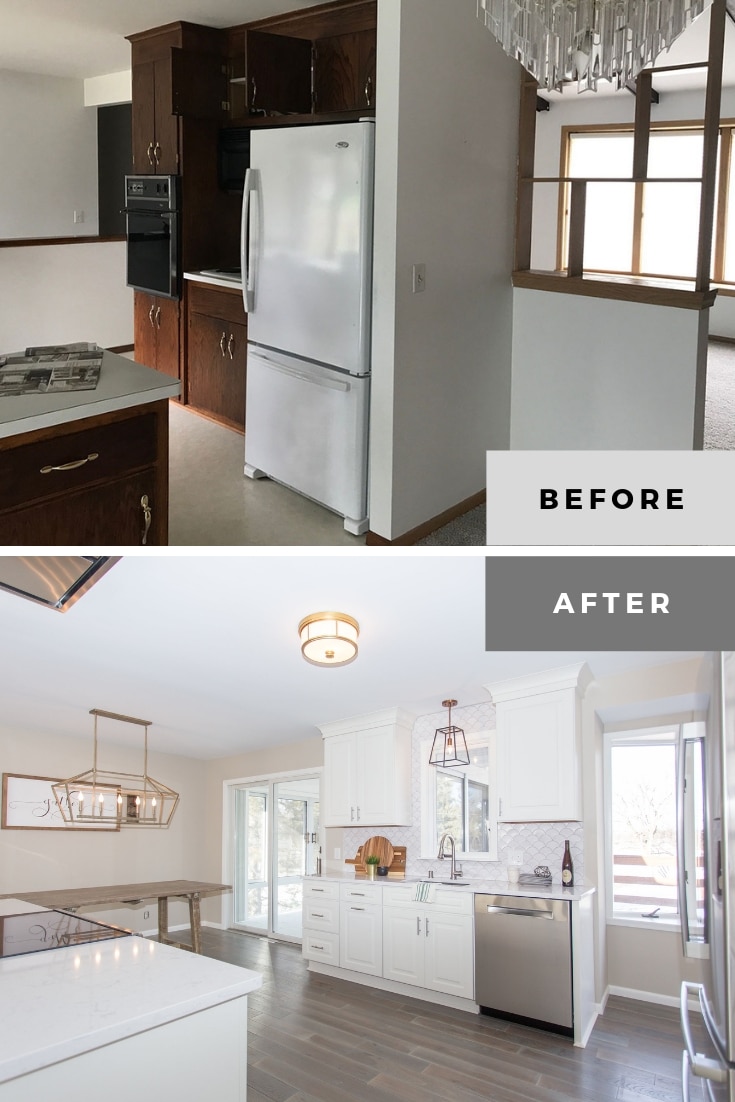 Tasteless. After buying a new house, the new homeowners decided to renovate this authentic kitchen. Inside the room, there were some original appliances which looked too simple and outdated. Besides, the kitchen space was small and also looked tight.
Entirely New. Now, the small kitchen transformed into a huge one. Renovated with an open concept, it finished with long kitchen designs look. The designer decided to remove the wall so that the kitchen has more space than the previous one.
As a result, there are four functional sides such as a kitchen island for cooking, a fridge wall for food storage, a sink wall for cleaning, and a dining area for serving.
Tired to Captivating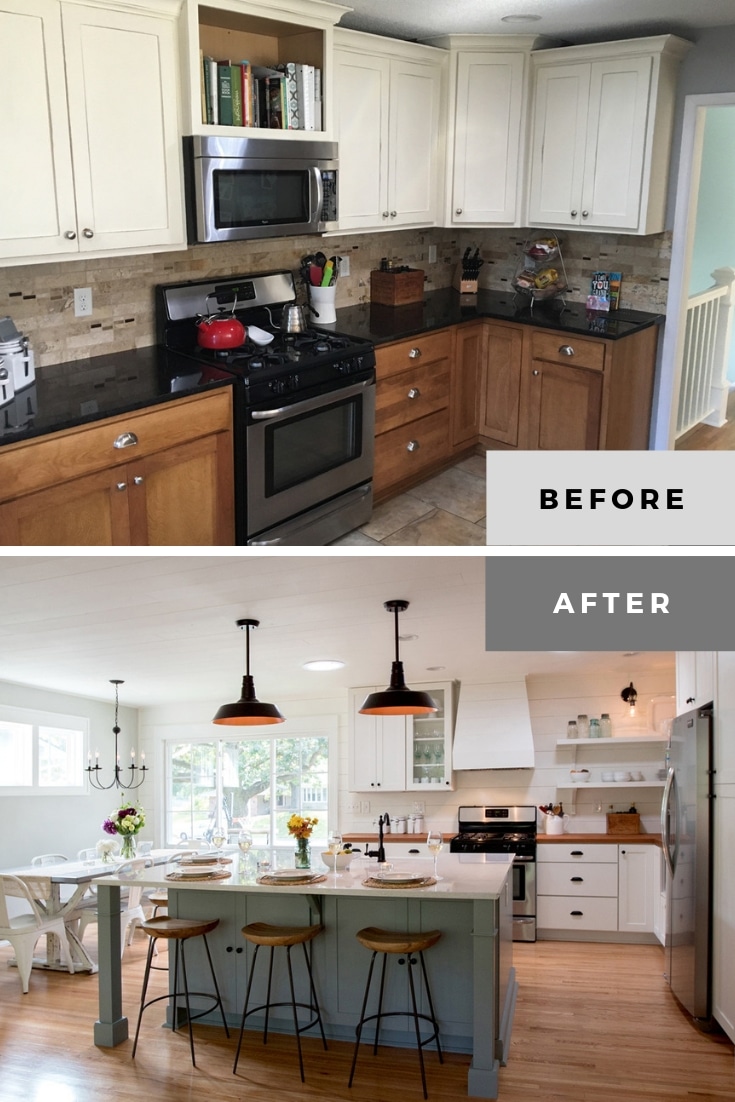 Tired. Although this kitchen built only five years ago, the homeowners seemed tired with this style. Additionally, the installation of wall separated the kitchen and living room. It also blocked the lights and made the room darker. Moreover, the kitchen's space looked tight and needed some improvements.
Captivating. A brighter and warm farmhouse style finally applied in this new kitchen makeover. Besides the previous one, this one has more functional space for the entire fixtures and appliances.
The island size changed into a small one so that there will be more space for other cooking accessories. Moreover, the owners choose to keep the sink in the same spot and move the microwave to a hidden place.
Simple to Luxurious
Simple. In the previous kitchen model, there were oak flat panel cabinets surrounded half of the room. With cherry wood floor and white laminate countertops, this kitchen design showed its simplicity. However, the owner decides to transform it into a new one.
Luxurious. After the renovation, this kitchen finally transformed into a luxurious industrial kitchen style. It features lots of white fixtures, such as the shaker cabinets, glass subway tile backsplash, and a large center island. Additionally, some stainless steel appliances also added to this room.
We can see it on the pendant lights and refrigerator. Nevertheless, instead of changing the cherry flooring the owner decides to keep it. In the end, this kitchen shows its beautiful and luxurious result of great remodeling.
Abominable to Entertaining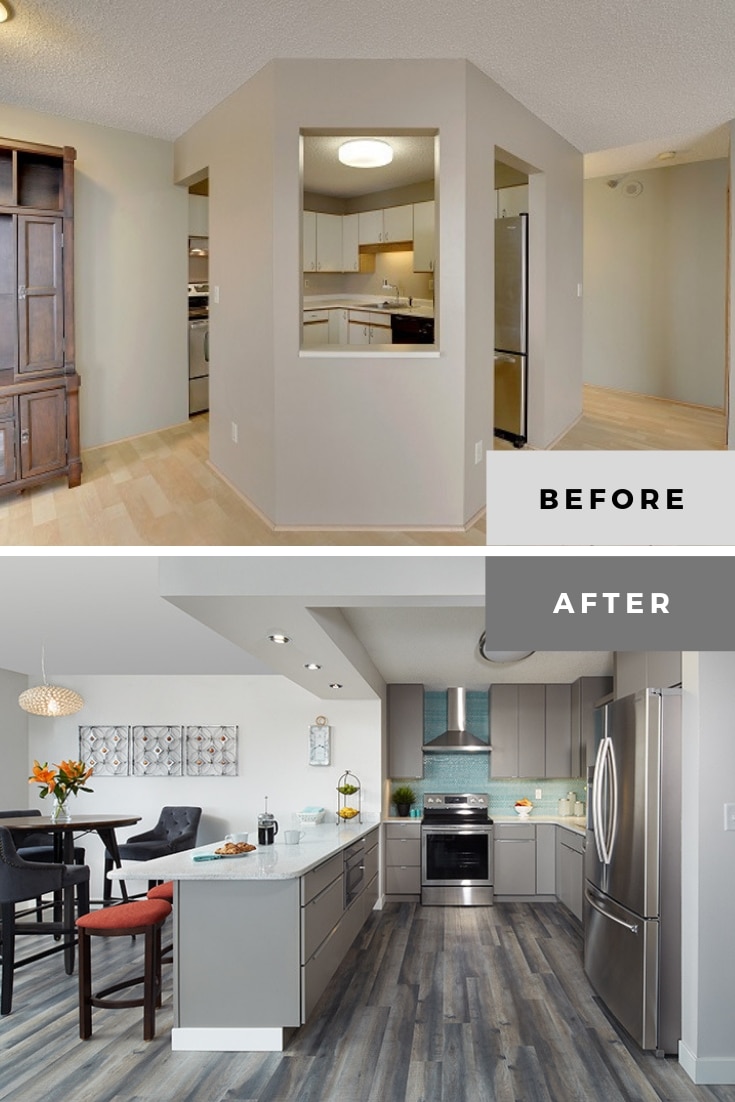 Abominable. By looking at the original kitchen example here, make us a bit hard to breathe. The wall in the middle made the cooking space tight and limited. It made the owner felt uncomfortable doing any activities in the kitchen. Also, the quality of lights and color made the room looks abominable.
Entertaining. In this open concept room, the kitchen blended with a living room so that this room becomes enormous. Moreover, clean space and smooth grey textures fill the entire room flawlessly. It was on the shaker cabinets, refrigerator, and an island. Therefore, every part of this kitchen can be a great inspiration for your remodeling plan.
Amateur to Professional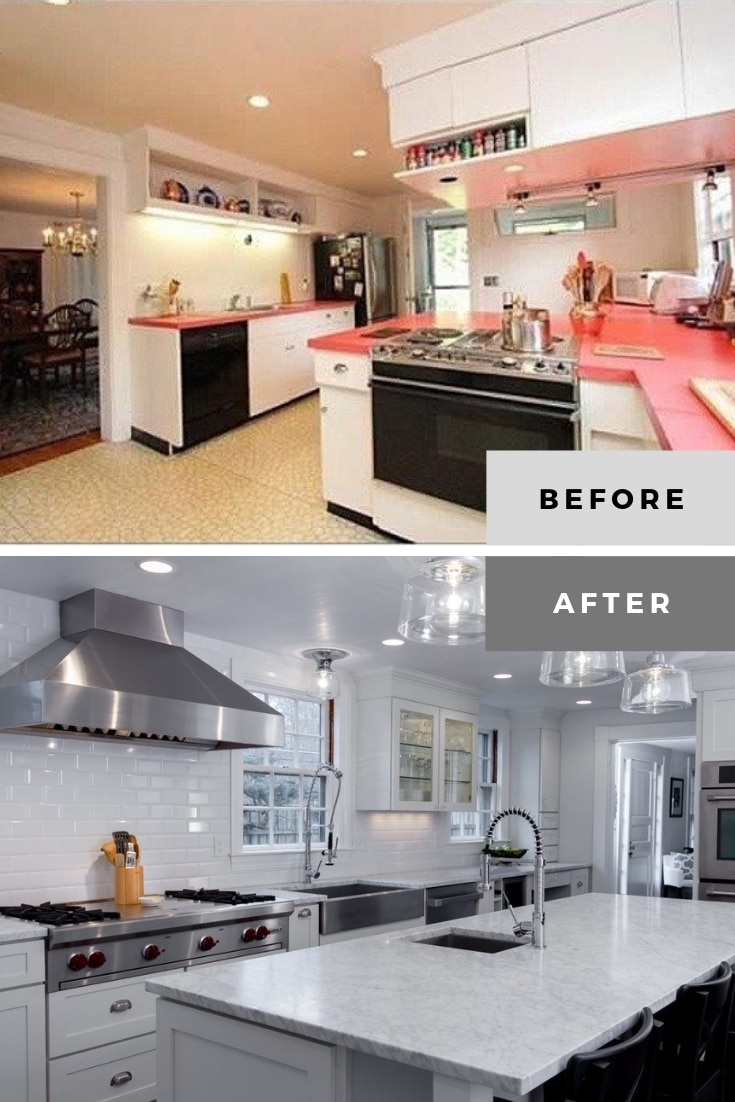 Amateur. A combination of red and white applied in this kitchen seemed pretty awkward. Furthermore, there were some flaws found like broken cabinets, red countertops, and low-quality appliances.
Professional. If we take a look at this room model, it feels like looking at a chef's kitchen. Indeed, this is professional kitchen design. By replacing the old cabinets to new ones and getting an island, the room looks fresh and gleaming. Above the island, there are three hanging lamps which help to light the room. In conclusion, the whole things in this kitchen are well-organized and marvelous.
Dominant White to Wooden Accent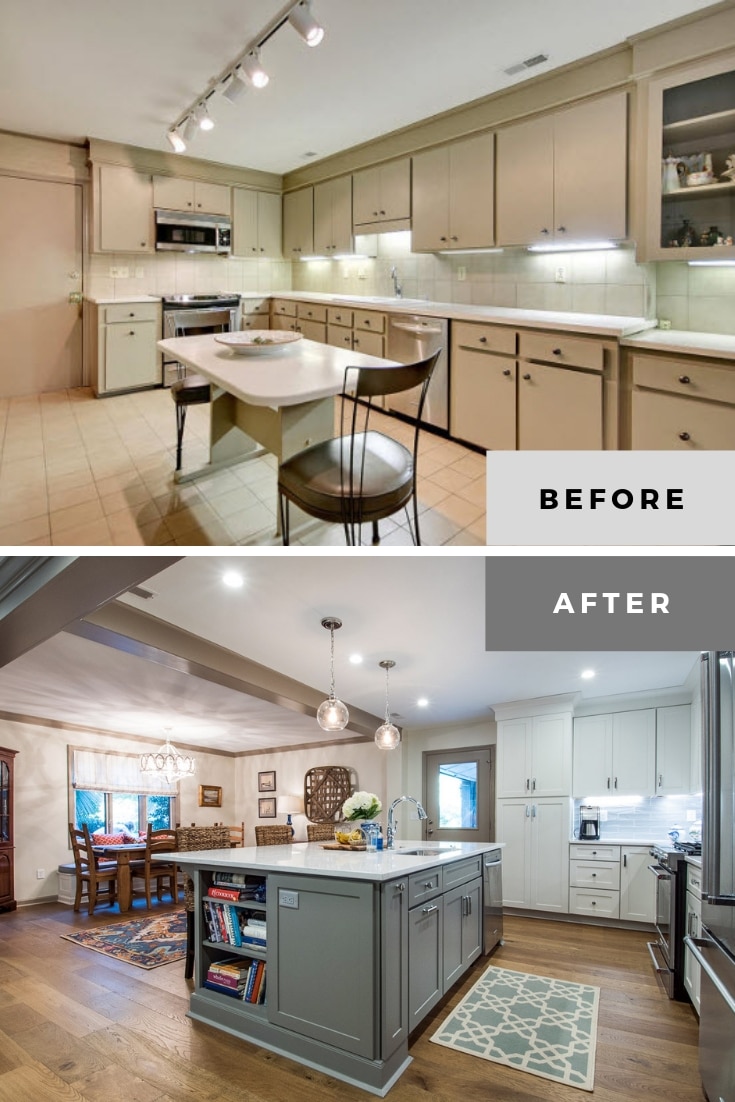 Dominant White. There was a tiny island with white countertops in the middle of the room. Although this kitchen still looks good and homey, the owner decided to transform it with a different style.
Wooden Accent. Transforms from white to wooden, this new kitchen look shows a contemporary kitchen design. More than fifty percents part of the room covers in wood materials, it is on the floor and cabinets. With white cabinets, a large open window, and three hanging lamps above the island, now the room looks brighter and well-arranged.
The 1980s to Functional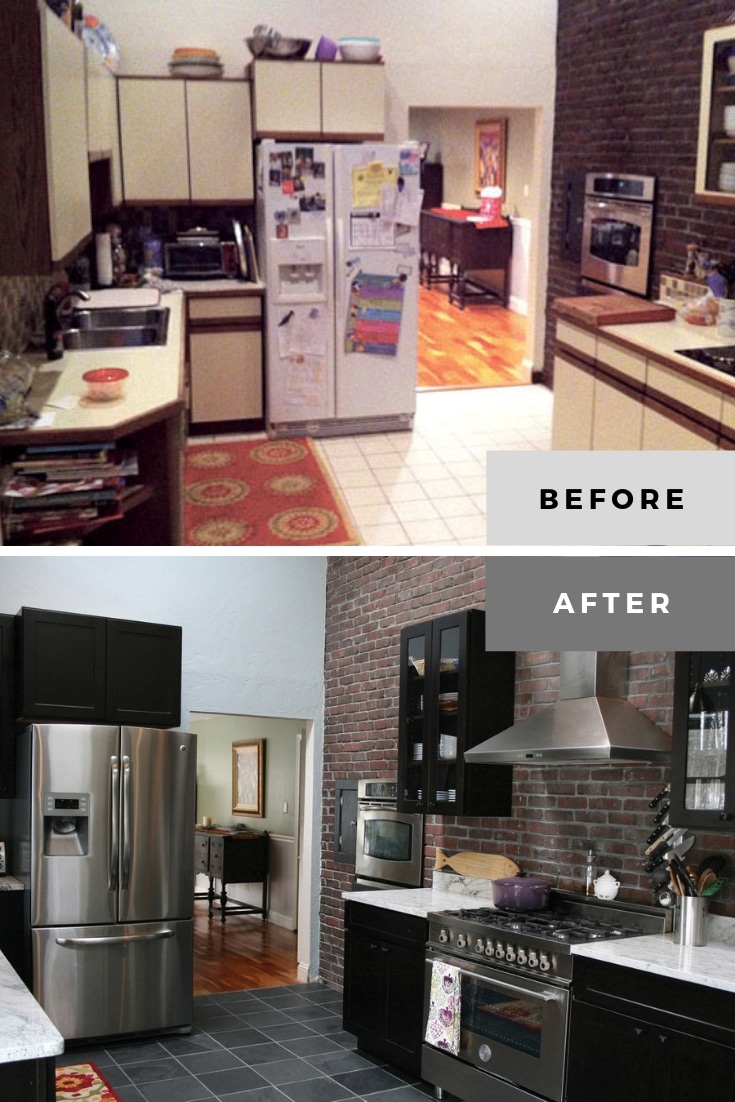 The 1980s. Built in the 1980s, this kitchen installed with some old fixtures such as white laminate cupboards, the brick wall, and linoleum floor. But the problem was on the old fixtures and how it arranged. Moreover, the entire kitchen model looked dreary and outdated.
Functional. Without removing the brick wall, this kitchen looks better than the previous one. Also, there are only a few changes in the structure and installation of new fixtures. On the structure, we can see the whole kitchen stuff is rearranged to become more tidy and functional.
There are some new fixtures installed, such as a black floating cabinet with glass door, white marble countertops, and stainless steel appliances. Thus, with a modern style applied here, this kitchen transformed from ordinary to extraordinary. Like the condo units in NuTowns, they also have these kinds of kitchen interior designs to look after.
Related : Kitchen Remodeling Ideas
Small Kitchen Remodel Before And After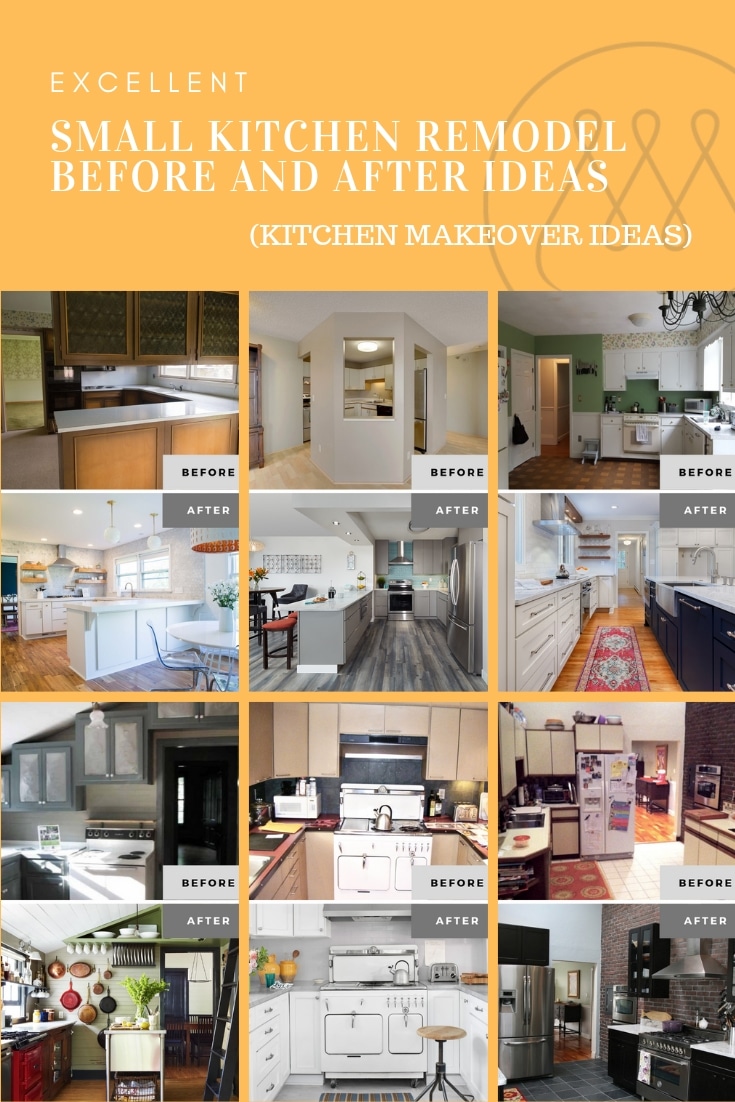 Having a great kitchen does not mean ones have to build it in a large room. Whether a small house or even an apartment, both can have an excellent kitchen design. Thus, a small kitchen is also an excellent idea for those who have a minimalist room for cooking or love to have one.
A small kitchen can be a disaster for the owner if it's impractical and doesn't arrange well. Therefore, during the planning process of remodeling the kitchen, it is essential to see some transformation process. Here, we provide some small kitchen makeovers before and after transformations from many resources.
Tired to Dazzling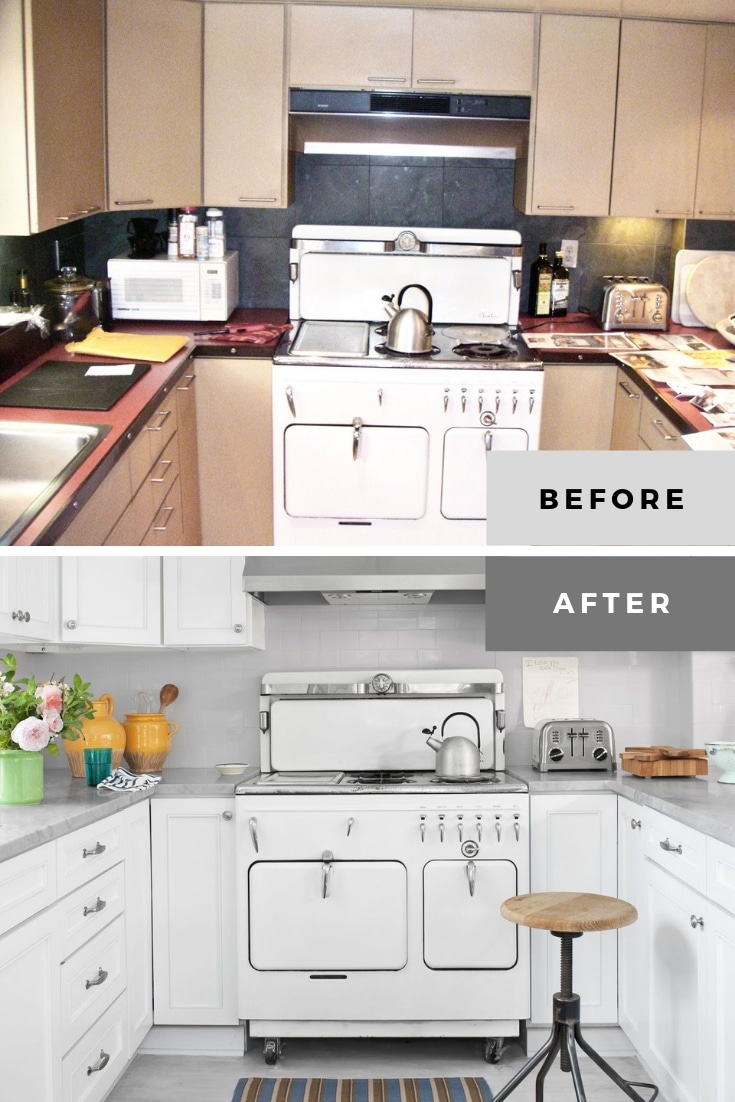 Tired. Inside this tiny kitchen, some fixtures needed to replace to new ones like brown cabinets and red countertops. But there was one stuff that the owner couldn't put away. It was a charming vintage stove.
Dazzling. Used to look old and tired, now this kitchen transforms into a bright and white cooking room. By continuing to use the previous stove and cabinets, the owner also added new front and a coat. Moreover, there are new countertops and dark backsplash combined with marble and white tiles.
Tight to Tidy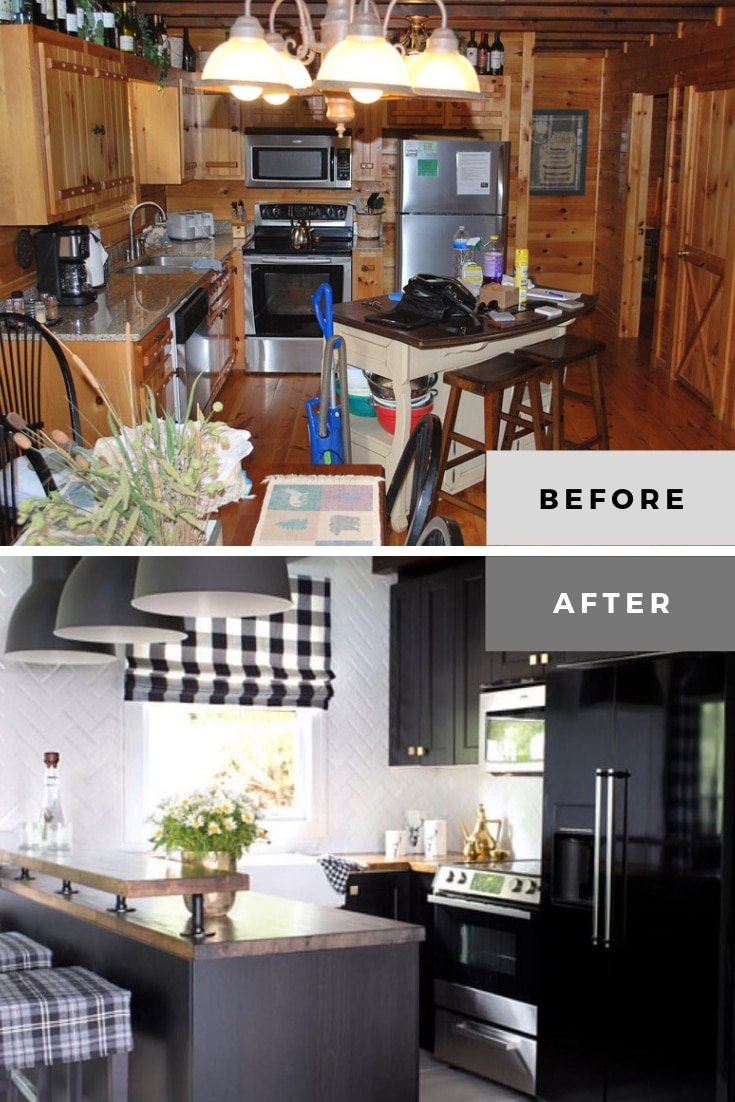 Tight. Not all of the small rooms are tight, but this one had that problem. This kitchen was narrow because there were lots of stuff, but it had a lack of space to save them. Also, the way the seating arranged was bitter and uncomfortable.
Tidy. With a total change of design and appliances, the kitchen looks neat and brand new. More storage added with the addition of a new breakfast bar. Besides, the kitchen also has new countertops, black cabinets, large industrial pendant lights, and porcelain sink.
Crowded to Eye-catching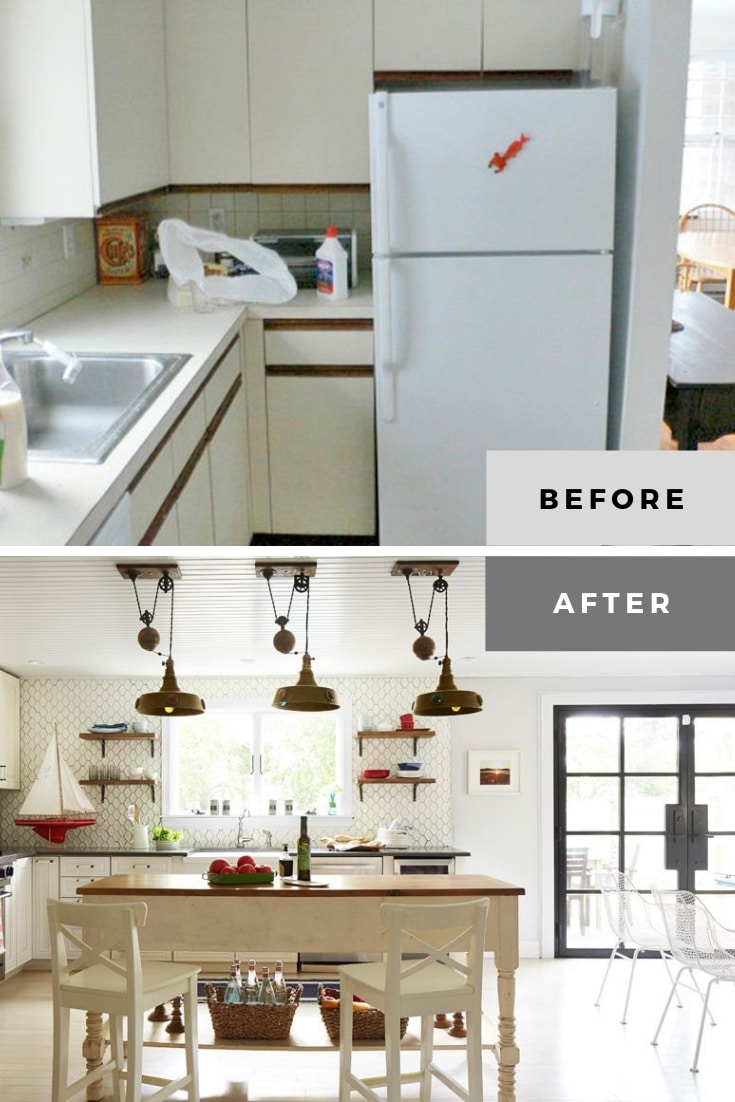 Crowded. Covered in white and old appliances made this kitchen looked crowded and almost expired. Additionally, the tasteless countertops and cabinets gave uninviting feeling into the room.
Eye-catching. Larger space and complete appliances change the room's atmosphere completely. We can also find antique lightings above the island and new backsplash tile. Moreover, the whole new design is artistic and family friendly.
Outmoded to Open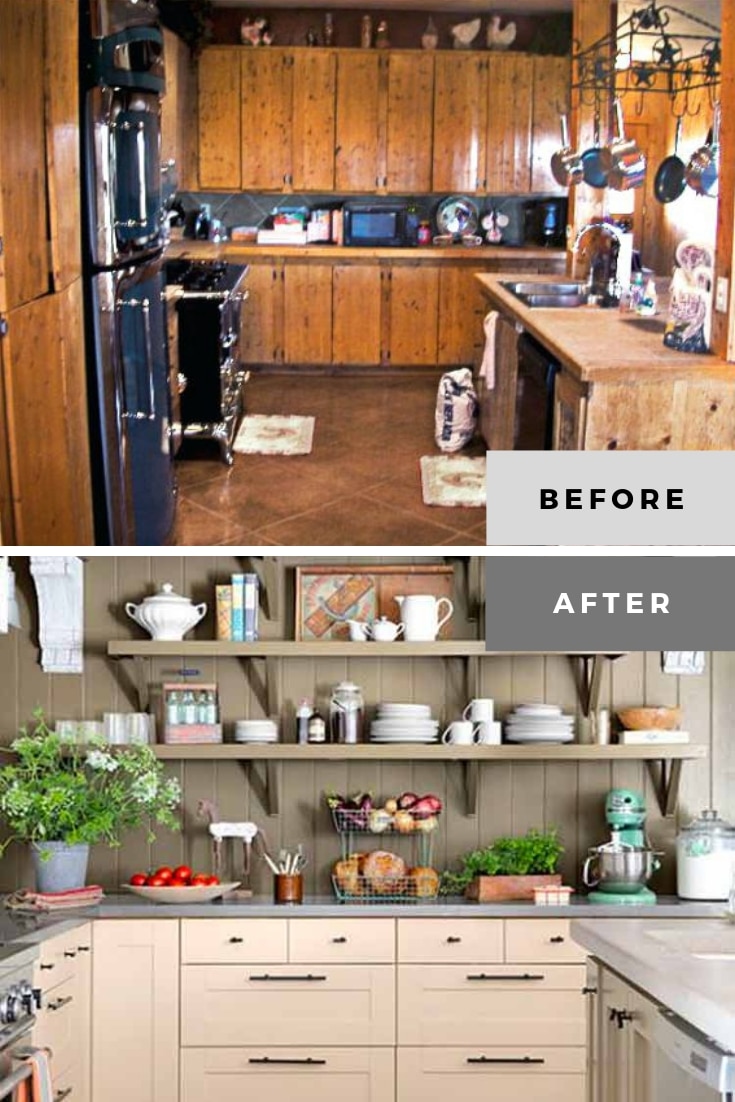 Outmoded. Started from wood cabinets, then tile countertops, this kitchen arranged in an old-fashioned way. Additionally, everything in this kitchen seemed old and needed renovation quickly.
Open. After the renovation, this kitchen looks open and contemporary. New cabinets and open shelving added to fill the room's need. As a result, the kitchen becomes tidier and the creamy white color applied here gives a perfect closing for the remodeling project.
Gothic to Charming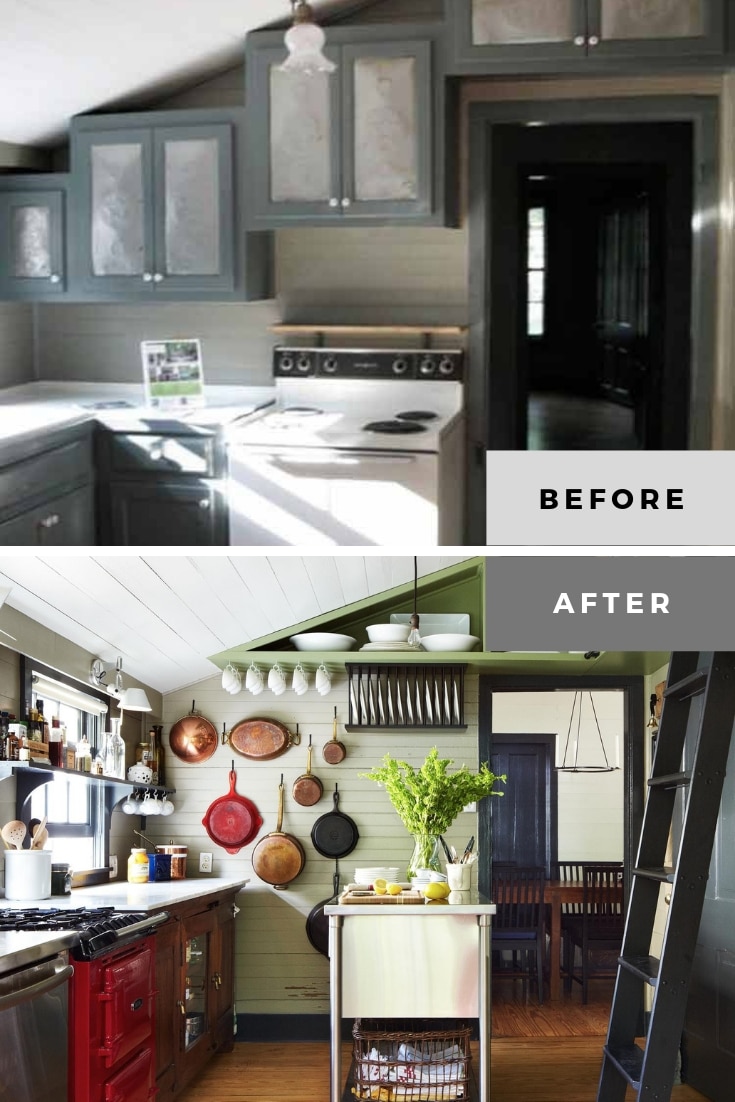 Gothic. Most parts of the room covered in dark color. Also, the black cabinets were hard to reach and arranged awkwardly. Besides a strong gothic filled the entire room, it also looked gloomy and uninteresting.
Charming. By replacing the upper cabinets with open shelving, the storage is now visible and reachable. Moreover, the owner replaced the lower cabinets with freestanding components like a stainless steel island. With a combination of the green wall, white ceiling, and wood floor, the kitchen looks sweet and charming. Thus, from gothic to charming, this small kitchen transformed excellently.
Passe to Glossy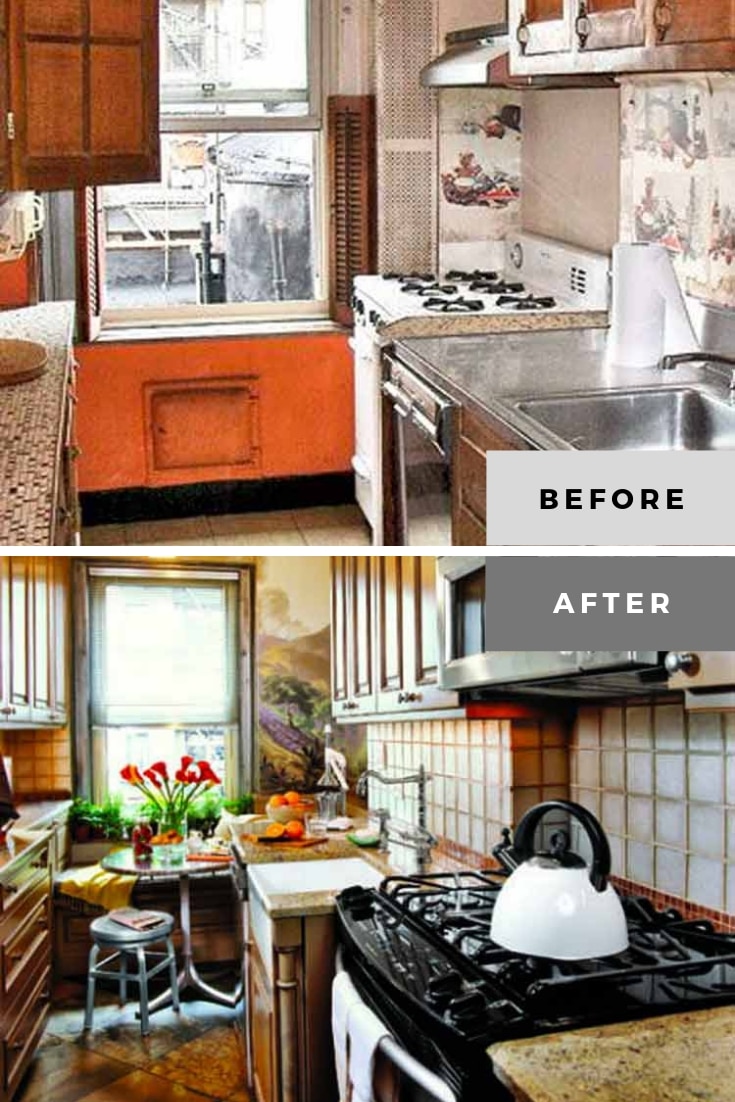 Passe. A gaudy retro look in this small galley kitchen did not fit well for a cooking activity. Also, some ho-hum cabinets and other appliances needed replacement. Since this room had not renovated in a long time, the owner decided to do an upgrade.
Glossy. Built in a small place, does not limit the owner creativity to rearrange the kitchen. By reordering some appliances, this room finally has more space for dining area and countertops. Also, a dishwasher put in the middle of the table and sink so that the cleaning process finished quickly. In the end, the kitchen finished perfectly with a glossy look from the painting and lighting.
Related : Galley Kitchen Remodel Ideas
Ugly to Polished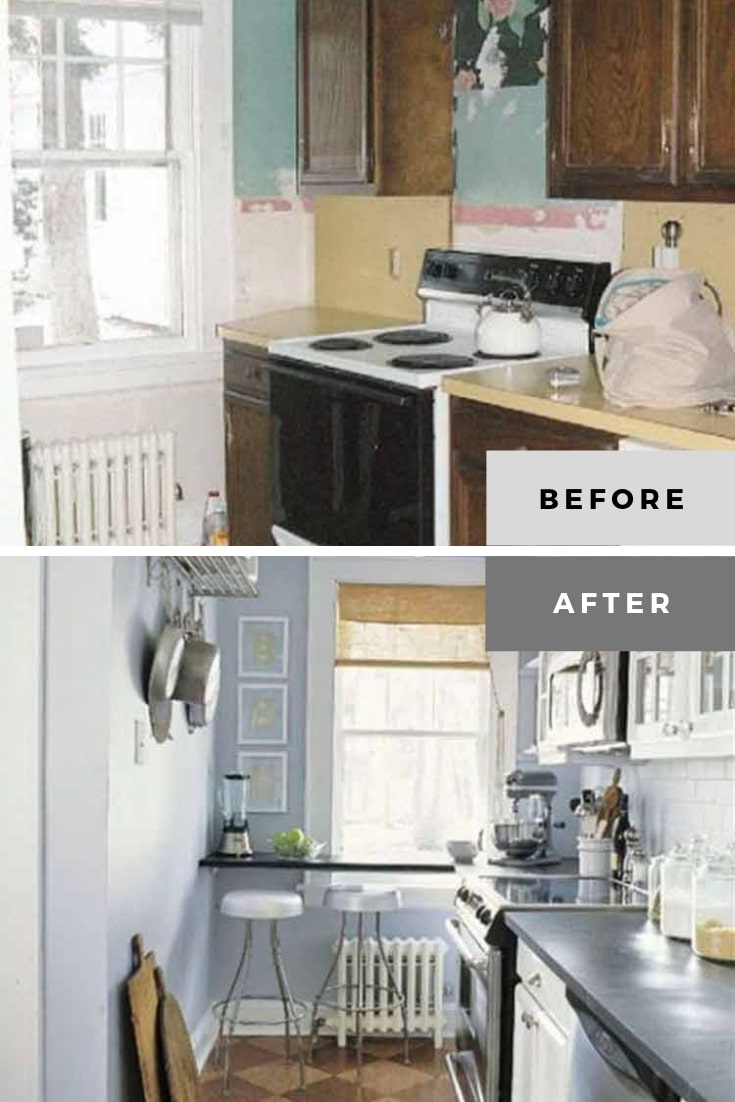 Ugly. Most of the appliances in this kitchen were old and unattractive. Although the cabinets were solid, its model was outdated. Moreover, the room looked tired and needed renovation.
Polished. Without any destruction, the owner remodeled this kitchen by rearranging the cabinets, repainting the wall, and replacing the countertops. There are also new appliances added which make the room way more functional. Finally, the kitchen finally looks brighter and has essential space to work.
Conclusion
In conclusion, remodeling a kitchen takes a lot of work and serious planning. If you planned it well, the better result you will get, just like those examples of kitchen remodel before and after. Therefore, it is essential to compare before and after kitchen transformation result to inspire your upcoming kitchen remodeling project.
More Kitchen Remodel Before And After Pictures